For the first time in over eight years, TCM has purchased their own truck camper.  We reveal exactly what we got, and why this camper will be a project.

There's a bad joke that I've told, probably a few dozen times too many, when folks ask me why we bought the truck camper we have.  I explain that we don't own the campers we use, that we borrow them from the industry, and that we usually just return them when the black tanks are full.  I know, the joke isn't that funny, and one day I realized just how not funny it really was.
I was talking to a long-time reader at a truck camper rally who was showing me some things that concerned him about the exterior seals of his camper, asking for my advice.  I explained to him about how important it is to maintain your seals, and pointed him to an article in the magazine we did years ago with Palomino on the subject.
At some point during the conversation, it occurred to me how obnoxious, and insensitive, my joke had been.  Not only had I never actually fixed a seal on a truck camper but, worse, I had never had to worry about the potentially catastrophic and expensive damage the resulting water intrusion could create.  My experience with repairing seals was entirely academic.
The Northern Lite Fire Sparks Change
For the 2014/2015 camping season, we had arranged to borrow a Northern Lite Special Edition truck camper.  As folks who prefer hard-side non-slide truck campers, we were very excited about borrowing a Northern Lite, but I kept thinking about how we needed to get more hands-on, more technical, and deeper into the real-world experience of owning a truck camper.
When news broke about the Northern Lite factory fire, and their subsequent announcement to rebuild, I decided to take us on a very different course.  We would find, and purchase, our own truck camper.
To avoid any potential perception of bias, our camper would be manufactured by a company that was no longer in business.  Even the brand name would be abandoned with no current RV manufacturer owning the brand rights.
In essence, we would buy a used and orphaned truck camper, and walk the walk of our readers in truck camper ownership.  We would experience regular camper maintenance.  We would experience problems and repairs.  No more worry-free new camper loans.  It was finally time to get a camper of our own.
From a magazine perspective, the benefits are many.  We will be able to fix and maintain our new-to-us camper, and write about it.  We will never again miss a story, rally, or trip opportunity because we're waiting for a camper to be shipped.  In fact, we can experience and review more campers because we will always have our own, and we'll be ready to go where the new campers are located; a Truck Camper Magazine mobile.
Lastly, I didn't write, "The Truck Camper as a Family Emergency Vehicle (FEV)" three years ago just for fun.  I strongly believe that having a truck and camper rig at the ready is an indispensable family safety tool.  If we need to get out of Dodge (no pun intended), or take care of a sick friend or family member at their home or the hospital, we can do it with our truck camper rig.  There have been too many times when we've been in-between campers, for one reason or another, for an extended time.  No more.
The Search
My first thought was vintage.  In my Camper Coachman magazine collection from the late 1960s and early 1970s, I had read about Ford's forward-thinking fiberglass American Road, Avion, and Silver Streak's aluminum-framed beauties, and Born Free's tag-axle equipped monsters.  I even talked to Dave MacQuaid about acquiring his restored 1976 Amerigo with the Snap-N-Nap rear pop-out room.  I could add a periscope and be Captain Nemo.
Once again, Angela was a bit more rational than her excitable husband.  She explained that we needed a modern camper, with modern amenities, if we were going to experience what most of our readers experience.  She also wanted electric remote jacks, real holding tanks, and the ability to get replacement appliances and parts without resorting to junkyards, Craigslist, and eBay.  She was right, of course.
"But how about a Chinook, El Dorado, or a Barth?  Maybe a Mitchell?  Red Dale?  We could get a Wolverine like John Steinbeck!"
"No, no, and no."
I had to try.
With vintage campers off the table, it was time to figure out what manufacturers and brands were possible.  The manufacturer and brand both needed to be out of business, and completely extinct.
Once I had done my homework, one company stood out as the right candidate, Western Recreational Vehicles.  Western Rec, as they were often referred, has been out of business for over six years.  Their truck camper brand, Alpenlite, does not, to the best of our knowledge, belong to a current RV manufacturer.  It would be possible to buy a relatively modern, and completely orphaned, Western Rec truck camper.
Fortunately, we had a Western Rec truck camper brochure in the house and quickly found the model we wanted; a long bed, non-slide, dry bath.  A few weeks later, we found one in Oregon, 3,000 miles from home.
To check out the camper on our behalf, we contacted veteran RV journalist, friend, and (lucky for us) nearby Oregon resident, Jeff Johnston to evaluate the camper.  Jeff has decades of experience in RV technical writing as a freelance journalist, and as a previous Technical Director for Trailer Life Magazine.
Jeff inspected and photographed the unit from head to toe, and sent us his report.  The camper needed some caulking and had a bit of de-lamination, but everything worked and there were no serious signs of water intrusion.  It was a go.
Buying A Used Camper
For the record, we do not recommend purchasing a used truck camper from the other side of the continent, sight unseen, as we did.  We were very fortunate that this process worked out as well as it has, and we were prepared to accept the consequences of a camper in worse condition.
We also do not recommend purchasing an orphaned truck camper.  If the manufacturer is out of business, there is no possibility of factory or dealer support or parts.
Our top line advice for evaluating a used camper is simple.  The best used truck campers to buy are the campers that the previous owner(s) took care of.  Always check the side, roof, and underbody seals for signs of damage, breaks, or general lack of maintenance.
Inspect and push on the camper side walls to detect softness (a sign of rot) or rippling (a sign of de-lamination).  Look throughout the entire camper for any signs of water leaks, water intrusion, or water damage.  Use your sense of sight and smell to detect mold, standing water, or dankness.
If the used camper appears to have properly maintained seals and no water damage, then carefully check that all of the appliances work.  After that, it's all year, make, model, and overall condition – just like a car.  And, just like a car, you can find a good used camper that will give you years of adventure, if you do your due diligence, and then maintain the camper.
The Camper's Condition
As it currently sits, the camper is essentially a blank slate, in need of a little work, and updating.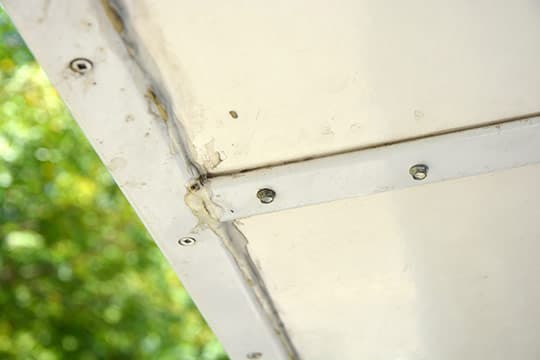 The exterior side seals, roof seals, and screws need to be removed and replaced.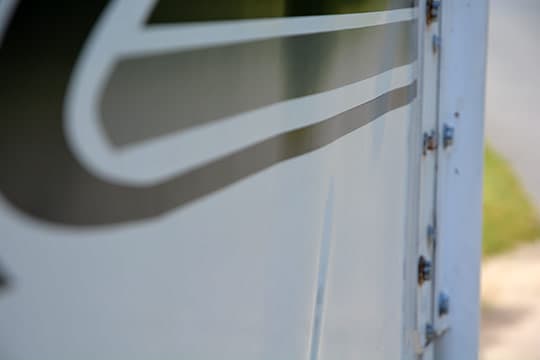 The rear driver's side rear skirt area has some de-lamination.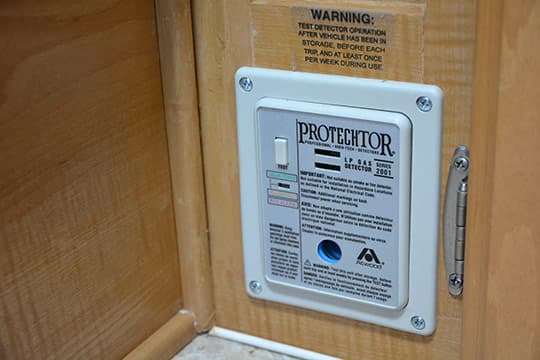 The carbon monoxide, propane, and smoke detectors are all out of date and need to be replaced.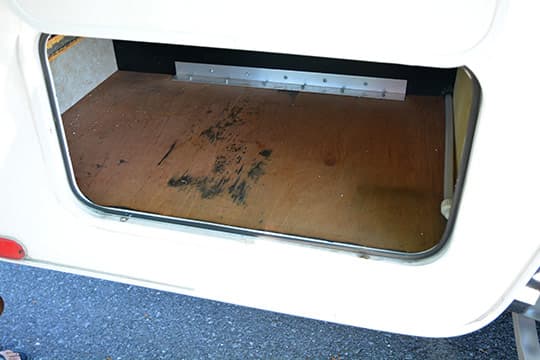 There are signs of water intrusion in the exterior compartments that need to be cleaned and sealed.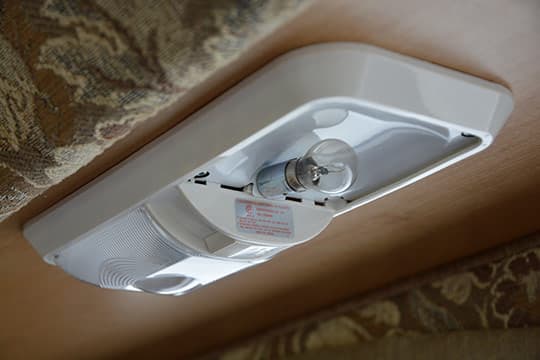 The camper has all incandescent interior and exterior lighting and lacks a microwave, air conditioner, and generator.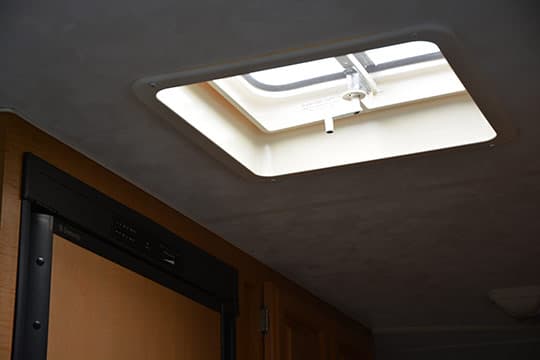 Above: This is where the air conditioner will be installed
The refrigerator, water heater, heater, and converter are all in working order, but need to be fully inspected, properly maintained, and potentially replaced.  The list goes on from there.
Editor's Update 2020: We have now installed a refrigerator, solar panels, water heater, inverter, sprayed the underbody with Rubber in a Can, painted the interior walls, and updated the valences.  We have also replaced the detectors, taken off the decals, and caulked the seals many times!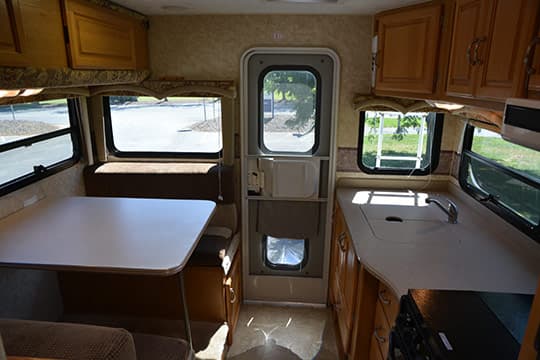 Given the excellent overall condition of the interior of the unit, our hunch is that this camper was stored outside, but not used very much.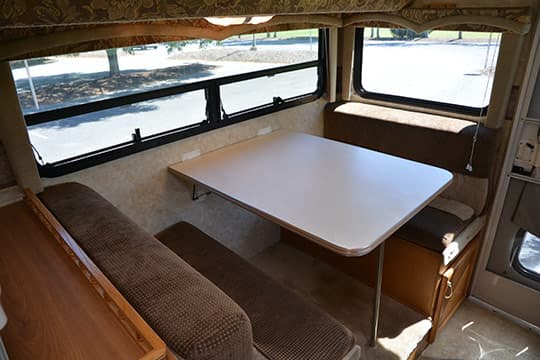 Someone probably owned it for a decade, took it out a few times, and then sold it.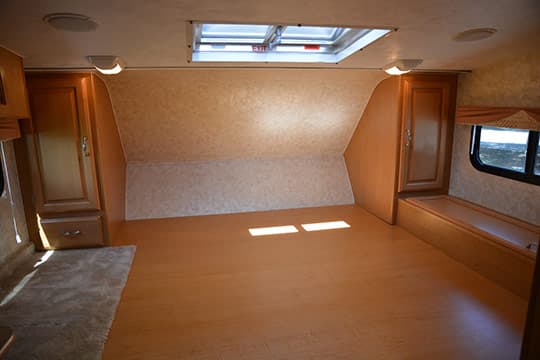 Did we mention that we need a new mattress?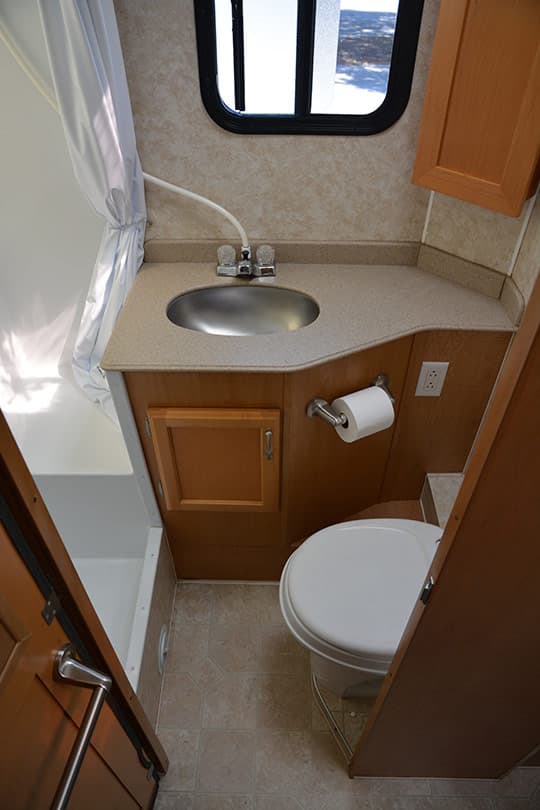 Our first change, other than cleaning the interior, was removing the old and dirty carpet from the bathroom.
It's a ten year old truck camper that wasn't fully optioned, and has been sitting outside, waiting for adventure, for a long time.  In other words, it's the perfect camper for us and our new project.
Matching the Truck and Camper
When we first laid eyes on our 2014 Ram 3500 SLT, I went straight for the payload sticker inside the driver's side door jam.  There was little doubt that the truck would be amazing, but the real excitement – at least initially – would stem from the number on that cargo weight sticker.  The sticker read 5,851 pounds.
In a similar fashion, we were equally determined to weigh our camper as soon as possible.  According to the manufacturer, the dry weight of the camper was 3,290, without options.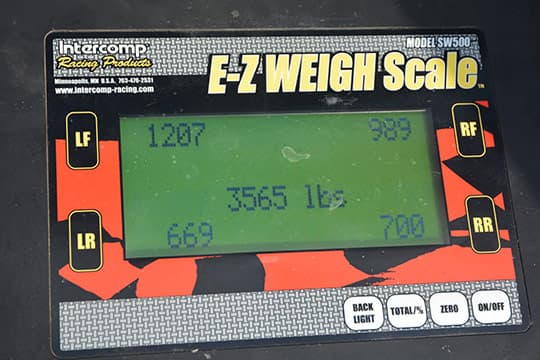 Above: Intercomp E-Z Weight Scale shows the dry weight of the unit.  Clearly we need to review the weight distribution of this camper.
Using Truck Camper Warehouse's Intercomp E-Z Weigh Scale, the camper weighed 3,565 pounds.  If the manufacturer's dry weight was accurate, that means our camper has 275 pounds of options.  According to the paperwork, these options included a six-gallon DSI water heater, dual 30-pound propane tanks, Fantastic Vent fan, shower skylight, and remote control jacks.
With the Intercomp scale weight, we were able to calculate a wet weight using our own wet weight equation.
Camper: dry weight, 3,565 pounds + 35 gallons fresh, 291.1 pounds + 6 gallon full hot water heater, 50 pounds + 2 x 30-pound full propane tanks, 54 pounds + 2 batteries, 130 pounds + stuff, 500 pounds = 4,590.1  pounds
When we meticulously weighed everything, including ourselves, for our 2013 Lance 855-S short bed Payload Match Challenge, the cargo/stuff weight came to 668 pounds.  Accounting for the extra storage capacity of our current long bed camper, we could be conservative and round up this number to 800 pounds (an additional 132 pounds of cargo/stuff weight).
That brings the total wet weight to 4,891.1 pounds.  With 5,851 pounds of payload, that leaves 959.9 pounds of extra payload.  I'd say that's a proper match, with some serious payload to spare.
Loading the Camper
When the camper weight finally hit the truck, the truck settled low in the back.
"It's squatting," said Bill.
I was disappointed to see that rig was indeed squatting in the rear.  Even though the camper was 2,286 pounds under payload (dry and without stuff at this point), and the center of gravity was well in front of the rear axle, the truck was clearly sagging.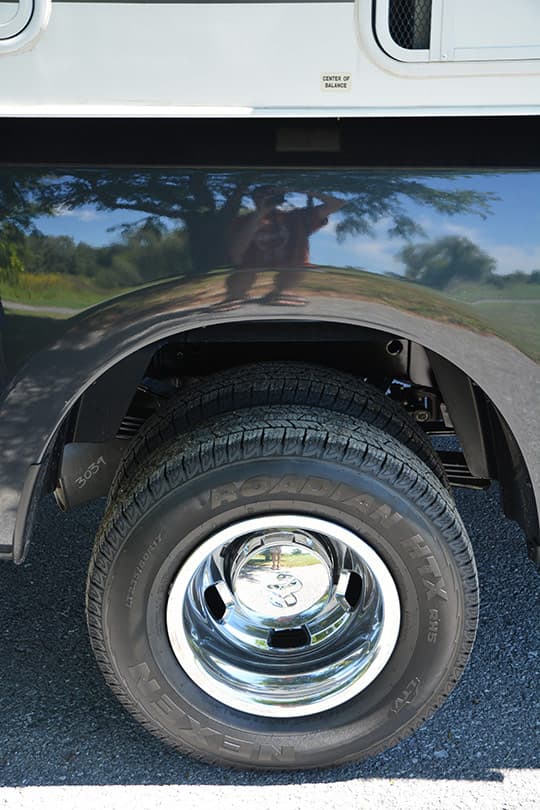 Above: The center of gravity sticker is well in front of the rear axle, where it should be.
"No problem," explained Bill.  "We'll put StableLoads on to engage the overload springs sooner."
Bill was talking about Torklift International's upper StableLoads.  Upper StableLoads replace the factory overload contact pads and activate the overload springs much faster when hauling a heavy load like a truck camper.  Ever since their introduction in 2007, upper StableLoads have been one of Torklift International's most popular products.
"I'll be back in the morning and get the StableLoads installed first thing," said Bill.  Then he got into his British Racing Green Mini Cooper S convertible with his two poodles, and drove home with the top down.
The next morning Bill returned with his late-60s Dark Moss Green Mustang convertible and his two poodles, with the top down.  Bill doesn't like to put miles on his Mustang, thus the Mini.  The poodles don't care, and are blissfully unaware of the comedy they present.  Bill is fully aware of the comedy, and is the first one to laugh about it.
A few minutes after Bill's arrival, Angela was backing the truck down the road that connects the new Truck Camper Warehouse building to the service center building.  Since it was still early morning, Bill had her park the truck right out front and got to work installing the StableLoads.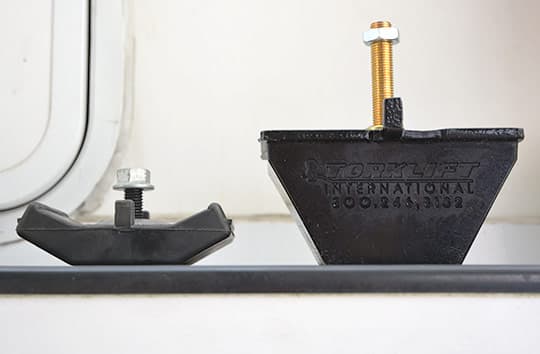 Above: Factory overload contact pad (left) and Torklift StableLoad (right)
As advertised, the upper StableLoads were a no-drill installation.  Once the rear of the truck was jacked, the only real challenge was removing the plastic shielding inside the dually wheel wells, and reaching in to access the rear overload contact pad.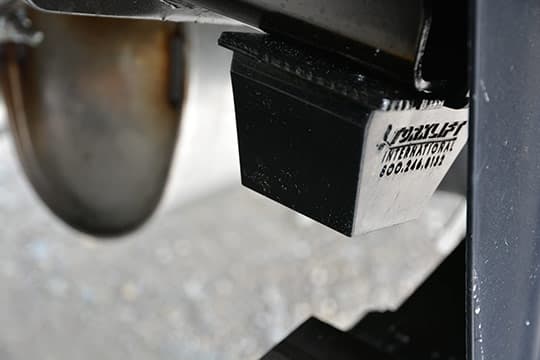 The whole process took about a half-hour, with ample conversation, a few nutritious breakfast cookies, my ever-helpful photography, and a lost drill bit search and recovery in-between.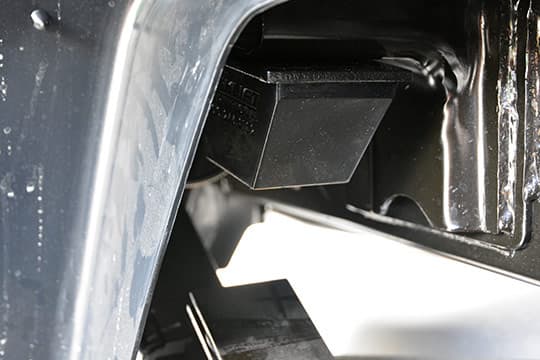 With the upper StableLoads installed, Bill lowered the camper back onto the truck.  We all watched the overload spring packs engage sooner, supporting the load of the camper much faster, and better.  When the camper settled into the camper, it looked fantastic.  No sag.  No squat.  The rig looked perfect.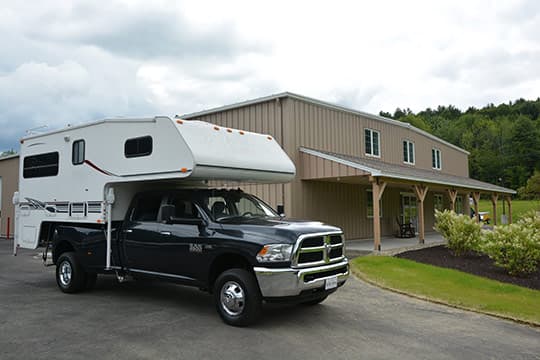 This experience directly mirrors Truck Camper Magazine's position on aftermarket suspension enhancement equipment.  In a nutshell, always properly payload match your truck and camper.  Then use aftermarket suspension enhancement equipment to solve the problems you experience with your specific rig.
For example, our rig sagged in the rear, so we added StableLoads.  Don't spend the money and add the weight of aftermarket suspension equipment unless you need to.  In this case, we needed StableLoads, and they work beautifully.
Editor's Update 6/25/19: After some sway going in and out of gas stations, and on some turns, we opted to get a Roadmaster sway bar.
Introducing Our New-To-Us Truck Camper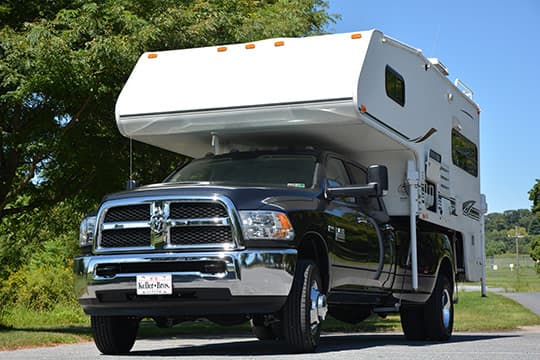 We are very excited about our new "used" truck camper.  Angela is practically bouncing off the walls, thrilled to finally be able to modify the camper the way she wants it.  No longer will we read the TCM Mod Contests with envy.  No more will we fear taking our rig down a road because we might get it scratched.  Never again will we miss an opportunity because we're waiting for a camper to get shipped.
For the first time in over eight years, we are truck camper owners.
Thank You
A special thank you to Jeff Johnston of Pictures-And-Words.com for helping us evaluate the camper in Oregon, Burk Morgan for his Western Rec product insights, Don Rose and Art Deeds of Chalet RV for storing the camper until cross-country shipping arrangements could be made, Rex Willett and Glenn Jones of Northstar Campers for helping us haul the camper to New Hampshire, and Bill Penney, Ryan Penney, and Jesse Moore of Truck Camper Warehouse for receiving the camper, and helping us assemble our rig with tie-downs, turnbuckles, StableLoads, and beyond.  Thank you!
More Project Camper Photos
Here are a few more bonus pictures of this project camper.  As you can see, there's some work to be done to bring this camper up to speed.
The roof of this camper appears to be in good shape, but we are going to clean the EPDM roof material and re-do the roof seals.
Editor's Update 2/4/20: We now have a FlexArmor roof on our camper, which has a lifetime warranty!  We also had a back bumper added for entry/exit safety.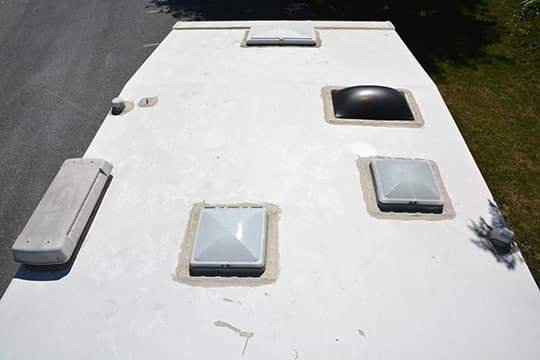 There's also a ton of roof real estate for a solar panel system.  We're thinking 1,000 watts, or more so we can arc-weld while boondocking.  Just kidding.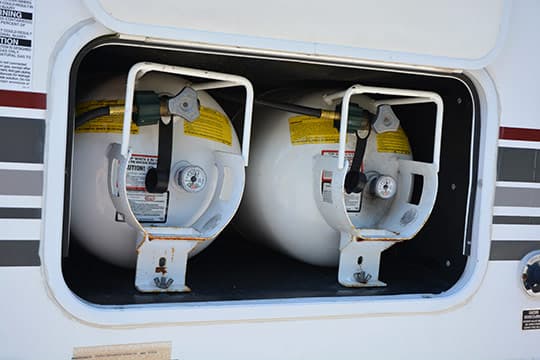 The camper has two thirty-pound propane tanks.  Both are over ten years old and in need of re-certification.  This means we can't get propane until we get these tanks re-certified, or replaced with new tanks.  Obviously, this is a priority.
Editor's Update 1/23/15: We now have a new regulator and two twenty-pound tanks.
There are spots of rust on screws, jack brackets, and jack feet.  We are both current with our Tetanus shots, but we want to get this cleaned up none the less.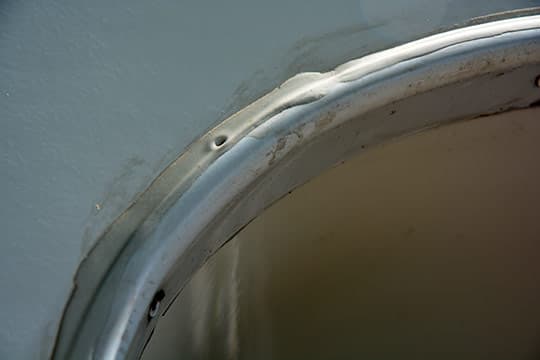 The big priority is the seals.  We need to get all the exterior seals cleaned up and re-done.  Once that's completed, we want to take it to a shop with a SealTech machine and make sure we got every potential leak fixed.
Editor's Update: We did get our camper sealed up right away and then Seal Tech tested.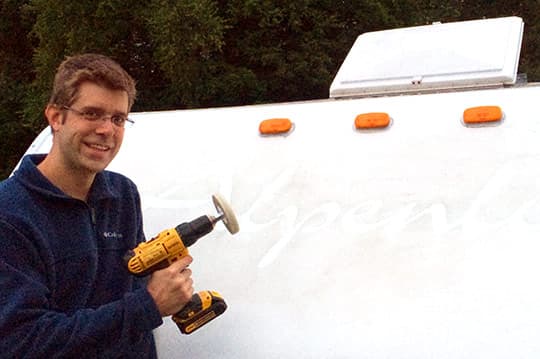 Here I am removing the brand decals off our new camper.  It's ours now, and we're very excited to get to work on all of the above.  If we only had a name for our "new" camper…