Truck Camper Magazine makes some critical safety changes to the propane systems and tanks in an eleven year used truck camper.  What is that nasty black liquid dripping from the regulator?

This past summer, Angela and I adopted an orphaned 2004 Alpenlite 1100.  Although not physically abused, our new-to-us camper friend was clearly neglected.
The fire, CO, and propane detectors were out of date.  The roof and exterior seals were in need of repair.  The water systems needed a look over and parts were leaking from not being properly winterized.  From fifty paces the camper looked great but, up close, she really needed our help.
In fact, the more we studied the condition of our "new" camper, the more I was reminded of the Ecto-1 from the 1984 film Ghostbusters.  In a classic scene with Bill Murray, Dan Aykroyd's character, Ray Stantz, brings home a 1959 Cadillac ambulance and explains, "Everybody can relax, I found the car.  (It) needs some suspension work and shocks… brakes, brake pads, lining, steering box, transmission, rear-end…  Also new rings, muffler, a little wiring…"
Now everyone knows the Ecto-1 eventually comes out looking totally awesome, but she needed some serious work.  Our new friend is much the same, and will be equally awesome.
With a to-do list growing by the day, we had to prioritize.  Since we were already out camping, the first priority was safety.  A quick glance at the age and condition of the propane cylinders told us we had a potential safety concern.  Time to phone a few friends, and make some arrangements.
The 20-Pound Vertical: An Industry Standard
Most truck campers manufactured over the past decade come with two 5-gallon, 20-pound vertical propane cylinders, the type that you commonly find with backyard gas grills and exchanges at Walmart, Target, Lowes, and Home Depot.
We have used 20-pound vertical cylinders in dozens of different truck campers.  They would be our first choice for almost any truck camper situation.  At 20-pounds, these vertical cylinders are a relatively manageable size and weight to lift into position and secure, and the easiest to source should you want an exchange, or need a complete replacement.
A Propane In the You-Know-What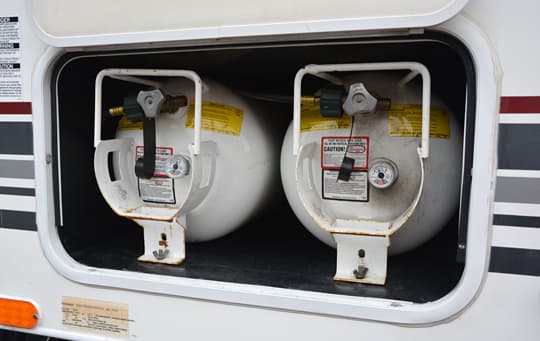 Above: 30-pound cylinders in our camper before we removed them
Naturally, our new-to-us truck camper did not come with two 20-pound vertical propane cylinders.  Oh no, we got exactly the opposite; two 30-pound horizontal propane cylinders.  Even better, our cylinders were scratched, rusty, and expired, which means no propane filler worth his weight in cat litter would fill them.  We found this out when our local U-Haul store refused us.  When a guy at U-Haul refuses to give you gas, you know you're having a bad day.
This experience led me to phone a friend in the propane profession; Frank Lane, Director of Research and Development and Quality Control for Manchester Tank.  Frank had contacted us back in 2010 when we published, Propane System Maintenance and Safety.  In the most friendly way possible, he told us we were completely wrong on several points, which we immediately addressed with his assistance.  The final article, with his revisions, has been read over 33,000 times and is still highly recommended reading.
Fast forward almost five years and Frank connected us with Jim Sommer, Quality Assurance Manager for Manchester Tank in Elkhart, Indiana.  Jim holds a Manager of Quality/Organizational Excellent Certification (ASQ-CMQ/OE), which means not only can he put an entire Junior High Pizza Party to sleep with his technical prowess (a good skill to have, no doubt), but he also actually knows what he's talking about on the subjects of propane and propane cylinders.  We love real experts here at TCM!  Perhaps that explains why we were so incredibly popular in Junior High (ahem).
Re-certify or Recycle
Propane cylinders last twelve years from their first certification.  The certification date is stamped into the propane cylinder.  Once this date has passed, it is not legal for a propane supplier to re-fill the expired propane tank.
Propane cylinders that are past their legal certification date can be re-certified.  Re-certification is performed by a certified requalifier who can, if the tanks meet Federal standards, recertify the cylinders for an additional five years.  While our plan was to recycle and replace our propane cylinders, we wanted to know if re-certification was possible for our tanks, and recommended.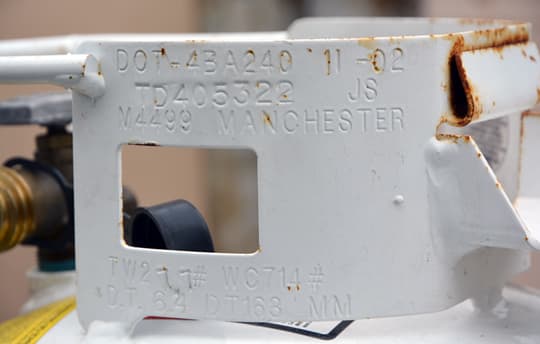 Above: Our old 30-pound cylinder from 2002.  In the United States, propane cylinders are Department of Transportation (DOT) certified.  The data stamped into every propane tank tells you the manufacturer date, serial number, manufacturer, capacity, and the dip tube length.
During our visit to Manchester Tank in Elkhart, Jim explained that we would need to take our tanks to a facility that performed recertification.  However, based on our lack of knowledge on the treatment history of the tanks, he recommended that we get new propane cylinders.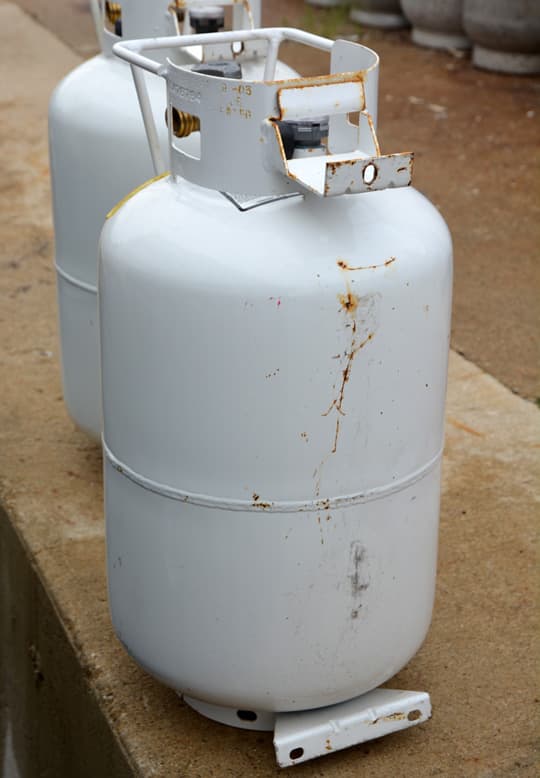 Above: The 30-pound cylinders had quite a bit of rust, pits, and scratches
Angela and I decided to recycle the two 30-pound horizontal cylinders in our camper and get two 20-pound horizontal cylinders instead.  Like their 20-pound vertical cousins, the 20-pound horizontals are easier to handle than 30-pound horizontals.  Angela was particularly adamant on the change as she wants to be able to do everything that's needed with a truck camper, including unloading, lifting, and re-loading the propane cylinders.
What if I broke my ankle while photographing a chipmunk, and couldn't help her with the propane cylinders?  Don't laugh, I have a very impressive chipmunk photograph collection.
Above: A few of Gordon's impressive chipmunk photographs – click to enlarge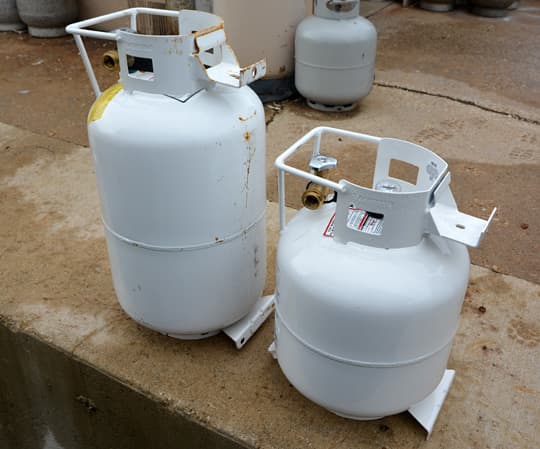 Above: Our old 30-pound cylinder (left) next to our new 20-pound cylinder (right)
Jim confirmed that the cylinder diameters between 20 and 30-pound horizontal cylinders were identical and gave our cylinder plan his blessings.  He also connected us with a local Manchester Tank dealer in Elkhart where we purchased the cylinders, watched them be properly purged, and filled.  The new cylinders were brand spanking new, with a new date code of August 2014.  We hope to use these tanks for the next ten years, at least.
Getting Totally Hosed at Hallmark RV
While removing the old propane cylinders, I noticed a nasty black liquid dripping from the propane regulator inside the propane compartment.  This is a tell tale sign of a regulator that has suffered from one too many over-filled propane cylinders.  This black liquid can get into your propane lines and damage your refrigerator, range oven, hot water heater, and heater.
When Northwood called us requesting a camper test out West, a big idea hit us.  We could go to Colorado, review the Arctic Fox, and visit Bill Ward, President of Hallmark RV.  Bill is another trusted expert on all things propane and, if we asked nicely, would help us diagnose and repair our regulator situation.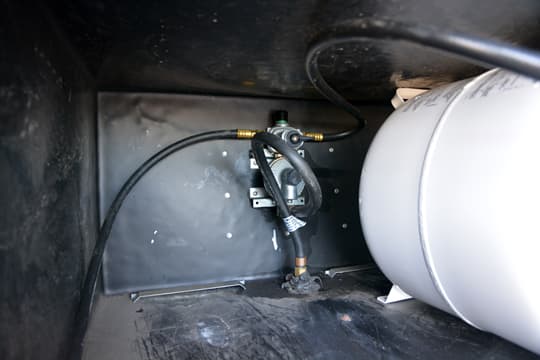 Above: The old regulator in the propane compartment
Bill is also patient enough to put up with our incessant questions.  You see, when it comes to truck campers, we are like the kids in back seat asking, "Are we there yet?" over and over, from New York to LA.  That's why some industry leaders literally scream like little girls and run when they see us.  Just kidding, sort of.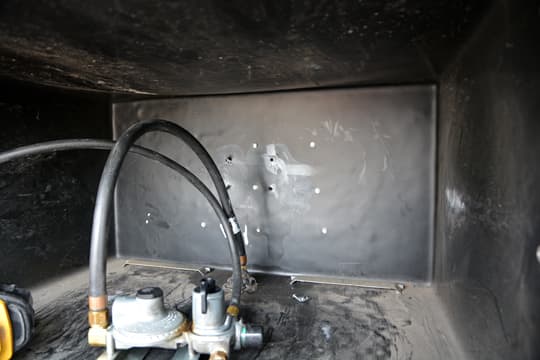 Above: Taking the regulator off the propane compartment wall
When Bill saw our propane regulator dripping black oily propane, he immediately recommended a new regulator.  In fact, he helped us carefully remove the existing regulator and proceeded to pour a considerable amount of the nasty black oily liquid out of the regulator.  Watching the black liquid pour from our regulator, I realized we should have made changing the regulator a priority as soon as we got the camper.  Lesson learned.
Above: The old regulator leaking a nasty black liquid – click to enlarge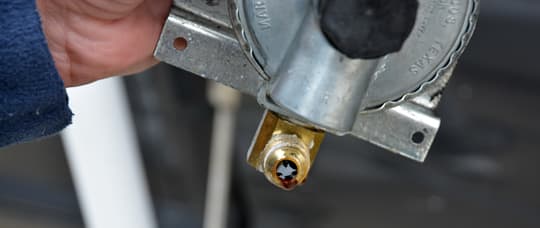 Above: The regular hose dripping onto the ground
Hose Habits Examined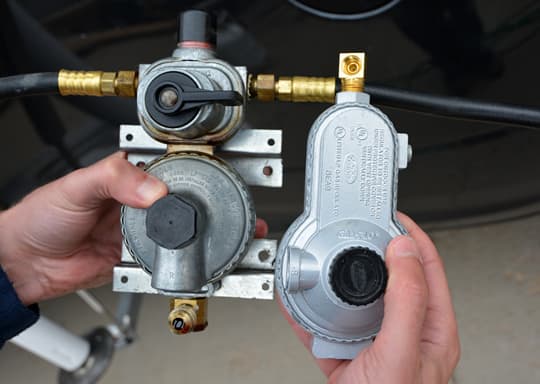 Above: The old dual hose regulator (left) next to the new single hose regulator (right)
To avoid completely running out of propane, we always use one cylinder until empty and then manually shift the regulator to the other.  We even turn off the cylinder not being used and turn on the cylinder that is being used.  After one cylinder is spent, we start looking for an opportunity to fill the empty cylinder.
By using this strategy, we never run out of propane.  We've done that a few times in our early days of truck camping, and it's no fun to suddenly be without heat, hot water, range, oven, and (if you're not plugged-in) a working refrigerator and freezer.  That's an "oh fudge" moment we avoid.
Above: Gordon and Bill transferring the hose and fittings to the new regulator – click to enlarge
Listening intently to our propane behavior, Bill recommended a single hose propane regulator.  A single hose propane regulator works exactly the same as a dual auto-change over regulator, but only connects to one cylinder at a time, and lacks the auto switch-over functionality.
For us, that approach made perfect sense.  I also gravitate to any opportunity to simplify, improve, and lightweight a camper system.  For these same reasons, Bill only installs single hose propane systems on Hallmark campers.
Above: The new regulator getting connected to the hose and the hose getting installed on our 2004 Alpenlite 1100 – click to enlarge
Before we installed the new regulator, we carefully cleaned the black liquid from the propane compartment.  With that removed, installing the new regulator was a straight forward process, but I would not attempt the installation yourself unless you are experienced working with plumbing and gas.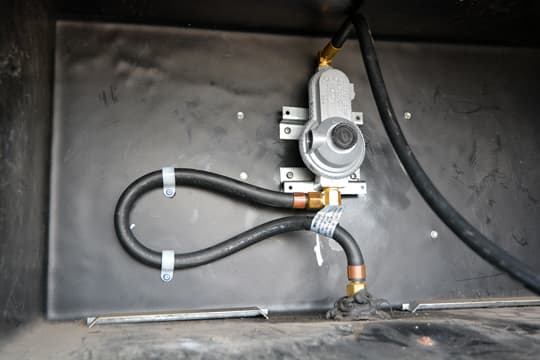 Above: The finished single hose propane regulator in our propane compartment
The only gas I'm used to working with didn't apply to this situation, so I let Bill take the lead.  I recommend you seek an experienced RV tech for this simple but sensitive installation.  Get it done right, and be safe.
Propane Recommendations
Based on our experience and conversations with Bill Ward at Hallmark RV and Frank Lane and Jim Sommer at Manchester Tank, it's highly advised to replace your propane regulator every five to ten years.  If you buy a ten year old camper like we did, replace the old propane regulator right away.  Relatively speaking, the regulator and hoses are not expensive, and the installation takes less than a half-hour by a certified RV technician.
While you're at it, think about replacing or re-certifying any older propane cylinders as well.  I realize I'm spending your money, but think of all the cash your saving by reading this fun, funny, somewhat informative, and completely free magazine.
In all seriousness, if your regulator or cylinders are old or showing signs of wear and tear, it's not worth the risk to your personal safety (always my top priority) or the potentially expensive damage to the propane appliances in your camper.  For a few hundred dollars, you'll have two re-certified or new propane tanks, a new regulator, new hoses, and peace of mind.  Please consider it.
Difficult Hardware
While I'm on the subject of propane cylinders and systems, allow me to take the propane cylinder hardware vendors out to the woodshed for a moment.  While I understand why compartments are often high-up and tight fitting (the nature of truck camper design), I wish more attention was given to improving the hardware that secures propane cylinders.  Propane cylinder securing hardware is often sharp, awkward to handle, and difficult to latch/secure; especially with cold and heavy propane cylinders.
Hopefully a few truck camper manufacturers will read this article and forward it to their propane hardware vendor with the message, "Please see what you can do about this".
Re-Fill vs. Exchanges
During our visit to Manchester Tank, Jim Sommer made a point about propane exchanges that needs to be included in this article.
Jim explained that, while propane exchanges are certainly convenient, it's always preferable to purchase brand new high-quality propane cylinders, and properly maintain them.  This means making sure the cylinders are properly purged, and then monitoring the filling process to make sure they're never over-filled.
He added that new propane cylinders should last you for many years and actually save you a considerable amount of money compared to exchanges, over time.  This is particularly true if you get a bad exchange cylinder and it clogs your propane systems.
Jim's advice to anyone who doesn't know the history of their propane cylinders is to purchase new tanks, treat them right, and save yourself the potential trouble.  We agree.
Up Next: Replacing the Detectors
Continuing on our safety first regiment, we will be replacing the CO, LP, and smoke detectors in our camper.  This is a simple but very important upgrade that we believe almost anyone can do themselves.  Our next camper project article explains why it's important to change your detectors, shows you what detectors to get, and how to make the change.
If you are considering a pre-owned unit, please read How To Inspect A Used Truck Camper for other good tips before you purchase a camper.