Truck Camper Magazine makes some critical safety changes to the propane systems and tanks in an eleven year used truck camper.  What is that nasty black liquid dripping from the regulator?

This past summer, Angela and I adopted an orphaned 2004 Alpenlite 1100.  Although not physically abused, our new-to-us camper friend was clearly neglected.
The fire, CO, and propane detectors were out of date.  The roof and exterior seals were in need of repair.  The water systems needed a look over and parts were leaking from not being properly winterized.  From fifty paces the camper looked great but, up close, she really needed our help.
In fact, the more we studied the condition of our "new" camper, the more I was reminded of the Ecto-1 from the 1984 film Ghostbusters.  In a classic scene with Bill Murray, Dan Aykroyd's character, Ray Stantz, brings home a 1959 Cadillac ambulance and explains, "Everybody can relax, I found the car.  (It) needs some suspension work and shocks… brakes, brake pads, lining, steering box, transmission, rear-end…  Also new rings, muffler, a little wiring…"
Now everyone knows the Ecto-1 eventually comes out looking totally awesome, but she needed some serious work.  Our new friend is much the same, and will be equally awesome.
With a to-do list growing by the day, we had to prioritize.  Since we were already out camping, the first priority was safety.  A quick glance at the age and condition of the propane cylinders told us we had a potential safety concern.  Time to phone a few friends, and make some arrangements.
The 20-Pound Vertical: An Industry Standard
Most truck campers manufactured over the past decade come with two 5-gallon, 20-pound vertical propane cylinders, the type that you commonly find with backyard gas grills and exchanges at Walmart, Target, Lowes, and Home Depot.
We have used 20-pound vertical cylinders in dozens of different truck campers.  They would be our first choice for almost any truck camper situation.  At 20-pounds, these vertical cylinders are a relatively manageable size and weight to lift into position and secure, and the easiest to source should you want an exchange, or need a complete replacement.
A Propane In the You-Know-What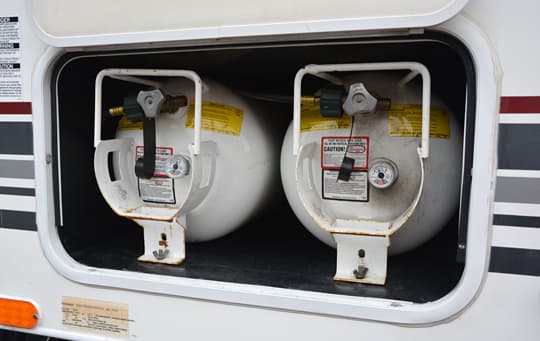 Above: 30-pound cylinders in our camper before we removed them
Naturally, our new-to-us truck camper did not come with two 20-pound vertical propane cylinders.  Oh no, we got exactly the opposite; two 30-pound horizontal propane cylinders.  Even better, our cylinders were scratched, rusty, and expired, which means no propane filler worth his weight in cat litter would fill them.  We found this out when our local U-Haul store refused us.  When a guy at U-Haul refuses to give you gas, you know you're having a bad day.
This experience led me to phone a friend in the propane profession; Frank Lane, Director of Research and Development and Quality Control for Manchester Tank.  Frank had contacted us back in 2010 when we published, Propane System Maintenance and Safety.  In the most friendly way possible, he told us we were completely wrong on several points, which we immediately addressed with his assistance.  The final article, with his revisions, has been read over 33,000 times and is still highly recommended reading.
Fast forward almost five years and Frank connected us with Jim Sommer, Quality Assurance Manager for Manchester Tank in Elkhart, Indiana.  Jim holds a Manager of Quality/Organizational Excellent Certification (ASQ-CMQ/OE), which means not only can he put an entire Junior High Pizza Party to sleep with his technical prowess (a good skill to have, no doubt), but he also actually knows what he's talking about on the subjects of propane and propane cylinders.  We love real experts here at TCM!  Perhaps that explains why we were so incredibly popular in Junior High (ahem).
Re-certify or Recycle
Propane cylinders last twelve years from their first certification.  The certification date is stamped into the propane cylinder.  Once this date has passed, it is not legal for a propane supplier to re-fill the expired propane tank.
Propane cylinders that are past their legal certification date can be re-certified.  Re-certification is performed by a certified requalifier who can, if the tanks meet Federal standards, recertify the cylinders for an additional five years.  While our plan was to recycle and replace our propane cylinders, we wanted to know if re-certification was possible for our tanks, and recommended.