Truck Camper Magazine lays out the critical decisions for choosing a truck camper, explains the important options, details their pros and cons, and adds a dash of real world perspective.  Newbie or expert, these are the big decisions.

In January of 2007, Truck Camper Magazine published an article titled, "How To Choose A Truck Camper".  That article helped set the tone for the mission of Truck Camper Magazine, and has been read over 200,000 times.  Not bad for our very first article.
Since then a lot has changed.  For one, our understanding and experience with truck campers has multiplied many fold.  For two, the floor plans, features, and options available in the truck camper marketplace have greatly increased.  As such, the time has finally arrived to completely rethink and rewrite, "How To Choose A Truck Camper".
Newbies Start Here
For newbies and experienced truck campers alike, we highly recommend reading, "The Best Truck Camper" first, and then returning to this article.  Both articles focus on the importance of knowing exactly what you need and want in a truck camper, and help you make those critical decisions.
Following these two articles, you should know your truck camper preferences.  With that information in hand, launch the Camper Chooser system, enter those preferences, and find the specific truck camper models that match your requirements.
From there you can use the Buyers Guide to compare MSRPs, floor plans, capacities, and specifications.  For further insights into your camper choices, we recommend reading the Review section and the Articles By Brand section (bottom of website) for additional content related to your selected brands and models.
Then it's time to stop reading the internet and go see the truck campers in person.  That will either confirm your choices, or send you back here for a quick rethink.
Hard Side or Pop-Up Truck Camper
There are two different types of truck campers; hard side truck campers, and pop-up truck campers.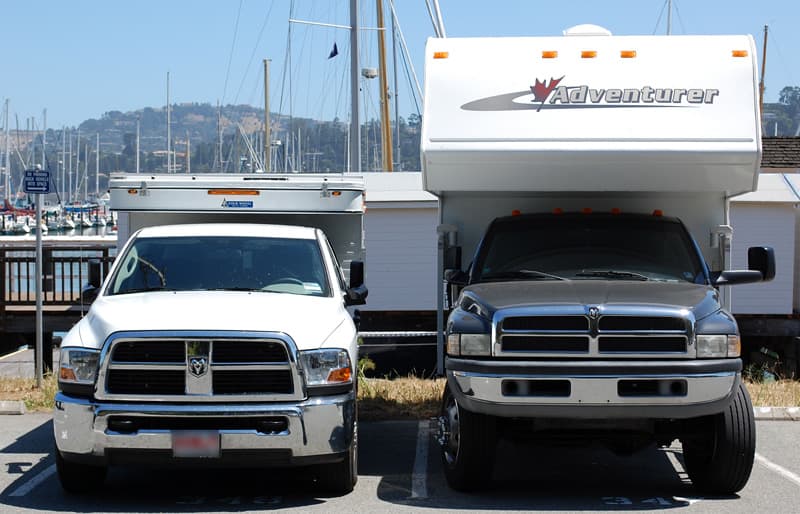 Above: A pop-up Four Wheel Camper (top down) next to a hard side Adventurer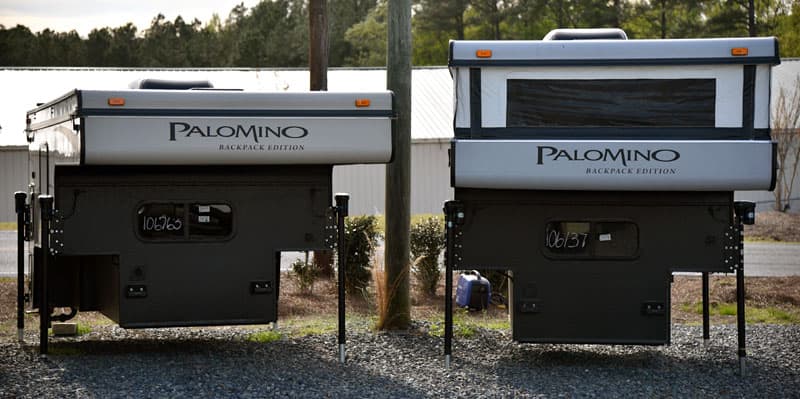 Above: Palomino pop-up campers in the driving position (left) and camping position (right)
Pop-up truck campers have a roof that raises and lowers the upper third of the truck camper.  When a pop-up roof is lowered, the camper is said to be in the driving position.  When a pop-up roof is raised, the camper is said to be in the camping position.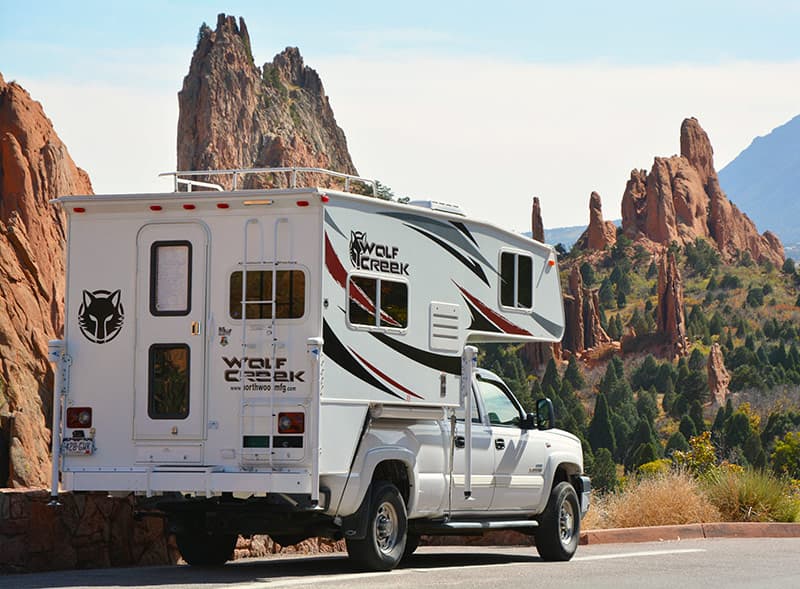 Above: A Wolf Creek 850, non-slide, hard side truck camper
Hard side truck campers have a fixed roof and solid sidewalls.  Hard side truck campers offer many inherent advantages including better overall insulation, better overall sound isolation, and more interior storage.  Hard side truck campers also have more floor plan and feature options including dry baths, slide-outs, and sofas.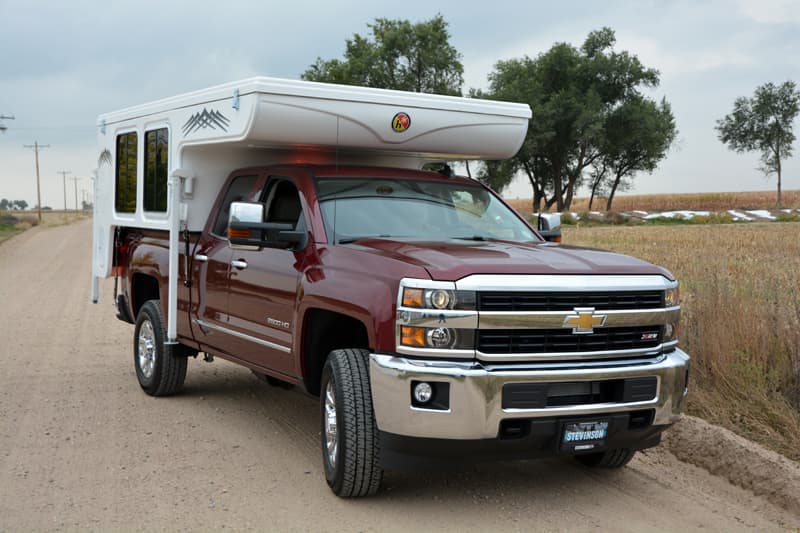 Above: Hallmark pop-up camper in the driving position
In turn, pop-up truck campers have many of their own advantages.  First, they have a much lower profile and center of gravity in the roof-down or driving position.  This significantly reduces drag and improves fuel economy, wind noise, and overall driving dynamics compared to hard side truck campers (and most other forms of RVs).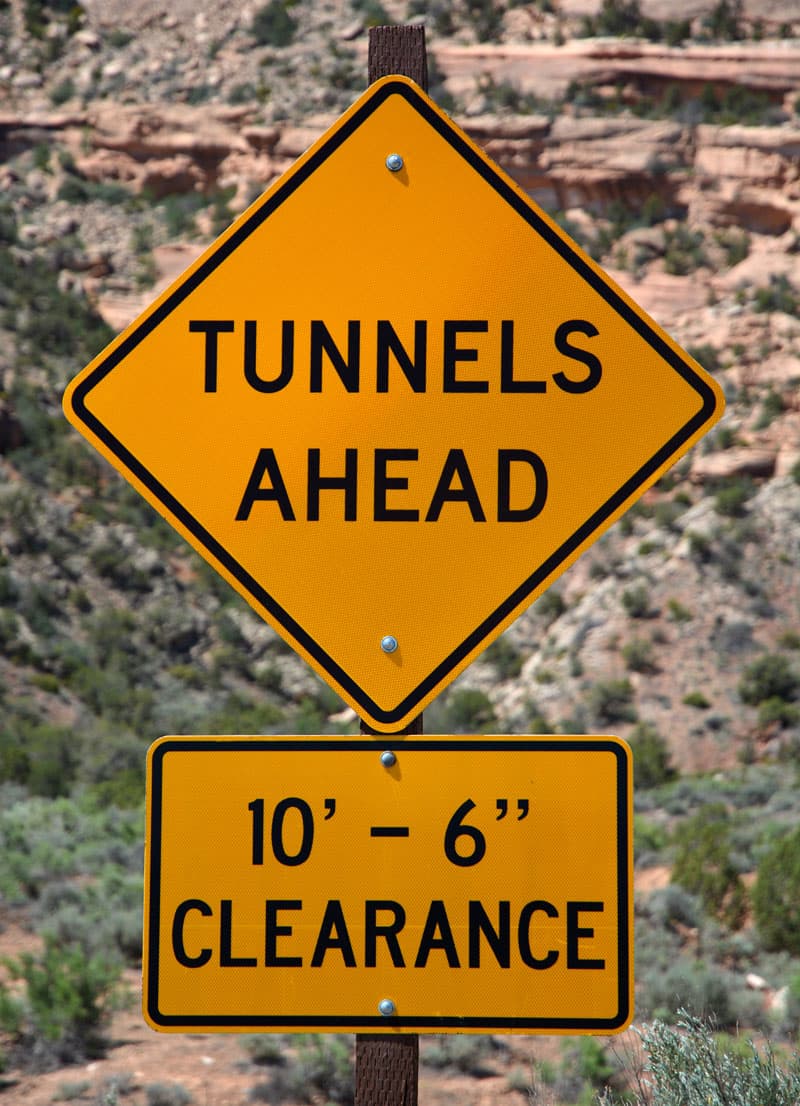 Above: Where most hard side truck campers would need to turn around if they saw this sign, pop-up truck campers could drive right through.
The lower weight and center of gravity also make pop-up truck campers well suited to off-road travel.  With the roof in the driving position, pop-up truck campers have the ability to drive deep into areas with low branches and other roadway obstacles.  Most hard side truck campers wouldn't dare follow.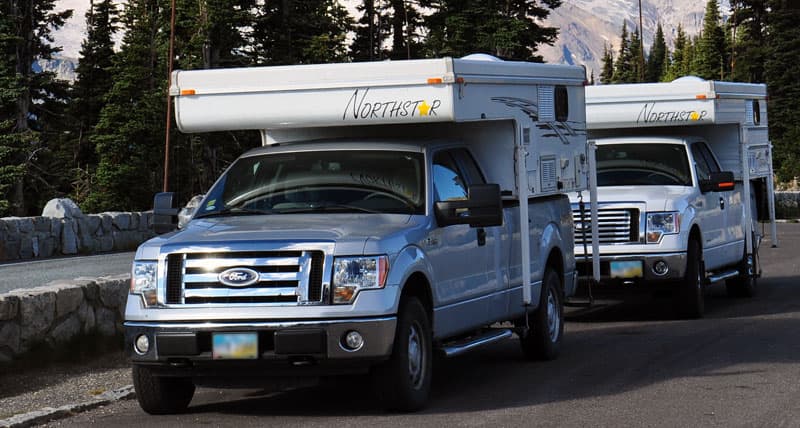 Above: Two Northstar pop-up campers on half-ton trucks, photo taken by Sue and Tom Schaaf
Near universal half-ton truck compatibility is another major advantage of pop-up truck campers, especially for the soft-side models (more on soft versus hard pop-ups next).  Some pop-up truck campers even work with mini-trucks like the Toyota Tacoma, Nissan Titan, and Chevy Colorado.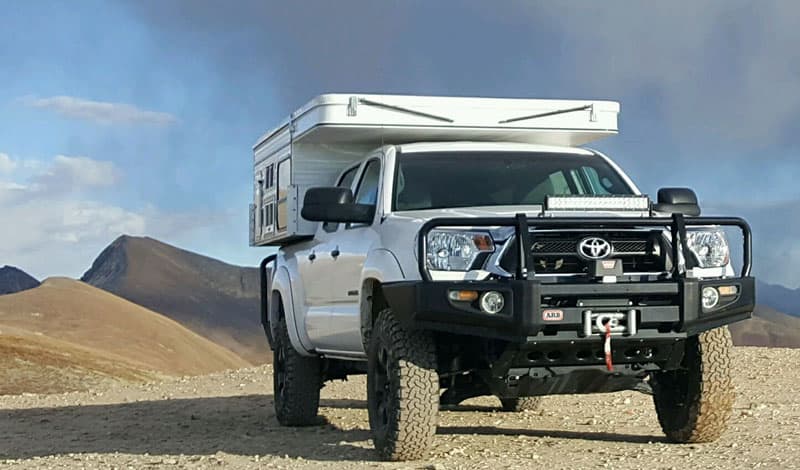 Above: A Toyota Tacoma and Four Wheel Camper, photo taken by Andrew Saunders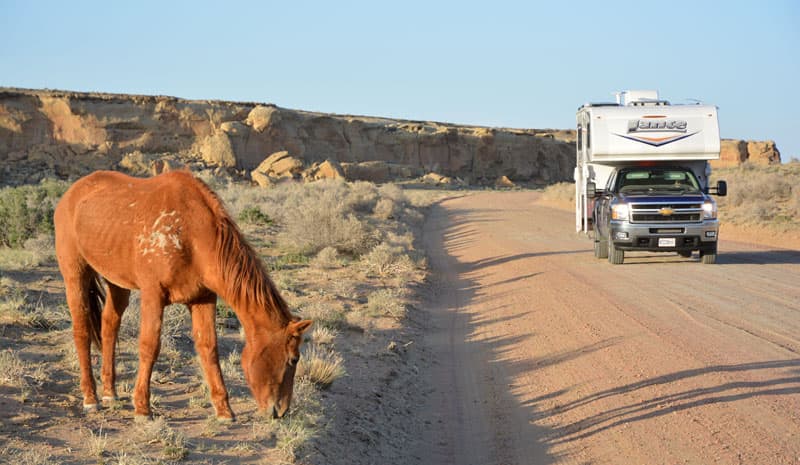 Above: Hard side campers can go off pavement, Lance 855S and Chevy 3500
Compared to typical towables and motorhomes, hard side truck camper rigs offer significantly better off-road capabilities, but are not well suited to extreme off-road travel like pop-up truck campers are.
The majority of hard side truck camper owners mostly travel on pavement and improved roads.  However, there are important exceptions to this rule including hard side truck camper rigs set-up for beach camping and overlanding.
So which is right for you; a hard side or a pop-up truck camper?
Pop-up truck campers tend to appeal to two specific customer groups.  First, backpackers and tent campers who are ready to get off the ground and have more camping comfort.  And second, off-road drivers and off-grid boondockers who want the option to travel and/or camp far from fellow humans.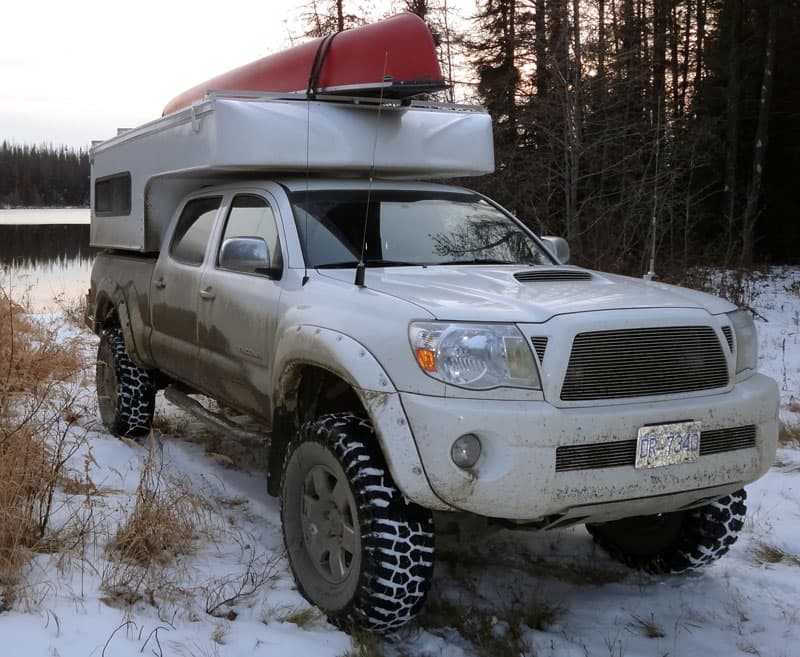 Above: Phoenix Custom Camper with a Toyota Tacoma, photo taken by Joel Runtz
Other folks are swayed by the overall efficiency of pop-up truck campers; specifically, the simplicity, lower cost, improved fuel economy, and half-ton and mini-truck compatibility.  If one or more of these descriptions sounds like you, a pop-up truck camper is worth serious consideration.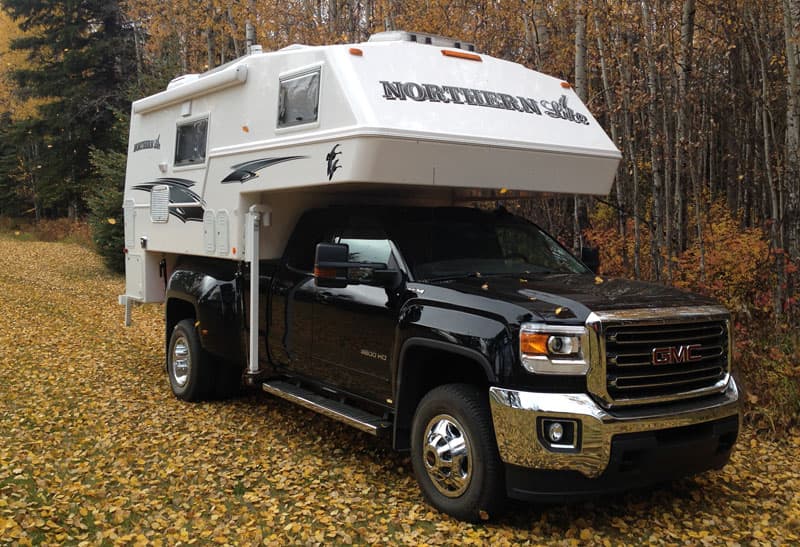 Above: GMC 3500 and Northern Lite 10-2EX hard side, photo taken by Bill Homeniuk
On the other hand, hard side truck campers typically appeal to RVers.  These folks have surveyed the various RV types (including travel trailers, fifth wheels, and motorhomes) and concluded that the versatility and capabilities of a truck camper is the right choice for their RVing lifestyle.
If you consider yourself an RVer (versus a tent camper or backpacker) who needs the versatility and/or capability of a truck camper (go anywhere, camp anywhere, tow anything), a hard side truck camper is probably your best choice.
Pop-Up Walls: Hard Side Pop-Up or Soft Side Pop-Up
If you have decided on a pop-up truck camper, your next logical choice is between a hard-side pop-up truck camper, and a soft-side pop-up truck camper.  Hard side pop-up truck campers feature hard wall panels made from wood and aluminum, similar to hard side truck campers.  Soft wall pop-up truck campers feature pop-up side walls made from waterproof vinyl fabrics.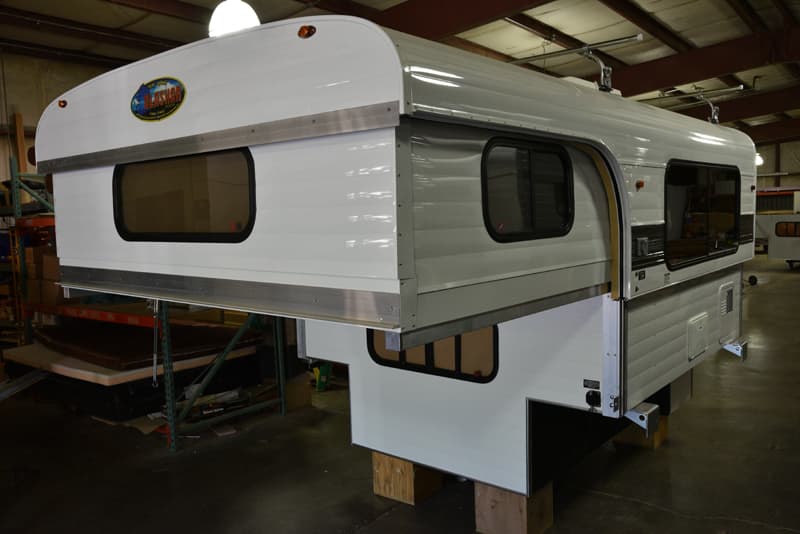 Above: An Alaskan hard side pop-up camper at the Alaskan Camper factory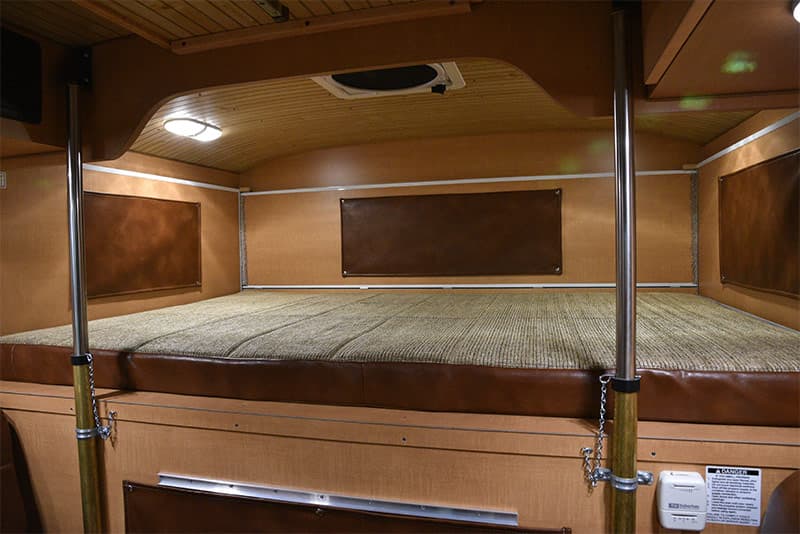 Above: The interior cabover of an Alaskan hard side pop-up
The advantages of a hard-side pop-up truck camper are improved insulation, improved sound isolation, and the improved durability of the pop-up hard-wall itself.  The downside of a hard-wall pop-up is increased weight, higher center of gravity, higher wind resistance, and a generally higher cost.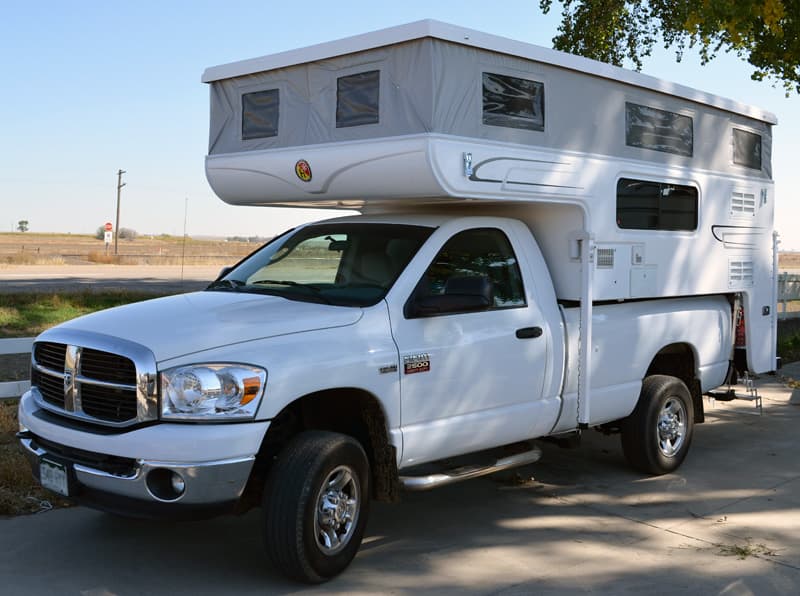 Above: A Hallmark Cuchara pop-up truck camper with soft walls
Compared to a hard-side pop-up, the advantages of a soft side pop-up truck camper are lower weight, lower center of gravity, better wind resistance, and a generally lower cost.  The downside of a soft-wall pop-up are reduced insulation, minimal sound isolation, and the reduced durability of the soft wall itself.  That said, modern vinyl soft walls are extremely durable and, with proper care, can last for decades.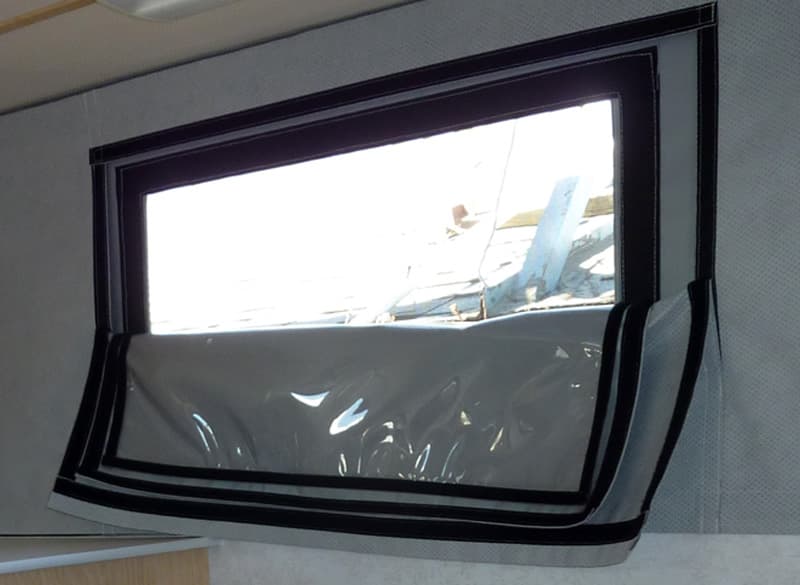 Above: Multi-layered velcro pop-up windows in a soft side Four Wheel Camper; bug screen, clear vinyl, flexible insulation, and black-out privacy shade
Both hard side pop-up and soft side pop-up truck campers feature windows.  Hard side campers have glass slider windows set into the hard wall panels.  These single-pane windows can open for cross ventilation in the cabover.
Most soft-walls are multi-layered with an inside and an outside layer of waterproof vinyl and a layer of flexible insulation material in-between.  Soft wall pop-up truck campers integrate clear vinyl windows into their vinyl fabric.  These windows feature built-in vinyl shades and often offer bug screens.  The shades and clear vinyl open with velcro and/or zippers for cross ventilation in the cabover.
Which pop-up truck camper is right for you?
Generally speaking, if you're looking to match a pop-up truck camper to a half-ton or mini-truck (Tacoma, Titan, Colorado) a soft-wall pop-up is your best choice.  On the other hand, if you have a heavy-duty half-ton with at least 2,000 pounds of payload (preferably more), or have a three-quarter ton or one-ton truck, you can choose from any of the soft-side pop-up models, and the hard-side pop-ups as well.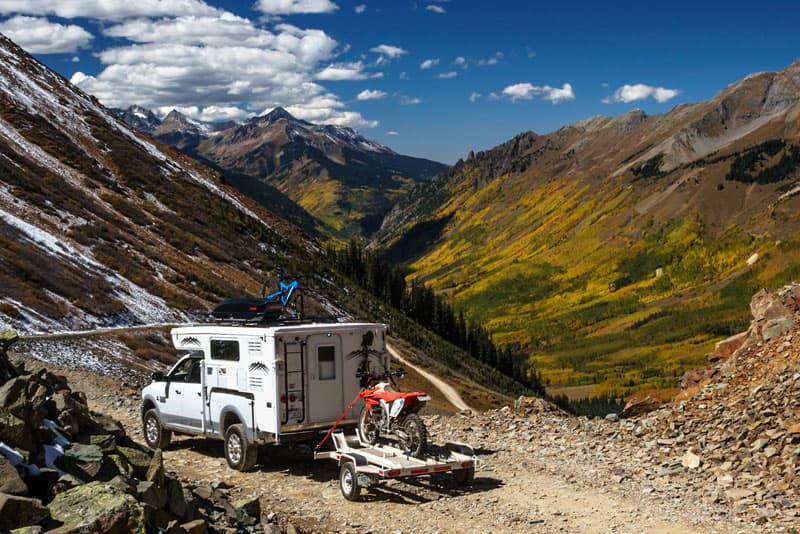 Above: Pop-ups are able to get deeper into the wilderness, photo taken by Scott Zeitler
The other macro decision between hard side and soft side pop-ups is your insulation and isolation preferences.  You'll be more connected to the outside world in a soft-side pop-up; sound and weather.  Some folks find this feature to be a big plus as they want to feel like they're more connected to the outdoors.
These outdoor oriented truck camper owners are willing to sacrifice the improved weather and sound insulation of hard walls to hear the trees rustle in the wind and the elk bugling in the distance.  Long time hikers and tent campers are especially drawn to soft-sides for this very reason.  As for the weather, the ubiquitous built-in modern propane heating systems are not going to leave you cold, even if your walls are soft.
On the other hand, a hard-side pop-up truck camper is the best compromise between a hard side and a pop-up truck camper.  The hard walls give you nearly the same weather insulation and sound isolation qualities of a hard wall design, but fold down and collapse for the wind resistance only a pop-up can offer.  For many, hard wall pop-up truck campers represent the best of both worlds.
Bed Length: Long Bed, Short Bed, or Super Short Bed
With the choice between hard side or pop-up truck camper decided, the next choice is the bed length of your target truck.  The bed length of your target truck will determine whether you purchase a long bed, short bed, or super short bed truck camper.
Pickup trucks are available as long beds (8'0" box), standard short beds (6'4" to 6'10" box), and super short beds (5'5" to 5'7" box).  The majority of truck camper models are designed for long bed and short bed trucks, but there are more super short bed models introduced every year as super short bed trucks grow in sales and popularity.
If you're looking at hard side truck campers, there are more models and floor plan options available for long bed models.
If you're looking at pop-up truck campers, there are about the same number of long bed and short bed models available (including super short and mini truck models).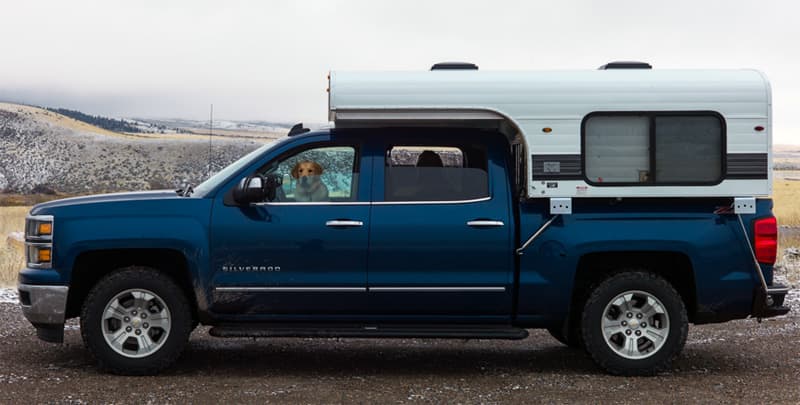 Above: Super short bed Chevy Silverado and Alaskan Camper, photo taken by Linda Norman
So which bed length is right for you; long bed, short bed, or super short bed?
If you already own your target truck, or you have a specific target truck in mind, then the bed length decision is already made.  You will need to find a truck camper that matches the bed length and payload capacity of the truck you have, or want.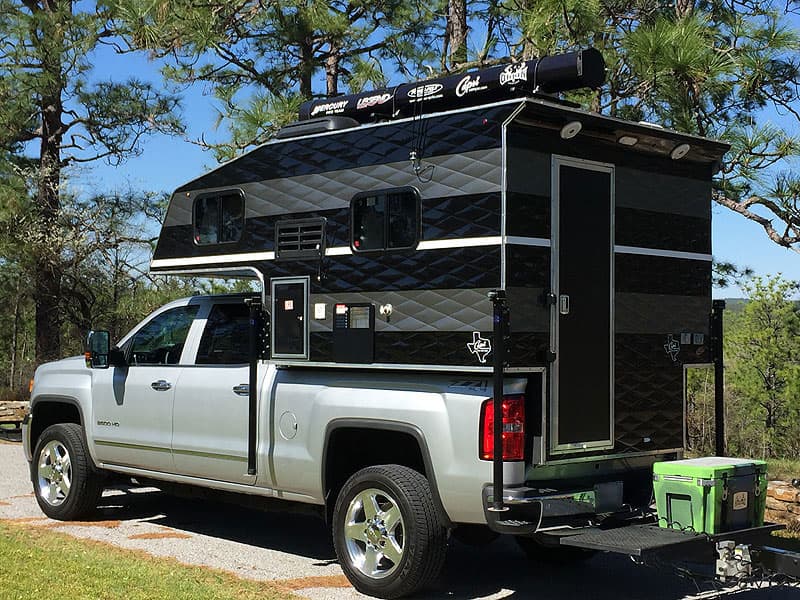 Above: Standard short bed Chevy 2500 and Capri Retreat, photo taken by Troy O'Rourke
If you do not already own a truck, or don't have a specific truck bed length in mind, we strongly recommend shopping for the right truck camper first, and waiting on the truck decision until that is decided.
By selecting your truck camper first, and then calculating what that camper will weigh (with options, wet, and loaded with your gear), you can then purchase a truck with the bed length and payload your camper requires.  That gives you the truck camper you want, with the truck (and payload) you need.
Cabover or Cabover-less Camper
Some of the earliest hard side truck campers from the 1950s and 1960s were cabover-less designs.  These units lacked not only a forward cabover, but a rear overhang.  In many cases, they also lacked a bathroom, holding tanks, and were little more than primitive portable fishing huts and/or hunting cabins.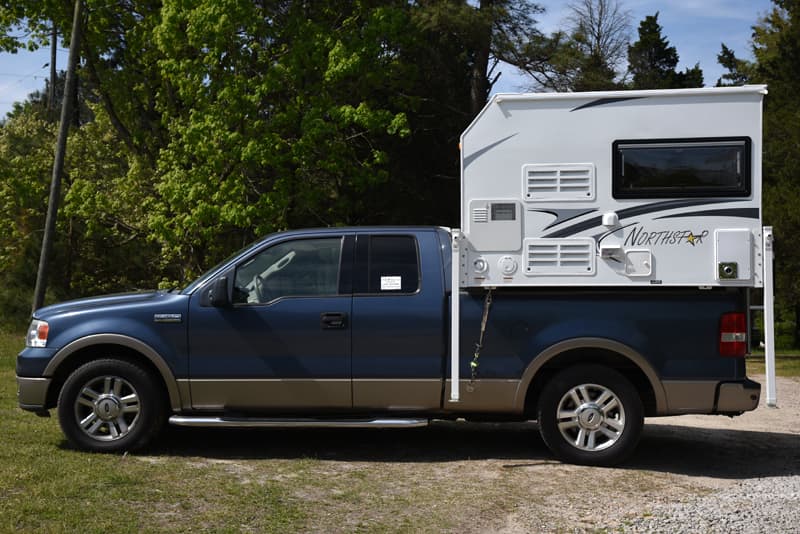 Above: The Northstar Vista is a cabover-less camper
That changed in 2015 and 2016 when several truck camper manufacturers introduced all-new cabover-less hard side truck camper models.  These truck campers feature modern designs and amenities including 12-volt and 110-volt electrical systems, LED lighting, audio-video systems, HD-televisions and antennas, fresh water holding tanks, propane heaters and cooktops, camper batteries, and more.  Due to the limitations of physics, dedicated bathrooms are still off the menu, but some offer dedicated porta-potti storage areas.
The advantages of a hard side cabover-less truck camper versus a hard side cabover camper are very similar to the advantages pop-up truck campers have over hard side campers; simplicity, lower weight, and half-ton compatibility.
For these reasons, cabover-less truck campers are sometimes seen as competitors to pop-up campers.  Cabover-less truck campers can also be less expensive than their cabover peers (pop-up and hard side) and may be all that a prospective truck camper wants or needs.
So which is right for you; a cabover or cabover-less truck camper?
Some folks don't need or want a separate bathroom, built-in toilet, or shower in their truck camper.  They're fine with less interior space and less interior storage.  What they're looking for is a dry and comfortable place to sleep, a cold refrigerator, electric light, propane heat, and a propane cooktop.  If they can make fresh hot coffee in the morning, drink a cold beer in the afternoon, read by LED lighting at night, and sleep comfortably in a warm bed, they're all set.  If that sounds like all you want or need, strongly consider a cabover-less truck camper.
That said, some folks wouldn't consider a truck camper without a cabover bedroom, separate bathroom, and lots of interior space and storage.  If that's more what you're looking for, stick with a cabover truck camper.
Non-Slide, Single-Slide, or Multi-Slide
In 1995, Bob Mehrer of Interior RV shocked the truck camper marketplace by successfully designing, building, and selling the world's first production slide-out.  Until Bob and his team pulled off this ground breaking feat, the idea of a slide-out in a truck camper was considered ludicrous by many.  Why would anyone want a slide-out in a truck camper?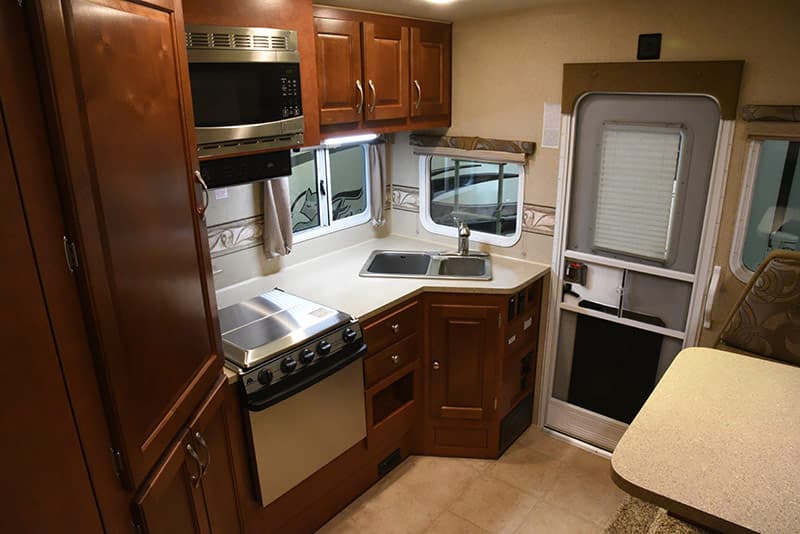 Above: The interior of the Arctic Fox 992, single-slide truck camper
Today, 80-percent of hard side truck camper manufacturers build slide-out models.  In fact, the effect of slide-outs is widely believed to be more dramatic in truck campers than in any other type of RV.  Even a dinette-only slide-out opens up the main living area in a truck camper to such a degree that some consumers would never again consider a non-slide design.
When a single slide extends the length of a side wall and incorporates the refrigerator (a popular slide-out design), the increased sense of open space is even more stunning.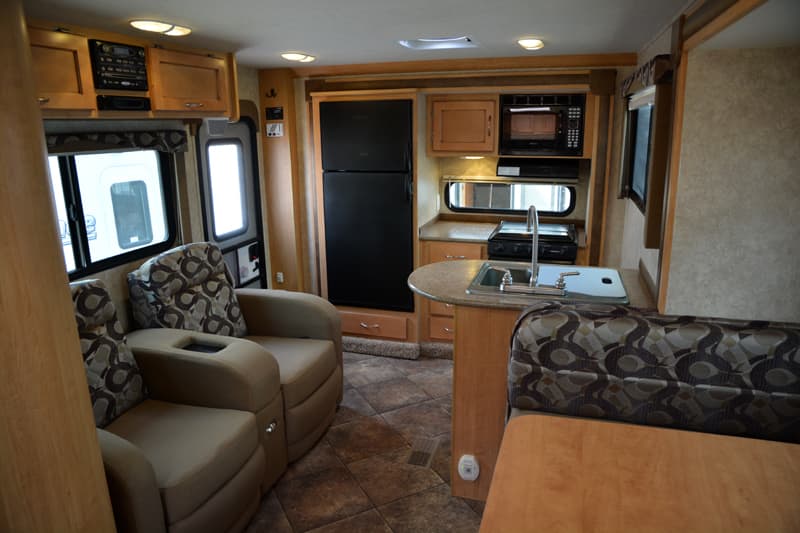 Above: The interior of the Adventurer 116DS, double-slide truck camper
The addition of a second slide opens design possibilities to include residential-size sofas, huge dry baths, and kitchen islands; features that would have seemed impossible in a truck camper 20 years ago.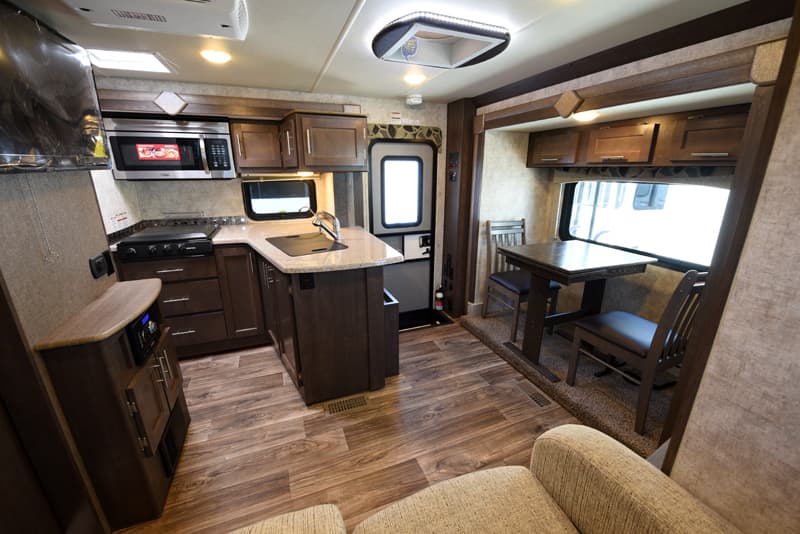 Above: The interior of the Eagle Cap 1200, triple-slide truck camper
With a third slide-out, truck campers begin to challenge the form, function, and luxury of small fifth wheels.  Clearly Bob started a revolution.
So which is right for you; a non-slide, single-slide, or multi-slide truck camper?
From the above description, some might believe a triple-slide must be the best choice.  After all, who wouldn't want the floor space, dry bath, and a sofa and/or recliner chair option?  All of that sounds really great, right?
Well, yes and no.  As with anything, the more moving parts and complexity you add to a truck camper, the more that truck camper will need maintenance and eventual service.  And there's nothing that adds more moving parts to a truck camper than slide-outs.  From the slide-out mechanism, to the slide-out room, to the slide-out toppers, slide-outs add many moving parts that non-slide truck campers simply do not have.
Slide-outs also add a considerable amount of weight to a truck camper.  Compared to a non-slide unit, the side-out mechanism, room, and awning topper can add hundreds of pounds or more to the final weight of a truck camper.  It's not at all unusual for a single-slide long bed truck camper to hit 5,000 pounds loaded and wet.  For this reason, most slide-out truck campers require a dual rear wheel truck.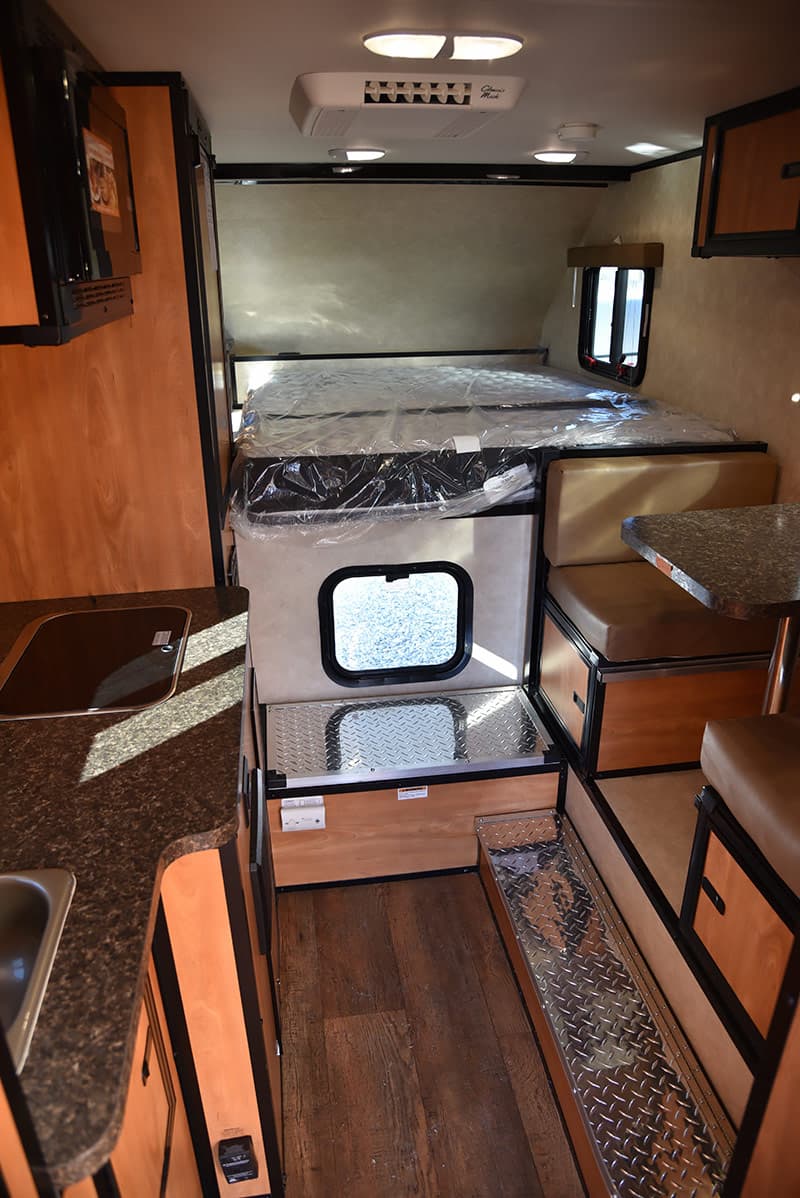 Above: The interior of the CampLite 8.6, non-slide truck camper
Non-slide truck campers obviously lack the impressive floor space of slide-out models, but also forgo the additional maintenance, service, weight, and cost of slide-out designs.  Non-slide truck campers also benefit from decades of design refinement made before Bob changed everything.  Walking into a modern non-slide truck camper you'll see a camper layout that's been improved and enhanced by generations of truck camper designers.
None of that matters if you have to have a sofa, full-booth dinette, and a huge dry bath.  The good news is the structure of slide-out truck campers will never be as trouble-free as non-slide truck campers, but they're getting close.
Wet Bath, Dry Bath, Toilet-Only Bath, or No Bath
There are three types truck camper bathrooms; wet baths, dry baths, and toilet-only rooms.  The other bathroom option is no bathroom.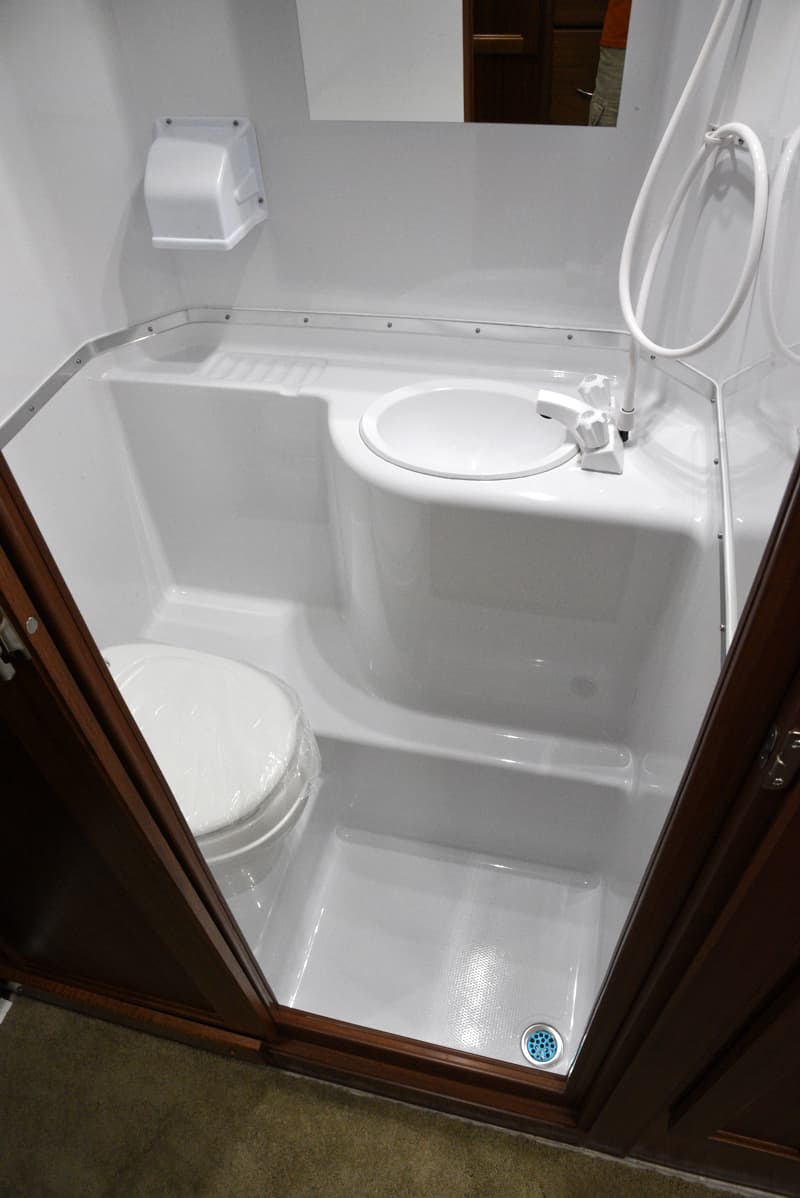 Above: The wet bath in a Northern Lite 10-2EX
A wet bath is essentially a shower stall that contains a sink and toilet.  In a wet bath, the entire bathroom is contained in the shower stall.  In contrast, a dry bath is very similar in concept to what many of us have in our residential homes; a room with a toilet, sink, and a separate shower stall.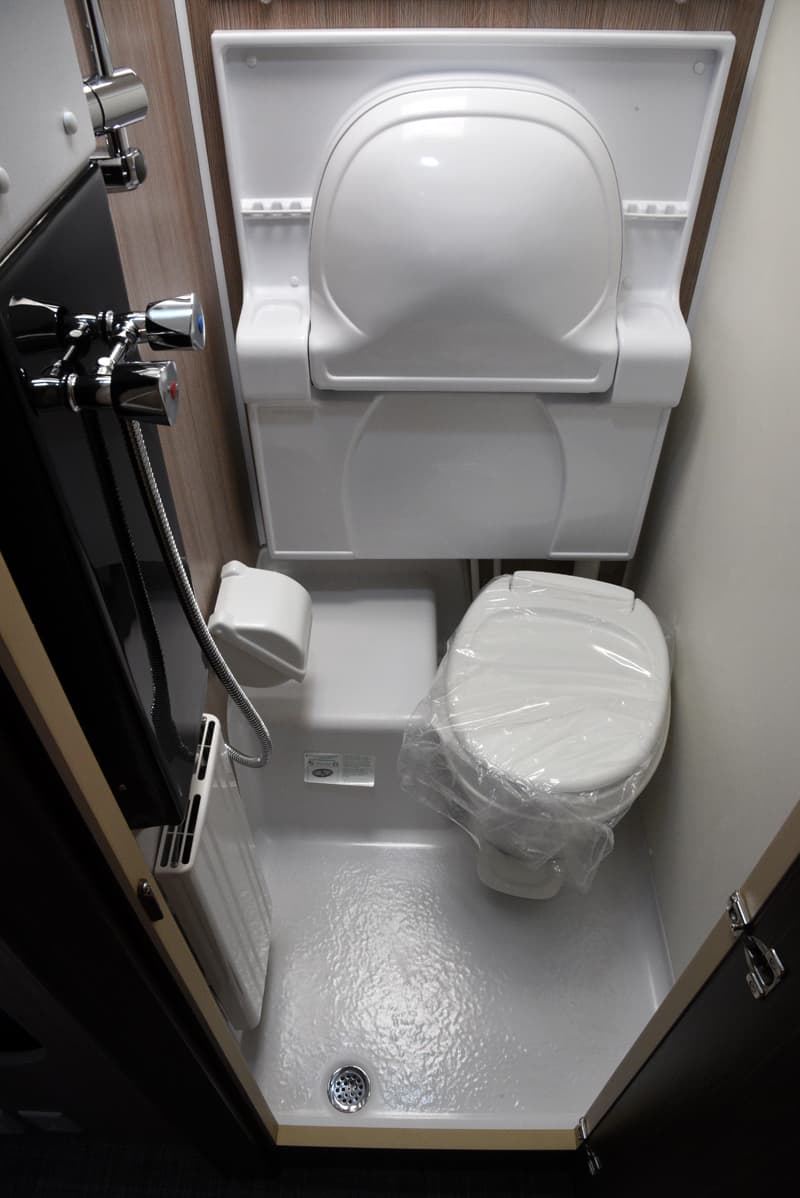 Above: The wet bath and fold-down sink in a Cirrus 820 non-slide
The advantages of a wet bath are many.  First, most wet baths take up significantly less interior space; a precious commodity in any truck camper floor plan.
Second, wet baths often provide a larger space for both showering (arm room) and toilet use (knee room).  Without the need to separate the bathroom space into two, the full interior size of a wet bath is available for showering or toilet use.  If you're tall or otherwise generously proportioned, this space benefit could be very important.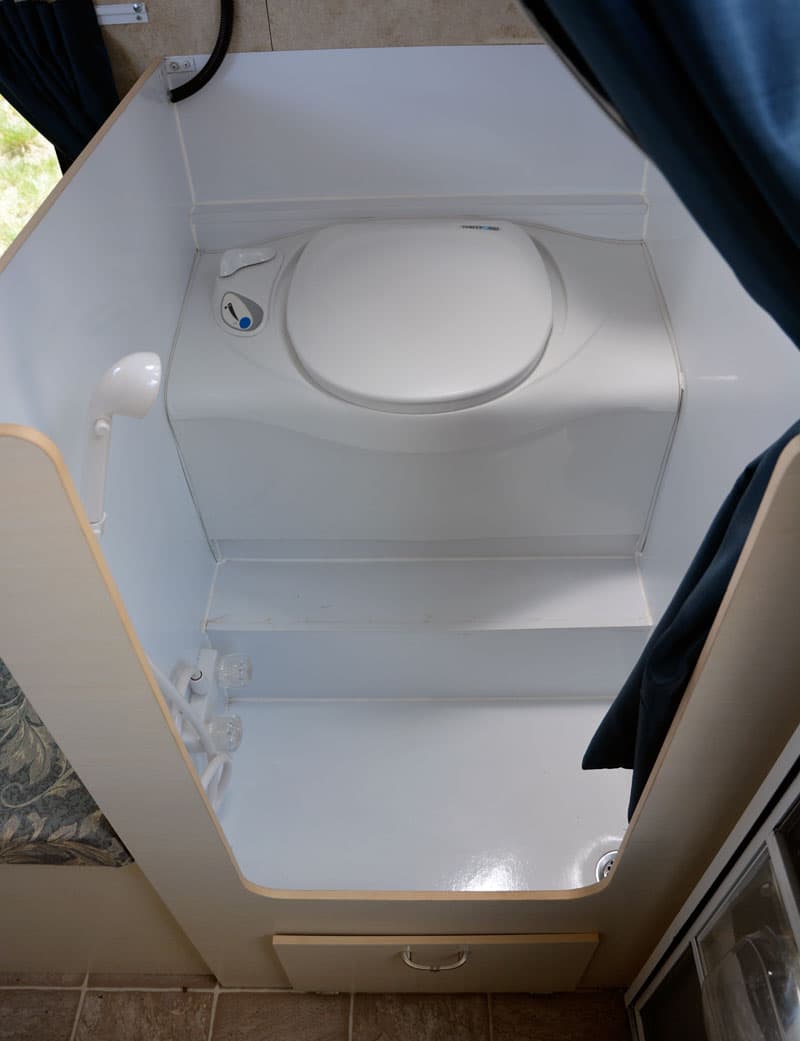 Above: Wet bath and cassette toilet in a Phoenix Custom Camper.  In most pop-up wet baths, the upper shower walls are created by a shower curtain.
When wet baths are used for showering, everything, including the sink and toilet, gets wet and then needs to be dried.  For most wet bath owners, this means using a squeegee to push the water down the walls and into the drain, and then toweling off any remaining water with a towel.  The process is a hassle, but it only takes a few minutes.
The primary advantage of a dry bath is that the shower stall is separate from the toilet and sink area and does not get wet when you shower.  Dry baths also often have more dry storage and counter space.  Most wet baths have a water tight compartment for toilet paper and a mirrored medicine cabinet, but rarely offer additional storage.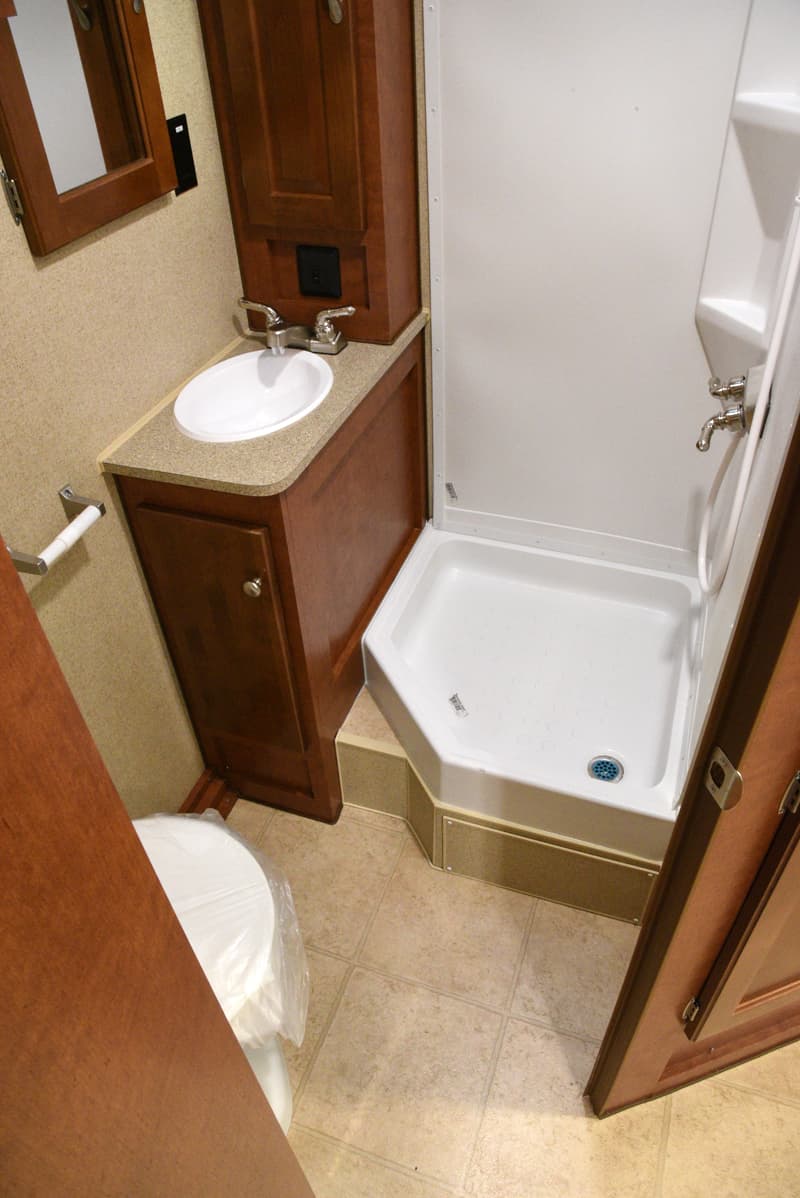 Above: The dry bath in an Arctic Fox 992.  Note the separate floor and shower pan.
On balance, even dry bath shower stalls should be dried after use.  We have a dry bath in our current truck camper and we always dry it after showering to prevent mold and avoid having excess moisture in our unit.  The process of drying the dry bath shower stall is nearly identical to what we've done with wet baths before, but takes less time as we don't need to dry the sink and toilet.
A few manufacturers offer truck campers with only a toilet room.  These toilet rooms do not have sinks or showers, but offer the owner a private bathroom area.
Adding another option, some hard side and pop-up camper companies have built-in cassette toilets in the main camper area (sometimes under a seat), or offer cabinets designed for porta-potti storage.  Both offer the convenience of a toilet with the least amount of space use and added weight possible.
Why would anyone consider a camper without a bathroom?  Space, weight, and cost.  By forgoing a separate bathroom, toilet, and the required plumbing and tanks, the camper can weigh less, have less floor length, and present a more open interior.  It's actually amazing how open a small camper can feel when there's no bathroom taking up space.  The reduced weight of these non-bath campers also can make them better candidates for short bed, super short bed, and half-ton trucks.
So which is right for you; a wet bath, or a dry bath?
As of the writing of this article, there is not a single dry bath pop-up truck camper on the market, and only two hard-side, non-slide, dry baths available.  Put another way, if you're shopping pop-ups or non-slide hard sides, a wet bath is likely your choice.
If you're looking for a hard side slide-out model, your dry bath options multiply.  There are a half-dozen dry bath single-slide floor plans available, and an additional half-dozen dry bath double and triple-slide models.  If you have decided on a dry bath, you can find the specific dry bath models with the Camper Chooser system.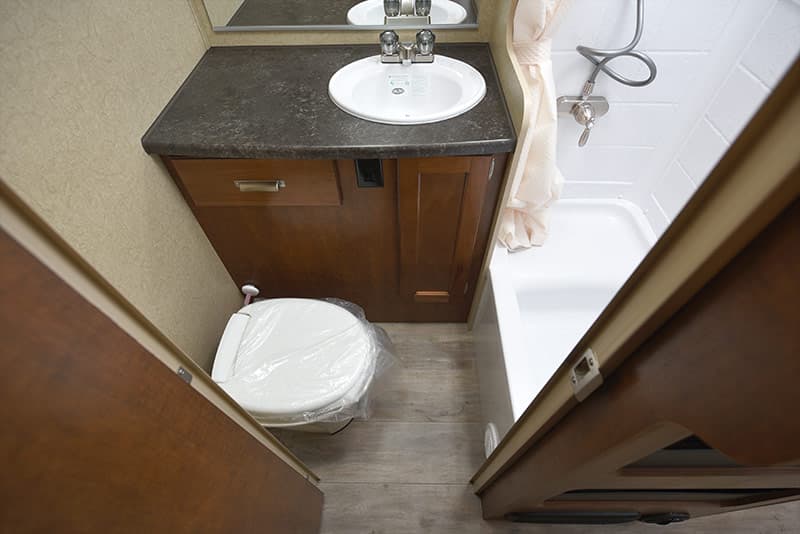 Above: The dry bath in a Lance 975
For hard side slide-out shoppers, it's important to point out that there are actually twice as many wet bath slide-out models as there are dry bath slide-out models.  In fact, there are even double-slide wet bath models on the market.  The reason for this harks back to the principal advantages of a wet bath; they take up less interior space, and provide more shower and toilet room.
The wet bath versus dry bath decision is usually decided based on your personal reaction to the concept of a wet bath.  After all, we have all lived with dry baths in our homes.  Our recommendation is to put the natural dry bath preference aside and consider the real world pros and cons of living with a wet bath versus a dry bath in a truck camper.  Both are excellent choices, with well defined trade-offs.
Rear-Bath or Mid-Bath Floor Plan
For hard side truck camper models with bathrooms, one of the most important design features is the location of the bathroom.  Specifically, is the bathroom located in a rear corner (rear-bath), or a middle-side (mid-bath) of the camper?
If you went truck camper shopping in the 60s, 70s, 80s, 80s, and into the early 2000s, you would have found nearly all truck camper floor plans put the bathroom in the driver's side rear corner.  After decades of camper design and refinement, the driver's side rear corner was found to be the best location for a bathroom.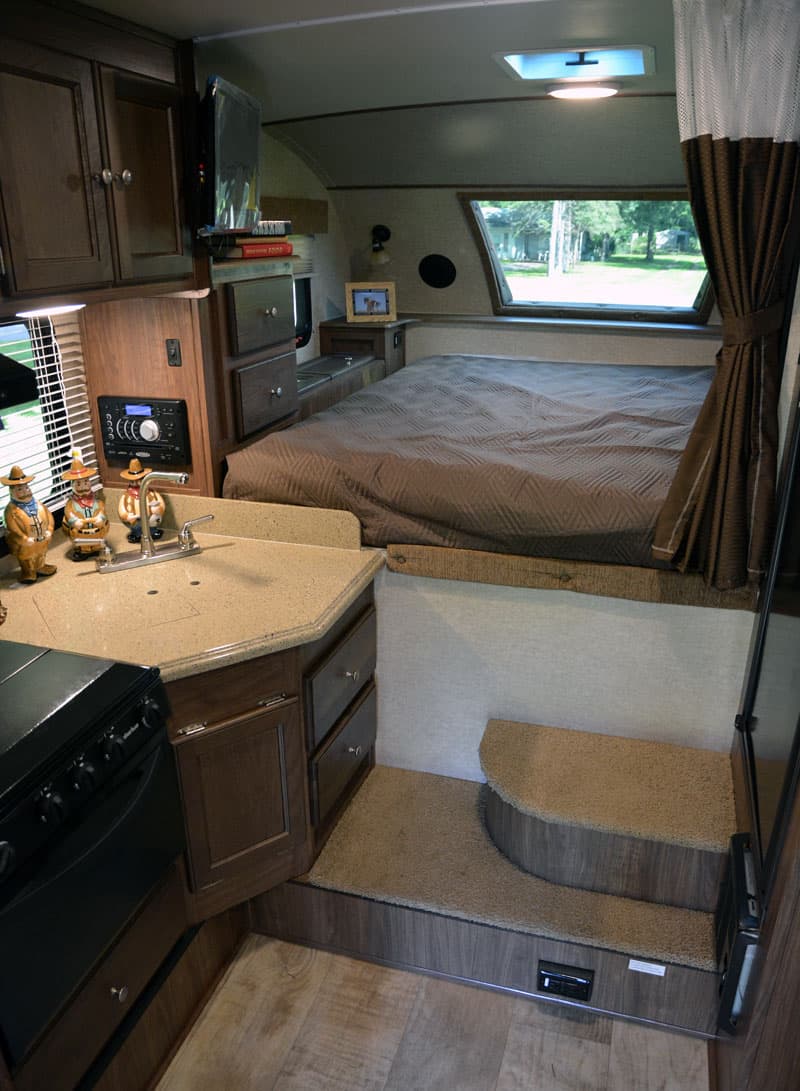 Above: With a rear-bath floor plan, the main living area and cabover of the Palomino HS-2902 opens up
The advantage of having a camper bathroom in the rear is that it opens up the main living area into the cabover.  On some slide-out models, having the bathroom close to the entry door also means you can get to the bathroom without fully extending the slide-out(s).  This is an important consideration for many truck camper owners, as is the presentation of an open and central main living area.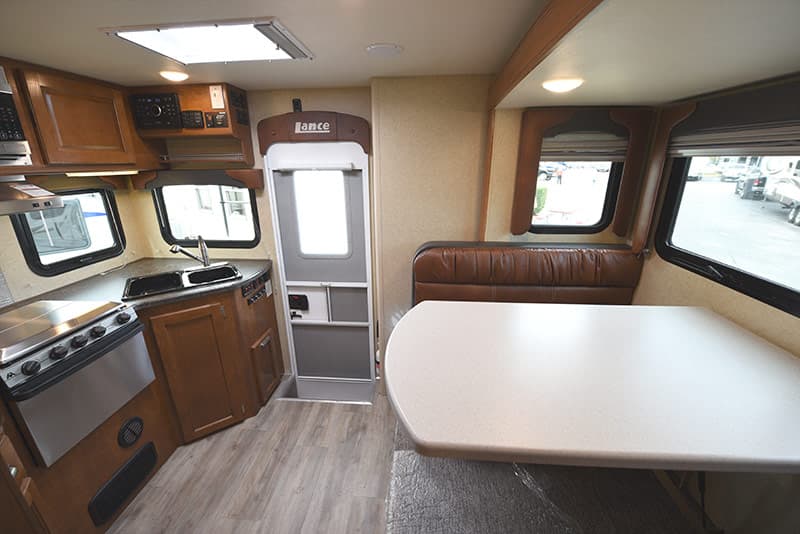 Above: With a mid-bath floor plan, the rear of the Lance 975 opens up allowing for a near-panoramic view
With the introduction of the wheel well height basement (another Bob Mehrer invention), bathrooms started to appear mid-ship.  Moving the bathroom to the middle of the unit (on either the passenger's or driver's side) opens the entry way and gives the main living area separation from the cabover sleeping area.  In essence, a mid-ship bathroom splits a truck camper into two rooms; the rear living area and the forward cabover bedroom.
This approach was well received by the marketplace sparking a number of mid-ship bathroom floor plans that remain popular today.  Some couples like having some separation between the living area and bedroom area as it allows one to sleep while the other wakes up, makes coffee, and starts their day.  They also may enjoy the additional rear and side windows giving them a more panoramic view of their camping site.
The biggest down side to a mid-bath is that you often can't access a mid-bath without first putting out the slide-outs.  If you just want to pull over and quickly use the bathroom, this can be an important negative.
So which is right for you; a rear bath, or a mid-bath?
Since the choice between a rear bath and a mid-bath doesn't change the function of the truck camper, it's purely a personal preference.  In fact, several truck camper manufacturers offer competing floor plans (same floor length and features) with the primary difference being the location of the bathroom.
If you prefer an open main living area with the cabover bedroom area, and want quicker and easier access to the bathroom, go with a rear bath.  If you like the idea of having two rooms with a little separation, and additional rear and side windows in the main living area, go with a mid-bath.
RV Flush Toilet, Cassette Toilet, or Porta-Potti
For campers that offer bathrooms, there are three types of toilet systems; RV flush toilet, cassette toilet, and a porta-potti.
In form and function, RV flush toilets work much the same way as toilets do in a residence.  The primary difference is a RV flush toilet draws water from the fresh water tank and flushes waste into a black tank.  Most RVs, including travel trailers, fifth wheels, and motorhomes, have RV flush toilets.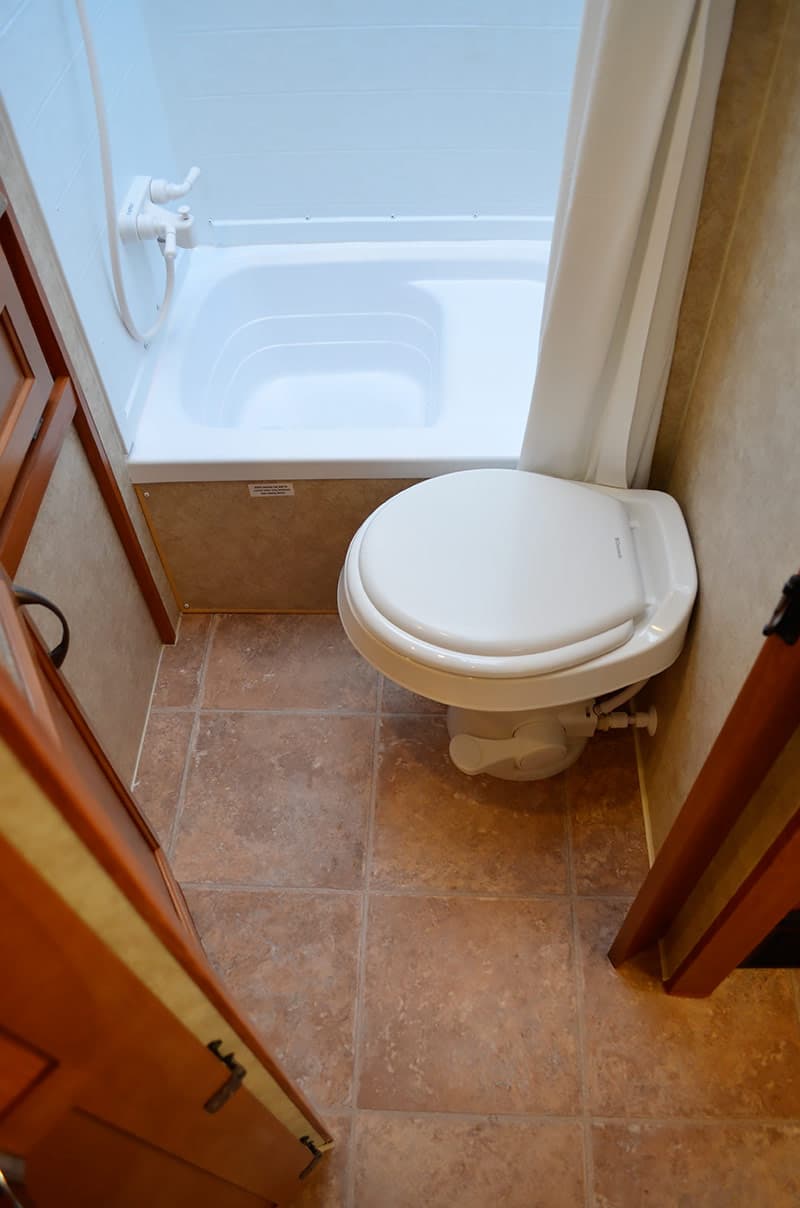 Above: A RV flush toilet in a Eagle Cap 1165 triple-slide
The advantage of a RV flush toilet is capacity and compatibility with RV hookups and dump stations.  Hard side truck camper black tanks range from about 6 gallons to over 40 gallons with most in the 20 gallon plus range.  With a standard dump connection, truck campers with RV flush toilets can connect to thousands of RV dumps stations across the United States and Canada, and hundreds of thousands of full-hookup campsites.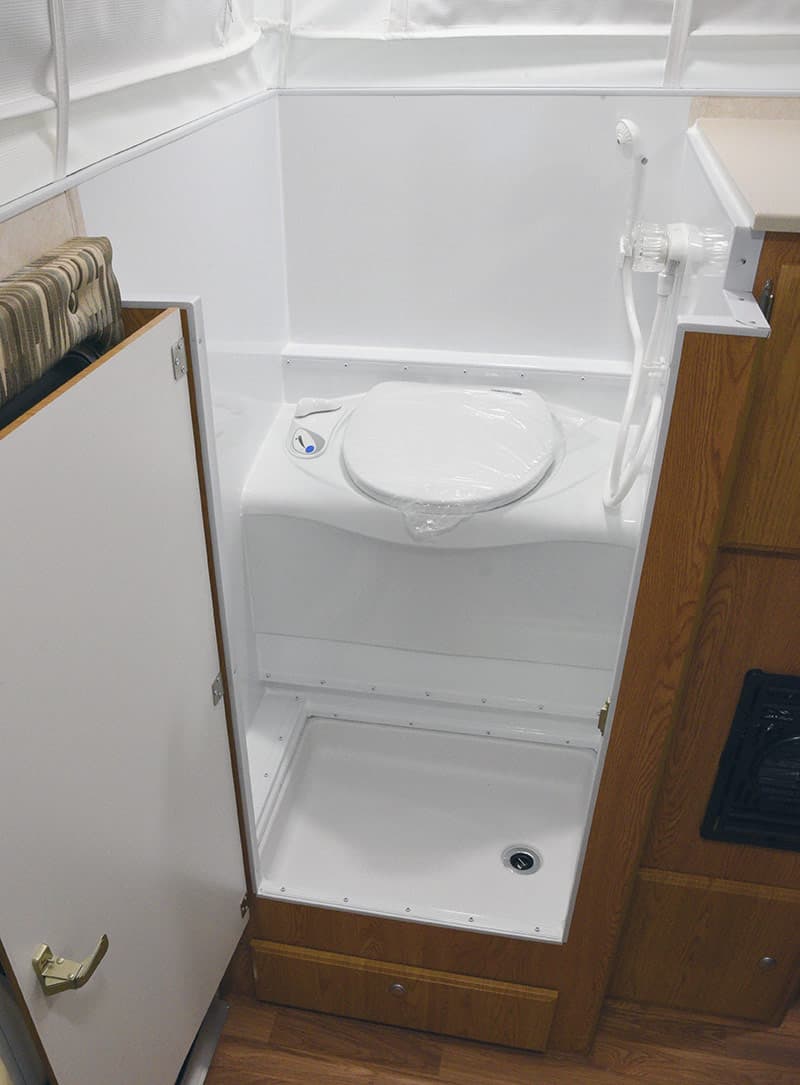 Above: A cassette toilet system in a Northstar 650SC pop-up
Cassette toilets look less similar to residential toilets, but are still familiar in shape and function.  The main difference between a cassette toilet and a RV flush toilet is the built-in removable black tank that cassette toilet systems provide.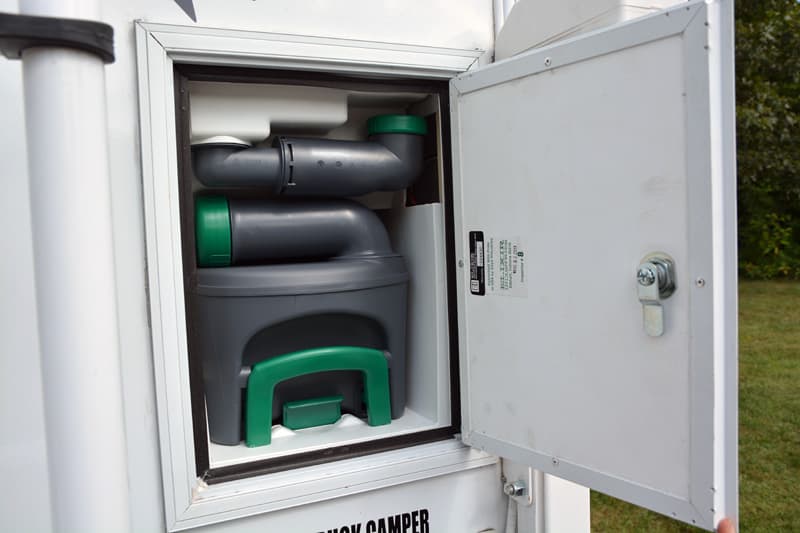 Above: The cassette is removed from an exterior compartment
The majority of cassette toilet systems have a 4.5 or 5.1 gallon removable black tank.  When full, this tank is pulled out of the unit by the camper owner, taken to a residential toilet system, dumped, and then reinserted into the camper.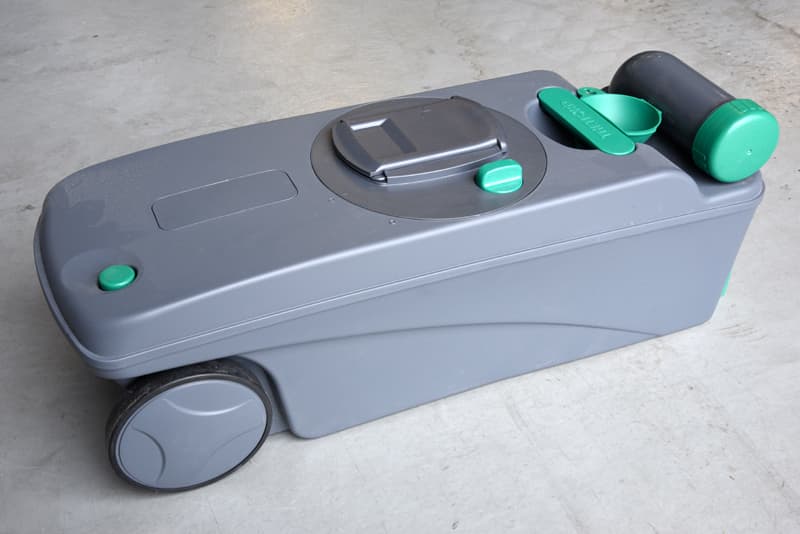 Above: A removed cassette from a cassette toilet system.  Cassette toilets are offered by Northstar Campers, Alaskan Campers, Hallmark RV, Phoenix Custom Campers, and Four Wheel Campers
The main advantage of a cassette toilet is convenience and cold weather capability.  Since a cassette can be removed and dumped into any residential toilet, there's no need to find a RV dump station.  This is especially important for weekend campers who can dump at home, and winter campers who camp when the RV dump stations are closed for the season.
From experience, adults need about 1 gallon of black tank capacity per day.  This means a 4.5 gallon cassette will last 4.5 days for one person and 2.2 days for two people.  A 5.1 gallon cassette will last 5 days for one person and 2.5 days for two.  To stretch their capacity, cassette toilet owners often use public restrooms, or a nearby tree.
So which is right for you; RV flush toilet, cassette toilet, or porta-potti?
The great majority of pop-up truck campers that offer bathrooms feature cassette toilets.  In fact, only one pop-up truck camper offers a black tank.  The others offer cassette toilets, or a porta-potti option.  If you're shopping pop-up campers, chances are you're looking at a cassette or a porta-potti.
The options get more varied and interesting for hard side truck campers.  There are many models available without bathrooms (porta-potti optional), with cassette toilets, and with RV flush toilets.
If you will be mostly weekend camping, or want to camp during the winter when dump stations are closed, a cassette toilet will give you the most versatility.  You may also want to consider a cassette toilet if you camp in an area where RV dump stations are hard to find, or non-existent.
Finally, some folks just love the convenience of being able to dump into a residential toilet.  It should also be noted that you can dump a cassette into a dump station by carefully pouring the contents into the sewer.
If you are accustomed to dump stations, often camp in full hookup campsites, or need more than 5.1 gallons of capacity, a RV flush toilet system and black tank is your choice.  You won't have the dump anywhere versatility of a cassette toilet, but you'll be able to go longer between dumps, and connect to campsite sewers for extended periods of time.
Next Stop: Camper Chooser
When I was in grade school, Choose Your Own Adventure books were all the rage.  In a Choose Your Own Adventure book, the reader was given a plot decision every few pages.  For example, if they wanted the main characters to storm the castle, they turned to page 57.  If they wanted main characters to run away, they turned to page 64.  Thirty years before every kid had the Internet in their pocket, this was big stuff.
Speaking of the Choose Your Own Adventure concept, after reading this article we recommend launching the Camper Chooser and plugging in your choices.  That will lead you to the actual truck campers that match your selected criteria.