Truck Camper Magazine removes decals, deoxidizes filon, caulks, seals, and Seal Tech tests their eleven year old truck camper.  Is that a ghost?

Long before we took ownership of our used truck camper, we were making plans to check and fix the roof and side seals.  We have seen one too many RVs at repair shops with extensive damage from a water leak.  If there was anything we could do, we were not going to let that happen to our camper.
Also on our short list was removing the brand decals, something we thought would be relatively simple.  It wasn't difficult, but removing the brand decals brought its own ghosts, literally.
The following article is meant partially as a follow-up and further detail to our 2010 article, Maintaining Camper Seals.  We recommend reading both articles before proceeding with your own caulk and seal maintenance.
The Devil is in the Decals
To loosen the decals, we used a 3M rubbing compound recommended for the task by Truck Camper Warehouse.  Once this was completed, we used a safety razor blade almost flat to the camper to carefully scrape off the decals.  This process was similar to using a safety razor to remove paint from a glass window.  It was slow going, but it worked well.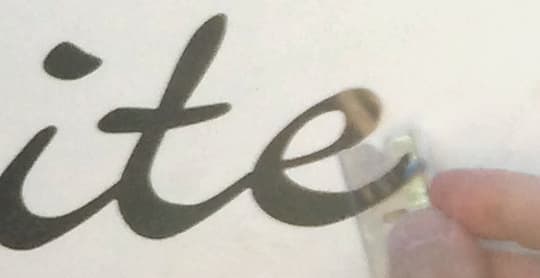 TIP: Be very careful not to cut into the filon with the safety razor blade.  This is intricate work that requires focus and patience.
After eleven years of sun, the brand decal on the front nose of our camper required a different approach.  The 3M rubbing compound made little to no difference, and the decal wasn't coming up with the razor blade either.
That's when Bill Penney, Owner of Truck Camper Warehouse, recommended a 3M stripe-off wheel powered by a DeWalt cordless drill.  In most instances, this is the tool Truck Camper Warehouse uses to remove RV decals.
Bill handed us a drill with the stripe-off wheel, and two extra drill batteries.  He then warned us to go slow and be careful not to remove the filon gel-coat surface, or burn the filon surface with the friction.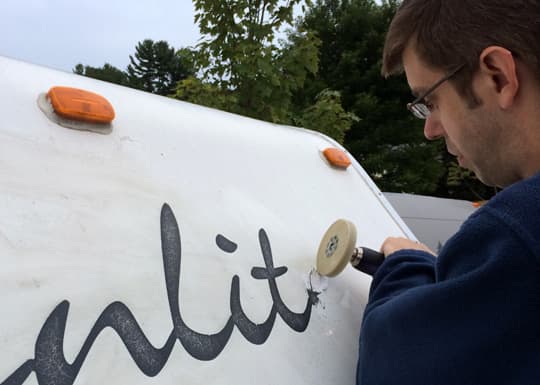 Undaunted, we got to work.  It took a minute to get used to the drill with the stripe-off wheel, and how much pressure to apply, but then it was smooth sailing.  Essentially, you just touch the decal with minimal pressure, and keep the wheel moving over the decal as to not overheat and possibly burn any specific point.
In about a half-hour the front brand decal was removed.  In fact, we went back to the other decals and touched up those areas with the stripe-off wheel.  It was surprisingly fun.
With an evil grin, the thought occurred that there was about seventy truck campers with decals at Truck Camper Warehouse, and Bill had gone home for the evening.  Maybe he wouldn't notice that he had a yard full of generic campers in the morning, and one thoroughly used stripe-off wheel?
TIP: The heat and vibration from a stripe-off wheel can cause the adhesives in sidewall and front nose laminations to separate.  We have read reports of people using hair dryers to loosen and remove decals.  This is another heat source that could cause underlying adhesive laminations to separate.
Who You Gonna Call?
After removing the decal material, there was a reverse image where the decals had been.  This "ghosting" effect made it so we could still see the brand logos, even with the decals removed.  Where there had been decals, there were now whiter and brighter "ghosts" spelling out the brand name.