Truck Camper Magazine asks Mike Kernagis, Service Manager at Palomino RV, about properly maintaining camper seals.  Get your caulk guns ready.

Each year we survey our loyal readers about what you want us to cover in Truck Camper Magazine.  And each year we get more and more requests for articles on truck camper maintenance.  To answer your requests, we are launching a new series of articles called, "Ask the Expert" in which a experienced industry representatives will help us to take better care of our truck campers.
Today's "Ask the Expert" article is on how to maintain your camper seals.  Beyond a doubt, maintaining camper seals is in the top five most asked maintenance questions we get at TCM.  To help us get a definitive answer on this important issue, we talked to Mike Kernagis, Service Manager at Palomino RV.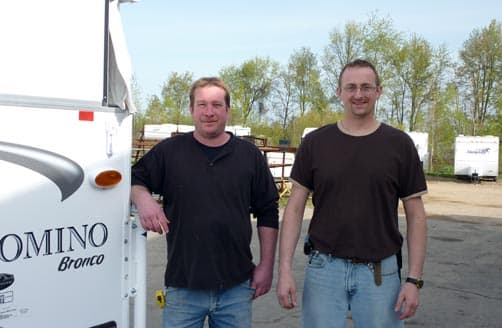 Tom Noirot, Service Technican and Mike Kernagis, Service Manager at Palomino RV
We met Mike in the Palomino RV front lobby at 7:30am.  Mike greeted us and walked us to the service bay at the far end of the Palomino RV complex.  There we met Tom Noirot, Service Technician, who brought in a Palomino Maverick 8801 hard side camper and a Palomino Bronco 1251 for our seal maintenance article.  Tom has been in the RV service industry for seventeen years and Mike has seven years of RV service experience.  They have sealed hundreds if not thousands of truck campers.
Mike recommends that you caulk your camper twice a year; once after you de-winterize and once right when you are winterizing in the late fall.  Mike also recommends two different sealants for truck campers.  For FRP or rubber camper roofs, Mike uses Dicor roof sealant.  Dicor is the industry choice for sealing RV roofs because it is a self-leveling sealant.
In the left photo above, Mike points to where Dicor seals can start to crack; where the vent outside edge meets the camper roof.  The center and right photos show what a finished and properly sealed roof vent should look like with Dicor.

For the remaining exterior of your camper, Mike uses Geocel MHRV (Motorhome/RV) heavy duty sealant.  Geocell 2350 has a high UV rating, which makes it an excellent choice for truck campers.  Dicor and Geocell 2350 are available at most RV supply stores and many hardware stores.  Mike does not recommend using silicone based sealants unless it is an emergency, such as sealing a leak in a rain storm.
How To Caulk Your Camper
1. With mild soap and water, wash your entire camper.  If you have a pop-up camper, wash your camper with the pop-up closed.  If your camper is not clean, you are not going to see the seals as easily.
2. Inspect your entire camper for seals that are cracked or coming away from the fixtures (left photo).  Mike recommends focusing in particular where fixtures meet the roof or side walls.
3. Remove the old caulk by spraying the caulked areas with a strong citrus cleaner (center photo).  Mike recommends Goo Gone, a strong citrus cleaner that works well.
4. Use a "putty buddy" or other plastic scraper to remove the old caulk.  For easy removal, use a thick, high quality scraper (right photo).
5. After removing the old caulk, wash the citrus cleaner off with soapy water and wipe it clean (left and center photo).  If you do not wash the citrus cleaner off, it could dissolve in the new caulk and make it so the new caulking does not completely seal.
6. Using a caulk gun, seal the body of the camper with Geocel (left and center photo) and the roof with Dicor.  After applying the caulk, it should look like the photo on the right.
7. Use a spray bottle to spray soapy water on your hand (left photo).  With your soapy fingers, wipe the excess caulk off with your fingers (center photo).  This cleans up the caulk and keeps your hands clean.
The right photo shows a the new caulk on the left side of the photo and the old and damaged caulk on the right side of the photo.  After you wipe away the excess caulk, the finished seal should look like the left side of this photo.
Camper Caulking is Completed
Once you complete the caulking, let your camper dry for at least two hours.  It's very important that the camper does not sit out in the rain during this time.
If you are using Dicor, do not travel or let the camper sit out in the rain for at least twenty-four hours.  If the outside temperature is lower than seventy-five degrees Fahrenheit, it will take longer for the caulking to cure.  The lower the outside temperature the longer it will take for the caulking to cure.
Caulking Often Forgotten Areas
There are three critical areas that are often forgotten when re-caulking a camper.  These areas are around the jacks (left photo), near the camper's front overcab lights (center photo), and under the rear underskirt of the camper (right photo).  On a pop-up camper, the areas around the four corners where the soft-wall meets the corners are also frequently missed (not pictured).
It's important to check the rear skirt of the camper when the camper is raised or mounted on your truck.  By having the camper raised, you can clearly see the areas that need to be caulked.  Road spray wears down these seams.  On our project camper we have tried Rubber In A Can to help maintain the rear skirt area.
Water is one of the main enemies of any truck camper.  It doesn't matter if you have wood framed, aluminum framed, or a molded fiberglass camper.  If you allow your seals to crack and deteriorate, water will seep in and your truck camper will be in big trouble.  We want to thank Mike Kernagis, Tom Noirot, and Palomino RV for helping us to address this extremely important maintenance issue.
Click here to read another in-depth article about inspecting camper seals.  Please also read Tips For Buying A Used Camper and How To Inspect A Used Truck Camper before you purchase a pre-owned unit.