Truck Camper Magazine asks Mike Kernagis, Service Manager at Palomino RV, about properly maintaining camper seals.  Get your caulk guns ready.

Each year we survey our loyal readers about what you want us to cover in Truck Camper Magazine.  And each year we get more and more requests for articles on truck camper maintenance.
Today's "Ask the Expert" article is on how to maintain your camper seals.  Beyond a doubt, maintaining camper seals is in the top five most asked maintenance questions we get at TCM.  To help us get a definitive answer on this important issue, we talked to Mike Kernagis, Service Manager at Palomino RV.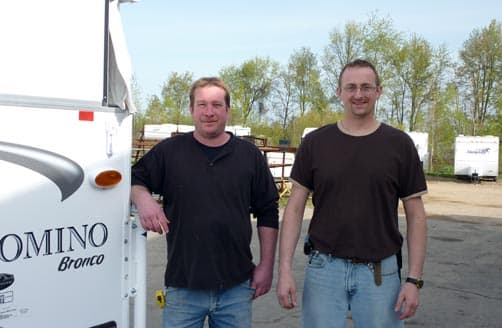 Tom Noirot, Service Technican and Mike Kernagis, Service Manager at Palomino RV
We also met Tom Noirot, Service Technician, who brought in a Palomino Maverick 8801 hard side camper and a Palomino Bronco 1251 for our seal maintenance article.  Tom has been in the RV service industry for seventeen years and Mike has seven years of RV service experience.  They have sealed hundreds if not thousands of truck campers.
"Constant inspection of the seals is the key to keeping water out and your RV looking like new."
When Should You Caulk Your Camper?
Mike recommends that you caulk your camper twice a year; once after you de-winterize and once right when you are winterizing in the late fall.  Mike also recommends two different sealants for truck campers.
Dicor seals can start to crack where the vent outside edge meets the camper roof.  The center and right photos show what a finished and properly sealed roof vent should look like with Dicor.
Dicor For Roof, Geocel For Sides
For FRP or rubber camper roofs, Mike uses Dicor roof sealant.  Dicor is the industry choice for sealing RV roofs because it is a self-leveling sealant.

For the remaining exterior of your camper, Mike uses Geocel MHRV (Motorhome/RV) heavy duty sealant.  Geocell 2350 has a high UV rating, which makes it an excellent choice for truck campers.
Dicor and Geocell 2350 are available at most RV supply stores and many hardware stores.  Mike does not recommend using silicone based sealants unless it is an emergency, such as sealing a leak in a rain storm.
How To Caulk Your Camper
1. With mild soap and water, wash your entire camper.  If you have a pop-up camper, wash your camper with the pop-up closed.  If your camper is not clean, you are not going to see the seals as easily.
2. Inspect your entire camper for seals that are cracked or coming away from the fixtures (left photo).  Mike recommends focusing in particular where fixtures meet the roof or side walls.
3. Remove the old caulk by spraying the caulked areas with a strong citrus cleaner (center photo).  Mike recommends Goo Gone, a strong citrus cleaner that works well.
4. Use a "putty buddy" or other plastic scraper to remove the old caulk.  For easy removal, use a thick, high quality scraper (right photo).
5. After removing the old caulk, wash the citrus cleaner off with soapy water and wipe it clean (left and center photo).  If you do not wash the citrus cleaner off, it could dissolve in the new caulk and make it so the new caulking does not completely seal.
6. Using a caulk gun, seal the body of the camper with Geocel (left and center photo) and the roof with Dicor.  After applying the caulk, it should look like the photo on the right.