Truck Camper Magazine travels to Roadmaster in Vancouver, Washington for a sway bar installation and 5,000-mile evaluation with our fully-loaded project camper.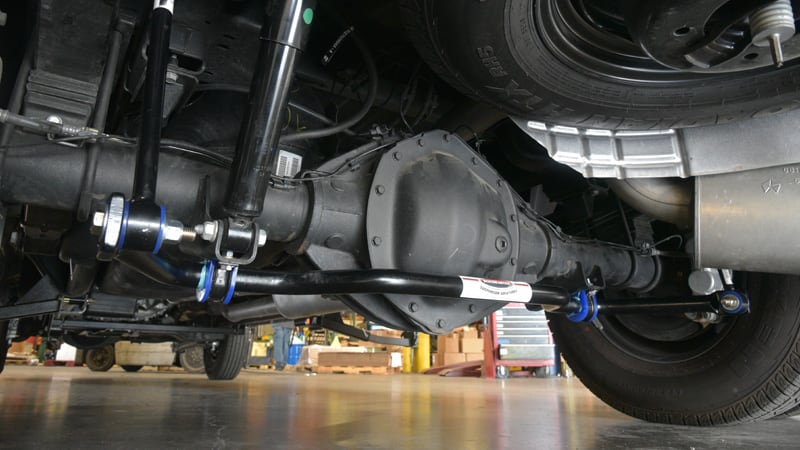 Before we get started on this install and review, it's important to reiterate Truck Camper Magazine's time-tested and proven position on aftermarket suspension products.
First, always properly payload match your truck and camper.  Follow the Truck First, Camper First, or Fast Match method explained in the article, "How To Match A Truck and Camper".  Start there.
Second, once your rig is properly payload matched, only add the suspension enhancement products you need to solve the ride and handling problems you experience  For example, if your rig has too much sway, get a sway bar, but not until you experience too much sway.  Don't spend money or add the weight to your rig unless you need to.
Most Rigs Need Some Suspension Enhancement
In reality, even properly matched truck and camper combinations often need suspension enhancement products to fine tune their performance.
When we first loaded our project camper on our Ram 3500, we were almost 800-pounds under payload and yet the truck had about two-inches of rear sag.  That sag was fixed with a set of Torklift Upper StableLoads to engage the truck's factory overloads faster.  For this reason, Torklift Upper StableLoads are one of our top recommendations for most truck and camper combinations.
More Background: 6 New Tires and 2 Blow Outs
We drove our 2014 Ram 3500 and project camper with only the Torklift Upper StableLoads for three years and approximately 37,000-miles.  Then, in the Spring of 2017, we changed from the factory Nexen Roadian HTX RH5 235/80-17 E-rated tires to Michelin LTX A/T 2 tires.
Long story short, we had two tire blow outs within 1,000 miles of installing the Michelins due to the tire installer not using metal valve stems.  We replaced the tires under warranty, changed to metal valve stems and continued to drive the rig until the truck was totaled in July of 2018.
Lesson learned.  We will always get metal valve stems when we change tires.
Before the blow outs, we were underwhelmed by the performance difference offered by the Michelins.  Honestly, we preferred the ride, handling and performance offered by the much more affordable Nexens.  On our current 2018 Ram 3500, we have no plans to change the factory Nexens unless we upgrade to 19.5-inch wheels and tires.  As of now, that is not in the cards.
The Plan: Add a Roadmaster Sway Bar
With the Torklift Upper StableLoads and Nexen or Michelin tires, our rig handled extremely well – but not perfectly.
At slow speeds, the truck and camper would sway aggressively when driving over uneven entrance ways.  For example, when pulling into a gas station at an angle, a slight incline or decline would send the entire rig swaying back and forth.
Following our own advice, we decided to add the suspension enhancement products we needed for the problems we had.  In our case, sway.  Since we already had the Torklift StableLoads and upgraded Michelin tires, the next logical enhancement was a sway bar – and possibly new and upgraded shocks.
Above: Sway bar production at Roadmaster in Vancouver Washington
As it turns out, there is only one company that makes a sway bar for 2014 and newer Ram 3500 with a 6.4L HEMI gas engine; Roadmaster.  After contacting the company, Roadmaster invited us to their Vancouver, Washington headquarters for an installation.
And that's where this story hits a Camry.  A few weeks before our scheduled appointment, our 2014 Ram 3500 was T-boned and totaled in La Grande, Oregon.  Three weeks later, we had a brand new 2018 Ram 3500 and rescheduled the installation.
Installing Two Roadmaster Sway Bars
Roadmaster selected a 1 1/4-inch diameter sway bar for this application.  The installation was handled by Roadmaster's in-house installation team.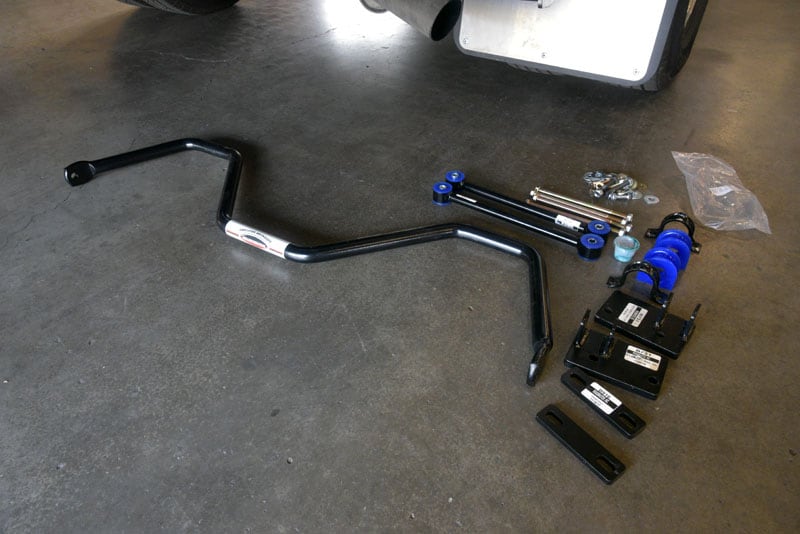 Above: Roadmaster sway bar parts before installation
In a nutshell, they greased the inside of the bushings with Aqualube, pushed the bushing clamps over the bushings with a soft hammer, attached the axle brackets, assembled and attached the endlinks, attached the sway bar to the endlinks and tightened the bolts.
Even with our persistent questions and pauses for photography, the entire installation took less than an hour.  After re-checking the fittings, they asked us to go on a road test.
The effect of the sway bar was a definite improvement, but it wasn't enough.  When we entered a nearby gas station with an angled and slightly inclined entrance, the rig swayed less, but still swayed too much.
After returning to Roadmaster, the team had another idea.  With a few measurements, they determined that a larger 1 3/8-inch diameter sway bar would fit our Ram 6.4L HEMI.  And like that, they were under our truck installing the beefier sway bar.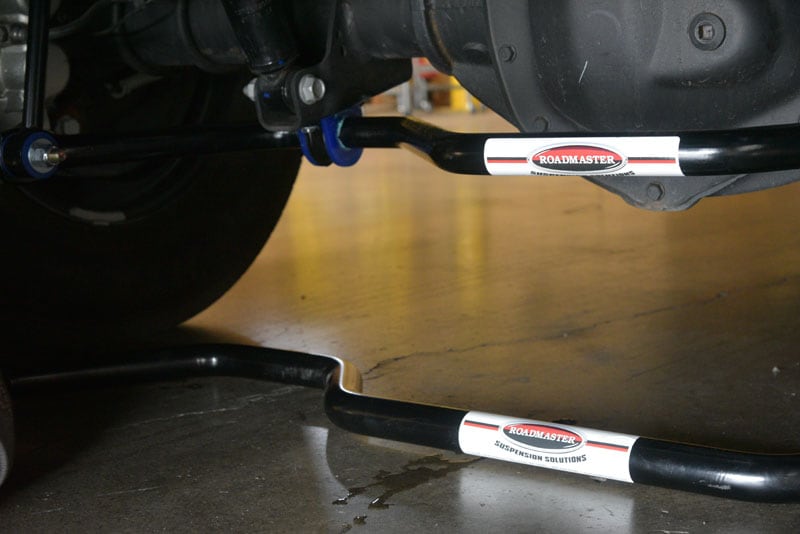 Above: New 1 3/8-inch sway bar on the floor, ready to be installed
I was initially skeptical that an additional 1/8-inch of diameter would make the amount of difference we needed, but the Roadmaster team assured me it would.  A half-hour later we were ready for another test drive.
The second sway bar was a revelation.  When we entered the gas station this time, the rig was well controlled with very minimal sway and a much faster recovery.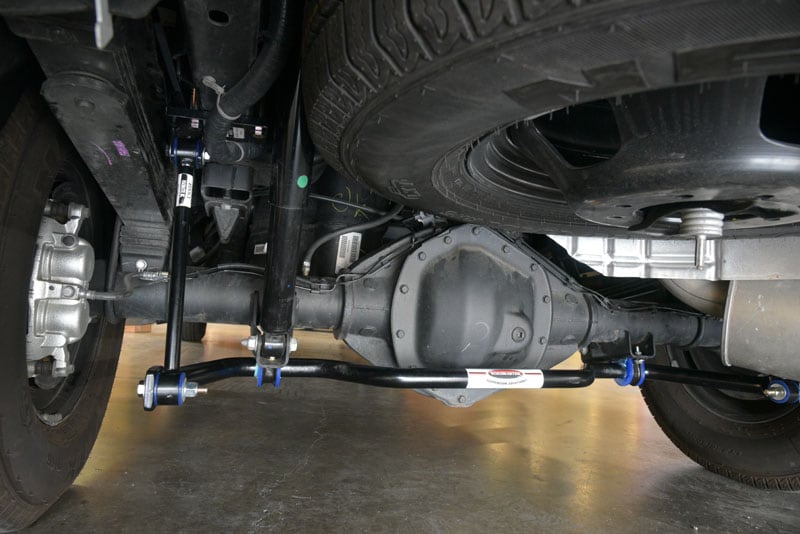 The obvious conclusion is that truck campers, with their taller center of gravity and heavy load, need a heavy duty rear sway bar.  In our case, the 1 3/8-inch sway bar did the trick.
In the months since the installation we have driven up to British Columbia, across the United States to the northeast, down to Florida and back up to the northeast.  Over those many thousands of miles, the Roadmaster sway bar all but eliminated the sway.
Fine-Tuning: Rancho RS9000XL Shocks
In 2008, we upgraded the shocks in our 1998 Ram 3500 with Rancho RS9000XLs.  After installing the Ranchos, and dialing them up to 9 (maximum), we could barely tell the difference.
Looking back, there were bigger suspension fish to fry on that truck.  First and foremost, the rear spring pack was later found to be cracked on one side, was insufficiently repaired, and was subsequently replaced when we returned home.  We eventually got the suspension dialed in on that truck, but we had long since lost the ability to tell what the Rancho RS9000XL shocks were doing.
Our Rancho RS9000XL experience with the 2018 Ram 3500 has been a completely different story.  With the Ranchos dialed to 7, the overall rig handling firmed up dramatically.  Even better, road bumps and vibrations were better absorbed, and recovery of jarring road features improved.  We have not yet tried the shocks dialed to 9, but we're quite happy at 7.
The best kudos I can give the Roadmaster sway bar and Rancho RS9000XL shock combination is that we no longer even think about sway.  It's essentially gone.
Wrapped Up On the Record
I am not a big fan of broken records, even though I am one myself.  On that note, do not misinterpret this article as evidence that adding Torklift Upper StableLoads, a Roadmaster rear sway bar, and Rancho RS9000XL shocks are a cure-all for truck and camper sway and handling issues.  They are not.
You need to start with a properly payload matched truck and camper.  Then, and only then, can these suspension enhancement products truly dial-in a truck camper rig for safe and controlled handling and performance.
Many will refute this fact, but most of these folks have never actually driven a properly matched truck and camper rig.  We have driven multiple improperly matched (overloaded) rigs and properly matched rigs.  The difference is night and day.
With a properly matched rig, careful selection of aftermarket suspension products can dial-in and fine tune the performance of a truck and camper rig.  Your truck and camper will never be a Porsche 911 GT3 (yes please!), but it will drive and handle with confidence.
For more information on Roadmaster's suspension products, visit their website at roadmasterinc.com. Click here to request a Roadmaster brochure.