In March Angela and I decided that it was finally time to replace the factory tires on our 2014 Ram 3500.  The original Nexen Roadian HTX RH5 235/80-17 E-rated tires had just north of 37,000 miles.
In reality, the factory Nexen tires were probably fine for another 10,000 miles, but we were heading out on another long-distance trip from Florida to Texas and then to Pennsylvania and wanted the comfort of knowing our tires were 100-percent.
Using our own reader tire poll from last summer, we selected Michelin LTX A/T 2 tires.  Over 35-percent of our readers have Michelin tires, more than any other brand by a significant margin.
Furthermore, the reviews and customer reports on the Michelin LTX A/T 2's were overwhelmingly positive.  The tires were expensive (north of $1,700 for six tires installed) but we do a lot of traveling and safety is always a top priority.
The tires were installed by a private garage in Florida that specializes in trucks, commercial vehicles, and RVs.  The garage was well rated online, and otherwise checked out.  Sam's Club had a better price on the tires, but we decided to go to the truck specialists for something this important.
The installation went well, except for one facet.  We asked to have dually valve extensions installed to make checking and filling the inside dually air pressure easier.
The garage didn't have dually valve extensions in stock and asked us to come back when they came in.  When the extensions arrived, we took the truck back, had them installed, and prepared for our trip to Texas.  So far, so good.
Three days into our Texas trip, we heard a loud bang from the driver's side of the vehicle.  We were coming to a rolling stop at traffic light, and first thought that it wasn't our vehicle.  When we stopped to check about a half-mile later, air was audibly leaking from the inside dually.
"Find the closest tire shop!" I told Angela as I quickly climbed back into the driver's seat.
She got on her iPhone and found a Discount Tire less than a half-mile from our location.  Two minutes later we were at Discount Tire and a team member had us pull in front of their bays for evaluation.  To relieve pressure on the failing tire, we put the jacks down.
To make a long story short, one of the rubber valve extensions had broken causing the bang we had heard and the subsequent flat.  The inside of the tire was a mess and was not repairable.  Thankfully, the tire was under warranty and they could have a new Michelin the next morning.  After installing our spare, we drove over to a nearby Walmart and parked for the night.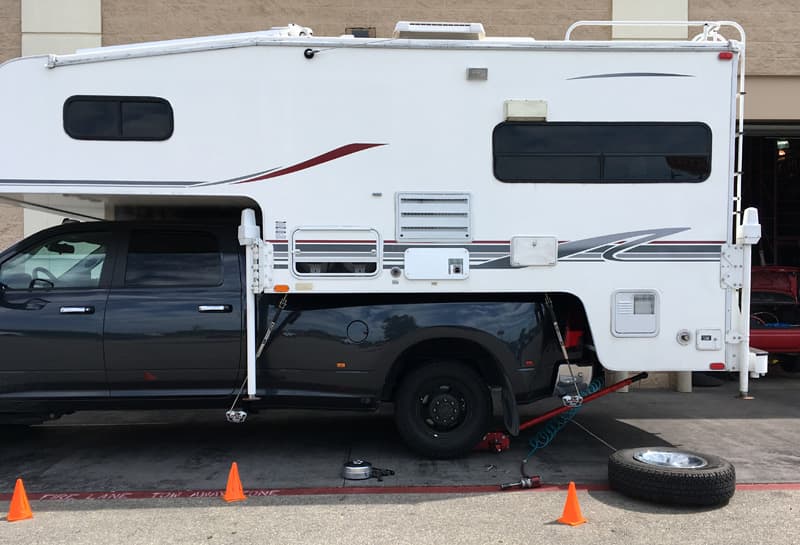 Above: At Discount Tire getting the new Michelin installed
The next morning Discount Tire called to report the new tire had arrived.  We went back over, got the new Michelin, and headed back on the road.
Our next appointment was literally less then ten minutes away.  When we pulled in, I heard that awful air escaping noise again – this time from the driver's side outside tire!
After saying a few things that would make Yosemite Sam blush, we got back into the truck and drove back to Discount Tire.  I may have muttered about how stupid the whole world is the entire way.
Once again the Discount Tire team quickly got to work.  The outside dually was off in minutes and the prognosis was similar – another rubber valve stem had broken.  The manager recommended taking all of the rubber valve stems off and replacing them with metal valve stems.  We agreed.
While the metal valve stems were being installed, I got a call from a truck camping friend.  "You definitely need metal valve stems," he said.  Evidently metal valve stems are the way to go and I never got the memo.
Looking out to see how the Discount Tire team was doing, I saw something I'll never forget.  The truck looked like it was literally levitating above the ground!  They had placed four huge jacks under the truck, lifted it off the ground, and removed all the tires!  Are they completely nuts?