This week we told our story about how we had not one, but two potentially serious dually wheel tire situations with our truck camper rig earlier this year.  The problem, as far as we can tell, were poorly installed rubber valve stems coupled to equally poor valve stem extensions.
To solve this problem, we had the rubber valve stems replaced with metal valve stems and removed the valve extensions.  This got us safely back on the road, but left us with the frustration we started with; how to reach the inside dually to monitor and maintain air pressure.
For this week's Question of the Week, we asked Truck Camper Magazine readers share how they monitor and maintain the air pressure in their inside dually tires.
After reading through all the responses, the overall consensus is (a) metal valve stems are critical for dual rear wheel trucks, and (b) the best and safest solution for monitoring and maintaining inside dually pressure is not to install valve stem extensions, but rather to use a dual head tire inflator gauge.
If you still want valve stem extensions, most recommend the short 90 or 180-degree metal type, not the braided hose type.  Several readers report having issues with the braided hose extensions including deflation, tire balance issues, and installations that come loose through vibration and centrifugal force.
Whatever you decide, be sure to consult with a local professional tire service provider before proceeding with metal valve stems or valve extensions.  Valve extensions certainly increase the convenience of monitoring and maintaining dually tire pressure, but must be installed properly to ensure both accuracy and safety.
This week's Question of the Week was, "How do you monitor and maintain the air pressure in your inside dually tires?"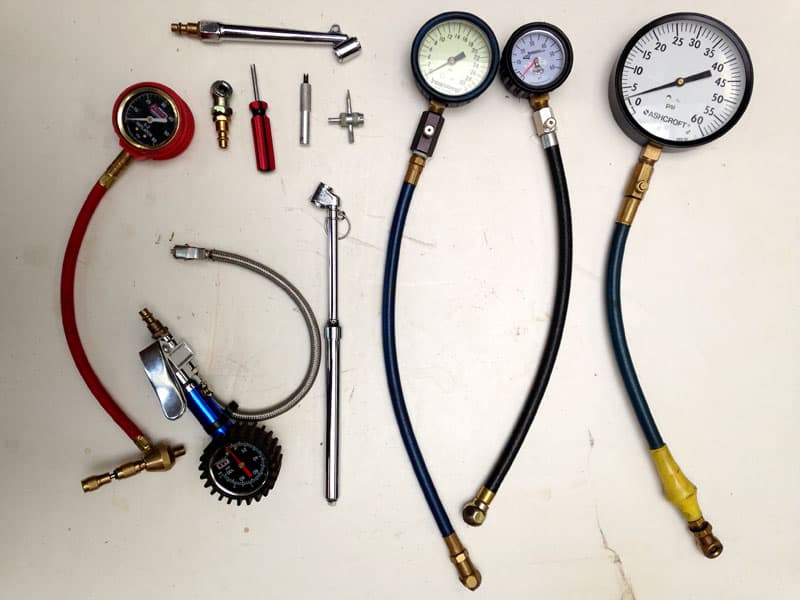 Above: Bruce Allison's tire pressure tools
"Proper tire pressure is paramount for vehicle safety and tire longevity, so I check all six tire pressures every time the truck camper is prepared for a trip.  Usually a couple tires will need a few pounds of air added, so it's well worth the effort.

I used to contort myself and my air chuck to reach to the inner rear tire, but years ago I had tire stem extensions installed when I bought new Michelins (again). I don't know why I hadn't done that sooner!  It's so nice to have that inner tire valve accessible now!
I was initially worried that these extensions would leak, but time has proven that my pressure changes haven't increased with these extensions (the type with a short, flexible braided stainless steel hose)." – Bruce Allison, 2000 Ford F350, 2012 Adventurer 910 FBS
"If your dual rims are aligned correctly, you will be able to access your inside duals with a tire pressure gauge designed for trucks.  If the metal valve stems didn't come with self closing valve stem caps, install the metal ones and all you have to do is push the gauge on the cap.  It's the same when adding air to the tires.
Valve stem extensions have ruined many tires on RVs over the years.  The product is basically a gimmick." – Charles Spray Jr., 2002 Ford F350, 2016 Travel Lite 1100 Illusion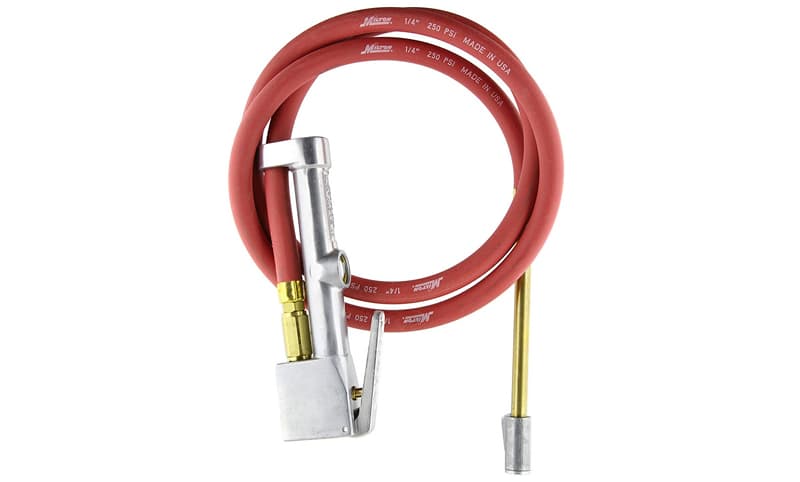 "I use a Milton tire pressure gauge with a 16-inch straight and offset head metal wand.  It is plenty long and able to reach the inside dually without a problem.
We also have cap-less long metal stems on the tires to avoid having to unscrew the cap.  Just wipe them off before testing the pressure.  They work well.  They have been on the truck for many years with no problems." – Jon Schnebly, 2004 Freightliner M2-106, 2014 Arctic Fox 1150
"My current dually has an OEM TPMS (tire pressure monitoring system) where individual tire pressures are displayed on the dash as one of the screens you can scroll through.  It is conveniently one screen (one button push) away from the digital speedometer display I have showing all the time.  It's easy to check periodically and see the specific pressure of each tire versus waiting for a substantial change in one tire's pressure to trigger an alarm.
The air chuck inflator I use with my compressor at home – and the same style inflator most decent truck stops have – is a dual chuck unit that has an angled head with one side (chuck) just perfect for reaching into and through the hole in the outer rim to the valve stem in the inner rim.  The same action is required on many big rig dually set ups.