This week we told our story about how we had not one, but two potentially serious dually wheel tire situations with our truck camper rig earlier this year.  The problem, as far as we can tell, were poorly installed rubber valve stems coupled to equally poor valve stem extensions.
To solve this problem, we had the rubber valve stems replaced with metal valve stems and removed the valve extensions.  This got us safely back on the road, but left us with the frustration we started with; how to reach the inside dually to monitor and maintain air pressure.
For this week's Question of the Week, we asked Truck Camper Magazine readers share how they monitor and maintain the air pressure in their inside dually tires.
After reading through all the responses, the overall consensus is (a) metal valve stems are critical for dual rear wheel trucks, and (b) the best and safest solution for monitoring and maintaining inside dually pressure is not to install valve stem extensions, but rather to use a dual head tire inflator gauge.
If you still want valve stem extensions, most recommend the short 90 or 180-degree metal type, not the braided hose type.  Several readers report having issues with the braided hose extensions including deflation, tire balance issues, and installations that come loose through vibration and centrifugal force.
Whatever you decide, be sure to consult with a local professional tire service provider before proceeding with metal valve stems or valve extensions.  Valve extensions certainly increase the convenience of monitoring and maintaining dually tire pressure, but must be installed properly to ensure both accuracy and safety.
This week's Question of the Week was, "How do you monitor and maintain the air pressure in your inside dually tires?"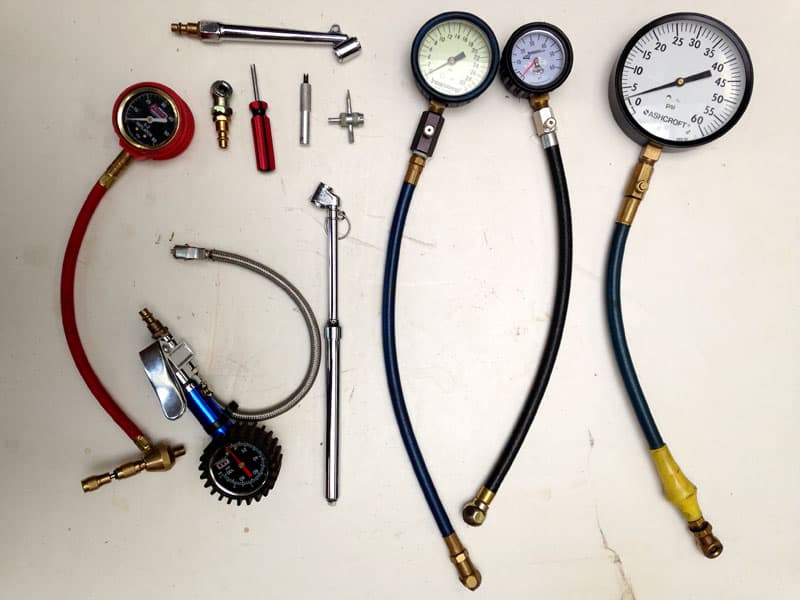 Above: Bruce Allison's tire pressure tools
"Proper tire pressure is paramount for vehicle safety and tire longevity, so I check all six tire pressures every time the truck camper is prepared for a trip.  Usually a couple tires will need a few pounds of air added, so it's well worth the effort.

I used to contort myself and my air chuck to reach to the inner rear tire, but years ago I had tire stem extensions installed when I bought new Michelins (again). I don't know why I hadn't done that sooner!  It's so nice to have that inner tire valve accessible now!
I was initially worried that these extensions would leak, but time has proven that my pressure changes haven't increased with these extensions (the type with a short, flexible braided stainless steel hose)." – Bruce Allison, 2000 Ford F350, 2012 Adventurer 910 FBS
"If your dual rims are aligned correctly, you will be able to access your inside duals with a tire pressure gauge designed for trucks.  If the metal valve stems didn't come with self closing valve stem caps, install the metal ones and all you have to do is push the gauge on the cap.  It's the same when adding air to the tires.
Valve stem extensions have ruined many tires on RVs over the years.  The product is basically a gimmick." – Charles Spray Jr., 2002 Ford F350, 2016 Travel Lite 1100 Illusion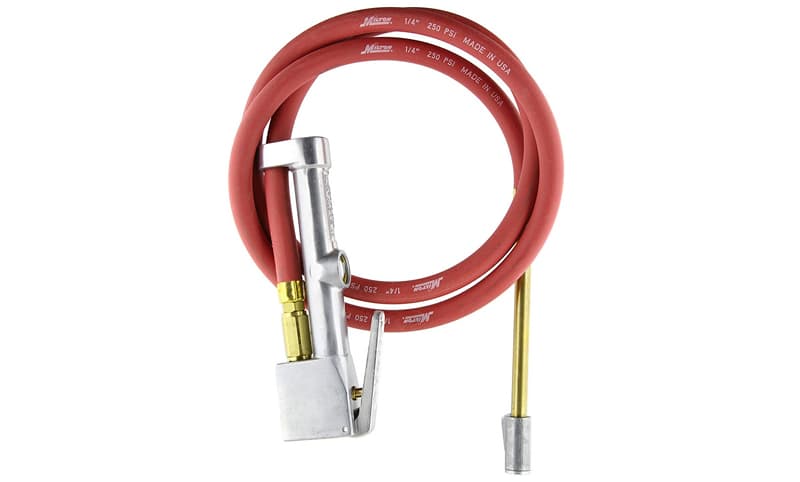 "I use a Milton tire pressure gauge with a 16-inch straight and offset head metal wand.  It is plenty long and able to reach the inside dually without a problem.
We also have cap-less long metal stems on the tires to avoid having to unscrew the cap.  Just wipe them off before testing the pressure.  They work well.  They have been on the truck for many years with no problems." – Jon Schnebly, 2004 Freightliner M2-106, 2014 Arctic Fox 1150
"My current dually has an OEM TPMS (tire pressure monitoring system) where individual tire pressures are displayed on the dash as one of the screens you can scroll through.  It is conveniently one screen (one button push) away from the digital speedometer display I have showing all the time.  It's easy to check periodically and see the specific pressure of each tire versus waiting for a substantial change in one tire's pressure to trigger an alarm.
The air chuck inflator I use with my compressor at home – and the same style inflator most decent truck stops have – is a dual chuck unit that has an angled head with one side (chuck) just perfect for reaching into and through the hole in the outer rim to the valve stem in the inner rim.  The same action is required on many big rig dually set ups.
The inner rim stem is facing opposite of the outer rim stem (one faces in and one faces out) so the dual chuck inflator addresses these placements.
My inflator at home has an analog gauge on it so I can see the pressure as I'm on my knees inflating the tire.  If the truck stop lacks this gauge, I have to wait a minute or so after adding or removing air for the dash display to be updated.
When checking pressures after firing up the engine, one has to wait a similar amount of time for the system to read the current pressure or you will see the pressure the tires were at when you last shut the engine down.  You can roll down the road a hundred yards or so for the system to pick up the current TPMS sensor signal from each tire.
There are some good after-market TPMS units available that show not only the specific pressure on each tire, but can also show the temperature of each tire.  The point which the tire pressure or temperature triggers an audible alarm can be set by the user." – Brian H., 2016 Ram 3500, 2016 Lance 1062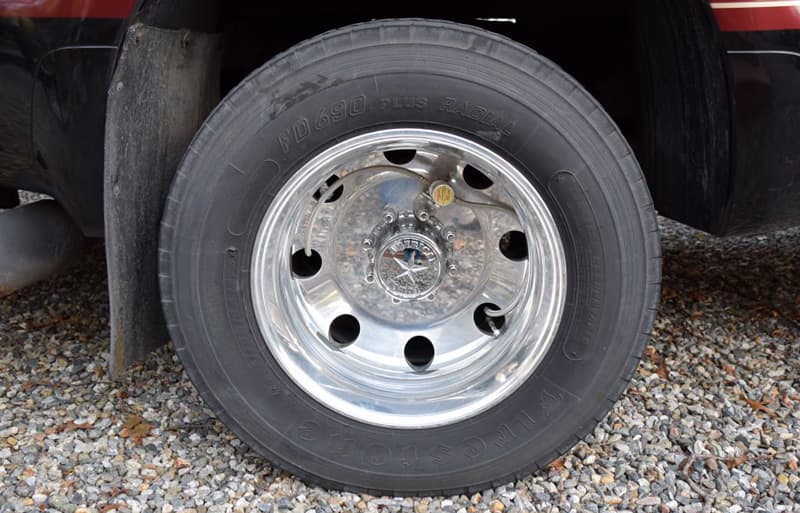 "Many years ago I was convinced that the inner and outer dually tires need to be kept at the same pressure to assure even tire wear.  After much research, I came across the Crossfire Dual Tire Pressure Equalization System, 80 PSI.
This is a device you install to both the inner and outer dually tires.  It keeps them balanced, and also gives you a visual indicator as to their pressure relative to its set pressure – higher (red) or lower (black).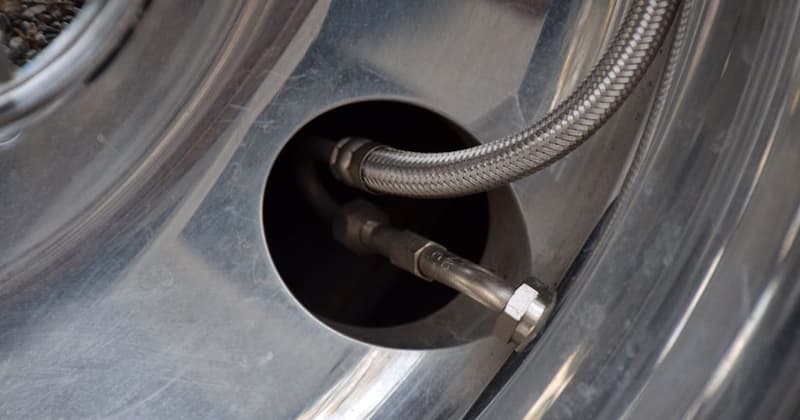 Having the tires pressures tied together also allows for a single point of filling which makes it very easy to add or remove air as needed.  These are the same devices you see on many 18-wheel trucks to keep their tires balanced.
I always walk past my tires and give a glance to assure everything is okay.  I have had these on for many years and wouldn't be without them!" – Charles Coushaine, 2001 Ford F350, 2012 Chalet DS116RB
"It's a matter of of user preference with air pressure gauges.  Make sure it has a chuck that can be used for both inside and outside tires.  When I install dually wheels, I do it in such a way where the valve stems are on opposite sides allowing access to the inside valve stem through the hole in the outside wheel.
I recommend that you keep the valve stems short and made of metal.  Forget all of the fancy doodads being sold out there.  Anytime you add another connection to the metal valve stem, it's another place for a potential air leak.
I do not recommend using any valve stem attachment that you can look at and it will tell you the air pressure.  I have personally experienced the negatives of these things.  At one time I used these on my Harley and the front one blew apart at 60 miles per hour.  Somehow I was able to get it under control and stopped.  That was a memory maker.
The same thing can happen with our truck's tires, and because it's a dually, you may or may not feel it right away.  That could result in either the deflated tire coming apart or blowing the good tire from an overload situation.  Either one can potentially destroy the truck's fender.
I know people have the Crossfire systems and they are okay if you have full and complete understanding of how mechanical stuff works.  If you don't understand your equipment, do not get it.
Please check out the articles I wrote on safety in TCM.   "Driving Safety 101" and "Driving Safety 102" are in the newbie section.  You may want to go take a look at those articles." – Gary and Cinda Whistler, 2013 Chevy 3500, 2017 Lance 1172
"Steel braided dually extensions make it easy.  The kind I have include a wire in the extension that press the original pin.  Unless you are checking pressure, there is no high pressure air in the extension." – Jim McCrea, 2013 Ford F350, 2013 Northern Lite 10-2 CD SE
"To keep a check on all tires, I have installed a wireless TPMS pressure monitor.  A display on the dash reads pressure and tire temperature.  So, I don't have to check them.  I only add air if they get low, which they rarely do.
I've had two valve stem failures on my current set of Michelin AT/2's.  The rubber valves stems get twisted by centrifugal force and fail.  Clamp on metals are the answer, not pull through metals.
Back to the question.  I have steel wheels with chrome covers.  To add air, I have to remove the wheel cover and then, with difficulty, access the inner valve stem with a flexible hose.  Most often I remove the entire back tire to easily get to the stems.
I do this at night when the tires are all at the same temperature, and adjust them to read the same pressure on the dash display." – Douglas Tatman, 2005 Dodge 3500, 2004 Lance 1130
"At every gas fill, I check the tread and sidewall temperatures of all six tires with an infrared thermometer.  At the beginning of the day every day or so, I use my double-headed tire gauge.  The red dot thermometer will show temperature differences even if it's an alignment problem.  I've only had a couple low tires in our travels, both caused by nails." – Philip Tron, 2009 Chevy 3500, 2012 Lance 1050
"I had almost same experience as you, but not as radical.  In 1990 I bought my first dually and, same as you, I wanted an easy way to check the inner dual rear wheels.
I bought the extensions that were rubber and one blew out while traveling.  I pulled into a truck stop.  Being lucky, the tire was not destroyed.
The tire guy said that he sees this a lot.  He suggested that I get rid of them.  He showed me what he uses, and sold me a longer tire gauge and longer extension for filling.  I still have them today.  He also told me to always use metal tire valves.  Things like rocks and such can go up between duals and break rubber valves." – C. S. Mobley, 2016 Ram 3500

"I use a 12-inch dual head tire chuck to reach the inside tire.  It must have an angled jaw like the Milton S-690-12 12-inch 1/4″ FNPT Dual Head Air Chuck." – Mike Stanbro, 2017 Ford F350, 2017 Eagle Cap 1200
"I had similar issue as you, but not as catastrophic.  I had installed steel braided extensions to both the inner and outer dually tires.  There was a mounting bracket that clamped onto the outer wheel rim to allow the valves to stick out on the outer dually for easy access.
So, off we go on our 1,000 mile trip.  Thirty miles into the trip, I pulled off the highway to check on the extensions.  On both sides and for both tires (inner and outer dually) the clamps came off and the extensions were just flopping around.  Rather than having an issue, I took them off on the side of the highway.
Conveniently enough, a semi pulled over right in front of me and he was checking on his tires.  I asked him about the extensions.  He said that he absolutely doesn't use them and showed me what the truckers use.
Truckers use shorter metal valve stems (slightly longer than a normal truck tire).  As he explained, if you travel on mud or gravel roads, you may encounter large rocks that can find themselves lodged between the dual wheels which may come in contact with the valve stem, or mud which can rip them off.
Sure enough, a couple of camping trips later, on a gravel road, we started to hear a thumping sound.  A large rock made its way between our dually tires and was lodged. Fortunately, I noticed it before we reached highway speeds.  I hate to think what would happen if the rock came dislodged at highway speeds.
I just use a longer tire pressure gauge and a longer air adapter (trucker style) with openings on either side to take the inner and outer readings and to put air into the tires." – Bruce Neumann, 2006 Ram 3500, 2008 Okanagan 9.6DB
"I use a long truck tire gauge for checking pressure.  I fill it with a long rubber tire filler with built in pressure gauge.  Dual tires must be lined up properly to access the inside valve stem.  I don't use extensions.  It is not particularly easy." – Chip Collin, 2002 Ford F350, 2014 Chalet DSRB
"I had metal valve stems installed and metal valve stem extenders on the inside dually wheels.  I had this done ten years ago and have not had any trouble with the setup.  It makes checking the air in the inner dually wheels easy." – Joe Cassidy Sr., 1989 GMC 3500, 2008 Lance 1055
"I pop the wheel chrome rings with a pry bar to check the pressure and snap the rings back on with my fist.  Done." – Dennis Thorell, 2016 GMC 3500, 2009 Northern Lite 10-2 CD SE
"Last year my wife and I decided that, since we were finally retired, we needed to take advantage of the time we have left on Earth to get out in the backcountry and travel around North America.  We settled on an Arctic Fox 811 as our best bet for staying comfortable while we were boondocking and purchased an Ford F350 dually to get us where we want to go.
Realizing that I was going to be the person in charge of keeping our rig on the road, I began to worry about changing a flat tire while we were out by ourselves on a dirt road in the middle of nowhere.
While scouring the web for recommendations on driving and changing tires in the backcountry with a four-ton truck carrying a two-ton camper, I came across several recommendations for bent tire stem extensions custom-made by Tire Man in Ridgecrest, California.
I talked with Chuck Carvitto, the Tire Man, who sent me six 5-inch Dually Valve Stems for our 2016 Ford F350.  While I was on a shake-down trip on the Washington Coast, I had Les Schwab in Aberdeen, Washington install the tire stem extensions.  The service person did a great job for less than $50, and even let me poke around while he installed the tire stem extensions on the truck.

Since then I've used a Milton S-976 Dual Head Chuck Service Gauge to check the inflation pressures of our tires before each trip, and a S-506 Inflator Gauge on my portable oil-less air compressor to air up the tires.  I use this same system to keep our airbags at the correct pressure.

I also depend on a Tireminder A1A tire pressure monitoring system to keep me updated on the temperature and pressure of each of my tires while I'm on the road.  So far, I haven't had any troubles dealing with our truck's inside dually tires and, knock on wood, we haven't had any flat tires to change on our trips into the wilderness." – Jim Owens, 2016 Ford F350, 2017 Arctic Fox 811
"I'm still using the stock Michelin tires and the valve stems that came with the truck.  It's a bit of a reach but the air chuck works well enough on the stock valve stems, even the inside ones.  That said, metal valve stem extensions will happen on the next tire change out.
I definitely appreciate this article as it is a great reminder of how important even the little things are, like valve stems, to keeping everything safe.  Thanks for sharing this article." – Dave Riddle, 2015 Chevrolet 3500, 2017 Host Mammoth
"We found getting to the inside dually tires was virtually impossible requiring a lot of twisting, turning, crawling and prayers.
We went to our local garage and explained the problem.  They suggested flexible valve extensions which they had successfully installed on other dually trucks.
They told me there are two different types of these extensions.  One has air in the extension all of the time and the other has a wire in it which depresses the valve on the tire when you put pressure on the end of the extender.  If the type with air in them leak, the tire goes flat.  The type with the wire in them do not leak if they fail.  We have had the wire-types on for four years and they have been great.
We also have metal valve stems.  I don't think rubber valve stems would be good to put valve extenders on." – Bill Billyard, 2000 Dodge Ram 3500, Palomino Winter Creek 115RS
"I reach through to the inner valve stem with an extended air chuck.  I tried extended air lines but they proved too unreliable (air leakage), so removed them.
Extended air lines seemed like a good idea at the time.  I don't like the way I have to access the inner dually as blood is shed and hub caps have to be removed, but I don't lose air.  Safety first." – Larry Bell, 2003 Dodge Ram 3500, 2017 Northern Lite 9.6 Queen SE
"It is very easy to check the inside dual tire pressure using a fairly long flexible tire pressure gauge.  I have the kind that has enough hose to get into the holes on the outside dually.
If the tire shop in your story had known what they are doing, they would have added metal stems and this would not have happened.  I doubt I could find a tire shop in our area that would not insist on metal stems when purchasing new tires.
Lastly, I purchased Michelin tires based on customer satisfaction and am not so sure I am as happy with them as I should be.  Prior to the Michelins, I went through two sets of Toyos after the OEM tires wore out.  I got better than 50,000 miles and no issues from the Toyos.  My Michelins now have 25,000 and I am wondering if they will make 50,000 miles.  Supposedly they are a 70,000 mile tire.  Time will tell." – Jim Mallery, Ram 3500, 2005 Fleetwood 10V
"I purchased a dial style gauge with an approximate 6-inch extension to reach the Shrader valve.  I searched the internet and read reviews to obtain a good accurate pressure gauge unit.  I don't like valve stem extensions because it adds one more leak point.
You would think Ford Motor Company would install longer metal valve stems to make it easier to perform a routine tire pressure check." – Mark Johnson, 2016 Ford 350, 2016 Lance 1172
"I use a tire pressure gauge with a long flexible hose extension.  All dually tires should have high pressure metal valve stems.  Rubber is only good up to 60 psi.  Any pressure over that requires the high pressure valve stems made of metal." – Mark Urscheler, 2008 Chevy 3500, 2004 Lance 1130
"One of my Michelins failed last summer in the middle of nowhere in New Mexico.  With only about 30,000 miles on those tires, I switched to Cooper's for piece of mind.  I too was treated like royalty at Discount Tire.  I have photos if you'd like." – Casey Myers, 2010, Dodge Ram 3500, 2007 Alpenlite Cheyenne 950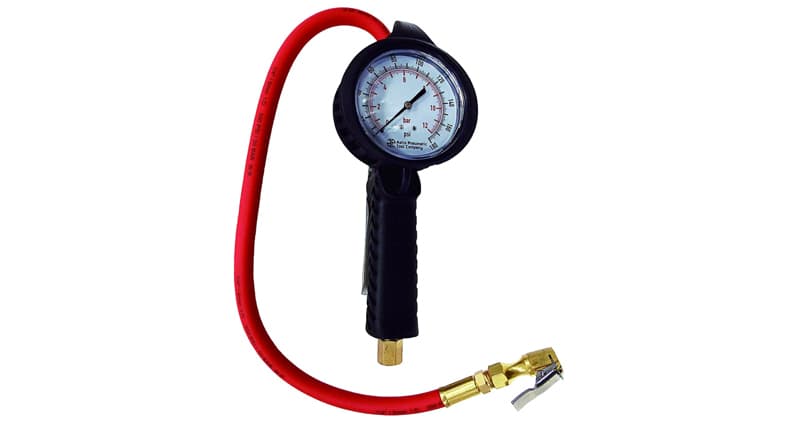 "First off, using rubber valve stems on a dually is a no no.  I even use metal stems on my Ford F350 single rear wheel truck.
I check and add air with an Astro dial inflator tire gauge.  You clip it on the stem and add or release air as needed.  The duals must be rotated properly to allow access to the stems." – Robert Doyle, 2006 Ford F350, 2011 Lance 850
"I used to have extension lines attached to my inner and outer tires.  They came as a kit and I pop riveted them to the small cap on my dually.  They worked well for years.  I don't have them anymore as the lines eventually wore out after about eight years.
I now use a trucker style tire pressure gauge.  It's a pain and I am seriously thinking about going back to the line extensions.  The extensions are expensive, $85 for the set, as I recall.  I believe they are worth it.  Plus, I am going to purchase a TPMS since I am going on the road for seven months soon." – Kenneth Dunn, 1998 Dodge 3500, 2010 Arctic Fox 811S
"We bought and installed the Tire Man dually valve stem kit.  This includes metal valve stems for all six tires.  The inside duals are longer so you can easily reach them.  This setup works very well!" – Tom Andersen, 2006 Dodge 3500, 2003 Lance 1121
"I have 2-inch metal extensions.  Be careful not to over tighten when installing them.  Over tightening makes them leak slowly.  Tire Slime sells several types of extensions at Walmart.
Fancier extensions are available at Camping World that attach to the outside rim, but they have their own special problems from centrifugal forces moving them around.  The best solution are specialty one-piece truck stems if you can locate them." – Tom Sanquini, 2006 Chevy Silverado 3500, 2007 Lance 950
"I don't have extensions on my inside dually tires.  I use an air gauge with a long extension to check the pressure and a long extension for my air chuck on my air hose.  The wheels on my truck are stock with holes that give me access.
The biggest problem is getting the cap off and back on.  That is where long fingers come in handy, but it is still a hassle.  Metal extensions are in the future." – Jerry Smith, 2012 Chevy Silverado 3500, 2013 Arctic Fox 992
"I use the regular tire valve stems after trying stem extensions on the inside that had a ninety degree bend.  I followed the recommendation of the Discount Tire manager in removing the extensions.  He indicated that there was the possibility of a slow leak developing due to it being almost impossible to install the extensions correctly.
I use a long tire gauge like what the 18-wheeler drivers use.  Since it works from either side of the part that fits over the valve stem, I can get to the stems inside the dually, even if the stem on the outside tire is inside.  The gauge is almost a foot long, so you can reach the inner tire easily." – Dewey Lackey, 2003 Silverado 3500, 2014 Lance 1172
"I pull off the plastic rim cover and check my tires with small digital gauge.  I have done it so many times that it is not a big deal.  Also, it's a good time to clean any dirt in there." – Cory Scranton, 2006 Ram 3500, 1999 Alpenlite
"I bought a long double-headed tire gauge for tractor trailers at a truck stop which I carry in the truck at all times.  All truck stops have long tire chucks for reaching the inner dual rear wheels.  They are dual headed so they can air up the inner and outer tires.
I usually stop at truck stops to make air pressure adjustments when traveling.  I have a long chuck on my air hose at home.  Using truck stop air filling stations makes it much easier because they have to accommodate for dual rear wheels.  It's pretty painless except for the bending over part!" – Hugh Redmon, 1997 Ford F350, 1997 Lance Legend 990
"In the beginning I had a lot of trouble checking the inside pressures because the mating Schrader valves would become misaligned and then you couldn't add air or check the pressures.  I had the tire people remove the Schrader valve from the stem on the inner rim and then install the extension.  With only one valve to contend with, the problem was solved.
Also, I agree with the metal valve stems.  You're dealing with a lot of air pressure." – Robert Gardner, 2002 Ram 3500, 2016 Lance 1172
"I use a dual head tire inflator gauge.  With the pressure and air tank, the use of metal stems is a must.  The dual head will allow you to check the inside easily.
I prefer the tubes of yesterday.  They had a built-in extension if you asked for it.  I've tried the screw on adjusters.  They just turned out to be junk.  They tend to throw the wheels off balance when the camper is not on the truck." – James Tedford, 2012 Ram 3500HD, 2007 Arctic Fox 990

"I have steel valve stems and stainless steel wrapped rubber extenders on the inside tires.  I use heavy duty velcro on the ends of the extenders to hold them to the rim.  The clips that came with extenders don't fit aluminum rims.
I monitor pressure while traveling with a TireMinder TPMS.  For some unknown reason, the factory TPMS was an option delete on our truck.  I check and fill with a separate gauge before and during each trip for confirmation." – Steve Gomez, Ford Ford F350, Host Mammoth
"I use the metal screw on extensions with angled metal valve stems.  They are used on tractor trailers." – Bill Lawlor, 2016 Freightliner, Willing to adopt a homeless camper
"I have 19.5″ Vision wheels and Michelins.  When I got the Visions, checking the outside dual tire air was impossible with standard angled truck tire gauges because the stem extends from the inside of the wheel towards the inside tire.  I know your question was about the inside but, for me, that one is easy.
I had a bad experience with a long extension on a steel stem on the inside wheel of a charter bus (vibration broke it off).  Using a long extension was out and an extension that curved backward did not work either due to the wheel casting.
In a moment of temporary brilliance, I decided to use a Crossfire equalization system (similar to Cat Eye).  Unfortunately, with the recessed lug nuts of the Vision wheels, I could not mount the Crossfire center mounting bracket to the lug nut, so I drilled and bolted the Crossfire mounting bracket to my fancy hub covers.
On a trip to Colorado two years ago, I heard the dreaded sound just east of Denver.  I was within a half-mile of an exit, so I limped off I-70.
After a tow to Denver and two new 225R70 19.5 tires (all totaled nearly $2,000), I learned how stupid it was to bolt the center section to a plastic hub cover.  When the bolt broke out of the plastic due to vibration (even though they had been fine for months), the slinging center section tore loose both hoses from the tires.  Then the limp to get off I-70 ruined the tires.  Needless to say, I took off the other side immediately.
Back to the original problem of how to check the air pressure on the outside tire.  I discovered that a short 1-inch extension on the valve stem and holding the air gauge at just the right angle, a standard truck tire gauge and air chuck can engage the stem.
A very expensive lesson learned, though I contend the Crossfire was a creative and noble idea.  Anyone need one side of a Crossfire unit?" – Ken Sanders, 2001 Ford F350, 2011 Host Everest
"It's a pain!  Contorting around the wheels to get a good fit on the tire valve with the gauge and the compressor is hard!  I want to put extensions on my inside tires." – Steve Wright, 2015 Ram 3500, 2015 Lance 1172

"I have a tire monitoring system on my tires.  I know the pressure in each tire all the time.  It is an aftermarket system by Pressure Pro that I have owned for years and have used on different rigs.  I have the 10 tire system.  If I tow something, those tires are also monitored.
It's just a safety thing for me.  I have witnessed blown tires on trailers or cars being towed and what damage can be done when you do not know that you have a flat tire.
As far as servicing each tire, I do not have extensions on my tires.  I have to remove my wheel liners in order to do so, but not that often.  So it's no problem for me.
I also carry a 12-volt compressor in case I need to add some air.  It takes a little bit to get to the proper pressure, but I have the time and it works for me." – David Donovan, 2007 Chevy K3500, 2012 Chalet TS116
"We use Crossfire Tire Pressure Equalizers on our dually.  They are $56.50 with free shipping on eBay.  You need two." – Richard Parsons, 2012 Silverado Chevy 3500, 2012 Northstar American Hero
"I have I done battle with checking dually air pressure.  There are a myriad of solutions all of which bring issues to the table.  Primarily, it's a balancing act.  The solutions are heavy and you must rebalance your tires after installed.
In my opinion, it is not worth the cost or the effort.  My solution has been to check my tires before every trip and often during the trip.
Twice a year I remove my duallies and swap them to the other side.  I also make sure the air pressure is exact to the .10 of a pound.
I bought a 12-ton air jack on sale for $30 several years ago and it lifts my truck with ease using my small garage air compressor.  It takes less than an hour of my time and allows me to inspect the inside tire for any cuts or damage.  I have never experienced any issues or low tires on either of my past two duallies since 2010.
You might want to add a Hellwig Big Wig rear sway bar and possibly a sway bar to the front of your truck.  I added both to my truck and the difference in handling and performance is so great.  It's like driving a completely different truck; one that handles and goes where and when its pointed.
Also, you might want to consider adding Rancho RS 9000 XL adjustable shocks to the rear.  Do the above and it should take the swing and sway out of your travels.
I ran airbags on two trucks.  While they do allow some leveling, they in fact contribute to the swaying and unsteadiness of the camper.  I do not see them as a positive for the camper.
My Arctic Fox 1150 is a very heavy camper and the aforementioned additions and actions have added a margin of safety.  They even made my wife sit up and take notice. She has even made a few trips on her own." – Don Pryor, 2015 Ford F350, 2008 Arctic Fox 1150
"You learned the same lesson I did – the hard way.  I had exactly the same experience on I-10 in West Texas.  Tire extensions for duallies are a failure waiting to happen.  Use only standard steel valve stems on all tires.
I air up using a flexible rubber stem extender that's about six inches long.  It attaches to the valve on the tire.  I find I can maneuver this extender to get to the inner tire valve without too much trouble.
I also use an Accu-Gage dial gauge with a flexible hose and relief valve to check tire pressure.  I keep both items and stem caps in a small tool box on my truck.  Also, when I have the tires installed, I ask them to make sure the inside stem is in the best position to get to through the wheel openings.
I would rate Discount Tire at an A+.  They provide great service, free air checks even for duallies, and fair prices.  They have also rotated my duallies for free." – John Blake, 2007 F350, 2006 Lance 1191
"Metal valve stems are the only kind to have.  I have a long trucker tire gauge and a long extension on my air compressor.  I have a tire shop rotate the wheels so that the valve stems are reachable through different wheel openings, and not the same one as it's often assembled.  If not, reaching past the outside valve to reach the inside is a PITA." – Michael Smith, 2015 Ford F350, 2008 Arctic Fox, and Newmar fifth wheel
"I'm breaking a rule here because I have a single rear wheel but, I think the topic is interesting.  When purchasing this truck, I went through the dually/single rear wheel pros and cons, and won't list them here.
I decided on the single rear wheel configuration.  I insisted on metal high pressure valve stems for the reasons you experienced.  The change I made was to install Load Range G tires on the rear that are maintained at 110 psi.
The dealer contacted GM Engineering to verify that the steel wheels could handle the pressure and to verify that the axle was rated to the max load capability of these high pressure tires.  With Load Range G tires the axle and tire limits match.
GM Engineering stated that the stock steel wheels would safely handle any pressure tire that would fit on the 16-inch rim.  This is not true for alloy or aluminum rims.
I change the tires periodically, but after using this configuration since 1998, I've never had a tire issue on the road; no blowouts, leaks, flats, or tread separation.  I have not had any tire or axle issues over seventeen years.  I carry a hand-held tire pressure gauge to check pressures.
On the relatively rare occasions when I do add air, I need to find a truck stop or tire shop.  With typical lower-pressure gas station air compressors, I actually back-pressure my tire air back into the station's compressor tank!" – Gary Possert, 1998 GMC K3500, 2014 Lance 1050S
"I use standard rubber valve stems.  The holes in the stock Ford wheels are large enough to reach through to check and add air using a truck tire gauge.  I have the one with two fittings at an angle.  I have the same type of angle fitting on my air hose with no extensions." – Marc Stalnaker, 2000 Ford F350, 2015 Lance 850
"I want to a Napa Auto Parts store and got tools to check and put air in a Class 8 truck.  It works just fine.  With the right tool, it's not that hard." – Steven C. Thatcher, 2016 Ram, Citation Supreme
"I have braided metal dually valve stem extensions and have never had any problem with them.  I do not know the brand name, but they look like this." – Cheryl Lane, BornFree motorhome
"The Ford came with metal valve stems that have check caps, which are also metal.  The caps are spring-loaded and I can open them with my dual head TPG or air chuck.   Push for the inside tire, and pull for the outside tire.  Easy peasy.
As long as I let Les Schwab know that I want both stems lined up in the same hand hole, it's super easy to check/adjust pressure.  What stinks are the cheesy low pressure air fill stations at most gas stations.  I'm still trying to find a portable small compressor that can generate 75 psi." – Stuart Chapman, 2016 Ford F350, 2016 Arctic Fox 865
"I have metal valve stems.  I used stainless steel extenders for roughly one year and had no luck with them.  Every time I checked them, air was slowly leaking out.  One time I was at a state park and looked up from my book and thought the passenger's rear outside tire looked low.  When I checked, it had almost no air.
I finally switched to a TPMS and just keep an eye on the display.  Yes, it's somewhat tougher adding air to the inner tires, but it's not too bad compared to the frustration and time spent constantly adding air while using the extenders." – Glenn Blount, 2012 Ford F350, 2017 Lance 1172
"This is something I'm really bad about.  I hardly ever check air pressure.  I wanted the extra stems for the inside duallies, but they never have them in stock, so they never get put on.
I rotate my tires about every 12,000 miles and tell the tire store where I want them and watch while they move them around.  Tires stores are terrible about listening to what customers want.  My truck is four-wheel drive, so my tires have a tendency to wear on the edges when on the front.  I make sure that I know where the fronts and the backs go so next time I can tell them where I want them.
I am so cheap that I want to get the most mileage out of them.  I watch the tires and have good luck that way compared to what I hear from other people.  I have finally found one honest Big-O tire shop which I use all the time.
I'm getting off the subject of valve stems but I need to vent about tire stores.  In the last ten years I have had about four different vehicles. Whenever I had them put on tires or align the front end, they all said I needed new ball joints.  What a scam.  I never changed any of them.
I bought my existing dually seven years ago used with 90,000 miles on it.  It was four years old.  I wanted to have the front end checked and they said it needed ball joints and they wouldn't align it unless I changed them.  I refused and drove it for three years before I found an honest Big-O.  I asked if they could align it and they said, "Sure, no problem".  It was almost perfect with one small adjustment.  I asked how the ball joints looked and they said they were okay.
That was a couple years ago and I've still not changed them at 160,000 miles.  Now my son-in-law has the truck and last year it turned over 200,000 miles and still has not changed them.  The tires still wear perfectly.
I have had the same experience on two other mini-vans that we still own.  My advice is to find an honest tire store that you can trust.  Get acquainted with them and have them take care of you." – Frank Niehus, Ford F350, 2007 Arctic Fox 1150
"I use a combination pistol grip with gauge tool which has a 12-inch hose with a snap on Shader valve connector.  I am able to reach between the tires to attach the connector and at the same tire have my small compressor ready to use if need be.
I usually check them first thing in the morning.  It has worked for us going on eight years.  Also, I had metal valve stem assembles installed on our truck when we put on our first set of replacement tires.  I also had metal stems installed in our fifth wheel tires when we got it in 2009." – Eric Devolin, 2007 GMC 3500, 2006 Adventurer 106 DBS
"I am looking into the Crossfire Dual Tire Pressure Equalization System, 110 PSI." – Frank Poole, 2016 Ram 5500, 2016 Arctic Fox 990
"I purchased a Ford F350 four wheel drive dually, diesel, super cab new in 1999.  I had this truck for fifteen years.  I loved the truck, tried valve extensions and had similar problems as you did.
I also ended up removing the valve extensions.  I found that adding or removing air to dually tires was a major PITA, not to mention that dually trucks often times have problems with cupping of the front tires, which my truck did.
Also, this truck came with aluminum wheels.  The problem was that the inner dual tires were on steel wheels.  This made for a situation where the wheels/tires could not be rotated front to back for tire rotation.
I finally ended up purchasing four additional steel wheels (thus eliminating the aluminum wheels altogether) so that I could rotate my tires front to back.  This helped to deal with the cupping and tire wear.  Until I bought the steel wheels I would have to replace the front tires due to cupping before the back tires needed to be replaced.
In 2014, I ordered and received my current truck; a 2015 Ford F350, four-wheel drive, crew cab, single rear wheel, 6.2L gas engine.  Both trucks had the camper package.  Ironically, the GWWR for both trucks is identical at 11,200 pounds.
I am totally happy with my new single rear wheel truck and would not want to go back to having to deal with my previous issues of dual rear wheels.  On a side note, my 1999 had the 7.3 diesel, 4:10 gears, and a four-speed automatic transmission.  I only had one big expense with my diesel, which was almost $1,000 for new glow plugs.  Diesel engine repairs can be very costly.
My 2015 truck has the gas engine, 4:30 gears, and is a six-speed automatic.  My 2015 has a little less torque and little more horse power then my 1999, and the GCWR for my 2015 is 2000 pounds more then my 1999.
Purchasing four new tires instead of six is an advantage, although probably a small one. So, for me I am very happy with going to single rear wheels versus having to deal with duals.
Since my 2015 truck is set up with the 4:30 gears and a six-speed transmission I have 50% more available gears, plus lower gears in the transmission.  I feel that the 2015 gas will due just as good as the 1999 diesel.
With my camper fully loaded with everything, plus passengers, my 2015 is under its GVWR, and both GAWRs.  Sorry for the long winded message but I thought it might help to understand." – Jim Standley, 2015 Ford F350, 2008 Northern Lite 9-6 Classic SE
"Our truck camper is not a dually.  We have had our motorhome since 2007.  I have Wheel Master (braided stainless steel hose valve extenders) on the inside rear dually tires.  They thread right on to the steel valve stems and attach to the center hub with pop rivets.  They come in a package with brackets and pop rivets, and are available at most RV supply stores and Camping World.  You should be able to install them yourself with an open end wrench, drill, and pop riveter.  They have been trouble free." – Jack Purdy, 1989 Rockwood motorhome
"The best I've ever seen used is called the Crossfire tire pressure equalization system.  You buy a specific one based on tire pressure.  The hoses are made of braided stainless steel.  A window shows one of three colors.  Yellow means all is well, red means too much air, and black means too little air.  Both tires are aired up through one air valve which keeps both tires at the same pressure.  If one leaks past a given value, for example, 70psi the unit separates the two tires so that both don't go flat.  It's a little pricey but well worth it.  To check the air pressure you just walk around the camper and check for the correct color in the window." – Dave Palaia, 2016 Ram 4500, 2010 Lance 1191
"I have a difficult time checking my air.  The tires and rims have steel valve stems, which I think is a must after reading your story.  I'm thankful I have them.  I have a dual chuck high pressure air pressure gauge, but it is standard length of only 6″ long.  It's something you would buy off the shelf of your big box store.
On the outside tires, I can compare the reading of this gauge with two others so I trust the readings.  It is difficult to access the 2″ stem extensions on the inside tires, but it is doable . I am looking for a new system, but I'm not willing to drop any serious coins on wireless bluetooth monitoring gauges.  I think I will be having my Cenex Coop Tire Center install some additional longer extensions, but I worried about the Minnesota winters damaging them.  I am eager to read what others are using." – Ben Hansen, 2006 Ford F350, 2005 Lance 981 Max
"I rotated the outer dual valve stem to the outside and added a high quality extension to the inside dual.  Now both valves are tied together.  I check all four tires at one time with my own air up and down hose and quick connectors.  I am in the truck parts business and only use items that are used in the truck world.  All of these items are carried in a small bag smaller than a golf ball bag." – Kevin Fox, 2011 Dodge 3500, 2005 Lance 981 Max
"1. I installed valve caps with a hex drive.  I use a long shank nut driver to reach in and remove and replace the valve caps.
2. I purchased a Dill # 476-07275 25 degree tire gauge.  It reaches in at an appropriate angle to get onto the valve stem and check pressure.
3. I use a Firestone # 24-3582-9285 12-volt compressor to adjust tire pressure.  The compressor rated at 150 PSI.  It is not fast but it gets the job done.  I also use it to adjust air bag suspicion.
Note: I have had good quality inside dual tire extensions on my rigs.  I have never experienced trouble, but the extra connections increase the trouble potential significantly so I got rid of them." – John W Hallett, 2011 Dodge 3500, 2014 Bigfoot 9.6 LB
"I squeeze my hand through the opening in the wheel being sure to remove the skin from two or three knuckles and place the digital tire pressure gauge on the valve stem.  I reach around the tire with my other hand and blindly find the gauge and press it down on the stem to get a reading.  I jerk my hand out real quickly to read the gauge before the reading disappears being sure to remove some more knuckle flesh.
Unfortunately, if I have to add air, I repeat this process with a long stem air pressure tool using the back side of the tool.  I plan on two or three attempts to get approximately enough air because after three attempts your hands are too sore and cramped to get it any closer." – Wade and Becky Johnson, 2004 Ford F-350, 2004 Lance 1130
"I have chrome hubcaps on my rear duals.  The best way I have found over the years is just remove them so I can fit the air chuck on to the stem.  I'm still looking for the perfect valve extender to fit the steel valves.  Some of the reviews I have read indicate they have a tendency to leak.  I've replaced all the rubber valve stems with steel, mainly because of two failures with rubber stems.  Why don't the manufacturers include them on these heavy duty trucks?
My most recent tire purchase was last November and I was planning on a set of Michelins.  Costco was out of the size I needed and it would be over six weeks before they would be available.  I settled on a set of Bridgestone Duravis R500s (plus they fill the tires with nitrogen).  So when we are ready to roll down the road I swing into Costco a few days in advance, with the hubcaps off, to top off air pressure.
Hopefully, with the answers to this QOTW, I'll find a good recommendation for a quality valve extender." – Roger and Elaine Odahl, 2008 Ram 3500, 2004 Eagle Cap 950
If you'd like to read more on this topic, click here to see our reader tire poll from last summer and our QOTW on air compressors.