Forty fellow truck campers recommended specific portable air compressors for inflating truck and toy tires, blowing out water lines, and cleaning off dirt, sand and debris.  One air compressor model stood out as the clear winner.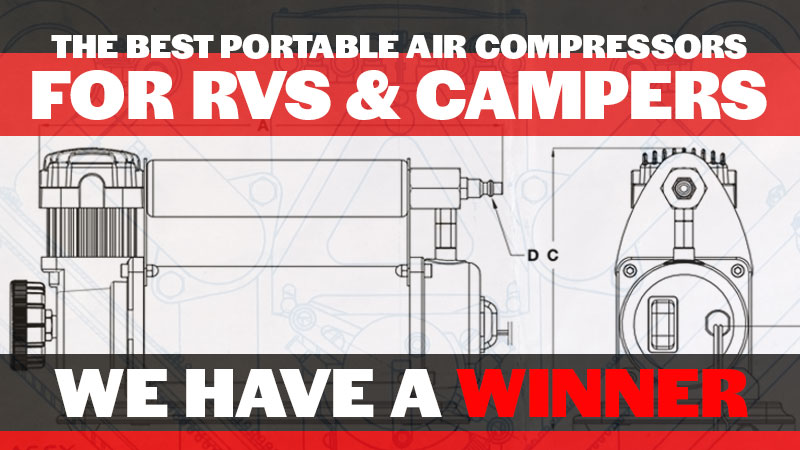 The results of our compressor survey are in and the results point to a very specific make and model; the Viair 450P-RV. Never before have we conducted a product poll that had such an obvious winner. As you will read, the Viair 450P-RV gets recommended by fellow truck campers again, and again, and again.
Viair was also the number one brand in our 2016 air compressor survey with several mentions of the Viair 300P, 400P and 450P models. However, this time not only did Viair run away with the most recommendations, but the Viair 450P-RV nearly eclipsed the results.
In addition to the ever-popular Viair, Smittybilt, Slime, Ryobi, Harbor Freight and a few other compressor manufacturers were also mentioned. However, the sum of these other brands is about the total that recommended the Viair 450P.
WINNER:

Viair 450P-RV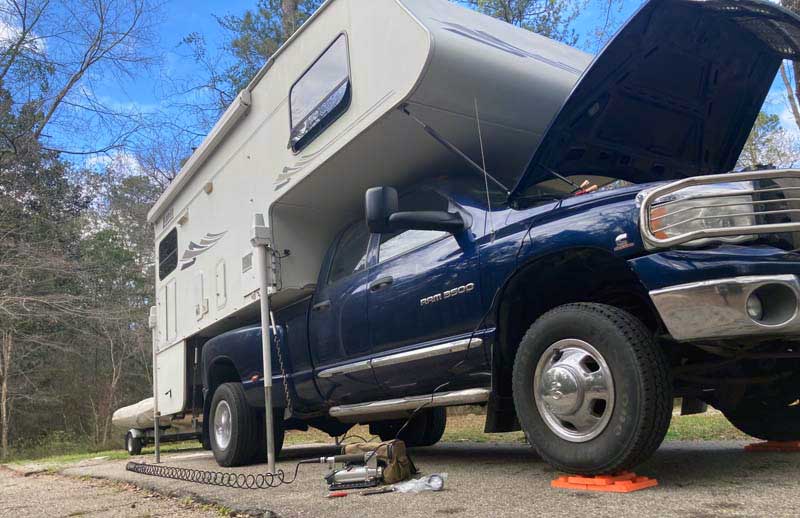 "I bought a Viair 450P-RV about five years ago. It's readily available online. Overall I'm pleased with the unit. It runs quiet, but the accessories are chintzy, the dually inflator failed day one, and the inflator gun with the gauge is… approximate. I use a digital gauge and bought a $5 dually inflator fitting. Otherwise, a great unit.
I wanted to be able to add air if needed on the road. Many gas stations don't provide enough pressure for the truck tires or the air bags. We tow our dinghy to Florida and back in the winter. Our Viair RV has two 30-foot air hoses to reach way back to the trailer tires. Returning to Minnesota in March, we experience substantial temperature drops, requiring adding air to our tires. I've used the compressor to add air to our inflatable dinghy too, as well as using my impact wrench." – Dave Marsh, 2005 Dodge Ram 3500, 2005 Lance 1181
"I have a VIAIR 90P. I use it to keep the tires at the proper inflation all the time. This little unit fits neatly in a rear passenger's storage bin of my crew cab. I still needed to purchase a hose extension to reach the rear tires since you connect this thing to the engine's battery." – Randy Smith, 2017 Ram 3500, 2016 Adventurer 910DB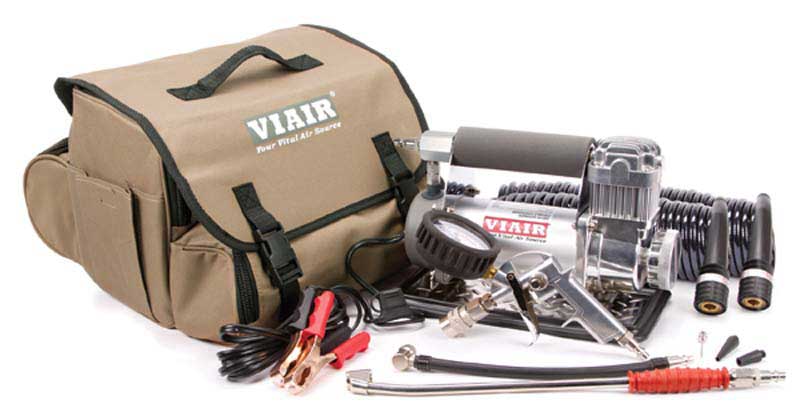 "I use the Viair 450P-RV automatic portable compressor kit. It comes in a bag with two long hoses that will reach both sides of our rig without issue, including any size trailer I am towing. It is a 100-percent duty cycle pump that will run at pressures up to 150 PSI.
We camp in the desert and regularly air down to get to places we love. The compressor is excellent at airing up the truck or the Jeep when we tow it, both of which have 33-inch tires. It has also saved us a few times when we have gotten punctures. We were able to air up until the next town where we could comfortably lift the camper to get to the spare tire." – Israel Sumano, 2020 Ram 3500, 2021 Wolf Creek 840
"I have a Viair 450P for routine tire pressure maintenance." – Dave Adachi, 1998 Ram 2500, Four Wheel Camper Grandby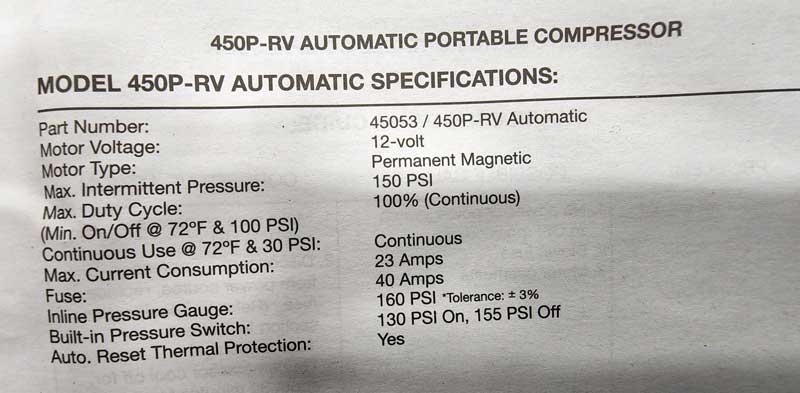 "I carry a VIAIR 450P-RV compressor. It hooks directly to the Chevy's battery. I've only used it once and it worked perfectly.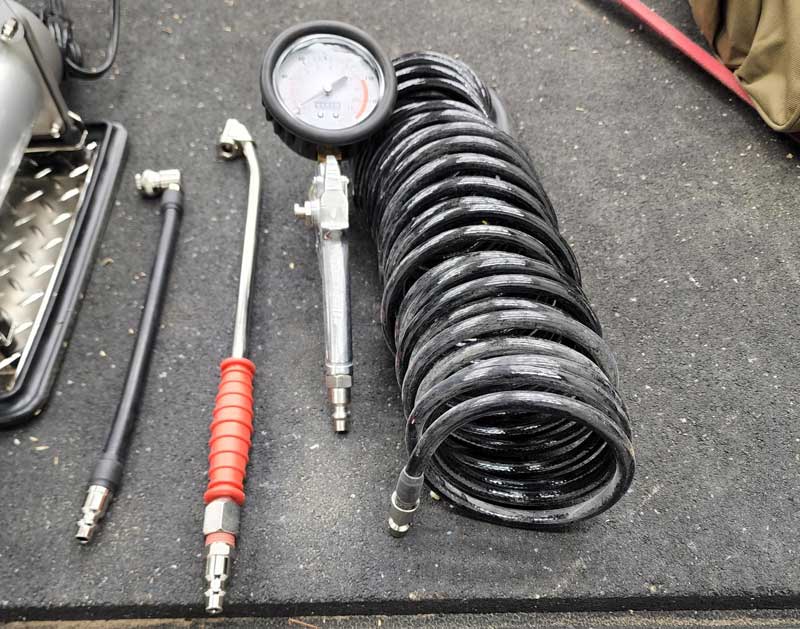 It comes in a nice bag with the compressor, two lengths of air hose, and accessories. The two lengths of hose make it easy to reach back to our towed Canyon pickup to air tires without having to disconnect.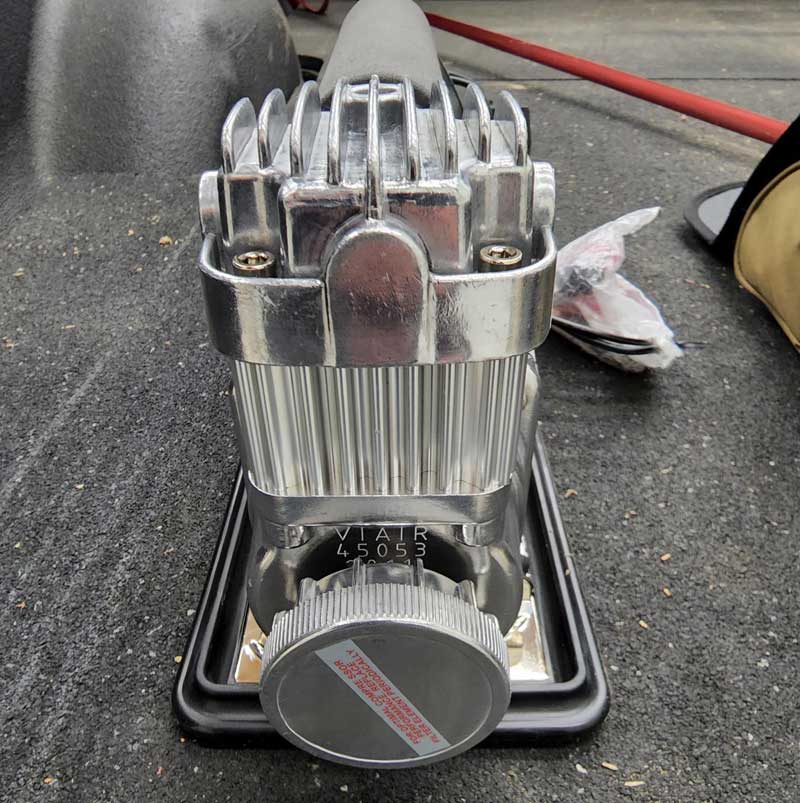 It's been a great addition and adds a nice level of security knowing if I need to air up a tire, it's available. So far all I've used it for is maintaining the air pressure in the truck and towed vehicle." – Dave Riddle, 2015 Chevy 3500 HD, 2017 Host Mammoth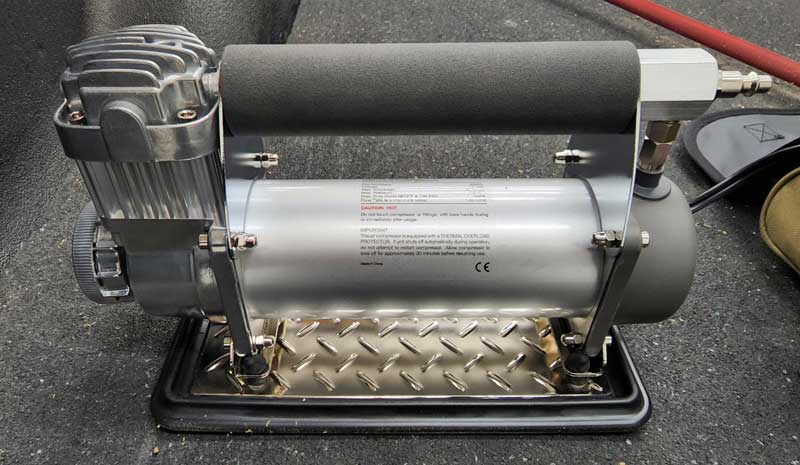 "We have a VIAIR 450P portable compressor that we use for tire and paddleboard inflation. We also have a Power Tank CO2 setup for inflating tires on the race truck. The Power Tank would also work on the camper. It's fast and easy. Unfortunately, the price has gone up on both items." – Angie Zbornik, 2013 Ram 3500 flatbed, 2012 Northstar Escape Pod
"We use the Viair 450P portable air compressor to air down when traveling over sand, mud, or rocks. It makes it easy to air up again when we get to the pavement and to maintain proper inflation levels while traveling in general.
A portable air compressor was an easier and cheaper solution than installing an onboard air compressor. We use the compressor to blow dirt and dust off of various pieces of equipment and to blow out the water lines when winterizing the camper. We've also used it to re-inflate a motorcyclist's flat tire after helping them patch the leak." – George Dunstan, 2010 Ford F450, 2009 Lance 1055
"I have a VIAIR 450P to air up after airing down and inflation of my air bags." – Russell Sherratt, 2016 Ford F250, 2017 ATC Cougar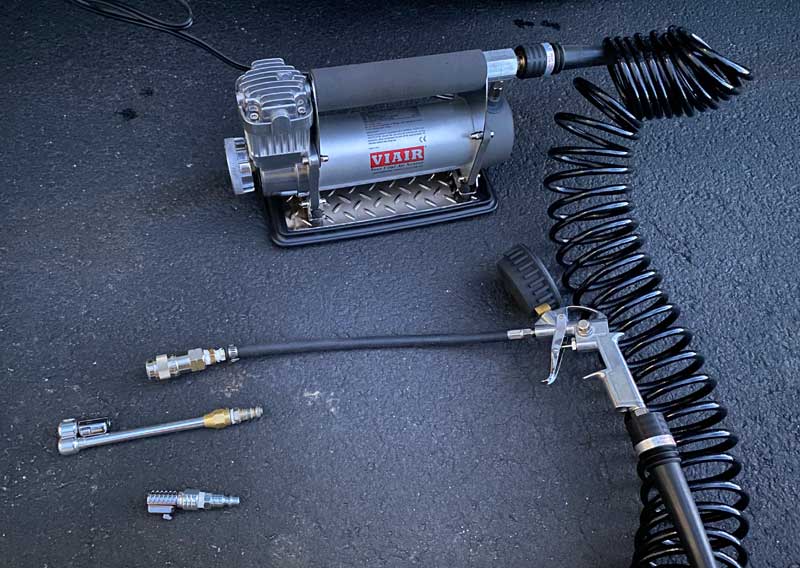 "I use the Viair 450P compressor for my Jeep CJ5 after off-road adventures and with my pickup after beach camping. I chose the Viair 450P because it has a 100-percent duty cycle at 100 PSI. My previous compressor would keep overheating when trying to fill all six tires on my truck.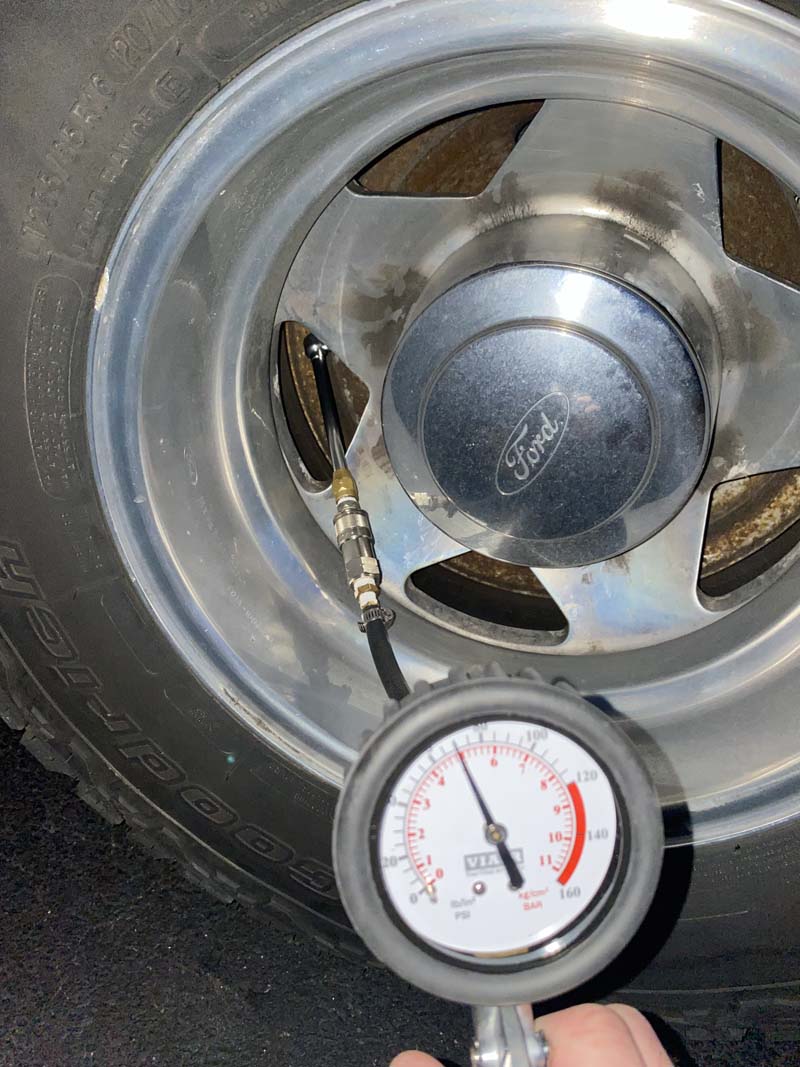 This compressor isn't the fastest, but it has never overheated. I modified the filler hose so that I can swap air chucks easily." – Jeffrey Allen, 2000 Ford F-350, 2001 Bigfoot 2500 10.6
"The Viair 12-volt portable compressor model 450P-RV I have works great and can inflate a rear low tire with the camper on the truck. I have had it for about eight years, formerly with a fifth-wheel trailer that needed about 100-psi." – Rick Brundrige, 2015 Chevy Silverado 3500 HD, 2021 Bigfoot C259.6
"I have a Viair 450P automatic portable compressor. We bought a compressor to keep our truck camper and Jeep tires and spares inflated to the proper PSI. The Viair 450P is 100-percent duty cycle. Most portable consumer-grade air compressors are not. The 450P can be used continuously for about an hour, and then needs to cool down for about 15-minutes. Be careful as some parts of the compressor get mighty hot and will definitely burn your hide.
The Viair 450P connects to your vehicle's battery. Make sure the engine is running as the unit has up to 23-amps draw for the compressor DC motor.
The compressor is very useful to reliably air up in a timely fashion and to not overheat or damage itself. It is also good for inflating toys and sports equipment. It can also be used to purge the fresh water lines, water heater, pump, and faucets for winterization. It should be used with an air regulator (~30 PSI).
We made this up for winterization:
Milton S-727 1/4" MNPT M Style Plug
Brass 1/4" FNPT to 3/4" MNPT adapter
PVC 3/4" FNPT to 3/4" FNPT adapter
PVC Garden Hose Fitting, 3/4″, MHTxMNPT (Lasco MHT106)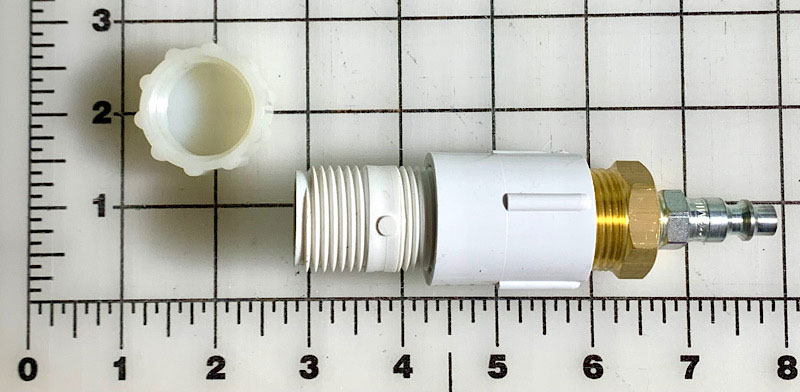 The female cap has garden hose threads (FHT) to keep the threads somewhat clean and undamaged.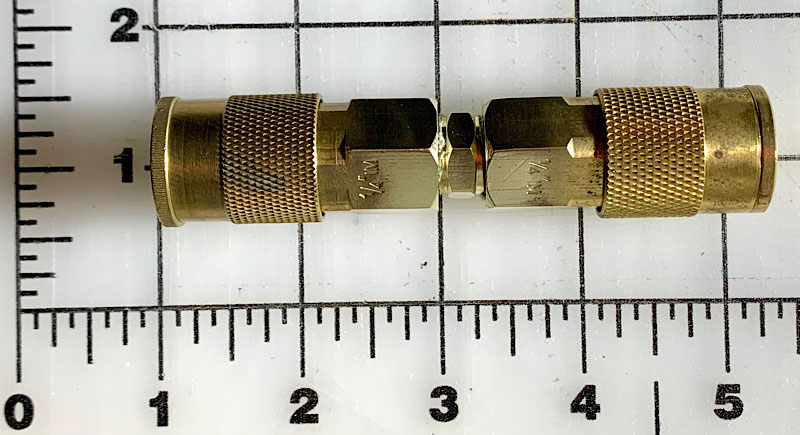 This is made of two M-Style 1/4-inch FNPT couplers, joined by a 1/4-inch MNPT to 1/4-inch MNPT coupler. This is for connecting any standard air hose to the compressor.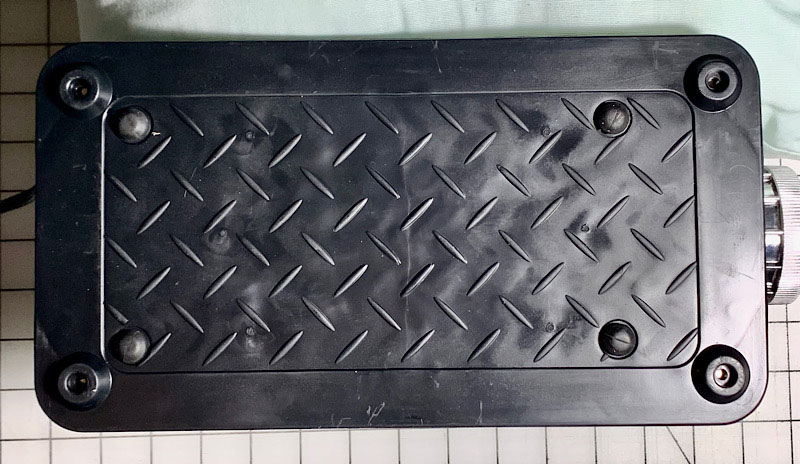 One of the best things about the 450P is the synthetic rubber base. The non-skid bottom and feet also limit sliding on most surfaces, and will not damage most surfaces. It works well in sand, on firm mud, and on wet grass, asphalt, and concrete. The base and feet are easy to clean and keep the compressor upright and stable.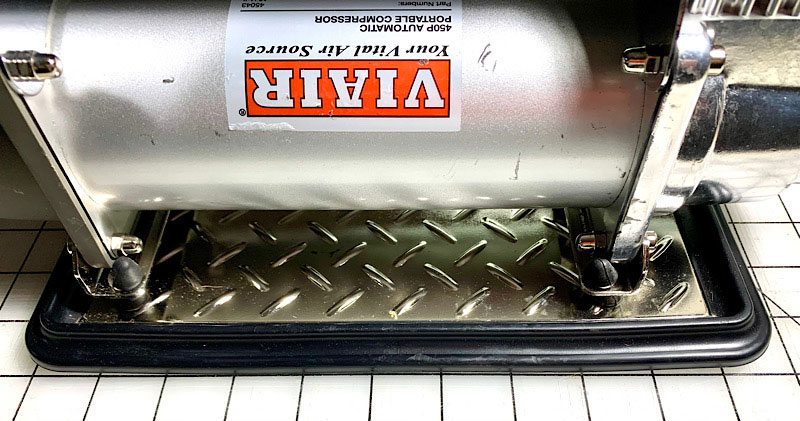 On the subject of compressors, I have something of a warning story. When I was a kid, I heard about a man that needed to air up a large farm tractor tire. He had a small portable air compressor with a sufficiently large battery, but the compressor was low volume and slow to air up anything. So, instead of staying with the compressor, he connected it to the almost totally deflated tire and then went off to check on other things. He got distracted and forgot to return. I was told the resulting exploding tire was pretty loud, but nobody got hurt." – Bill and Kira Jones, 2017, Ford, F-350, 2018, Northern Lite, 9-6Q SE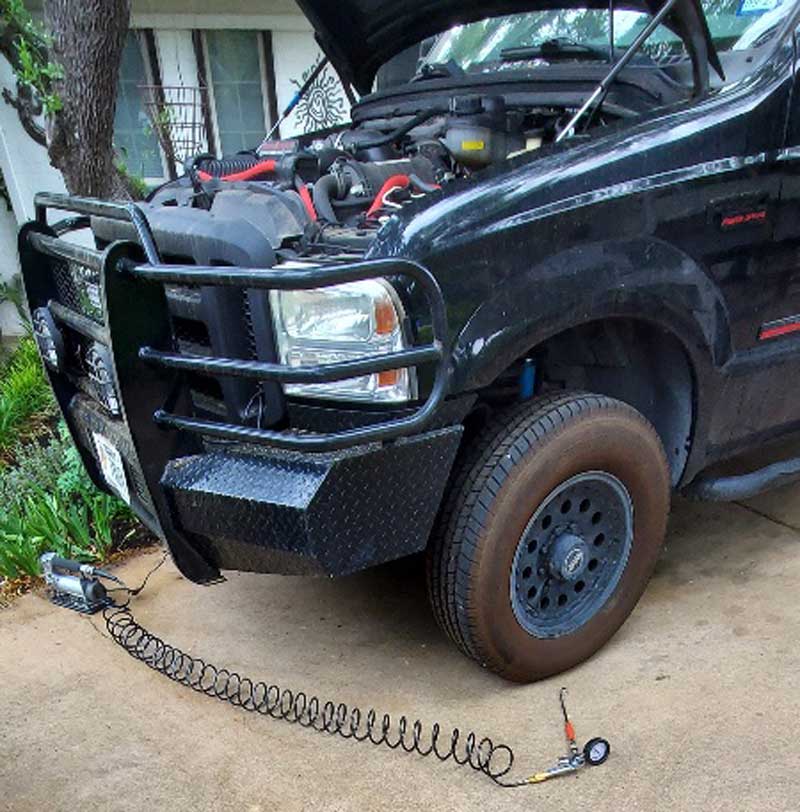 "I have a Viair 450P-RV silver automatic portable compressor that I use to reinflate tires after airing down for off-road driving.  Even with the camper fully loaded, it works great.  I added the jumper posts in the engine bay to make connection easier." – Richard Petty, 2006 Ford F250, 2006 Outfitter Apex 8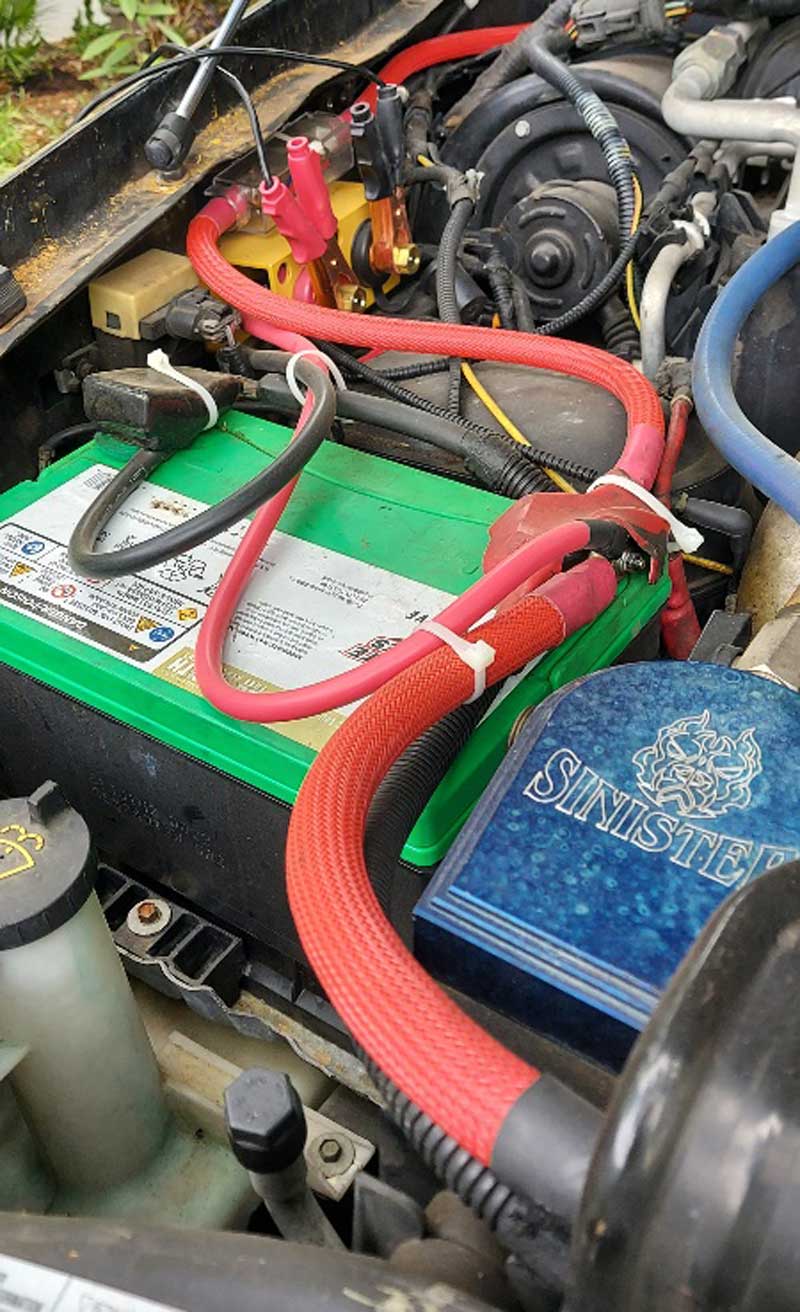 "I recommend the Viair RV kit (model 450P-RV). It's a super heavy-duty pump and motor. The kit includes a long, angle-head attachment to top up the inside duallies on my pickup truck. It also includes a screw-on head for Schrader valves that I prefer for many jobs. The kit came with two 10-foot spiral hoses that serves the pickup on grocery runs, but in the RV lives a 50-foot lightweight air hose on a reel ($30 at Costco).
Mostly, my compressor tops my truck and RV tires. My trailer tires are aired to 110-psi. I tried lesser compressors without success. Compressors that promised 200-psi wouldn't start when the tires were already at 100-psi. If I aired-down the tires to 80-psi, the cheaper compressor would start, but it would exceed its duty cycle (overheat) before my big tires would reach the 110-psi target. High-pressure tires can explode! Wear appropriate clothing and safety glasses." – Shawn Munro, 2010 Ford F-450, 5th wheel at this time
Other Viair Models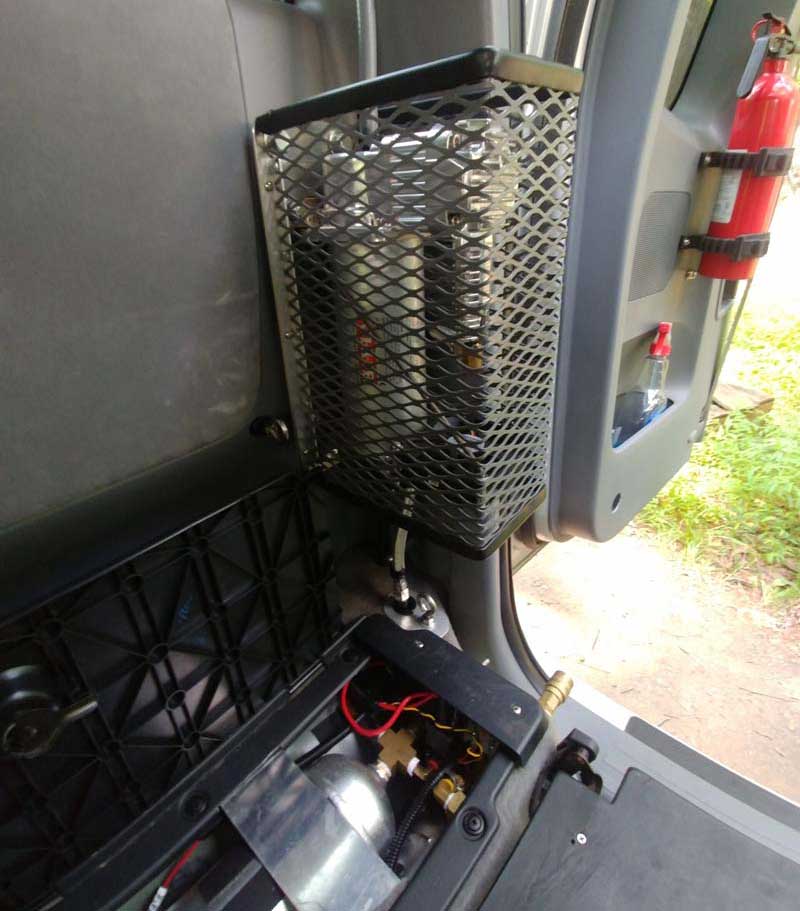 "My Viair 450C is used for flat tire re-inflation. I need to restore full tire pressure after reducing pressure for travel on sand." – Bernard Haxel, 2007 Toyota Tacoma, 2014 Four Wheel Campers Fleet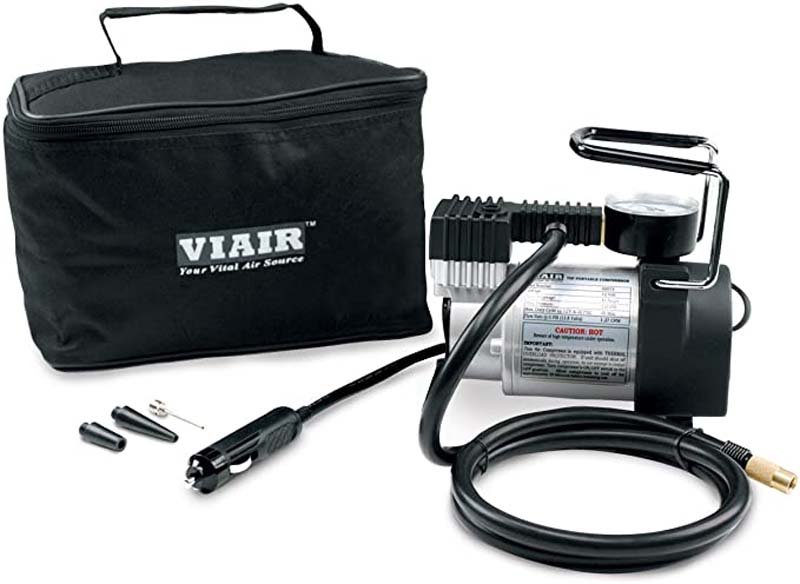 "I modified my Viair 70P (now discontinued) portable compressor which had a screw-on hose end. I added a quick connect so that I could connect a long two-sided inflator air chuck for the inner tires of my dually as well as switch out different air chucks.
I use the compressor for keeping the truck and toad Jeep tires at the right pressure. I also use it to blow out the camper's water lines. Also, the compressor is used to air up various items like air mattresses, water toys, etc." – David Fradkin, 2017 GMC 3500, 2017 Lance 975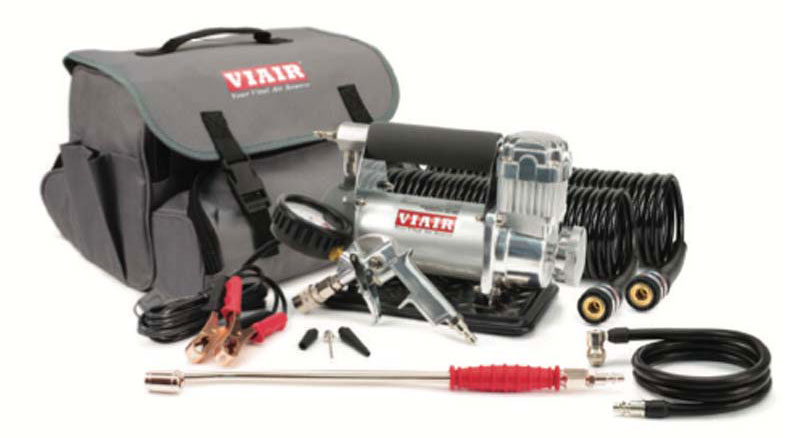 "I have the Viair 400P-RV. It's capable of 150-psi, has a good reputation for reliability, and is fairly quick inflating tires. I camp off-grid most of the time, and you never know when you're going to get a flat tire, need to fix a tire, or just air up a slow leak.
My previous truck was a Ford F-350 dually. I never bothered to air the tires down. It's too much of a pain doing the rear four tires. My new Ford F-550 has 19.5-inch tires and they are even stiffer, so there is no point in airing these things down. I just drive slower. I have used the Viair 400P-RV for airing down the tires on my Landcruiser though, and it works very well for those 18-inch tires.
Because I almost never air down, I look at air compressors and winches in the same regard. You rarely use them and hope not to, but they're worth their weight in gold the day you do. And don't cheap out on either of them. Good quality stuff lasts way longer and works better. You'll thank me later." – Kevin Mooney, 2022 Ford F550, 2016 Eagle Cap 1200
"I have a Viair 400P Portable Compressor. I air-down for desert sand. I picked the Viair 400P for its stellar reputation and portability. It travels in the camper in an outside locker with a direct connection to the truck battery, or it can be easily removed and used in another location or with another vehicle." – Kurt Herzog, 2018 Ram 1500, 2018 Custom Phoenix Pop-Up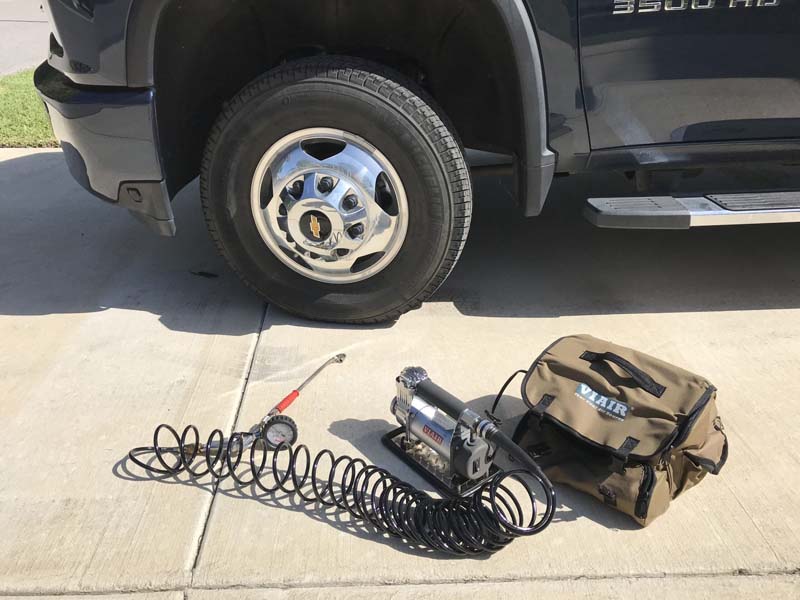 "I use a VIAIR 400P-RV. I have been impressed with its operation from day one and would highly recommend it. The valve stems on my Chevy's front tires have been leaky from the beginning. These stems are L-shaped and do not seal like they are supposed to. We discovered the leak when driving to our cabin in Alaska when the truck was only three months old. The dealer has replaced them twice, but only one is holding. I carry the VIAIR compressor as part of my emergency kit in case I'm in a remote area without services." – Bruce Weiler, 2020 Chevy 3500HD, 2020 Arctic Fox 990
"I have a Viair 300P. I do a lot of four-wheel drive roads in Colorado, Utah, and Arizona. Anytime it involves more than two hours of travel, I will air down to 45-psi in the front and 50-psi in the rear." – Alan Whittern, 2012 GMC Sierra 3500, 2007 Outfitter Apex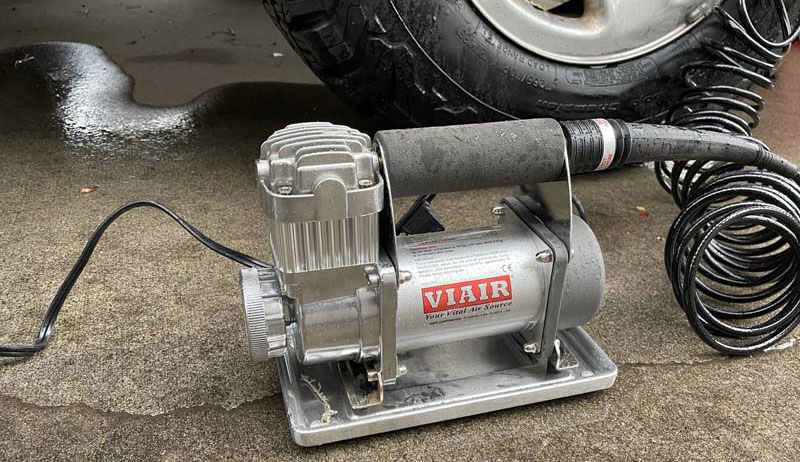 "We use the Viair 300P 12-volt compressor. With the camper on the truck, our rear tires are normally inflated to 80-psi. Most of our camping is boondocking on national forest or BLM lands. With the camper removed at camp, we lower the pressure to 45-psi. Sometimes on sandy backroads with the camper on we will lower the pressure. The Viair 300P re-inflates the tires back to 80-psi quickly. It is compact, light, and easy to store." – Brian and Chris Hagen, 2004 Ram 2500, Palomino SS-1251 pop-up
"As of this writing, I do not yet have a camper. However, I recently purchased a Viair 300-RV. It comes with everything. It works great and lasts a long time. I use it for airing up my truck tires and keeping them at the proper PSI when I'm driving. I also carry a tire plug kit." – Gary Swope, 2008 Toyota Tundra
Smittybilt Compressors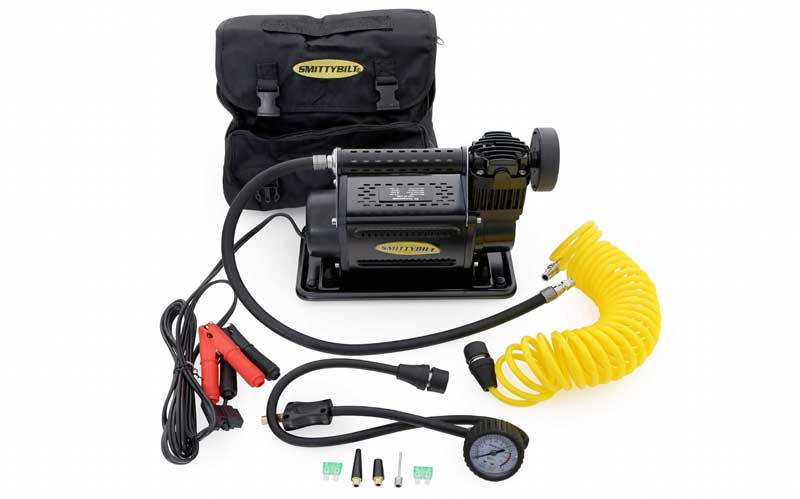 "We use a Smittybilt 2780 air compressor when we take our camper into the soft sand. We tow a flat trailer with our Jeep and the deeper sand can be tricky if we don't air down. The compressor works great and has been solid for almost four years." – Greg Hill, 2021 Ford F-350, 2020 Wolf Creek 850
"We have a Smittybilt portable unit that comes in its own bag. I actually have two of them. You never know when you might get a leak in a tire or an airbag or just need a top up or more pressure. We also pull a trailer with a 900 Ranger on it, so there is another set of tires that take a lot of abuse. We use the compressor quite a bit actually." – Ken Atamaniuk, 2012 Ram 3500, 2017 Lance 855S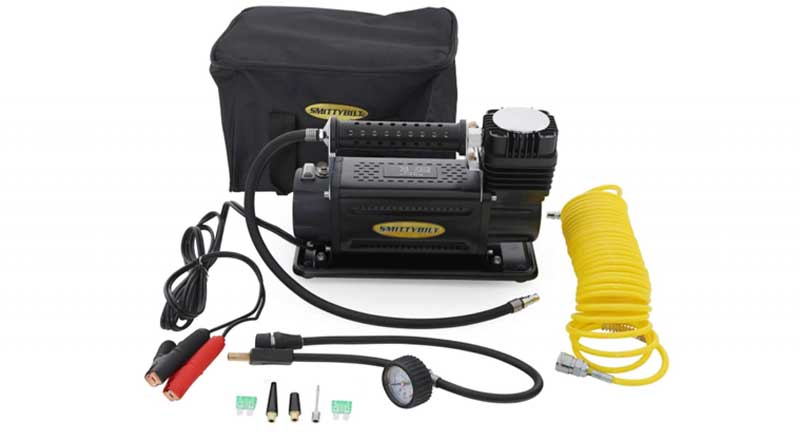 "I have a Smittybilt 2781 for airing down and airing up for rough and rocky roads and washboard roads. It is common in the Oregon desert amongst other places." – Jim Davis, 2010 Toyota Tacoma, 2016 Four Wheel Fleet
Ryobi Compressors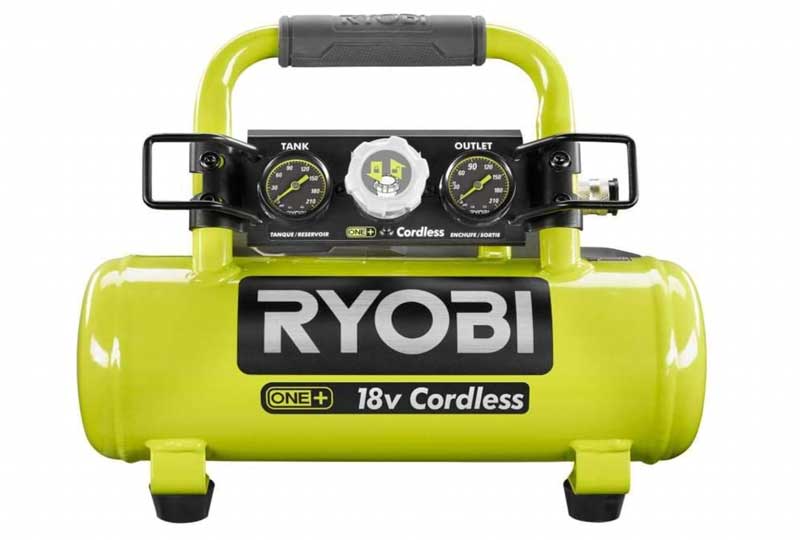 "I have a Ryobi 18-volt rechargeable one-gallon air compressor that goes to 120-psi. I use it for my motorcycles and two-axle trailer when I'm hauling them along. Otherwise, it's just another small, lightweight tool that I have with the truck and camper." – Chris Roark, 2019 Ram 3500, 2020 Cirrus 820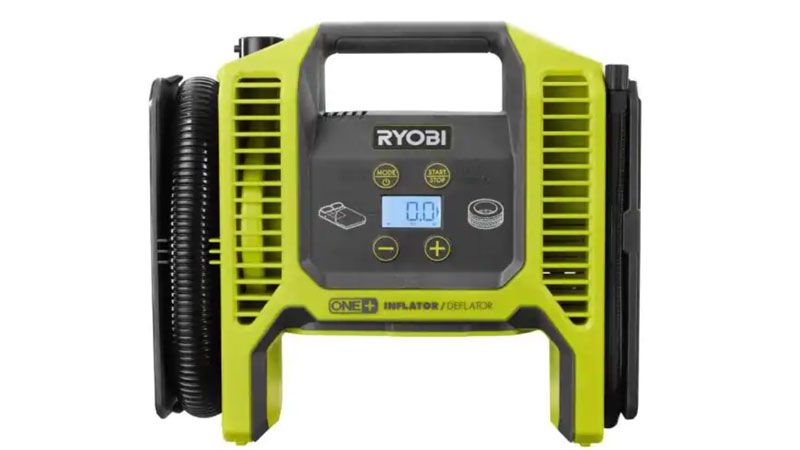 "I use a Ryobi 18-volt compressor, model #P747 for my truck and camper. I use the same battery for my drill, saw, and wet/dry vacuum. I use the air compressor for my rear air bags, inflatable stand-up paddleboards, and east Florida beach driving." – John Elliott, 2017 Ford F-350, 2018 Northern Lite 8-11 DB
Harbor Freight Compressors
"I use the Bauer cordless compressor from Harbor Freight. I wanted the Milwaukee Fuel cordless but then saw the Bauer for half the price. The battery, charger, and compressor were under $100-bucks, and I got a decent cordless drill too. It is cheaper to buy the battery and charger with the drill.
I can fill four truck tires from 30-psi to 75-psi and the airbags on one battery. It's worked perfectly and doesn't take up much space at all in the camper. I thought I was taking a bit of a gamble buying the cheap Harbor Freight version of the good Milwaukee tool, but I have not been disappointed. It has done everything that I have asked it to do.
It also has a low-pressure high volume hose for air beds and inflatable boats, though I haven't used it for that yet." – Steve Tucker, 2005 Silverado, 2020 Adventurer 80RB
"I have a Fortress one-gallon 135-PSI ultra-quiet portable air compressor that was $160 at Harbor Freight. It's lightweight and easy to carry.
I have three Harbor Freight compressors; this one, a two-gallon, and a 27-gallon. I am pleased with all of them. The Fortress is their premium line of compressors. They go on sale at least once a year.
While I have not needed the portable compressor yet, I carry it in case I need to air up low tires." – Bill C., 2001 F-350, 2009 Arctic Fox 990
"I have a high volume 12-volt portable compressor from Harbor Freight. I have only used it when airing back up out in Colorado on the Jeep trails. If an air station isn't available, I use it for airing tires back up, and bringing tires up to pressure when changing altitudes and flats." – Jay Kamys, 2020 GMC 3500SLT, 2015 Lance 855S
Other Compressor Brands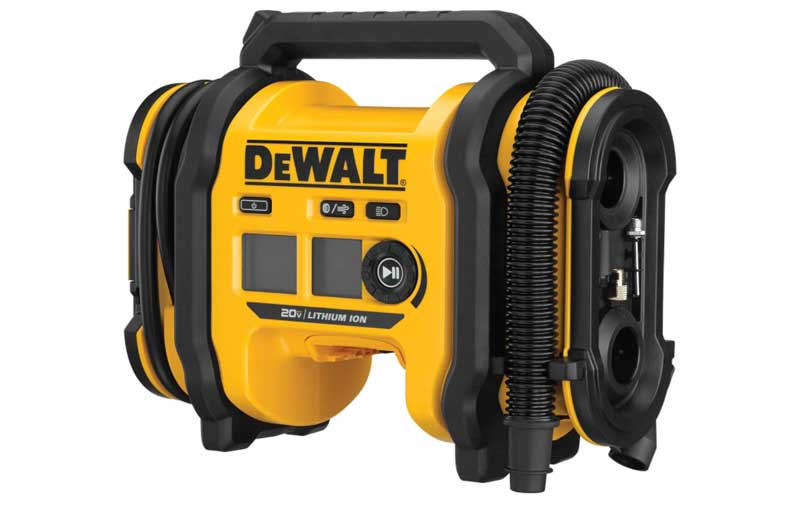 "I have a Dewalt 20-volt for airing up tires" – Kevin Smith, 2013 Ford F-350, 2019 Palomino SS-1500
"I use my Kobalt 12-volt/120-volt Dual Power Inflator for airing my tires and airbags and clearing water lines to winterize. I like the 12-volt/120-volt capability, but prefer to use it via 120-volt due to quicker inflation. The digital readout seems pretty accurate. This is my third one. Each of the first two only lasted about two years, so consider buying the warranty for a free replacement." – Craig Brueckman, 2015 Ford F-350, 2014 Lance 1191 and 2015 Keystone Montana 3582RL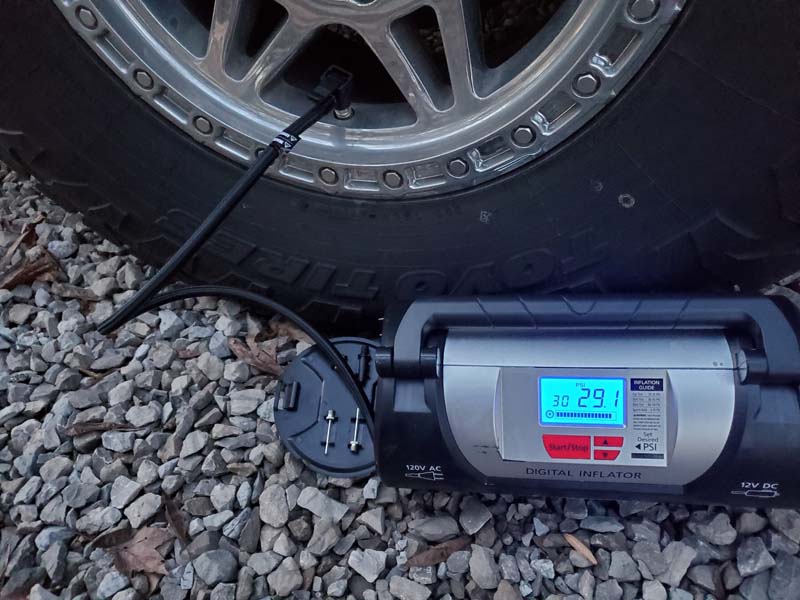 "I use a $50 Husky HD12120B portable digital air compressor from Home Depot. It has a short 120-volt plug and a long enough 12-volt plug to reach all four tires on my truck. I would not use to air down for off-road since it could not handle that and I only run 33-psi in the front and 30-psi in the rear with my camper on 37×12.50r18 E-rated tires.
I use my portable air compressor to change my air pressure according to the load on each axle for even tire wear. I weigh my truck unloaded and loaded for long trips at my local CAT scale and have had very even wear on my tires." – Sean Platt, 2019 Ram 2500, 1991 Starcraft Roadmaster pop up
"I have a Goodyear air compressor. It's for just in case I get a soft or flat tire on my motorcycle." – Timothy Tuttle, 2015 Chevy 3500, 2013 Chalet DS
"I carry a 'Cardiac Pack', which is the name I put on a $60 battery jump starter with an air compressor. It is the multi-tool of jump starters and will pump up tires very well. It also has a light and phone charger. There are multiple applications, but I mostly use it for a jump-start, and the truck, car, and bike tires always need air." – Garden Freeman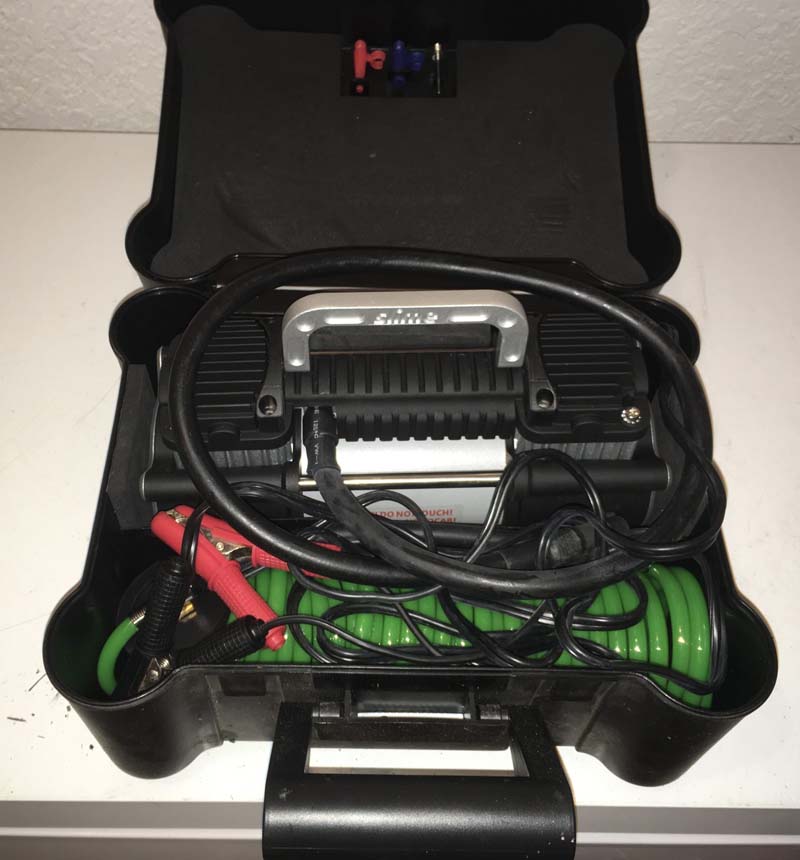 "I have a Slime 2X twin cylinder air compressor. It's generally a backup if I get a trail-fixable tire puncture, or if we're on an extended dirt, gravel, or forest road and we air down to mitigate the rough roads. I haven't done serious off-roading, but we've been to places in Alaska, Yukon, and British Columbia where we are off the pavement for a good bit." – Brian Boardman, 2001 Ford F-250, 2007 Four Wheel Keystone
"I use an ExtremeAire Magnum 12-volt portable compressor from Extreme Outback Products. The ExtremeAire is an Industrial Compressor rated at, "24/7 100-percent continuous duty with a 1.50hp fan-cooled motor". I learned about this wonderful product while attending an off-road tire repair class. It comes complete with everything you need plus a very handy storage box and Anderson connectors. It's very heavy at 37-pounds. I also purchased the Milton S-506 analog tire inflator with a pressure gauge and 15-inch hose dual head chuck. It's just like the ones you found at every gas station when we were kids and will fill up my tires in less than a minute.
I love venturing down forest roads and logging roads. I've even taken my rig up and across some rather very rocky roads. I have collected a few screws and nails along my travels, so having the ExtremeAir handy is a must to quickly air up and get back on the road, especially when I am out of cell range and far away from any local services. I also use it to inflate my kayak and have a chuck for blowing all the dust out my truck cab." – Edith Horn, 2018 Ram 3500, 2019 Northern Lite 10-2
"I have a Napa 300 LPM air compressor. It works great for quick air up after washboard road travel. It typically takes one minute or less per tire. Some reviews indicate problems with this unit, however, I have never had any trouble. And the price is right!" – Michael Strinich, 1990 Centurion C350 Bronco with 1993 Hallmark Ford Bronco-Specific Camper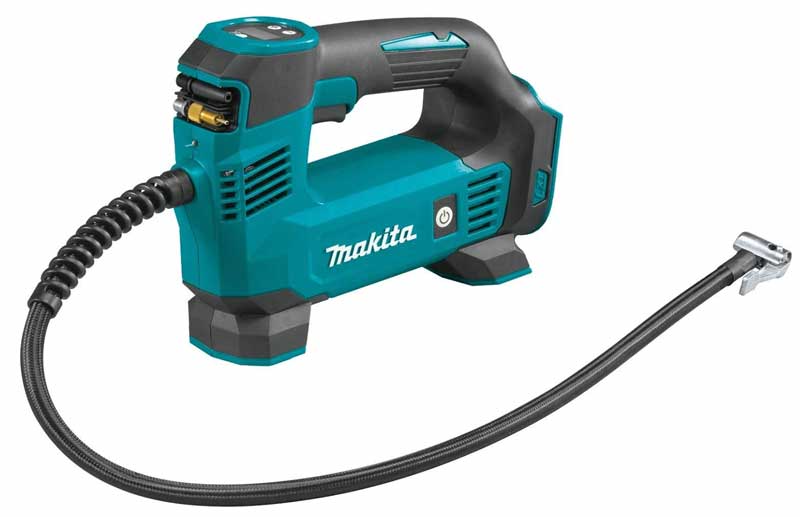 "I carry a Makita 18-colt LXT model DMP180ZX lithium battery portable compressor. It goes with my 18-volt impact wrench for lug nuts, USB charger and my entire array of Makita 18-volt tools. I set the required air pressure pull the trigger and away it goes. The mini compressor turns off when the requisite pressure is acquired. It also has a built-in light. It is much better than truck cigarette lighter plug-in compressors.
I use the compressor for my truck, ATV, and boat trailer tires. It will also work with sports equipment and such." – Steven Cilenti, 1999 Ford F-350, 2012 Arctic Fox 990
"I have a Poster Cable 6 gal pancake compressor to flush out lines for winterization and with pneumatic tools." – Ant Coluccio, 2018 Toyota Tundra, 2022 Grand Design Imagine
Truck Related
"My Silverado 3500 dually has a Firestone RideRite air suspension system that incorporates an onboard compressor. This system is a whole lot more than only an air compressor. There are air bags at each end of the rear axle, a permanently installed heavy-duty air compressor, an air tank, cab controls with gauges to lift or lower either end of the rear independently, and an air chuck adjacent to the rear license plate. The air chuck can be placed in any convenient location.
The system comes with an airline that can be coupled to the air chuck and can reach all four or six tires. The system pressurizes the air tank automatically. I added a kill switch so that I can shut the compressor in case of a rupture, but this has never happened. I had the system professionally installed. It is doable by a knowledgeable vehicle owner, but it would be a challenge.
I've seen RideRite on Amazon and on other truck suspension sites. I did a quick look but did not immediately find the exact system I have. My system is over ten years old, so I don't remember where I bought it. However, that also demonstrates its reliability since there has never been a malfunction.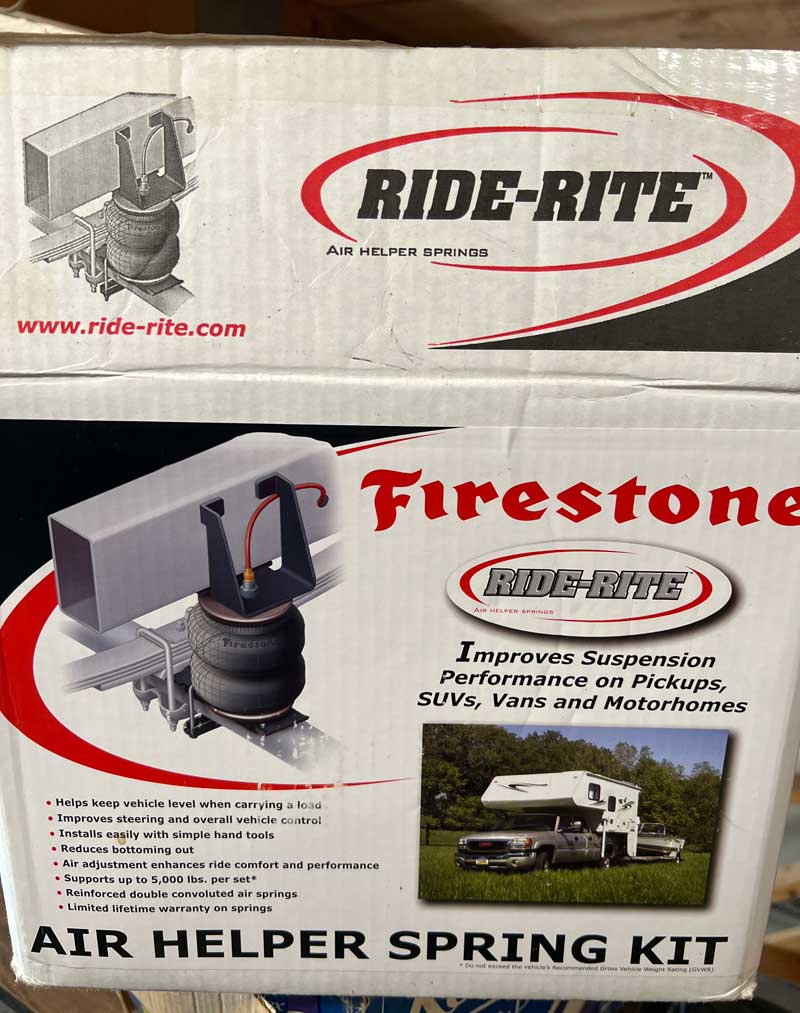 The picture above shows the box that contained the air bag parts. The compressor and the air tank were packaged separately. As you can see, the box depicts a truck camper.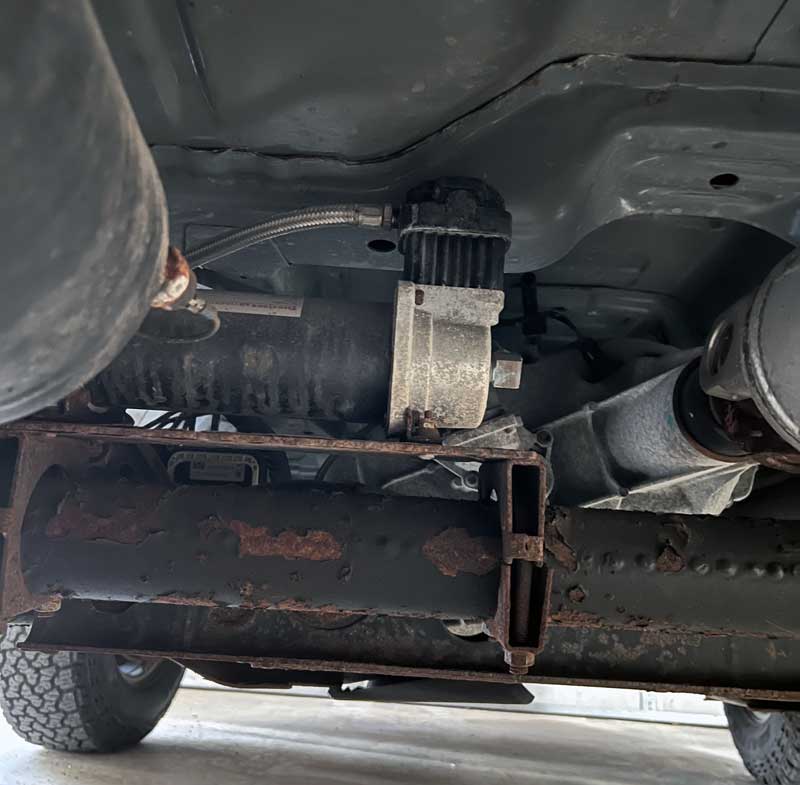 This photo shows the air compressor mounted on top of a cross-member under the truck. The air tank is partially depicted on the left side of the picture.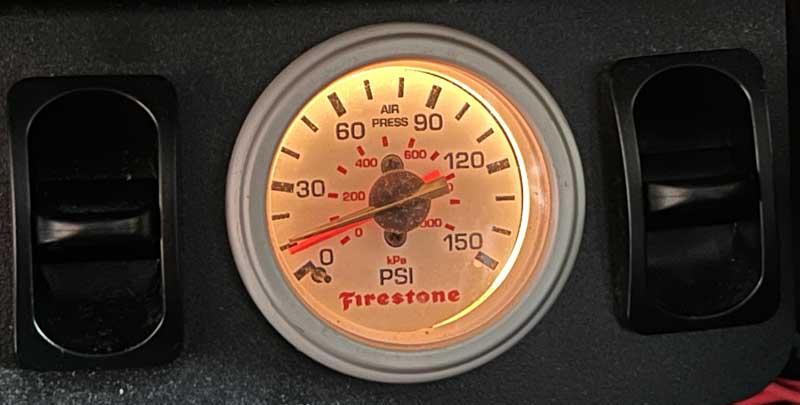 This photo shows the air valve switches on either side of the pressure gauge. The gauge has red and black indicators (partially superimposed in this photo) to show the pressure on each side.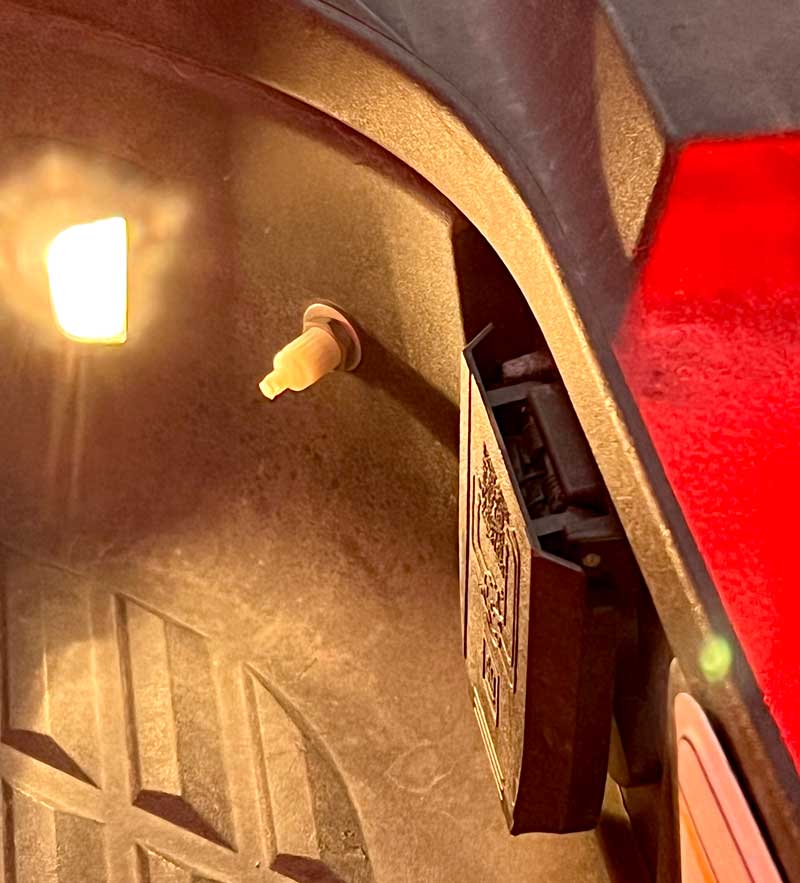 This final shot shows the air chuck, onto which the air hose can be attached (once the white plastic cap is unscrewed) on the rear bumper just to the left of the license plate." – Joe Zecca, 2011 Chevy 3500, 2012 Arctic Fox 1140