Retired Certified Safety Supervisor, Gary Whistler, discusses the importance of knowing your rig dimensions and the critical differences between driving unloaded and loaded.  Get your measuring tape out now.

We are very fortunate to have within our community ranks a retired professional truck driver with over two-million accident-free miles behind him.  As a passionate truck camper owner, Gary stepped up at the 2013 Gettysburg Truck Camper Rally and presented a crash course  – if you'll excuse the expression – in truck camper driving safety.  We were so impressed that we followed up with him after the event to develop, "Truck Camper Driving Safety 101: The Basics".
Reader response to Gary's first Truck Camper Magazine article was off the charts.  Even industry leaders chimed in to state how much they appreciated Gary's experience and perspective.  Lance Campers went so far as to share Gary's article with their entire team and dealer network for training purposes.  Now that's how we take a step towards making our truck camper industry and community safer.  Bravo Lance!
For "Truck Camper Driving Safety 102", Gary shares even more advice taking us through the what, where, and why of measuring our rigs, and offers the best practices for driving unloaded and loaded trucks.  Finally he gives us a few more safety tips and tricks.  Thank you Gary.
Truck Camper Diving Safety 102
by Gary Whistler
Let's Discuss Your Dimensions
There are a lot of variables that make up a truck camper's overall length, width, and height.  First, there are many different truck camper manufacturers building many different models and configurations of truck campers.  Second, there are several different truck manufacturers building many different models and configurations of trucks.
Add to the above variables any changes made to tires, suspension, towing systems, and roof mounted options and you quickly discover how every truck camper is dimensionally different than the next.
With the overall dimensions of every truck camper rig being unique, it's critical to measure your truck camper for length, width, and height.  I prefer to do this the old fashioned way; with a tape measure.
To accurately measure a truck camper, I recommend a twenty-five foot (or longer) tape measure.  I also recommend having your spotter with you to hold the tape end in place, or read the tape.  Speaking from experience, it can be a challenge to measure a camper by yourself.
Height Priority
The most important dimension to know about your truck camper rig is height.  My wife and I found out about this in a story that's funny now, but wasn't so funny when it happened.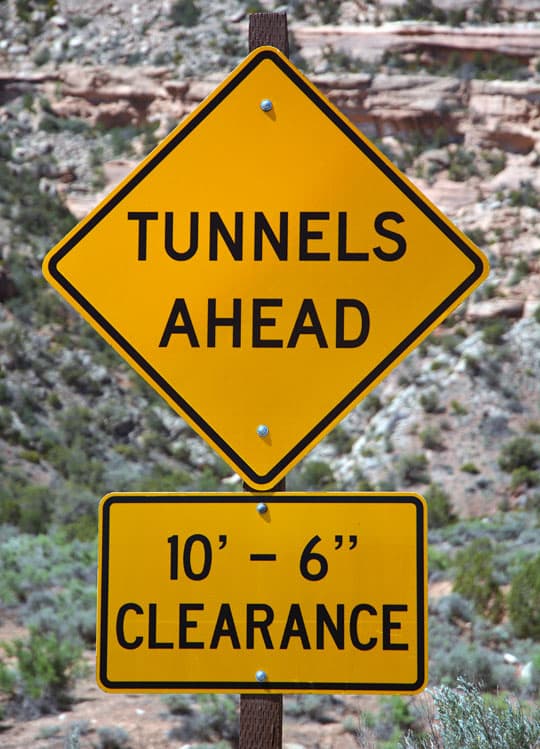 Above: Know your rig height and pay attention to clearance signs along your route
Not too long ago, our GPS took us right to a low clearance tunnel on a country road.  Fortunately, we saw the tunnel height sign in time and avoided a costly and potentially dangerous accident.  We had tape measured our rig and knew our height.  That overpass would have sheared off our air conditioner, or worse.  We were lucky that time, but I still had a few choice words for our GPS.
Above: Northern Lite with kayaks was 11'10", Lance 1055 with air conditioner was 11'10", and Northstar pop-up with top down was 8'9″- heights were measured at the 2014 Mid-Atlantic Truck Camper Rally. Click to enlarge photos.
The moral of the story is two fold.  First, every truck camper owner should know the exact height of their truck camper rig including roof racks, cargo containers, kayaks, canoes, and any other stuff you mount on the roof.  That means actually properly measuring the height of your rig with a measuring tape.  The second moral is to never 100% trust your GPS.  They're a wonderful tool, but they won't pay for a shattered air conditioner.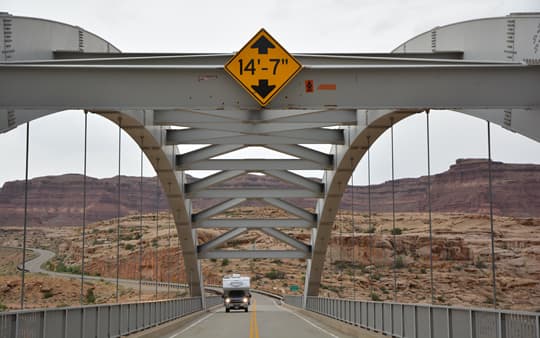 Above: A bridge in Utah on Route 95