Gary Whistler has more driver's safety credentials than you can shake a traffic cone at.  He's also an avid truck camper with excellent tips on truck camper driving safety.

To state that Gary Whistler is qualified to write an article about driving truck camper safety is an almost ridiculous understatement.  For starters, Gary is a retired Certified Director of Safety (CDS), a retired Certified Safety Supervisor (CSS), and a retired professional truck driver with over two-million accident-free miles over a fifty-year career.
Still not satisfied?  Well, Gary served on the Board of directors for the Professional Truck Driver Institute, and was a member for on-site evaluation teams for on-site driver training facilities.  He served on the Board of Directors for Pennsylvania Motor Truck Safety Management Council, and on the Advisory Council for the North American Transportation Management Institute.
Still thinking this guy might not be up to snuff?  Okay, there's more.  Gary served on the Truck Driving Championship Committee for Pennsylvania Motor Truck Association, and is the past President of the South Central Chapter of the Pennsylvania Motor Truck Association.  Gary was even presented with the Safety Director of the Year Award for Pennsylvania Motor Truck Association in 2003.
Did we mention he's also a truck camper owner?  Oh, now that got our attention.
At the 2013 Gettysburg North-East Jamboree this past September, Gary held a well attended Driver's Safety seminar with tips on how to safely operate our truck campers while driving.  It was like Drivers Ed, only for truck campers.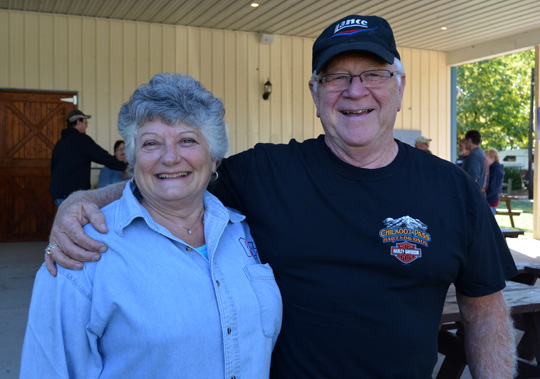 Above: Cinda and Gary Whistler at the Gettysburg Jamboree
Truck Camper Driving Safety 101: The Basics
by Gary Whistler
Pre-Trip Procedures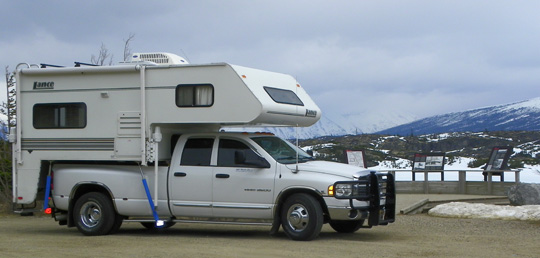 Above: Make a habit about walking around your rig and doing inspections
Before leaving for a camping trip, do a pre-trip walk around your truck and camper the same way each time.  Make this pre-trip walk around a habit.
On the outside, inspect your windshield wipers, check for tire wear, and check the tire pressure.  Open the truck hood and make sure everything looks right.
Once your truck and camper are connected via the umbilical cord, check your headlights, high and low beams, tail lights, brake lights, four-way caution lights, and turn signals.  Don't forget to reposition your mirrors.
Check your camper's turnbuckles to make sure they are tensioned and connected properly.  Also check for open roof vents, open windows, and raised television antennas.  Inside your truck and camper check that all drawers, cabinet latches, and bathroom doors are secured.  Any loose items should also be put away and secured.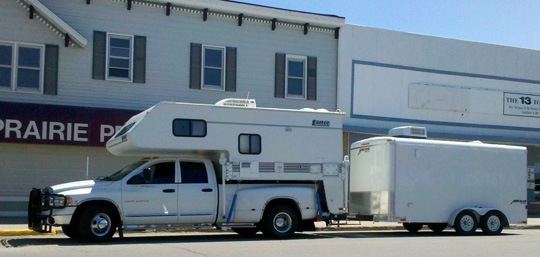 Above: Gary and Cinda tow a utility trailer
If you are towing, make sure your cargo is secure, and check the lights and brakes on your trailer.   There have been many excellent seminars on proper towing equipment such as what class hitch, weight distribution, sway bars, etc.  If you are towing, or thinking about towing, be sure you have a nice working understanding of the towing process before hooking to a trailer of any kind.