On July 11th, 2018, Truck Camper Magazine's truck and camper rig was T-boned at speed in La Grande, Oregon.  Here is the story of what happened, and why you should never, ever go truck camping with a full jar of spaghetti sauce.

Be sure to read our Lessons from a Camper Accident article.  It might just save your bacon if you are in a similar situation.  In this article we share insurance tips and how to deal with the before, during, and after experience.
If life was a movie, we might have noticed the ominous music building in intensity, or maybe picked up on the oddly framed shot and suspicious silence.  Look out!  Something is about to happen!
Of course real life is not a movie.  In real life, things just happen – out of the blue – during an otherwise normal day.  One minute it's Wednesday and you're driving to a truck camper rally.  The next your world is upside down, or at least leaning heavily to the driver's side.
This is the story of what happened to us on July 11th, 2018.  The day started at Thunder RV in La Grande, Oregon.  Angela and I were visiting the dealership to catch up with the team and photograph a 2019 Arctic Fox 865 for future review.  After that we were excited to go to the 2018 NATCOA Rally just a few miles away.
Fate, and a Toyota Camry, would soon intervene.
You Better Wash It, Mister
I have no idea why, but I really enjoy coin-operated pressure washes.  For a few bucks you can soak and destroy miles of accumulated dirt, encrusted bugs, and greasy road grime with relative ease.  Angela just feeds quarters into the box, points out spots I've missed, and watches the carnage.  Love it.
We're also a bit funny about showing up to a rally with a dirty truck camper rig.  For these reasons, we drove around the corner from Thunder RV to the local coin-wash.  In the pictures that follow, take note of our clean truck and camper.  You know how mom always told you to wear clean underpants, just in case you were in an accident?
With our shiny clean camper, we set off to the rally.  Our rig was loaded up with groceries.  Angela had plans for a new potluck dish.  I was looking forward to meeting some fellow truck campers and…
A vehicle suddenly approached us at speed from a sharp angle.  I saw it for split second and instinctively hit the brakes and turned away – but it was too late.  As the car impacted our rig, we both said the same thing at the same time:
"Oh no! Oh no! Oh no!"
After the impact, the truck fought me for control.  The awkward momentum from getting T-boned on the driver's side pushed us into heavy gravel before we stopped short of a mild drop off.  Thankfully there were no vehicles or pedestrians in front of us.
"A brief glance at the driver's side of our truck confirmed that we had indeed been in a serious accident."
When everything came to a stop, Angela was extremely upset.  Our cat, Harley, was still sound asleep.  Seeing that Angela and Harley appeared to be physically unharmed, I jumped out to check on the other driver.  Given how hard they had hit us, I was very worried they were hurt.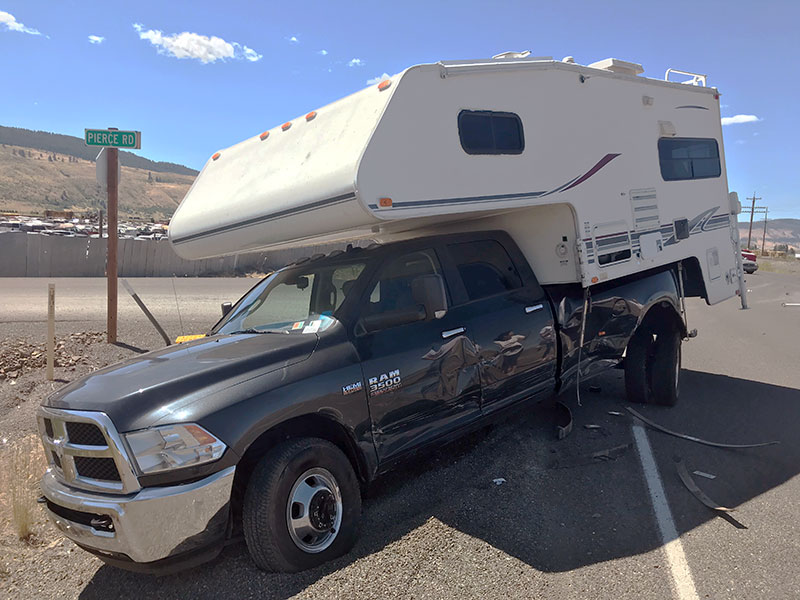 A brief glance at the driver's side of our truck confirmed that we had indeed been in a serious accident.  The dually area was crushed and the rear axle appeared to be dislocated.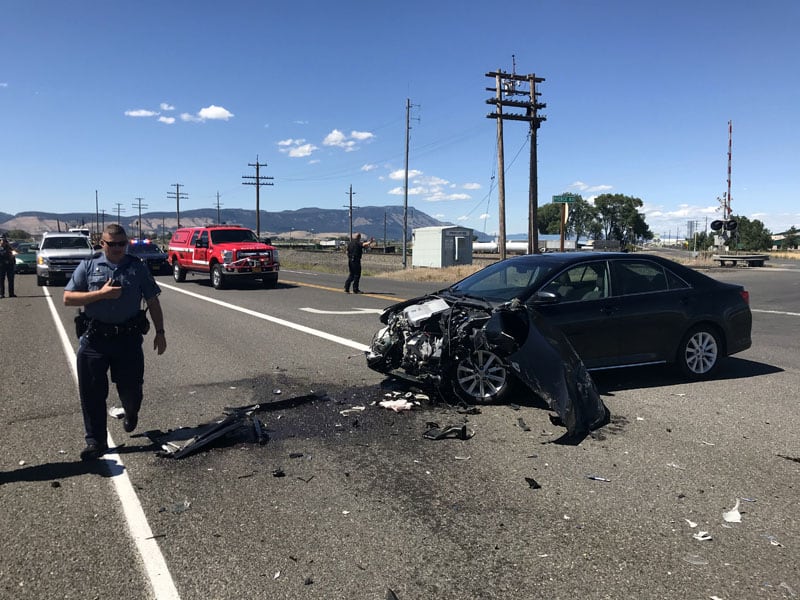 Then I saw a Toyota Camry with the front third completely obliterated.  Debris from our truck, camper, and their car was strewn across the two-lane roadway.  Holy cow.