For part two of Truck Camper Magazine's accident story there are insurance realities, new truck trials, and an outrageous tailgate scandal.  Oh, and there are two more car accidents!

Please read our Lessons from a Camper Accident article.  It might just help if you are in a similar situation.  We share insurance tips and how to deal with the entire experience.
It was a strange sensation to wake up in a different truck camper and then remember that (a) we had been in a bad accident and (b) our truck and camper were seriously messed up.
That morning the rally attendees went to Northwood Manufacturing to tour the Arctic Fox and Wolf Creek production facilities and we returned to Thunder RV to help separate our truck and camper.
Lance from Captain Hook's Towing arrived soon after to fetch our truck.  With our truck winched once more to Lance's flatbed, Thunder RV's Wayne Barnes and Doug Miller used a tractor and forklift attachment to support the forward driver's side of the camper.
The corresponding front driver's side jack had been sheered off during the accident, and the damaged truck would have impacted the jack even if it had remained in place.  Held by the forklift arms, the truck could be pulled out from under the camper on its three remaining jacks.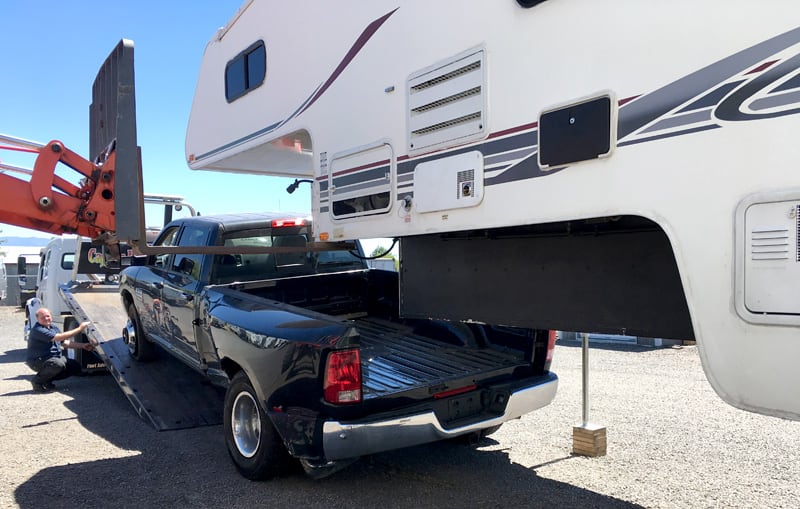 With all hands on deck, the truck slowly moved out from under the camper and onto the flatbed.  It was so sad to see our beloved truck hauled away – seemingly damaged beyond repair.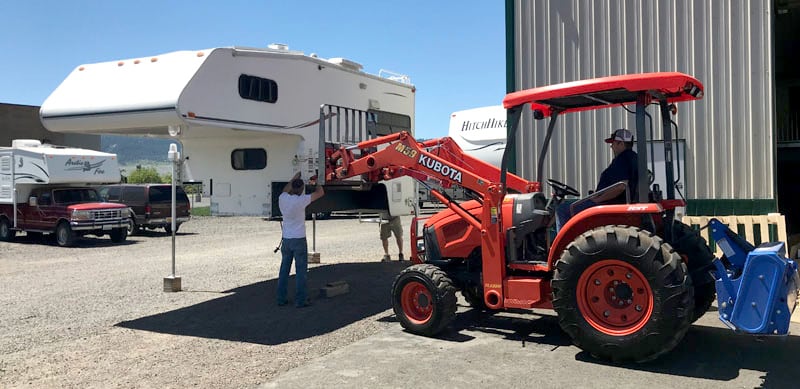 Once the truck was removed from under the camper, Wayne and Doug reattached a jack to the front driver's side and backed a rolling platform under the camper.  Resting safely on the platform, the camper was pushed to the side of the lot to await the insurance adjuster.
Starting The Insurance Process
On Wednesday night, a few hours after the accident, we initiated contact with our insurance company, Progressive.  Our truck and camper were insured through Progressive on two separate policies.
On Thursday morning, Progressive quickly assigned separate claim numbers, representatives, and adjusters for the truck and camper.  The truck and camper adjusters requested photography of the accident scene, truck, and camper, which we submitted via email.  So far, so good.
Progressive was handling our claims because the other driver's insurance company had no resources in Oregon.  After settlement, the other insurance company would pay Progressive back through what's called a subrogation agreement.
The next morning was Friday the 13th – a story day for Truck Camper Magazine.  With some irony, we published, "Truck Camping Out of the Box".  The title seemed oddly perfect as we found ourselves wading into an ocean of variables…
Would our truck be deemed repairable or totaled?  If the truck was deemed repairable would we want it?  If our truck was totaled, would we buy a new or used truck?
Would our camper be deemed repairable or totaled?  If they totaled our camper, would we buy it back and fix it, or would we need a new one?  And what is this all going to cost?
The Emergency Room
By Friday, Angela and I were starting to feel increasingly sore from the accident.  Neck, shoulder, and back pain was becoming harder to ignore and we weren't sleeping very well.  That's when we decided to get checked out by medical professionals.  Better safe than sorry, but where to get help?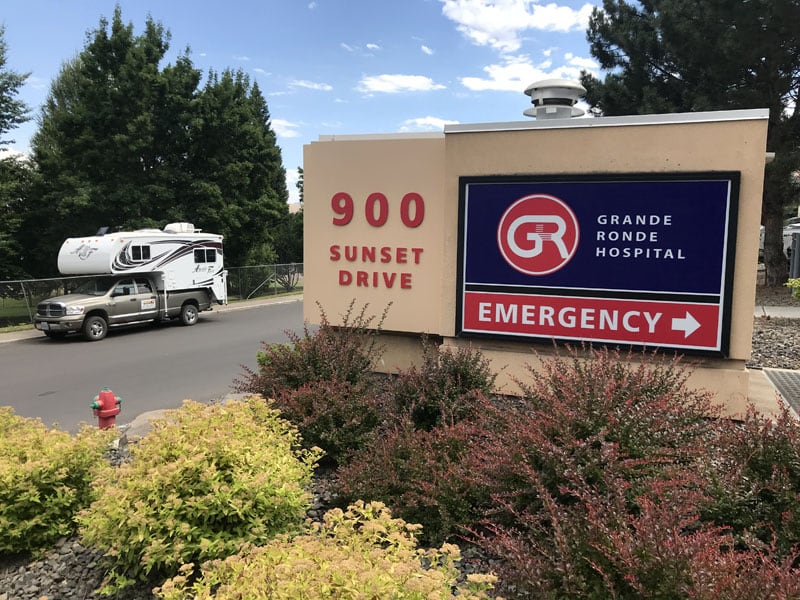 Long story short, none of the La Grande, Oregon doctors had availability for at least a week and the local walk-in clinic would not see anyone who had been in a car accident.