The Slingerlands took a Scania truck and a box designed to haul clothing and built an incredible one-of-a-kind demountable truck camper and mobile motorcycle garage.  With air suspension, who needs jacks?

When we first considered this story, it was almost immediately nixed.  The homebuilt rig was impressive, but where were the corner jacks?  There were metal legs on the corners, but they could not raise and lower the camper to load and unload.
Then we saw a picture of the camper demounted.  How did they do that?  There were the metal legs holding the camper, and the truck driving off separately.  Was this some kind of European magic?  Here in America, we need jacks to load and unload our campers.  So how did they do it?
In two words, air suspension.  The truck literally airs down to deposit the camper on its metal legs.  Then it raises back up to pick up the camper.  Now that's some serious out of the box thinking.
With a green light for the article, we engaged Gea and Mark Slingerland of the Netherlands.  With each subsequent email and photograph, their truck, camper, and truck camping lifestyle got even more interesting.
Gea and Mark's design concepts are inspirational, as is their sheer grit and gumption.  And just wait until you see the incredible truck events they attend in Europe with their rig.  In particular, the Norg Harder looks like a must-attend at least once in our lifetime.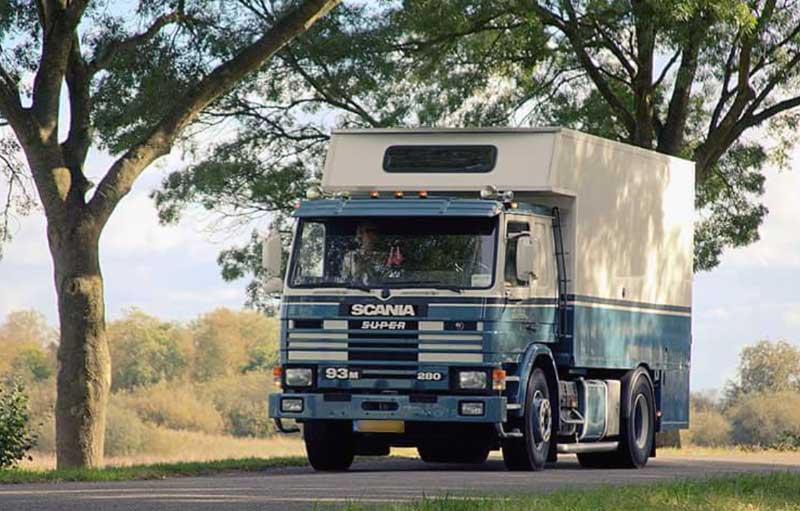 As we like to say at Truck Camper Magazine, if it doesn't demount, it doesn't count.  Before we begin, is your camper truly demountable?
Gea: Yes, it is indeed demountable.

With the truck's air suspension system, we can lift the truck and lower the truck to load and unload the camper.
Above: The camper being loaded on the truck; the camper doesn't move, the truck's suspension lowers and then raises
Mark: Here in Europe, air suspension is common on trucks.  We are used to it.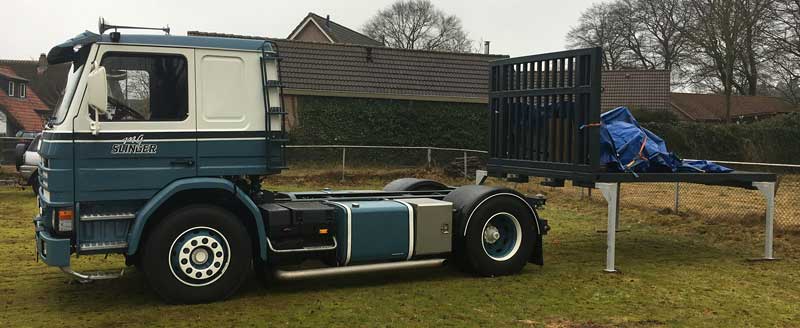 When we were designing the concept of this truck and camper, there was no doubt that we needed a truck with air suspension.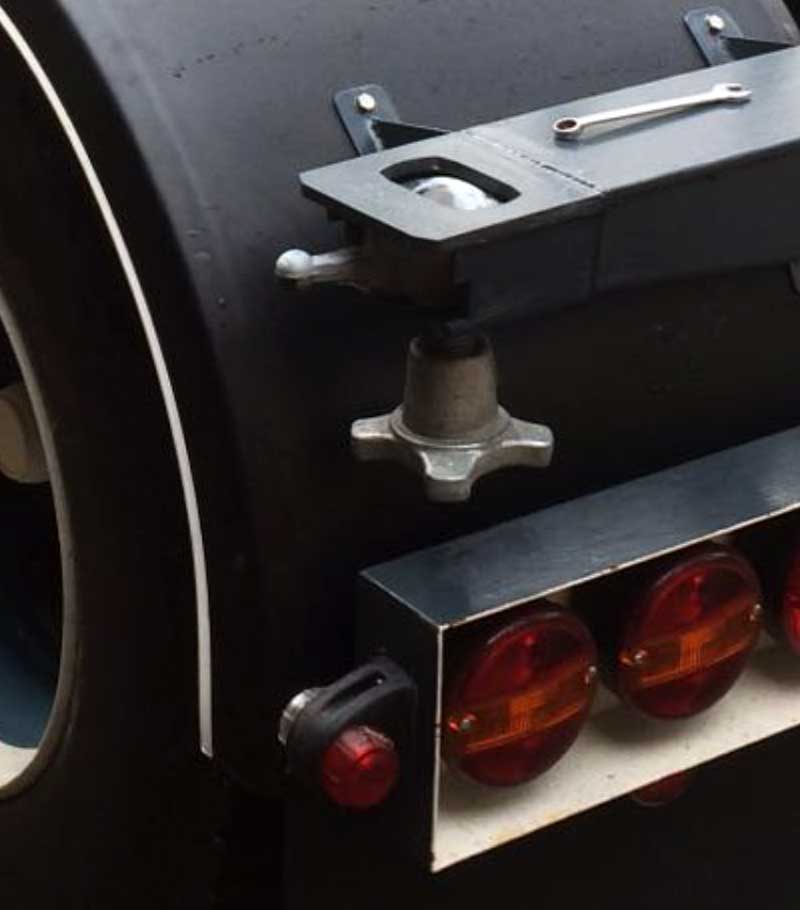 Gea: Our camper is attached to the truck with twist-locks on the back of both sides of the camper.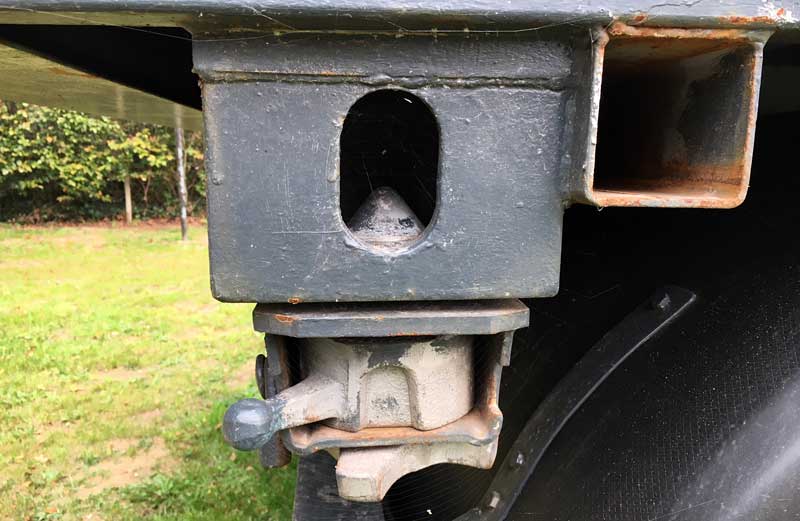 There is also a slide-in bar at the front of the camper that works like a kingpin.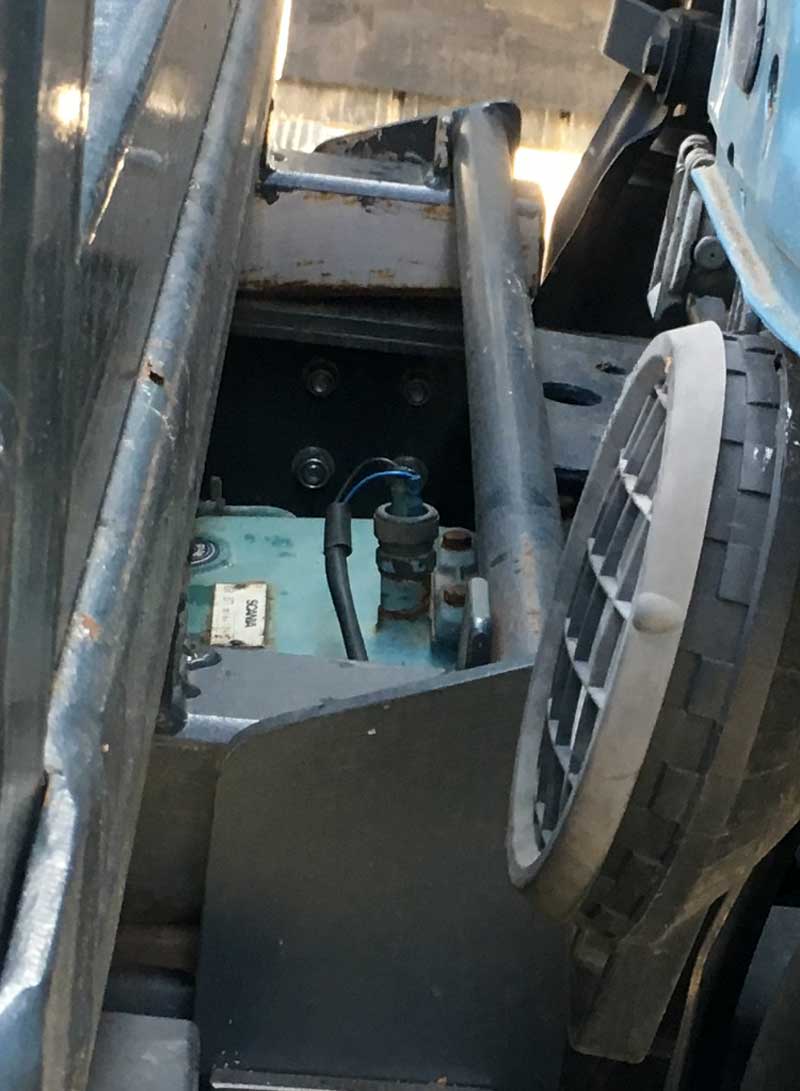 Above: The slide in bar that works like a kingpin
The slide-in bar was my husband's fabulous idea, and it works like a charm.  The flat body (flatbed) attaches in the same way.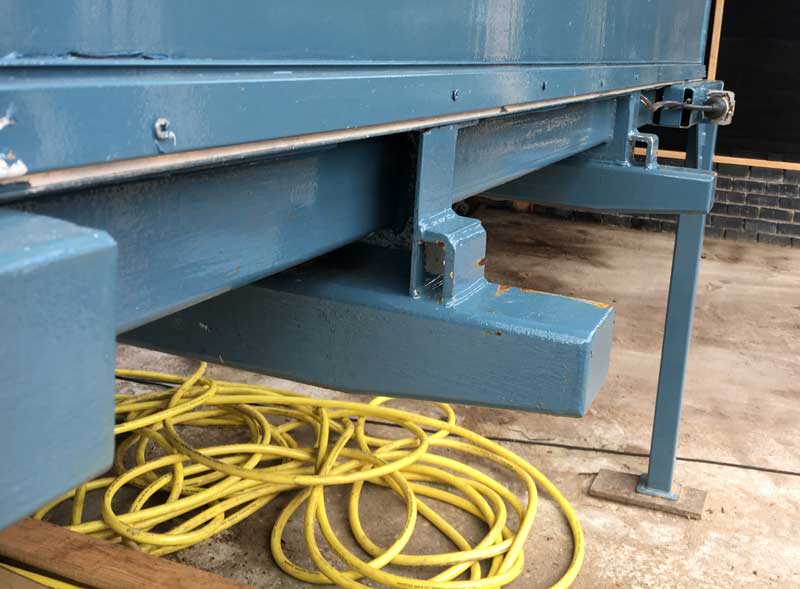 Mark: We can choose which body we want on the truck; the camper body or the flat body.  The flat body is really easy to attach for when we want to carry loads.  It attaches exactly the same way as loading the camper; twist-locks and a slide-in bar.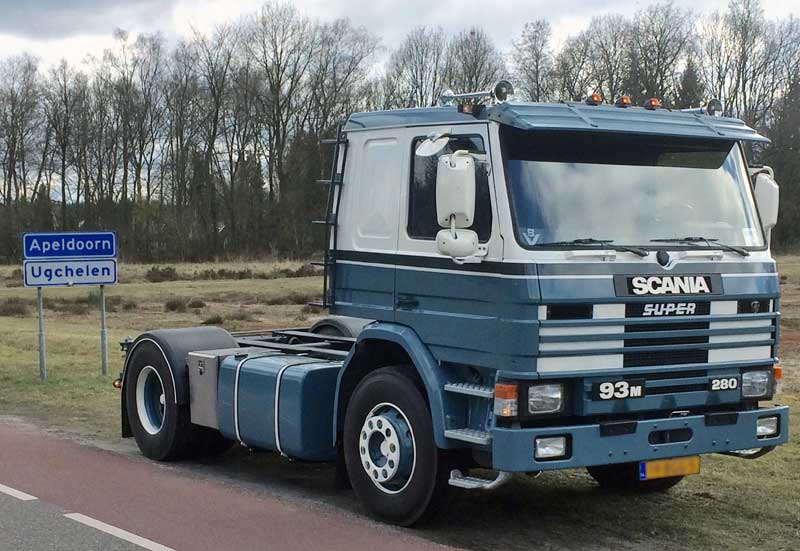 Above: Their 1992 Scania 93M before the flatbed was attached
That's a very clever and very versatile approach.  What kind of truck do you have, and why did you select that particular make and model?
Mark: The truck is a 1992 Scania 93M.  It's a manual 10-speed with 280 horsepower and has a top speed of 128 kilometers per hour (80 mph).
Scania is a common brand all over the world and is our favorite brand of truck.  We like to travel all over the world and we can find Scania parts everywhere without a lot of trouble.  So, if something happens we can restore it without problems.
With a 1992 truck, there are not too many modern problems.  We can fix most things ourselves.  We wanted an older truck that was not too big, and is very reliable.  The 9 liter, 6 cylinder diesel engine uses about 20 liters of fuel for 100 kilometers.
In the Netherlands we pay taxes and insurance for our cars and trucks based on weight, age, and fuel type.  The age and configuration of this truck is very beneficial for our taxes and insurance.  It was actually not easy to find a truck in the model and age we wanted.  There are not too many left.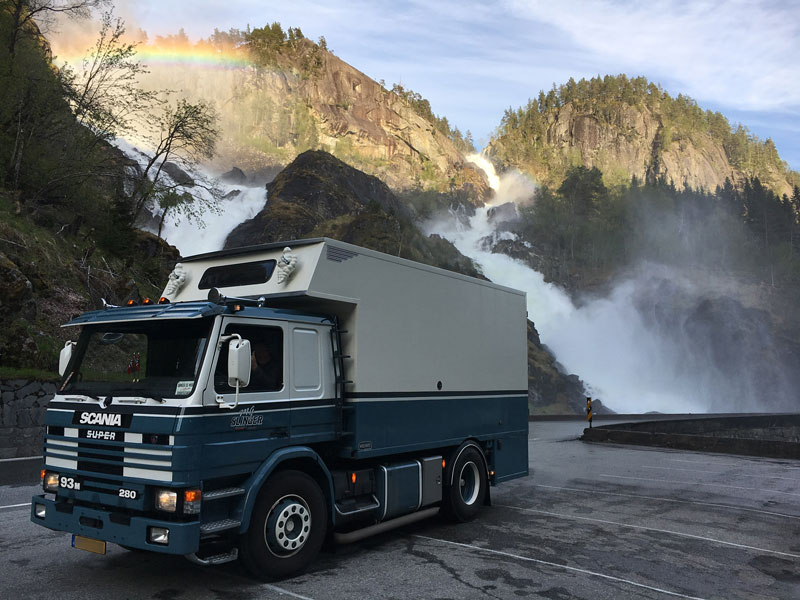 What led you to building your own truck camper?  That's quite a project.
Mark: Before we built this camper, we had a nice mobile home for eight years and traveled a lot of kilometers with it.  In our mobile home, we went to Greece, Albania, Norway, Sweden, Denmark, Portugal, Spain, France, Scotland, Ireland, Great Britain, Poland, Servia, Kroatia, and Montenegro.  We have traveled to almost every country in Europe.
But, we're both tall and we didn't really fit in the mobile home.  The bed was too short and the shower was to low.  A dream of mine was to someday have our own truck and to build our own camper exactly the way we wanted it to be.
We said, "By the time we are 50 years old we are going to build our own."
And we did!  We sold our old camper and I searched the internet for a truck.  I found our truck in Lyon, which is in the south of France.
So we drove to Lyon, looked at it, started it up, bought it, and drove it back home.
That was a gamble.  We were hoping the Scania would last because it hadn't been started for over five years!
When we made it home, the work on the Scania began.  We bought the flat body separate from the truck, so we had to make that fit.  The flat body was originally 10 meters long.  We shortened it to 6 meters long, which was a lot of work.
Then I looked around for a suitable trailer or something I could make the camper with.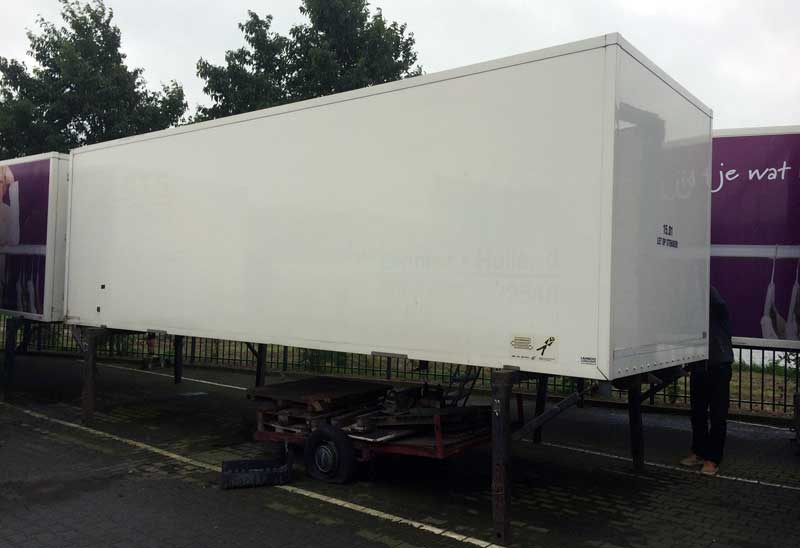 Gea: We found a truck box at a truck store in Heteren.  It had been previously used for transporting clothing to shops.  It was built with thick walls, a thick floor, and a thick roof, so the weather would have no effect on the clothes.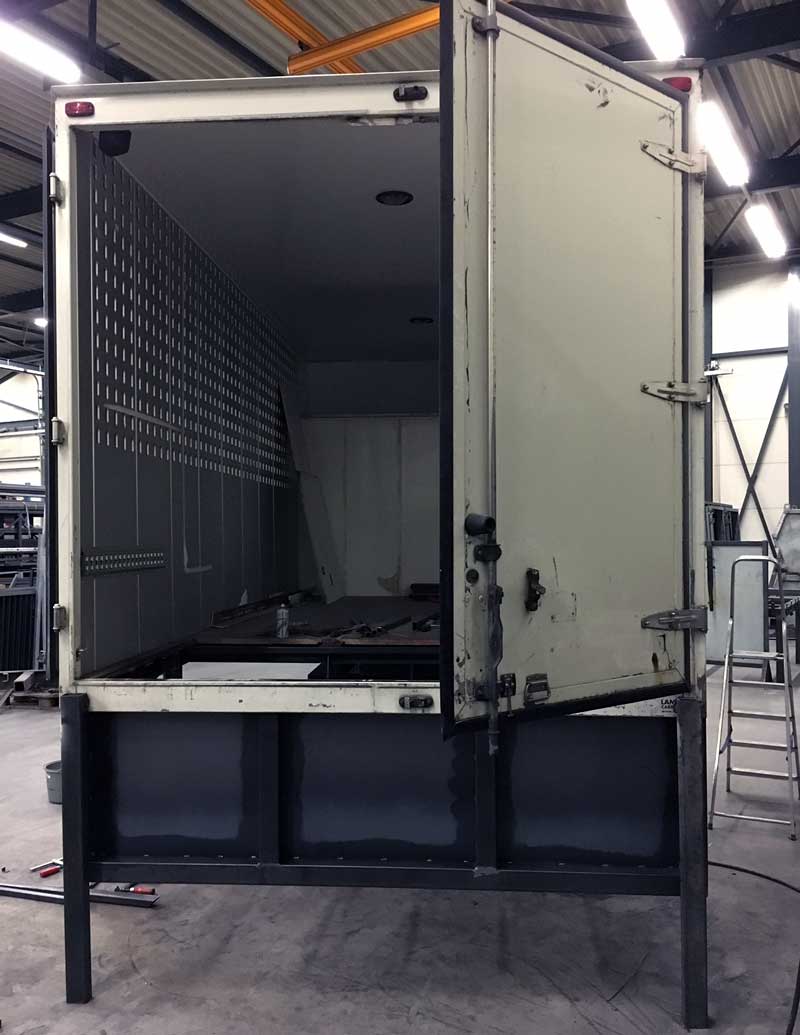 The truck box was a bit of a gamble, but we thought we could make it fit on our Scania.  We want to travel in all seasons, including winter, so this was a strong base to begin with.  This way we didn't have to install extra insulation.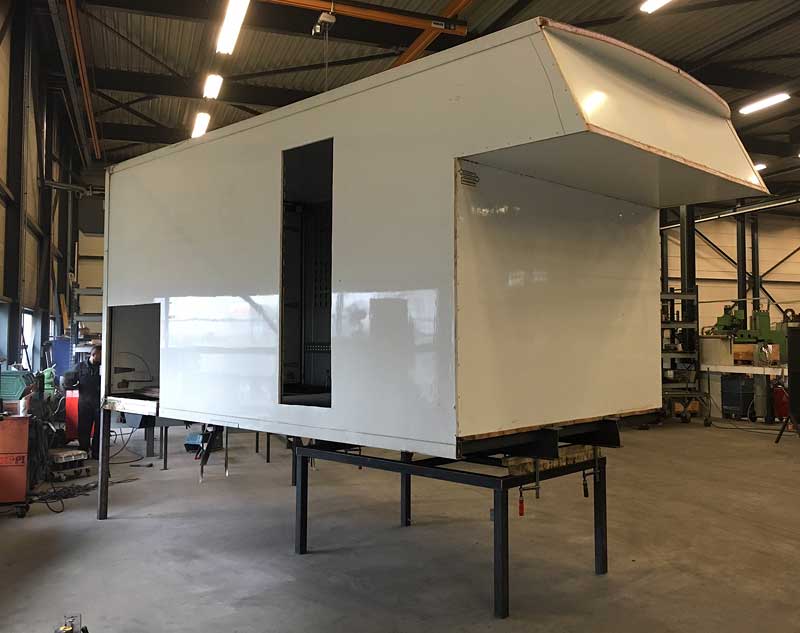 Okay, now you have a truck and an empty box.  How did you go about making the box into the camper you envisioned?
Gea: We tried to think of all things we wanted and how we wanted it, and then marked out a drawing on the floor.  That way, we knew how big everything needed to be.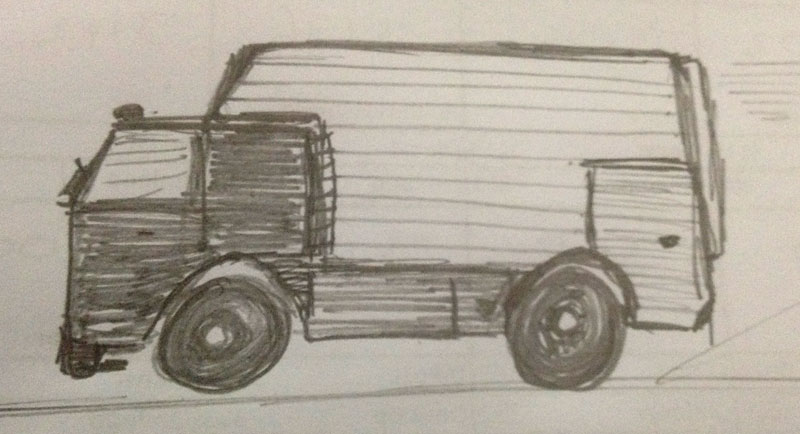 We also made a drawing on paper and talked about it a lot.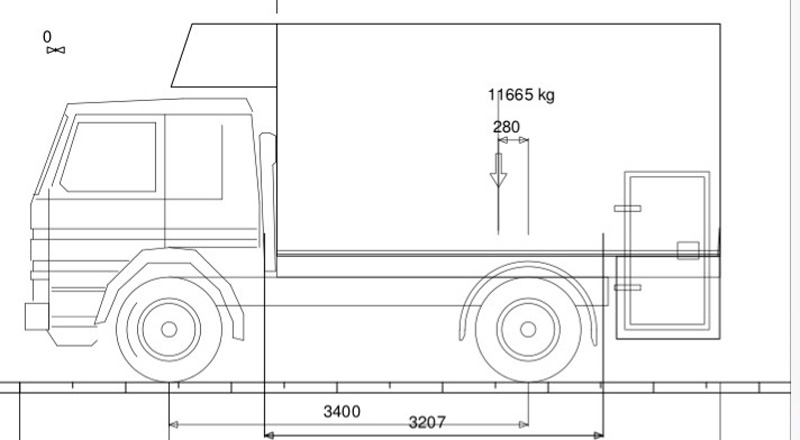 Then we tried to make and/or buy things that would fit our ideas.  After that, we just put the saw on the box and shortened it.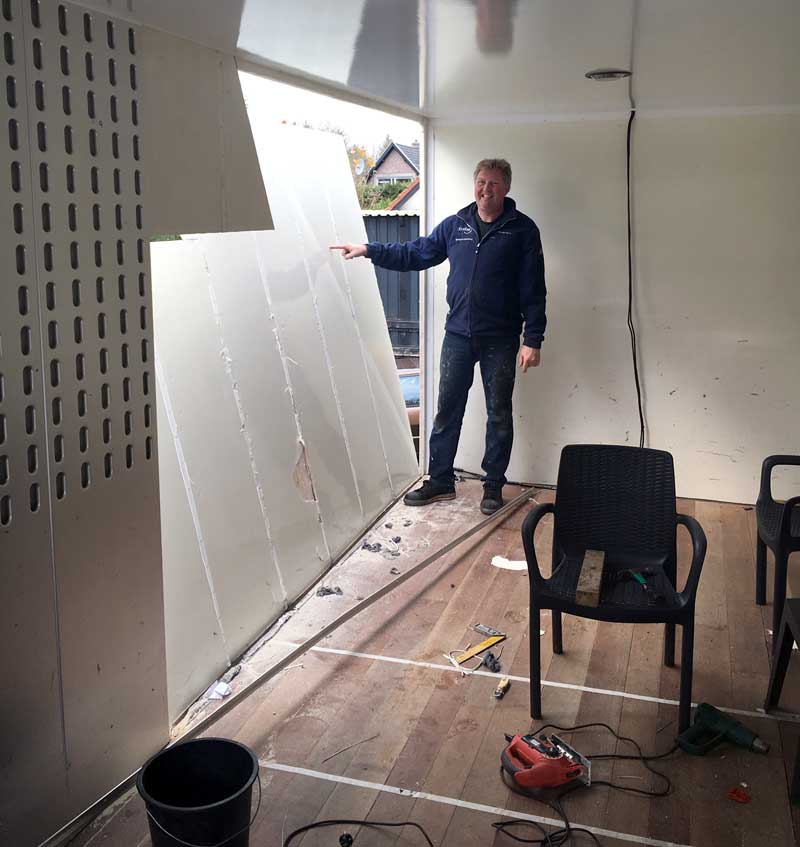 We didn't really know what to do or how to do it, but sometimes you just have to start and it work it out along the way.  Don't be to scared to try new things.
You guys have some serious gumption.  Do you have a background in construction?
Gea: Actually, no.  We do not have a background in construction.  Mark is quite handy with all kinds of things and I try to help.  Like most people, we try to make things and renovate things in our home.  That is the way you learn.
How did you go about designing the plumbing and electrical systems?
Gea: We ordered a fresh water tank from a company that had the size we wanted.  We  explained to them how we wanted it.  We knew it needed to be well made because we didn't want any leaks.  We also needed tanks that were strong and easy to clean.  We looked around for a company that could make it for us and found Drocom.
After the tank was made, delivered, and fit, we knew where to put the plumbing.  You try to keep in mind how you want things to work and where you want it, or need it.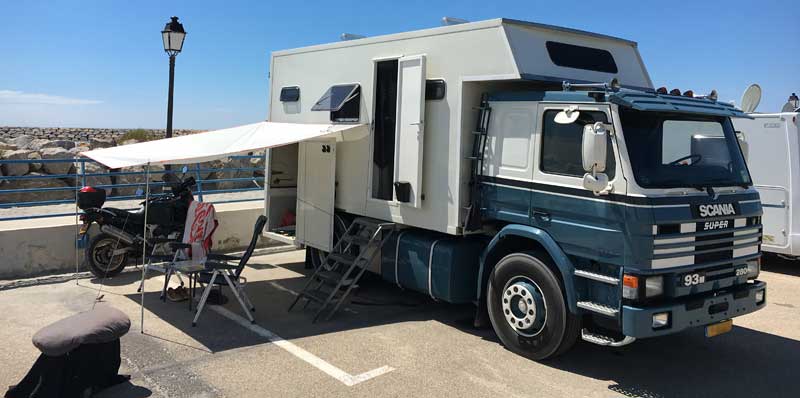 It sounds like you designed a lot of your camper while building it.
Gea: We tried to use as little space as possible so we would have more space and room to live in.  For example, we wanted a normal size shower and toilet, so we put them in a corner next to each other.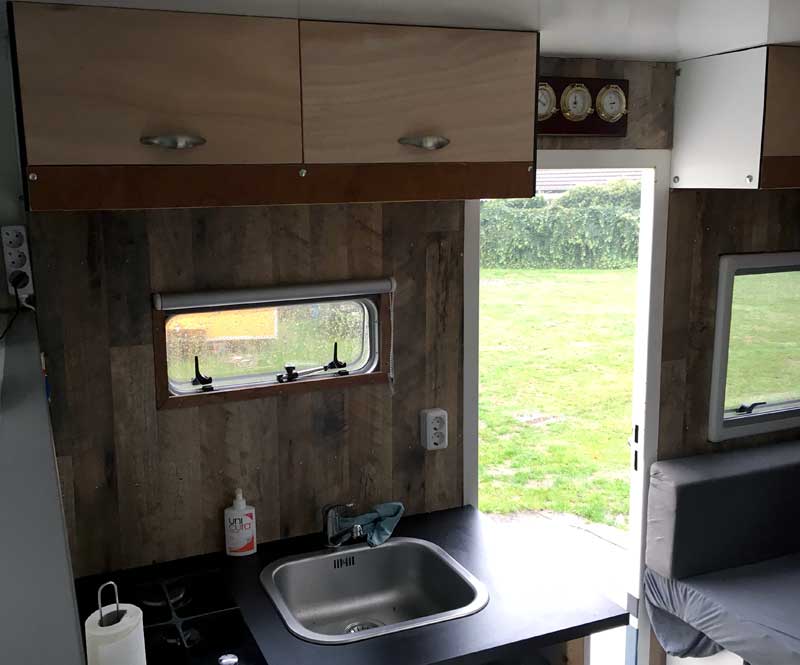 Next to the entry door, we put the kitchen on the right.  We are not yet finished as you can see, but it's already working.  We are both tall, so the height of the kitchen is higher than normal.
Above: The toilet is across from the kitchen and the shower is behind the mirror
Opposite the kitchen we installed the toilet.  It's like a walk-in toilet and shower.  The toilet is not plastic, but a real porcelain toilet with a macerator underneath it.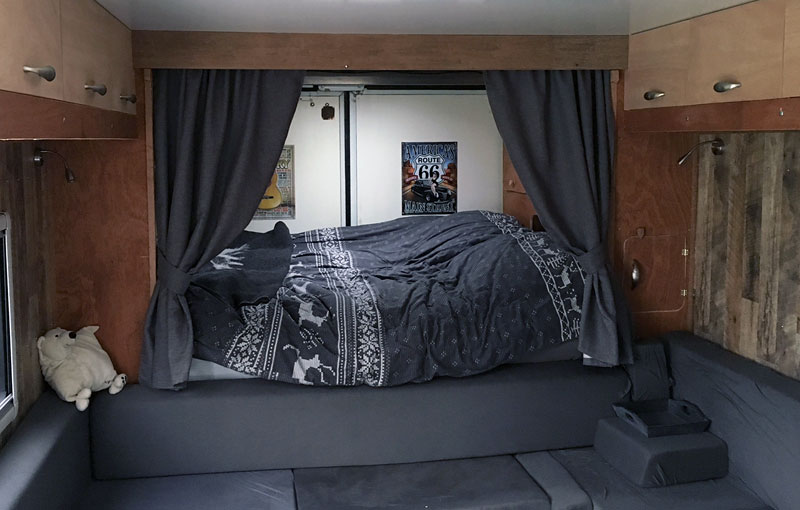 The seats, the bed above, and the behind the seat benches were ideas we borrowed from the marine industry.  The camper is still not finished.  We are still working on the kitchen, the front wall, and the couch.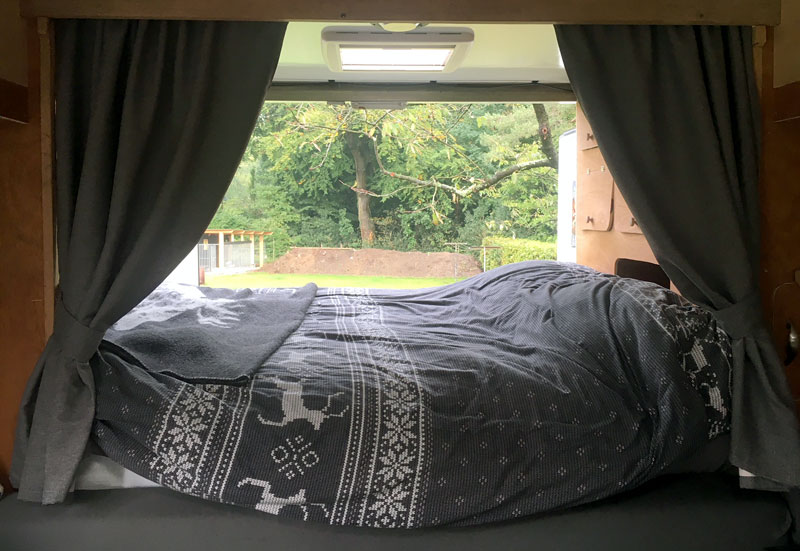 Mark: We have a 250 liter (66 gallon) fresh water tank underneath part of the corner seat with a boiler next to it.  The grey and black water of the toilet, shower, and kitchen goes into the passenger's side 700 liter (184 gallon) fuel tank of the truck.  The 400 liters (105 gallons) fuel tank on the driver's side is for diesel fuel.
Gea: We want to be self-sufficient for seven days or more, so we needed big holding tanks.  The truck only had one diesel tank leaving space for another tank for waste-water.  That solved the holding tank problem.  There's a tap on the front-bottom side which we open to dump the tank at a sewer or dump station.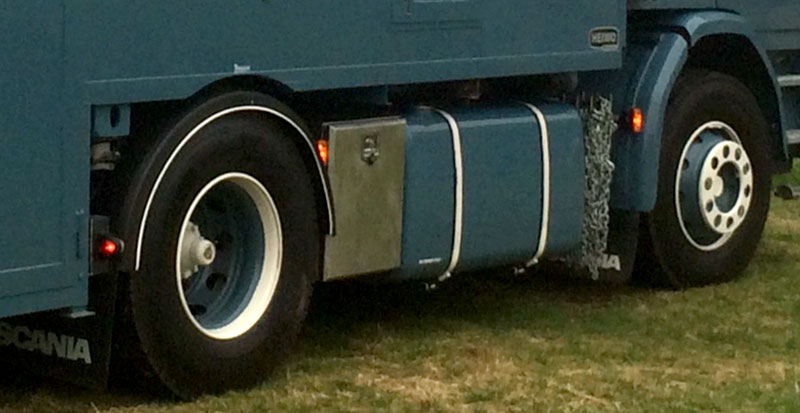 So the combination black and grey tank is technically part of the truck, but connects to the camper?
Mark: Yes.  We made an exchangeable plumbing system to the tank.  If we take off the camper it has to be disconnected.  The tank always stays on the truck.
The fuel tank was empty when we bought it.  We just cleaned it, painted it in our colors, and attached it to the truck.  It works well.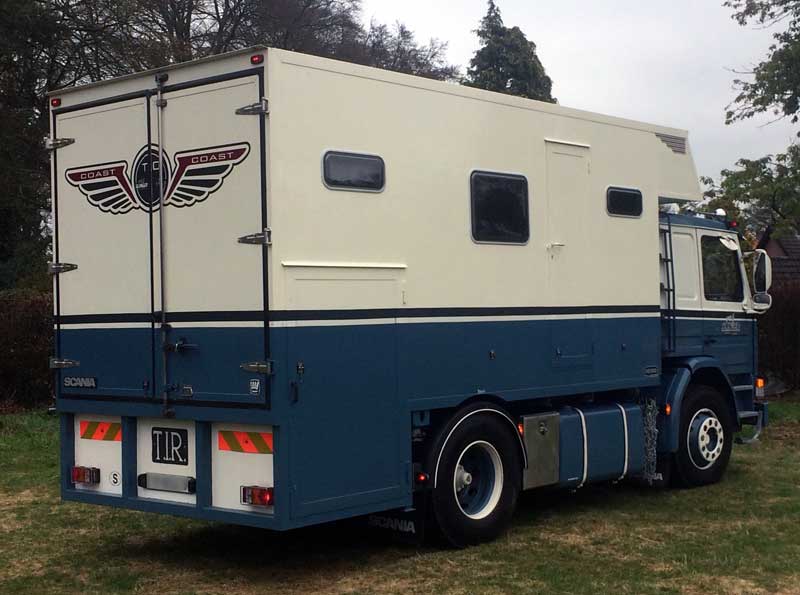 Above: The garage is the door in the back of their camper
It looks like your truck camper has a garage in the back.  Tell us about that feature.
Gea: We first shortened the box.  Then, we closed the front with extra space on top of that front side.  We call it the spiegelbak, or Mum's attic.  You call it the overcab.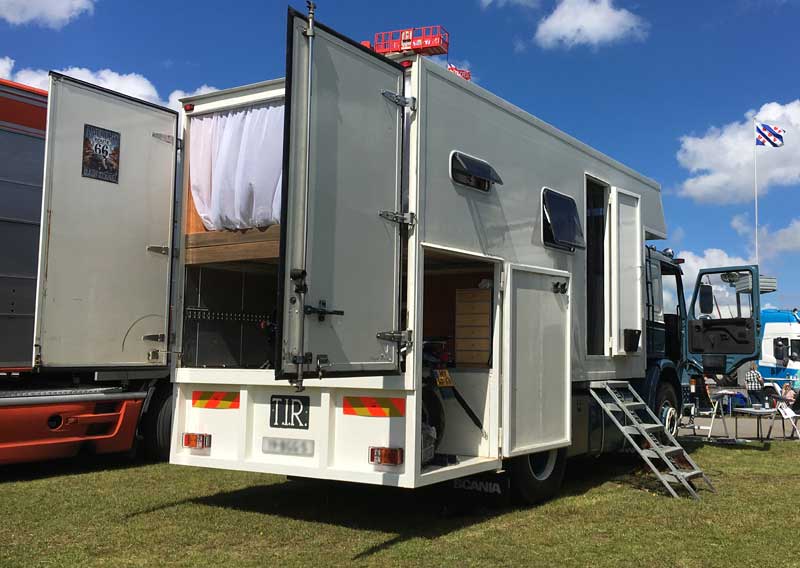 Then we took the box to Axxent in Vaassen.  They normally make stables for horses, but they agreed to make the door, lower the back-end, and make a side door there as well.  Axxent also made the twist locks and hook on the box and truck.  That way it could fit on the truck.
Mark designed the way it would work.  Axxent followed Mark's ideas, but they had the tools and the expertise.  They had fun making it because it was so different from what they normally make.
What do you store in the lowered garage?
Mark: We lowered the back end of our camper so we can always have our motorcycle, which is a Honda XRV 750 (Africa Twin).  It's a big bike.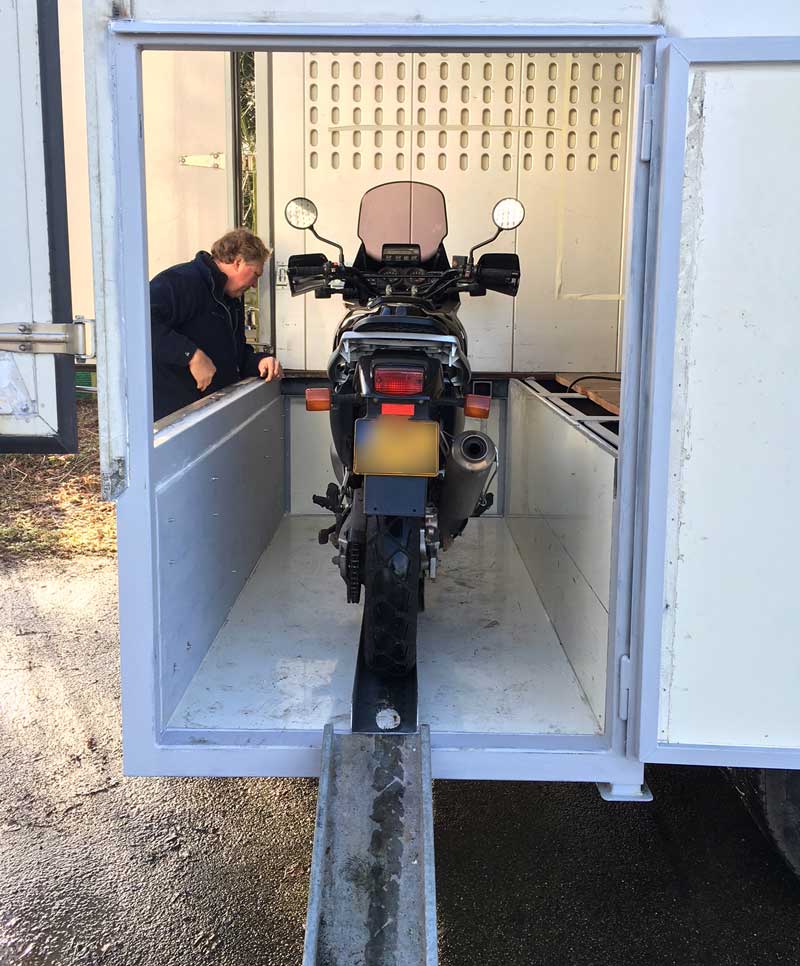 The lowered garage works perfectly because we can drive our motorcycle in and then chains keep it in place.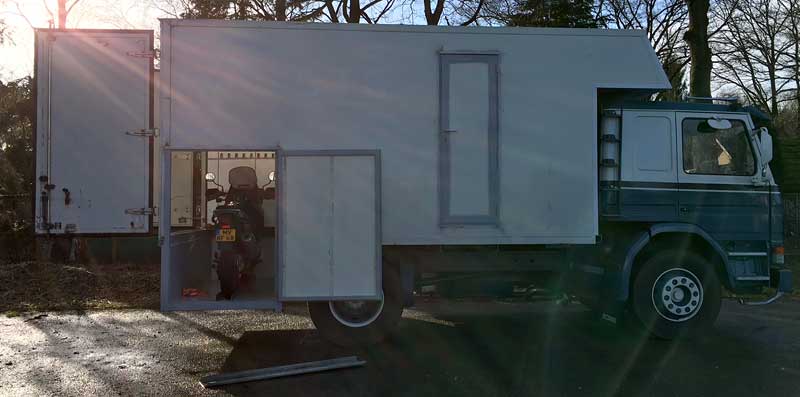 It only takes three minutes to secure our motorcycle.  We are always able to take the bike along where ever we go, so it gives us extra freedom.  It works like a charm.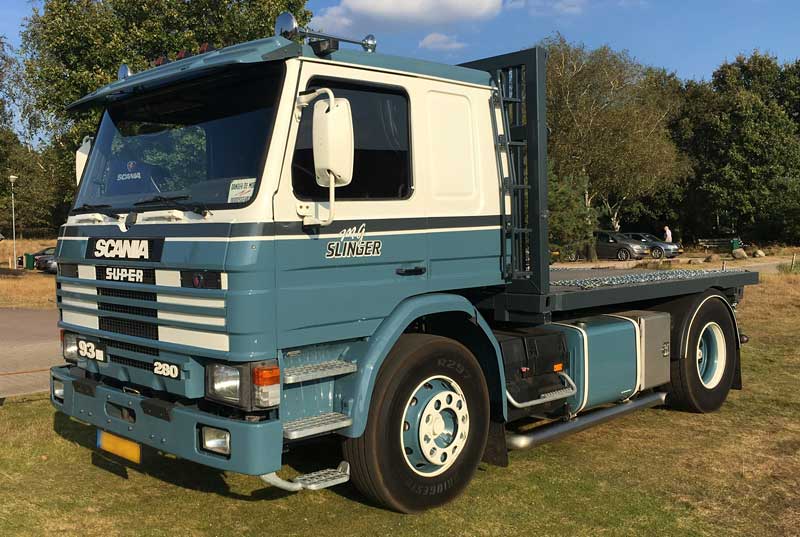 Above: The Scania truck with its flat body attached
Why did you decide to make a demountable camper?  With everything you're describing, it seems like it might have been easier to build it as one vehicle.
Gea: What we want is freedom.  We want to do whatever we want when we want to do it.  Right now we are building a new house.  The flat body is on the truck so we can use the truck for loads of wood.
If we go away for the weekend, or go on holiday or to a show, we switch the bodies.  The truck is also a hobby.  We like to just drive around in it.  At the moment we are partially living in the camper while we're building our house.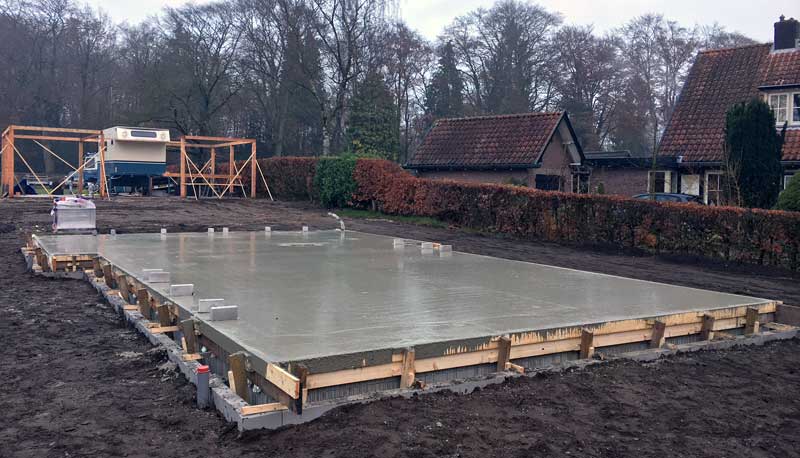 You're building a house while you finish your camper.  Wow!  Did you paint your truck or have that done?
Gea: We painted a lot of the truck ourselves.  We painted the wheels and the bumper.  The rest was done in a truck paint shop.  We took our time to pick the colors and striping.  We wanted to do it the right away.
Realizing that the camper is unfinished, how long have you been working on the truck and camper project?
Gea: We bought the truck in July of 2015, but the idea started earlier.  We are still working on it but, like a house, I think we will always keep working on it.

Above: Their rig at the Oldtimer Meeting
We are always working on maintaining our camper.  It never ends.  Tell us about the truck events in the pictures you sent us.
Gea: We love traveling and going on holidays with the truck and camper throughout Europe and outside of Europe.  We also like go to all sorts of truck events and meetings.  My husband used to be a professional truck driver for 20 years.  We are able to keep in touch with that life and friends as well.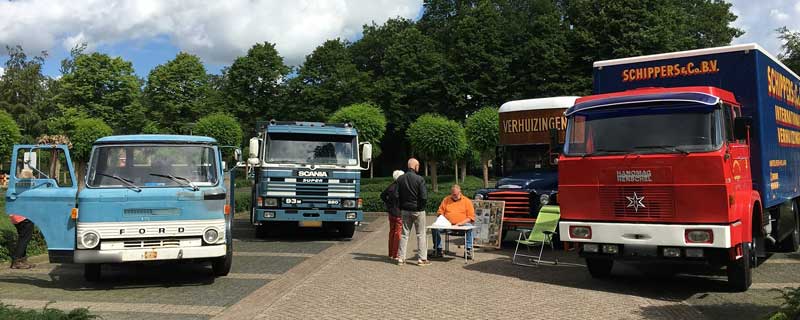 Above: Their rig at the Oldtimer Meeting
Sometimes on the weekends we join up with an oldtimer meeting, which is what you call vintage car shows.  They are like an open-air museum of automobile history with automobile enthusiasts from all over Europe gathering together.  Cars constructed before 1970 are in attendance.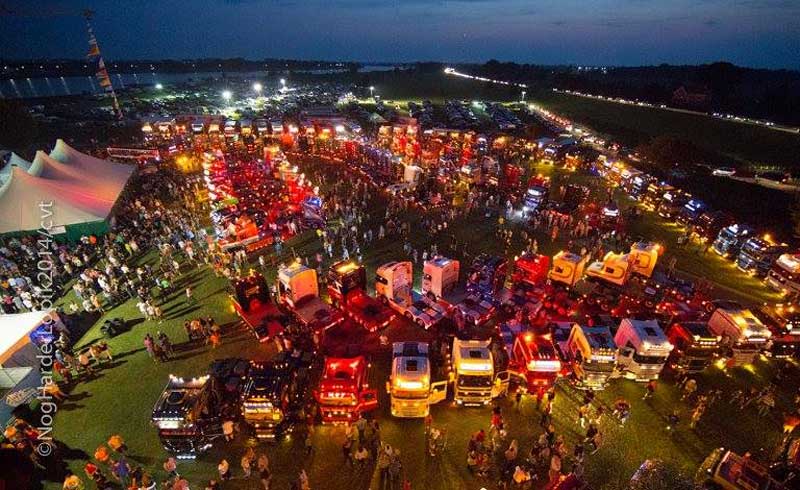 Above: Nog Harder In Lopik, Netherlands
One of our favorite truck events is called Nog Harder in Lopik.  It's in August and we try to attend each year.  They make a campsite area and we stay from the beginning to the end.  Nog Harder is also near water, so it is a kind of a short holiday for us.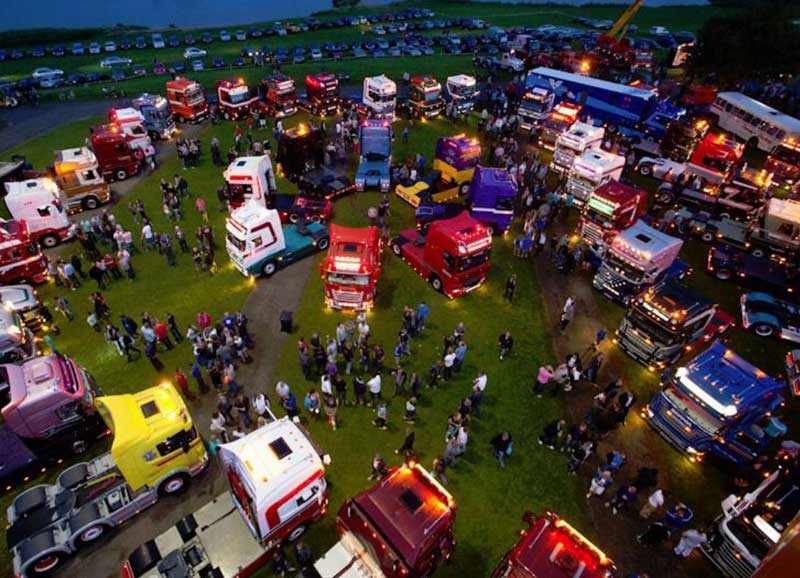 Above: Nog Harder Truck Event Netherlands
Other events we attend are Lift 'N Load, the Truckstar Festival, Moerdijks Oldtimer Festival, and Noord Hollands Oltimer Festival Venhuizen.  There are quite a lot of truck and oldtimer events over here.  They are a lot of fun.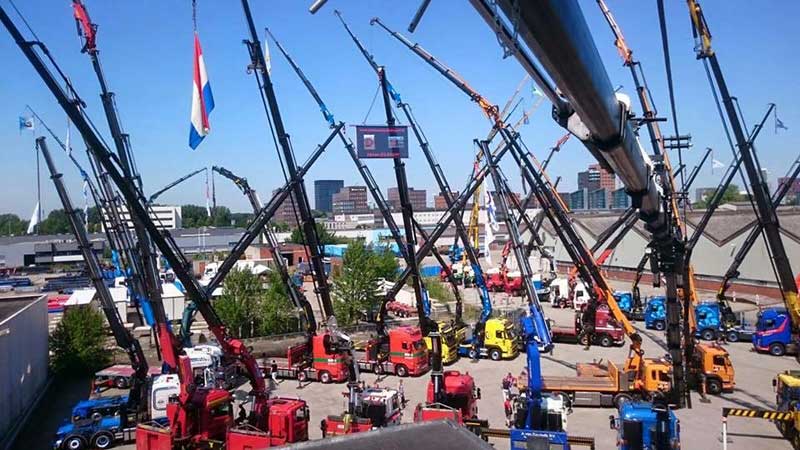 Above: Lift 'n Load Truck Event In Holland
Please tell us more about the Lift 'n Load.  From their website, it looks like nothing we have in the United States.
Gea: We were recently at a Lift 'n Load in Gorinchem, Holland.  That is a meeting for truck drivers, their families, and their trucks.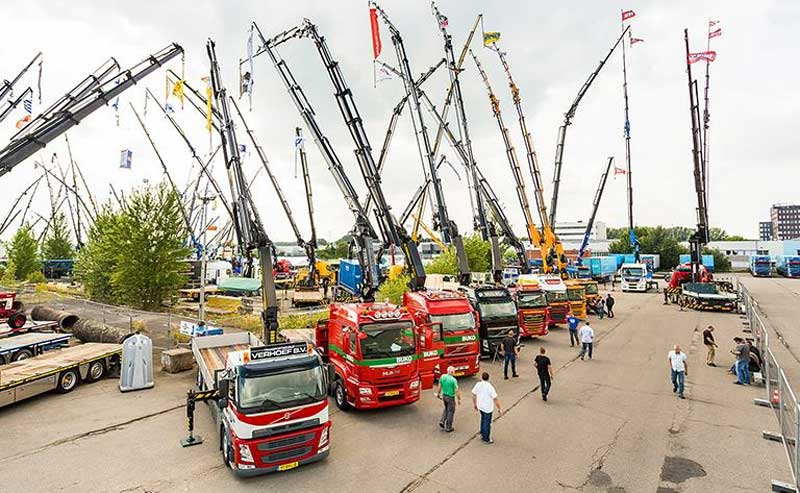 Attendees have all kinds of cranes on their trucks or trailers.  That's the line of work they're in.  At the Lift n' Load event, they relax, have fun, and check out each other's trucks and way of working.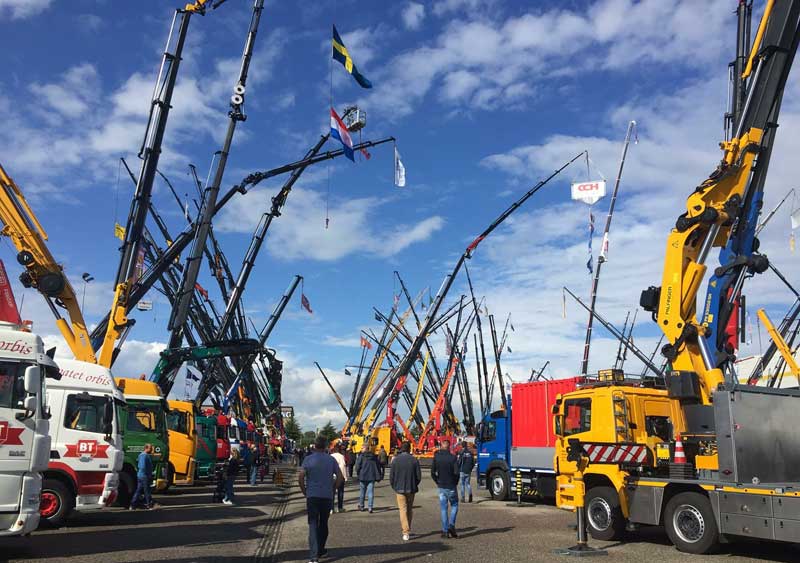 Visitors can also check out the trucks, talk with the owners/operators, and have a nice day.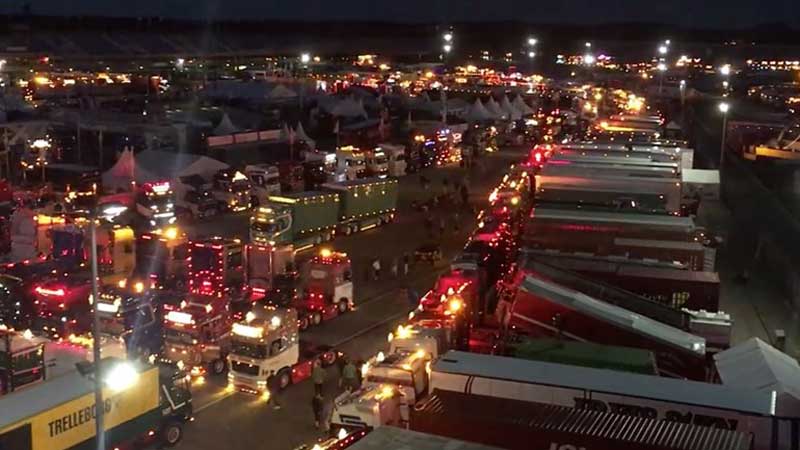 The Truck Star Festival looks incredible.  What's that event like to attend?
Gea: The Truck Star Festival in Assen is Europe's largest trucking event.  Truck drivers, their families, and visitors can park their truck for the weekend and just have fun with friends and colleagues.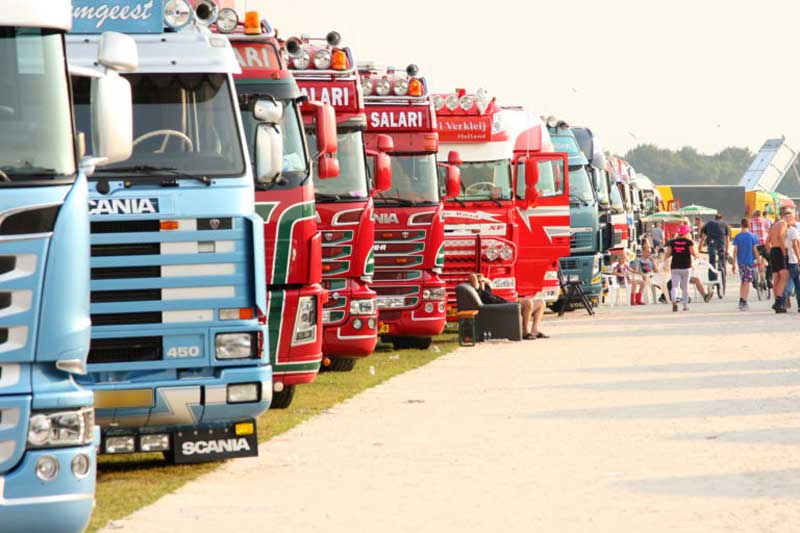 All the trucks are parked on a race track and they have barbecues, swimming pools, bars, and everything they can think of.  The organization organizes fun contests like wrecking travel trailers with your truck, who has the nicest truck, loudest truck, an oldtimer corner, an American truck corner, and more.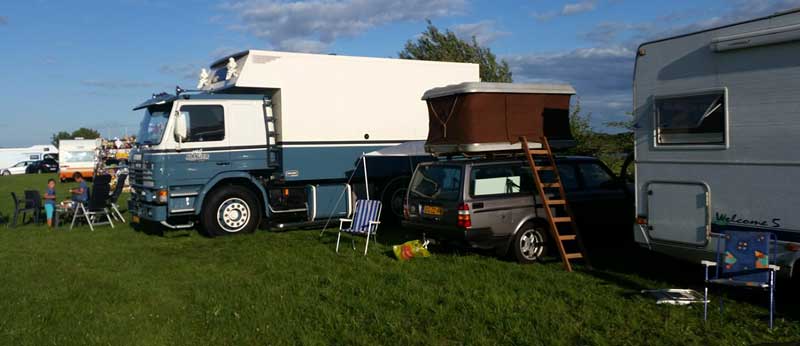 Above: Camping At Nog Harder in the Netherlands
Can you camp at these events?
Gea: Yes, most of the time you can camp there.  At the Truckstar Festival you have to pay because it's a commercial event.  Nog Harder has camping for free.  All of the profits for the event go to charity.
You can stay for free at most of the events.  Otherwise we will find a free space nearby.  We are self-supporting, so we can go an stay everywhere we like.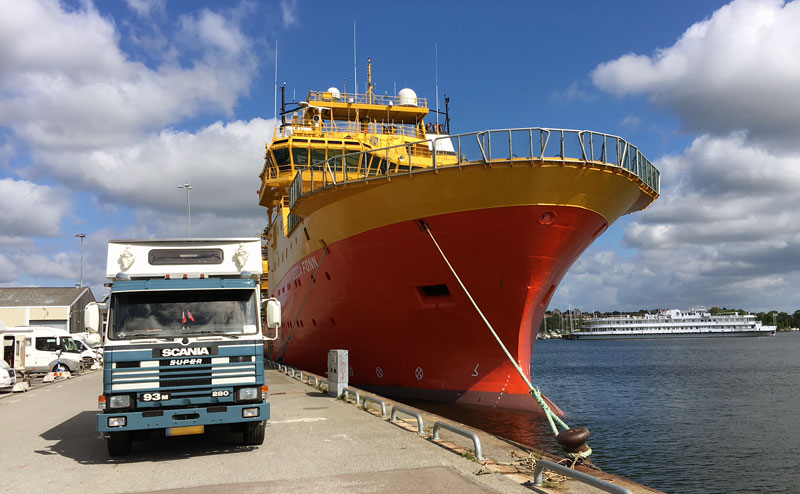 We call that dry camping.  What's next for you guys?
Gea: We hope to take the truck and camper to the United States and travel from the north to the south.  We have really just begun our travels with it.
We are currently building our house and barn right now.  The barn will fit both the truck and camper when it's completed, so it's going to be a big barn.
We are temporarily live in the camper and a building site office.  There's no kitchen in the site office, so the camper comes in handy.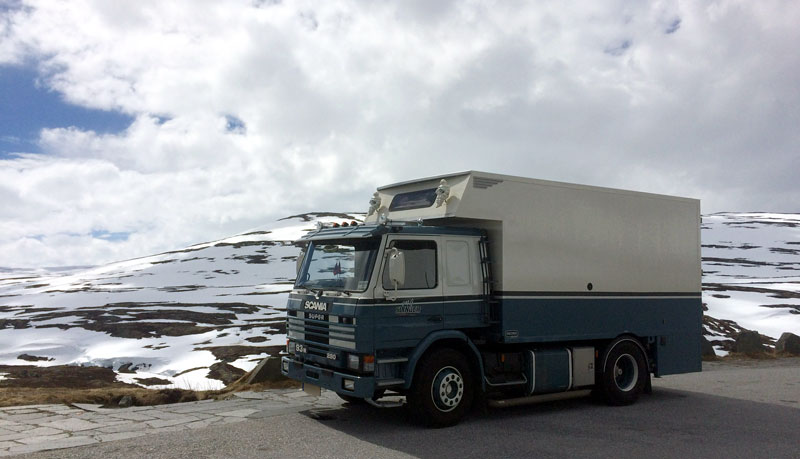 Do you have any advice for someone who wants to tackle building their own camper the way you did?
Gea: It takes a lot of time and money, even though we have done most of the work ourselves.  For safety, there are things you can't do yourself, like installing the water tank and heavy metal work.  We are not afraid to ask for advice.  Every idea can be a good one.
To do a project like this you need space, time, money, patience, and hard work.  Don't give up, keep trying, and keep going.
Gea and Mark Slingerland's Rig
Truck: 1992 Scania 93M
Camper: Made it ourselves
Tie-downs/turnbuckles: Twistlocks and a Kingpin
Suspension: Air