Truck Camper Magazine coats the underbody of a used camper with Alvin Rubber In A Can looking to create a flexible waterproof seal.  Here's how we did it, how it turned out, and what rubber in a can could mean for truck camper maintenance.
Three years ago we purchased a ten year old Alpenlite 1100 to be our personal rig and project camper.  Since then we have been experiencing the real world the pros and cons of owning an older camper.
By far the toughest challenge has been maintaining the myriad of exterior seals, seams, and screws.  After taking possession of the camper, we immediately inspected the unit and discovered the seals were in dire need of attention.  With patient guidance from the team at Hallmark RV, we learned the traditional way to properly caulk and seal a truck camper.  This resulted in a must read article for every truck camper owner; "How To Inspect and Repair Camper Seals".
Since then we have been diligent about maintaining our seals in the traditional way; checking the seals by eye and caulking and sealing trouble spots regularly.  I climb onto our roof a couple times a month and check the roof's seals.  If a seal is visibly broken or a screw pops through the sealant, I immediately caulk it with Sikaflex 715, or patch it with Eternabond.  At least twice a year we spend a day or so going over all of the side seals and applying Sikaflex 521.  It's a lot of work, but it beats the leaks.
Remaining Risk Area: Rear Skirt and Overhang
The one area of our camper that remained at risk after all of these efforts was the rear skirt and overhang.  Even before we got the camper, rear truck wheels had pushed water into this area and visibly started to rot the inside wing walls.  Specifically, the wing wall on the passenger's side had begun to split open from underneath and the other side showed signs of luan wood root.  Our camper is aluminum framed and laminated, but that doesn't prevent the luan wood in the laminated walls from rotting.
When discussing this problem with Mike Tassinari (aka Mikeee) last winter, he suggested we coat the rear skirt and overhang with rubber in a can.  Rubber in a can is essentially a spray-on rubber coating designed to fill small seams, cracks, and holes to create a durable, watertight, and flexible surface.  Even better, rubber in a can adheres to all metals, woods, and plastics – exactly the materials our truck camper's rear skirt and overhang are made from.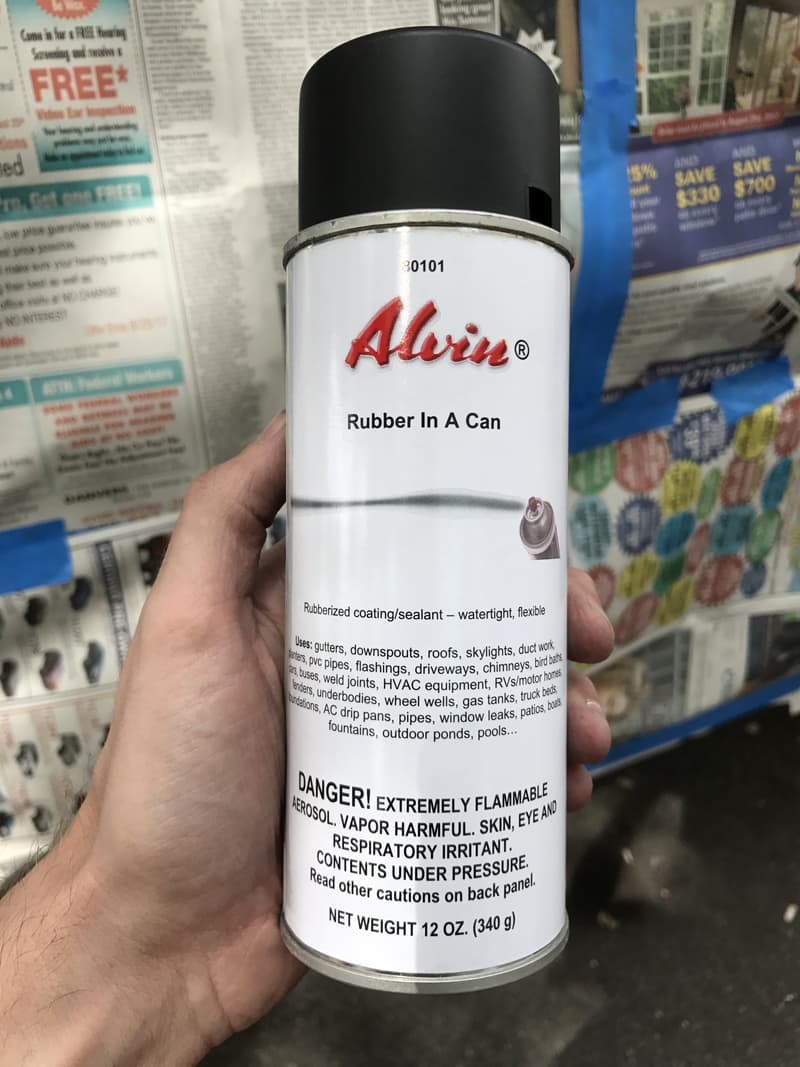 Mikeee had already applied rubber in a can to the rear skirt and overhang of his Lance 1172 and was very pleased with the results.  When we looked at his 1172 skirt and overhang, it had an even coating of rubber sealing the entire area.  Mikeee explained that he checked the coating regularly and sprayed additional rubber in a can over areas that get scraped or appeared to need an additional coating.  Overall, the material had held up well, and was doing its job.
We had previously planned to coat the underbody of our camper with Line-X bed liner, but the associated cost, weight, and thickness of that material stopped us from proceeding.  In contrast, rubber in a can was significantly less expensive, lighter, and created a much thinner coating.  The thickness was important for our rig because there's less than a half-inch between the truck and camper on the passenger's side when loaded.
When Mikeee volunteered to help us to apply the material to our camper, we put plans into motion.  After the North-East Truck Camping Jamboree in Lake George, we would stop by Mikeee's house, and get the job done.
Day 1: Prep Work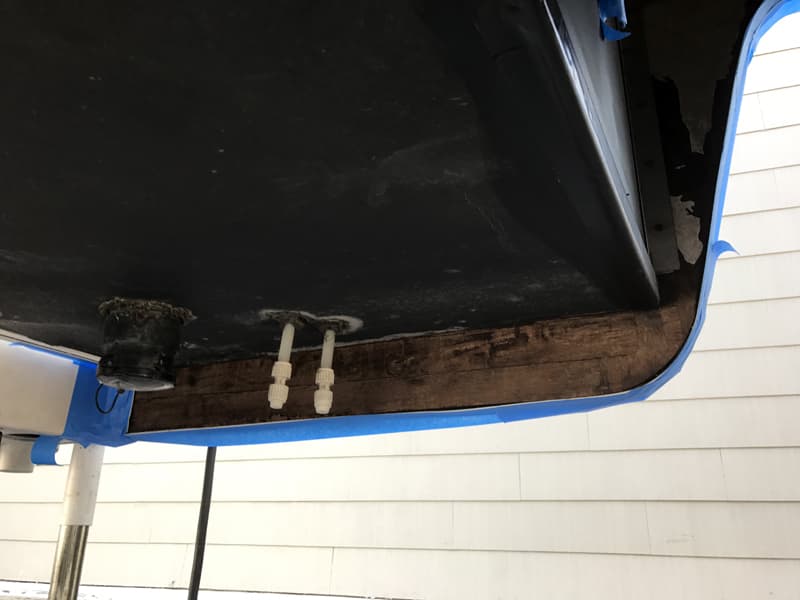 Above: Before we sprayed wood primer, we peeled off the original paper-thin liner on the inside skirt
Prep work is usually the hardest part of any camper maintenance project and this was no exception.  The first step was to demount the camper from the truck and inspect the entire underbody of the camper.  We were specifically looking for loose or peeling material that could defeat the rubber once applied.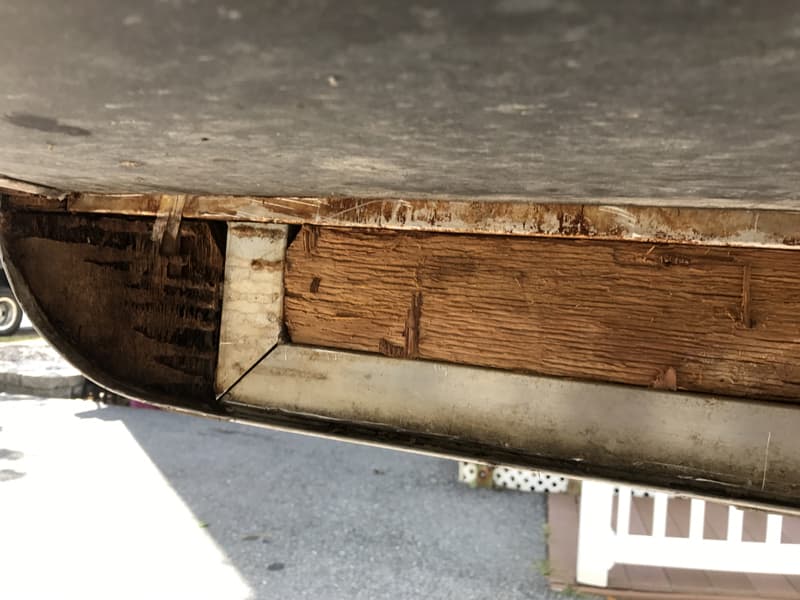 Above: The rotted wood and aluminum framing on the rear passenger's side skirt
During this inspection, Mikeee discovered the passenger's side skirt wall had a section of dark brown rotted wood panel that needed to be replaced.  The driver's side skirt wall also had some rot, but was in better shape.