What you're about to read about our CAT scale experience is so preposterous, so impossible, so absurd that no one, even ourselves, could believe it. Best of all, it happened three times!

On September 11th, just 24 hours before we were scheduled to debut the 2013 Chevy/Lance rig at the North East Truck Camping Jamboree Rally in Gettysburg, Pennsylvania, we got the call from Ryan Horsey at Parkview RV that our 2013 Lance 855-S would arrive the following day.   The next morning we left Lancaster, Pennsylvania and drove to Parkview RV in Smyrna, Delaware.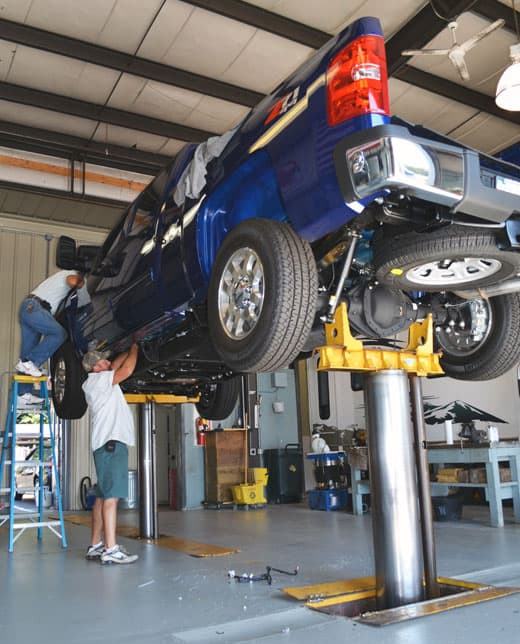 When we arrived, Parkview RV got to work like a NASCAR pit crew.  Shop foreman, Dave Norris, and technician, JR Bishop, installed the Torklift tie-down system and Happijac tie-down system.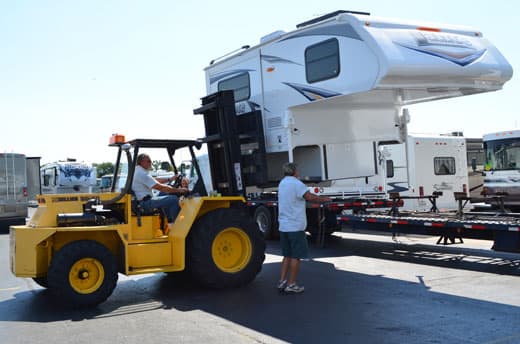 When Avery Transport driver, Robert Tuminaro, pulled in with the Lance Camper load, Dave Norris broke out a giant forklift and lifted our camper right off the trailer.
Once the Lance had landed, technician, Eddie McClements didn't waste a moment jumping into action to install two Group 27 batteries, fill the fresh water tank, fill the propane tanks, check the refrigerator, range top, water pump, hot water heater, propane heater, and every other camper system.  Eddie even cranked up the stereo adding to the fun and festive atmosphere.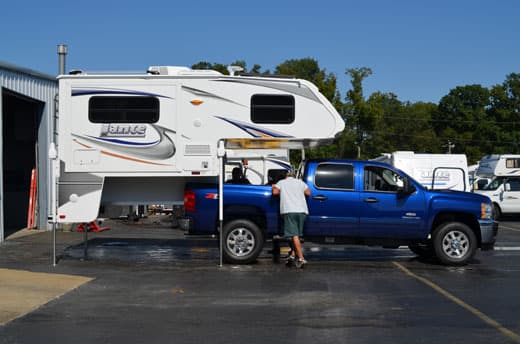 Before we knew it, the Parkview crew was loading the Lance and giving our newlywed truck and camper a bath.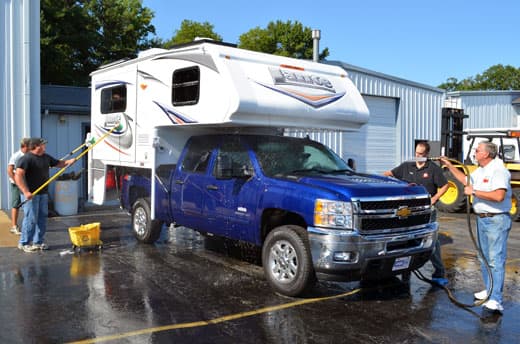 All we could do is say thank you and take pictures.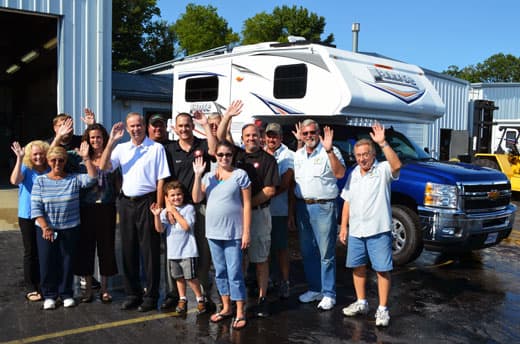 When they were done, Parkview RV's Amy West called a "Code Green" over the Parkview RV intercom.  Before a customer takes possession of a RV from Parkview RV, the entire Parkview RV team comes out to congratulate the new owners and thank them for their business.  It was a really great moment and some of the best customer service we had ever experienced at a RV dealership.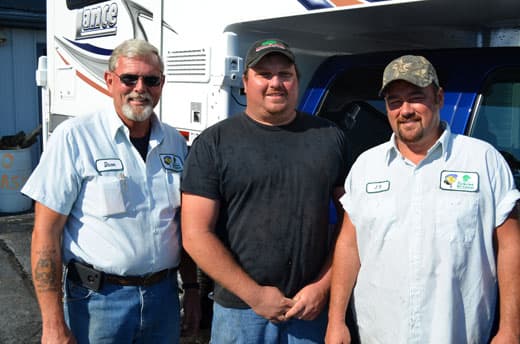 Above: Parkview RV Shop Foreman, Dave Norris, Technician, Eddie McClements, and Technician, JR Bishop
With the countdown clock to the Gettysburg rally running, we said our goodbyes with Parkview RV and hit the road back to Lancaster.  Before we could rally, we needed to weigh the truck and camper three times at the same CAT Scale, loading it full of our cargo for a ten day trip just before the third CAT Scale weigh.  The NASCAR pit crew was done, and now the race was on.
Our challenge was to assemble an honest and accurate truck and camper match based on the payload and GVWR (Gross Vehicle Weight Rating) of our truck.  What follows is the tale of three CAT Scale tickets (actually, five) and how we found out if met that challenge.
CAT Scale #1: Truck Empty, No Camper