Thanks to Lee and Beth Lee, and Mike and Cathie Tassinari, the 2013 Gettysburg North-East Jamboree was, once again, a huge success.  Don't miss Marcia Cunney's amazing pictures.

In the past decade, truck camper rallies have gone from something that almost never happened, to something that's really happening.  In fact, fantastic truck camper rallies like the one in Gettysburg, Pennsylvania are becoming an annual event with attendance hitting eighty-nine truck camper rigs.
As long as there are folks who are willing to take on the considerable task of planning, organizing, and holding these rallies, there will definitely be a passionate group of truck camper enthusiasts who will attend.  Count us among them.
WEDNESDAY
Imagine inviting about a hundred of your friends to meet at a campground on a Wednesday night and asking each couple to bring a big dessert for the group.  Can you think of a better recipe for gluttony, sugar shock, and indigestion?
There we more cakes, cookies, pies, and other sugary treats on display at Wednesday night's dessert meet and greet than is probably legal in some Canadian provinces.  After the ferocious feeding frenzy, nearly everyone was complaining about eating way too much.  Why do we do this to ourselves at every truck camper rally?  Two reasons: because we can, and it's fun.
After the ritual dessert-a-thon, as if the sheer scale of calorie consumption hadn't already triggered a five-alarm "what the heck are you doing" intestinal alert, there were sticks and marshmallows ready to brown at the campfire ring.  And I worry about overloading trucks and campers.
THURSDAY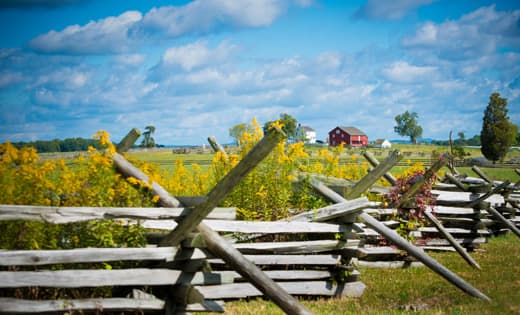 Above: Gettysburg National Military Park, photo courtesy of Marcia Cunney
On Thursday, many rally attendees drove into town and visited the Gettysburg National Military Park just a few miles down the road.  Around the campfires that evening, folks shared their feelings about walking the battlefield and exploring the must-see visitors center.  Even if you're not into history, Gettysburg is a place every one should put on their bucket list.
We had visited Gettysburg National Military Park the previous year and decided to spend our Thursday walking off the previous evening's nutritional violations and talking with our fellow truck camping friends.  These are the moments we enjoy the most at truck camper rallies, relaxing with folks who not only understand our truck camping addiction, but share it.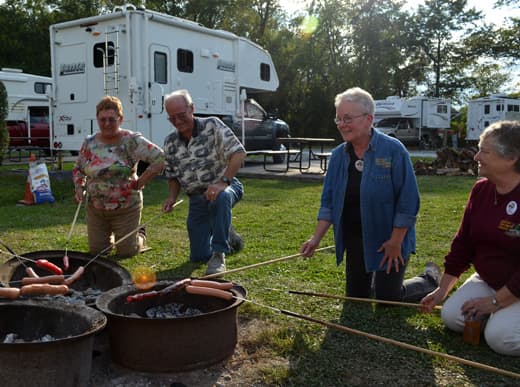 At 5:30pm, the rally wandered over to the community fire ring to borrow a spear from Mike Tassinari and roast a few hundred hot dogs.  If you haven't stood around a campfire roasting wieners at a truck camper rally, you haven't lived.  Something about a bunch of adults standing around an open flame burning wieners always brings out the comedy.
Later that evening, author and historian, Chip Jewell, presented to the troops and used divining rods to talk to the spirits.  He really had some of us going until his wife called him on his cell.  I couldn't quite hear what he said to her, but I imagine it went a little like this, "Can I call you back honey?  I've got a dead guy on divine two."
FRIDAY
Friday morning started as all mornings do at a North-East Truck Camping Jamboree, with lots and lots of coffee.  Mike Tassinari, aka the Coffee King of Mass-ah-chu-setts, always fires up a monster coffee urn or two first thing in the morning.  So that's where he gets all that energy.
At 9:00am we sat in on Mike's Disney Trip Presentation.  For those of you who don't already know, Mike is leading a truck camper rally in Disney World's Fort Wilderness Campground this coming January, 2014.  After listening to Mike rave about Disney World and Ford Wilderness for the past five or so years, we are giving it a go.  There are still spaces open for the Disney Trip, but you need to contact Mike as soon as possible to make arrangements.