Paul Schwenzfeier took a solo trip to all the way to Prudhoe Bay in Alaska in his Palomino B1200 looking for fishing opportunities, historic sites, and natural beauty.  Here's what Paul actually found.

Paul Schwenzfeier had the audacity to buy a used pop-up truck camper and take it to the furthest road-accessible reaches of Alaska without so much as a shake down cruise.  As might be expected, he discovered a few glitches along the way, but managed to iron things out, and make his trip a success.  In fact, he made it all the way to Prudhoe Bay – a road that's notoriously long, unpredictable, and desolate – by himself.
From his photography, there can be no doubt that Paul's trip north was amazing.  For anyone researching a trip to Alaska, or even thinking about the possibility of exploring the last frontier, this is required reading.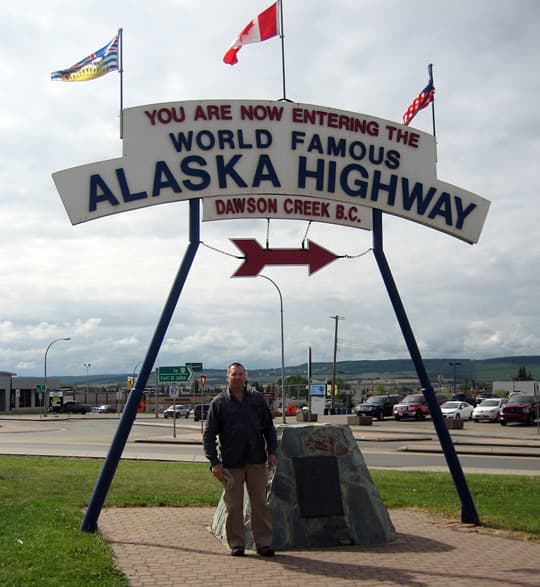 Above: Paul starting the Alaska Highway at Dawson Creek, British Columbia
TCM: How did you get into truck camping?
Paul: It all started when I bought a Palomino B1200 truck camper for a trip to Alaska in late summer of 2012.  I wanted a truck camper to be self-sufficient.  I don't like to be tied to motel or campground reservations, or any other schedules.  I also wanted the increased protection of a camper versus a tent when traveling in remote areas.
I really enjoy having the conveniences of a built-in propane stove and refrigerator.  I prefer a pop-up because of the aerodynamics and better fuel mileage.
My 2011 Ford F350 could handle a much larger truck camper, but I am glad to have less weight than what the truck is rated for.  Having more truck was especially beneficial for the frost heaves one encounters in Alaska and parts of Canada.  I don't want to load my truck to maximum payload.  I am glad I matched my rig this way.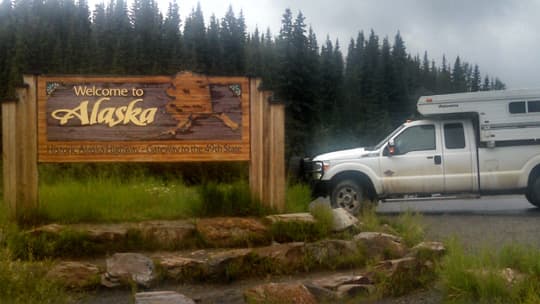 Above: Paul's 2011 Ford F350 and 1998 Palomino B-1200
TCM: Had you been to Alaska before this trip?
Paul: Yes, but this was my first trip camping in Alaska.  Prior to this trip I had flown to Alaska for one trip, taken a cruise for another, and helped my son move to Alaska for a third.  I have relatives in Anchorage and Dutch Harbor.

Above: Camping on the Homer Spit
TCM: Since you don't like to be tied into reservations or schedules, did you make plans for your Alaska trip?
Paul: Actually, I did.  I spent several months planning the trip.  I planned out expenses, miles per day, what I wanted to see, campgrounds, provincial parks, and state campgrounds.
Going through The Milepost, which you can't go to Alaska without, was a tremendous help.  I also spent a lot of time talking with people who had been camping in Alaska.
I had a tight itinerary in the beginning of the trip.  Then it rained almost everyday for the first week.  Along the way I stopped to take pictures or see things, and ended up staying longer than I had planned.  It didn't take long before I was behind schedule, but I made up for it in other areas.  The plan evolved as I traveled.
Above: Paul took the route through Saskatchewan to Alaska – click to enlarge
TCM: The trip to Alaska is an adventure in an of itself.  What route did you take?
Paul: I took a route through Saskatchewan.  One of the reasons I went through Saskatchewan instead of Montana was that I wanted to see the grain elevators.  Some are being dismantled, and I like learning about the history of things.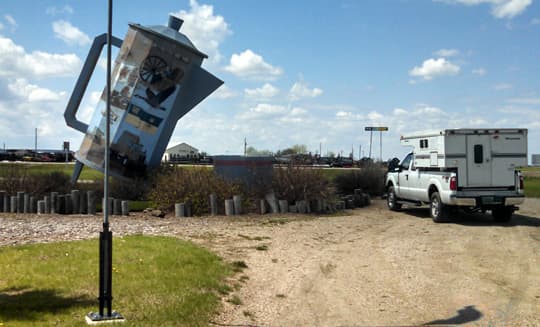 Above: The World's Biggest Coffee Pot is in Saskatchewan
The drive to Alaska felt very long at times, especially through Saskatchewan.  It's like one flat long grain field, which was extremely boring some days.  One drawback of going solo is that you can't keep eye on everything you'd like to see.  A co-pilot could look at The Milepost and make suggestions.  My head was on a swivel seeing the beauty of of the landscape from Edmonton, Alberta north.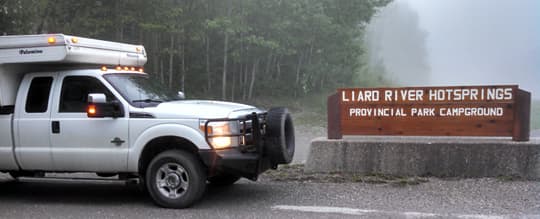 Above: Laird River Hot Springs
Along the way, I stopped at Laird Hot Springs, north of Edmonton.  I had been there before, but it was a must stop for me.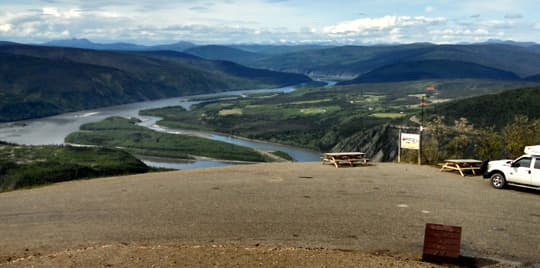 Above: Midnight Dome above Dawson City, Yukon River, Yukon Territory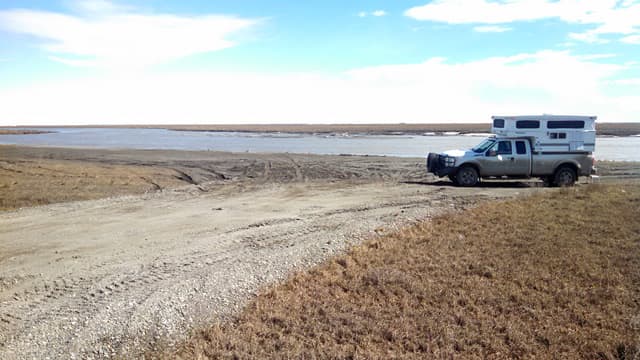 Above: Along the Sag River, Deadhorse, Alaska
Deadhorse and Prudhoe Bay were also on my itinerary.  The Prudhoe Bay area is where all the oil fields are.
Above: The oil fields on the way to and from Prudhoe Bay – click to enlarge
Dalton Highway to Prudhoe Bay travels 500 miles north from Fairbanks, one way.  95% of that road is gravel.  It was a two day trip.  Half way up is Coldfoot.  There's fuel there.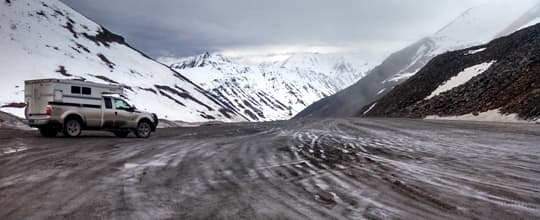 Above: Atigun Pass, on the way to Prudhoe Bay on the Dalton Highway
You actually drive north of the Arctic Circle to get to Prudhoe Bay.   It's a haul road, so you'll see semi after semi.  The truck drivers drive the 500 miles much quicker than the fourteen hours it took me.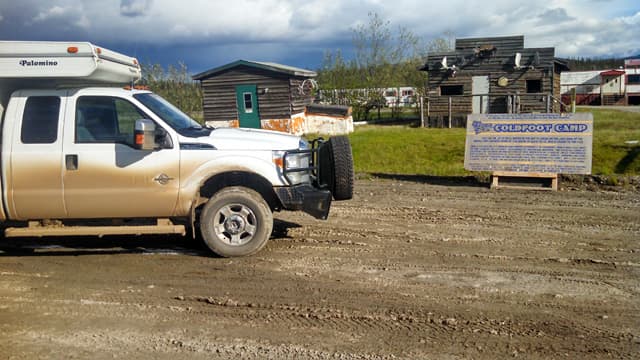 Above: About half way up to Prudhoe Bay is Coldfoot, Alaska
There's not much in Prudhoe Bay.  It's essentially an industrial oil production complex.  You basically say, "I'm here", and then it's time to go.  It's all flat tundra at sea level.  You can see forever.  I was there in June, and nothing was green.  I took a tour on a shuttle bus around Prudhoe Bay and put my feet in the Arctic Ocean.  That was it.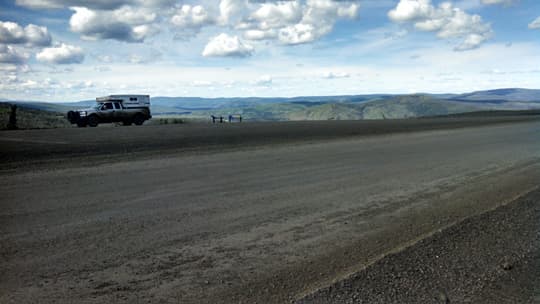 Above: North of Fairbanks on the Dalton Highway
TCM: We've heard that report about Prudhoe Bay before.  Most folks talk about the trip there and back, and how spectacularly dirty their rig got.  Did your rig handle the roads and challenges of Alaska well?
Paul: I bought my camper specifically for this trip and didn't use it ahead of time.  It was used and I didn't give it a fair shake down cruise.  At first the refrigerator wasn't working on propane mode.  It all worked out, but there were some initial kinks to work out.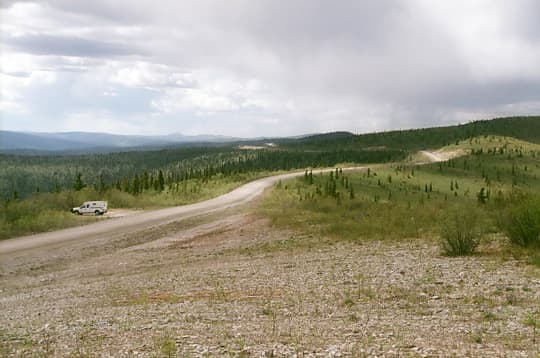 Above: A pull-off on Top of the World Highway
The frost heaves in Canada and Alaska aren't like the ones in Wisconsin.  They're like rolling moguls.  The frost heaves were very hard on my truck's suspension.  I had to replace my shocks when I got back.  My shocks were completely shot because of the constant suspension travel up and down.
You also encounter plenty of potholes and road construction.  Summer is the only time to work on the roads in Alaska, so construction is a constant.  If you had something other than a truck, it would be a challenge to get through certain areas.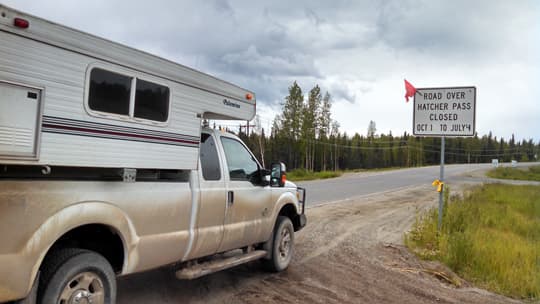 Above: It was too early to travel on Hatchers Pass, on the southwest part of the Talkeetna Mountains
TCM: Was it a challenge to find fuel in Alaska?
Paul: I have a forty gallon tank in my truck, and six gallons of extra fuel with me.  When I would get to a half tank, I would get fuel, or I started thinking about it.  The trip to Deadhorse, Coldfoot and Prudhoe Bay only had a couple fuel stations.  I paid a lot for fuel, but I didn't get stranded.  Once you get into Alaska, there's a lot of distance between places.  Just keep that it in mind and plan for it accordingly.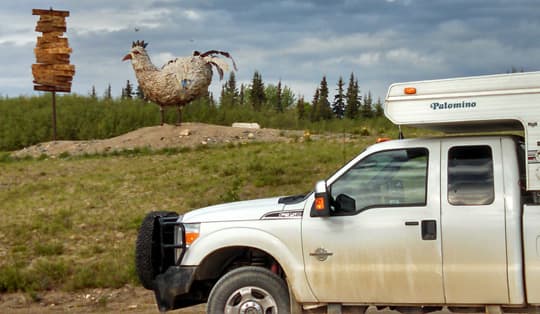 Above: Arriving in Chicken, Alaska
TCM: What were some of the highlights from your trip?
Paul: It was really the people I met in Alaska that made the trip what it was.  For example, I met a motorcycle traveler from Africa in the Arctic Circle campground.  I saw him again in Fairbanks and then again on BLM land on Kenai.  We live half a world away, and saw each other three times in one trip.  That was kind of special.
I met a great couple twice while I was in Canada.  We shared a drink together, and the next night I saw them at Liard Hot Springs.  It's cool to see the same people more than once.  Everybody is from somewhere else and everyone has a story.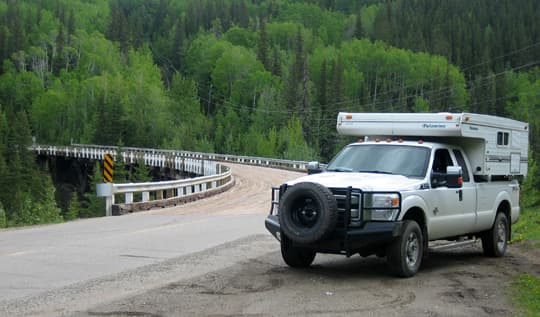 Above: A curved wood bridge on the original Alcan Highway route
TCM: We've had that experience too; meeting folks on the road several times.  We have even met folks hundreds and even thousands of miles from when we first met them.  That's another kind of road magic.  Did you see wildlife in Alaska?
Paul: Yes, there was lots of wildlife, especially in Alberta and British Columbia.  On July 7th, I left Liard Hot Springs at 4:00am.  I saw seven buffalo and seven black bear before 7:30am.  They were literally along the road.  I also saw moose, but didn't get to see a grizzly bear.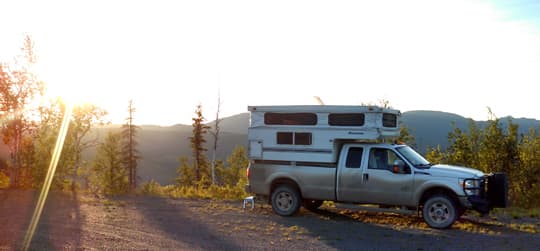 Above: Campspot on the road back from Manly Hot Springs, Alaska
TCM: Were there any specific places that you would recommend to fellow truck campers?
Paul: There's quaint town outside of Fairbanks called Manly Hot Springs.  I read about it in The Milepost.  I drove seventy miles on gravel to get there.  There's nothing in between so leave with full fuel.  They had a shower, campground, fishing, and you can go in the hot springs for $5 an hour.  I highly recommend it.
On the drive back to Fairbanks, I camped on the top of a ridge because it was really windy there.  Wind is your friend because it blows the mosquitos away.
Speaking of mosquitos, you may want to put a net over your head if you spend time outside the camper.  Fairbanks and north there were mosquitoes.  It was only four days of time difference from my trip to Prudhoe Bay and back.  In that time the mosquitoes hatched tremendously.  They came on almost instantly.  I'm sure it was weather related.
I went to Bird Creek Campground, which is east of Anchorage twenty miles on the road to the Kenai Peninsula.  It's a great state campground with hiking opportunities.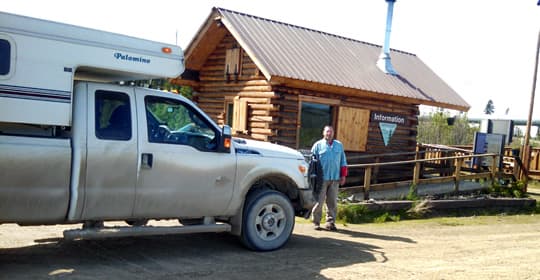 Above: Paul at the BLM Yukon River Visitor Center getting information on the area
From the Arctic Circle north there are BLM campgrounds.  The Milepost mentions most of them.  You can also go to the BLM visitor stations and national forest service visitors centers to get ideas.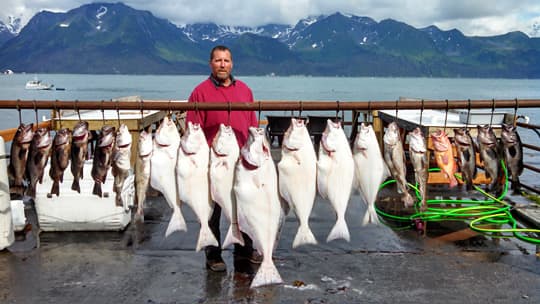 Above: Paul's catch in Seward, Alaska
In Seward, Alaska there was a municipal campground.  I went there to go fishing.  Then, in Homer, I camped on the Homer Spit for two days.
I did go on a backpacking trip in Denali.  It was with an organized group for ten days.  We took a plane ride out and back.  I parked my camper along the street in Anchorage, got on the plane with the group, and flew to a wilderness area in Denali.  We went hiking and wilderness tent camping.

Above: The Halibut Fishing Capital of the World, Homer, Alaska
TCM: That sounds like an incredible adventure.  Any other tips for folks bent on going to Alaska in a truck camper?
Paul: There is a Hilltop truck stop north of Fairbanks where I had reindeer sausage for breakfast and strawberry rhubarb pie.
There's a town called Hope, Alaska on the Kenai Peninsula.  There's one road down and back with a campground.  There was a nice town and restaurant there, too.
In Canada north of Edmonton, the oil boom is happening.  Some municipal campgrounds were full because of the seasonal campers who are oil workers.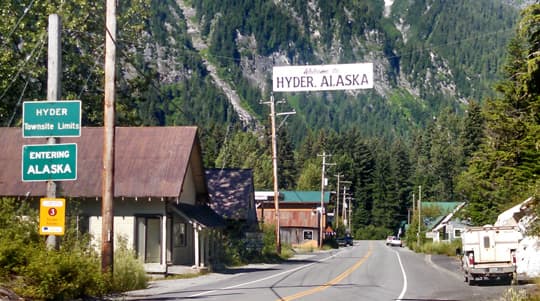 Above: Entering Alaska in Hyder
Hyder is the friendliest ghost town in Alaska.  That's a great little place.  The Tongas National Forest is there.  There are grizzly bear sightings and a boardwalk out to see them.  But, unfortunately I didn't.  Hyder is a great town with history.
Truck: 2011 Ford F350, extended cab, long bed, four wheel drive, diesel
Camper: 1998 Palomino B1200
Tie-downs/Turnbuckles: cargo tie-downs, inside bed mounted
Suspension: N/A
Gear: FabFours front bumper and grill guard assembly, fabricated front spare tire assembly, two spare tires for this trip because of Dalton highway