Truck Camper Magazine finally drives onto beaches in Texas. If you're beach camping curious, here's a fantastic way to camp for free (or almost free) with sun, seagulls, and ocean waves. No recovery gear required.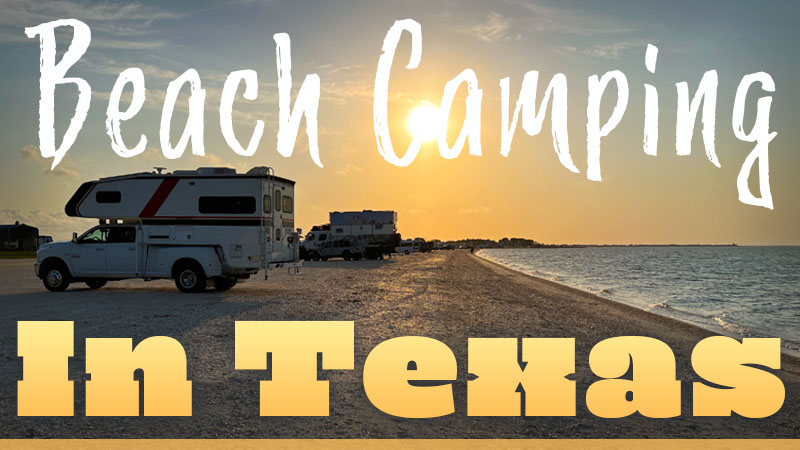 When we first learned about beach camping on the East Coast, the rules often required costly permits, specific recovery gear, and no dual rear wheel trucks. Some of these rules have changed over the years, but somehow we never took the plunge. Then we discovered Texas beaches this past spring and learned what we'd been missing.
Our sand chicken history started back in 2005, two years before TCM's electrons first fired. We had a 2004 Lance 1030 with a 2005 Chevy Silverado 3500 two-wheel drive dually and explored Texas mid-winter. Along the way, we heard about beach camping on Padre Island, but were nervous about driving on sand. Of course, the locals said, "You'll be fine." As complete newbies with visions of getting buried in sand up to our radio antenna, we weren't convinced.
Twelve years later, we discovered Charlie and Jeannie Coushaine's Bolivar and Magnolia Beach videos about driving their truck camper and camping on Texas beaches. They talked about how it was nearly free, didn't require recovery gear, and allowed dual rear wheel trucks. After watching their videos we said, "The next time we go to Texas, we're camping on the beach!"
We immediately pinned the two Texas beaches they went to on our Google Map; Bolivar Beach and Magnolia Beach. If we come across a place we want to go to someday, we always pin it on our Google Map.
Bolivar Beach
Our Texas adventure started with plans to attend the Texas Truck Camper Rally. On our way, we had about a week to finally roll out onto the Texas beaches. First up was Bolivar Beach.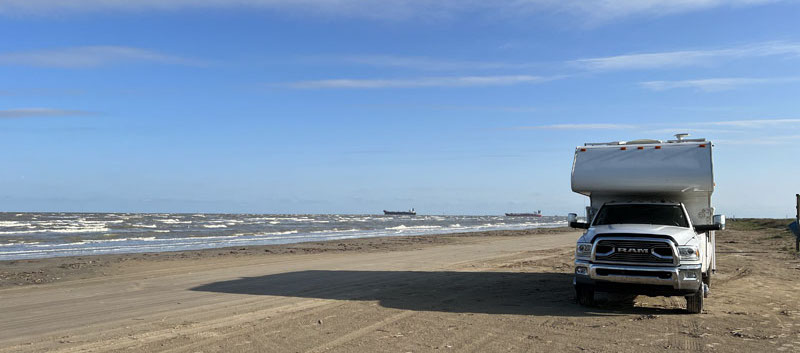 Bolivar Beach is on the Bolivar Peninsula. You enter the beach on Rettilon Road (called Bolivar Beach Access on Google Maps). If you turn left onto the beach, it's free to camp. If you turn right, you need a $10 permit.
To get a permit, we stopped at The Big Store in Crystal Beach, Texas. There's a list of other places where you can get a permit, but The Big Store was on the way. Common sense dictates that the paid permit area would have fewer campers and that was indeed what we found.
To our mutual relief, the sand was hard-packed. Not only didn't we sink to our antenna, but the sand felt nearly as firm as the pavement we left. We drove slow and steady about a half-mile down the beach, made a U-turn, and parked our rig parallel to the dunes and close to the entrance. A thunderstorm was predicted and our chicken feathers were still a bit ruffled. Luckily, the storm passed and we fell asleep to the light breeze, lapping waves, and seagull cries.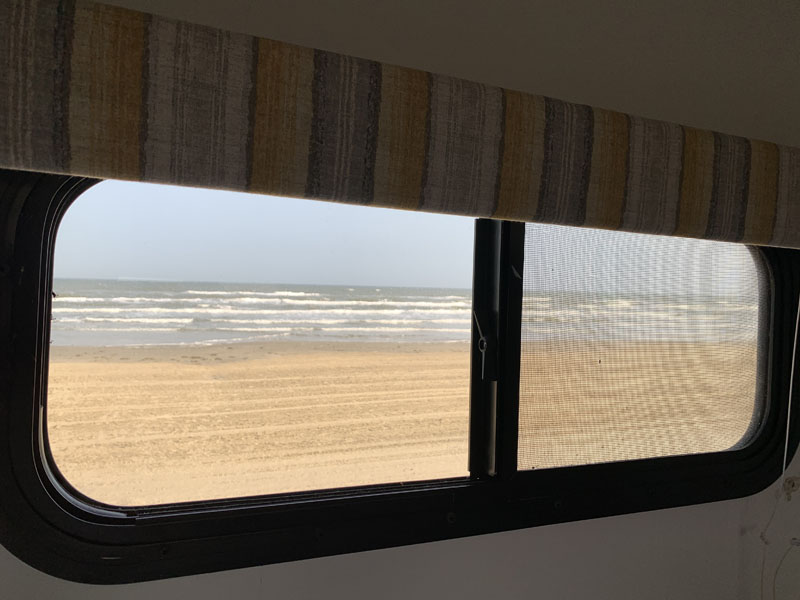 Bolivar Beach was the perfect place to work for a week. The cellular service and internet (Verizon) were strong, and our office view was phenomenal. We could hardly believe our total camping cost was $10. If you work remotely in your truck camper or just want an amazing place to camp on the beach, you might want to pin Bolivar Beach.
While we were there, we watched the oil tankers out at sea and the oil rigs in the distance.

I metal detected and found three pennies, a bunch of beer tabs, and a long metal spoon.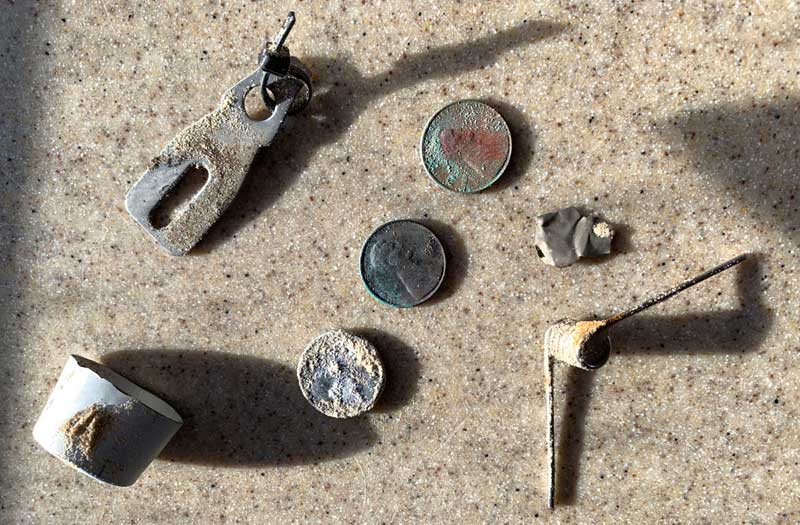 Cosmo watched an endless assortment of birds and raced from one side of the camper to the other with leaping intent. All for $10. What more could you want?
The Free Galveston Ferry
To get south from Bolivar Beach, you either need to drive off the peninsula and go around Houston, or go through Galveston. Fortunately, Galveston has a free ferry. You drive your rig on, cross the Galveston Bay, and drive off. The ferries are running constantly, so scheduling wasn't a huge deal. We waited about a half hour before we could board.
Texas City Dike
As a side trip to our next Texas beach destination, we went to the Texas City Dike. Sea glass has become something of an obsession of Angela's since exploring the Canadian Maritimes last summer, and we had read reports of sea glass at Texas City Dike.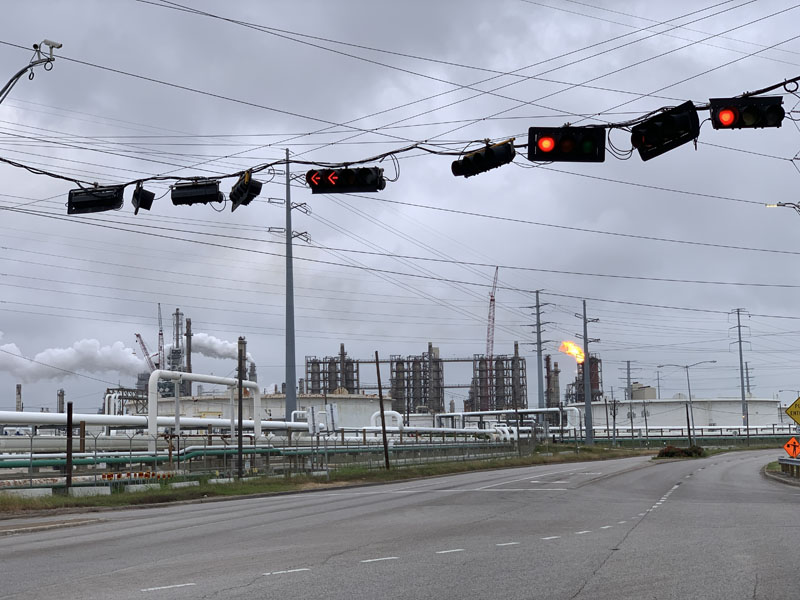 In order to reach the Texas City Dike, you have to literally drive through enormous oil refineries. There were flaming stacks, huge pipes spanning above and around us and noxious smells that had us rolling up our windows and giving each other, 'What the heck are we driving into?' looks.
Once we passed the refineries and reached the dike it was peaceful with hardly anyone there. Angela's sea glass research said to go about half a mile down and park on the left where you see a little beach.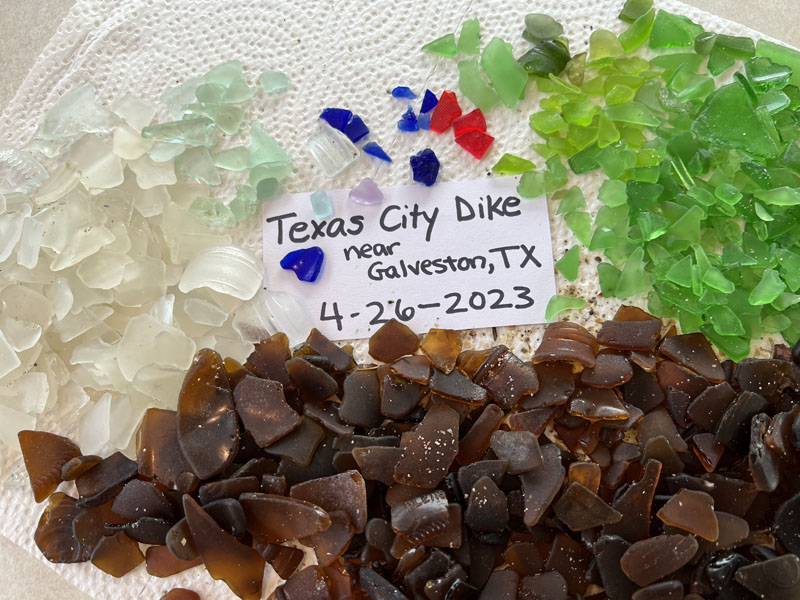 That's precisely what we did and sea glass was everywhere! You can't camp there overnight, but being there during the day was nice.
Brazoria County Beach
The Brazoria County Beach is about an hour south of Galveston. We paid a toll on the Bluewater Highway and then found a large number of houses on stilts. Intermingled with the stilt homes were signs that read, "Public Beach Access #5", "Public Beach Access #3", and so on.
The beaches there are all one way. If you enter at "Public Beach Access #2", you drive out at "Public Beach Access #3.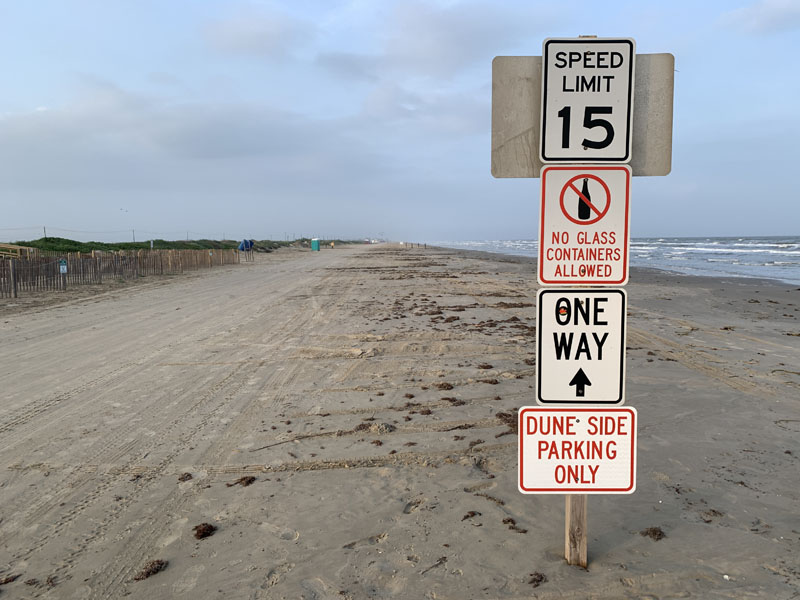 We weren't sure where a good spot would be to park, so we drove in #3 and out #4, and then tried #2 and went out #3. We got to see a lot of the beach that way and were able to see how other RVs were parked on the beach. It was during the week, and there were a total of two other RVs in probably five miles of beach area. We were there in late April, but still couldn't believe how empty it was.

You can stay at Brazoria County beaches for up to 14 days for free. There are patrol trucks that drive by and make notes about who is there. We saw them both days we stayed on this beach. Also of note, the Verizon cell phone coverage was excellent.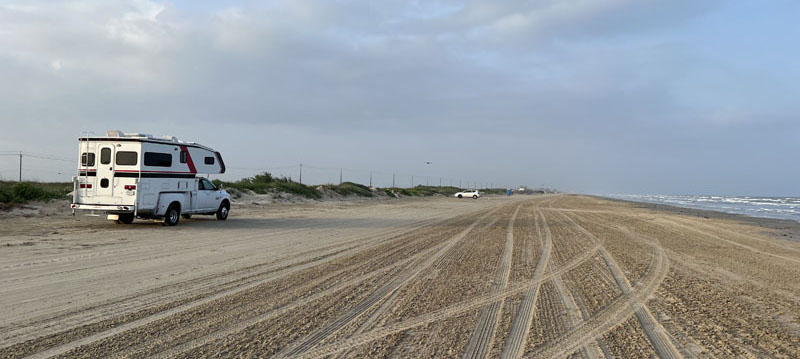 We were in Texas in late April. The beaches are probably a lot more crowded when the snowbirds are in Texas. We also planned our beach time during the week. That way we weren't dealing with crowds. Thank you, Texas, for making this wonderful camping available and free.
Magnolia Beach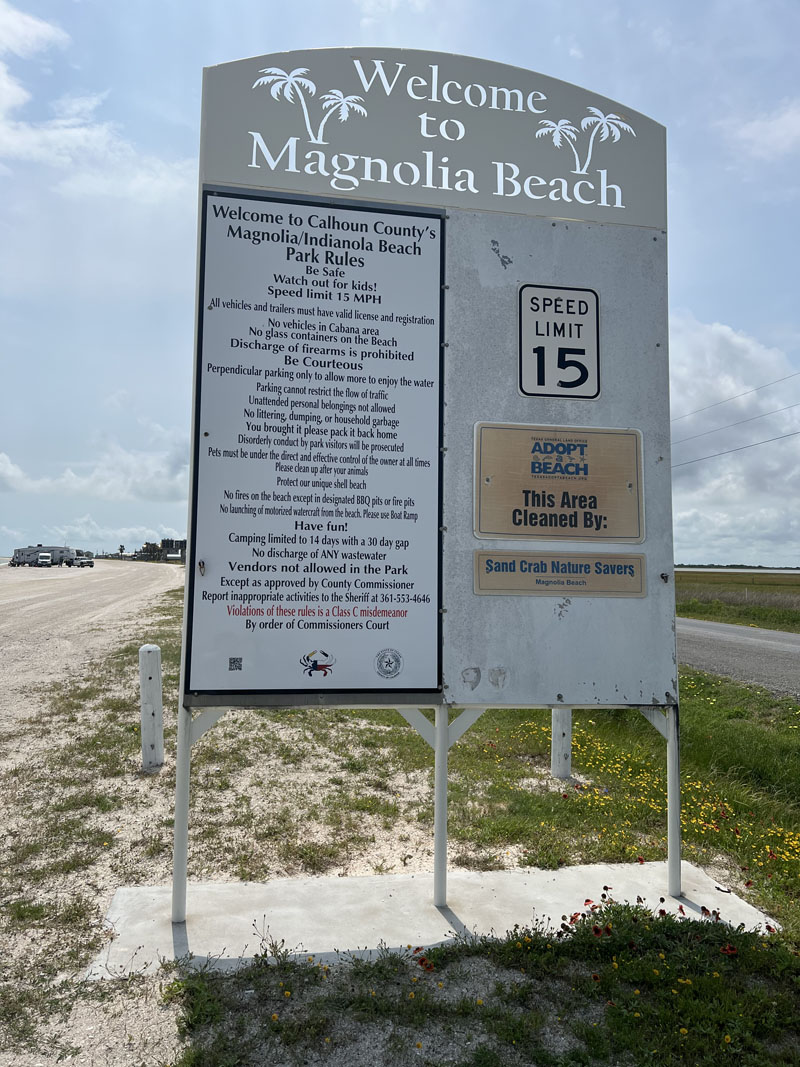 About 2.5 hours south of Brazoria County Beach, in the Port Lavaca area, is another beach you can camp at for free; Magnolia Beach. Magnolia Beach was more crowded than the other two, but that's not saying much.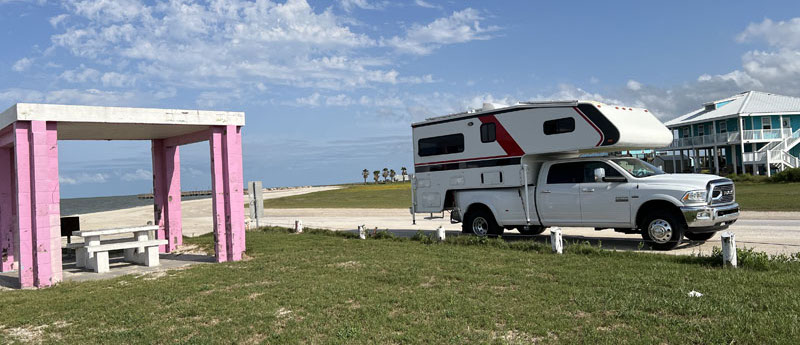 Magnolia Beach was very welcoming to RVs. There are two areas where you can park. Off the beach, there are tiny pink shelters with picnic tables. Usually, an RV was parked next to a pink shelter. There were also RVs on the beach backed up to the water. It was a bit more crowded on the beach, so we first opted for the pink shelter parking.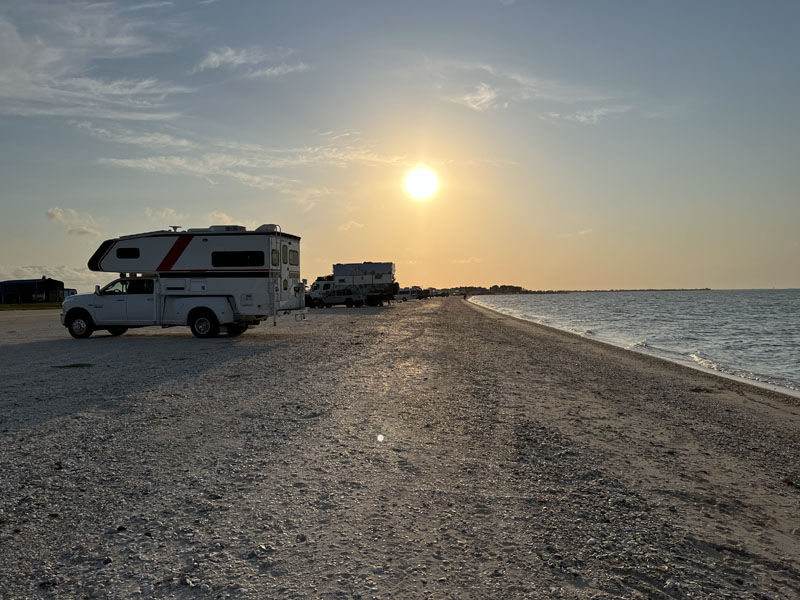 The sand at Magnolia Beach was even more compact than Bolivar and Brazoria. I didn't think the sand could get even more sturdy than what we saw at the other beaches, but it was almost like concrete. No worries about getting stuck.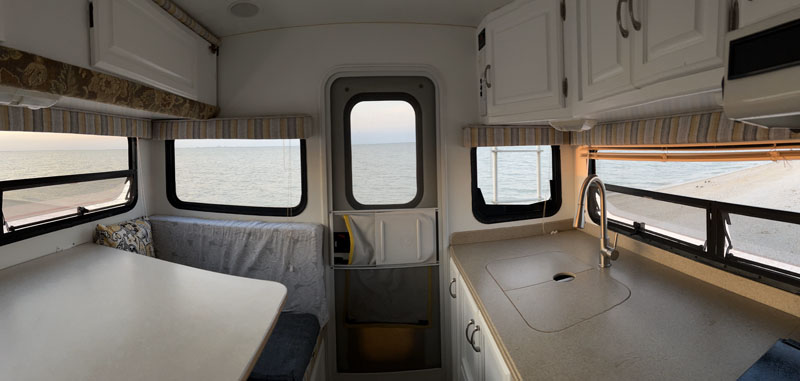 We were at Magnolia for a couple of days working on the magazine during the day. Once again, the Verizon cell service was superb. And for all you sea glass fans out there, Angela found some at Magnolia Beach as well.
If you haven't already, we recommend adding these three Texas beaches to your Google Map. Click here for directions on how to start your own Google Map.  Click here for more beaches where you can take your truck camper.