Here's your 1-2-3 guide to revolutionizing your trip planning with Google Maps.  You will never think about roads, campgrounds, and destinations the same way again.  Drop that pin!

"Oh man!  Why didn't we stop by?  We drove right past them!"
For the first few years of our truck camping adventures, we planned our trips based on our destinations.  For example, we would go from one factory to another, and stop at the state and national parks in between if they were on our paper maps.
That worked well, until we remembered that a reader friend had invited us to visit them in a town that was just a few miles off the highway we traveled.  If we had just recalled their invitation, we could have stopped in and met some new friends.
There were other opportunities that we kept passing; campgrounds readers had recommended, amazing locations we saw in the calendar contest, places mentioned in lifestyle stories, and even annual events that we could have attended.  All were passed like truck campers in the night.
Then I came across a Google Map someone had posted online with their favorite camping spots.  Looking closely, I realized that we could create our own truck camping map and never pass an opportunity again.  Two hours later, I had covered a Google Map with over a hundred must-see locations and campsites in the United States and Canada.
Today our Google Map has over 1,000 color coded pins, stars, circles, and squares all designating different opportunities on the road.  It's our go-to resource for planning all of our truck camping adventures.  If we're going to an event in Texas, we'll pull up our Google Map and see what's between here and there, and make our route and camping plans accordingly.
As the trip planner in our family, I can't imagine planning a trip without our Google Map.  When a reader recommends a campground or boondock spot for Question of the Week, we pin it.  When a lifestyle story reveals an incredible place or experience, we pin it.  When someone at a rally says, "Hey, if you're ever in our neck of the woods, come see us", we pin it.  For such a simple tool, Google Maps has made a huge difference in our truck camping lifestyle.  I love it and I think you will as well.
Our Current Google Map
Our Google Map continues to grow as we get recommendations from others and discover new campgrounds, boondocking opportunities, and destinations during our personal truck camping travels.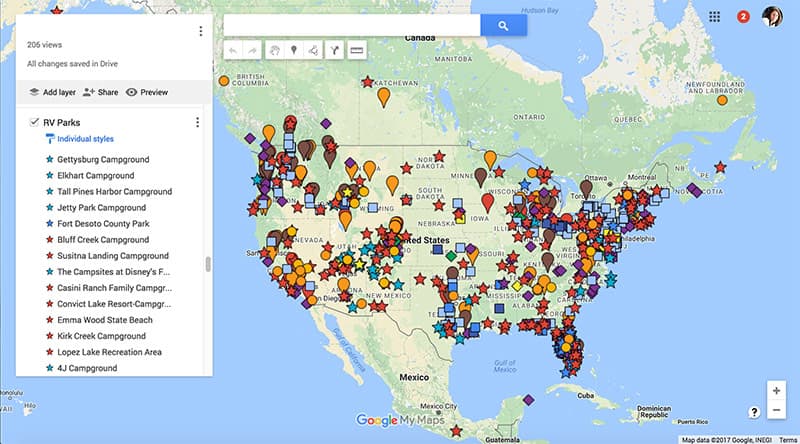 When I started our Google Map, the program was on an earlier version with different icons than are popular today.  That's why it looks a bit different than the screen caps that follow.  With each Google Map update, Google has created more icon options and colors.  Other than that, the form and function of Google Maps has remained the same.
How I Populated Our Google Map
I started our Google Map by adding the homes of our friends and families.  Like many truck campers, we enjoy "free camping" in the driveways of friends and family.  You bring your own guest room with you.  They have their space, and you have yours.  It's perfect!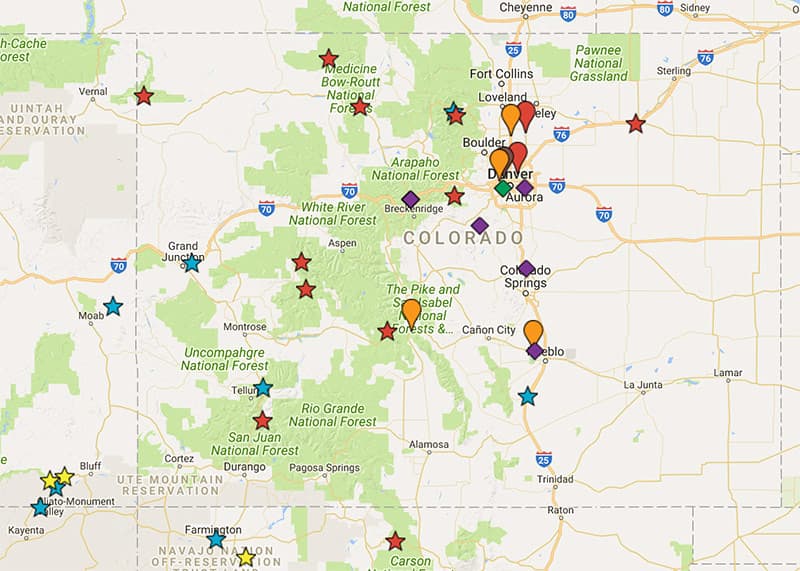 I made our friends and families diamond icons on my Google Map; yellow diamonds for family, and purple diamonds for friends.  With these easy to identify color coded icons, we can quickly see where our friends and family are on our Google Map.  We also have purple diamonds for TCM readers who have invited us to camp in their driveways.  We love driveway camping!
Next I added campgrounds.  I have a layer in the Google Map called Campgrounds.  The list of campgrounds started with the campgrounds we have actually been to during our travels.
Campgrounds are stars.  Blue stars are campgrounds we have been to and red stars are campgrounds that have been recommended by readers or that have gotten really good ratings on blogs or campground review sites.