Readers share their favorite campgrounds for truck campers.  Check out these top campground picks!
This week for our question of the week, readers sent in favorite campgrounds they have visited.  Campgrounds are categorized below by state and province in alphabetical order, first by the United States and then by Canada.
Please send us your best recommended campgrounds by emailing us at [email protected]  Thank you!
United States
Alabama
Bluff Creek, Eufaula, Alabama.  Spring, early Summer, and mid-Fall are the ideal times to visit.  It's $22 per night and $11.00 for Seniors, 62 and older.  No jet skiers or water skiers, but if you love to fish, this is the best all around place to go.  There are small water holes, sleus, that turn into your very private lake.  There are gators.  Just don't mess with them.  If you just love to lay back and read a good book, well come on down.  This is one of many Army Corps of Engineers Campsites.  They keep the campsites very clean with full hook-ups. – Joseph Brown
Alaska
Susitna Landing, on the Kashwitna River, 60 miles north of Anchorage, between Willow and Talkeetna, Alaska.  May to September is the ideal time to visit.  $24 a night for electrical and $12 a night without.  Susitna Landing on the Kashwitna River is our favorite campground in Alaska.  This is a state owned facility operated by a private party, (Jeff Botright/JB's Bear Cache).  It is located right on the river that offers great salmon, trout, and grayling fishing.  Campsites without hookups are available on the river bank.  Electrical hookups are available on a beautiful loop road up through the trees.  There is a boat launch and great bank side fishing.  The biggest attraction for us is the gated entry.  Very few people seem to know of this facility.  Our granddaughter loves the paved pathways for bike riding.  It's about ninety minutes north of Anchorage on the Parks Highway. – Terry and Joanie Nininger
Arizona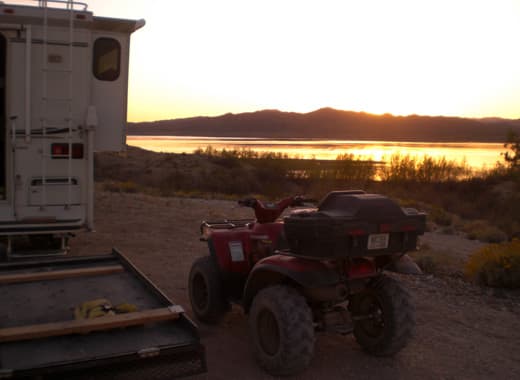 Alamo Lake, Wayside, Arizona.  Winter is the best time to go.  It is free, dispersed camping that is a half mile away from the state campground.  Your neighbors are several hundred yards away from you and you are up on a finger sticking out from the mesa about five to six hundred feet above the lake.  There are beautiful sunset views in the evening. – Frank Niehus
California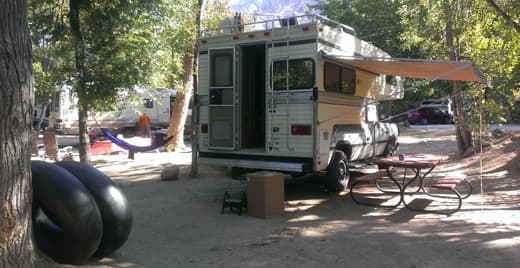 Camp James, Kernville, California.  It is open all year, but summer is best if you want to do any tubing on the river.  I paid $40 a night for electric, water, wifi, and cable.  I went during the week before Labor day weekend.  It was very quiet.  The grounds were kept very clean and the staff was very friendly.  About ten feet from my camper's door was a stream and the Kern river was about a forty foot walk.  I slept with my door and windows open all night listening to the sound of the flowing water.  During the day we would float down the river on tubes into town.  There were a number of rafting shops that provided a shuttle about two miles north of our camp.  Then we would float back down to camp.  All in all I had a very good time there and I'm definitely going back. – Tim May
Casini Ranch, Sonoma County, California.  All year long it is nice there.  On the Russian River, seven miles from the Pacific Ocean, in beautiful Sonoma County, Ca, is a very well run private campground. Reservations are easy to make, and reasonably priced. We kayak on the river, sun bathe at the ocean, wine taste. The location is fantastic. – C. Lawrence
Convict Lake, Mammoth Lakes, California.  Fall is the best time of year to go.  This campground is in a beautiful setting with early morning sunrise reflected off the jagged peaks that surround the lake.  You wake up to deer and smaller wildlife moving through the hills around you, and there is easy access to spectacular Sierra Mountains hiking trails and nearby natural hot springs.  All make this an amazing place to stay. – T.C. Rusk
Emma Wood State Beach, Ventura, California.  Go in January through March, you have the beach to yourself.  In Summer it is wall-to-wall camping and unpleasant.  It's $29 a night.  Have your checkbook with you because no cards are accepted.   They are just some parking strips twenty feet from the Pacific Ocean; rubble and rocks, great rocks.  Nothing to do except walk, sit and watch the Pelicans diving for fish, paint, or great rock-hounding. – Constance Condit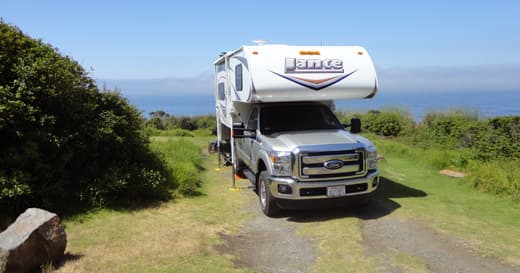 Kirk Creek Campground, Big Sur, California.  Anytime of the year is nice.  It's $22 a night.  There are great ocean views from almost all campsites as well as a nice little hiking trail down to the ocean.   It's a natural feeling campground that is clean and well maintained. – Ryan and Eva Salazar
Lake Lopez County Campground, Arroya, California.  The best time to go is Summer.  It's $28 with full hook-ups.  Great weather, very nice spots, and it's hilly with great views of the lake.  There is very nice staff, good rates, and good fishing.  – Jeff Hubbard