Readers share their favorite campgrounds for truck campers.  Check out these top campground picks!
This week for our question of the week, readers sent in favorite campgrounds they have visited.  Campgrounds are categorized below by state and province in alphabetical order, first by the United States and then by Canada.
Please send us your best recommended campgrounds by emailing us at [email protected].  Thank you!
United States
Alabama
Bluff Creek, Eufaula, Alabama.  Spring, early Summer, and mid-Fall are the ideal times to visit.  It's $22 per night and $11.00 for Seniors, 62 and older.  No jet skiers or water skiers, but if you love to fish, this is the best all around place to go.  There are small water holes, sleus, that turn into your very private lake.  There are gators.  Just don't mess with them.  If you just love to lay back and read a good book, well come on down.  This is one of many Army Corps of Engineers Campsites.  They keep the campsites very clean with full hook-ups. – Joseph Brown
Alaska
Susitna Landing, on the Kashwitna River, 60 miles north of Anchorage, between Willow and Talkeetna, Alaska.  May to September is the ideal time to visit.  $24 a night for electrical and $12 a night without.  Susitna Landing on the Kashwitna River is our favorite campground in Alaska.  This is a state owned facility operated by a private party, (Jeff Botright/JB's Bear Cache).  It is located right on the river that offers great salmon, trout, and grayling fishing.  Campsites without hookups are available on the river bank.  Electrical hookups are available on a beautiful loop road up through the trees.  There is a boat launch and great bank side fishing.  The biggest attraction for us is the gated entry.  Very few people seem to know of this facility.  Our granddaughter loves the paved pathways for bike riding.  It's about ninety minutes north of Anchorage on the Parks Highway. – Terry and Joanie Nininger
Arizona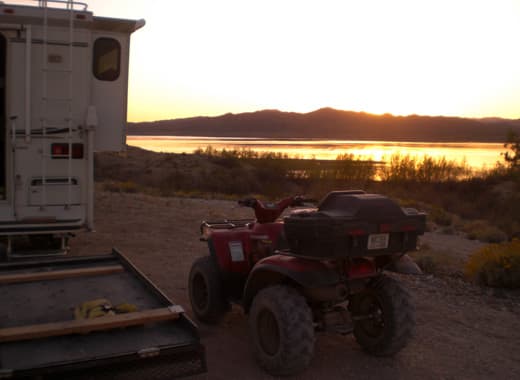 Alamo Lake, Wayside, Arizona.  Winter is the best time to go.  It is free, dispersed camping that is a half mile away from the state campground.  Your neighbors are several hundred yards away from you and you are up on a finger sticking out from the mesa about five to six hundred feet above the lake.  There are beautiful sunset views in the evening. – Frank Niehus
California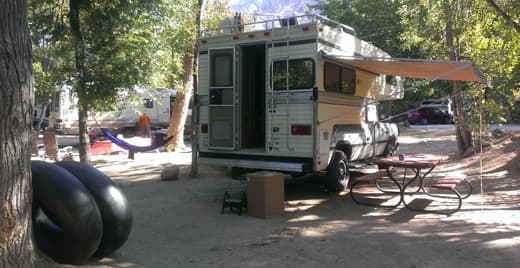 Camp James, Kernville, California.  It is open all year, but summer is best if you want to do any tubing on the river.  I paid $40 a night for electric, water, wifi, and cable.  I went during the week before Labor day weekend.  It was very quiet.  The grounds were kept very clean and the staff was very friendly.  About ten feet from my camper's door was a stream and the Kern river was about a forty foot walk.  I slept with my door and windows open all night listening to the sound of the flowing water.  During the day we would float down the river on tubes into town.  There were a number of rafting shops that provided a shuttle about two miles north of our camp.  Then we would float back down to camp.  All in all I had a very good time there and I'm definitely going back. – Tim May
Casini Ranch, Sonoma County, California.  All year long it is nice there.  On the Russian River, seven miles from the Pacific Ocean, in beautiful Sonoma County, Ca, is a very well run private campground. Reservations are easy to make, and reasonably priced. We kayak on the river, sun bathe at the ocean, wine taste. The location is fantastic. – C. Lawrence
Convict Lake, Mammoth Lakes, California.  Fall is the best time of year to go.  This campground is in a beautiful setting with early morning sunrise reflected off the jagged peaks that surround the lake.  You wake up to deer and smaller wildlife moving through the hills around you, and there is easy access to spectacular Sierra Mountains hiking trails and nearby natural hot springs.  All make this an amazing place to stay. – T.C. Rusk
Emma Wood State Beach, Ventura, California.  Go in January through March, you have the beach to yourself.  In Summer it is wall-to-wall camping and unpleasant.  It's $29 a night.  Have your checkbook with you because no cards are accepted.   They are just some parking strips twenty feet from the Pacific Ocean; rubble and rocks, great rocks.  Nothing to do except walk, sit and watch the Pelicans diving for fish, paint, or great rock-hounding. – Constance Condit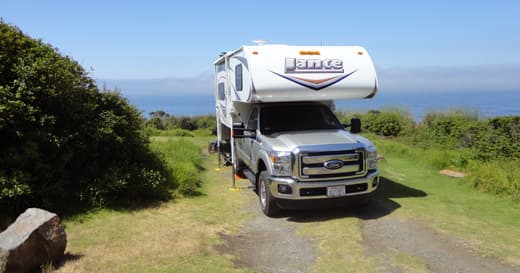 Kirk Creek Campground, Big Sur, California.  Anytime of the year is nice.  It's $22 a night.  There are great ocean views from almost all campsites as well as a nice little hiking trail down to the ocean.   It's a natural feeling campground that is clean and well maintained. – Ryan and Eva Salazar
Lake Lopez County Campground, Arroya, California.  The best time to go is Summer.  It's $28 with full hook-ups.  Great weather, very nice spots, and it's hilly with great views of the lake.  There is very nice staff, good rates, and good fishing.  – Jeff Hubbard
Loon Lake, Clark Fork of the Stanislaus River, near Kyburz, California.  Go anytime, especially the Spring and Summer are good times to go.  It is $14 to $24 per night.  Good fishing, clean bathrooms, boat ramp, and XC skiing in winter. – Mike Johnson
Colorado
4J+1+1 Campground, Ouray, Colorado.  It's right on the raging Uncompahgre River and walking distance to town.  Ouray has beautiful scenery.  This town is at the north end of the Million Dollar Highway, which is an awesome road to drive. – Angela and Gordon White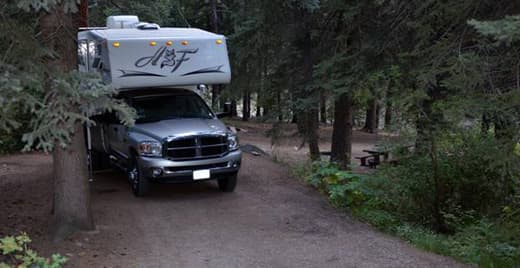 Bogan Flats Campground, Marble, Colorado.  We like it because it is right on the Crystal River.  We tow our modified jeep, so we are able to run a few trails out there.  We like to go there in June when the river is running hard from the mountain run off. – Gary and Dee Patton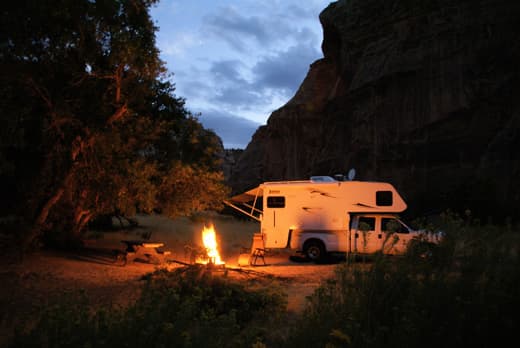 Echo Park Campground, Dinosaur National Monument, Northwest Corner of Colorado.  Early Fall is an ideal time to go.  Echo Park is open all year, however road conditions matter.  It's $8 when water is available, otherwise it free.  It is a bit difficult to get to. It is in a fantastic setting with nearby vertical cliffs, river confluence, and ringtail cats. – Rick Johnson
Echo Lake Campground, Idaho Springs, Colorado.  May to September is when it is open.  Echo Lake campground is at 10,600 feet.  Great Colorado forest with deer, elk, squirrels, chipmunks, gray jays, an occasional moose and hummingbirds sharing your site.  It is at the foot of Mount Evans, the highest paved road in North America.  As you drive, bike or walk up the road you climb through three life zones, passing ancient trees, lakes and forest to the land above timberline.  Along the way you can see Rocky Mountain goats and Bighorn sheep.  Sunrise and moonrise are beyond belief at 14,000 feet elevation.  It was snowing at top last week in August while it was ninety degrees in Denver. – Steve Hannan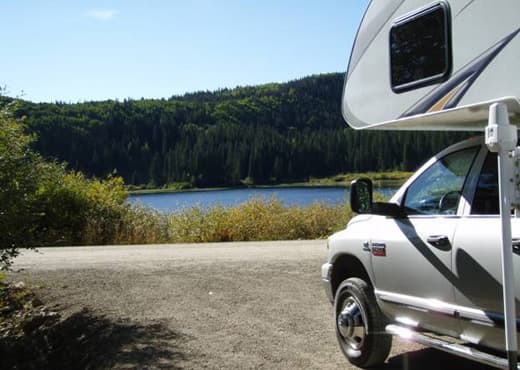 Lost Lake Campground, Paonia, Colorado.  It's quiet and over looks a small lake.  There are two hiking trails right in the campground.  The best time is late September to see the aspen trees.  However, this campground is first come, first serve. – Gary and Dee Patton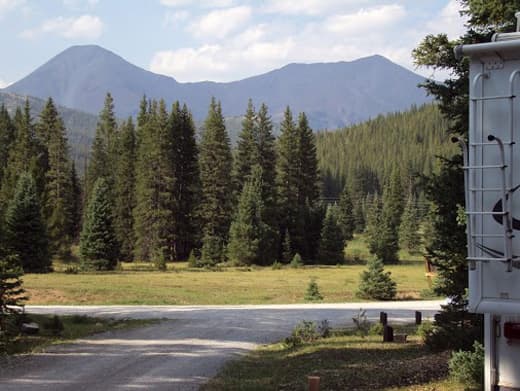 Monarch Park Campground, Monarch Pass, Colorado.  It's on the northeast side of Monarch Pass in Colorado.  I like late Summer and early Fall.  It's $17 on Reserve America.com.  The views are pretty incredible, especially at sunset and sunrise or when a storm is developing, of several 14ers; Shavano, Tabeguache and Antero.  It is high at about 10,500 feet, which is almost to Monarch Pass at 11,312 feet.  It's across US50 from the Monarch Ski Area. – Patrick Caulfield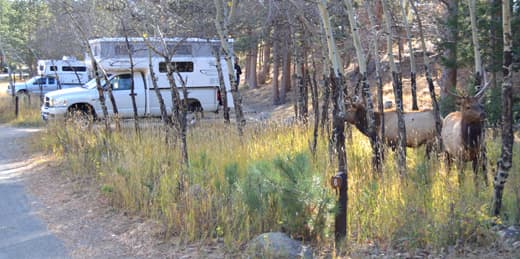 Moraine Park Campground, Rocky Mountain National Park, near Estes, Colorado.  The Elk were bugling and walking through the campground in late September and early October. – Angela and Gordon White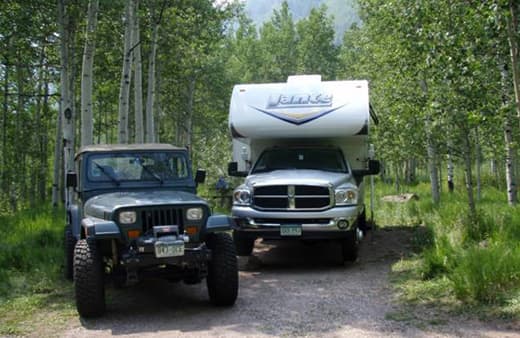 Silver Queen, Maroon Bells, Aspen, Colorado.  There are only six sites here, so it's very quiet.  It's close to the Bells for hiking as well as jeeping in the area.  We tend to visit here in late August. – Gary and Dee Patton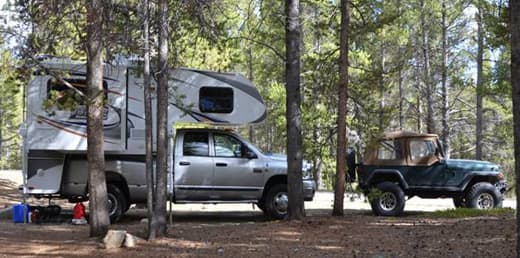 Turquoise Lake, Leadville, Colorado.  A short distance away from Denver and they are among lodge pole pines.  We can hike and jeep.  We visit this campground all summer. – Gary and Dee Patton
Vaughn Lake, in Routt National Forest, Colorado on state route 16.  Between Winter melt and first snow, about June 25 to September 1 is the best time to go.  It's free and looks over the top of the snow covered mountains, has an alpine meadow view, and a nice gravel forestry road.  It's quiet with six campsites. – Jesse Taylor
Florida
Fort Desoto Park, St Petersburg, Florida.  The best time to go is winter.   It's approximately $30 with power and water.  This park has everything; water on three sides, with two on the bay side and one the Gulf of Mexico.  There are two fishing piers, extensive hiking, biking, running trails as well as kayak trails and rentals.  For trailered boats, there's a 15x boat ramp.  Most canoes and kayaks can be launched from the campground sites.  The beach is a world class beach on the Gulf.  The campground is split up in sections; tent, bigger rigs and for those with dogs we have our own section. – Tom Martin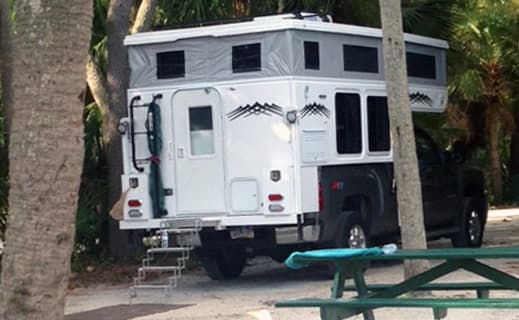 Fort DeSoto Park, St Petersburg, Florida.  It's hot in the summer.  $30 to $45 depending on location in the park.  There is no better Gulf beach side camping!   For some of the spots the water is right at the campsites.  It's not overcrowded, with great facilities and very helpful rangers.  A few more no-see-ums then a Coloradan can handle; but thankfully the screens in our Hallmark Popup kept them out of our camper.  The beach is one of the top in the US.  Fort DeSoto is a great tour.  Ergot Key is a must see.  Watching the fiddler crabs is amazing.  Raccoons shopping in the neighbor's trash at night was also great fun. – Steve Hannan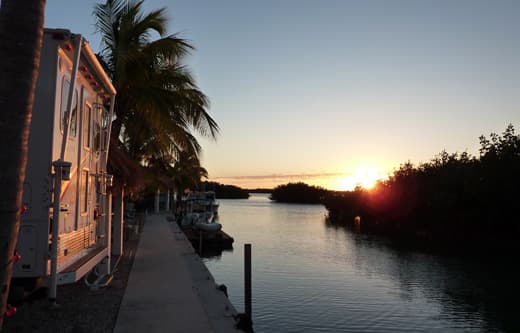 Geiger Key Marina, Geiger Key, Florida.  Scenic campground with spots right on the water in the Keys.  It's a quick drive over to Key West from the campground. – Angela and Gordon White
Long Key State Park, Long Key, Florida.  December to April is the best time to visit.  It's $36.  Each of the sites is right on the Atlantic.   Back in to your spot.  When you step out the back of your camper, your toes are in the ocean. – Grant Luckhardt
Idaho
Spring Bar Campground, Salmon River, Central Idaho.  The best time to visit is Spring or Fall.  It's $14 a night.  Spring Bar is a small Nez Perce National Forest campground located on the banks of the main Salmon River upstream from the town of Riggens.  It is located on a hillside providing views of the river.  There are several old fruit trees in what appears to be an old homestead.  There is also a boat ramp and beach located across the road from the campground.  While this is a busy place during the summer rafting season, during the spring and fall it is quiet spot to camp and enjoy the nice weather and wildlife. – David Neumann
Sun Gulch Campground, Red Fish Lake, Idaho.  September is great with warm days, cool nights and brilliant Fall colors.  It's $16 a night to camp.  Excellent access to hiking in the Sawtooth Mountains, fly fishing on the Salmon River and touring the historical area of Custer, Land of the Yankee Fork. – Jim Wilson
Illinois
Whittington Woods Campground, Near Benton, Illinois.  You can go anytime, but Autumn would be spectacular.  Good Sam's rate was $28.  The campground is just off I-57 near Benton, Illinois.  The serenity of the campground was awesome.  It is located in a grove of huge oak trees, with spacious arrangement.  There are very large areas between campers; a good twenty to thirty feet between campsites, adding to the campers' privacy.  The campground is immaculately kept.  The roads, all gravel, were in perfect condition, with the roads and pads covered with fresh gravel.  The host was gracious, giving us fresh tomatoes that her husband had grown.  There was a full table of the tomatoes, free to all campers.  There was a home like feeling, with laying chickens around their building at one end of the camp.  There was a nice pool and bath house, and a fenced area where campers took their dogs for play and exercise.  – Dewey Lackey
Maine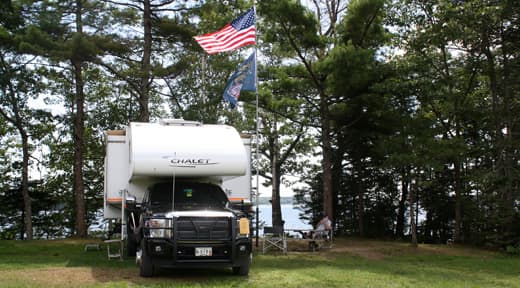 Recompence Shore Campground, at Wolfe's Neck Farm, Freeport, Maine.  $45 a night for high Summer rates.  Off season is varied rates.  Fall after the campground is officially closed is the best time to go.  This is the closest campground to where we live and offers camping on Casco Bay, Atlantic Ocean.  The campground can be very crowded in summer as they offer many farm programs for kids.  We like off season after it closes officially.  There are many hiking trails, cattle, sheep, farm barns, and glorious Maine fall foliage.  Every November we sponsor a Northeast Truck Camper Jamboree at this campground.  Though we can have any type of weather from mud to snow to perfect, it grows every year as people really enjoy camping on this bay. – Anne and Joe Brown
Maryland
Janes Island State Park, Crisfield, Maryland.  Spring or Fall is the best time to go.  It is $35 a night.  Clean facilities, friendly staff, fishing, crabbing, canoe and kayak trails, a boat ramp, etc.  It is right on the Chesapeake Bay with beautiful sunsets. – Todd Fairhurst
Michigan
Lake Michigan Recreation Area, In Michigan between Ludington and Manistee.  Spring through Fall is the best time to visit.  It is $18 a night or $9 a night with a senior pass.  As a federal recreation area it has 99 of the best rustic campsites I have ever stayed at.  The sites are large and extremely clean.  There are hiking trails, bike trails, and the most beautiful beach where you can walk, swim and catch some of the most beautiful sunsets in western Michigan.  Plus, the beach is dog friendly. – Sue Surateaux
Montana
Many Glacier Campground, Glacier National Park, Babb, Montana.  May to October is the ideal time of year to go.  It is $20.  Beautiful views, well maintained, great hiking opportunities, quiet, and great camp hosts and park management. – Jervis Swannack
New Hampshire
Dolly Copp Campground, in the National Forest near Gorham, New Hampshire.  Spring, Summer and Fall are ideal.  For Seniors, it's $12.  View of the Imp and day trip access to many points of interest including Mount Washington. – Carl Goode
New Mexico
City of Rocks State Park Campground, Faywood, New Mexico.  Spring or late Fall is the best time to visit.  The non hook-up sites are so private and extremely romantic when the lights are out.  When you look off in the distance at night you see nothing.  You hear nature, you are away from others, and it is sweet. – Ed Krech
Hopewell Lake, Carson National Forest, off of Hwy 64 near Tres Piedras, New Mexico.  I prefer visiting in the Fall.  This is a spacious, high elevation (9,800 feet) campground in Northern New Mexico.  I have never found it crowded (but may now!).  I like it because it is a good stopping point before heading into the Santa Fe or Taos area or heading further north into the mountains.  I often hear Elk.  It os open, has a small lake for canoeing, and has a separate picnic area.  Most sites are shaded in trees. – Bill Peters
New York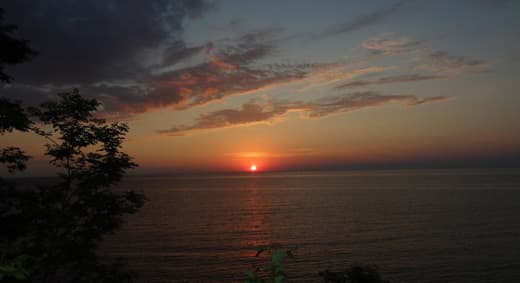 Westfield/Lake Erie KOA, Westfield, New York.  We go in early June during a motorcycle rally.  It has all the amenities that you want in a campground.  Lovely location, in the heart of New York's wine country, just off the shore of Lake Erie.  There's a well equipped store, clean showers and restrooms, and a very friendly and accommodating owner and staff. – John Wells
North Carolina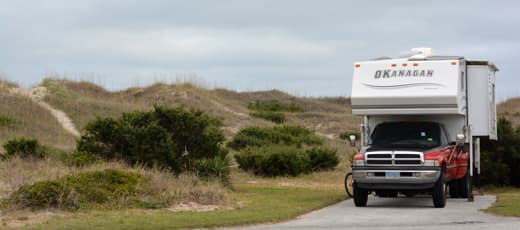 Ocracoke Island National Seashore Campground, Ocracoke Island, North Carolina.  The best time to go is April.  For Seniors, it's $12.  There are no crowds at this time of year, and you have access to one of the top ten beaches in the United States. – Carl Goode
North Dakota
Graham's Island State Park, Between Minnewaukan and Devils Lake, North Dakota.  Early Summer is ideal.  $5 a day entry fee and it is $20 a day for camping with water and electricity.  The campground is very nice, with a variety of campsite surroundings. Devils Lake is nationally known for its fishery. – Philip Tron
Theodore Roosevelt National Park, Cottonwood Campground, Medora, North Dakota.  Summer and Fall are ideal.  It is $25 a night.  It's in a spectacular setting in the middle of Badlands, with the best wildlife.  We have had herds of bison walking right through our campsite, and wild horses as well.  The horseback trail riding is awesome.  The lovely town of Medora is nearby with great shops and the Pitchfork Fondue (ribeye steaks) nearby. – Nancy and Keith Rivers
Ohio
Winton Woods, 10245 Winton Road, Cincinnati, Ohio.  We stop in late fall or early spring.  It's open March 1st to November 24th.  It's $27 to $47 a night.  This is hidden in the middle of a large city.  It is part of a city park and offers full service sites that are paved, level sites, with wifi and secure access for vehicles.  In the park itself you can rent a boat, golf, or let the kids use the playground. – Bill and Sue Billyard
Oklahoma
Doris Campground, Wichita Mountains National Wildlife Refuge near Fort Sill, Oklahoma.  June is probably the best time to go.  It's $10 for Seniors.  It is isolated, and has a nice canopy of oak trees shading the site.  We had deer with fawns, wild turkeys with young and bison come through our camp.  And don't forget the wild tarantulas which we saw daily which is a treat for us northerners.  We went to my Vietnam Army reunion at Lawton/Fort Sill, Oklahoma.  Instead of staying in the busy hotel, we found this jewel of a campground and drove a few miles in and out and enjoyed the serenity of mornings and evenings in the park away from crowds. – Allen Brummel
Oregon
Copperfield Campground, Oxbow, Oregon.  March to October is ideal and it's $14 to $16 for a camping spot.  The campground is always clean.  It has trees and grass and sits on the South end of Hell's Canyon.  Cross the bridge at the park and start your journey down the Snake to the Hell's Canyon Dam with beautiful scenery all the way.  This park (and four more in area) are owned by Idaho Power Company.  They do an excellent job of keeping the campgrounds wonderful places to camp. – Shelley Abell
Pennsylvania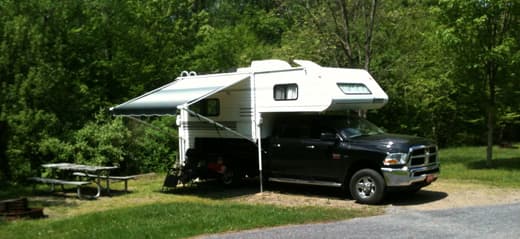 Chapman State Park, Warren, Pennsylvania.  Anytime is a good time to go.  It's $28 per night with electric.  It's a perfect weekend get away or a great place for an vacation.  It is located in the heart of the Allegheny National Forest. – Jeff and Mary Aikens
Rhode Island
Charlestown Breachway State Park Campground, Charlestown, Rhode Island.  Spring and Fall are the best times to go.  It is $15 to $20 a night depending on residency.  The campground is on the state beach and is for self contained campers only.  During the off season the old timers come out.  It is a super quiet place to relax and be with nature, not to mention some great fishing. – Kent Phyfe
South Dakota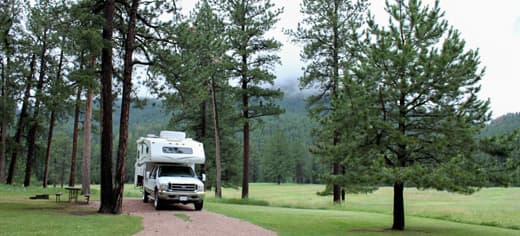 Rafter J Bar Ranch, Hill City, South Dakota.  May through September is the best time to go.  It's about $50 per night for full hookups.  Both the wife and I agree that the Rafter J Bar Ranch in Hill, South Dakota, has been our favorite.  It's located on a beautiful working ranch in the center of the Black Hills region of South Dakota.  The campsites are very large and spread out over several areas of the ranch which consists of rolling fields and large stands of pine trees.  The Rafter J Bar Ranch is a great base camp for easy excursions to Mt. Rushmore, Chief Crazy Horse Monument, Custer State Park, The Badlands National Park, the cities of Deadwood and Sturgis, and to Devils Tower in Northeastern Wyoming. – Rex Carroll

Texas
BLORA, Fort Hood in Bell County, Texas.  All year is a good time to go, but prices are cheaper during the winter.  It's $15 to $18, and the gate fee is waived if you camp overnight.  It has bike trails, walking trails, and more playgrounds than one child could ever ask for.  It is located on Lake Belton, Texas, which means you can fish, swim, rent a boat, and have all kinds of water fun.  It also has big slides, paddle boats, a swim area with life guards, and a concession stand.  The bathrooms are clean with toilets and showers.  Every Christmas they have nature of lights.  What more could you ever ask for? – Charles Cashion
Utah
Goosenecks State Park, Close to Mexican Hat, just west of four corners, Utah.  I was there in early June with warm days and cool nights.  It is free.  There is a fantastic view of the San Juan river with camping on the edge of a 1,000 drop to the river.  It's dry camping, and definitely be a dark sky site. – Kathy Talor
Kanab RV Corral, Kanab, Utah.  This campground is a clean, fairly priced campground in a good central location.  You can easily travel to Buckskin Gulch, the north Rim of the Grand Canyon, Zion National Park, and Bryce Canyon. – Angela and Gordon White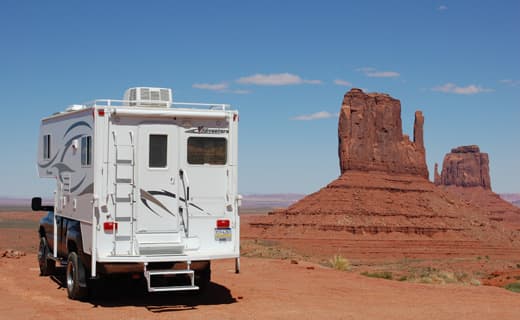 Monument Valley Campground, Monument Valley Navajo Tribal Park, Utah/Arizona border.  Dry camping is awesome with an unbelievable view the Mittens. – Angela and Gordon White
Virginia
North River Campground, George Washington Forest near Churchville, Virginia.  The best time to visit is the Spring or Fall.  It's $5 per night.  This campground is in a very scenic and secluded part of the forest.  The campground is very well maintained and borders a small creek. – Harold Sumpter Jr.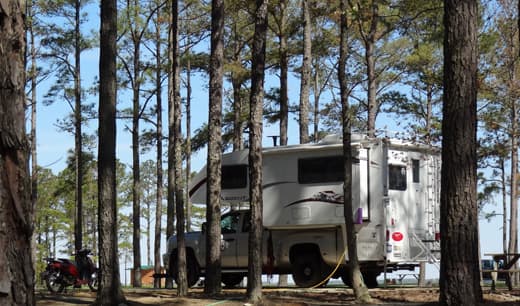 Tall Pines Harbor Campground, Sanford, Virginia.  The best time to go is during the Mid-Atlantic Truck Camper Rally in April.  It's about $45 dollars depending on hook-ups.  There is a well-equipped store, lovely campsites, it's clean, and has well-maintained amenities.  It's located very close to Chincoteague, Virginia, home of the Island Creamery, best homemade ice cream ever!  – John Wells
West Virginia
Dolly Sods, Dolly Sods, West Virginia.  The best time to go is when it is not snowing.  This is a dispersed area with free camping.  Not only is Dolly Sods a beautiful place, but it is cool in the summer.  The dispersed campsites are on the east side of the plateau, on Forest Road 75, and can be accessed from Jordan Run Road / Co. Route 28/7, or from Elkins, West Virginia off US Route 33.  The campsites are shaded and there is plenty of firewood to use in the already constructed fire rings.  There is a lot to do in the area, including Blackwater Falls, Spruce Knob and Seneca Rocks areas.  There is also the Red Creek Campground on the top of the ridge, at $11 dollars a night.  This area is well worth exploring. – Carl Ragland
Canada
British Columbia
Kettle Valley Recreation Area Provincial Park, near Rock Creek near Hwy 3, east of Osoyoos, Southern British Columbia.  Anytime is a good time to visit, but it is quite busy in the Summer.  It was $21 this year, likely $30 next year.  It is located on the Kettle River and Kettle Valley Railroad (part of the trans Canada Trail).  It's wonderful for hiking, biking, canoeing and rafting on the river (not during spring runoff, it's very fast!). It has both heavily treed sites and more open sites, but there is still lots of shade in the Summer and space between neighbors.  There are sand and gravel beaches on the river.   There is lots of wildlife and good fishing.  It is close to Rock Creek and their funky stores and ice cream.  They just added showers this year, so the price will likely go up a bit next year. – Orian Hartviksen
Liard River Hot Springs Provincial Park, Northern British Columbia.  The park and hot springs are open year round.  It's between $16-21 CD.  Aside from the natural hot springs themselves, the provincial park (no hook-ups of any kind) has plenty of trees between camping spaces in beautiful wooded terrain. – Sherri Weiler
Nova Scotia
Meat Cove Campground, Meat Cove, Cape Breton Island, Nova Scotia. Summer is ideal.  It is $30 a night.  It is in such a beautiful setting at the northern tip of Cape Breton, after five miles of dirt road, on cliffs.  There are several terraces of campsites, all with spectacular ocean views.  It's a short walk to a lovely beach with a fresh water stream to rinse off the salt, if you want.  We watched pilot whales from our site for hours.  There is a great Chowder Hut restaurant on site.  They have the best manager ever, Justin, who couldn't do enough to assure our wonderful stay.  He even delivers firewood to your site, and he helped us charge our dead battery. – Keith and Nancy Rivers
Yukon
Congdon Creek Campground, Alaska Highway on Kluane Lake, south of Tok in the Yukon.  Summer months are best; late August there are fewer mosquitos.  It's $12 a night.  It is in the middle of Bear Country on the shores of Lake Kluane.  They have about thirty-five cam sites with no services to the individual sites: like electricity, water, cable, or sewer.  The restrooms are clean pit toilets.  There is a water pumps provided at several locations around the camp.  There is no host at the campground.  The campground runs on the honor system where you place your money into an envelope and drop it into a small post box.  All of these detriments are offset by the surrounding beauty of wildlife, a lake, beaches, mountains and the sites themselves.  There is a wooded distance between sites with an established fireplace pit, the nicest picnic table ever seen in a campsite, and free firewood/  All of this for $12.00.  All the trash cans are bear proof to prevent bears from access to the trash." – Paul Foster
Unknown, Yukon Territories.  The best time is the 21st of June and it's free.  After few hours on the road, we came upon this clearing where a small creek was falling into a beautiful small lake where we saw a moose and her cub, a bear, and fished for our dinner.  But we don't know where it was in The Yukon.  Please if someone has found it, give us the coordinates so we can return. – Sylvie and Jake Mathis
Mexico
San Felipe Campground, Oaxaca, Mexico.  October through April is the best time.  It's $16 US per night.  We manage it. – Del and Kate Highfield
We will keep this an an ongoing document.  If you wish to add to a recommended campground list, email us.  Please only send in the very best recommended campgrounds for truck campers.  Thank you!