After sharing two of our favorite BLM destinations, we asked our readers to share some of theirs.  It can be tough to find a great BLM camping destination, but there are some great suggestions here, and a few apps and web links to find more.
This week's Question of the Week was, "What are your favorite BLM Destinations?"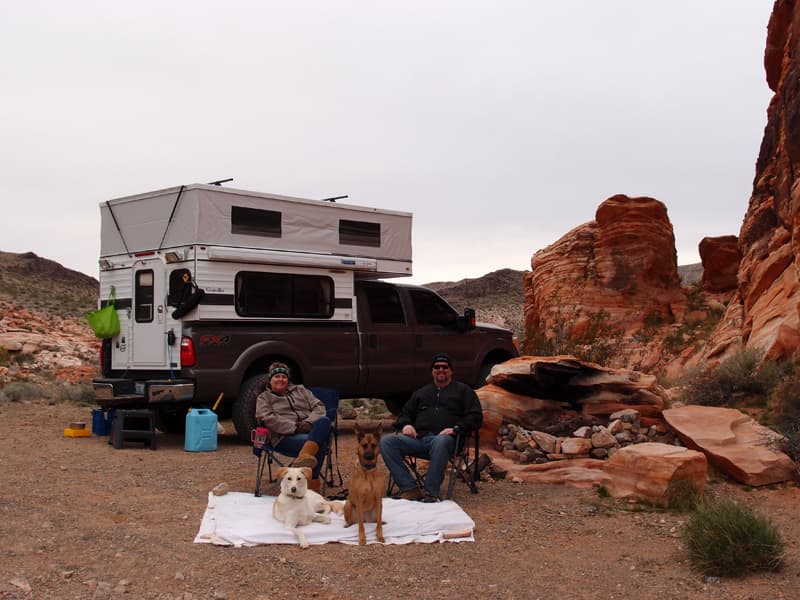 "I'm in Vegas so there are lots of places to go around here.  My two favorites are near the Valley of Fire, called Bitter Springs Trail and Mojave National Preserve.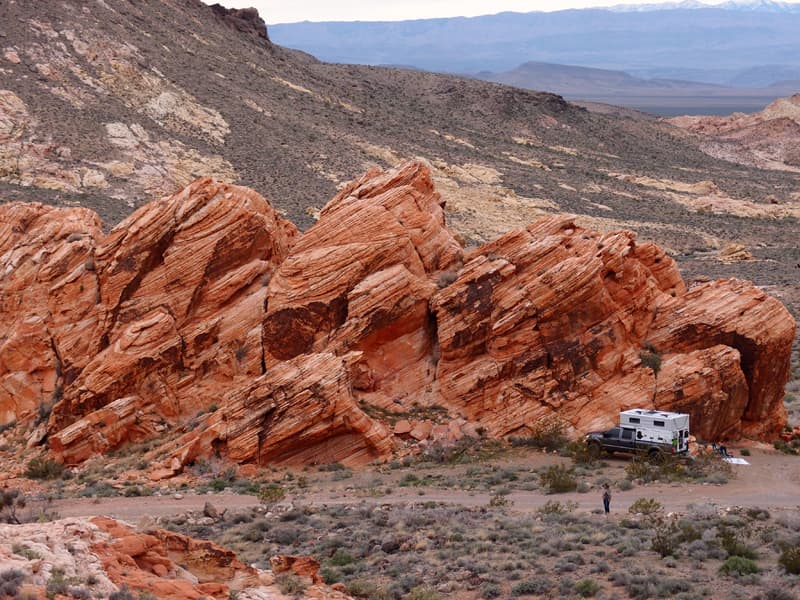 Both areas are just across the border in California and are great for camping, hiking, viewing wildlife, and stargazing." – Chris Baird, 2014 Ford F250, 2014 Four Wheel Camper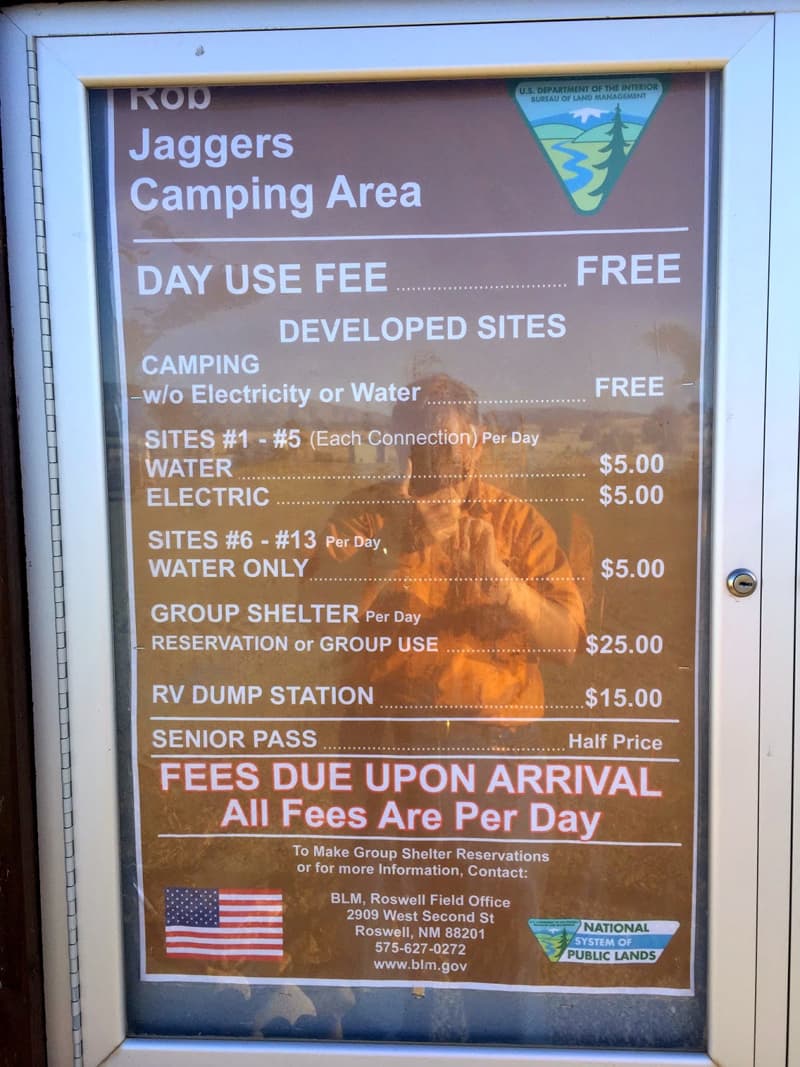 "While it's not a favorite, the most unexpected BLM land discovery we have made is Rob Jaggers Camping are at the Ford Stanton Equestrian Trail Head.
We were driving out to the way to visit Pie Town, New Mexico.  On our way out of Pie Town, we hit Lincoln, New Mexico.  If you're in that area, you should stop in.
Looking at the AllStays app, we saw BLM camping at the Fort Stanton Trail Head.  It's just down the road from Fort Stanton, which is another place worth visiting.
The Fort Stanton Trail Head is a big gravel parking lot with BLM camping.  When we pulled in there were several truck campers pulling horse trailers, one big RV, and a trailer.
We got a spot away from the horses and set up.  Then we noticed water, electric hook ups, and pit toilets.  If you wanted water or electric it's $5.00.  There was an on your honor pay station.  Without electric and water, it was free to camp.  It is the only BLM camp we have seen with water or electric." – Bill Harr, 2005 Toyota Tundra, 2013 FWC Hawk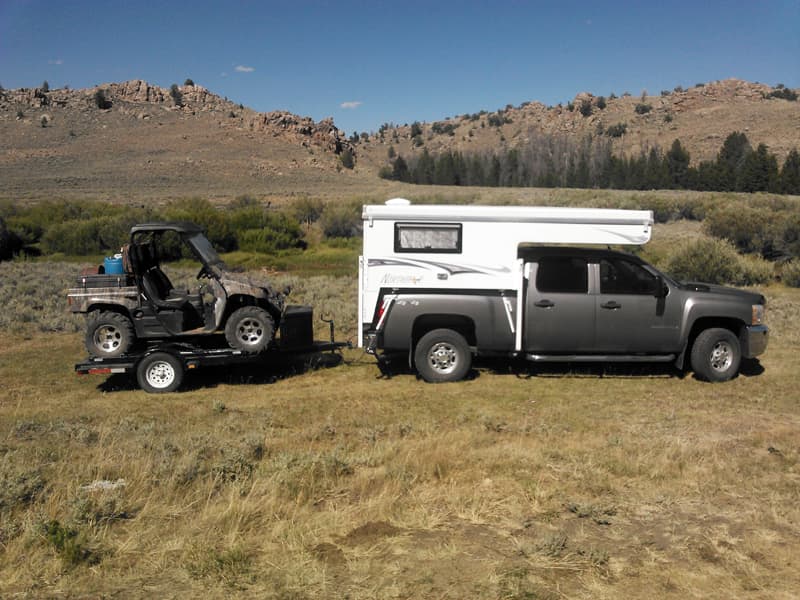 "I live and camp on BLM in Wyoming where there is many, many miles of BLM property. I'm sorry I can't tell you where I go because then two or three other people will go and it will not be my favorite any more.  This kind of camping is all I know having lived my life in The West.  Please keep up the good work.  I love Truck Camper Magazine." – Jerry Oakley, 2007 Chevy 2500, 2016 Northstar 650SC
"I have a general recommendation if you want to BLM and National Forest camp; the Ultimate Campground app.  It has all of the good places.  It includes mostly accurate GPS coordinates.  It works on an iPhone, and I suspect there is an Android version. There is also a Canadian version.
The only downside is that uses the cell phone's GPS.  There is no cell service in most of the places I go in Idaho and the surrounding states.  So I pick a few places while in town and write down the GPS coordinates.
Even if there is no cell service, it does show your position and nearby camps.  But be aware that sometimes it gets confused on how far away the camp is located.
Sometimes there will be nothing discernible at the dispersed sites.  Usually there is at least a fire ring, and you are welcome to camp.
There are some fully developed BLM sites that charge.  But most are very inexpensive and you get half off with the senior pass.  The most expensive was one above the Colorado river near Moab, Utah." – Lawrence Leach, 2008 Dodge Ram 2500, 2013 Arctic Fox 811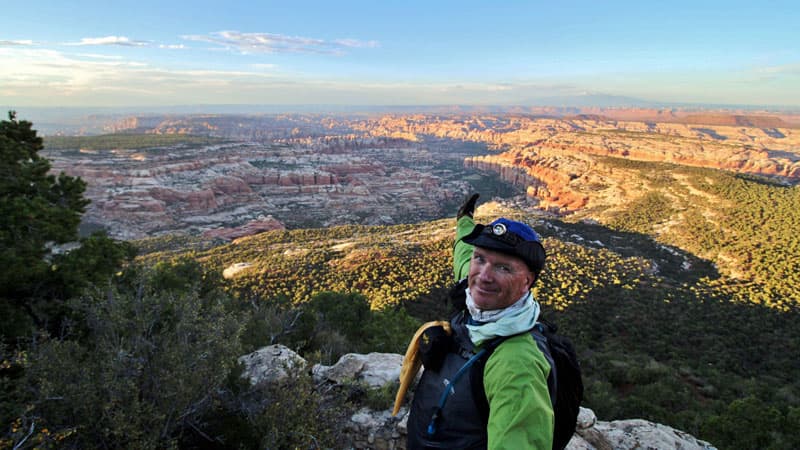 "I know a specific Question of the Week was asked, but I am going to be a little sketchy here.  I'm sure many will agree with the point of view I will convey.  Yet, I will share some good basic information.  This has been a topic of discussion with many traveler and outdoor friends, as well as a mapping group I am involved with. We have before us, a great double edged sword.  And with social media, to some extent, we are shooting ourselves in the foot.  So here's my answer.
My favorite BLM destinations are mainly away from mainstream areas.  And there is plenty of BLM land out there!  But, I am careful not to give away my favorite spots and secrets on social media.  Next thing you know, you've given the world a favorite place you worked hard to find on a silver platter, and then before you know it, masses flock to it and it isn't what you fell in love with anymore.  Just look at the crowd crisis at national parks. This is what make BLM lands so special.  So, I caution, be careful on disclosing some of your personal gems.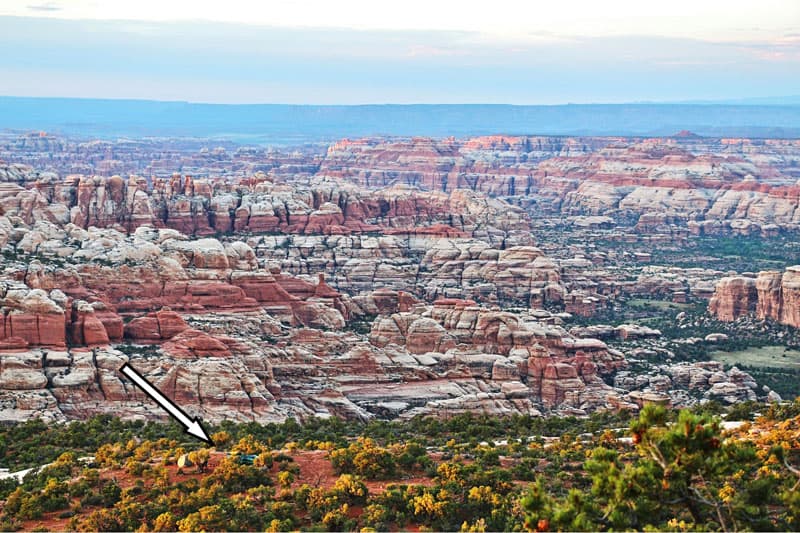 As for me, I tend to peruse maps for BLM Lands that require some moderate off-roading to get to, or look like they would be outside the comfort level of many, to get away from the crowds.  I read topography maps, gather info on an overall area, or with some prior knowledge dig into a previously discovered area a bit deeper.  Then I will find a suitable place along the trail to set up.
Land use maps become very useful for certain areas.  You may visit a national park that is packed with weekend warriors, with the campgrounds full and reserved through the next millennium.  But if you are a good map reader, with a few different types of maps and a GPS, you can usually find BLM, USFS, and even State Trust Lands nearby to wander into.  You need to know the use rules.  I will say that I am a big fan of BLM because of their land use policies, and the fact there is so much of it out there (barring the east half of the USA).
It is surprising how you can be in a place that seems to be locked out as far as finding somewhere to camp for the night, but have the right map with you and see that gold section square that you know you can go to and usually find a spot.  That happened to me a year ago in a canyon area that was private property for miles and miles, with no relief for finding a camp.  But I pulled out a land use sectional that blocks the land into Range Townships & Sections and there was my beautiful section of gold with the road going through it. Bam!  I got to that section and there was a short spur into it, open to travel on and set up camp for the night.
I am a big fan of much of the BLM lands in Utah, Colorado, and New Mexico because of their proximity to where I live.  But the entire west has so much BLM land, so you can always find a great place.  I dare mention Valley of the Gods as a great stop over on many of my trips because it's been discovered, and not the quaint place it used to be.  It's use has gone way up, with abuse as well, and now we are seeing more and more rules there and use limitations.
Similarly, the same for the Hole in the Rock road near Escalante, Utah.  A once little used place, has been discovered.  But you can still find places nearby if you are willing to work for it.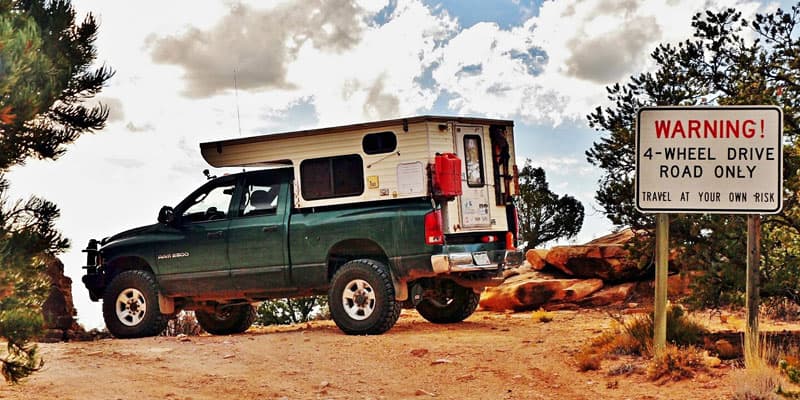 Last year, I dug deep into an area I go to quite a bit.  An area in some backcountry many visitors pass through to get from one place to another.  I was wanting to go back and spend a few days digging in and getting to know it in better detail.  I studied a few different types of maps, Google earth topos and birds eye view, and found a little used legal road on BLM land.  I wrote down the coordinates, and set out on a trip to get there.  I traveled light that trip with out my camper, using just a topper as a camper setup.  When I reached my destination, I was blown away!  There was a numbered double track I'd be able to get my truck camper through if I wanted.  No one had been there for a long time.  It is now my favorite spot in that area.  I will only share the exact location with people I trust will respect that land as I do.  I'll share a photo here, but most likely, you'll never find this place.  But these places are all over, away from the mainstream.  Public BLM lands are my favorite.
So what I will say is, learn how to read maps, find cool places, do some research, get to them and discover what they have to offer.  Many times you'll find that hidden gem that others don't want to work that hard for just lurking and waiting for social media to hand them the best places on a silver platter." – Jim McCoy, 2003 Dodge 2500, 1990 Hallmark LaVeta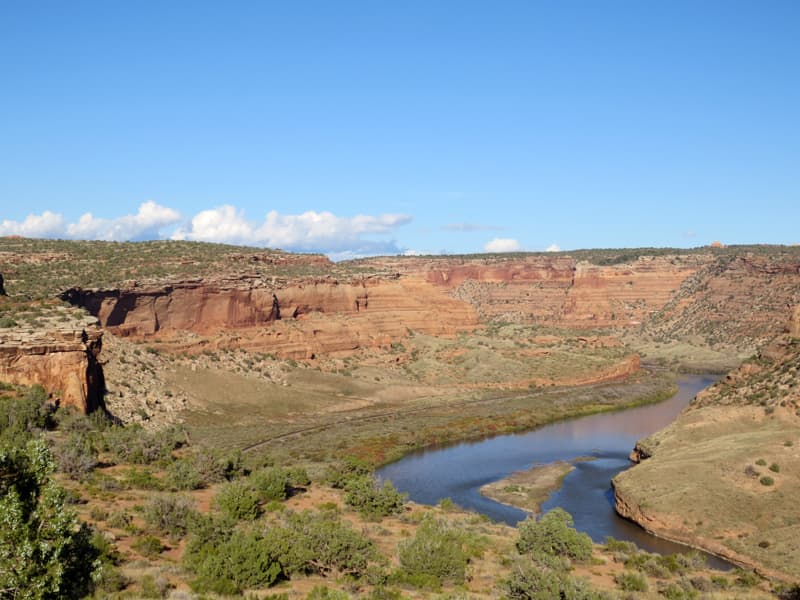 "Rabbit Valley is located off of I-70 at the Colorado/Utah Border.  This is mainly a place for dirt biking, ATVing and mountain biking.  There are easy places to camp close to the freeway on the south side.
If you are adventurous and have a very capable four-wheel drive pickup with a pop-up camper or small hard side, you can venture down to one of the campgrounds overlooking the Colorado River.  This is a difficult road and should not be taken lightly!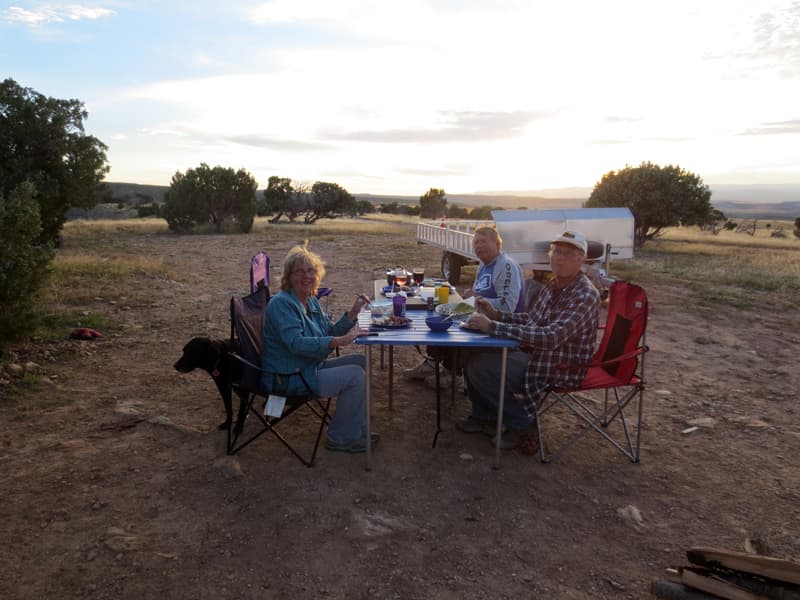 We prefer to camp up on the bluff on the north side of the freeway, overlooking Rabbit Valley to the south.  There are a couple of tight switchbacks on the well maintained road up, but it should be negotiable for most truck camper rigs.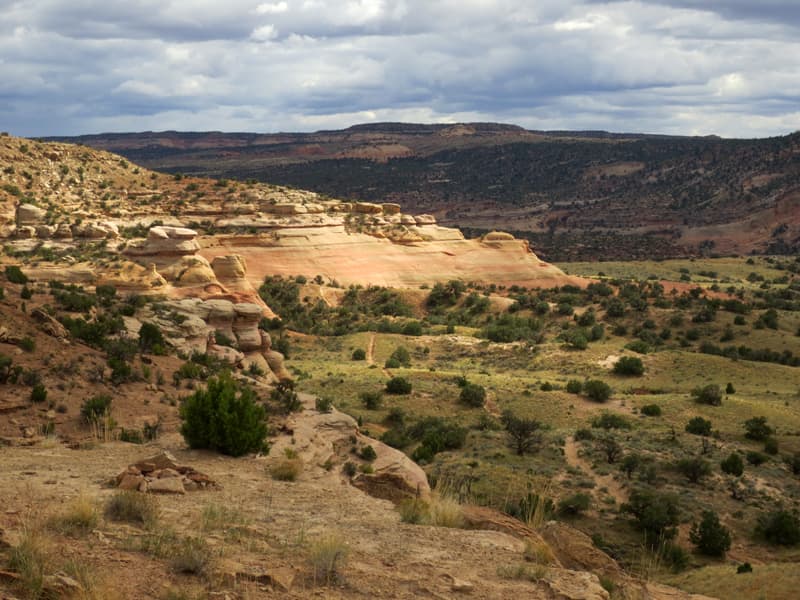 There is not much to do on the top of the bluff except enjoy the view.  You can ride ATVs and dirt bikes from there.  Ground fires are not allowed in the Rabbit Valley area, so you must bring your own self-contained fire pit." – Lee Nelson, 2015 Ford F350, 2015 Lance 1062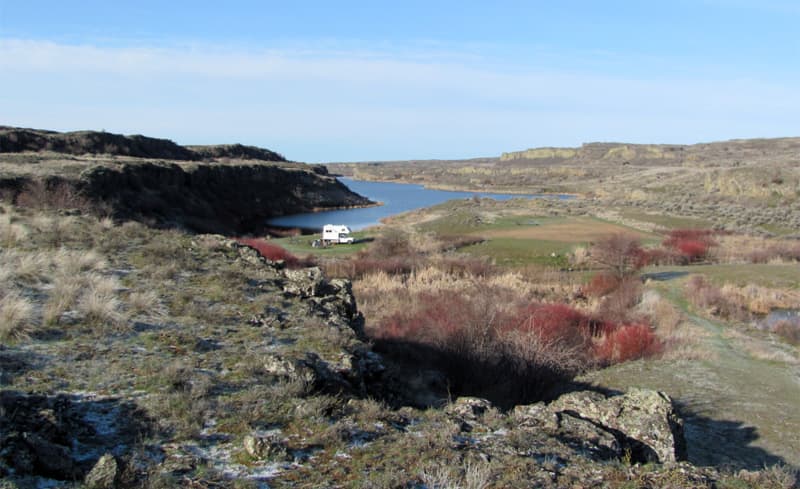 "We love to go to Twin Lakes in Washington State in the spring or fall.  The summer can be too hot with too many ticks and rattlesnakes for us.  As a matter of fact, once all this snow melts away we will make another trip back to Twin Lakes.
There are the lakes to fish, but we like to just kayak, hike miles of trails, and enjoy the complete solitude.  What is not to like?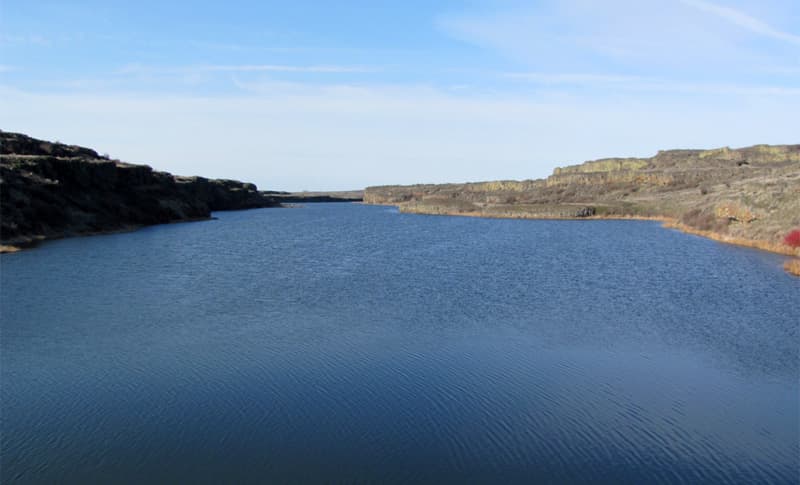 Another resource we have here in Washington State for public lands is DNR lands.  DNR lands require a paid Discovery Pass to access them.  A Discovery Pass is good for one year from date of purchase.
We camp at a DNR site that's only four miles from our house; Dragoon Creek.  Dragoon Creek is open only during the summer, but you can walk in to hike around during the off season.  It's very close, but it's still feels like you are far enough away from it all.
Link to DNR : www.dnr.wa.gov/go
Discovery Pass link: www.discoverpass.wa.gov" – Rich Bain, 2004 Dodge 3500, 2010 Adventurer 810
"A recent find I'll share is Hickison Petroglyph Recreation Area in Nevada, just off Highway 50.  It has a campground, hiking, and petroglyphs!  There's more information on Wikipedia." – Dave Scobie, 2016 Toyota Tundra, 2015 Outfitter Caribou Lite 6.5
"I go to Piedras Blancas Light Station.  There are many California state and county parks in the area that offer camping.  The closest being San Simeon State Park near the town of San Simeon about seven miles south of the light station on California Highway 1.  You can tour the light station, but you will need to read the sign at the entrance regarding tour availability.
Depending on the time of year, you will see hundreds (thousands if you go December through March) of elephant seals.  The seals have chosen the beaches near San Simeon have their pups and breed.  The seals expanded to this area from Ano Nuevo State Park island in 1990.  Another day site you should include while camping in the area is to visit Hurst's Castle at San Simeon State Beach.
It goes without saying that the drive heading north of the light station is one of the most spectacular drives you will ever encounter." – Bill Gahafer, 2004 Ford F450, 2013 Lance 1181