Everyone needs to see Niagara Falls at least once in their lives.  It's spectacular in the true sense of the word, and iconic.  Take your camera, truck camper, a suitably-sized barrel – and go!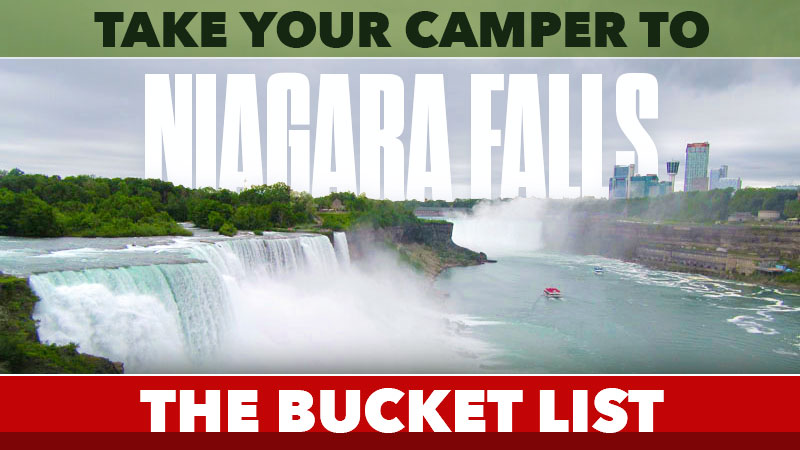 Who can forget Clark Kent discretely saving Lois Lane at Niagara Falls in the 1980 film cleverly titled, Superman II?  Sure the writing, acting, and special effects weren't exactly convincing, but it was good old-fashioned campy American (and Canadian) fun on the big screen.
Try as I might, that scene is what runs through my mind when I think of Niagara Falls.  Which brings me to an embarrassing admission that I promise to address as soon as humanly possible.  I have never in my life seen Niagara Falls.  Angela has, but I haven't.  Neither side.  Not once.  No maid.  No mist.  Not a drop.
That's what's so great about running a magazine about something you love.  I can ask a few thousand of my closet friends, "Is it possible to take a camper to Niagara Falls and camp nearby?  And what's that like?"  Through the magic of the internet, answers pour in.
So here's the deal.  The following fellow truck campers reveal where to go, where to camp and what to see around Niagara Falls.  All have been duly noted on our bucket list.  And yes, I'll bring a barrel.  Clark will save me.
Joseph Garrett
2008 Chevrolet 2500
2005 Arctic Fox 990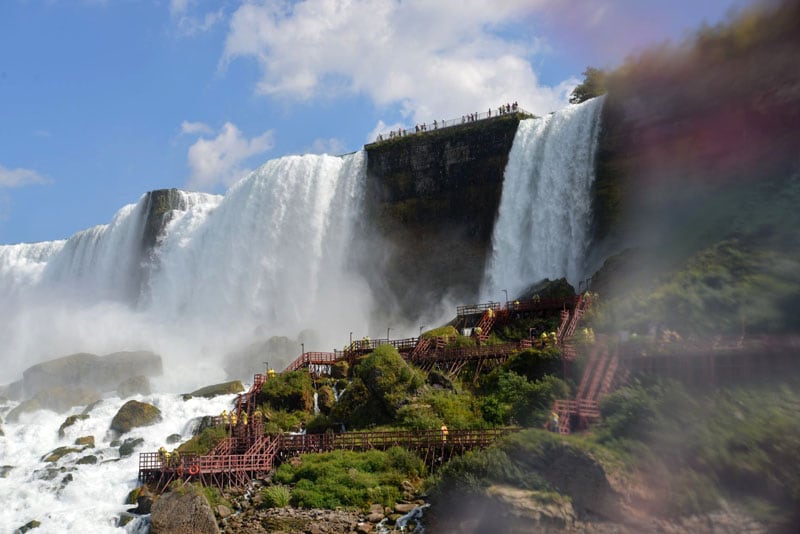 We had an outstanding time visiting Niagara Falls. First, we took the day tour to the Canadian side. It was a good tour, but they pushed us toward the tourist shops. You have to take the boat ride to the bottom of the falls to get a real sense of the power of the water.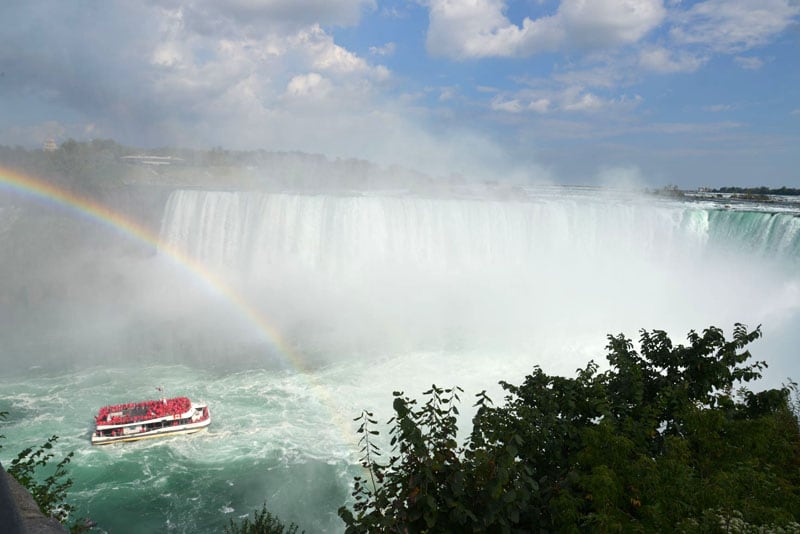 The next day we took the camper down to Goat Island on the American side. There was no cost for parking and it was a great day trip. We bought the wrist bands that allowed us to ride the trolley all day. For the old geezers, it allows you to go back to the camper to eat and/or build up the energy to see more. We really enjoyed the trip. Hopefully, we will go again.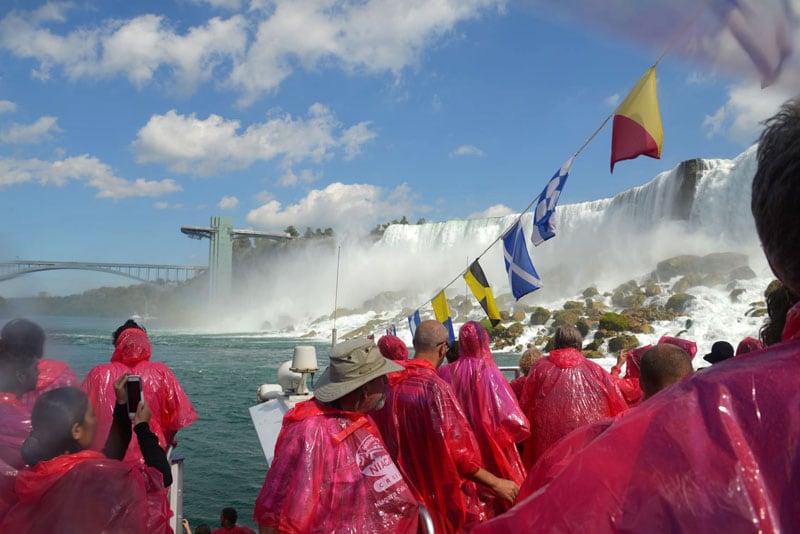 We stayed at the Cinderella Motel and Campground. It was a little plain, but very adequate and reasonably priced. It has laundry, clean showers, and friendly managers. They were very helpful.
While there we also visited Old Fort Niagara (pictured below). We highly recommend it if you enjoy a bit of history.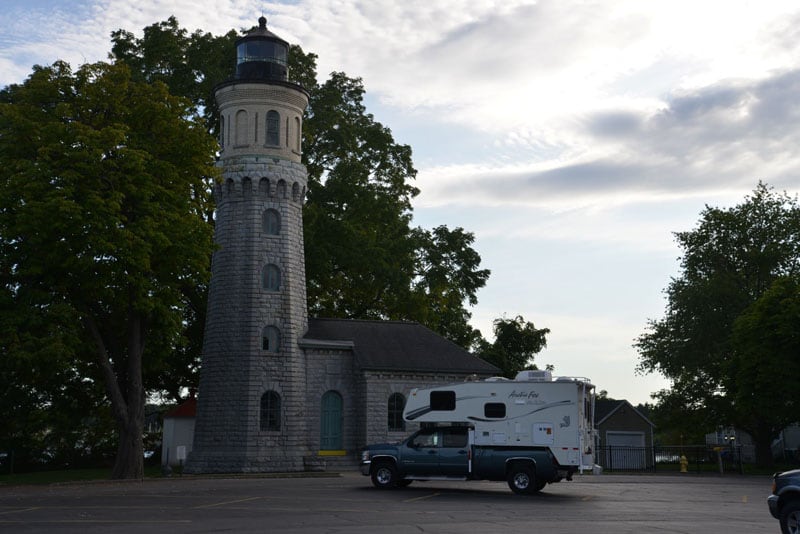 On the way home, we dropped by the Erie Maritime Museum, a very nice small museum that's on the lake. We also visited the Auburn Cord Duesenberg Automobile Museum in Auburn, Indiana, and the Mad River and NKP Railroad Museum in Bellevue, Ohio. Both were outstanding if you enjoy historical museums.
Linda and John Ross
2007 Ford F350
2008 Arctic Fox 990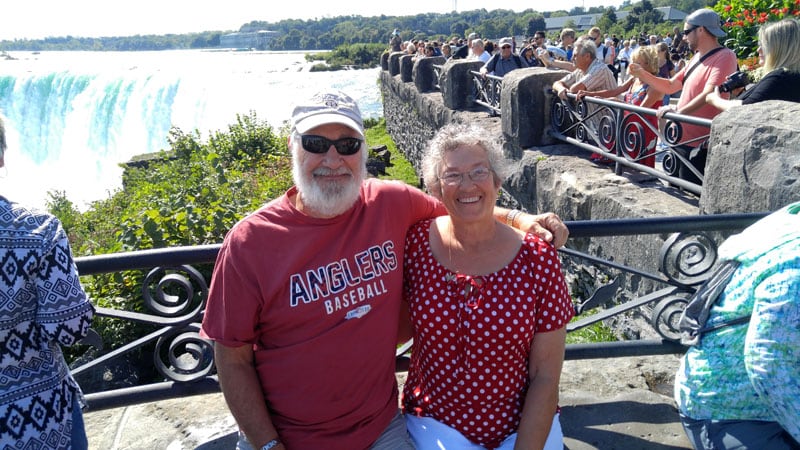 We took the truck camper in September 2016 to Niagara Falls. We visited both sides, but the Canadian side is definitely cleaner and has more activities to do.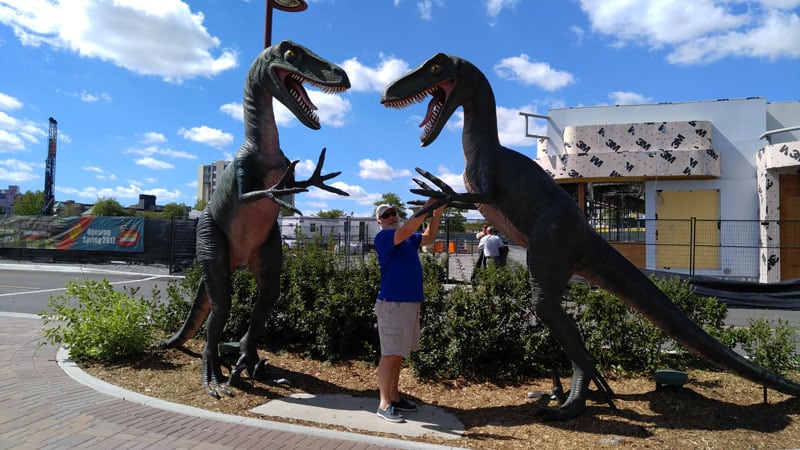 On the Canadian side, there are beautiful flower gardens and a wax museum.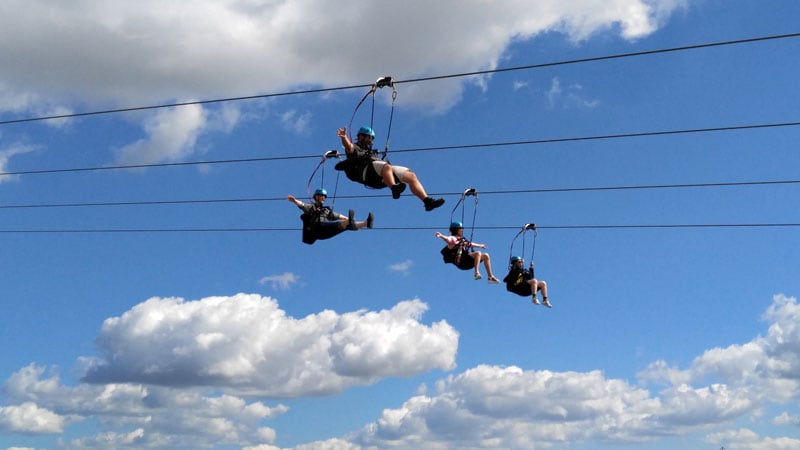 There's a zip line for those who are brave enough. We did it! There's a boat on both sides that you can ride up to the falls.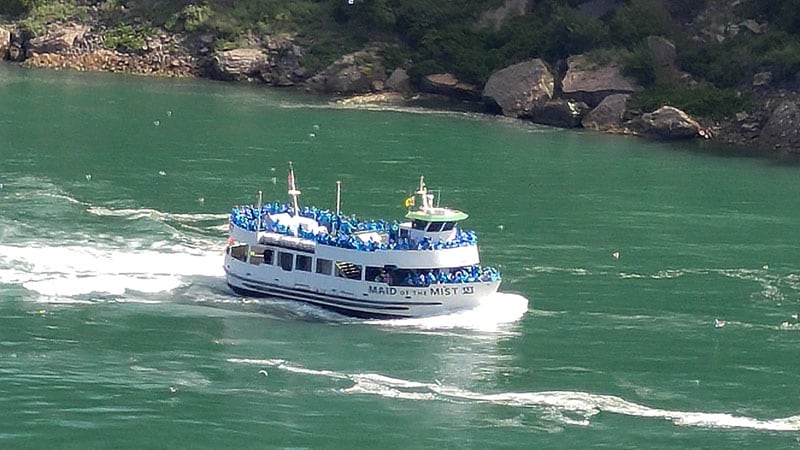 The boat ride on the American side is called the Maid of the Mist. We went there on our honeymoon in February of 1972. At that time, the waterfalls were partially frozen, so I always wanted to go back and see the waterfalls in the summertime.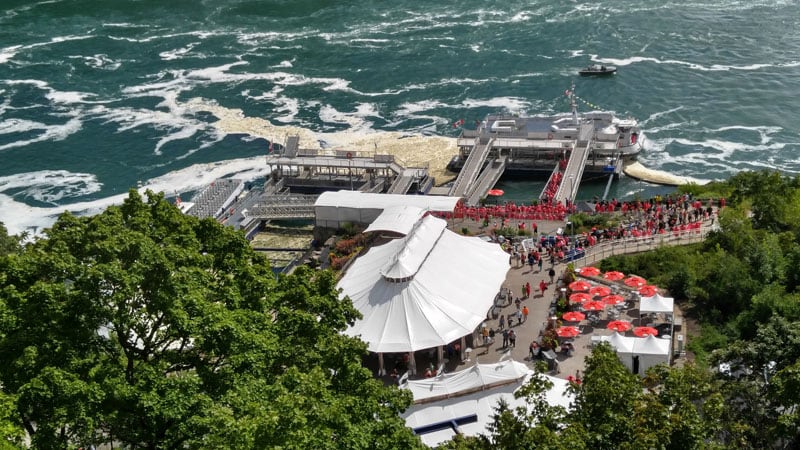 While we visited Niagara Falls, we camped on the Canadian side at the KOA. There is a bus that you can take from the campground to the falls. We walked around, watched the zip liners, and took a Gray Line bus out to the floral sundial clock. The boats were running up to the waterfalls, but we did not take the trip this time.
Barry and Sandy Lancaster
2015 Ram 2500
2017 Lance 865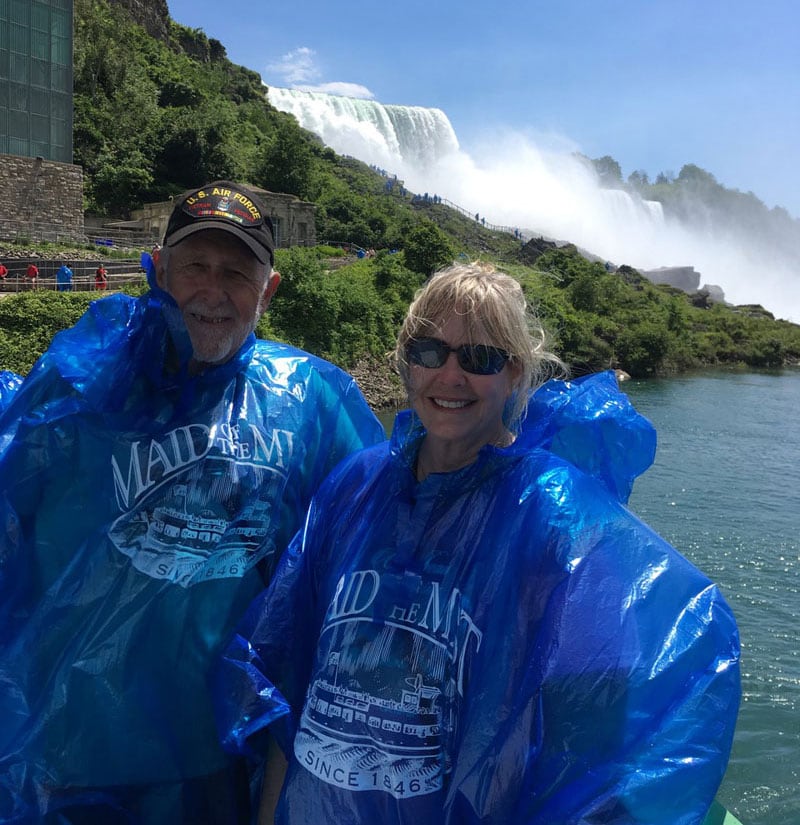 After visiting friends and attending the Northeast Truck Camping Gathering at the Mohegan Sun and Foxwoods Casinos in Connecticut, we headed to see friends in Pennsylvania. We decided since we were so close (we live in Florida, so it was close) we would detour to Niagara Falls. What an awesome sight!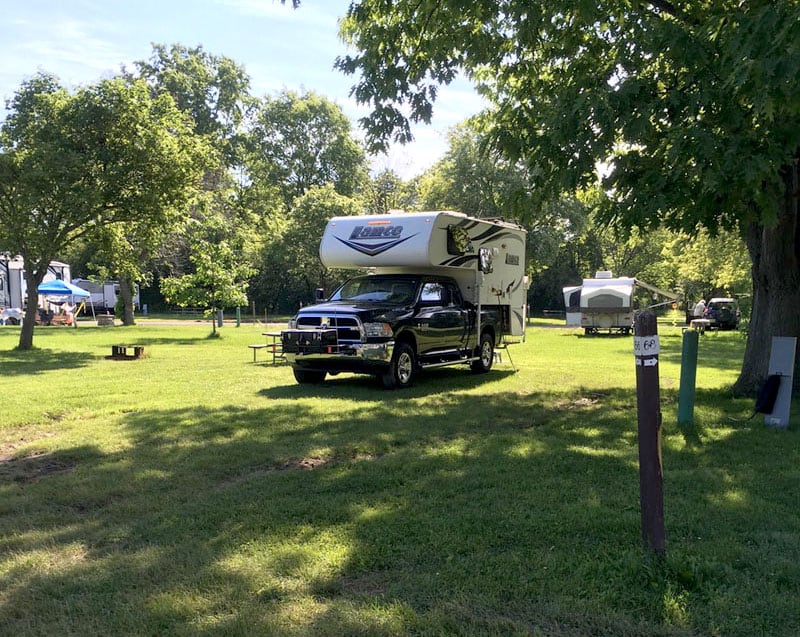 We only visited on the United States side of the Falls. We camped at Four Mile Creek State Park (pictured above) in Youngstown, New York. The Park is about 20-minutes north of Niagara Falls on Lake Ontario. We could barely see Toronto way across the lake. The state park has water and electric hook-ups, and nice open grassy sites.
We ventured into Niagara Falls in the "Lance-A-Little". We parked in a lot on Goat Island in the camper parking section (pictured below). They were not charging to park the day we were there. We found a nice shady spot, opened the windows for Hank, and set out to explore falls.
I recommend the trolley to get around. Tickets were $3 or $4 which gets you a wrist band so you can hop on and off all day. The trolley route includes stops at or very near all the falls, shops, and restaurants in the town.
There are lots of lookout sites as well that involve a lot of walking around. It is well worth it!
You can't go to Niagara Falls without riding on the Maid of the Mist boat which takes you right up to the U.S. falls! Again, it's awesome!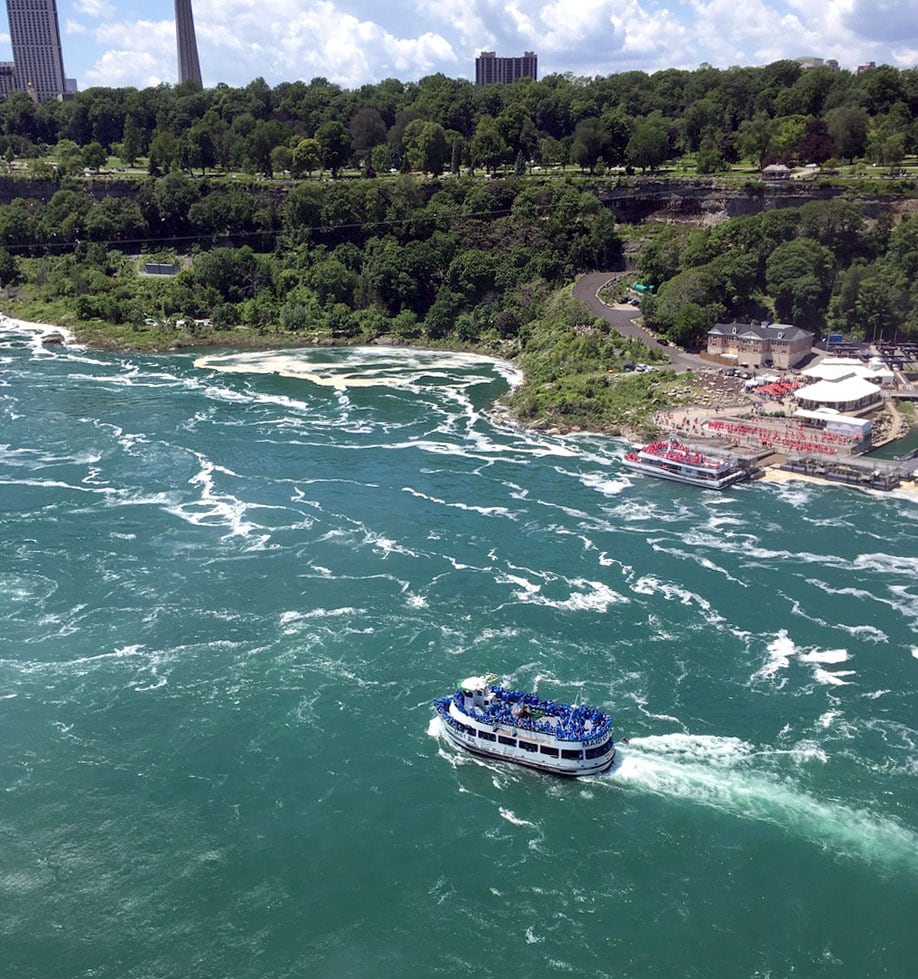 Above: USA boats have people in blue water gear, and Canadian boats people are in red
I can't believe that folks actually went over the falls in a barrel! There are lots of historical accounts and photos.
You can walk or drive across the bridge into Canada. We were told if you walk across you're charged 50-cents on the return trip. We didn't go across, so I can't report on that.
The Canadians also have a boat tour up to the falls. Their boat takes you up to Horseshoe Falls. We spent only one day there, but it was a full day and we only scratched the surface.
Parking on Goat Island and utilizing the trolley worked out well for us. We felt comfortable leaving Hank in the camper and that allowed us to come back to walk him and eat lunch in the camper.
Erwin Greven
2002 Chevrolet 2500HD
2002 Lance 921
We drove to the Niagara Falls KOA and we took our Jeep to the falls. You really can't get close enough to the falls get a picture of them with your vehicle.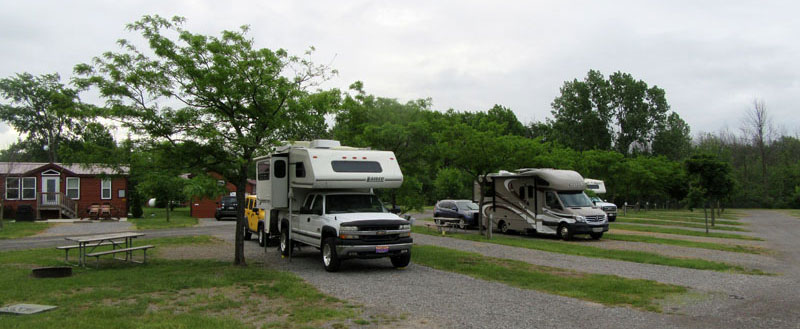 We camped at the Niagara Falls/Grand Island KOA (pictured above). It's a very nice campground, and it's one of the closest campgrounds to the falls.
Be prepared for the tolls. The bridge and road from Grand Island to the falls was a toll road/bridge. There was no place to pay for the toll and we didn't have EZ Pass.
When we got home four months later we had a couple of nasty grams from NY tolls about not paying the tolls and that we were now being charged penalties. I called NY tolls and explained that we were just at the start of our trip and had no way to get our mail. I also said I would have gladly paid the toll if there was someone to give it to. They removed the penalties and I paid the tolls.
Also, parking is at a premium around the falls. We lucked out both days and found a side street. I think Old Falls Street has some free parking within walking distance to the falls.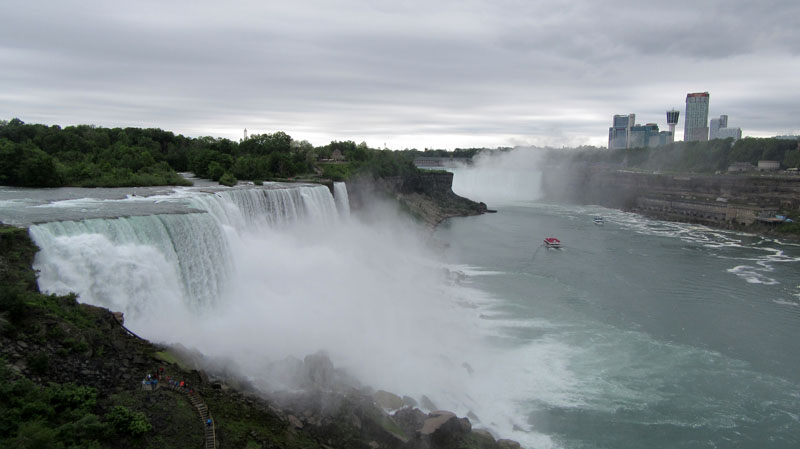 We decided to take a tour with Bedore Tours that took us on both sides of the border. I liked it because, as the driver, I got to look around without having to concentrate on the road.
The tour took us to all the highlights and we saw things we might not have seen if we were on our own, like the tunnels under the falls. The tour also got us on the Maid of the Mist boat tour. Remember your passport if you want to take this tour.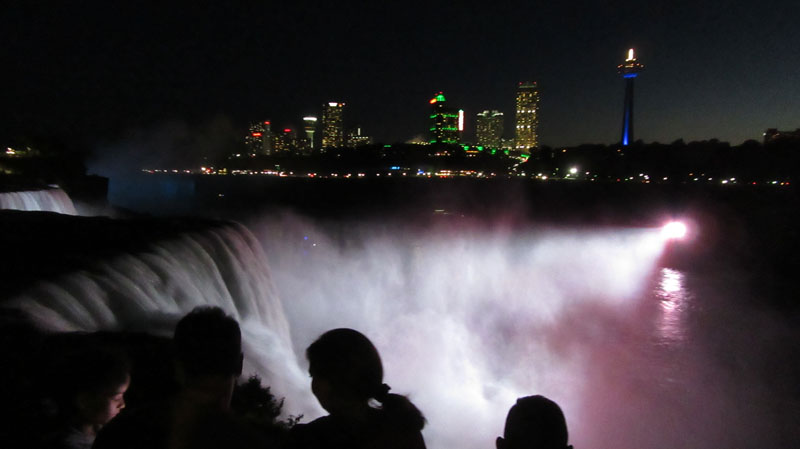 Try to see the falls at night as well as during the day. At night they have a nice light show with the falls in different colors.
Allan and Gale Riley
2019 Ram 3500
2009 Northstar Arrow
We camped on the United States side in a travel trailer prior to buying our truck camper. We stayed at the campground on Grand Island.
My wife had never been to Niagara Falls so we ended up checking off three items that could be on anybody's bucket list:
1. Seeing the falls.
2. Eating Buffalo Wings at the Anchor Bar, where Buffalo Wings were invented.
3. Seeing David Copperfield preparing to go over the falls on a raft that was on fire, chained inside a box, with a jet ski for his escape. He had 60-seconds to escape and he made it dangling on a rope from a helicopter!
Carl van Warmerdam
2014 Chevy Silverado
2015 Pastime 800 FDS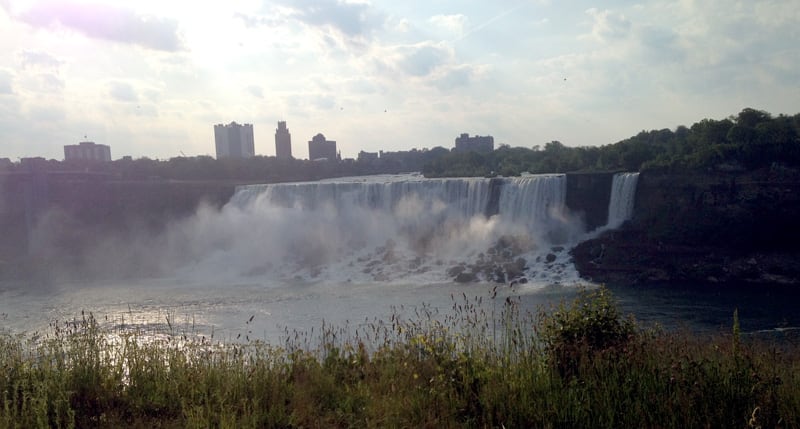 In July 2017 we were on a cross-country trip on Highway 2 heading east. The plan was to do the Going to the Sun Highway in Glacier National Park, but it was closed because of snow. If that's ever your plan, call ahead to make sure it's open.
The trip was the only time we have gone to Niagara Falls. On the way to Glacier, we camped at Sleepy Hollow Lake Campground in Akron, New York. It is one of the closest campgrounds heading from the East Coast. Lots of full-timers are there, but there are some secluded wooded campsites in the back.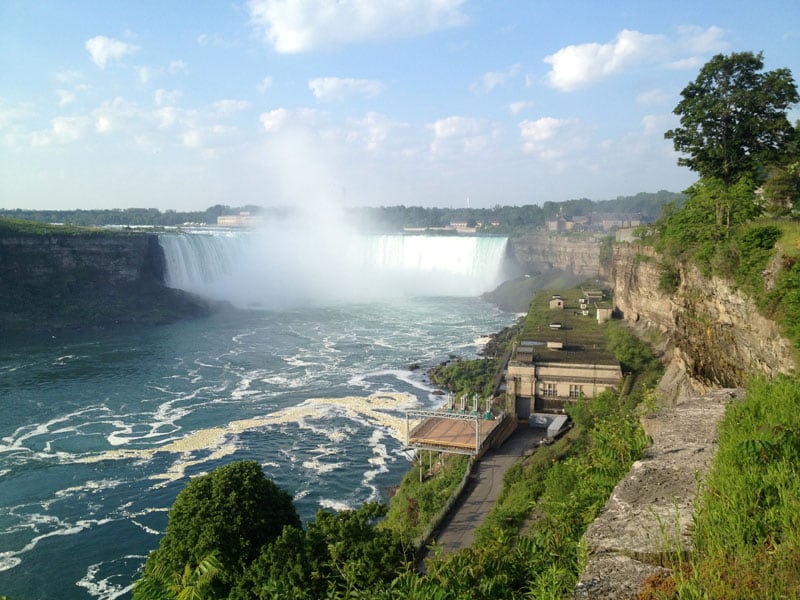 We found that the views of the falls are much better on the Canadian side.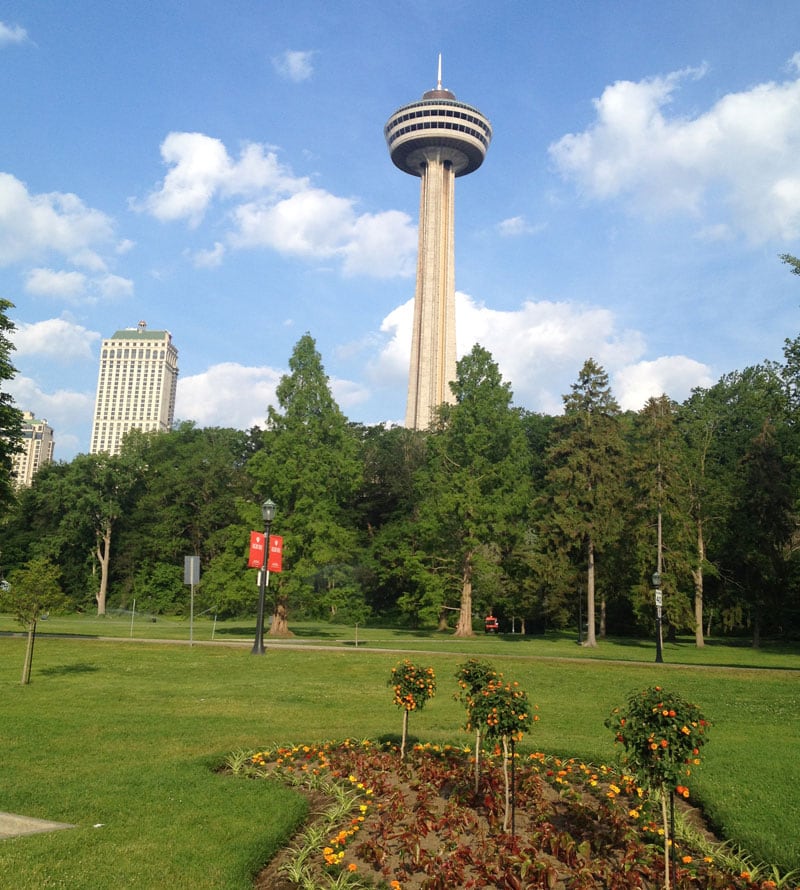 On the way out we camped at Otsego State Park, Gaylord, Michigan. It rained pretty hard and we had left the windows open. A lot of our stuff got wet, so now we close all of the windows if it is going to rain.