Southern Utah's Bryce Canyon National Park is a wonderland of rock columns, spectacular vistas, and hikes that inspire the imagination.  Even better, the surrounding area has more than a few must-see truck camping destinations.  Load the camper and meet the hoodoos.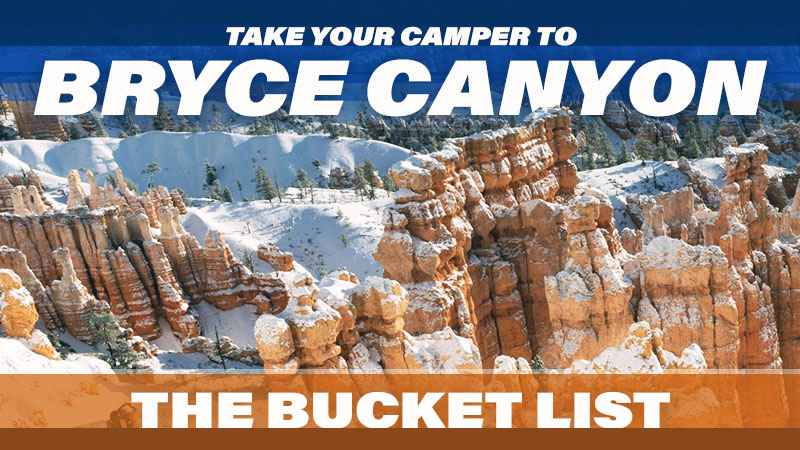 It seems laughable now, but I truly didn't know much of anything about the National Parks when we first set out in a truck camper.  The year was 2005 and we had just bought a brand new 2005 Chevy Silverado 3500 and a gently used 2004 Lance 1030.  If I had a nickel every time we said, "I wish we had kept that rig", I'd have a $1.95.  It was perfect for us.
Growing up, my father had taken me to visit my Uncle Randy in Bozeman, Montana a number of times.  During those trips we explored Yellowstone.  I thought Yellowstone was unique in its relative awesomeness (not every park is inside a volcano, right?) and the other parks were merely attractive tracks of land.  Boy was I wrong.
Fast forward about seven months and we were back home with our East Coast families raving about Utah. Bryce, Arches, Canyonlands, and Capitol Reef – un-freaking-believable!  Not to mention Cedar Breaks National Monument, Goosenecks State Park, and Dead Horse State Park.  Everyone was a wonderful life experience we are still talking about.
The looks on the faces of our East Coast family and friends were hysterical.  "Utah?" they'd say.  "Really?"  I had much the same reaction until I was there.  Somehow I knew Paris and San Francisco were bucket list destinations, but never a word about the National Parks of Utah.
Speaking of hysterical, we actually skipped Zion on that initial voyage because we didn't want to pay the $15 Zion-Mount Carmel Tunnel fee charged to oversize vehicles.  We have long-since rectified this decision and implore anyone in the area to pony up and go.  Zion is not to be missed.
Bryce Canyon: A Must Hike Experience
Out of all the parks on that first trip, Bryce made the biggest impression on yours truly.  It wasn't the stunning vistas.  It was the hikes.  In particular, it was Navajo Loop.  The experience begins at Sunset Point and twists, turns, and descends.  Once you're in the red rock maze, the hoodoos tower above as the trail continues to drop and conform to the carving forces of erosion.  When the path cut through a hoodoo, I was hooked.
Then the hike completely kicks your tail feathers as you climb quite a hill to get out.  This reminded me of a local hill we used to sled back home; The Willows.  It was an epic run, but the climb back up made you question your sanity.  Had I not been a kid, I probably would have sled The Willows once.  Thankfully, Bryce's hikes brought out that child-like wonderment, and I would have no reservations about hiking Navajo Loop again.  I still have a few tail feathers, and that's what they're for.
I'm singling out Navajo Loop, but the others were also worthy.  Bryce is one National Park where you want to plan to take as many hikes as you physically can.  I say that about most National Parks, but Bryce in particular.  It would be like visiting Yellowstone and not taking the Mud Volcano Trail.  Miss that, and you missed one of the best parts.
We were in Bryce at the end of October and camped in the North Campground.  The weather was perfect and the crowds weren't bad.  That was 15 years ago.  Today, I would strongly recommend making reservations ahead for Bryce and the other Utah parks, not to mention any National Park; in season or otherwise.
Bryce Canyon: The Bucket List
The following fellow truck campers reveal where to go, where to camp, and what to see around Bryce Canyon National Park.  As you're about to read, the most important advice is to go.
Sandy and Marty Nizlek
2016 Ford F350
2016 Northern Lite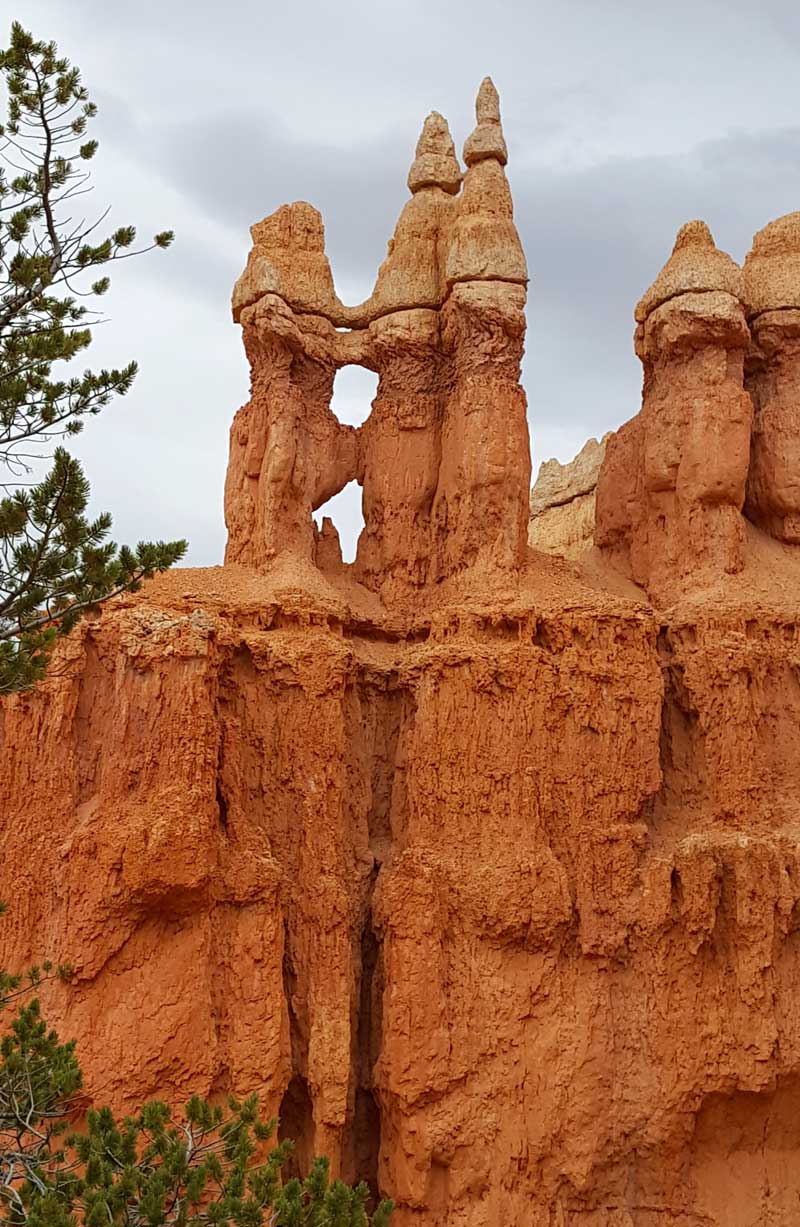 You can't go wrong with any of the hikes at Bryce. There is a postcard-perfect picture opportunity every 50-feet. We were blown away by the intricate hoodoos everywhere in the park and had fun taking photos of ones that had uncanny features; everything from kissing frogs to chess pieces.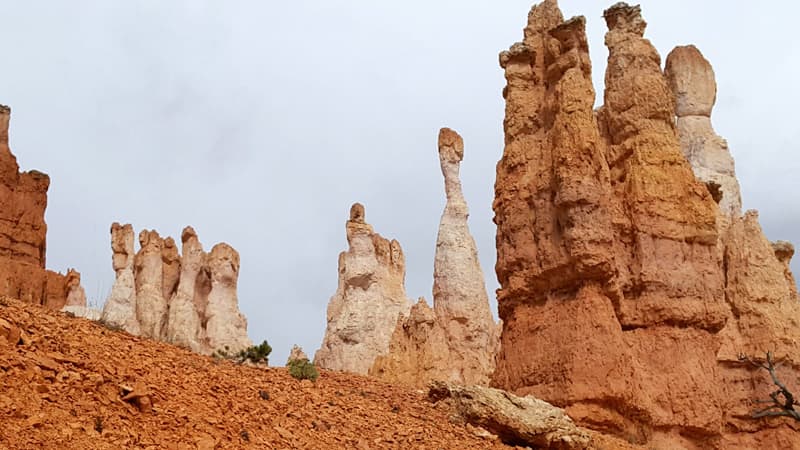 Above and Below: The Big Toe from Peek-a-Boo Trail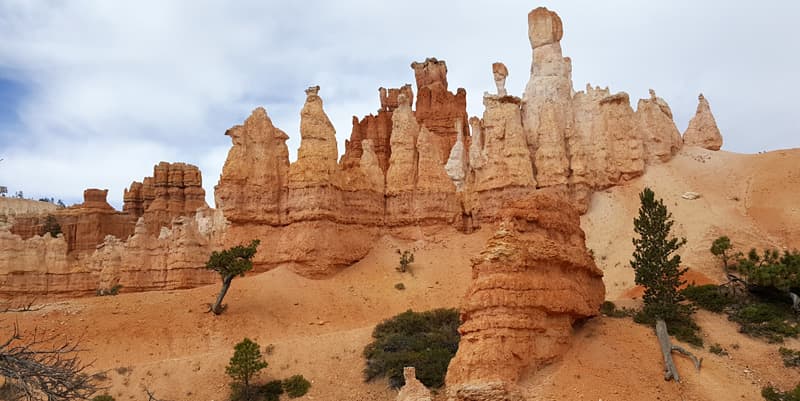 The Queen's Garden Trail and Navajo Loop Trail are both musts, but we also really enjoyed the Peek-a-Boo Trail. It's rated as moderately hard, but it really wasn't that bad. The hoodoos were particularly unusual. We loved this one we called "Big Toe".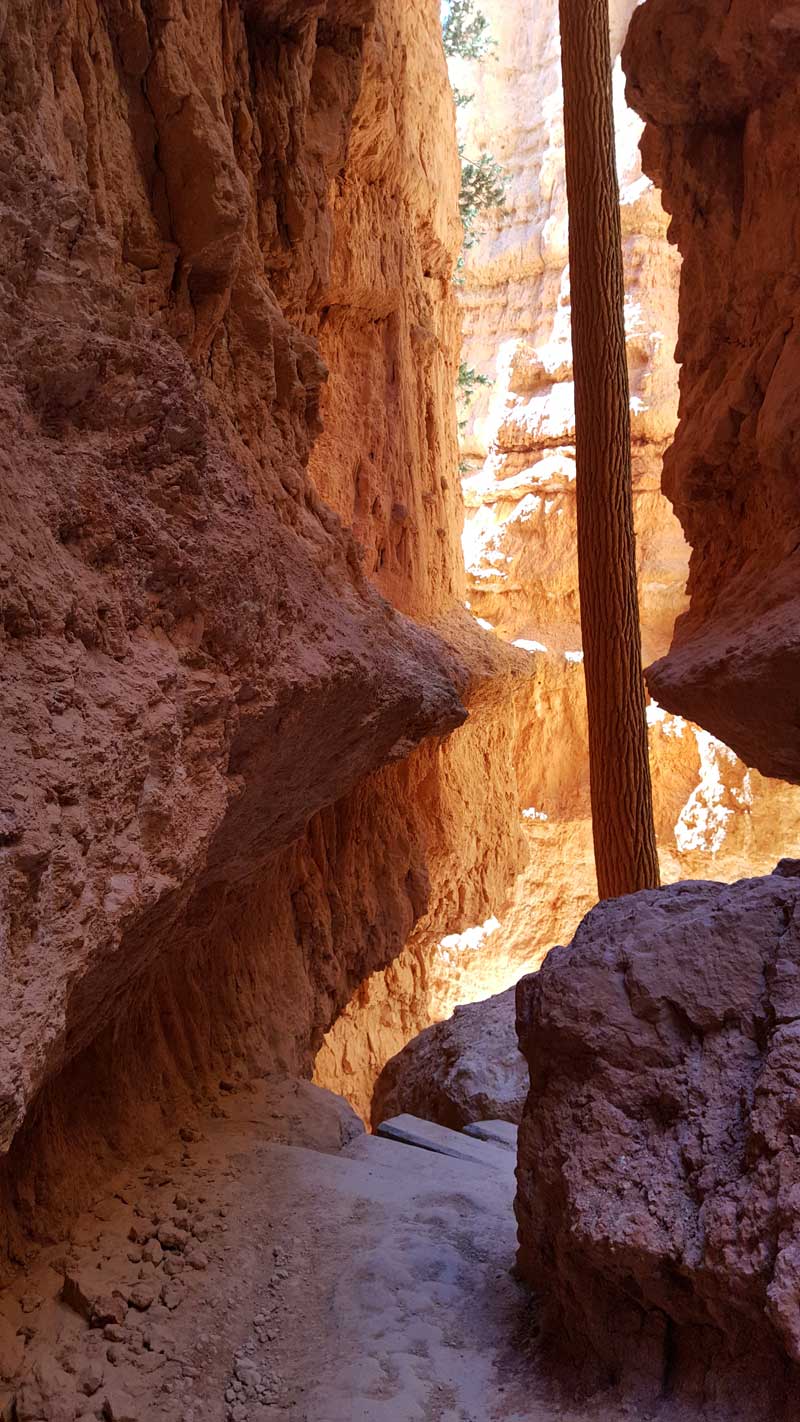 It's almost impossible to capture the magnificence of the features of the Wall Street hike. Depending on the time of day, it can take on a totally different look. Going just as the sun rises can be spectacular.
We stayed at Ruby's RV park which is just a few miles from Bryce Canyon National Park. It's full service and has great amenities; a nice store, a tourist shop, and clean bathrooms.
Getting to the National Park from the RV Park is an easy bike ride through the Ponderosa pines, or you can take the convenient shuttle which goes back and forth from the RV park to the canyon. The shuttle service offers a free Rainbow Express tour through the park and gives you an overview of where to hike and affords stops for photos.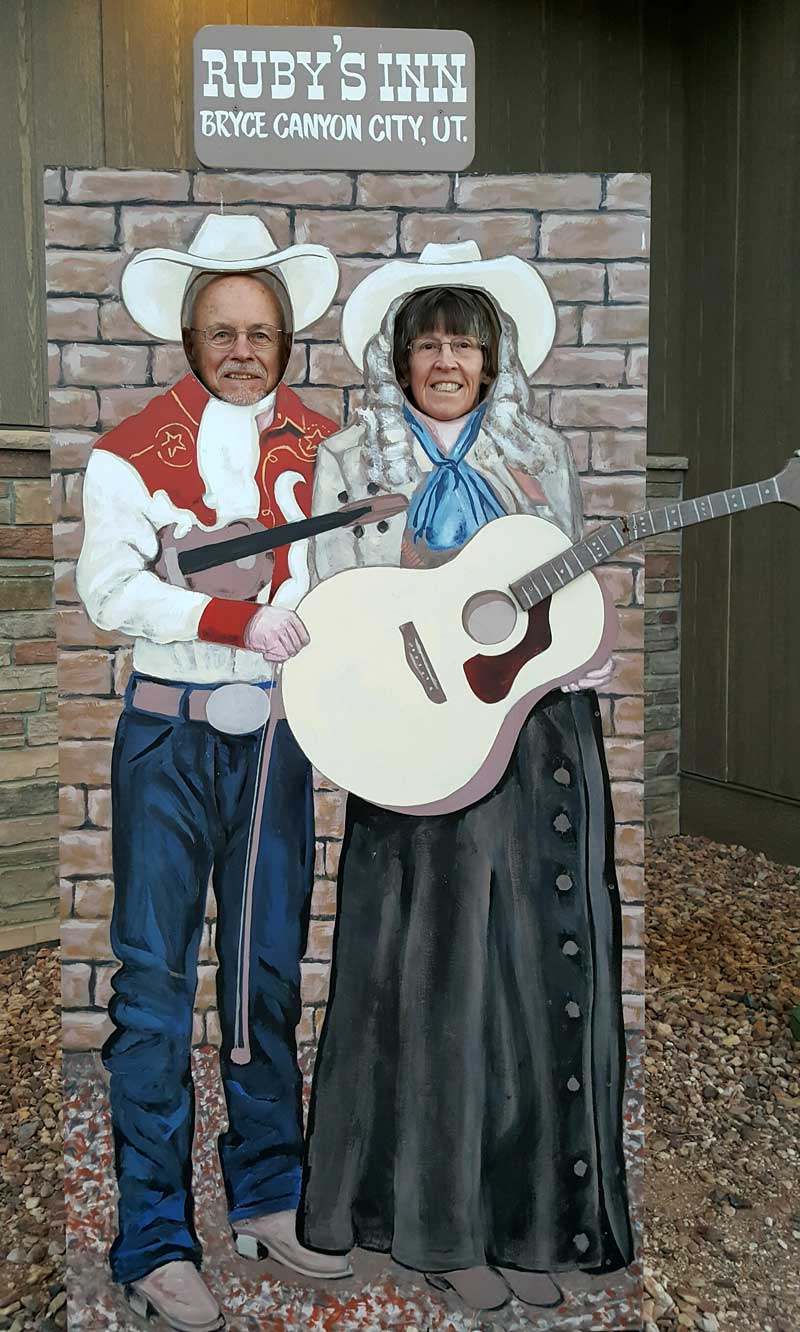 After a day of hiking, we enjoyed a country show and dinner at Ebenezer's Bar and Grill which is adjacent to the park. A cute train picked us up at our RV site and transported us to the big barn-like venue where there was a country buffet and down-home entertainment with country music and cowboys performing amazing stunts with whips and lassos. It was our wedding anniversary. To commemorate we took a photo using the country-themed cutout in front of the restaurant.
Connie Westbrook
2008 Chevy 3500
1998 Lance Squire 5000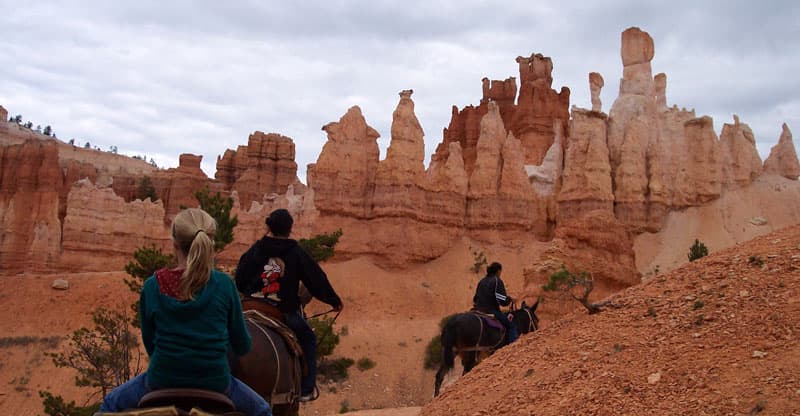 Above: The mule ride through Bryce Canyon National Park
I highly suggest taking a mule ride through the canyon in Bryce Canyon National Park. We were able to see a lot more than we would have hiking. The mule ride took most of the morning. There were ten or so in our group and there were other groups that left around the same time, but we didn't see them often.
You can get tickets through the park concessionaire. We were there several years ago, but their website says that it's currently $65 for two hours or $90 for three hours.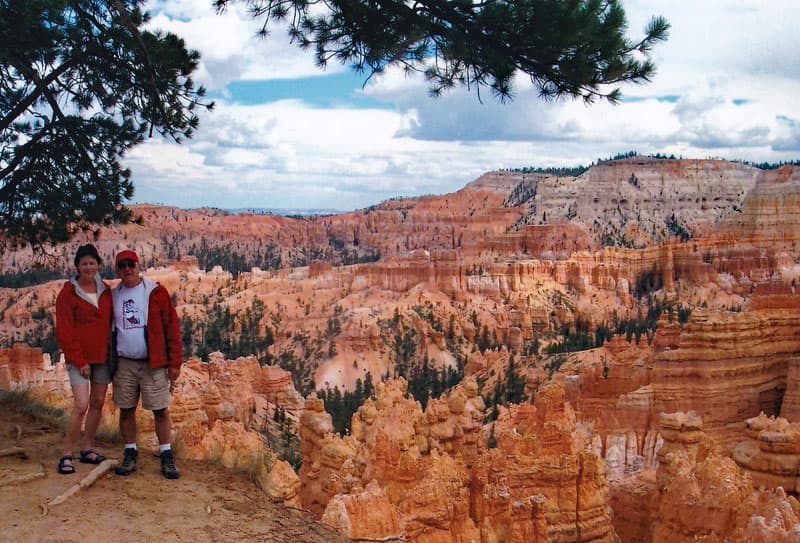 We stayed in the National Park Service campground on our first trip when we went in the summer. That campground is very nice. It's paved and shady. They also have showers; a rarity in many national parks. Luckily, Bryce stays cooler in summer than the surrounding national parks because of its higher elevation.
When we went in the winter, we stayed in a small RV park just outside the park called Bryce Canyon Pines. It is owned by the hotel across the street and we had to go to the hotel to pay.
It was the only campground that was open in early November and only a couple of other RVs were there. We could only hookup to electricity. The water was cut off due to the cold. There was a bathroom with showers in the back of the gas station right there at the RV park.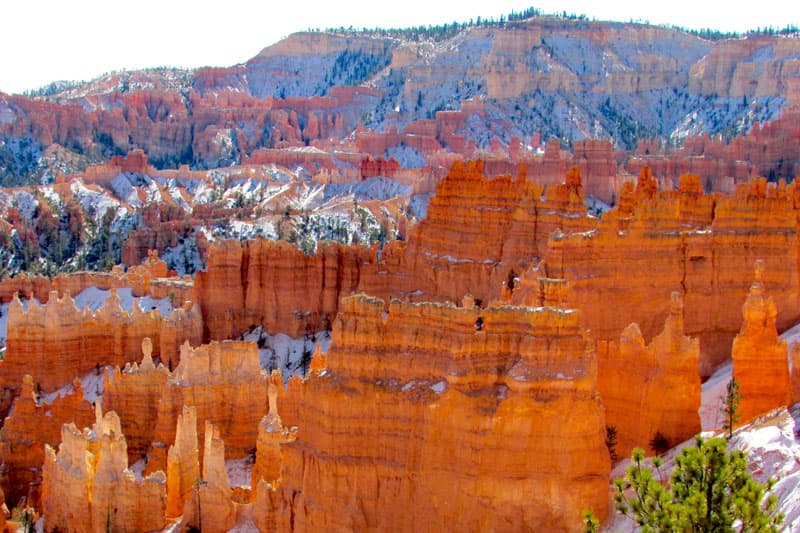 We would have stayed in the NPS campground again, but it was going to get down to single-digit temperatures at night and we wanted hookups. We almost had the National Park to ourselves. Many of the trails were closed due to ice.
Bryce and the local area are pretty much shut down in early November unlike the other Utah national parks which are warmer that time of year, but it is nicer there in the summer.
Roger and Elaine Odahl
2008 Dodge Ram 3500
2004 Eagle Cap 950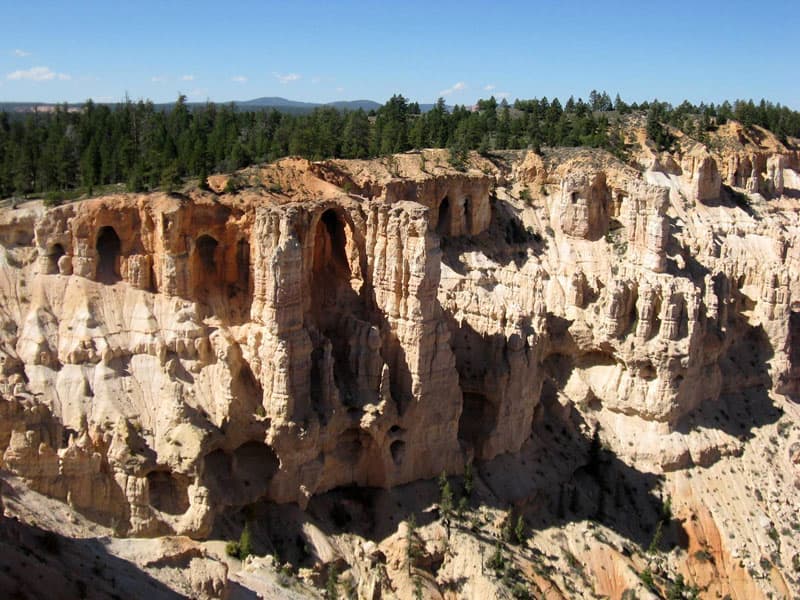 All of the sights in Bryce Canyon are just amazingly beautiful. Bryce Point, Inspiration Point, and other viewpoints are so accessible with the available shuttles that come around every ten minutes.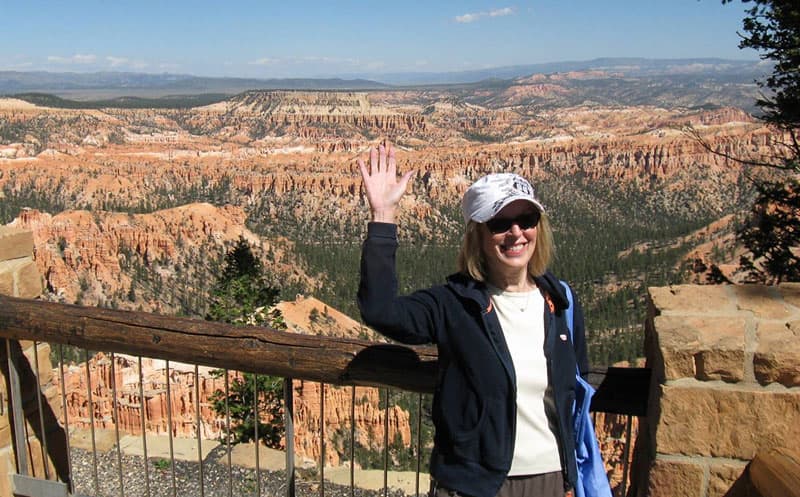 While we were there, we stayed at Ruby's RV park which is all part of Bryce Canyon City and includes Ruby's Lodge, Ruby's restaurant, and souvenir shops. Yes, it's all about Ruby's.
The campground was well maintained with over 100-spaces and included all the amenities for campers who like to plug-in. In 2013, I think we paid about $35 a night. Because it was late September I didn't make reservations. In the summer months, you would have to make a reservation ahead of time.
We ate breakfast at Ruby's, which was delicious, and got stoked up for the day's activities. There are many trails to hike down into the canyons if you are so inclined.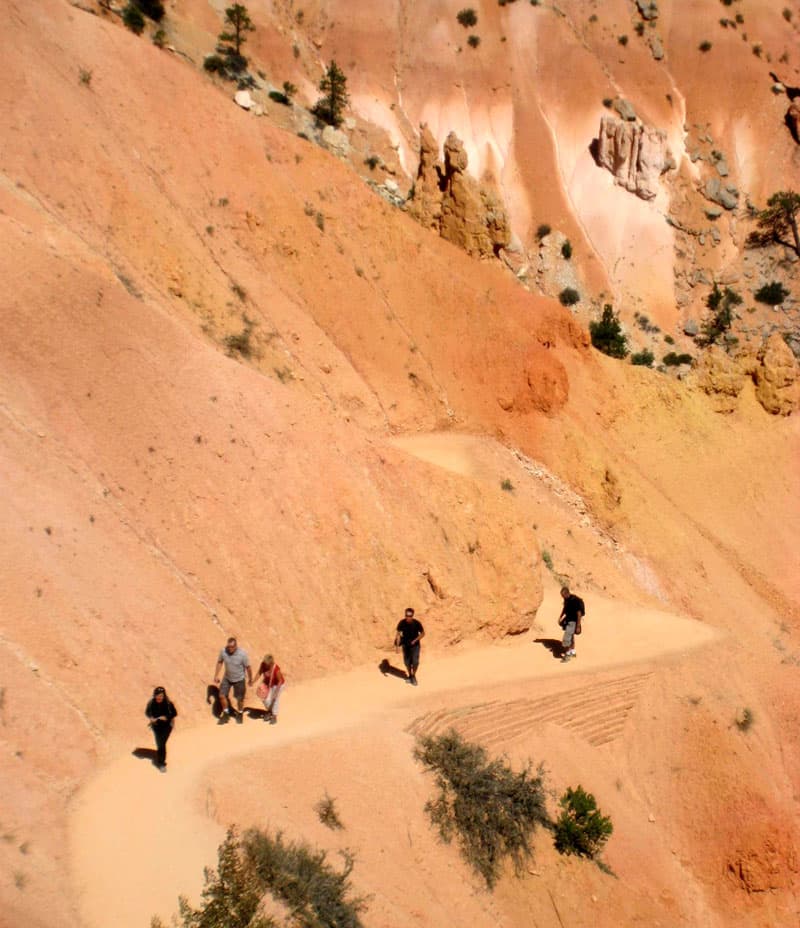 However, you have to hike back up, and it's quite a hill. That did not appeal to us. Just standing on the edge of all those fantastic canyons had more beauty than one can fathom in a day.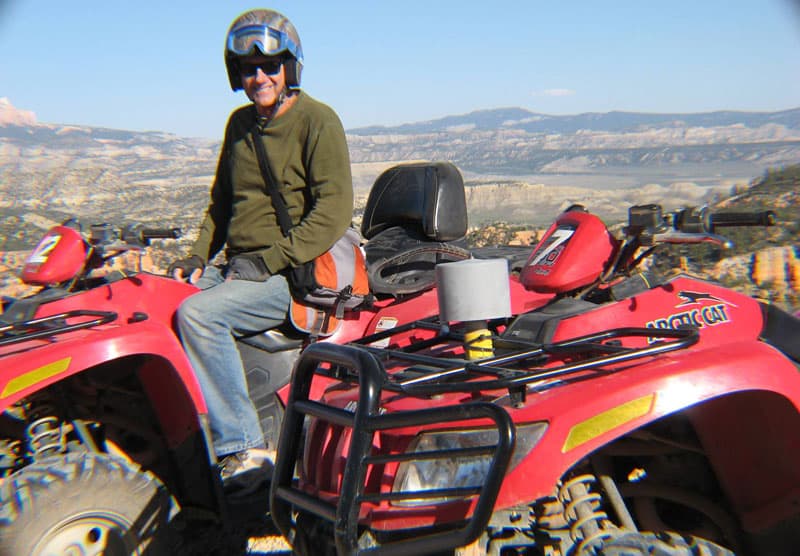 I will admit my favorite thing was taking an hour-long, $45 dollar guided ATV tour. Wildlife was watching us as we were watching them. The scenery of tall canyon walls and trails through thick stands of forest was most exhilarating. I never felt so lost! My best advice is to follow the dust in front of you.
If you love photography, I believe that this is truly the most beautiful national park to photograph.
There are so many areas of Utah to visit that just getting to Bryce National Park can take days. We spent three nights in Salt Lake City and then went on to Arches National Park. We spent a night there and skipped Canyonlands National Park.
Then we backtracked to Highway 70 and headed west to Highway 24 and headed south to Capitol Reef National Park and stayed at the NPS campground near Fruita. There is an old Mormon house where they serve individual apple pies with coffee. You can follow trails to petroglyphs and rangers will give talks various times throughout the day.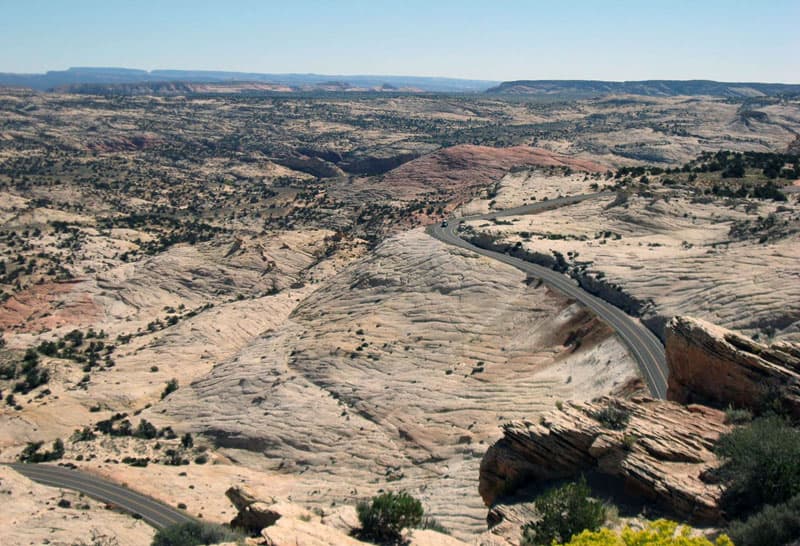 After that, we drove on to Torrey and found a bakery with good bear claws and coffee for the road. We turned south on Highway 12 heading for Escalante. This portion of the roadway is known as Hells Backbone (pictured above).
Past Boulder Town the road is referred to as the spine. It is very narrow with 14-percent grades and no barriers on either side. Just don't take your eyes off the road. Use the pullouts to stop and take pictures.
We followed this road to Escalante and lunch at Nemo's. It has very good food and it's worth the stop. Then, we went onward to Bryce Canyon City for a two-night stay.
Gaston Belanger
2017 Ram 3500
2017 Northern Lite 9-6-QE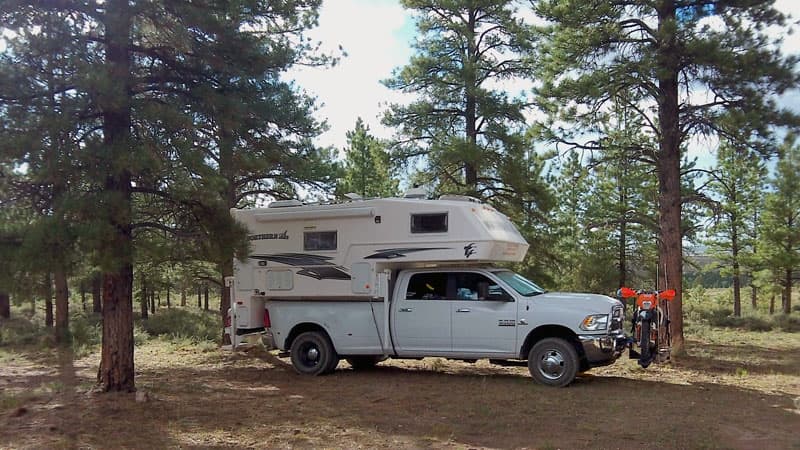 Above: Daves Hallow, two-miles down East Fork Road off Highway 12
I've been through Utah many times, and I want to share one of my favorite boondocking spots to stay.
From Kanab, Utah taking Highway 89 to Highway 12, turn right, and then go approximately ten awesome sightseeing miles to a rest stop. Then, go a quarter-mile past the rest stop and turn right on the East Fork Road into the Dixie National Forest.
Drive two-miles on that dirt road and turn left at the Daves Hallow sign. A quarter-mile in is a free boondock camping area in the cool breeze with sweet fragrant pine trees. There are even three bars of Verizon internet reception. Groceries, fuel, and all you'll need is only a few miles away.
Also, eight-miles down dirt East Fork Road is a posted sign for free cold fresh clean mountain spring water. The water bubbles out of a pipe embedded into a big rock. This is where I filled three seven-gallon containers just for drinking water. My coffee never tasted so good.
Both sides of East Fork Road thread through a beautiful green cow pasture valley with a creek running down the middle of it. Boondocking campsites are along the way as well as a campsite near Tropic Reservoir Recreation Site for fishing and canoeing. There is a free dump station and water for you boondockers.
Using Daves Hollow as my base camp, I've ridden my KTM off-road motorcycle on just about every mountain and desert dirt road in Dixie National Forest. I'm always looking for the Holy Grail of gnarly off-road trails. That is the incentive of my living full-time on the road going on four-years now at 80 years old. I love that motorcycle keeps me active, strong, and healthy.
Another awesome area is just a few miles away from Daves Hallow. Take Highway 63 up into Bryce Canyon. There are many pullouts with spectacular views of the canyon's pink rock formations leaving you in jaw-dropping wonderment of how this all came about. Bring your camera because this is photographic territory.
Bryce Canyon and its adjacent areas have a lot to offer and should be put on your bucket list.
John Powell
2005 Ram 3500
Eagle Cap 950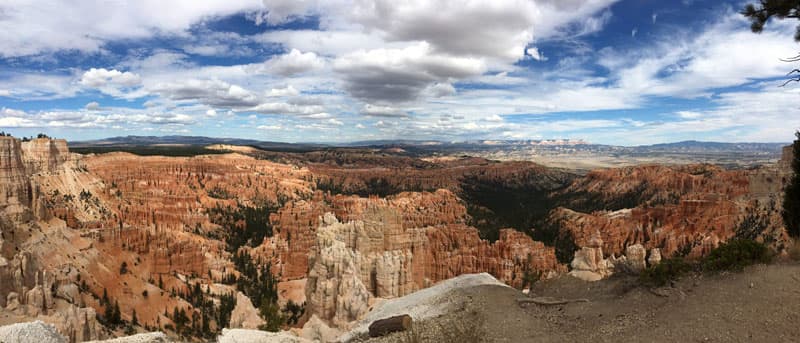 Above: From the Rim Trail lookout
Don't skip any part of this park that you can access by foot because each spot is worth seeing. There are many views from the walking trails that cannot be seen from the drive and park locations.
Above: Inspiration Point in Bryce Canyon National Park
The hikes can be miles of walking up and down with elevations over 9000-feet, so you need to be healthy. I think one should take at least one trail down to the lower area so that you can see and feel the massive size of a hoodoo.
Above: Fairyland Loop
We stayed at Ruby's since it was so close and our daughter was traveling with us in a 20-foot toy hauler. She uses the toy hauler as a crib hauler for her twin 18-month boys.
Ruby's is located on Main Street in Bryce Canyon City and is $53 a night. They have great stores and a good restaurant. In season, they have a little strip mall with several stores, an ice cream shop and more. I usually stay on BLM land or similar camping areas. However, being close and having a place with the restaurant was good.
George Bennett
2006 Chevy Silverado 2500HD
2015 Wolf Creek 850
Above: Amphitheater at Bryce Canyon National Park
If you're physically able, hike some of the trails to get views that are not available from the road. Parking with a truck camper can be a challenge during peak season. The shuttle bus in the park may be easier.
We camped at Red Canyon NFS campground when we visited Bryce. It is in Dixie National Forest off Scenic Byway 12.
Ralph McFarland
2017 Ford F-150
2017 Northstar Liberty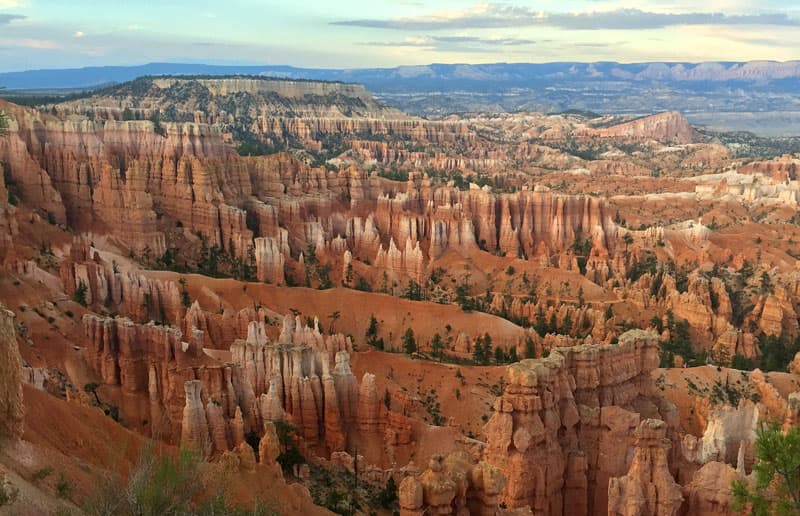 Above: From a pull-off in the park you can see Bryce Natural Bridge
Two great hikes in the park are Queen's Garden and the Navajo Trails. The Fairland Loop is also good. Bryce is extra pretty when there is snow on the mountains. Sunsets at the rim are a must.
I stayed at Sunset Campground in Bryce National Park. We dry camped. With the Senior Pass camping was $10 a night. We stayed for two nights. Nearby, Cedar Breaks National Monument is also well worth the trip.
Judy Zumwalt
2020 Ford F350
2014 Arctic Fox 992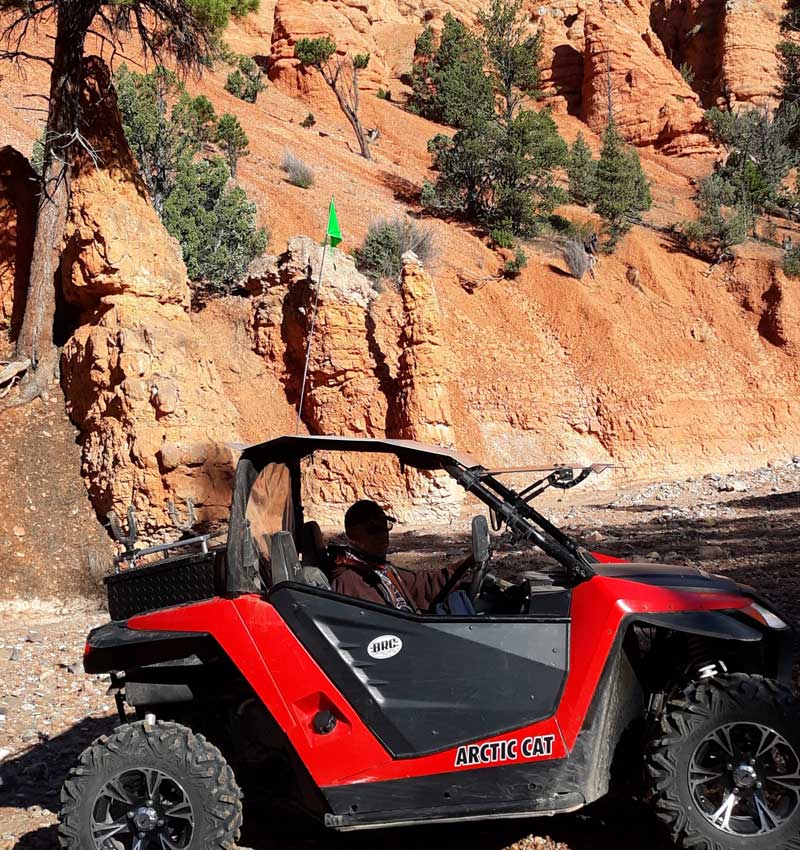 Above: Casto Canyon Trail just outside Panguitch, Utah
We actually don't camp in Bryce Canyon because we live close enough to just drive over for the day, which we have done many, many times.
We have a Yamaha Wolverine side-by-side. This allows us to explore the surrounding trails. If you have access to an off-road vehicle (your own or one rented from nearby outlets) there are a number of fantastic rides.
The best is Casto Canyon which is limited to ATVs or 50-inch wide OHVs. It's Bryce Canyon in miniature. Another favorite is the Rim Trail, which basically follows the rim of the plateau on which Bryce is situated. Spectacular views!
Carolyn Hennings
2006 Ford F350
2000 Lance 1130

Above: The Most Scenic Laundromat Ever!
I went to Bryce Canyon's North Campground for a few nights, but I want to share another nearby must-see attraction; Kodachrome Basin State Park. After a few days on the road, Kodachrome's spa-like showers were an especially welcome experience. The laundry facilities were equally enjoyable, if laundry can ever be fun.
JD Miller, Jr.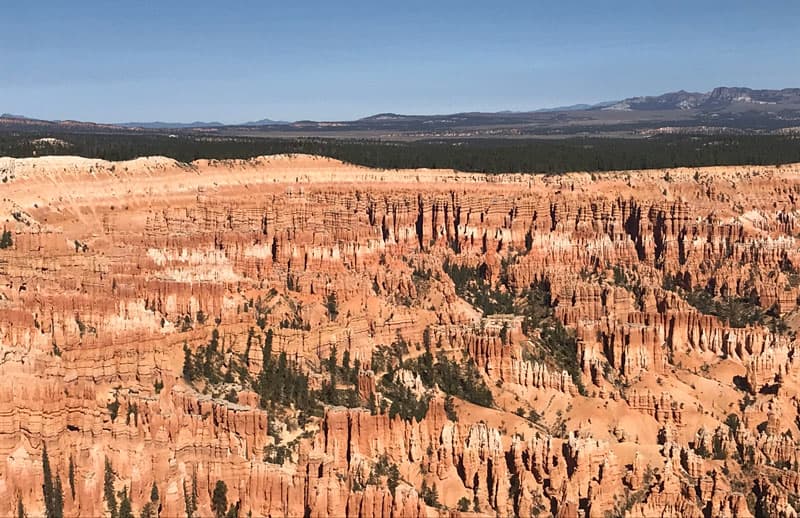 Above: Bryce Point, Bryce Canyon National Park
The whole park is majestic and breathtaking. I strongly recommend getting out early, driving straight to the top, and then working downhill. Almost all the pull-offs are on the right. That way there are no left turns. Thank me later. This will also save the best pull-off for last on your route.
Depending on your route, Capitol Reef and Zion National Parks are both on the path of getting there. And both deserve your attention, especially Zion. The difference between the two is that in Bryce you're on top looking down and usually in a private vehicle. Zion has a great motor drive, but to get up the canyon, it is shuttle bus only.
Plan ahead on anything you want to do at any of the parks. It is super hot in the summer months, but beautiful in spring and fall. Make your plans early, or be flexible. That's the key.
Sue Carstens
1998 Dodge 3500
2007 Okanagan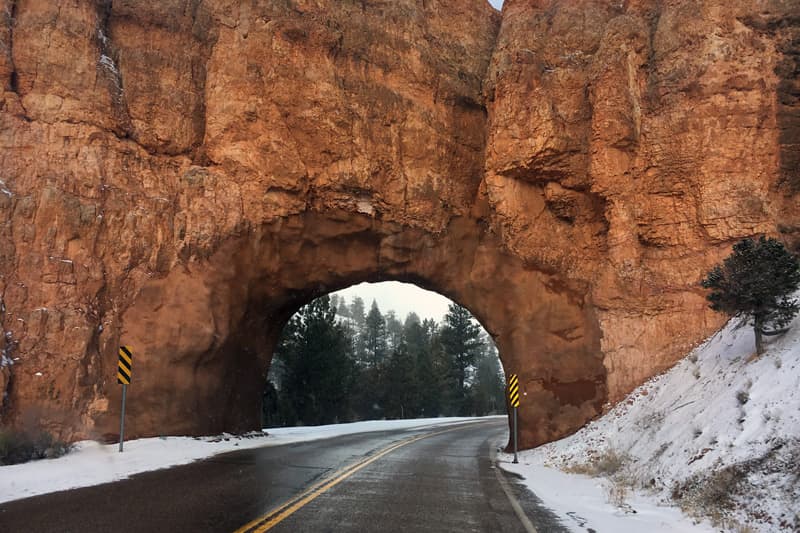 Above: Tunnel near Bryce Canyon National Park
It was snowing off and on while during our overnight at the Bryce Canyon National Park campground. Much of the park was closed due to snow and unplowed roads.
We felt fortunate to be in our camper. There were a few tent campers among us, and it was very cold. We would love to go back and check it out another time of year, although what we could see was beautiful!