After visiting Yellowstone National Park eight times since 2005, Todd Rightsell gives us the inside scoop on the best features, campgrounds, and hikes this incredible park has to offer.

Yellowstone National Park is a huge place and with so much to do and see.  It can be a bit overwhelming to plan a visit to the park.  Hopefully the following tips/suggestions will help you in your planning whether you are a first time visitor, or a seasoned pro.
That said, the suggestions below are just that, suggestions.  Do your research and find out what appeals to you.  Then load up the camper and go have fun!
TOP YELLOWSTONE TIPS
1. Stay in Yellowstone National Park.
Yellowstone and the surrounding area is the size of a small state.  Do whatever it takes to get camping arrangements inside the park.  You'll be glad you did.  The distance between major points around the road is generally about 18-25 miles, but don't let the seemingly short distances fool you.  Driving around here just always seems to take longer than you expect.  The posted speed limit is forty-five miles per hour, but you'll be making good time if you're doing twenty to twenty-five.  That includes stopping to take pictures, waiting on animals to clear the road, and dealing with the traffic.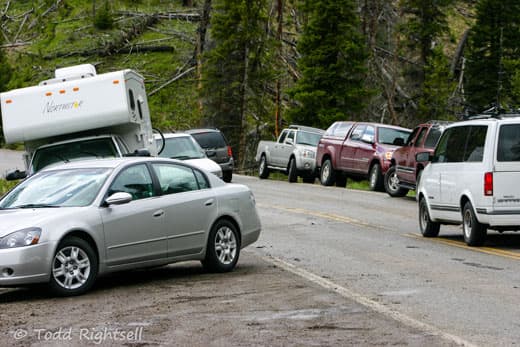 2. Be patient, Yellowstone is crowded.
From the second week or so of June until early September, be prepared to deal with the crowds.  Yellowstone gets literally millions of visitors from June through August.  The Park Service does a great job of dealing with this surge of visitors and, if you just go with the flow, you will have a great time.  If the animals can deal with the crowds, we can too.  This is typically what happens when somebody spots a bear (or some other large animal) in Yellowstone.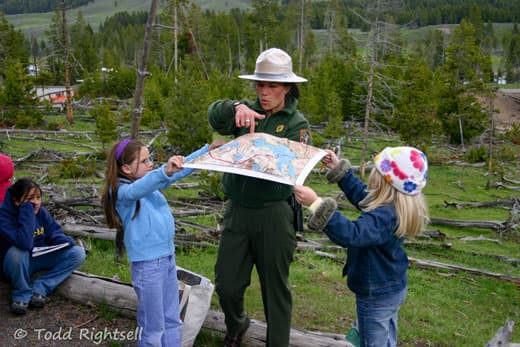 3. Hang out with a Park Ranger.
I say this all the time, but I think it bears repeating.  Take a Park Ranger led hike.  No matter how many times I go to Yellowstone (or any other park), it seems these programs always end up being some of the most enjoyable and memorable experiences of my trip.
Programs of all sorts are offered in every major area throughout Yellowstone National Park.  They are usually free (never more than a few dollars), you'll learn a ton about whatever it is you signed up for, and you'll meet some great like-minded people along the way.  The Park Rangers in Yellowstone are top notch.  Take advantage of that and ask them every question that pops into your mind.  I have stumped them a time or two, but not often.  All in all, the Park Ranger hikes are the best deal in Yellowstone.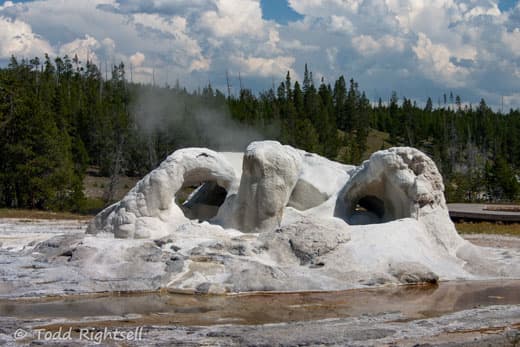 4. Know where the animals are, and the natural oddities are.
Big animals and weird things are probably why you're going to Yellowstone.  Know where to find them both.  The east side of the park is generally considered to have more wildlife than the west side, the exception being bison, which seem to pop up everywhere.  Hayden and Lamar Valleys, both on the east side of the park, are your best bets for big wildlife, which are probably the ones you came to see.  You'll see bears, wolves, coyotes, bison, elk, pronghorn, and the occasional moose.
Conversely, the west side is where all the really weird stuff is including abundant thermal features.  All of the park's major geyser basins and thermal features (Old Faithful, Mammoth Hot Springs, etc.) are on this side.
TOP YELLOWSTONE CAMPGROUNDS
Yellowstone has twelve campgrounds.  All but the biggest of truck campers will have no problem in any of them.  Each has it good points.  Some have a bad point or two but, rather than give you all the boring nitty gritty details of each, I'll just give you a few tips about camping in Yellowstone in general.  If you are after more specifics, you can find them at http://www.nps.gov/yell/planyourvisit/camping-in-yellowstone.htm.