Taking a rig to The Keys is a bucket list item for many campers.  Here's where to go, where to camp, and recommendations once you're there.  Tip 1: Make your reservations way in advance, and bring your wallet.  The Keys are expensive but worth it.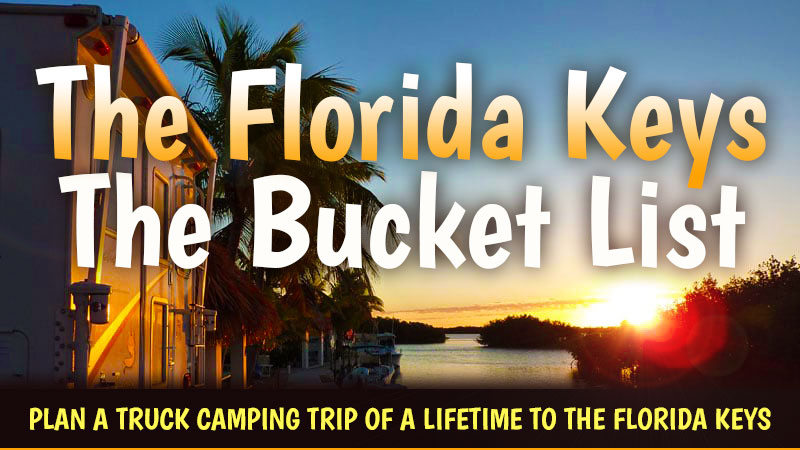 Angela and I have been fortunate to explore The Florida Keys with a truck camper rig several times.  If I had any advice, it would be to make your campground reservations far in advance.  This sentiment will be repeated several times by the fellow campers that follow.  Please heed this advice as there are no Plan B locations.  No Walmart.  No Cracker Barrel.  No Cabela's.  Nada.  Until you're off The Keys, you're stuck with campgrounds.
If you're lucky enough to score a Florida State Park campsite, that's the way to go.  You're going to hear about how hard it is to score a Florida State Park campsite.  Don't underestimate the truth in this statement.  It might be easier to get 50-yard line tickets at your preferred NFL team's game.  That doesn't mean you shouldn't try, but go in with realistic expectations.  And then try again, and again and again.  Persistence doesn't always pay off, but we've had some success.
That leaves some of the most expensive private campgrounds on planet Earth.  Take a deep breath and think about something you did that cost a lot, but was worth it.  For many of us, truck camping itself is a bit like that.  Camping once in your life in the Keys is 100-percent one of those things.  Take that advice from someone who is notoriously frugal, at least when it comes to campsites.  You may never feel the need to go back, but I believe you'll be happy that you went to The Florida Keys and Key West.
For all the warnings about crowds, there are a lot of areas around The Florida Keys and even Key West where you can find yourself practically alone.  The bars and shops of Duval Street aren't those spots, but the beaches and side streets offer plenty of beauty and discoveries for those of us who don't need to bar crawl or shop for t-shirts.  Look, there's a chicken crossing the road.  That happens in the Conch Republic.
And one more thing.  By all means, go to Sloppy Joe's for a beer (or two) and order their soft pretzels.  Just thinking about that place (and the soft pretzels) makes me want to drive down.  Go in the afternoon with a breezy open attitude and you shall be rewarded.  Sloppy Joe's was a favorite of Ernest Hemingway.  Spend an afternoon listening to the live music and you'll understand why.
Nik Rende
2011 Ram 3500
2001 Lance 1121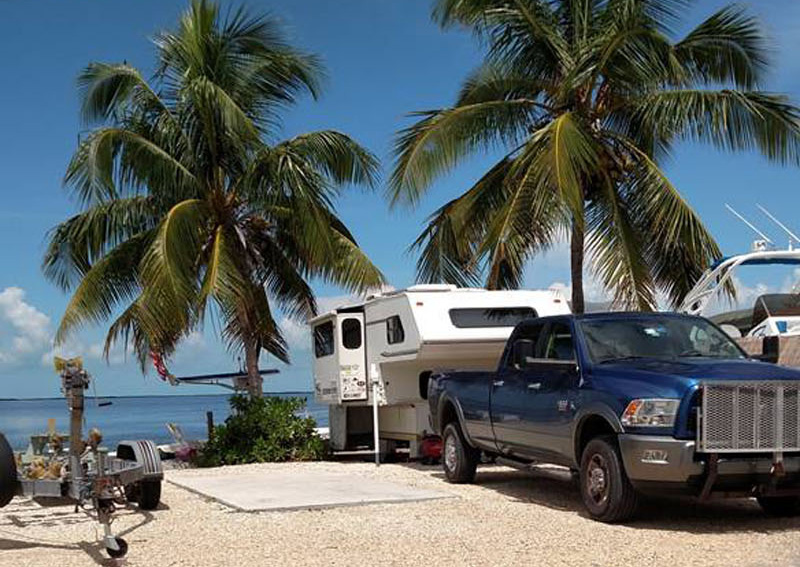 We've made five trips down to The Florida Keys with our truck camper.  Three of them with our boat in tow.
While we've made it all the way to Boyd's in Key West, our home base has been Calusa Campground Condominium Resort and Marina in Key Largo on Mile Marker 101.  The price varies depending on the lot and its proximity to water.  It's a private gated RV community.
When we went there the first time over Christmas 2010, it was more of a campground with many park models.  In the ensuing years, the association has allowed permanent structures and many have sprung up.  You can still get a campsite, but I recommend that you book way ahead.  It fills up in the winter with snowbirds.
The nice thing about Key Largo is that it is readily available by boat.  The Islamorada Sandbar restaurant is a 45-minute ride south while Alabama Jacks, a beach bar, is a bit less time to the north, and that's mostly due to no-wake zones.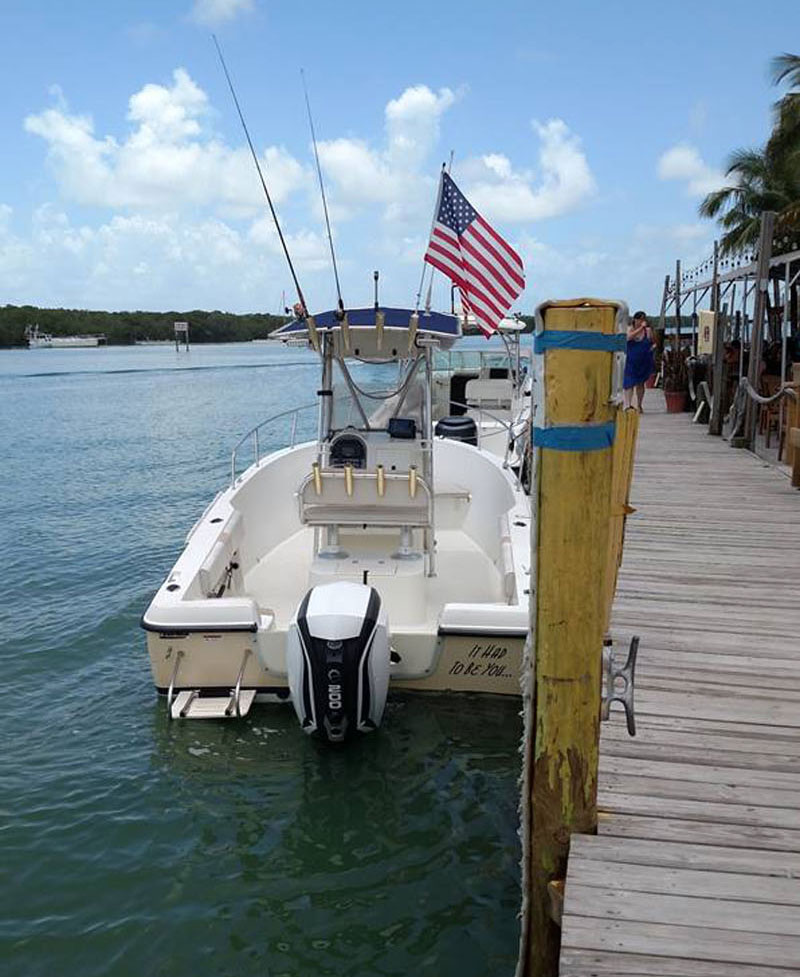 Above: Boat tied up at Gilbert's Resort and Tiki.  The Tiki is huge and the location couldn't be better.
Jimmie Johnson's, Snappers, the Caribbean Club, Gilbert's, the Ocean View, Hog Heaven are all restaurants that we recommend.  Not all restaurants in the Keys are accessible by boat, but we try to use the boat to go to dinner as much as possible.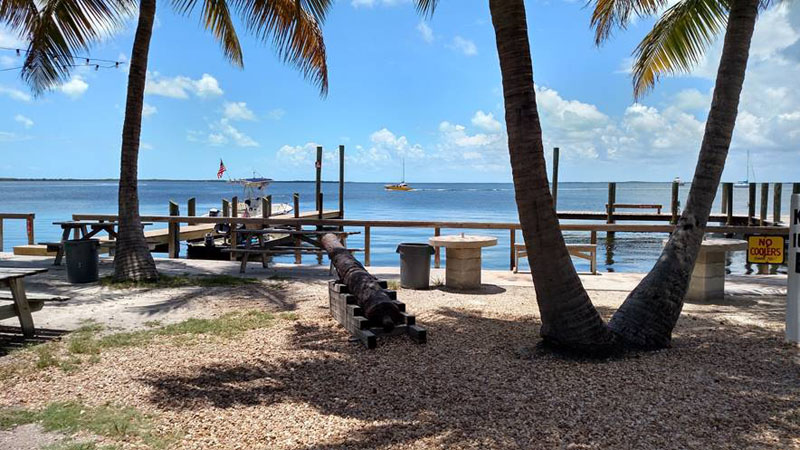 The photo above is probably one of my most favorite photos of my boat tied up at the Caribbean Club.  It's an absolute dive bar. Open to the elements, it doesn't have doors.  It served as the inspiration for the Bogie and Bacall movie Key Largo as well as exterior location shots in the movie.  It has shown up more recently in the Netflix series Bloodline that was filmed in The Keys.  We actually had this photo printed on a 35 by 24-inch canvas.  It hangs in our bedroom as a reminder on those cold winter nights.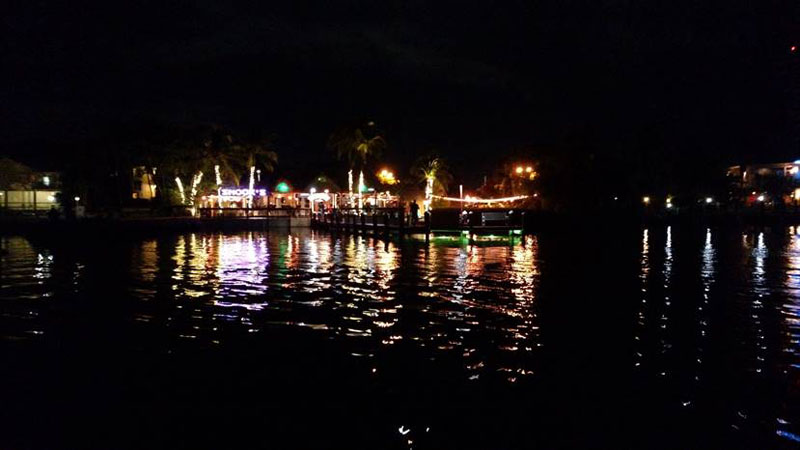 Snook's is about a six-minute boat ride from the Calusa Campground.  We were out for an evening cruise and stopped in for a snort.
One place we drove to on our last night in 2017 was Snappers.  It's an ocean-side place where places like Jimmie Johnson's, the Crib, and Gilberts are on the sound side.  We ate outside under their Tiki on the evening of August 10, 2017 pondering another magical Keys vacation that came to an end.  Exactly a month later, Hurricane Irma devastated the whole of the Florida Keys, and Snappers was destroyed.  I'm happy to say that they have rebuilt, as have most others.
Aside from eating, we do take in some fishing and swimming as well.  There are great spots for floating where knee deep water allows you to lounge in the sun.  The Islamorada Sandbar even has its own Facebook page.
Above: Anchored off Lower Matacumbe Key at another popular sandbar spot.
The good thing about these areas is that you don't need to haul your own boat 1,700-miles.  There are a variety of boat rentals and charter companies that will take you on half or full day excursions to the sandbars or the reefs.
There is one that stands out; Key Largo Adventures.  It's run by a former school teacher who runs his boat on tours, charters for snorkeling, sandbar lounging, or sunset cruises.  It can be all-inclusive with everything from basic burgers, dogs, and water to more adult type fare, both solid and liquid!  They have an Instagram account.
If fishing is more your speed, you can do everything from backcountry in the mangroves to miles offshore in the deep.  There are charters at the ready for half and full day.  Check out Bamboo Charters in Islamorada.  Captain Matt knows his stuff!
The Keys are also littered with wrecks and reefs just waiting to be enjoyed.  The Spiegel Grove was sunk just off Key Largo on the ocean side in 2002 as an artificial reef and charters dive there daily, weather permitting.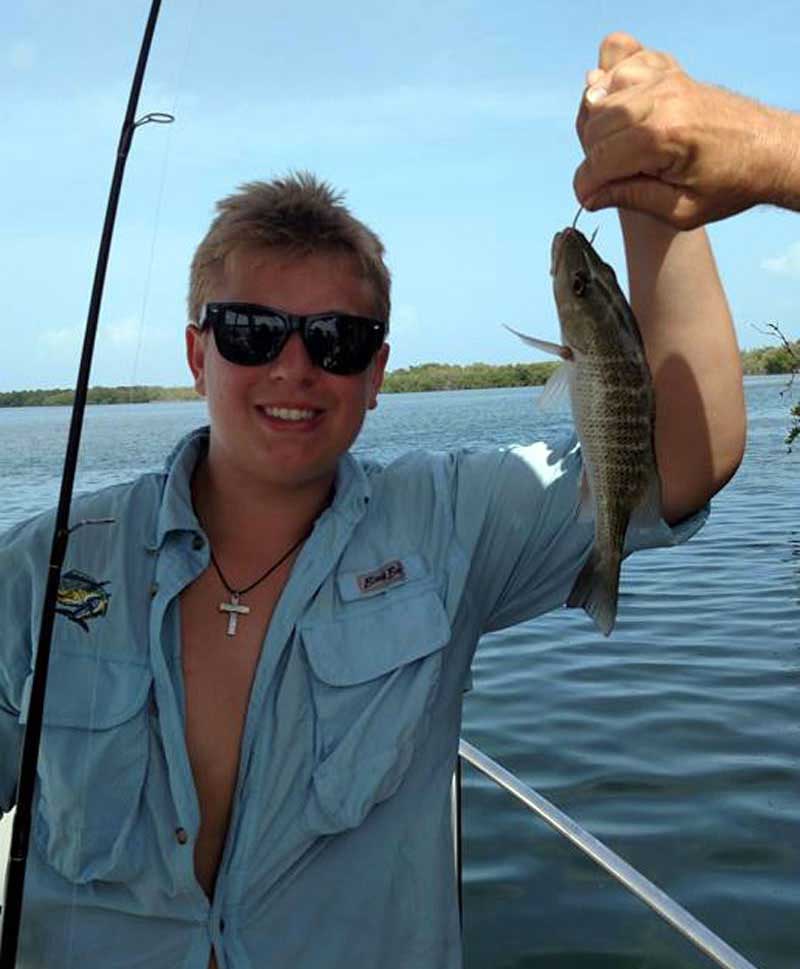 Above: Not a keeper, by our son Alex in 2015, casting in the mangroves.
Another must-see if you're snorkeling or diving is the Christ of the Abyss statue.  It's a 9-foot tall bronze statue sunk in about 20-feet of water just a couple miles offshore near the Grecian Rocks reef.  Unfortunately, I don't have any pictures but is a truly beautiful sight.
This story wouldn't be complete without the shot I'm most proud of.  In 2015, we were doing a pub crawl by boat and a responsible captain – of course!  The Florida Fish and Wildlife Conservation Commission have a strong presence in the Keys and stopped at Snook's not long before sunset.  We were seated out on their deck bar enjoying a drink that comes in a real coconut.  I turned around just in time to snap this one…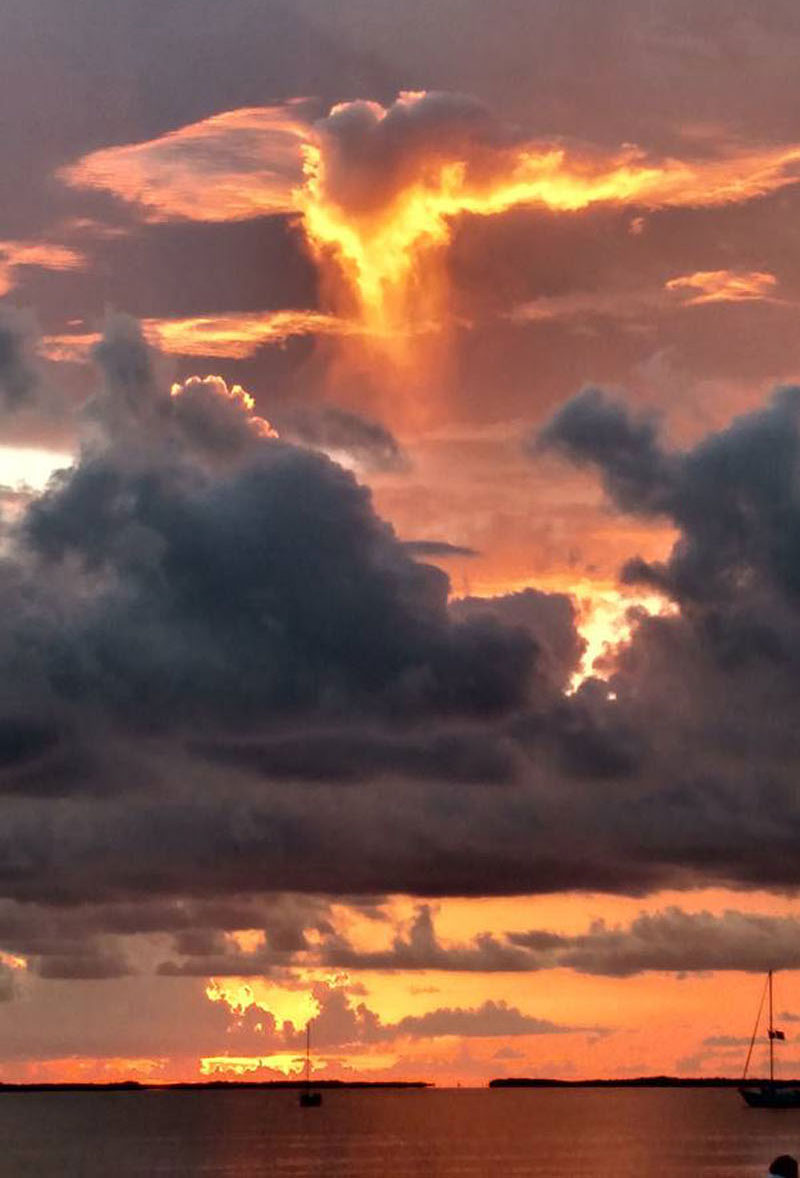 Yes, the above photo is my shot!  It was purely by chance.  The shot I took a couple of minutes before was just a typical, "Oh look, another breathtaking Keys sunset" picture.  I turned around and had another pull off my coconut and then turned back around to see this.
There is something about stepping out of your camper and right onto your boat for a day of fun!
Michael Perry
2020 Ford F-350
2021 Wolf Creek 840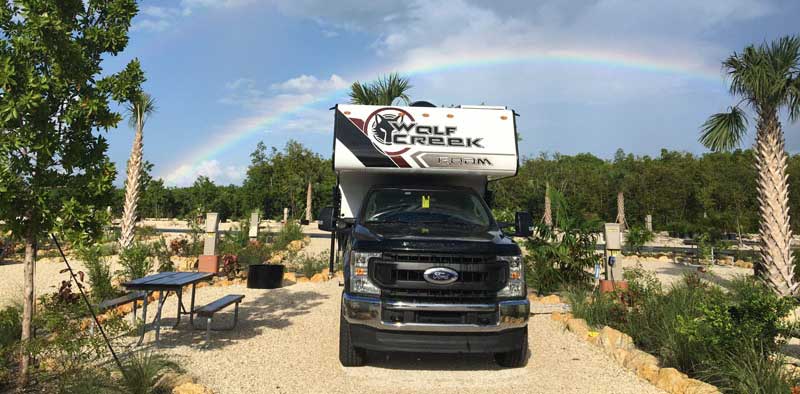 Above: Sugarloaf Key / Key West KOA
We stayed at Sugarloaf Key/Key West KOA which is at Mile Marker 20. I t is expensive, but everything is more in the Keys, including the gas.  We dropped our truck camper at the campground and drove our truck into Key West.  Parking can be a challenge, but we parked at The Key West Bight Parking Lot.  It is $4 an hour or $32 for 24-hours. I didn't try the two parking garages due to the low clearance.
We paid approximately $130 a night for our campsite. I would count it as one of the best commercial campgrounds we have ever stayed in.  They just reopened after totally rebuilding the entire campground after damage from Hurricane Irma four years ago.
While visiting Key West, I recommend that you take a glass-bottom boat tour.  You board the boat at the end of Duval Street.  They take you out to a coral reef that's six miles offshore.
We also toured the Hemingway house, climbed to the top of the Key West Lighthouse, walked to the southernmost point in the United States, and rode along with the conch train tour of Key West.  I was amused that Key West was only 90-miles from Cuba, but the nearest Walmart was 130-miles away (in Florida City).
On your way to or back from the Keys, make sure to visit Everglades National Park and/or Big Cypress National Preserve.
Bill Harr
2005 Toyota Tundra
2013 FWC Hawk
We traveled to the Florida Keys on our around-the-USA tour.  My wife was checking for campgrounds in the Keys and a rare spot in Bahia Honda State Park popped up.  We grabbed it.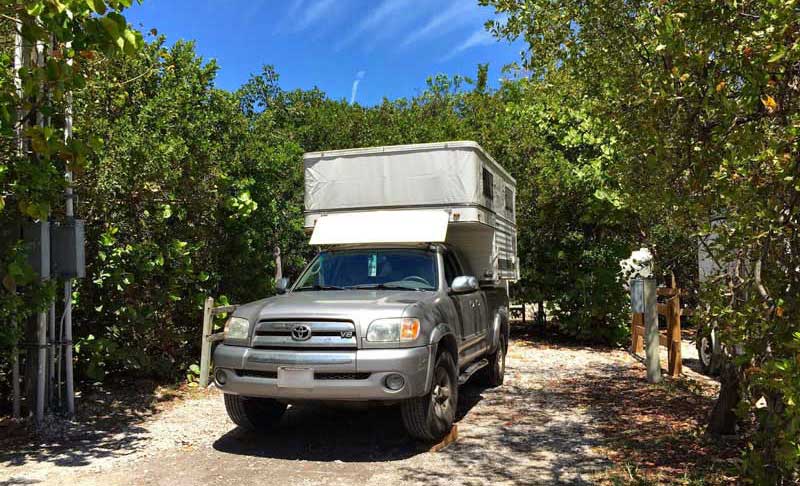 My advice is that if you want to stay in a campground in the Keys, book way ahead.  We got lucky with the cancellation at Bahia Honda State Park.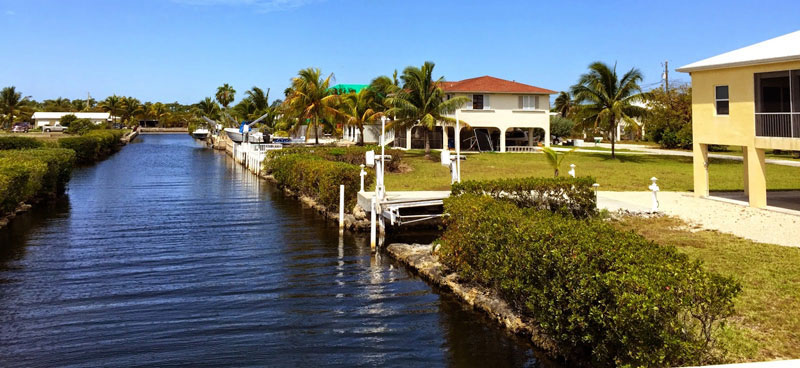 We also recommend that you take the time to stop at the smaller keys leading to Key West.  We stopped at No-Name Key and just looked around.  It is just off of Big Pine Key where the Key Deer Refuge is located.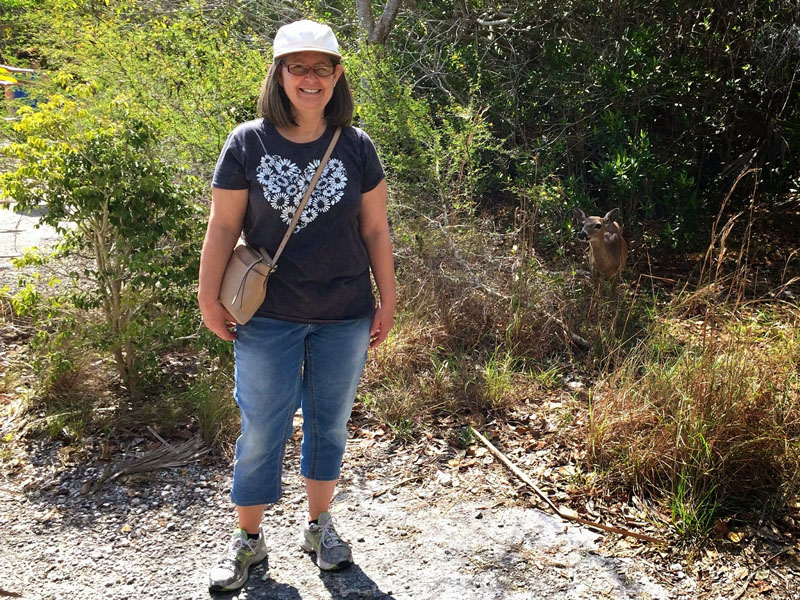 Big Pine Key has both the Key Deer Refuge and the Blue Hole.  Both are worth a stop.  I really enjoyed walking around Key Deer.
Key West will be full of tourists.  The campgrounds in Key West, and if you can get a spot, are big money.  Unfortunately, there were no campsites available when we were there, so we stopped at the Tourist Information Center up by Key Largo.  The host found us a B&B in Key West for less than a campsite at Boyds.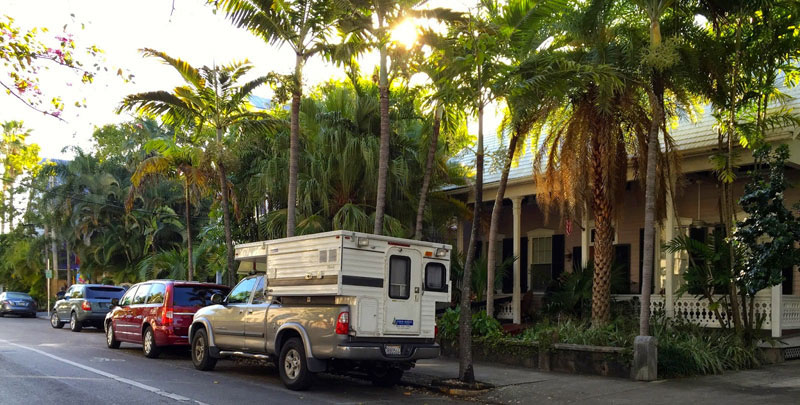 Note: The B&B we stayed at keeps a golf cart parked in any empty spot they can find.  When you check-in you follow another golf cart to when the first cart is holding a spot on the street.  It's a good system since parking in Key West is hard to find.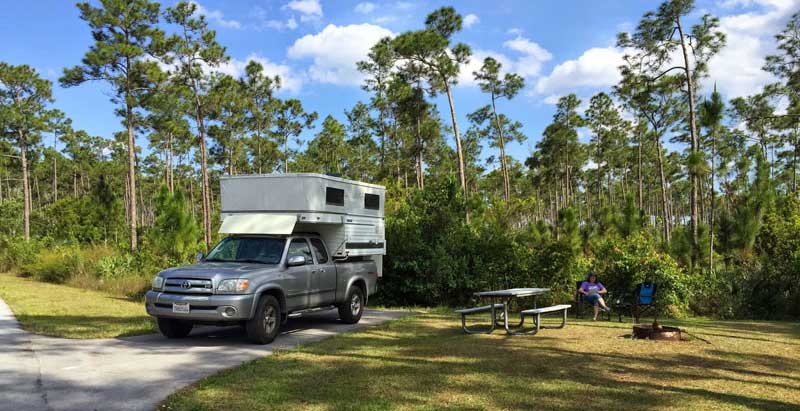 On the way north, we stopped at Everglades National Park.  We just drove into Long Pine Campground and got a spot.  We were worried about having an alligator show up in the camp but did not see one.
A full trip report is in my blog.  The Keys start about halfway down.
Angela White
2018 Ram 3500
2004 Alpenlite 1100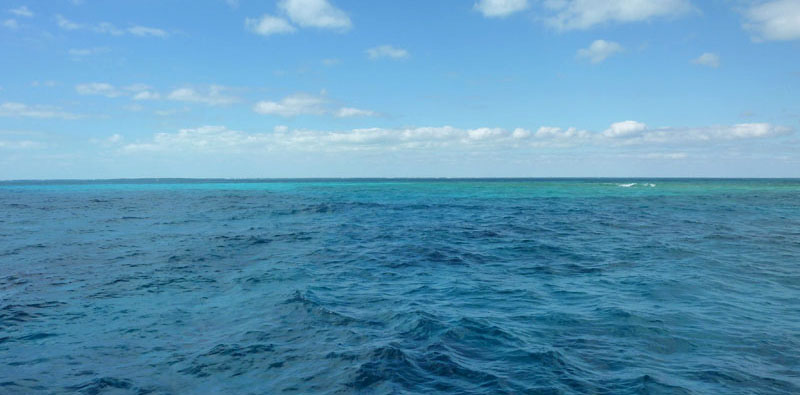 The Florida Keys are so relaxing!  As soon as you go over the bridge and enter the Keys, you are greeted with palm trees, fresh air, and the bluest of blue waters.  The 97.6-mile drive from Key Largo down to Key West is a scenic drive that you will never forget.
One common frustration with The Florida Keys is not being able to camp for free.  Some RVers attempt to park overnight on the street or in parking lots, but it's not permitted.  You have to stay at a private or state campground.
Your best bet is to get into one of the state parks.  The Florida State Park system allows reservations 11-months in advance, but even 11-months out it's still difficult to get a reservation at the more popular parks.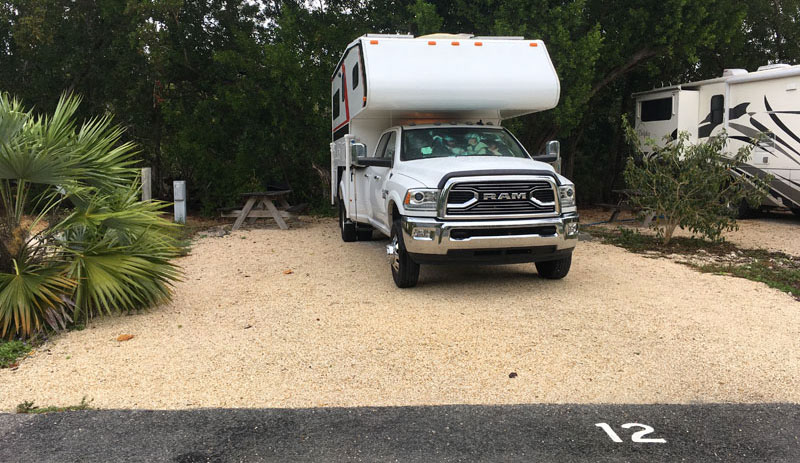 The only state park in the Florida Keys that we have been able to get into is John Pennekamp State Park (pictured above).  It is a beautiful park with lots to do.  You can go kayaking, fishing, swimming, or take a trip on one of their glass-bottom boats.
One bit of caution (no pun intended) about our experience; the no-see-ums in December were brutal.  During the day it was relatively fine, and they never managed to get into our camper, but the bugs ate us alive if we were caught outside at dusk.  A no-see-um bug spray seemed to help or at least made us a little less tasty.
Most private campgrounds in The Florida Keys will be over $100 a night, especially with local taxes and fees.  For example, we stayed at Boyd's Campground in Key West.  It's a well-maintained campground with a nearby shuttle to take you into Key West proper.  Once you're there, Key West is very walkable.  Honestly, we love it.
My husband can be a real party pooper when it comes to expensive campgrounds and he was in rare form at Boyd's.  "Do you know we're spending $4.67 an hour to be here?" he kept reminding me.  "Even when we're sleeping, it's $4.67 an hour.  That's 7.7-cents a minute!"  He likes to think he's frugal, but we all know the truth.
The 2022 rates in season at Boyd's are $75 a night for no hookups, $100 a night for water and electricity, and $150 a night for full hook-ups.  And don't forget tax!  In Key West, you can add another 12.5%.  That full hook-up site that had Gordon nearly breaking his abacus is now $168.75 a night.  Don't tell him but that's $7.03 an hour, or 11.7-cents per minute.  He would lose his mind.
Much better deals can be found earlier on the island chain, but there are no bargains outside of the state parks.  Our best recommendation is to try to score a state park or pay for a "more affordable" private campground near the beginning or middle of the Keys.  Then, make day trips down to Key West.  There's a ton to do on the islands as well.  We certainly enjoyed exploring them.

Above: Diving helmets from around the world at the History of Diving Museum
On the way south in Islamorada, it is worth it to check out the History of Diving Museum.  We're not scuba divers but still found the museum quite interesting.  It starts with a timeline of diving's history, a collection of different scuba helmets and artifacts throughout the world, and shows how the Keys played a part in scuba diving history.  It is $15 for general admission and there are coupons on their website.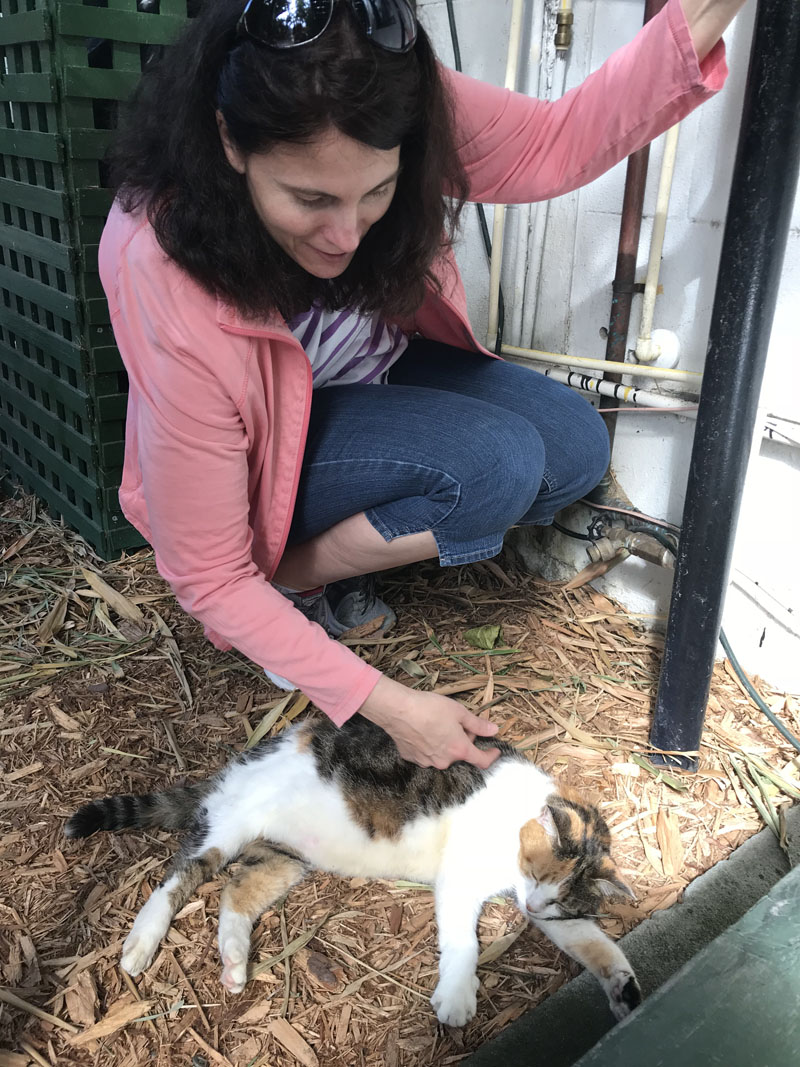 My absolute favorite spot in Key West is the Hemingway House because there are at 50 polydactyl cats roaming around the property.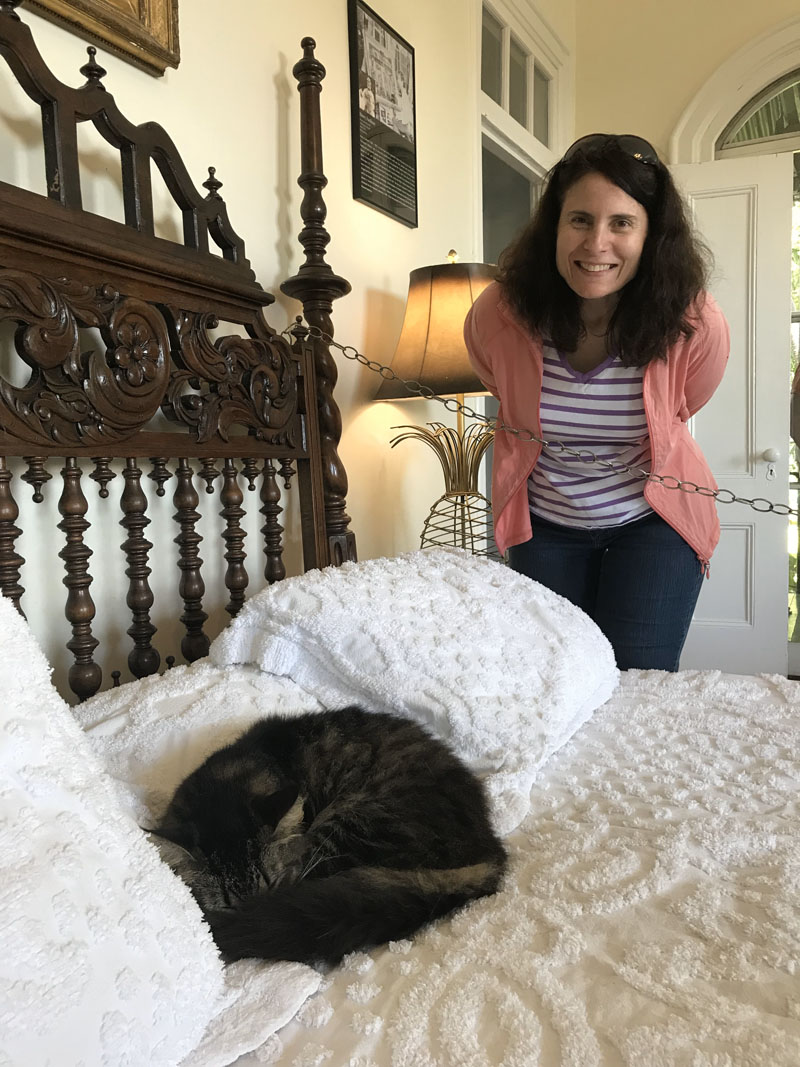 You will see the cats throughout the main house and outside.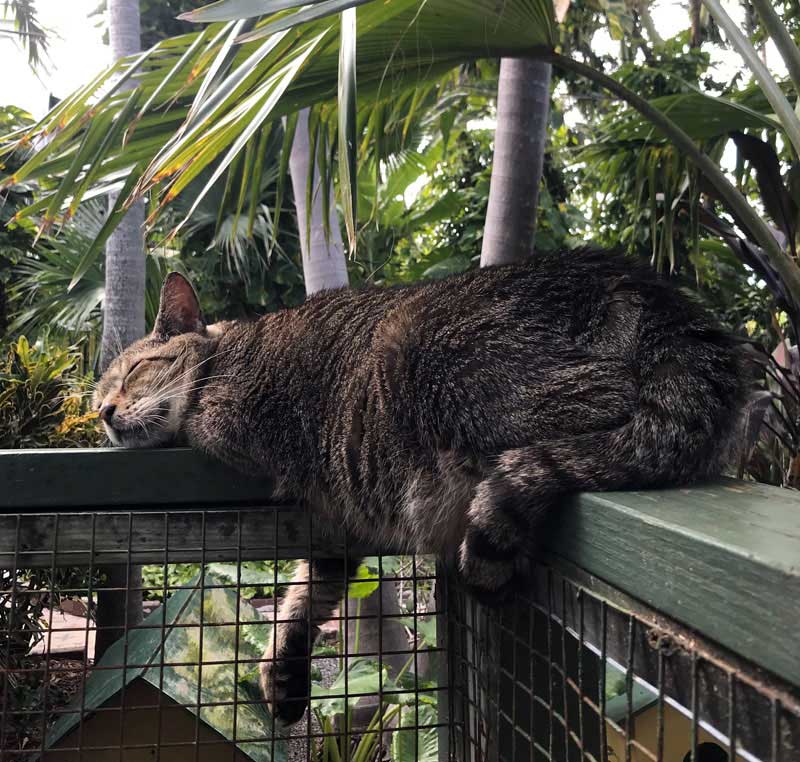 You will also see them lounging about on the deck or just basking in the sun on the grass.  You are not allowed to pick them up, but you can pet them as much as you want.  I certainly did.
It is only $7 to tour the Hemingway House Museum and the grounds.  If you love cats or have an interest in Hemingway, it's totally worth it.  The Hemingway House itself is also pretty cool!  Don't forget to taste some Key Lime pie while you are in the Keys.  It is wonderful!
Joseph Lowe
2013 Ford F-350
2018 Arctic Fox 1140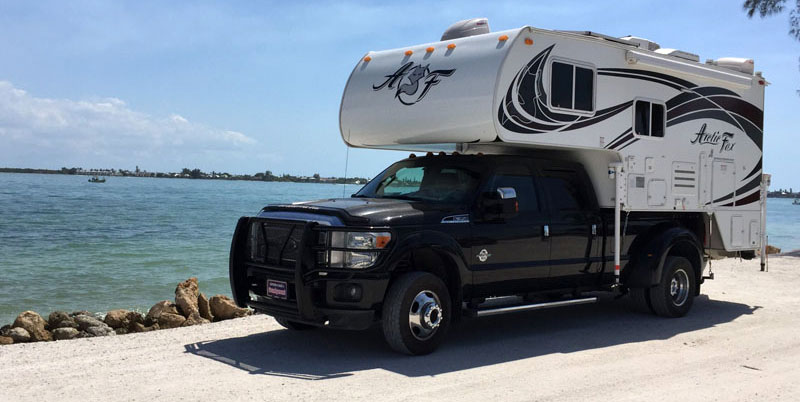 Location of Photo: Roadside picnic area, Key West, Florida
Our trip to Florida circumnavigated the entire state starting with Jacksonville and ending just short of Pensacola.  In The Keys, I recommend that you visit Bahia Honda State Park.  It has fine beaches and a designated parking spot for RVs.
We stayed at the Navy recreation site campground in Key West.  We were in the overflow camping section along with a multitude of other campers.  These sites are without hookups that are very nice and on the water.  The showers were very clean as well. I would definitely recommend the campground there if you are authorized to use DoD facilities.
In Key West, the buoy that is at the end of US 1 is a landmark that is great for photographs.  There are a couple of antique shops in town that are interesting.  Overall it was a nice trip to Key West, but it is very crowded, so I wouldn't do it again.  Young people will probably like it better as there is a multitude of bars and parties.  Grandparents, meh.
Mike Hauer
2021 Ram 2500
2021 Hallmark Milner

We live in Winter Park, Colorado, and trailered our Whaler boat 2,500 miles to The Florida Keys.  Our trip consisted of Wilson Lake in Kansas, Lake of The Ozarks in Missouri, Sardis Lake in Mississippi, Gulf Shores State Park in Alabama, and Grayton Beach, Fort De Soto Park and Boyd's in Key West, Florida.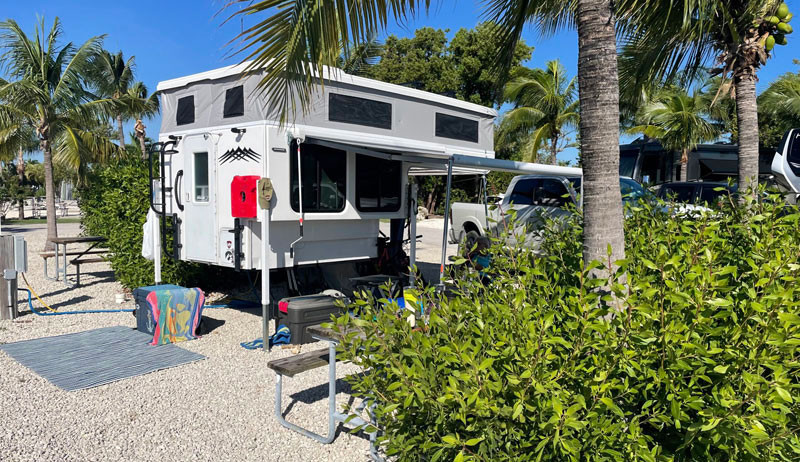 Boyd's Campground on Stock Island is definitely worth it.  We had the Whaler docked across from our site.  A slip and trailer storage is $50 a day.  It's a perfect boat and truck camper site.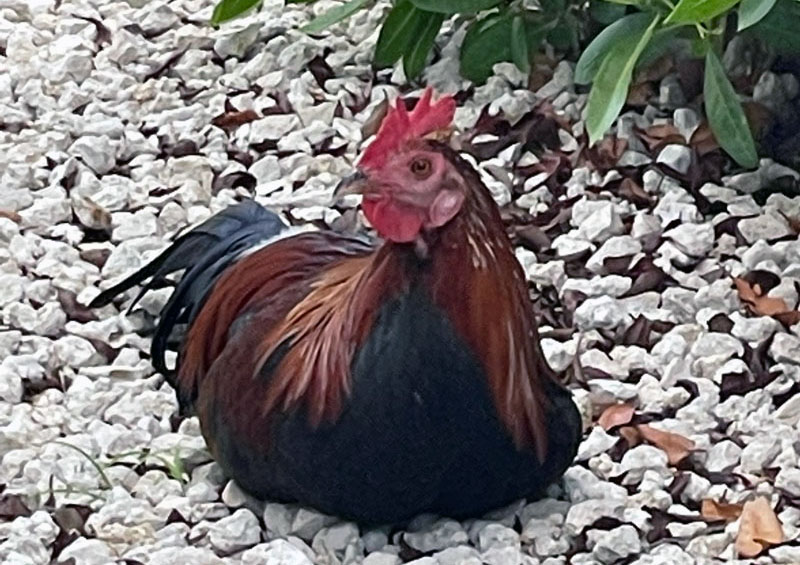 A Key West rooster came right into our campsite.  Great restaurants are a close walk from Boyd's.  They have excellent service at your site and launched the Whaler for us.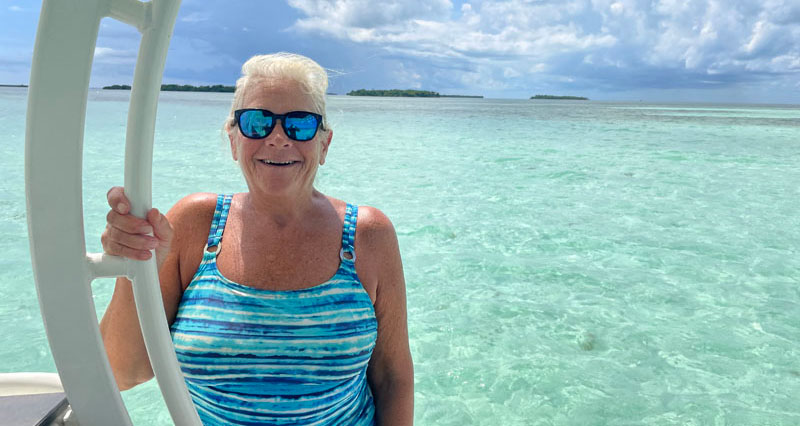 I recommend that you take a boat out to the Sandbar.  The Sandbar is just off Snipe Point on the Gulf side.  It's a little less crowded than the sandbars on the sides of Jewfish Cut.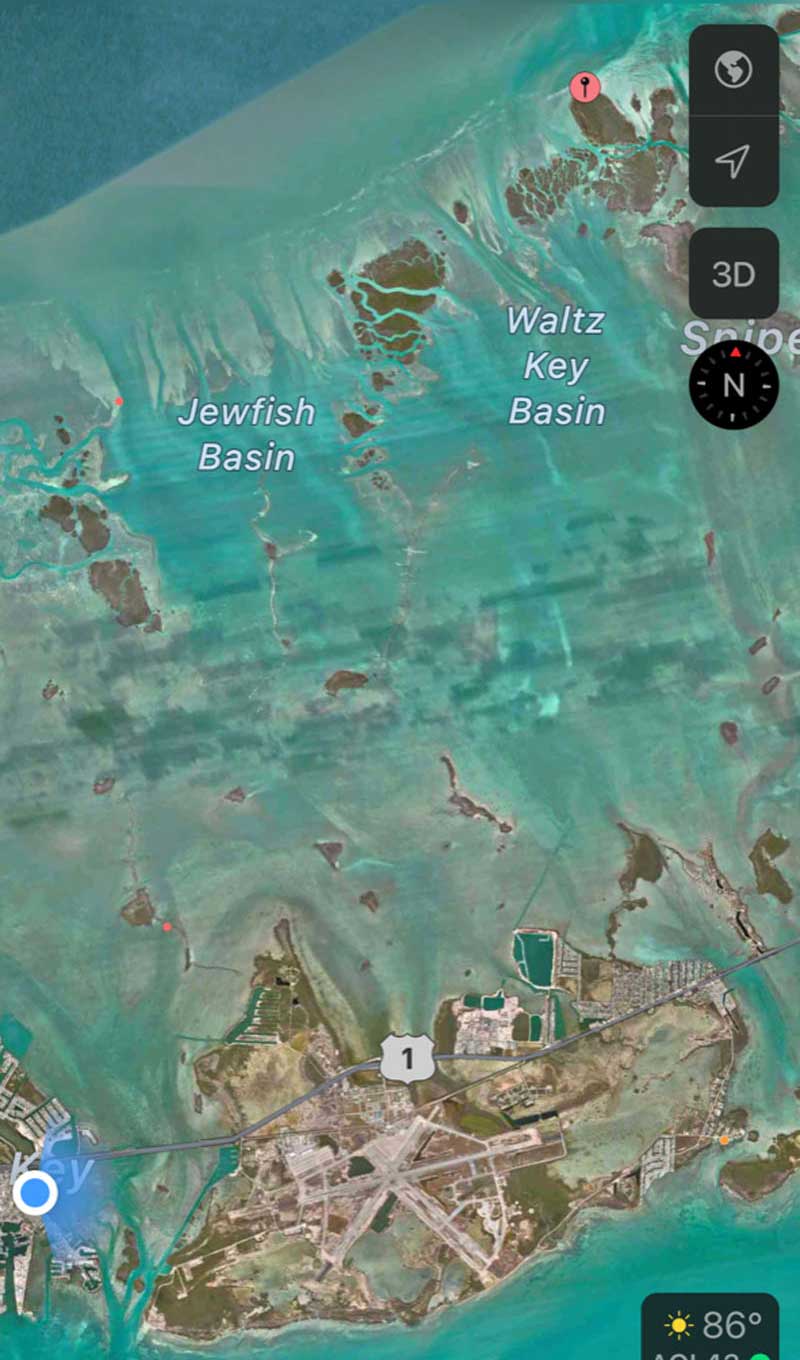 Above: Snipe Point is the red pin and the blue dot is Boyd's.
We also took our Whaler to Marquesas Keys. The Marquesas are interesting because there is a basin surrounded by islands.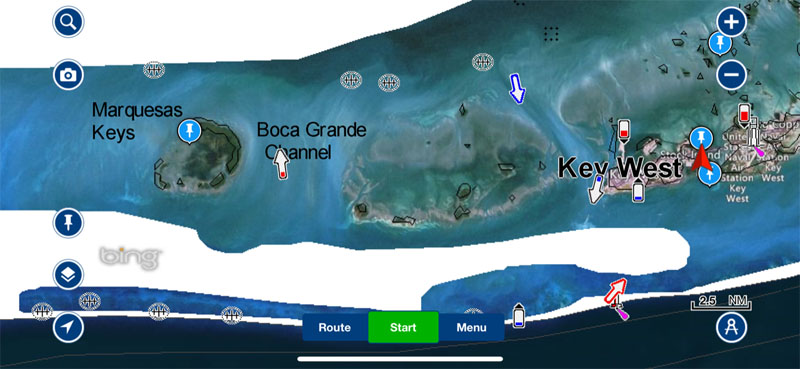 Chris Adams
2010 Ford F-250
2011 Camplite 8.5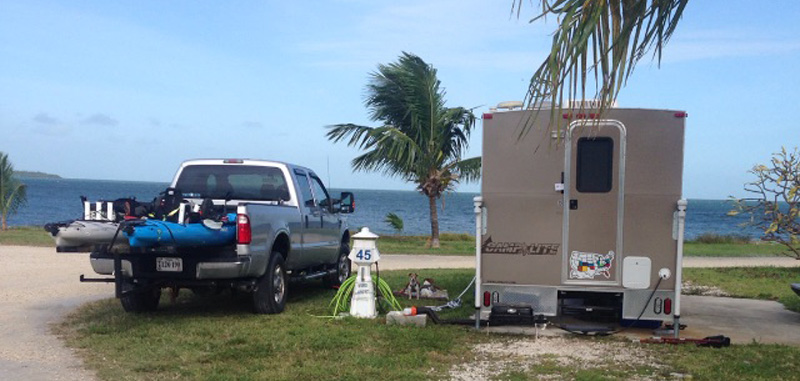 Above: Sigsbee Key RV Park (US Navy campground)
For all three of our trips, we stayed at the Navy campground on Sigsbee Key in Key West.  It is totally worth it if you have access.  It is $40 a night for full hookups or $25 a night for dry camping.  All of the campgrounds have amenities and you can fish from your campsite.  Well, almost.
An awesome day trip from Key West is to take the ferry to Dry Tortugas National Park.  It's expensive, but the place is so worth it.  In Key West, Mallory square is awesome.  There are so many good food places to list.  On your way to or from Key West, stop and see the Key Deer at the wildlife preserve.
Dean S.
2019 Ford F-250
2021 Cirrus 820
I visited The Florida Keys in August.  The summer weather in the Keys is almost always hot, but there is usually a nice breeze to moderate the temperatures.
We have been to various campgrounds in the Keys during the winter, but summer is definitely quieter with a lot fewer people.  In all the times we have been to the Keys, bugs have never been a major problem.  At Bahia Honda State Park there were no-see-ums around dusk and dawn.  Other than that, bugs were non-existent.
On your way in or out of the Keys, I recommend that you stop at Robbie's Marina on Stock Island.  It is a tourist trap with a decent restaurant, but you can hand feed the tarpon right off of the dock.  Also, check out the Key Deer as you drive out to the No Name Pub on Big Pine Key.
For Florida seniors, Bahia Honda State Park is about $20 per night. Otherwise, it's about $40.  Of the four state parks in the Keys, I think this is the best.  I know of nowhere in the Keys to boondock.  To get to the sites without electricity in Bahia Honda you have to fit under a bridge with 6.5-foot clearance.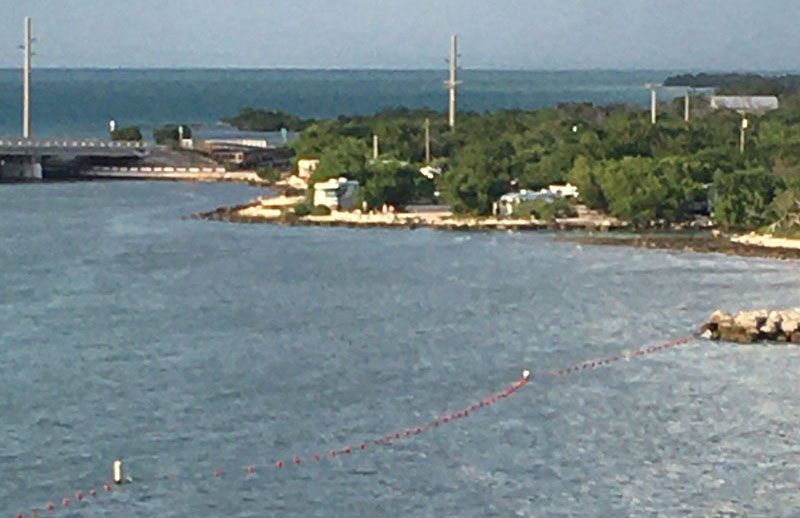 Reservations fill up early, but I was there for a week in August and every night there were numerous empty sites.  The reservations appeared full online, but I guess there were many cancellations because every night had two to ten empty sites.
Editor's Note: We have repeatedly seen empty sites at Bahia Honda and other premium Florida State Parks, even during peak season.  The most credible reason we've heard is that folks make reservations and don't show up.  Unfortunately, the parks don't release the sites if someone is a no-show.
Key West has a lot of interesting stuff to do, but parking is very hard to find.  Before or after you visit Key West, fish off of the seawall.  The seawall is located at the base of the old railroad/car bridge in Bahia Honda State Park.  You can also fish off the old Seven Mile Bridge which is about four miles north of Bahia Honda.  It is set up as a fishing pier with parking at the base of the bridge.  You can take a charter out of the numerous marinas or the party boat out of Marathon.
Gary Raymond
2014 Ram 3500
2006 Lance 1191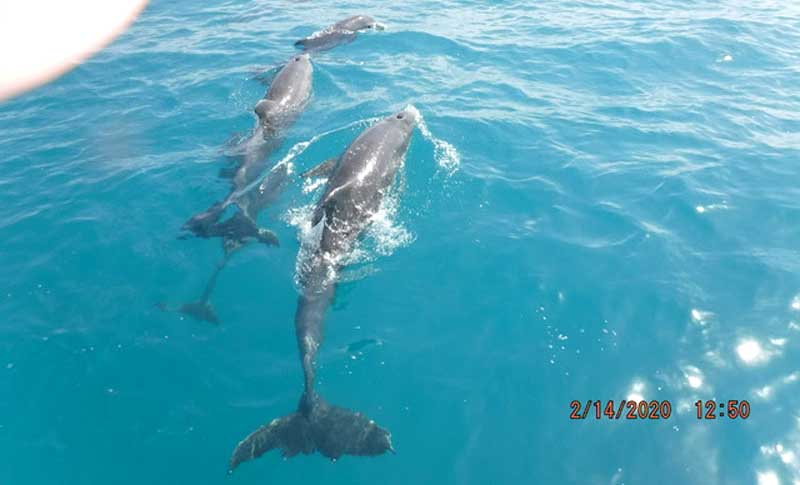 After Vietnam, a friend and I went to The Florida Keys.  I believe it was 1972 and I was sucked into its beauty right away.
I have camped at the state parks here for about $95 dollars a week.  There is a discount if you are a Florida resident and over 65 years old.  You can't beat it, but you have to get your reservations almost a year in advance.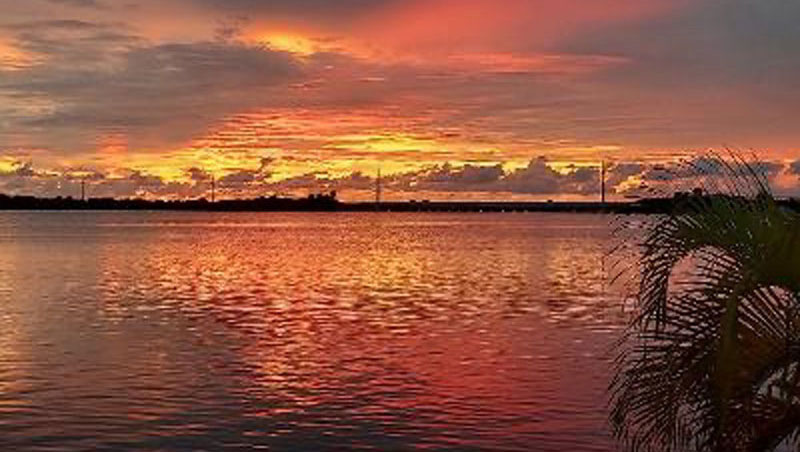 In 2013, I made the move to make The Keys my home.  I have the sunset on the water side of my house.  I dive and fish a lot.  There are plenty of places to dive here.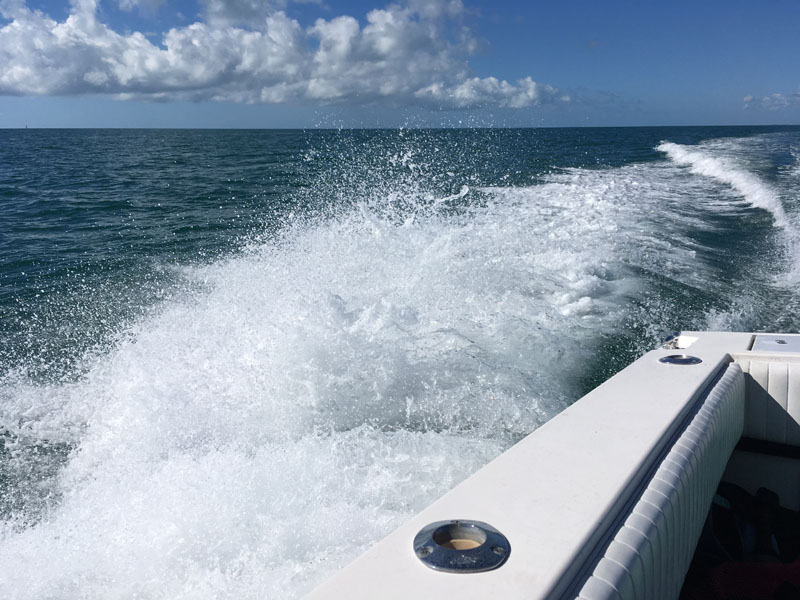 It is funny that my truck camper has been used as a third bed and bath since I've lived here.  My guests let me use it now and then to go places myself.