Get your bucket list out and prepare to chart 10 must-see waterfalls from New York to Michigan to California and beyond.  Each recommendation includes where to camp and what not to miss.
Part of the core mission of Truck Camper Magazine is to inspire our community with destination ideas.  This article focuses on 10 amazing waterfalls (actually many more) that could become part of a truck camping travel theme and itinerary.  A waterfall trip next year?  Why not?
The best part of a themed trip is that it becomes the framework for an even larger experience.  That falls trip in the fall might take you to Montana's Glacier National Park (St. Mary Falls and Virginia Falls) and then down to Wyoming's Yellowstone National Park (Lower Yellowstone Falls).  After that adventure, your photos and stories will be about a lot more than just water under the influence of gravity.  "There was that buffalo…"
Admittedly, we happen to both love waterfalls.  Why?  We have no idea, but waterfalls can be absolutely mesmerizing – kind of like a campfire (or a laundromat dryer, but that's another story).  Show us a hike with the promise of a spectacular waterfall and we're going.  Speaking of our favorite waterfalls, Angela starts us off.
1. Rainbow Falls and Cavern Cascade, Watkins Glen, New York
Angela White
2018 Ram 3500
2004 Alpenlite 1100
The Gorge Trail at Watkins Glen State Park in New York should be on everyone's truck camping bucket list.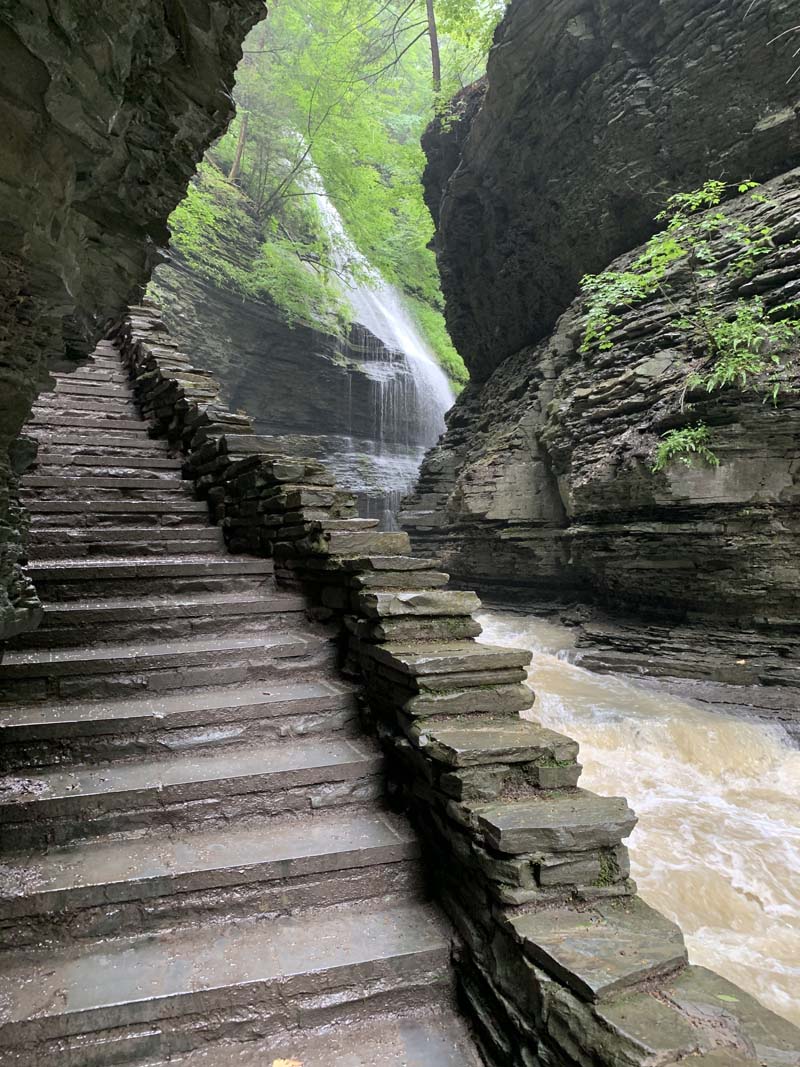 This magical hike takes you right along the raging Glen Creek with cliff walls on both sides of you.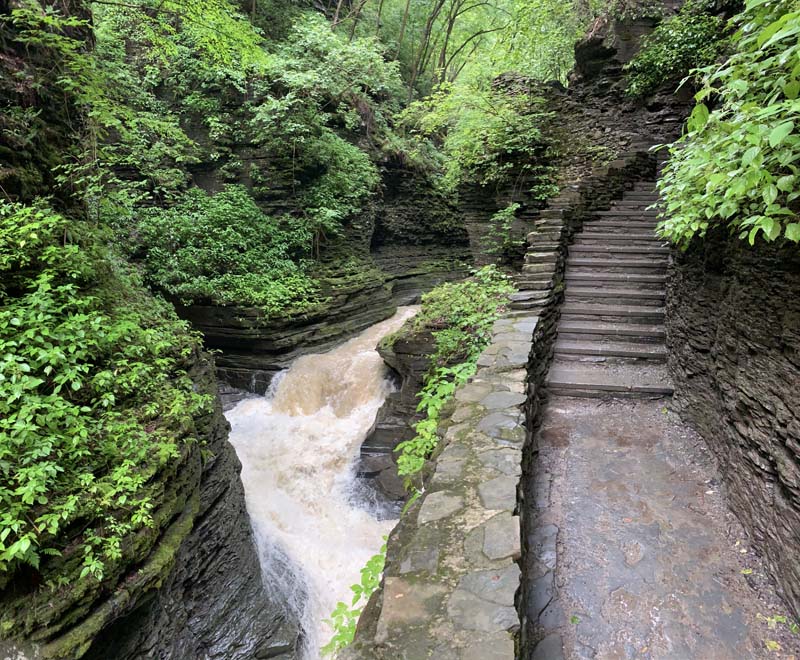 In just 1.5-miles you will see 19 amazing waterfalls and countless spectacular gorge views.  I think we took twice as long as everyone else because Gordon stopped to take so many photos.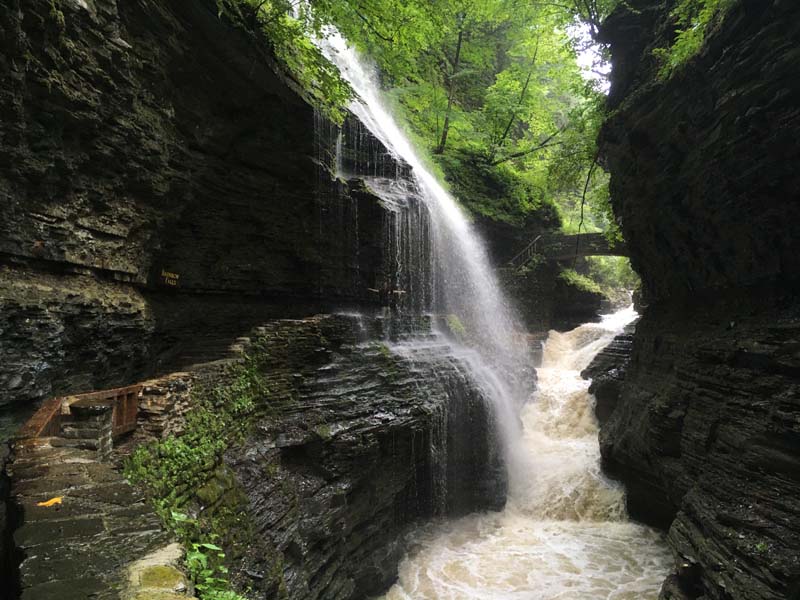 Above: Look closely in the picture above and you'll see Gordon behind Rainbow Falls.  That's me in the picture below also behind Rainbow Falls.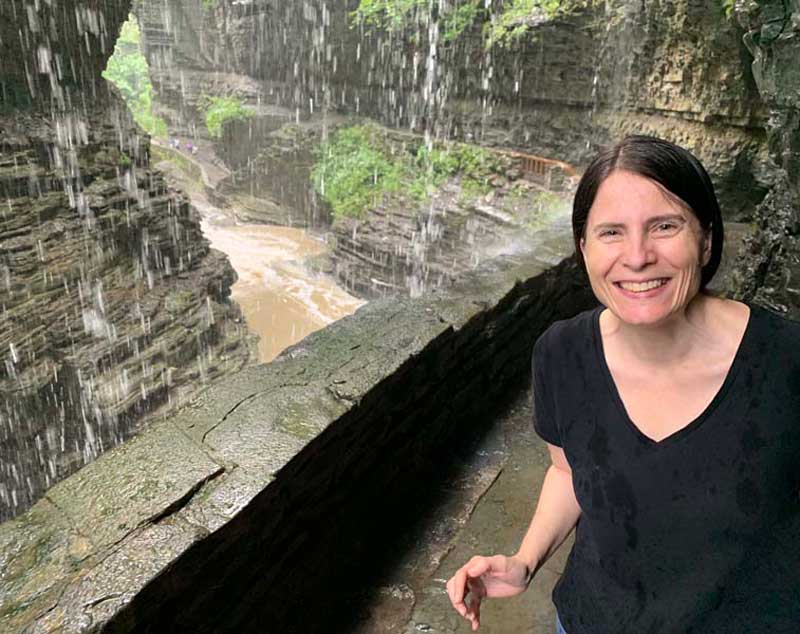 There are two waterfalls during this hike that you will get to literally walk behind, which is incredible.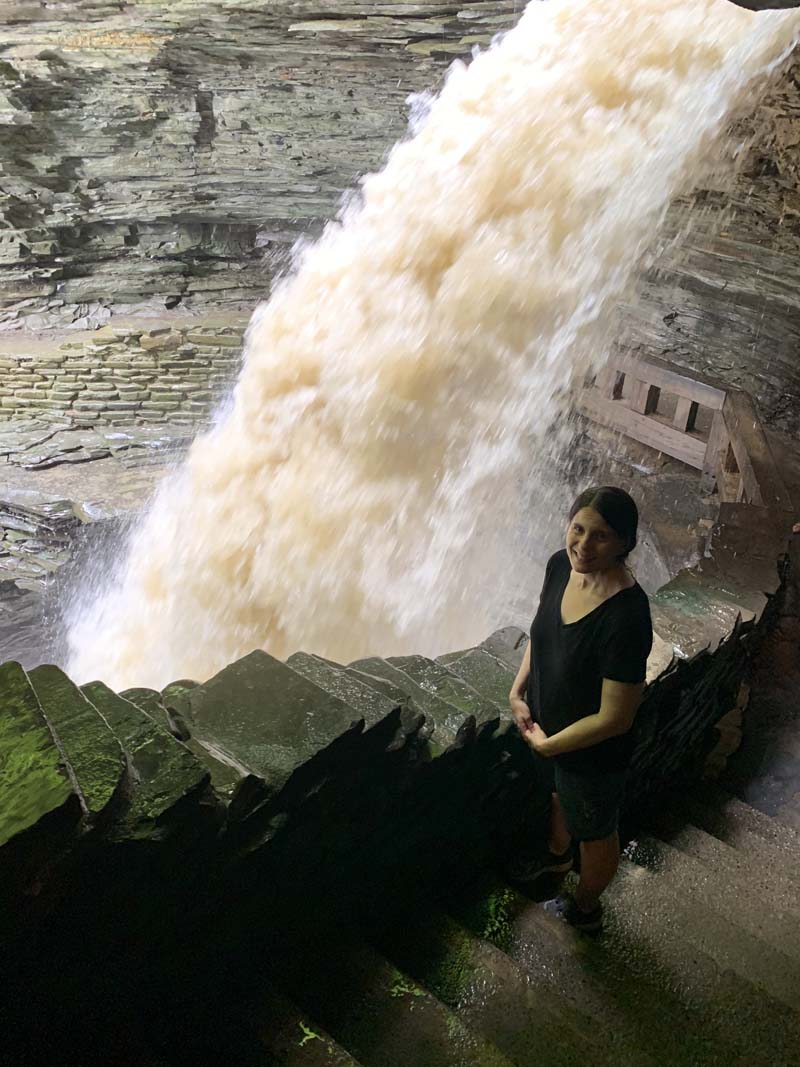 Above: Approaching the spiral staircase near Cavern Cascade
There's also a fun spiral staircase inside the cliff walls, lots of short bridges that cross the water, and a picturesque suspension bridge.
The Gorge Trail at Watkins Glen State Park is an enchanting place that makes you feel like you are in a waterfall fairyland.
The campground in Watkins Glen State Park has 279 sites.  We recommend making reservations, especially in the peak summer months.  Some sites have electricity and some are dry camping, so be aware of that when you make an online reservation.
Only the Onondaga Village sites have direct access to the Gorge Trail.  There is a large parking lot near the entrance for the Gorge Trail, which we used.  The campground has two nice dump stations.  Trash and recycling containers are spread throughout the park.  Cell service in the campground for Verizon is poor.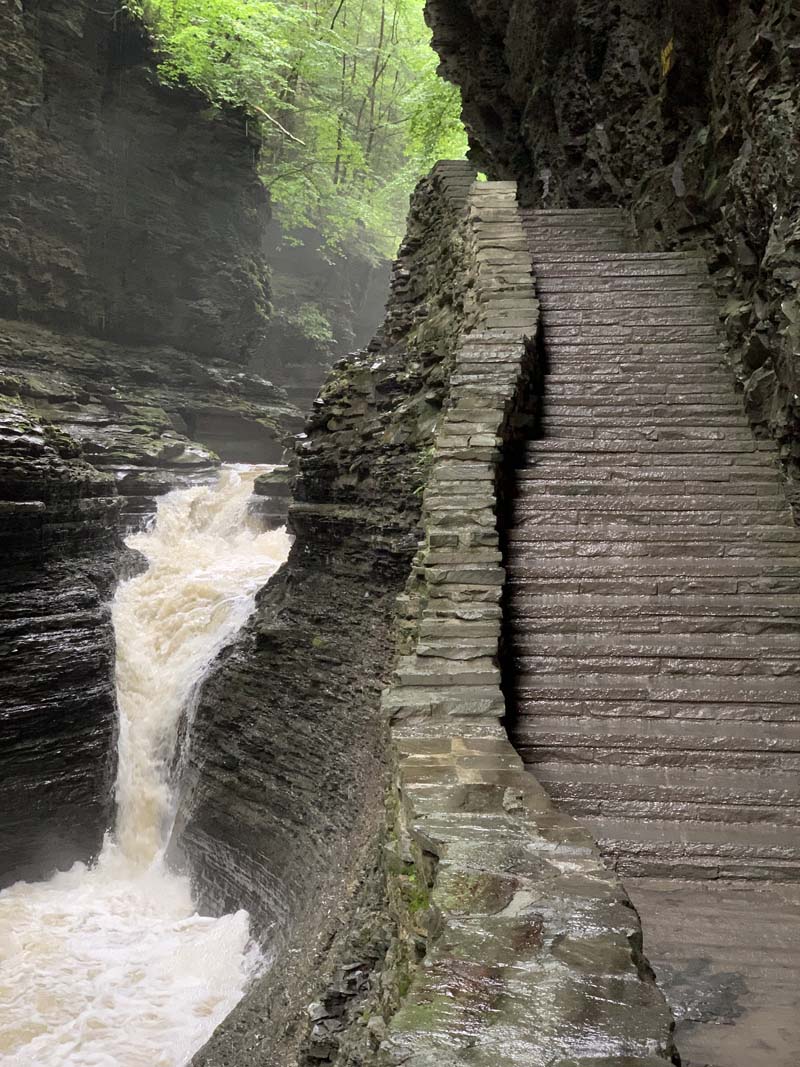 Dogs are allowed in the campground, but not on the Gorge Trail.  Dogs are allowed on the upper outer rim trails.  At the time of check-in, mandatory Rabies vaccination paperwork is required for pets (metal tags will not be accepted).
Tip: When you enter Watkins Glen on Old Corning Road, you will immediately see a low bridge sign.  Don't worry because that bridge is past the entrance of the park.
Tip: Go on the Gorge Trail hike early in the morning (before 9am) and you might have the trail to yourself (we nearly did).  It gets busy by mid-morning.
If you stay in the area for more than a few days, there are many other waterfalls and state parks in the Finger Lakes region.  The wine trail around the Finger Lakes is also fun and has lots of Harvest Hosts locations.  The entire area is highly recommended.
2. Burney Falls, Northern California
Gary Gadwa
2012 Ford F-350
2010 Eagle Cap 950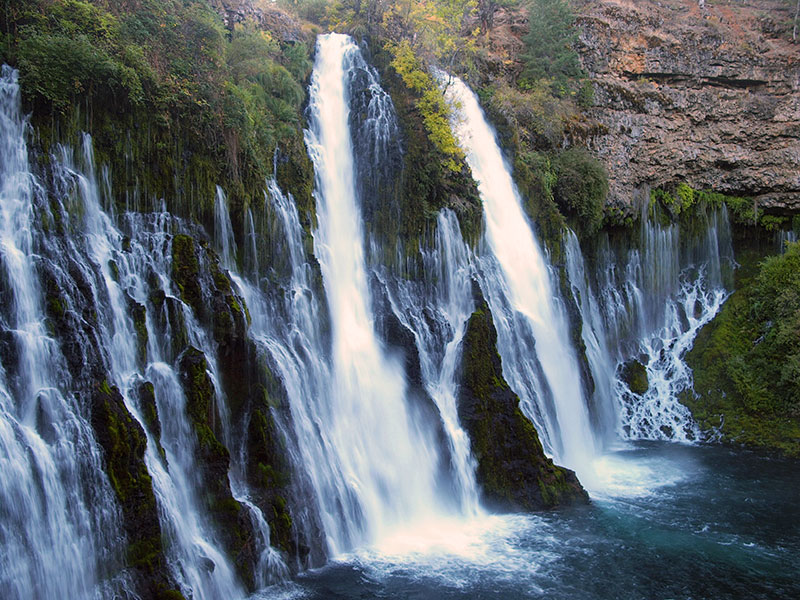 Above: Burney Falls, Northern California
Burney Falls is a beautiful waterfall that's northeast of Redding, California.  Fed by springs, the falls flow up to 100-million gallons a day.  The falls flow to Britton Lake where water sports are popular and fishing is limited to the creek.
From the town of Burney, take Highway 299 and then Highway 89 for six miles.  There is plenty of parking for a truck camper.  Once you are there, it's a short leisurely loop trail hike (.75 miles) to Burney Falls.  There are five miles of trails in the park.  The day-use area can be crowded and the fee is $10.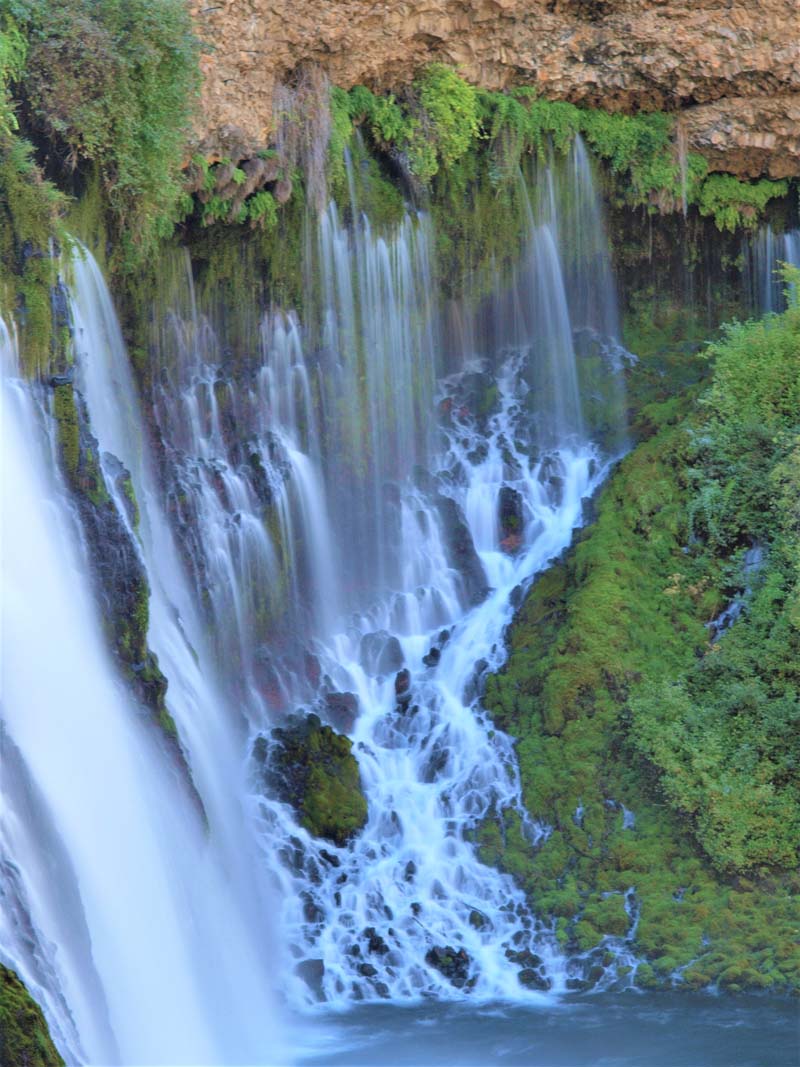 We stayed at Burney Falls Campground.  Camping for rigs up to 32-feet is by California State Parks Reservation only.  It's currently $35 per night.  A dump station and water are available.
If you're in northern California, you should also visit Mount Shasta and Mount Lassen in lava country.
This year (2021) may not be a good time to visit for a few reasons.  There have been many area wildfires, the visitor's center was closed due to Covid and they are doing trail and campground construction work.
3. Yosemite Falls, California
Charles Coushaine
2001 Ford F-350
2012 Chalet DS116RB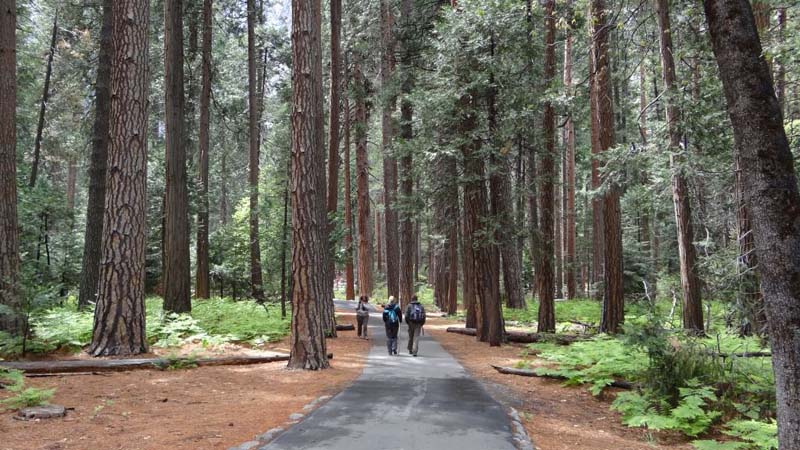 The walk to see the Yosemite waterfall is a very easy paved path from the parking lot.  Besides the waterfall being a double falls (one over the other) the walk to see the falls is among these huge trees that stretch high into the sky.
Yosemite National Park was fantastic, and it's a waterfall wonderland as I have come to call it.  Each waterfall was more dramatic than the last, and we tried to see most of them in our three days of sightseeing.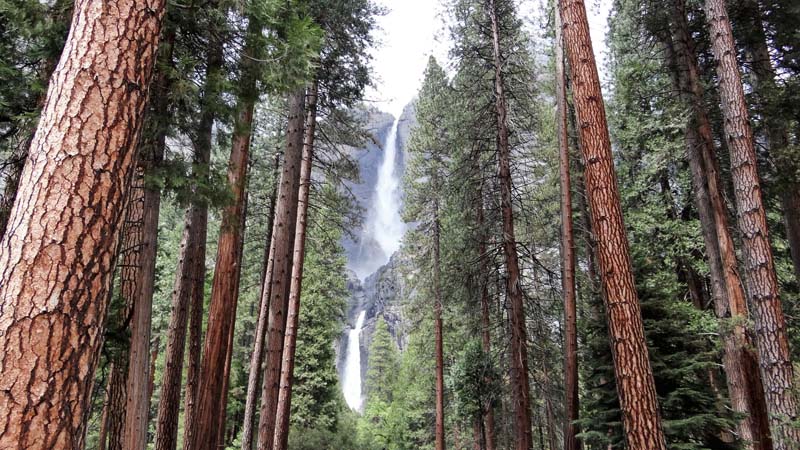 Not only did the size, shape and flow change with each waterfall, but the hike also greatly changed to view its wonder.  We must have hiked over 20-miles to see these majestic beauties and all the surrounding mountains.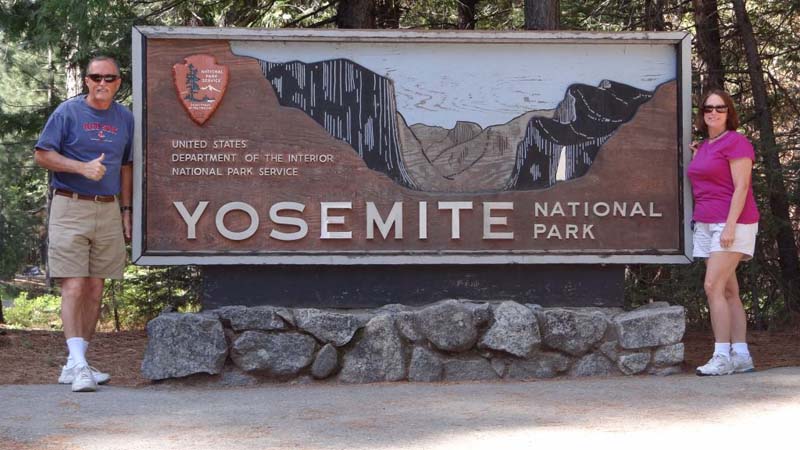 We camped at the Pines Campground in Yosemite National Park and it was beautiful.
4. Lower Falls, Yellowstone National Park, Wyoming
Connie Westbrook
2008 Chevy 3500
1997 Lance Squire 5000
My favorite waterfall is Lower Falls which is located in Yellowstone National Park.  We've been going to Yellowstone off and on for 25-years.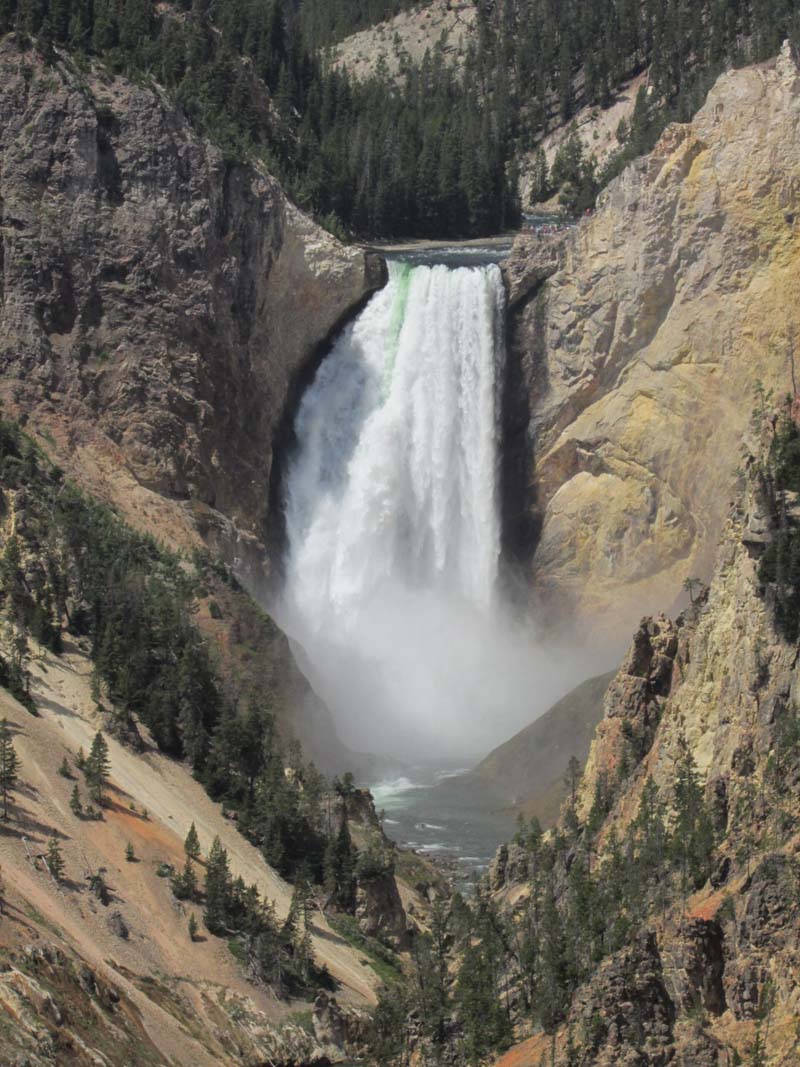 There are a lot of trails that take you down to viewing platforms.  There is a large parking lot with some RV parking.  If you don't want a hard trail, there is an easy, short, flat-paved walk to lower falls from the parking lot.
We like to cross the river to the southeast side and go to Artist's Point.  It's my favorite view of the falls.  Thomas Moran painted his famous painting of the falls from there.  The trail is pretty flat and short to Upper Falls as well.  I just don't find it nearly as dramatic, so we usually skip it.
In order to get into Yellowstone, and most national parks, you have to pay an entrance fee.  We have stayed at nearly all the campgrounds in Yellowstone.  We prefer Canyon Campground because of its central location and amenities.
5. Bucking Mule Falls, Bighorn National Forest, Wyoming
John Pitts
2017 Ford F-450
2019 Lance 1172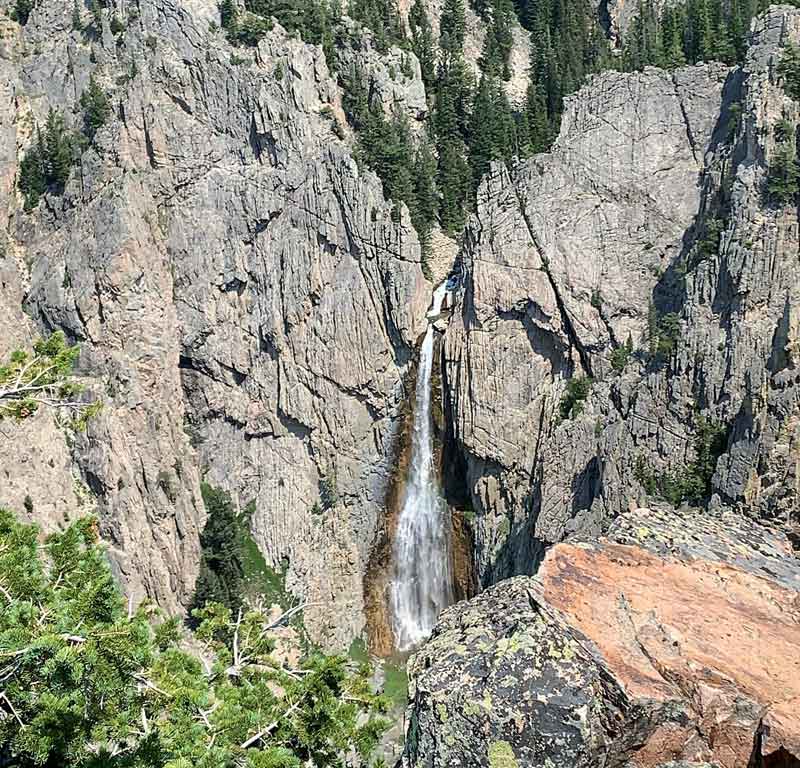 Above: Bucking Mule Falls, Bighorn National Forest, Lovell, Wyoming – N44.88417° W107.90677°
To get to Bucking Mule Falls, it's an easy to moderate 4.5-mile hike out and back.  The hike in the trees lends to the beauty of the waterfall.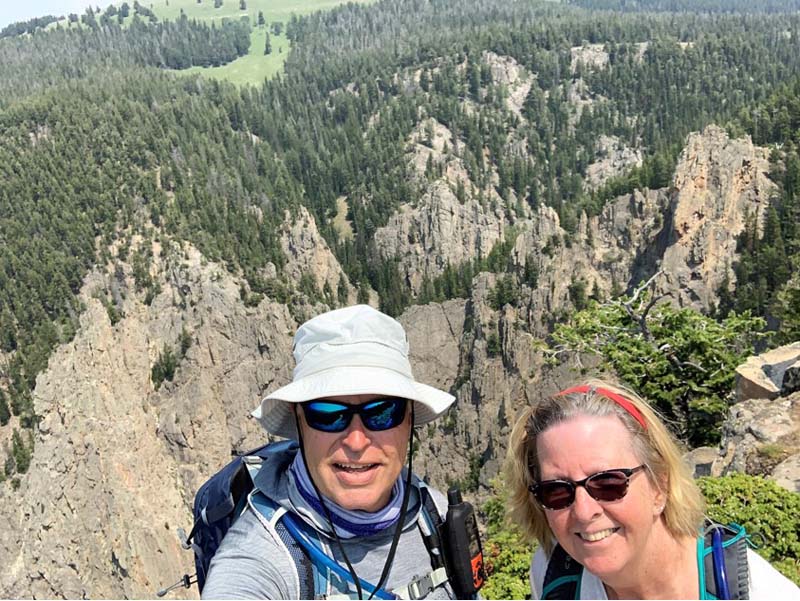 Though it is a gentle descent for most of the hike to the falls, it's a fairly steady incline on the return.  At an elevation of 8,500 to 9,000-feet, the incline combined with the elevation can make for a fairly strenuous hike if you're not elevation acclimated.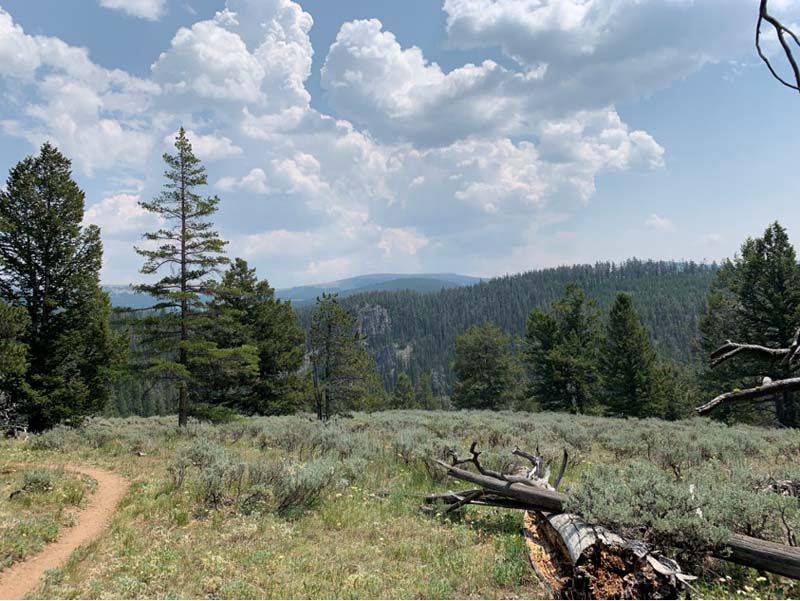 You're on your own here.  There are no rangers and no fees.  There is plenty of parking at the trailhead.  Be sure to take the correct trail out of the parking lot because there are several trails available.  Many folks ride horses out of the parking lot.  There are several miles of well-maintained forest service gravel roads to the trailhead.
If an easier/shorter waterfall hike is desired, Porcupine Falls is nearby.  It is an easy one mile out and back with about 100-stairs.  Another a must-see place nearby is Medicine Wheel which is a Native American ceremonial site.  It is quite spiritual with a fairly easy three mile out and back hike on a gravel road.  There is easy access from Route 14.
We camped at a spectacular boondocking site on FS15 near Little Bald Mountain.  We saw lots of wildlife from the camper including a large elk herd, moose, deer and antelope.
6. Black River Waterfalls, Black River Harbor, Michigan
John Pitts
2017 Ford F-450
2019 Lance 1172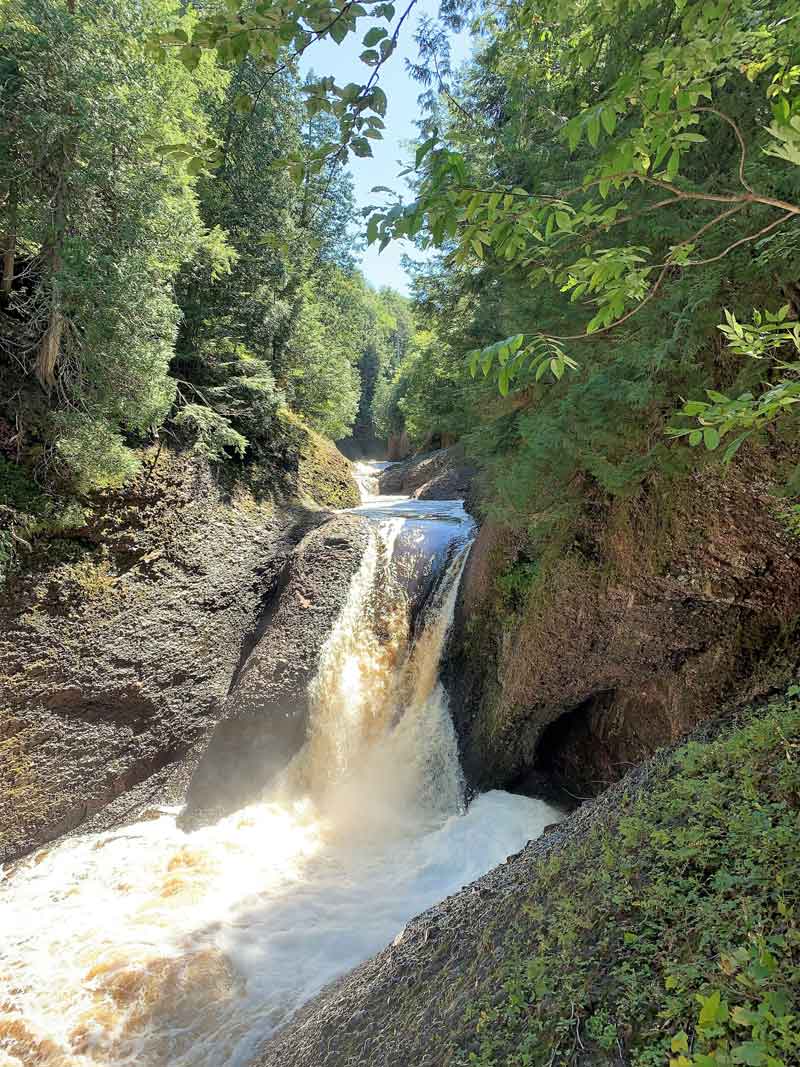 Above: Black River Waterfalls, Black River Harbor, Michigan – N46.64020° W90.05031°
This hike and campground have it all.  It's a great primitive forest service campground on Lake Superior without the crowds of the Porcupine Mountains.  There's a beautiful hike in the woods and along the river to see not one, not two, but five waterfalls.  Each waterfall is different and very scenic.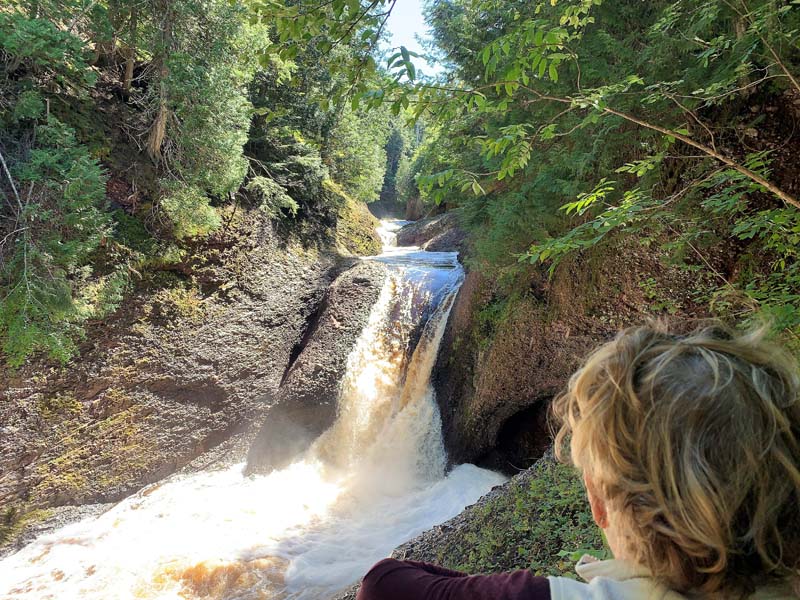 The hike is moderate with quite a few stairs as you approach each of the falls.  The forest provides cover from the sun.  It's about a seven-mile round trip hike starting at the campground and following the trail south to see the five falls.  There are parking areas with a shorter hike to each of the falls.
Parking should not be a problem at Black River Harbor or at any of the individual waterfall parking areas.  On the return trip, we walked Black River Road since it is a bit easier than the hike in the woods.
If you are camping, there is no additional fee.  If you are parking at Black River Harbor (to get to the trailhead) there may be a fee.  We spent four nights at Black River Harbor USFS Campground.  We were walk-ins and scored a great campsite that backed up to the lake.  We could see the lake through the trees even though the campsites are about 50-feet up from the lake.
An adjacent trail leads to the lake, but there is no shoreline here.  It is a short walk to the Black River Harbor recreation area where there is a beach and picnic area.  This is a not-to-miss campground in the Upper Peninsula of Michigan.
There are reservable sites in the campground.  There was no water available in the campground during our stay.  As of August 15, 2021, the situation remains with no water.  They are working to remedy the water issue.
For the more adventurous, there is parking and the trailhead from the south just off Black River Scenic Byway near Copper Peak.  Link to the trail map.
The nearest town is Bessemer for any needed supplies and dining. Be sure to stop by the Copper Peak Ski Flying Hill.
For us, the waterfalls on Black River are better than the more popular Presque Isle waterfalls in the Porcupine Mountains.
7. Virginia Falls, Glacier National Park, Montana
Jeanie Kerner
2017 Ford F-350
2017 Arctic Fox 992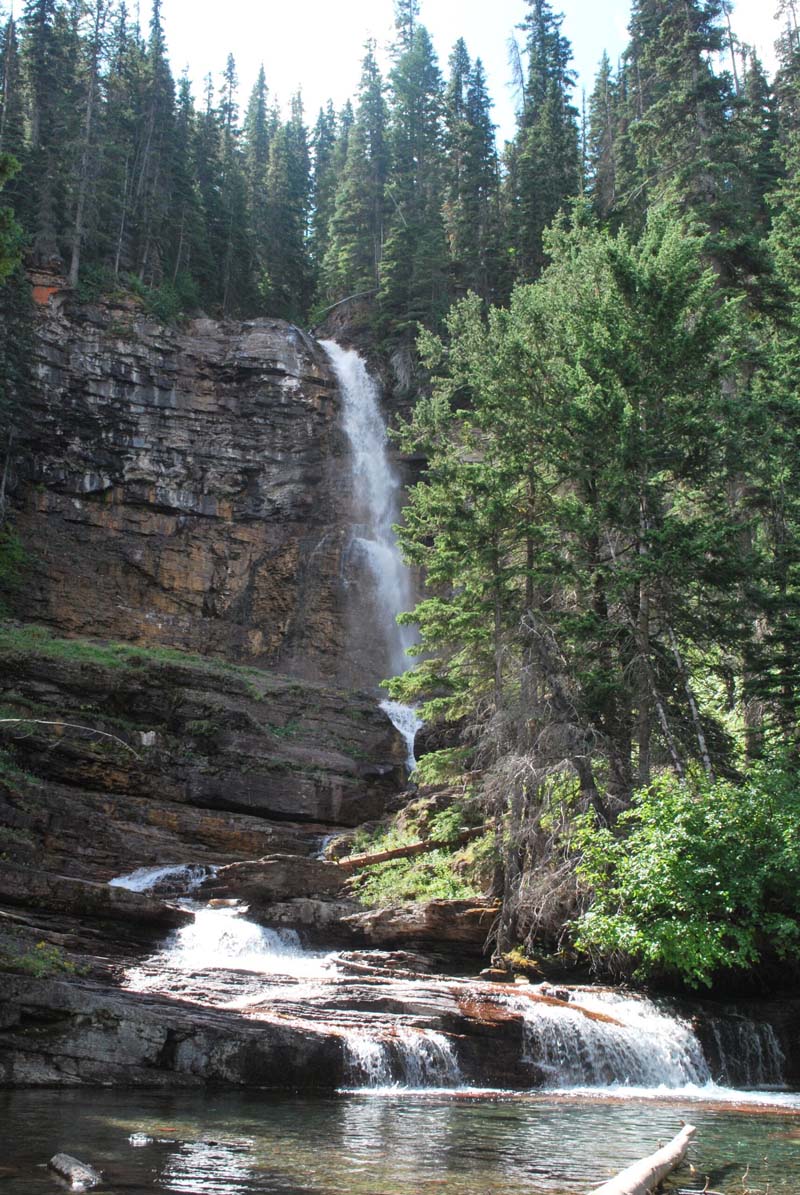 Above: Virginia Falls from creek level, Glacier National Park, Montana
Virginia Falls presents approximately a 50-foot drop with two-tiers and several more small falls from the base down to creek level.  It is about a 3.6-mile roundtrip on an easy trail.  Beginners can handle it, but wear sturdy shoes or sandals for walking.
The only fee is to enter the National Park.  This trail leads you from the parking lot past St. Mary Falls and several other unnamed falls before you arrive at Virginia Falls.  I recommend that you visit the creek level and climb up to the base of the falls.
Parking is available, but limited.  We were very lucky to find a parking place late morning afternoon.  There is also a park shuttle that stops at St. Mary Falls Trailhead and the parking area.
If you still have energy after returning from Virginia Falls, continue on past the trailhead to Baring Falls (.8 mile round trip).  It is a pretty waterfall dropping 25-feet into a stream that empties into St. Mary Lake.
We stayed at a KOA campground.  Don't cringe!  It was the nicest KOA we have ever stayed at and I would highly recommend it.  It was several miles outside the park's entrance.  Camping in the park is limited and depends on your rig and needs.
8. St. Mary Falls, Glacier National Park, Montana
Jeanie Kerner
2017 Ford F-350
2017 Arctic Fox 992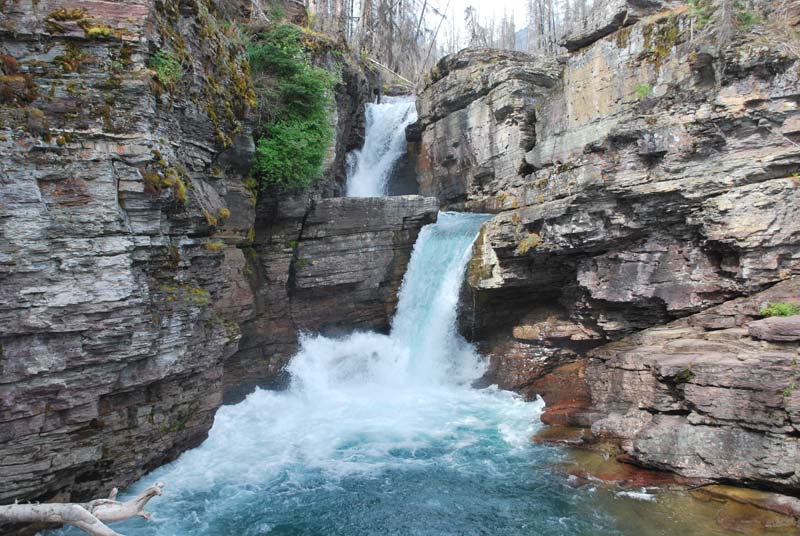 Above: St. Mary Falls, Glacier National Park, Montana
St. Mary Falls is an easy round trip hike of 2.3-miles from the St. Mary shuttle stop parking lot on the Going-To-The-Sun Road.  It is well marked.  We had no trouble parking, but parking is iffy because there are not many spaces.  You can park at the St. Mary's visitor's center and take the shuttle if parking is a concern.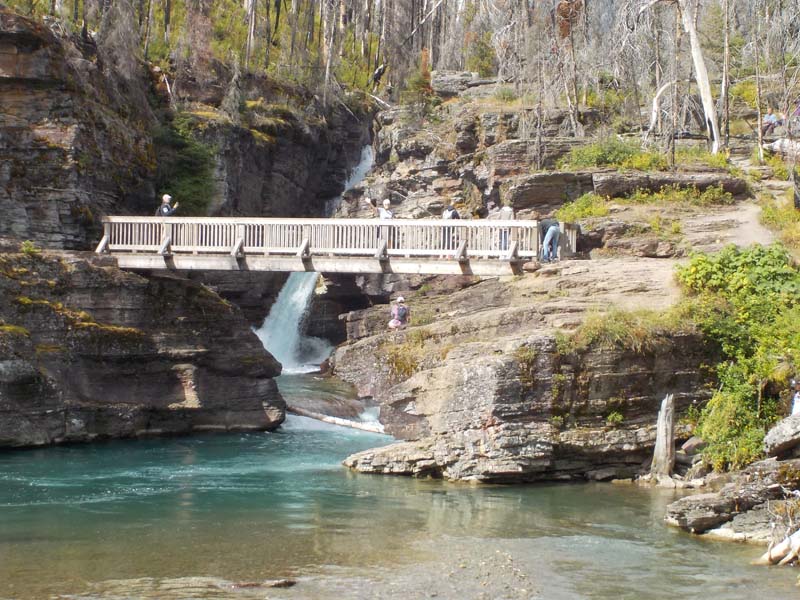 Glacier is beautiful and highly recommended.  There is a fee to enter the park as with almost all National Parks.  It is not a one-day adventure, but a place to savor over the course of a week or ten days.  Be sure to include Waterton National Park in Canada as part of your visit.  You will need a passport to cross the border.
We stayed outside the park at a KOA campground (one of the best we have ever visited) just a few miles from the park entrance.  It is difficult to get a campsite in the park in the summer.  We dropped the camper at the campground and just drove the pickup while we were in Glacier.  The KOA is very popular and reservations are recommended.
9. Toketee Falls (aka Thunder Falls), Oregon
Frank Poole
2016 Ram 5500
2016 Arctic Fox 990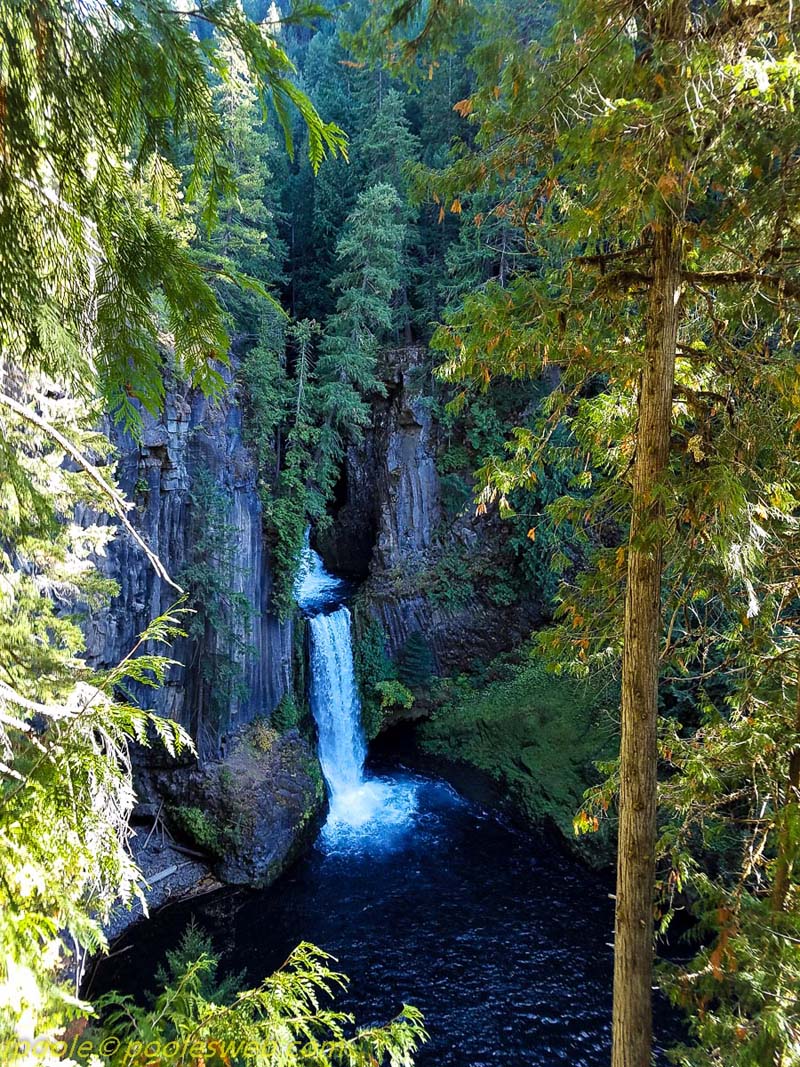 Above: The trail to Toketee Falls aka Thunder Falls, Oregon
It's a fairly easy walk to Toketee Falls.  There are some short steep stairs, but it should be doable for almost anyone.  Hiking is approximately a quarter-mile with no fee and no rangers.  It ends at a platform and the views of the falls are from a distance.
Parking is available and the campsites are right down the road a little.  This whole area is teeming with waterfalls along Highway 62, just west of Crater Lake.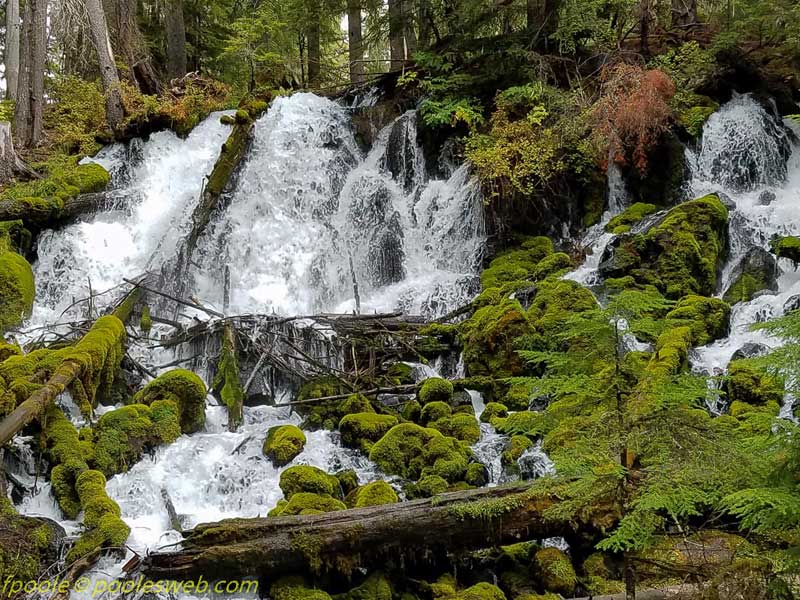 Above: Nearby Clearwater Falls in Oregon on the Rogue-Umpqua Scenic Byway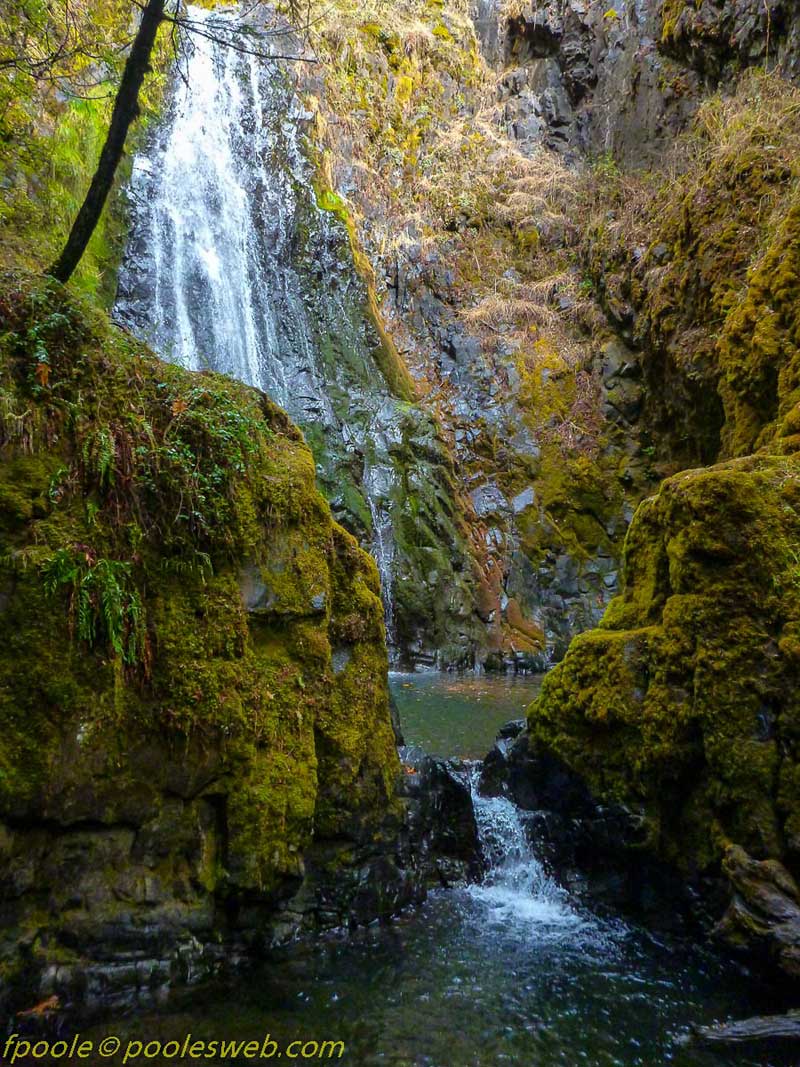 Above: Also on Rogue-Umpqua Scenic Byway, Susan Falls
There are many smaller campsites, and some are for tents and cars/vans only.  They may be at too much of a slant for a camper, but there are plenty of other sites.  Find one and then either drive with the camper or offload at your campsite.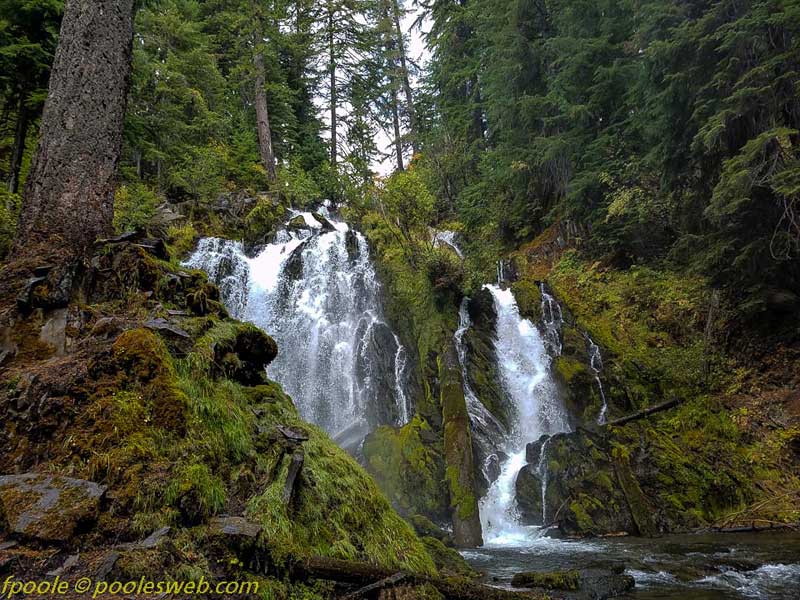 Above: National Creek, Oregon
I stayed at Farewell Bend, a National Forest Service campground.  There were plenty of sites for big RVs.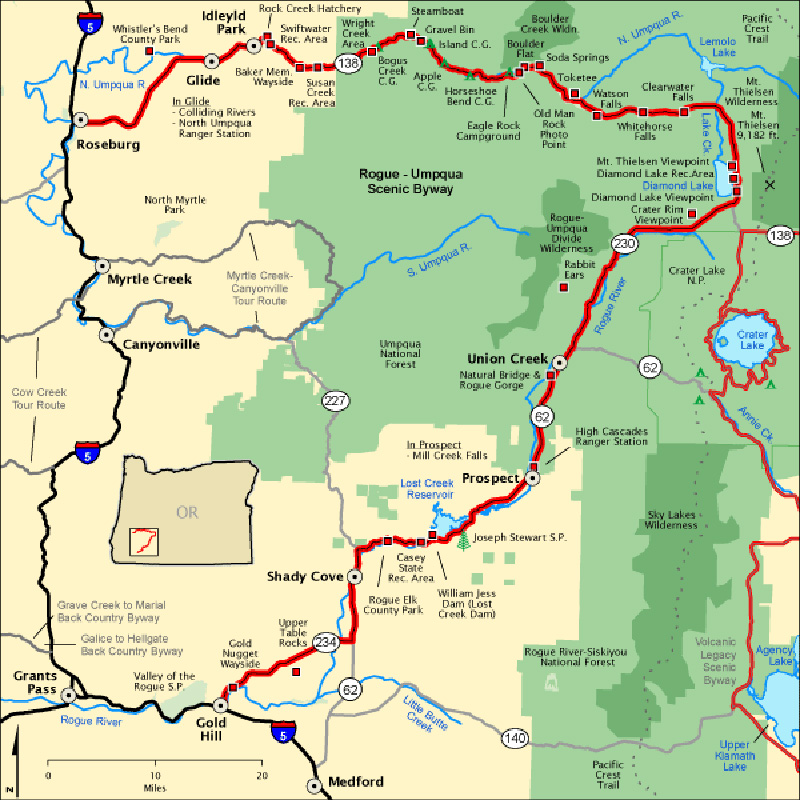 Above: Map courtesy of the Federal Highway Administration, Department of Transportation
It's sort of the starting point for the Falls Circuit (map above) with plenty of campsites along the way.  Of course, I had to camp at Poole's Campground since my last name is Poole, but I didn't make the falls further up the road.
10. Alberta Falls, Rocky Mountain National Park, Colorado
Steve English
2014 Ram 3500
2013 Lance 1172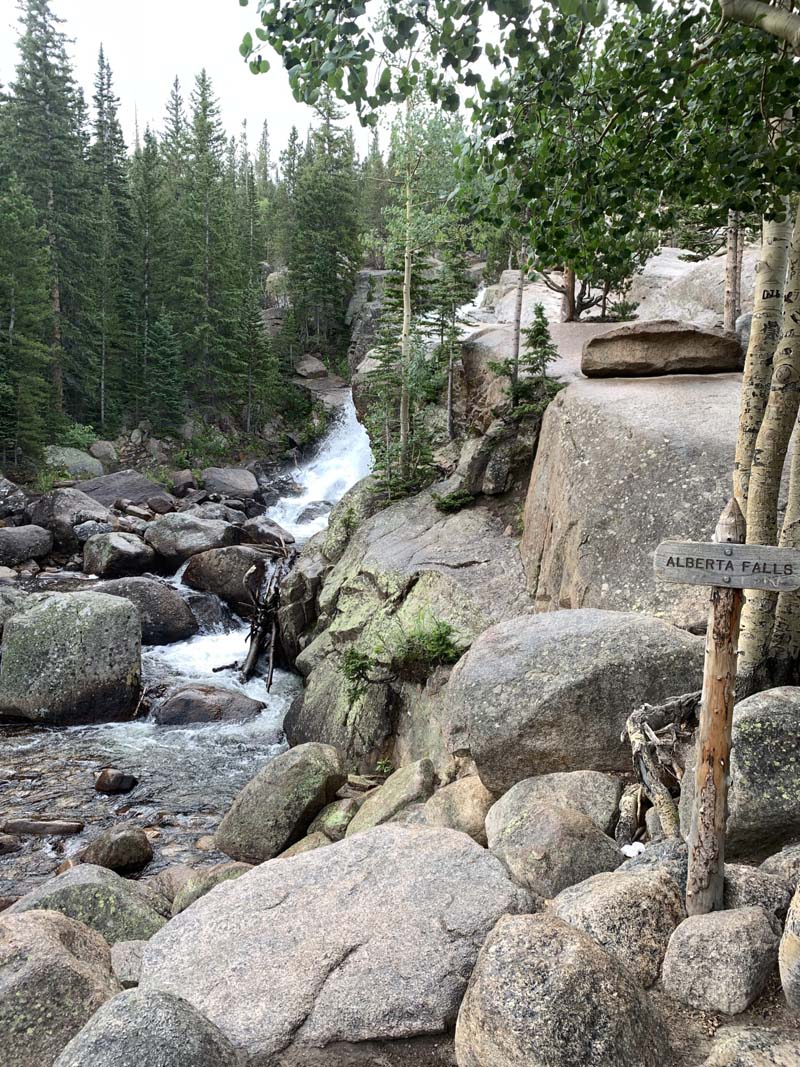 Above: Alberta Falls in Rocky Mountain National Park
Everything about Rocky Mountain National Park is fantastic.  My favorite waterfall in the park is Alberta Falls because it's an easy hike for a guy my age!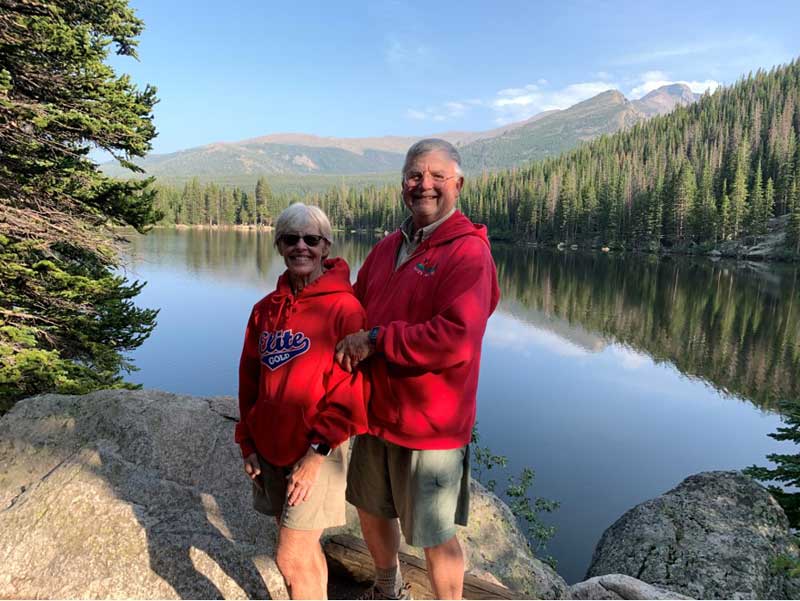 To get to Alberta Falls, you can be dropped off at the trailhead from the park's shuttle or you can drive up to Bear Lake Road and park your rig.  It is accessible by the National Park's bus network that goes right to the Alberta Falls trailhead at Glacier Gorge along Bear Road.  You can park your truck camper in the bus parking area.  I do not recommend driving your truck camper on Bear Road.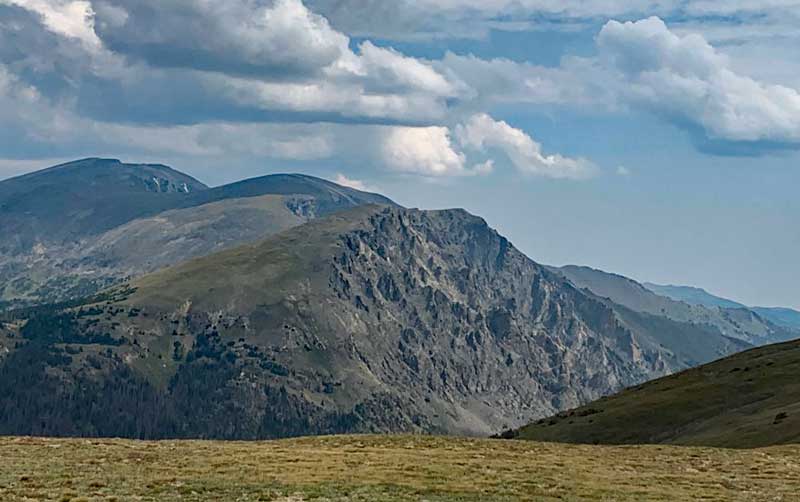 Truck campers are great for National Parks due to their size.  But, still check with all the national parks as to where you can take your camper.  When you arrive, go to the visitor's center to get brochures and maps.  Ask about the current road conditions and weather.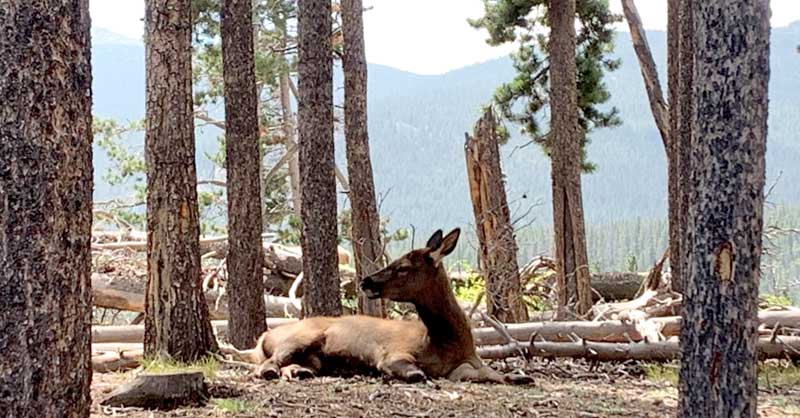 Moose, mule deer, and elk abound in Rocky Mountain National Park.  You will see them along the roads.  The hikers are noisy so go early to avoid the crowds.  Most animal sightings are early and at dusk.  You can ask bus drivers and the rangers where they are seeing animals.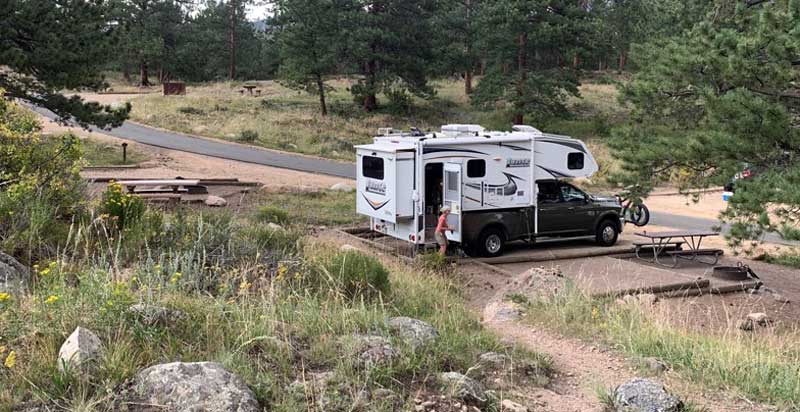 The fees to get in the park are posted on the internet.  Check the discounts they offer for military, oldsters, and those with access passes.  Road permits were new this year to limit access to the park.  They are available at recreation.gov before you go.  You can use their website for your camping reservation, which is also your road permit.  We camped at Glacier Basin and Moraine campgrounds.
Check out more destinations our readers have shared in the USA, Canada, and the World.