Todd Rightsell takes us 14,100 feet high, drives in the clouds, gets his goat, and captures an elk bull; picture that is.  It's Top Shots Rocky Mountain National Park style!  Don't miss Todd's Travel Tips.

TCM is very excited to introduce our new truck camping photo journalist, Todd Rightsell.  Todd's jaw dropping photography and warm hearted adventure writing captured our attention in 2010 with his amazing two part "North American Photo Tour" series.  Reader response to Todd's work was so positive that we invited Todd to help us launch an all new truck camping destination series, Top Shots.
The Top Shots series will take us to some of the best places to go truck camping from world famous national parks, to hidden gems on BLM lands.  Photographed and written by truck campers, for truck campers, Top Shots will be a treasure chest full of fresh ideas on where to go and what to do in these incredible destinations.  First up for the new Top Shots series is none other than Rocky Mountain National Park.  Take us to the top Todd!
Top Shots in Rocky Mountain National Park
by Todd Rightsell
Above: Scenery from inside Rocky Mountain National Park
As some of you already know, I try to take a trip out west every summer for six to eight weeks in my home away from home, my Northstar Arrow truck camper.  I have done this every summer since I got the camper in 2005.  I vowed when I bought it to spend a year just roaming and exploring the national parks; not all at once, but six trips of two months each.  I have made it happen for five summers in a row and then the economy got the best of me.  Real estate has been in the pits in case you haven't heard!  In 2010 I wasn't able to go, and I was literally heartbroken.
I was beginning to think my year was in jeopardy and I actually considered the unthinkable, selling my truck camper!  Thankfully things turned around and I was able to complete my dream in 2011.  Not only did I knock out the last two months of the year this past summer but I managed to get a few more weeks in to boot.  I was fortunate enough to spend just over 100 days out this summer; my longest and possibly best trip yet.  I say possibly because my trip to Alaska in 2007 is hard to beat!  Including my six major trips, local camping trips, bluegrass festivals, beach trips, etc; I estimate that I now have close to 450 nights under my belt in the tin can.  Nobody can tell me that I haven't gotten my money's worth!
Credit goes to Rex and Rory and the bunch at Northstar.  The thing still looks like it's brand new!  And believe me, I have tried my best to shake, rattle, and roll it to death!  I have hauled my Northstar close to 90,000 miles over some of the roughest roads in North America and she still looks brand new.
Gordon and Angela were nice enough to ask me to share some of my pictures and memories from this summer, so it here goes.  I hope you all enjoy them.  I literally had the time of my life making them.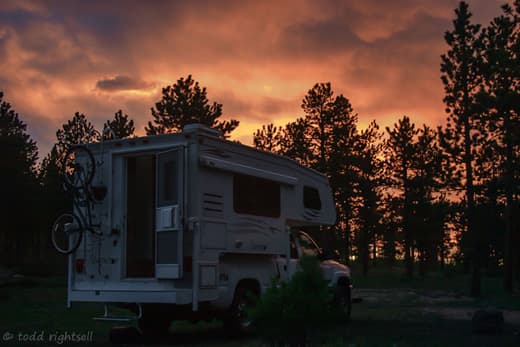 I left Greensboro, North Carolina on June 12th and made a beeline for Colorado.  The plan was to spend a week or so in Rocky Mountain National Park and see my cousin in Boulder.  I knew the park would be crowded and I wanted some solitude and a sense of camping in the wilderness, so I detoured and headed a bit north of the park and ended up in the Roosevelt National Forest for my first official night of camping of the summer.  I found a forest service road and off I went.
A few miles in I found a small dirt road off the main road and followed that into the woods a few hundred yards and set up camp in a small clearing.  I was treated to a spectacular sunset and more solitude than I could stand!  The next morning I woke up to a light dusting of snow and thirty-five degree temps, a bit different than summer in North Carolina!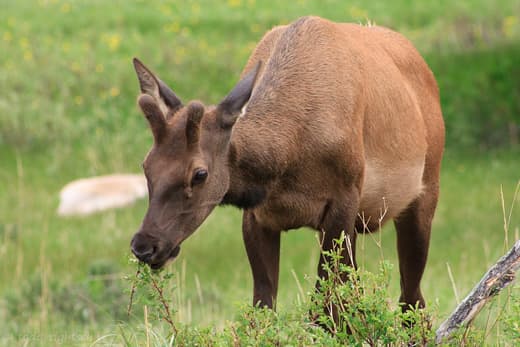 After getting my fill of camping in the woods alone for a couple of nights, I headed into Rocky Mountain National Park.  RMNP is famous for (among other things) its Elk herds.  If you spend any appreciable amount of time in the park you are sure to see Elk close up.  I set up camp for a couple of nights in the Moraine Park campground and captured this cow on my evening walk around the campground.  She was pretty used to people and she was drawing a crowd.  I managed to get close enough to get at least one good shot.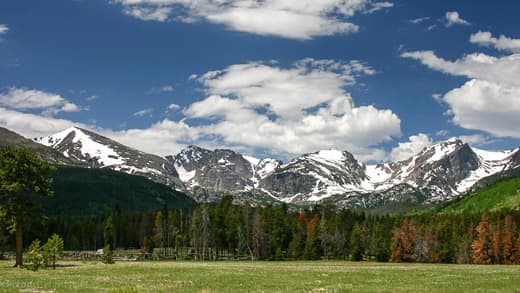 I spent a couple of nights in Moraine Park Campground before relocating further up the Bear Lake Road to Glacier Basin Campground.  The place was half empty when I checked in and I was able to grab a prime spot.  This may be one of the best views in the park and it was right out the back door of my camper!
Needless to say, I was in no rush to leave so I spent a few nights here just enjoying the eye popping scenery and spectacular hiking from the trail heads along Bear Lake Road.  The park offers a free shuttle service that comes right by the campgrounds and takes you to the trail heads which makes getting around easy and keeps congestion down along the road.  Although several parks offer a similar service, more should follow their lead.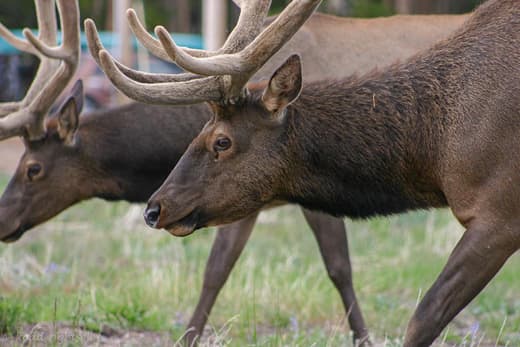 When I checked in to Glacier Bay I had no idea what awaited me that evening.  About 6:00 pm a small herd of young bull elk showed up.  When I say showed up I mean they literally wandered right through the middle of the campground like they owned the place.  This photo was taken from the picnic table in my campsite.