Ten experienced truck campers reveal a list of must-see roads, trails, and attractions in and around Glacier National Park in Montana.  First up, the harrowing Going to the Sun Road.  Look out below.

"I'm fine.  We're fine.  We're not going to drive over the cliff."
Angela wasn't hearing any of it.  She was freaking out in the passenger's seat, transfixed by the certain death passing mere feet from our truck tires.  The year was 2005, and we were driving up the Going to the Sun Road, a star attraction at Glacier National Park.
"Be careful!  Watch out!  Don't sneeze!" she exclaimed.
I do have allergies, but was oddly relaxed with the winding paved road.  After stopping to photograph roadside waterfalls and beautiful mountain peaks, I found myself thinking as much about the human effort behind building the road as the natural splendor before us.  The St. Mary Visitor Center tells the incredible story of this breathtaking 50-mile drive.
Built between 1921 and 1932, the road is snowed-in and impassable for eight months of the year.  Plowing the two lane road every spring takes up to 10 weeks and requires enormous machines to carve a path through snow that can be 80 feet (24 meters) deep at Logan Pass.  Even after all this work, the road is only open June/July through mid-October.  And you thought your job was tough.
Upon our return home, the Going to the Sun Road was one of our favorite experiences to share with friends and family.  The drive, the scenery, and the history of the park were beyond what we could have imagined.  In 2010, we returned again to Glacier, and look forward to returning many times in the future.
Bucket List Destination: Glacier National Park
Last September we kicked off a new bucket list destination series with a feature on Grand Teton National Park.  In February, we followed up with a spectacular feature on Alabama Hills in California.
For this article, ten TCM readers with first hand truck camping knowledge of Glacier National Park have shared their experience, recommendations, and advice on visiting this incredible destination.  Get your bucket list out.  Glacier National Park is one not to miss.
Kris Cassidy
2003 Toyota Tacoma
2013 Northstar 600SS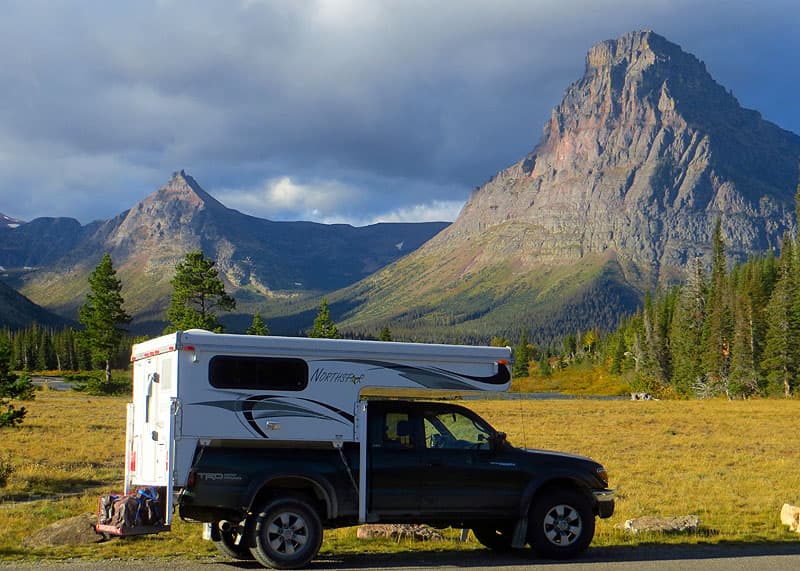 Glacier is my favorite national park, and we have visited it every year for the last three years.  It offers the most spectacular scenery for camping, hiking, and kayaking.
1. Not To Miss Hikes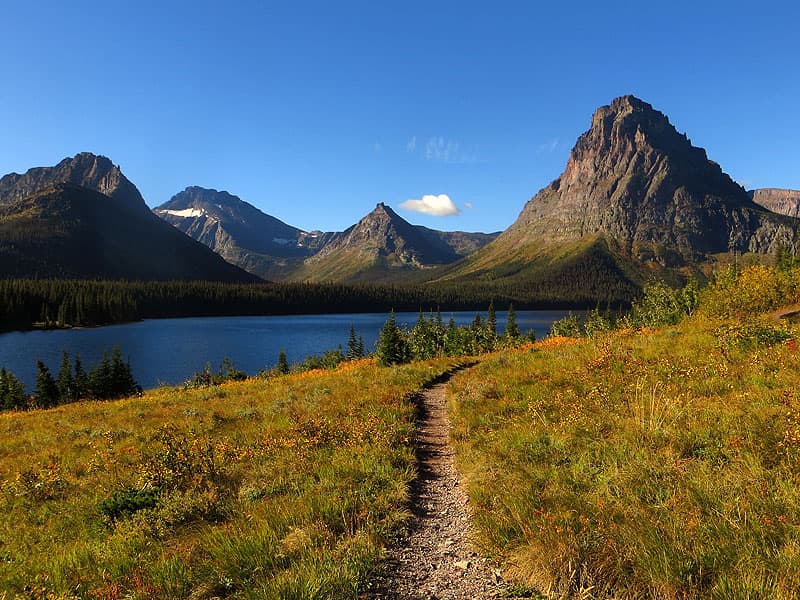 Above: Two Medicine Lake hike
One of my favorite Glacier National Park hikes is from Two Medicine Lake to Upper Two Medicine Lake, especially in late September when the fall colors are peaking.