Six experienced truck campers reveal a list of must-see roads, trails, and attractions in Grand Teton National Park.  Warning: Stunning photography ahead.

We are launching a new "bucket list" series highlighting the best truck camping destinations.  These articles will be sourced directly from experienced truck camper owners who have researched, explored, and camped at these must-see hot spots.
What are we looking for?
That hidden fishing hole.  The boondocking bonanza around the bend.  A picturesque sunset location no photographer could resist.  The tucked away bar and grille with a buffalo burger you won't forget.  In short, the kind of tips that can make the difference between a good truck camping trip, and a great one.
The first bucket list article is on Grand Teton National Park.  We contacted five truck camper owners with five different truck camper rigs, perspectives, and recommendations.  Put together with their jaw-dropping photographs, we now have a fantastic truck camping bucket list for this unforgettable destination.

Mike and Lisa Johnson
2008 Chevrolet 3500
2008 Eagle Cap 1160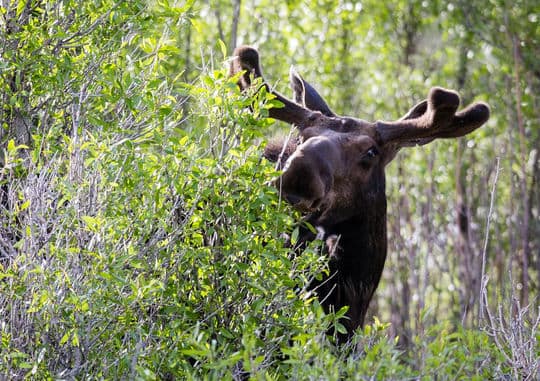 Above: A moose feeding in Gros Ventre Campground, Grand Teton National Park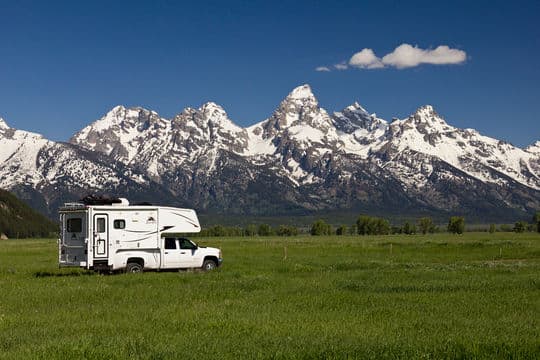 Above: This photo was taken on Mormon Row on the south end of the Tetons.
1. Gros Ventre Road
Gros Ventre Road (pronounced Grow Vont) is incredibly beautiful in the fall.  One of my goals is to make it all the way to the end of Gros Ventre Road, but I have not been able to take the time to do so yet.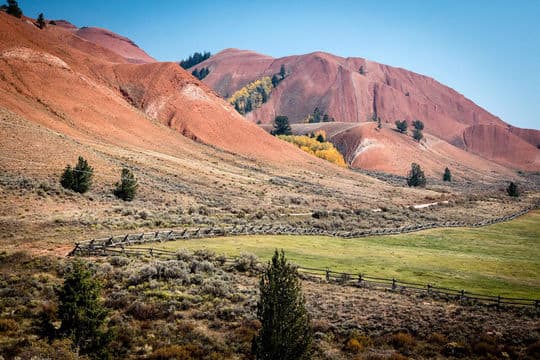 Above: View just west of Lower Slide Lake down Gros Ventre Road
I have made it to another campground way up the road heading east.  The whole road is awesomely beautiful.  There is a small but great off-grid campground just down Gros Ventre Road on Lower Slide Lake.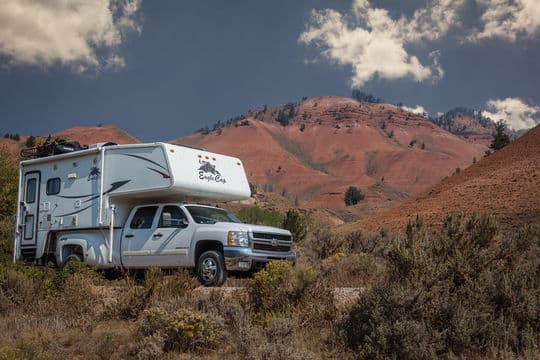 Above: I found this Teton National Park spot on Google maps, and went there to take the Truck Camper Magazine calendar photo.  I literally found this spot from thousands of miles away!  It isn't the best of my photos, but it is my favorite because of that.
2. Gros Ventre Campground
Gros Ventre Campground is one of my favorite places, anywhere.  It's a long, quiet campground on the south end of the Tetons.
Above: Wildlife spotted in Grand Teton National Park.  Left: Bison taking a dirt bath on Antelope Flats, Middle: Moose feeding in Gros Ventre Campground, Right: Antelope near Antelope Flats, how appropriate – click to enlarge
There are always some moose around the campground.  In the morning there are normally some moose on the road/flats just east of the campground heading towards Kelly.
3. Blacktail Butte and Oxbow Bend
At the south end of Antelope Flats road (just south of Mormon Row) is Blacktail Butte.  It is an awesome, but very tough, hike to the top.  The views are incredible!  It does not take long to do.  Oxbow Bend in the Tetons is a great place to be at sunset.  It's also incredible in the fall, but great in the spring, too.
Nearby Bonus: Merry Piglets in Jackson Hole
If you like Mexican food, Merry Piglets is awesome in Jackson Hole.  There is a parking lot just north with room to park a truck camper and you can walk there.  On the way be sure to stop at Mangelsen's photography studio a couple doors down.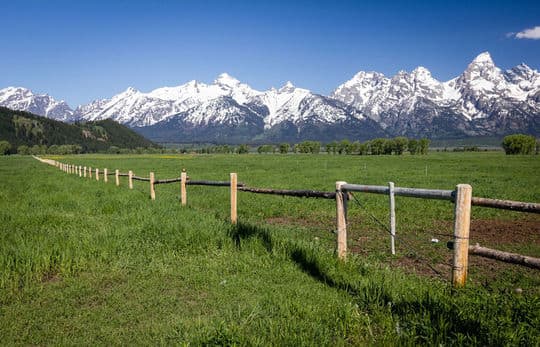 Above: View of the Tetons from Mormon Row
Above: Mike's Eagle Cap 1160 with the Tetons near the northern entrance
If you come in, or go out of, the south of the Tetons do not discount the drive.  We always leave out of the south and there is some incredible views along the rivers.  We have never stopped at any of the campgrounds, but the drive is beautiful.
App Tip: The Photographer's Ephemeris App
As a photographer, there is an app I use to help plan when to go to a particular place for the light.  The Photographer's Ephemeris app ($8.99) is helpful for taking pictures anywhere you travel.
Dave Ruane
2008 Chevrolet Silverado 3500HD
2006 Northstar TS1000
There are many ways to get to the Grand Tetons from the east.  I highly recommend the route that takes you over Togwotee Pass in DuBois, Wyoming.  Check out the Brooks Lake area near that pass.  There are incredible vistas, fishing, and camping opportunities.
4. 287/89 Turnouts and T.A. Moulton Barn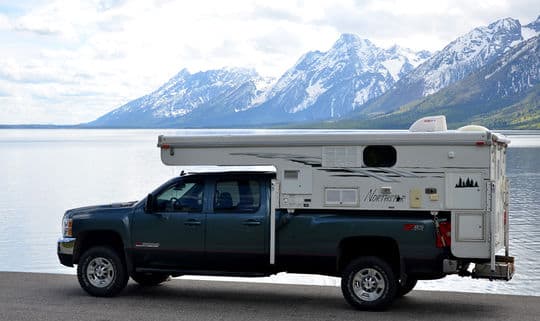 Above: Great turnouts all along Highway 287/89, especially by Jackson Lake's north end.  Incredible photo-ops are there.
I recommend that you stop at the great turn-outs all along Highway 287/89, especially by Jackson Lake"s north end.  There are incredible photo opportunities there.
Above: The T.A. Moulton barn in Grand Teton National Park
No visit to the Grand Tetons would be complete without a visit to the T.A. Moulton barn, which is probably the most photographed barn in the world.  There are actually two barns.  The more classic one is on the westerly one on Mormon Row.  Access it from Highway 287/89, to the Antelope Flats Road, to Mormon Row Road.
5. Gros Ventre Slide Hike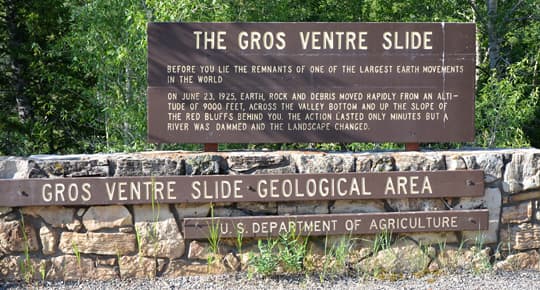 Above: The Gros Ventre Slide Area
The Gros Ventre Slide Area is a nice geological point of interest where the side of a mountain slid off and caused a lot of changes to a river corridor and damage to human habitation downstream.  It's a short, easy hike to see a well documented historical event.
6. Moose Wilson Road and Pilgrim Creek for Wildlife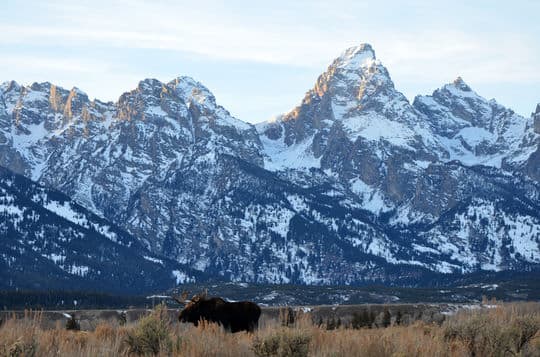 Above: A moose in Grand Teton National Park
The Grand Tetons are an incredible sight and the visitor center at Moose, Wyoming is a great viewing place where the names of each tetonic peak are marked on a pointer along the floor.  From there, take the Moose Wilson Road for an almost sure citing of wildlife from Grizzly and black bears, to moose, deer, Great Gray Owls, and beavers.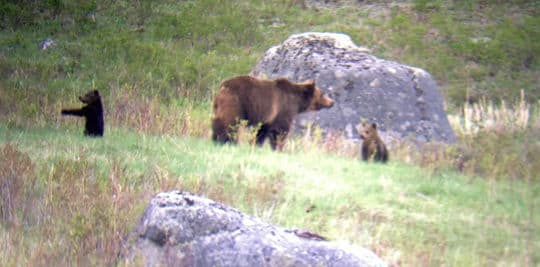 Above: Bears in the Pilgrim Creek area
Definitely bring bear spray.  The Grand Tetons are a good place to see Grizzly Bears, especially the Pilgrim Creek area.  Binoculars and cameras are a must, too!  I always bring a GPS, but the trails are well marked.
7. Boondocking at Pacific Creek and Gros Ventre Road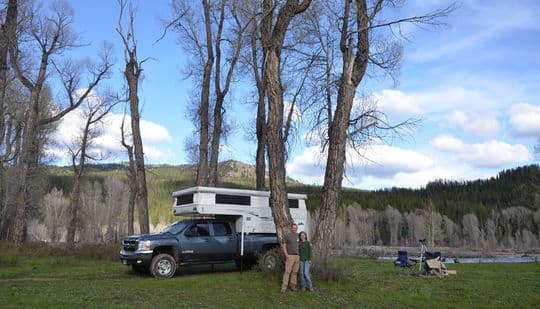 Above: Boondocking at the Pacific Creek area, about ten miles up Gros Ventre Road
Campgrounds are highly reserved and can be tough to get into from June through September.  Boondocking is a bit tough to find, but I have had good luck at the Pacific Creek area, and about ten miles up the Gros Ventre Road.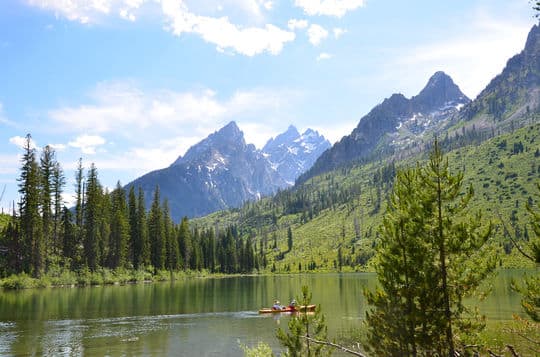 Above: Wade, swim and boat in Grand Teton National Park among beautiful backdrops.
For alternatives, there are some great city parks and hiking trails along String Lake, Leigh Lake, and Jenny Lake.  String Lake is especially pretty and you can wade, swim, and boat there among some beautiful backdrops.
Nearby Bonus: Yellowstone National Park
Don't forget the world's first National Park and America's greatest treasure, Yellowstone National Park, adjoins the Grand Teton National Park on the north side.
Starting earlier this year they may have started requiring a separate entry fee for each park.  If you plan to visit more than one national park in the next twelve months, I highly recommend getting an "America the Beautiful" annual park pass ($80).
Nearby Bonus: Jackson, Wyoming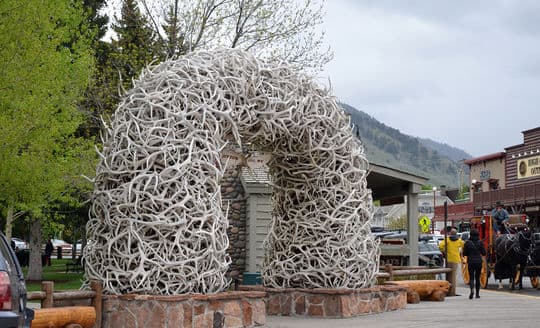 The town of Jackson, Wyoming is a great place to visit.  You can see the elk antler arches in the central city park.  The National Elk Refuge is a sure thing for elk, but only in the late fall/winter timeframe.  You may also get lucky and see the Pinnacle Peak Wolves in that area.
Nearby Bonus: Granite Falls in Bondurant, Wyoming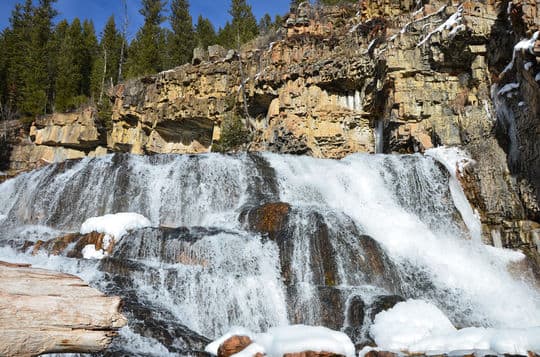 Granite Falls is a fantastic waterfall destination just south of the park on Highway 189/191 on the way to Bondurant, Wyoming.  This waterfall is quite large, easily accessible, and there are places to camp nearby.  It's worth the trip!
Shelley Pike
2009 Ford F350
2006 Lance PC Sportsman
8. Must-See Photography Opportunities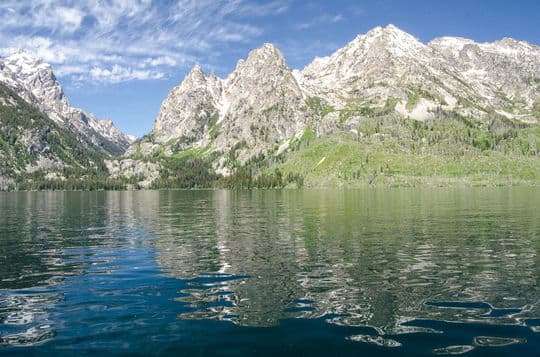 Above: Jenny Lake, Grand Teton National Park
Jenny Lake is very picturesque.  The boat ride ($19 per adult) gives even more sights of the lake nestled in the mountains.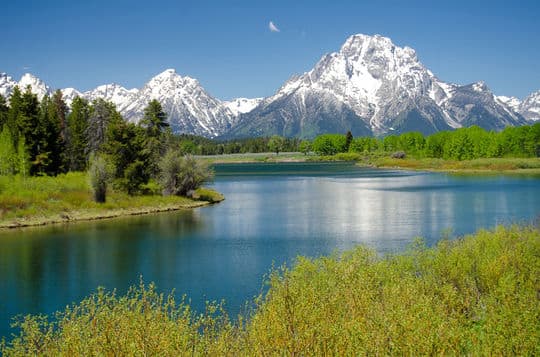 There is a pull-off on the south end of Highway 191 where you can see a reflection of Mt. Moran in the Snake River.  Jackson Lake is equally beautiful.
At Teton Village, the tram ride will also give a glorious view of the countryside.  Click to enlarge the photos above.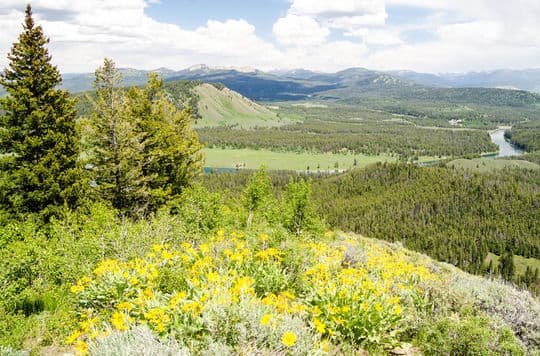 Be sure to drive up Signal Mountain to view the entire valley.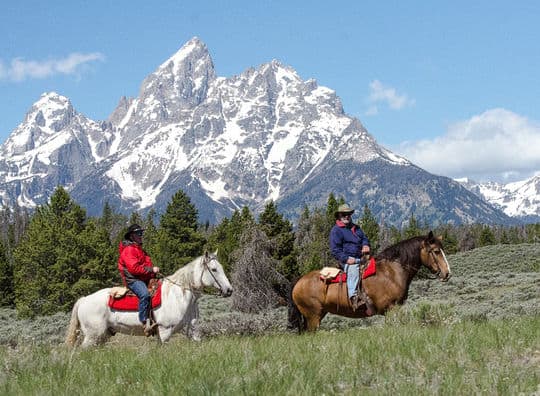 Above: Shelley found this couple riding horseback through Grand Teton National Park
Above: A bison family, grizzly family, and pronghorn antelope – click to enlarge
9. Camping Opportunities in and around Teton National Park
We camped at Gros Ventre east of the park and Colter Bay just north of the park.  There are limited electrical sites.  I preferred Gros Ventre as it is more wooded and spacious.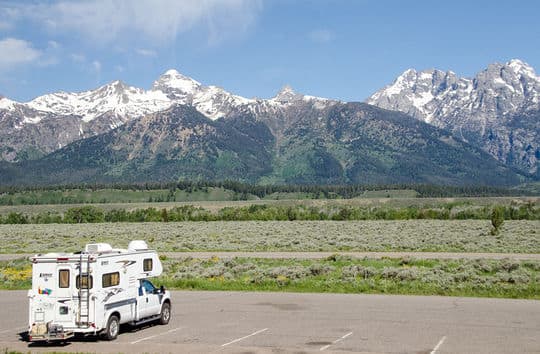 We also camped at a Good Sam park in Jackson, Wyoming, The Virginian RV Park.  It has very nice amenities, but pricey, which is no surprise given the location.
Steve and Elaine Bernier
2010 Ford F-350
2011 Arctic Fox 1140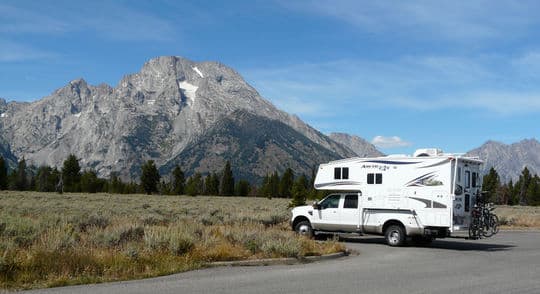 10. Moose Wilson Road in Late Afternoon
We recommend taking a late afternoon drive down Moose Wilson Road, which is located just past the Visitor's Center.
Drive about a mile and stop at the overlook on the left.  Look for moose and elk in the marshy area on the left and bears eating huckleberries on the right.  We were lucky to see all three on many forays down this road.
If you are not sure where to go, ask at the Visitor's Center.  Be aware that there is a travel restriction to continue on this road for oversized vehicles.  We drove to the overlook with the camper on the truck, but could not proceed further from there.
Mike Sullivan
2005 Chevy 2500 HD
2011 Northstar Adventurer 8.5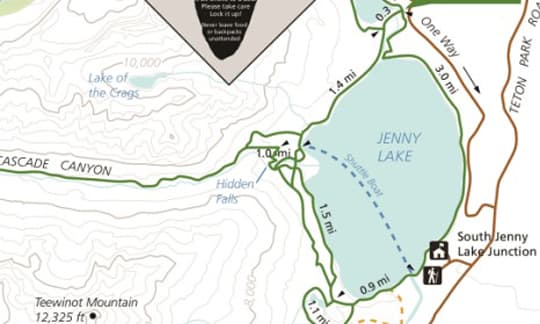 Above: Map of the boat ride across Jenny Lake, photo courtesy of the National Park Service
11. Take the Hike to Inspiration Point, and Into Cascade Canyon
We really enjoyed the boat ride across Jenny Lake, which was really beautiful.  It's not a long boat ride at twelve minutes long.  There is a fee to ride the boat, but it drops you off closer to Inspiration Point at the Cascade Canyon trailhead.
Cascade Canyon trail is a nice hike.  It's pretty crowded with people during the summer months up to Inspiration Point.  That seems to be the turn around spot for 99% of the hikers.  The view is truly inspirational.  From there we kept hiking up into Cascade Canyon.  We stopped to eat lunch on top of a massive boulder beside the creek.  Then we played in the creek, which was really cold, before hiking up even further into the canyon.  It"s really a nice trail.
Todd Rightsell
2005 GMC Sierra 2500HD
2005 Northstar Arrow
12. Float Trip on the Snake River
Above: The float trip on the Snake River – click to enlarge
Grand Teton is full of surreal vistas everywhere you look, and people too!  For a good escape from the crowds, try an evening dinner/float trip on the Snake River with Grand Teton Lodging Company.  The guides are great, full of stories, and seeing the park from the water gives one a new perspective on the landscape.
13. Horseback Ride in the High Country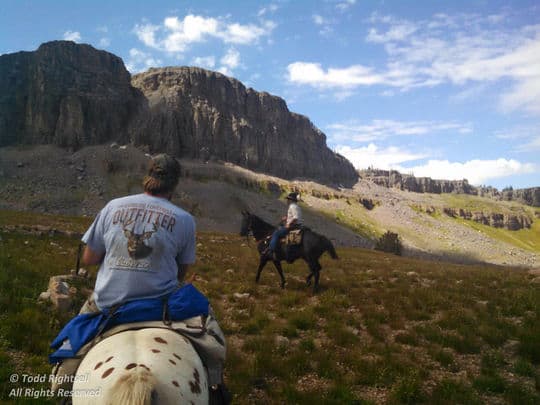 Above: Horse back riding through the high country
For those who are adventurous and can handle the physical aspect, go on a horseback ride in the high country of the Tetons.  You will not be sorry.  There are several outfitters that will be glad to arrange a trip for you, but Linn Canyon Outfitters does an excellent job.  Be ready for a full day in the saddle and some of the most spectacular scenery you will ever see anywhere – guaranteed!
14. Scenic Drive along the Gros Ventre Road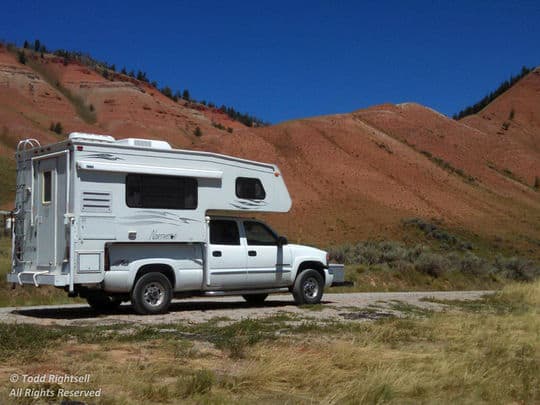 Above: Driving Gros Ventre Road
My last suggestion would be a scenic drive along the Gros Ventre Road just east of the park.  This gravel/dirt road runs deep into the Bridger Teton National Forest and offers fantastic opportunities for fishing, ATV riding, boondock camping, and just getting away from the crowds.
Above: ATVing in the Gros Ventre wilderness – click to enlarge
There are even two campgrounds along the road to enjoy; Atherton Creek about five miles in on the shore of beautiful Slide Lake, and Crystal Creek 9 about ten to twelve miles in.
15. Gros Ventre Campground Rarely Fills, Even in the Summer
My favorite campground in the world is Gros Ventre Campground in the southern part of the park.  It rarely fills but, if it does, it will be late afternoon.  I have camped in every campground in the park but Gros Ventre is by far the best!
Gros Ventre Campground has nearly 375 sites.  The sites are not stacked on top of each other as in other campgrounds in the park.  Some sites have views of the mountains and a few have views of the Grand Teton itself.
The hosts here are mostly long time hosts and they really enjoy what they do.  That makes for a pleasant stay.  As an added bonus this year they have some sites with electric and sewer.  They are a bit pricey but, hey, if that's your thing.  The whole campground is covered by cell service.
Map Tip: I'm a map fanatic.  The best map of the park by far is the National Geographic #202 topo map.  For those that have any of these, you know why.  They are plastic coated and resist water, tearing, mud, and fading.  They have a GPS grid, full UTM grid, etc.  They are awesome maps that have the most detail.
Gear Tips: I recommend that you take a small pair of field binoculars.  A small pair that slips in your pack or your truck console works.  You never know what you might see while riding around.  The place is chock full of wildlife.  You will see it.
And lastly, if you plan on walking/hiking, a good pair of boots and some bear spray are must haves.  Also, a good lightweight packable rain jacket.  Don"t leave your camper without it!  Trust me on this one.
For more information on Grand Teton National Park, visit the National Park website at http://www.nps.gov/grte/index.htm.