Todd Rightsell shares his list of top shots, top hikes, top drives, top campgrounds, and more top recommendations for truck camping in Yosemite National Park.

If we had a matter-to-energy transport in our house, we would most certainly beam ourselves to the National Parks on a regular basis.  A quick peek at Mount McKinley before breakfast?  Yes, please!  A lunch time stroll around the majestic trees of Sequoia?  Absolutely!  A mid-afternoon bubbling mud pit in Yellowstone?  Twist my arm!  After dinner with El Capitan glowing in the Yosemite sunset?  Beam me there!
Each and every one of these places should be carved deep into your bucket list.  In fact, all of the National Parks should be penned onto your personal pail of imperative plans.
Over the past seven years, we have been incredibly fortunate to have visited dozens of National Parks and every one is guaranteed to blow your mind in one way or another.  Speaking of minds, Yosemite National Park, in particular, is a no brainer.  Don't think about going to Yosemite, just go.
To launch your journey, or to inspire your return, truck camping adventurer Todd Rightsell shares his top Yosemite photographs, hikes, drives, campgrounds, boondocking sites, and more.  It starts here with Todd.  With any luck, you'll end up in Yosemite.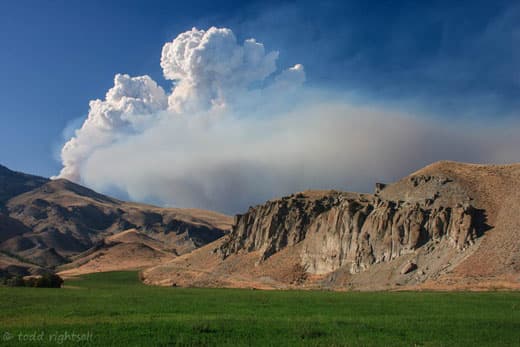 After finally making it to the notch it was time to head to Yosemite for a month.  There is no good way to get from Glacier Park to anywhere, much less the Sierras.  It took me four days of driving, but I took my time.  With scenes like this it is easy to see why.  This was taken in Idaho along the Salmon River.
I had been driving through smoke all day from this fire and when I got on the other side of it I was treated to a clear view of the smoke plume.  The Salmon River is incredibly beautiful and Idaho may be the best kept secret in the United States.  It has some unbelievable scenery.  I could definitely live in Idaho.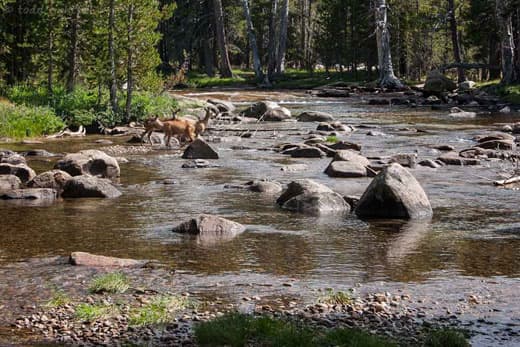 Yosemite.  Even the name is beautiful!  This was the second time I had been to Yosemite National Park.  The first time was in May of 2005.  At the time, the high country of Tuolumne Meadows was still under twelve feet of snow.  So this was the first time I had actually been over Tioga Pass and into the high country at Yosemite.
Tuolumne Meadows is magical.  I spent two weeks here at the campground at 8,600 feet and made the most of every day.  There is so much to do and see up here that you could spend a lifetime exploring, and many have, and still not see it all.
I'm a big fan of Ranger hikes and programs.  On this particular day I was out with a ranger led group along the Tuolumne River when we spotted these deer.  We all just watched in silence and marveled at the sight as they crossed.  Pretty cool.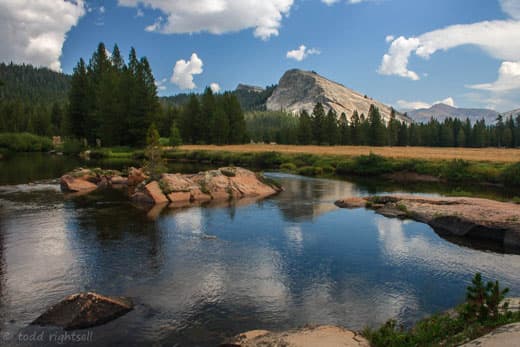 This is Lembert Dome standing guard over the Tuolumne River and Tuolumne Meadows.  Tuolumne Meadows is the largest alpine meadow in the Sierras and it is one of the prettiest landscapes I have ever seen.  The road to get up here doesn't open until late June most years and, by early October, the season is pretty much done.  Life happens quickly up here.
The valley floor is about 8,600 feet.  Lembert Dome rises another 900 feet higher but the views from the top are well worth the vertigo you may suffer on the climb up.  It's not for the faint of heart as it is a bit dicey in spots.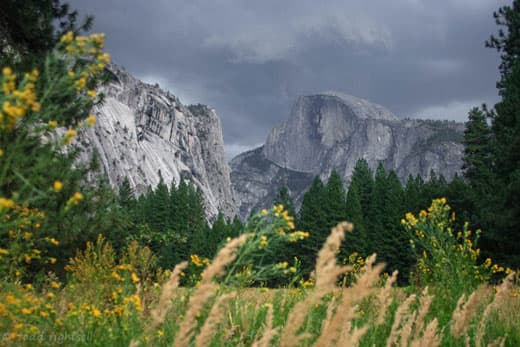 After a couple of weeks in the campground at Tuolumne Meadows, I relocated to the valley floor.  Crowded as the place is, it's still one of the best spots on Earth.  Yosemite Valley is about seven miles long and every inch of it is packed with world class scenery.  It's like sensory overload.  Everywhere you look is something that in and of itself would be a worthy centerpiece of any national park if it were located anywhere else in the world.  It is that good.  Most of you will recognize this iconic rock.  This photo was taken from the valley floor loop trail which I hiked the first day I arrived.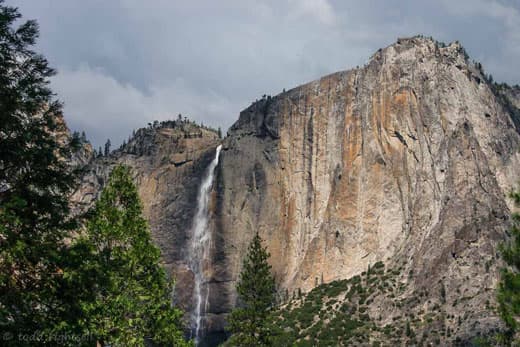 The valley floor loop trail is a good hike to take upon arriving in the valley, as it takes you past every major feature in the valley and is an easy, but long walk.  The whole loop is about fourteen miles, but you can do shorter variations.