Readers reveal their favorite Finger Lakes destinations including Watkins Glen State Park, Sampson Naval and Air Force Museum, Glenn H. Curtiss Aviation Museum, free camping in Finger Lakes and Sugar Hill State Forests, and wineries, breweries, and distilleries galore!

In 2013, Angela and I went on a truck camping adventure through New York's Finger Lakes Region in a Northstar 8.5 Arrow U.  Along the way we sampled a number of vineyards, visited the The Corning Museum of Glass, and explored Cornell University (pictured below).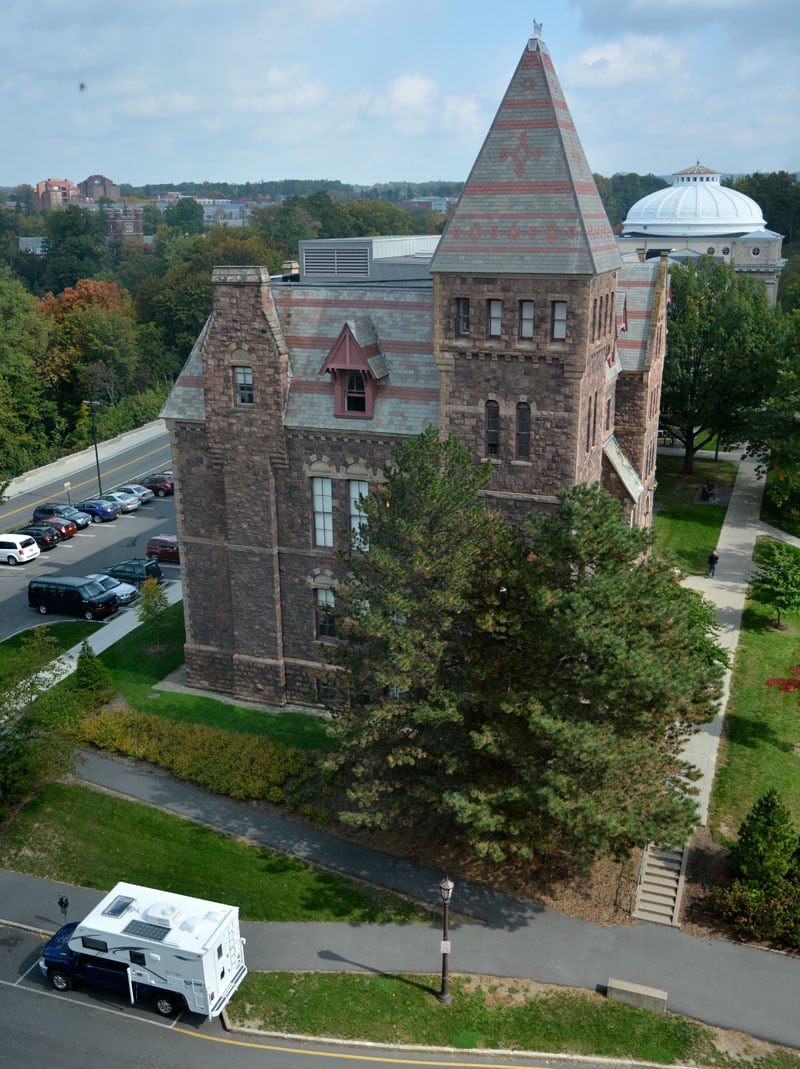 Of all of those experiences, by far our favorite part of that trip was the Gorge Trail in Watkins Glen State Park.  The Gorge Trail is as unique and spectacular as anything we've seen throughout the United States and Canada.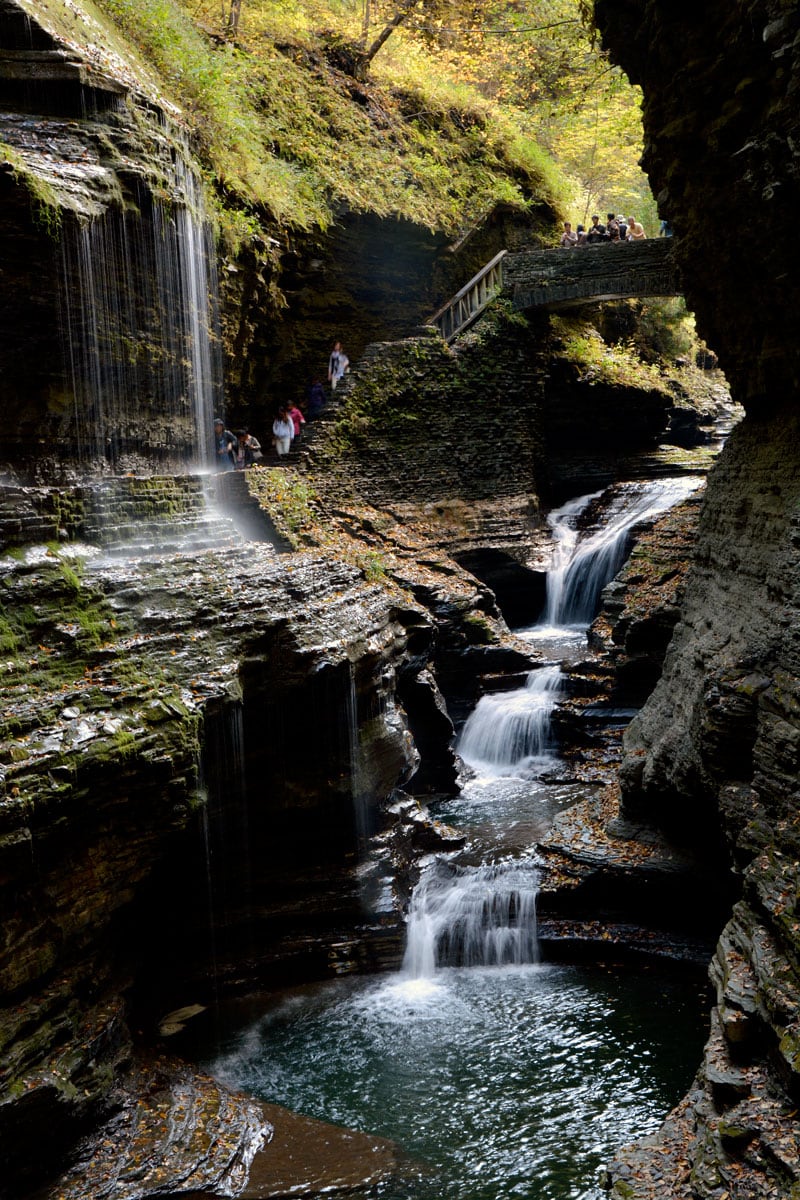 Carved out by glacial ice, the 400-foot deep gorge cuts through shale, limestone, and sandstone rock.  The trail traces the path of Glen Creek and takes you over and under stunning waterfalls, cascades, and plunge pools.  At various times you can literally stand under a roaring waterfall just feet away.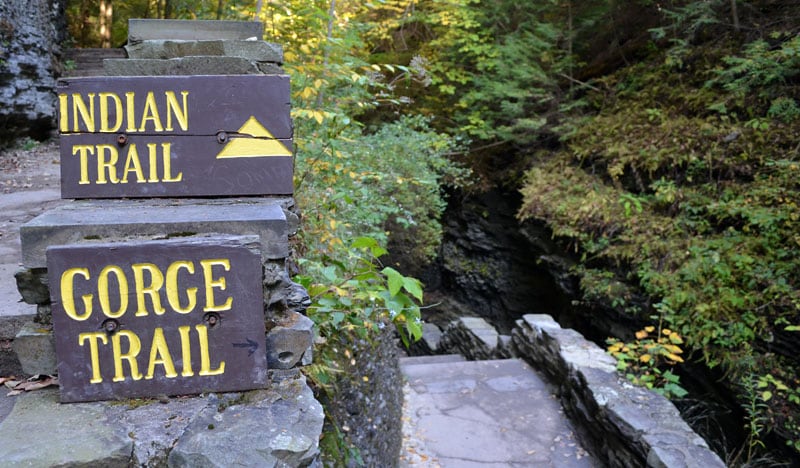 In other areas of the trail, you walk on a path carved into the side of the rock face overlooking the gorge and creek.  Bridges take you over the gorge, and then create iconic photo opportunities.  Just be careful not to get your camera wet!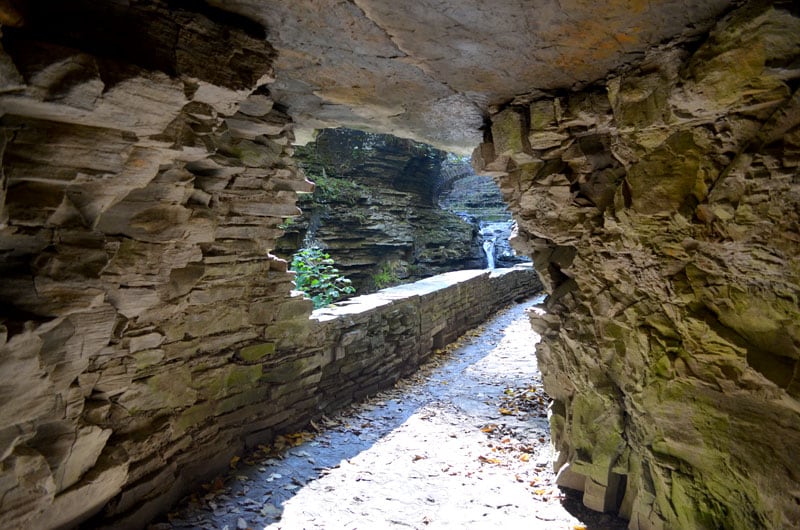 As a passionate photographer, I had a field day taking photographs in and around the Gorge Trail.  We happened to be there in early October and the trees were starting to strut their fall colors.  If you enjoy nature and photography, you're going to love Watkins Glen.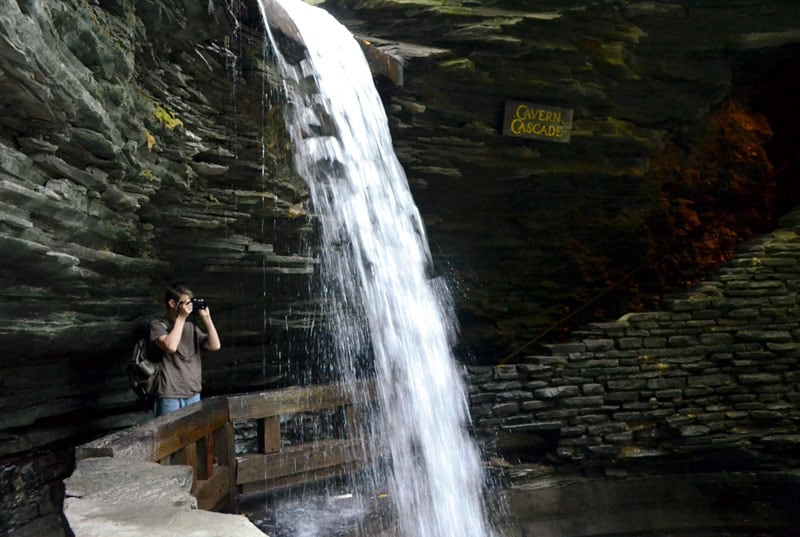 We camped for two days in the Watkins Glen State Park.  The campground was clean and well presented with (water and electric) at the campsites.  The nightly rate in 2018 is $18 without electric and $24 with electric.  Online reservations are required.  Watkins Glen State Park is "household pet" friendly but requires 6-foot or shorter leashes and written proof of rabies inoculation.
Brett Burguard
2017 Ford F-350
2012 Northstar 9.5 Igloo
From the Ithaca High School parking lot, I went on an amazing five to six-mile hike. I saw waterfalls, gorges, bridges, gardens, Cornell University, and downtown Ithaca.
The first section of the hike went up Fall Creek to Ithaca Falls (pictured above) and Beebe Lake at Cornell University.  On that hike there was approximately a 400-foot gain in elevation.
The second section was the Cornell Botanical Gardens just beyond the end of Beebe Lake, and then Cornell University.  The third section was descending the Cascadilla Creek Gorge Trail with more waterfalls (pictured bel0w).  That hike spanned from the south side of Cornell University to downtown Ithaca.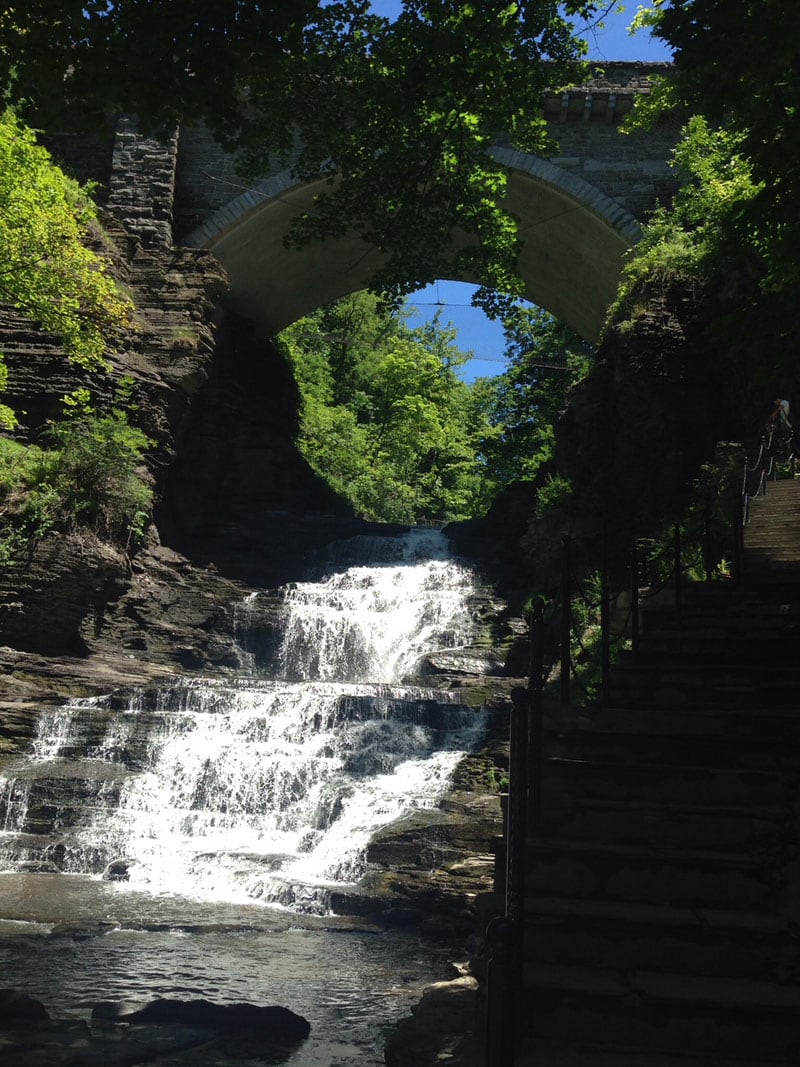 The third section was Ithaca Commons with lots of restaurants, shops, and the Sagen Planet Walk.  The Sagen Planet Walk is a three-quarter-mile scale model of our solar system.  The Sagen Planet Walk was built as a memorial to Ithaca resident and astronomer Carl Sagen.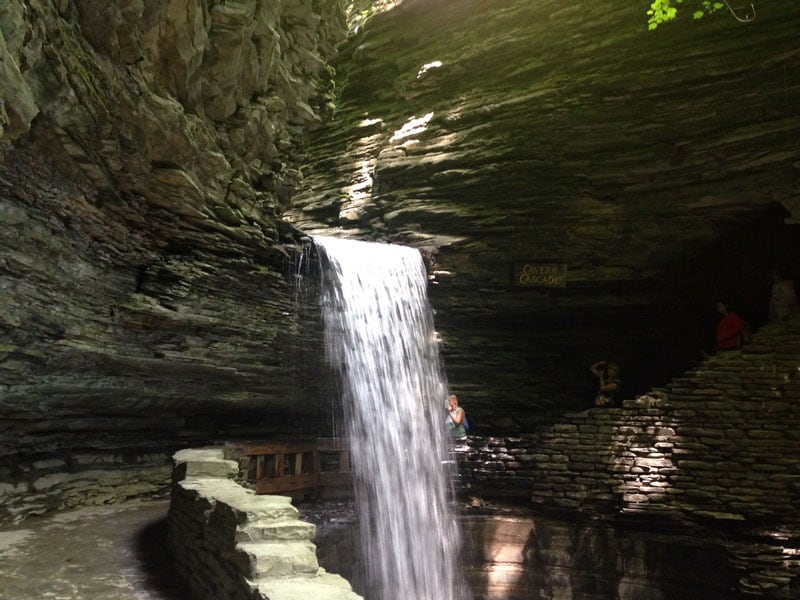 Watkins Glen State Park Gorge Trail is a great hike and a beautiful gorge (pictures above and below)!  If you're not camping there, the best place to park is the main park entrance lot.  There is plenty of room for truck campers to park, plus a bonus picnic area and swimming pool.
You can also park at the top of the gorge on SR409.  Avoid the lot in town at the base of the gorge.  There is a $5 per person shuttle bus for those who only want to do the hike one way.  Go early to avoid the crowds.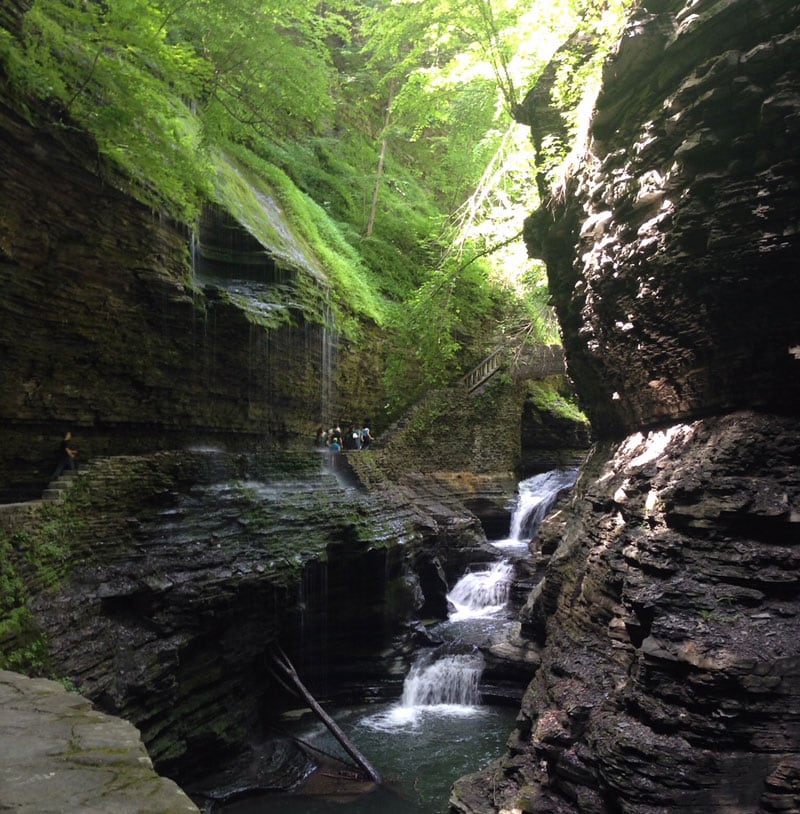 In the Finger Lakes I have also camped at Sampson State Park in Romulus, New York.  Sampson State Park is centrally located on the east shore of Seneca Lake on a former military base.  The park has very nice and spacious campsites.  There is a beach with a marina and boat launch, plus a military museum.
The Naval and Air Force Museum is run by veterans with support from The National Heritage Trust and Air Force Veterans Association.  It's estimated that over 700,000 military recruits went through boot camp at Sampson Base during the 1940s (World War II) and 1950s (Korean War).  The training camp was closed in 1956.
On display outside the museum are military planes and boats from World War II and Korea.  Inside are donated Navy and Air Force military artifacts including uniforms, rifles, radio equipment, a working periscope from a submarine, and photography of graduating classes.
Sampson State Park also offers many miles of road to ride your bikes.  The campground rates vary from $15 to $31 per night. I paid $28.75.  There is also a $7 vehicle entry fee.
If you're staying at a state park and doing day trips to other state parks, make sure to have your camping receipt or hang tag with you so you don't have to pay multiple vehicle entry fees.  Consider purchasing the Empire Pass for $80.
Gary Goyette
2016 GMC 3500HD
2011 Northern Lite 8-11 Queen classic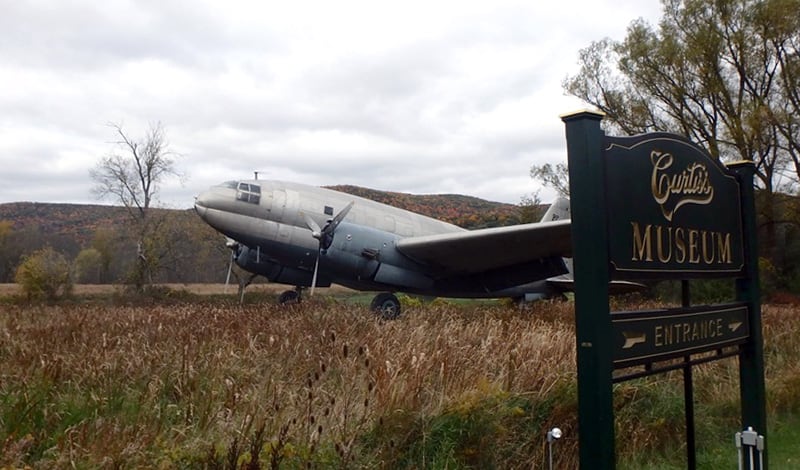 In the Finger Lakes area, I recommend going to the Glenn H. Curtiss Aviation Museum in Hammondsport, New York.  The museum features 22 early airplanes including a 1909 Silver Dart (the very first aircraft to fly in Canada), a 1911 A-1 Triad seaplane (the U.S. Navy's first airplane), a 1917 Curtiss JN-4 "Jenny", and a 1943 C-46 World War II transport.
Also on display in the museum are 11 historic motorcycles from Curtiss, Indian, Henderson, Evans, Ner-A-Car, and Cleaveland.  Of note is an exact reproduction of the 8-cylinder motorcycle that took Glenn Curtis to 136.4 miles per hour earning him the title of "Fastest Man on Earth" in 1907.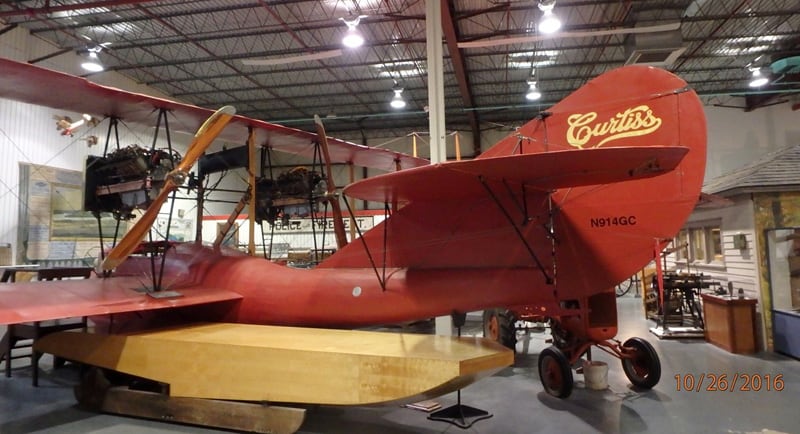 The museum has turn of the century bicycles, an extensive collection vintage wood boats, eighteen pre-WWII cars, and more.  At one time Curtiss was one of biggest airplane and engine manufacturers making this museum a must-see for aviation, automotive, and motorcycle enthusiasts.
Admission for the Glenn H. Curtiss Aviation Museum is $12 per adult.  Seniors 65 and over are $10. The parking lot isn't huge, but we were able to find a space for our rig without too much trouble.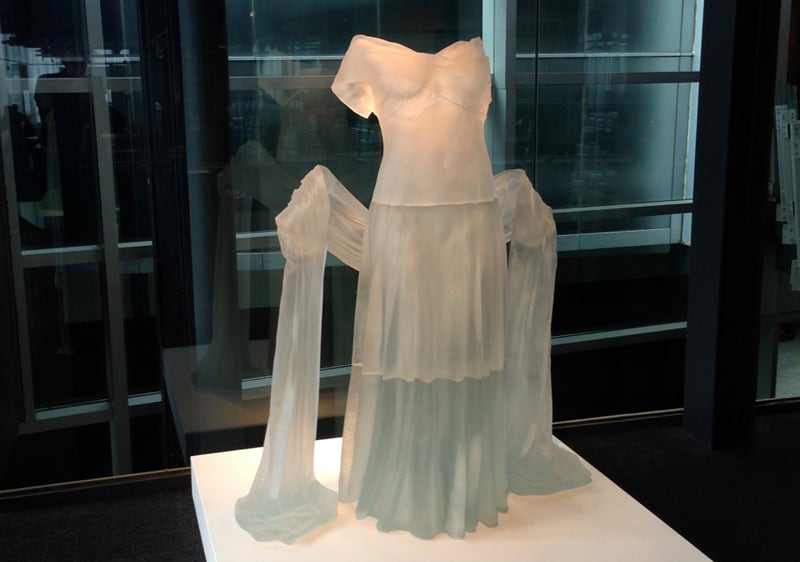 Next, the Corning Museum of Glass in Corning, New York is so big that it took us two days to see it all.  The museum featured exhibits on the science and history of glass.  On display were glass objects going back 35 centuries from around the world.  The staff also demonstrated glass blowing, glass forming, and the art of glass jewelry making.
There is plenty of parking for truck camper rigs at the Corning museum and adult admission is $19.50.  55+, AAA, and Military are $16.50.  It's a fantastic museum.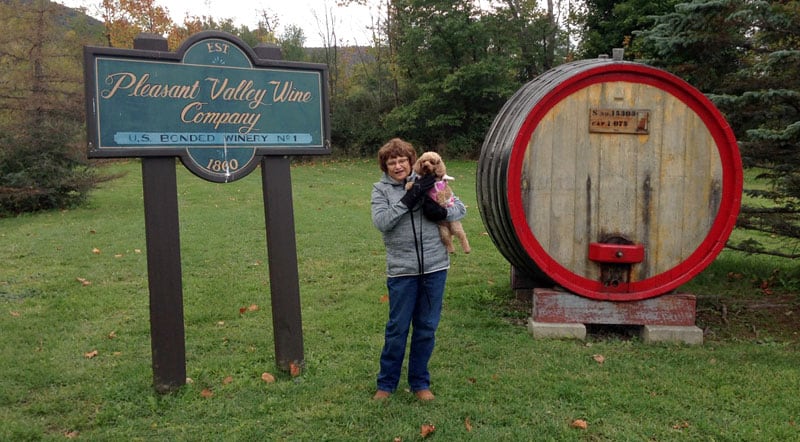 There are also lots of wineries, breweries, and distilleries in the Finger Lakes.  We have been there about six times and haven't been to all of them.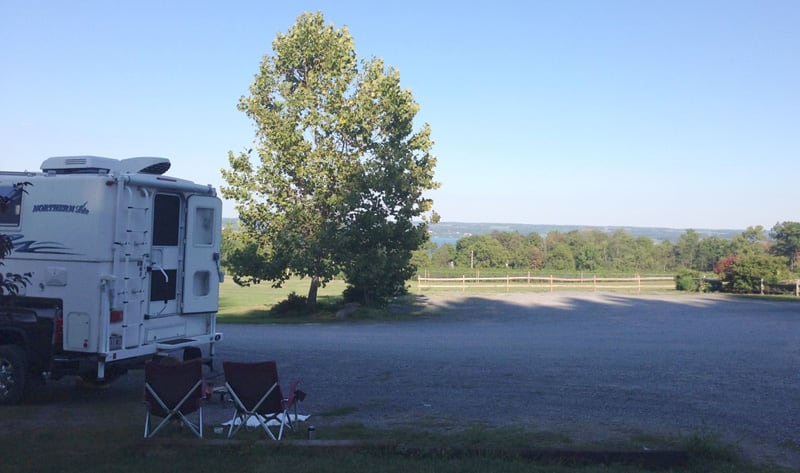 Several Finger Lakes area vineyards participate in the Harvest Hosts program allowing you to camp overnight for free (as a Harvest Hosts member).
Carol Bowman
2005 Dodge 3500
2014 Lance 1191
Women's Rights National Historical Park is in Seneca Falls.  The park includes the Wesleyan Methodist Church, the site of the first women's rights convention.  It was at the Seneca Falls Convention that American suffragist and activist, Elizabeth Cady Stanton, demanded the right of women to vote in 1848.
The museum is located at 136 Fall Street in Seneca Falls, New York. Museum entrance and events are free.  The Stanton House (32 Washington Street) and M'Cintock House (14 east Williams Street, Waterloo, NY) are also worth visiting.
Also, Seneca Falls was the inspiration for the fictional town of Bedford Falls in the Christmas movie "It's a Wonderful Life".   There is a museum and the George Bailey Bridge goes over the river.
Bob Bergen
2008 Chevy 3500HD
2016 Cirrus 800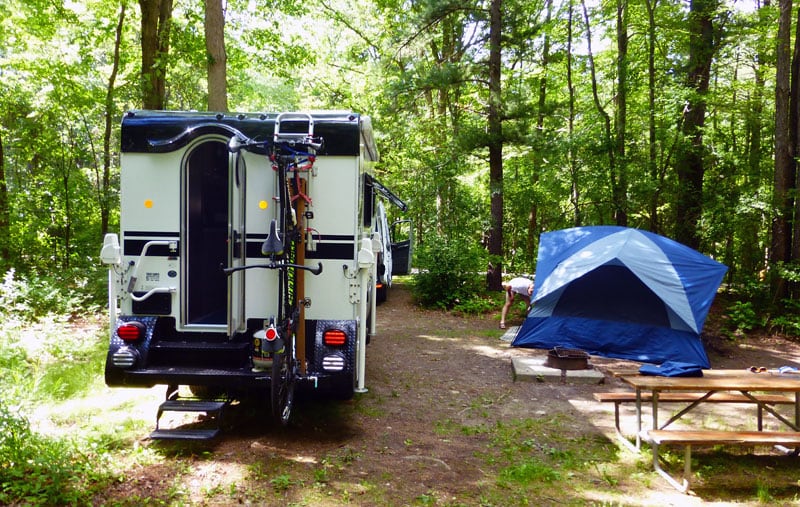 Watkins Glen State Park is a fantastic camp for easy access to Watkins Glen Gorge.  If you're anywhere near the Finger Lakes area, do not miss the Gorge Trail.  It's amazing, and maybe better than New Hampshire's Flume.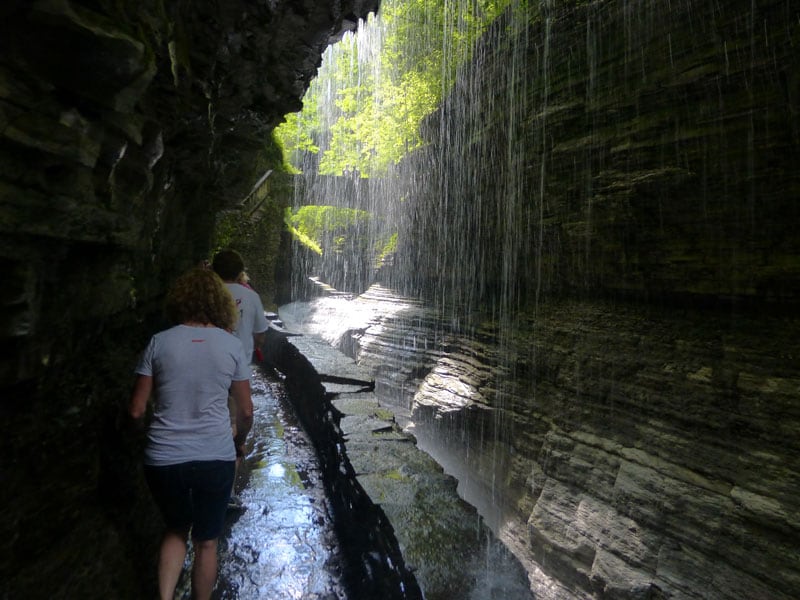 We biked in a Seneca Lake Farm to Fork Fondo; a one day organized bicycle riding event where you stop at "aid stations" for gourmet bites at farms along the planned route.  There are organized Farm to Fork Fondos up and down the Northeast.  The Seneca Lake event is usually in July or August.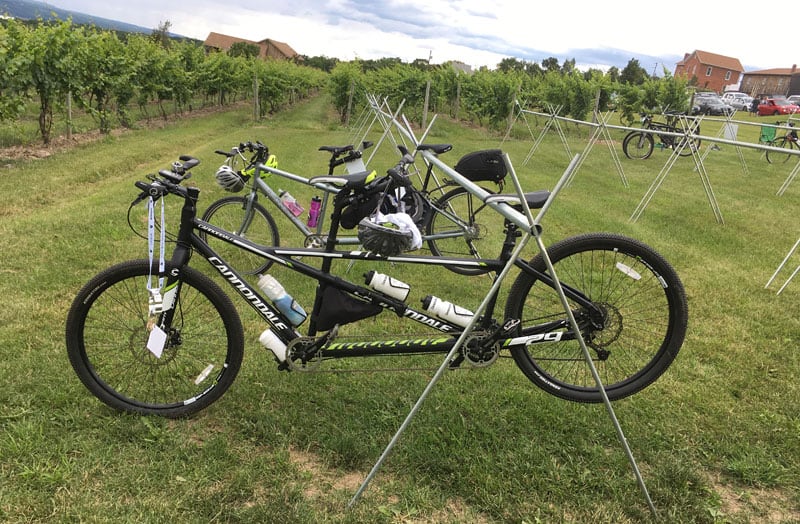 During our ride, the views of Seneca Lake were amazing.  Driving this area will not slow you down enough to drink it all in.  The Farm to Fork Fondo was the perfect way to pace ourselves and truly appreciate all this area had to offer.  Plus it was a lot of fun.
Janet Joki
2016 Ram 3500
2016 Northstar Laredo
West of the Finger Lakes area, Letchworth State Park is a beautiful 17-mile long park with three large water falls, around 50 smaller water falls, and a very deep gorge following the Genesee River.  The gorge rock walls rise 550 feet in some areas giving the park the nickname, "The Grand Canyon of the East".
There's a lot to do in Letchworth State Park including 66 miles of hiking and bike trails, rafting, kayaking, and fishing the Genesee River, scenic views to photograph, and geocaching.  Train aficionados will also appreciate the train trestle that spans above the upper falls.  It's no wonder that Letchworth State Park won first place in USA Today's best state park competition in 2015.
Letchworth State Park is very truck camper friendly with a large campground, 30 and 50-amp sites available, and dump stations.  Online reservations are recommended.
There are some limited free camping opportunities at Finger Lakes National Forest.  If you are interested in camping in the national forest, there are maps you can get at the ranger station in Hector, New York.
Richard and Karen Parsons
2012 Chevrolet 3500 Silverado
2012 Northstar American Hero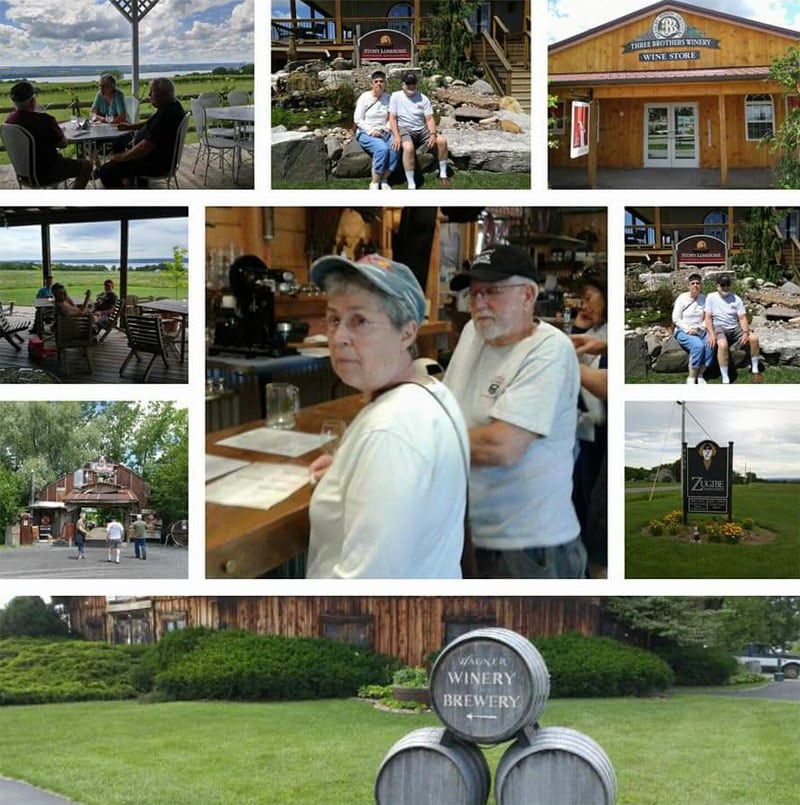 Our main reason for truck camping in the Finger Lakes was to visit the many wineries in the area.  The Finger Lakes area features over 100 wineries and vineyards producing – among other varieties – some well regarded Chardonnay, Riesling, and Pinot Noir wines.
We went to three wineries while we were there; Three Brothers Winery, Wagner's Winery and Zugibe Vineyards.  Our favorite was Three Brothers.  We tend to favor the sweeter wines.  With so many wineries and vineyards to choose from, you could literally spend a week sampling wineries and wines in the Finger Lakes.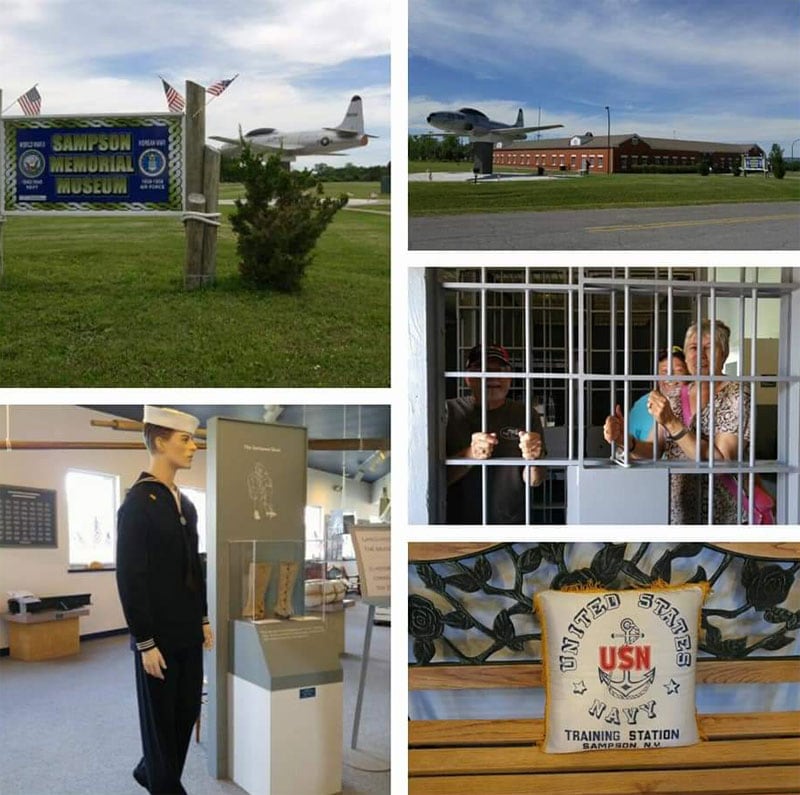 We also recommend Sampson State Park in Romulus.  Sampson State Park features a large campground that is very well maintained and clean.  The campsites are of good size and feature water and electric.  As a bonus, there's a highly recommended military museum in the park.
Ed Kuivinen
2009 Ford F250
2016 Lance 850
I recommend going to the Glenn H. Curtiss Aviation Museum.  Curtiss was the inventor of the Curtiss P-40 fighter, the third most produced American fighter from World War II with over 13,700 built aircraft.  The museum also has vintage firearms (through November 2018), antique cars, early motorcycles, and classic boats.
We camped at Watkins Glen State Park on the south end of Seneca Lake.  I was there during a BMW Finger Lakes Rally which runs every Labor Day weekend.  The three night event has two catered dinners, live music, door prizes, bike judging, seminars, a flea market, planned rides, and more.  The BMW rallies are nothing like Bike Week or Sturgis.  There are no loud bikes.  It's mostly an older crowd.  By midnight all you hear are old guys snoring.
This Labor Day will be the 44th annual event.  The event is for BMW owners and their guests, and registration is online.
Carin Hill
2009 Chevrolet Silverado 2500HD
2007 Adventurer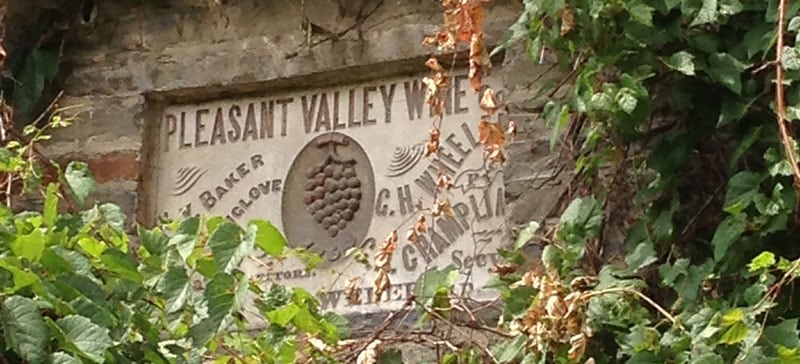 We visited the Pleasant Valley Winery in Hammondsport, New York along the Keuka Lake.  I can't say enough about our experience!  The wine tour was unbelievable along with the wine tasting, which was only $5.  We enjoyed sampling the wine, champagne and sherry.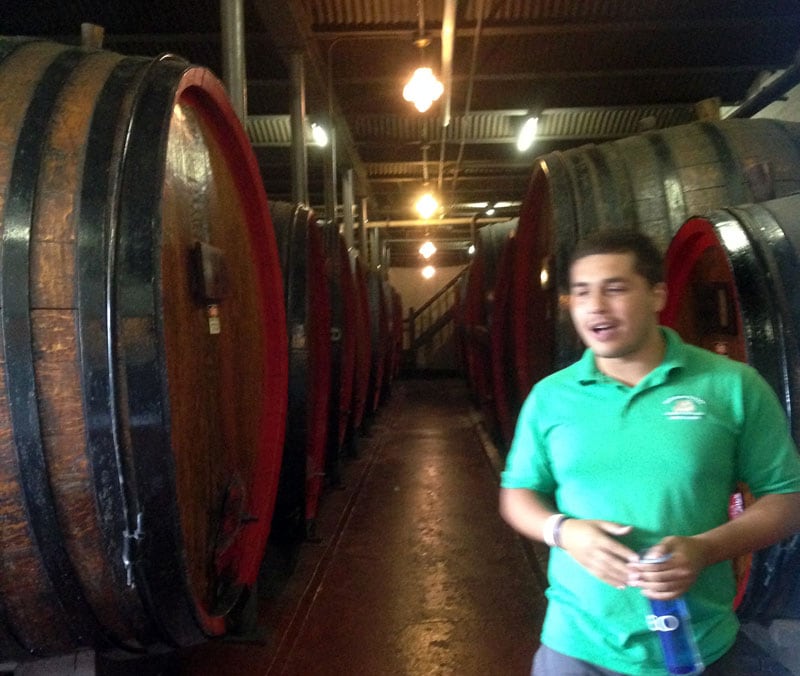 We are from the Niagara Region of Ontario.  Although we have awesome wine, we definitely do not have the history that made the Pleasant Valley Winery tour unique.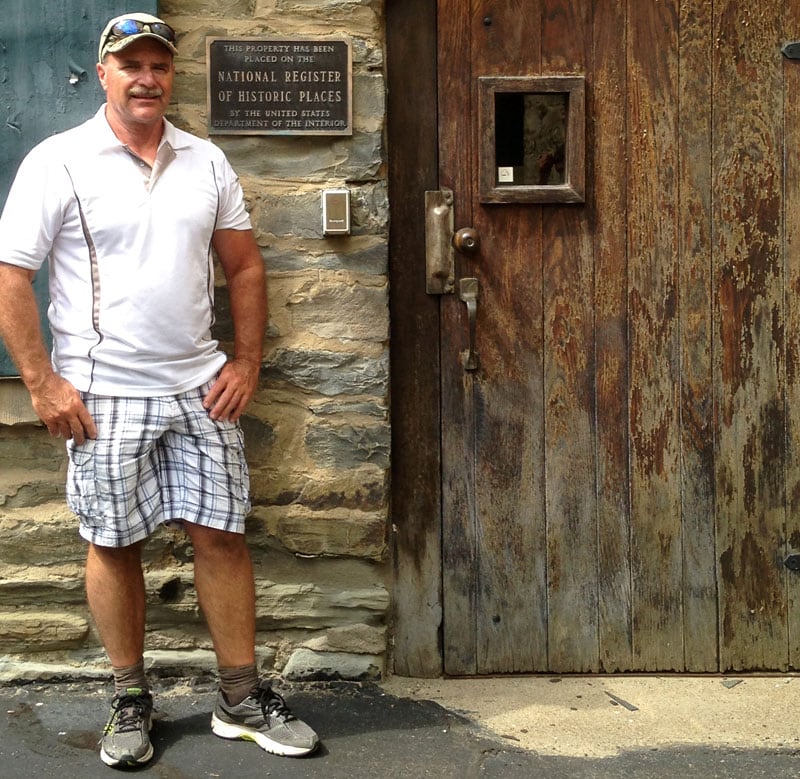 Their buildings are on the National Register of Historic Places. Established in 1860, Pleasant Valley Winery is the #1 Bonded Winery in the United States.  That's why they can use "champagne" on their sparkling wines without a French lawsuit.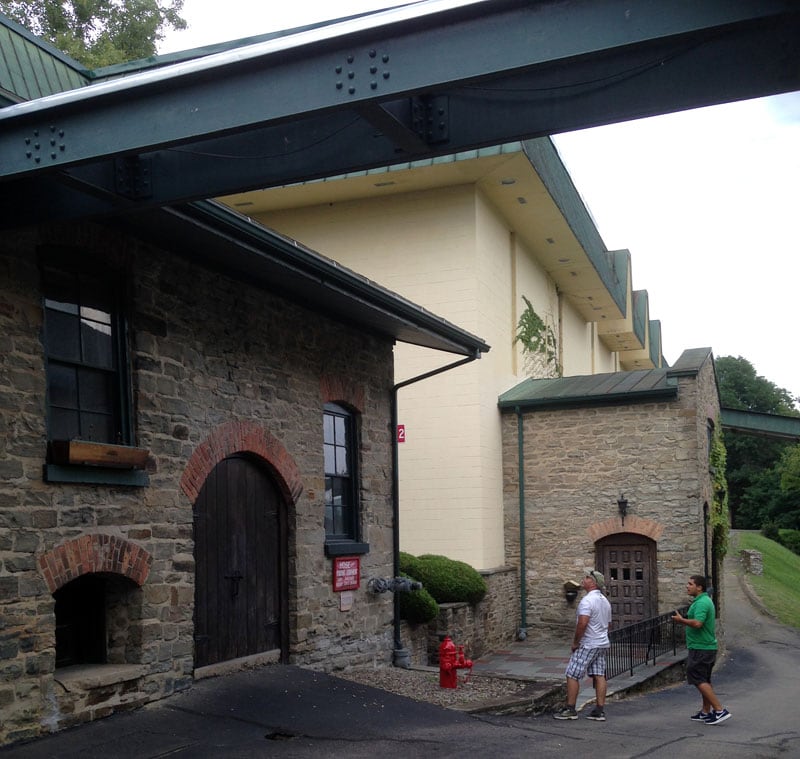 The staff was friendly and our tour guide was very knowledgeable, pleasant, and showed so much pride!  The evening was enjoyably quiet sipping on our purchased wine and sherry while enjoying deer scampering about in the field.  It was well worth the visit.  We give it a 5+ stars!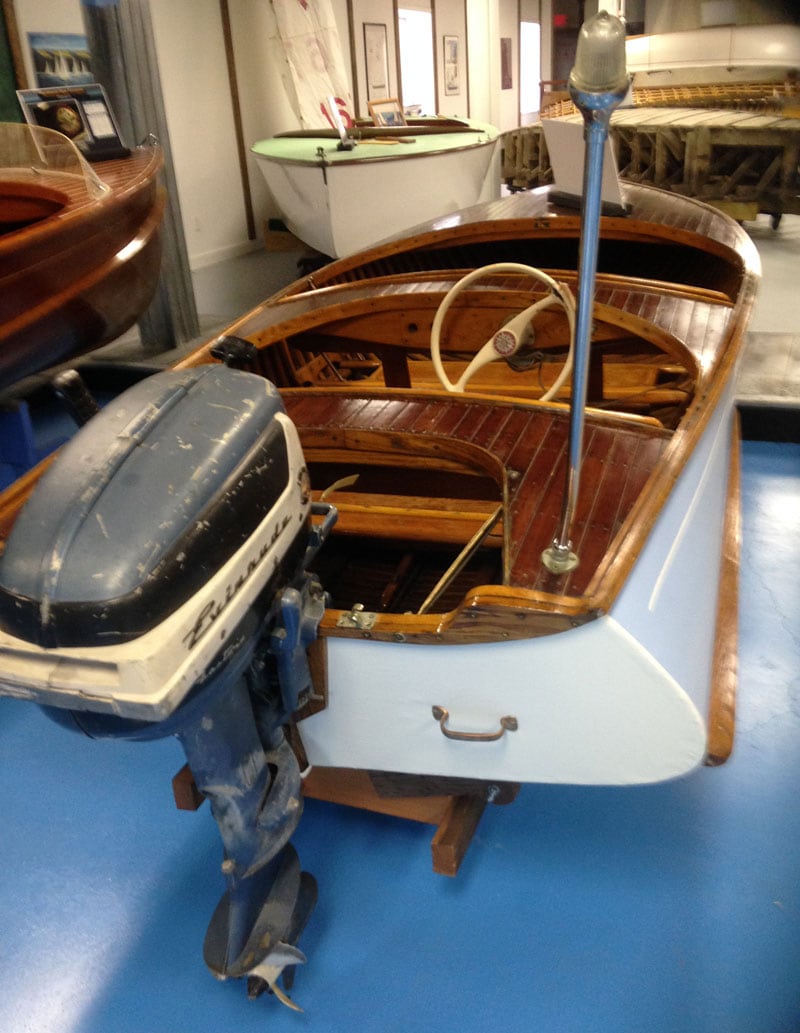 We also enjoyed the Finger Lakes Boating Museum and the history at the Glenn H. Curtiss Aviation Museum.
Joan Thompson
2011 GMC HD3500
2013 Lance 1191
I went to college in the Finger Lakes region years ago, but have not yet returned in my truck camper.  However, one of the places on my list is a free campground recommended by my sister.  She and her husband have been full-time RVers for over ten years.
They recommended the 9,000-acre Sugar Hill State Forest near Watkins Glen.  My sister said, "It has a large open camping area.  It is nice and is free.  It has picnic tables, fire rings, running water, flush toilets, and a fire tower that you can climb for a beautiful view of the surrounding Finger Lakes area."  The state website says you can also camp at-large anywhere in this state forest except within 150-feet of a road or body of water.
One of my favorite places is Taughannock Falls State Park, about ten miles northwest of Ithaca on the west shore of Cayuga Lake.  The gorge is 400-feet deep.  Within it, the falls is a dramatic 215-foot straight drop!  There is no camping there but, if you're in the Ithaca area, it's a great stop for a picnic.  On a hot day this place is a natural ice box.