Starting with Route 1, fellow truck campers name dozens of must-see destinations and campsites along California's coast. From cliffs to dunes to beaches and that famous Pacific sunset, we're going to California.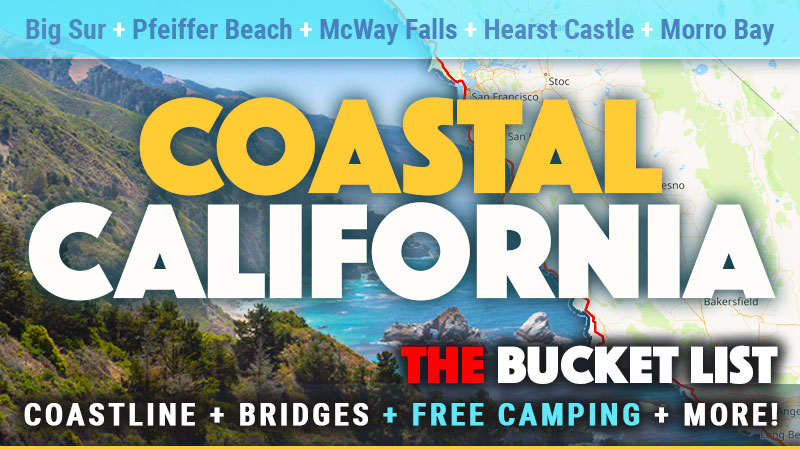 A few weeks back we put out the call for feedback on California's Route 1. We always thought of Route 1 as the coastal drive, but the responses that came in were – quite literally – all over coastal California. More perplexing, some of Route 1's key spots weren't mentioned.
In retrospect, the sheer scope of California Route 1 was probably too ambitious; especially considering that there's some disagreement about what constitutes Route 1. First of all, the 656-mile route has almost more names than The Fast and the Furious has sequels; State Route 1, Cabrillo Highway, Shoreline Highway, Coast Highway, and US Route 101. What road were we talking about again?
And yet, we had some incredible coastal California suggestions submitted for truck camping. We have already added several of the recommended spots to our personal Google Map. They're awesome. So rather than scrap the story and keep all these sites to ourselves (brou-ha-ha-ha), we decided to simply rename it. As they say in Hollywood, we fixed it in post.
Get your bucket list and pen out now. These Coastal California truck camping suggestions are worth their weight in gold.
Coastal California: The Bucket List
Albert Killackey
2019 Ram 2500
2012 Lance 825
My wife, Suzie, and I have extensively traveled California's Highway 1. The one spot we felt was almost surreal was when we came upon Oceano Dunes SVRA (State Vehicular Recreation Area) in Oceano. Here's the story of how we found the SVRA, and the incredible Monarch Butterfly Grove along the way.
Oceano Dunes SVRA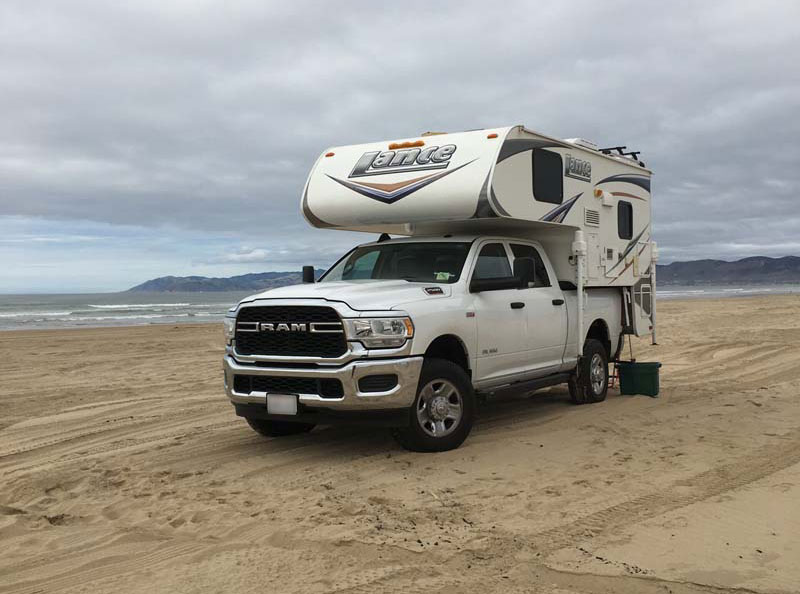 We exited Highway 101 in Pismo Beach to buy cinnamon rolls for our drive home to Los Angeles. Then, for the first time on that particular stretch, we continued going south on Highway 1. It's important to know that Highway 1 changes names along the way from Cabrillo Highway to Pacific Boulevard to Dolliver Street and beyond, but remains Highway 1.
At 400 South Dolliver Street in Pismo Beach, we noticed a few RVs pulled to the side of the road. Then we saw the sign for Monarch Butterfly Grove and stopped. It was November 1st, 2021 and there were already many hundreds of Monarchs in the branches of the trees and flying above us. Apparently, the Monarchs come south to Pismo from late October to February. This is a bucket list experience. Don't rush it. Bring a lunch and watch something beautiful.
After the Monarch Butterfly Grove, we were maybe a half tank of gas away from home in Los Angeles. From Highway 1 (Cabrillo Highway) at Grand Avenue, we looked toward the beach and noticed a California Park entrance station to the sand. We asked a ranger about the park and were told it was either for day use or overnight camping. The park was Oceano Dunes SVRA, and we were about to enter a whole new world.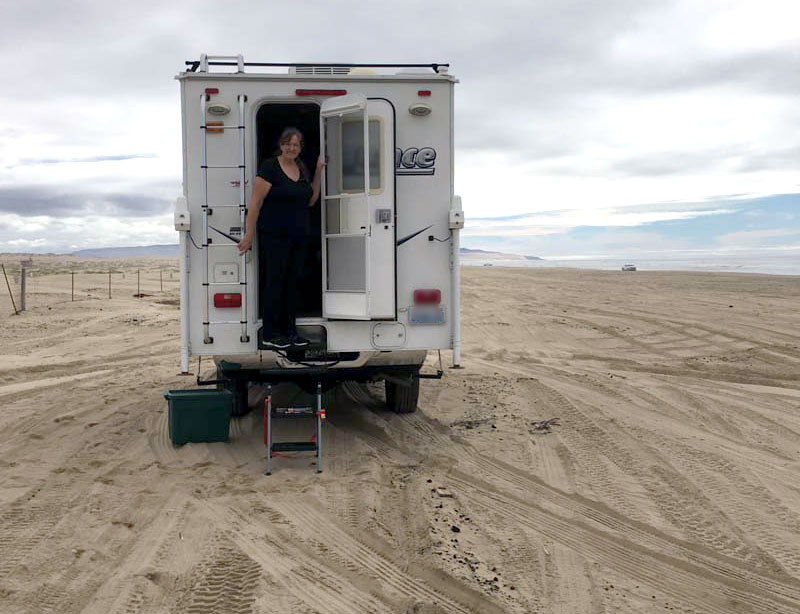 We decided to stay for three nights on the sand. It was clear from the line of kelp on the beach how high up the waves reached on the last high tide. We found a level area 30 feet above the tide line and parked with our dinette window toward the water. Over the next three days and nights, we experienced a slice of heaven.
There were little children on small and slow ATVs. There were many adults on full-size and fast ATVs. Then came several guys in a truck who stopped every few hundred feet to surf fish and then moved further along. Next came a truck pulling a four-horse trailer which stopped and unloaded the horses for an hour of riding in the surf.
A truck with dual wheels became buried in the sand, and a few people in two Jeeps stopped to help. They attached rescue straps from one Jeep to the other Jeep and then to the truck and off they all went back to the entrance.
Other campers, who brought firewood, dug holes in the sand and sat around their fires at night. We watched the tide come close to our truck and go out again and again. There were times when all the ATVs got a little loud, but then there were other times when we were all alone on the sand.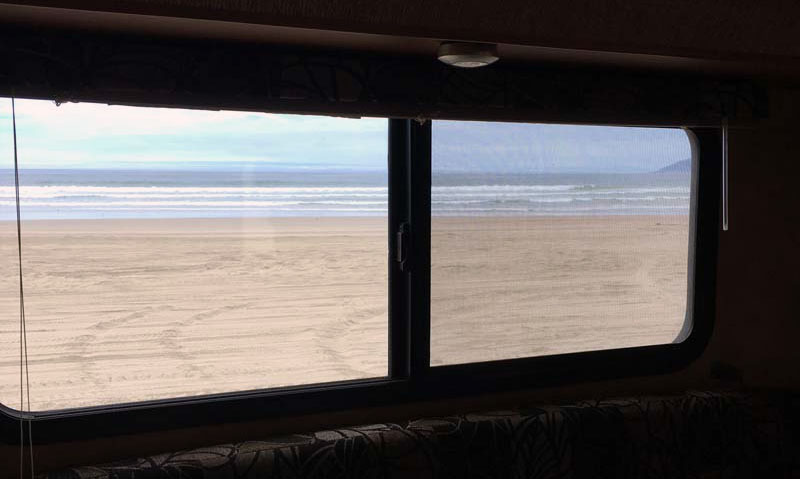 That was when I began referring to our dinette window as our "magic window" because of all the places and scenery we have seen in it while sitting inside high above it all. On our last morning, we saw a small school bus conversion sink down to its frame in the sand. They parked there the night before without considering it was low tide. We were unable to help but, on our way to Highway 101, we saw that little bus in front of us. Somebody helped them before the tide came up again.
When you book camping at Oceano Dunes SVRA, type in "Oceano Dunes SVRA". The "SVRA" stands for State Vehicular Recreation Area but only type in the letters SVRA after Oceano Dunes as shown above. The camping fee is $10 per night. This is primitive camping. The beach campground can be entered at either 100 Pier Avenue, Oceano, or West Grand Avenue. There is an RV dump station on La Sage Drive, between the beach and Highway 1, just north of the West Grand Avenue entrance to the beach.
Russian Gulch State Park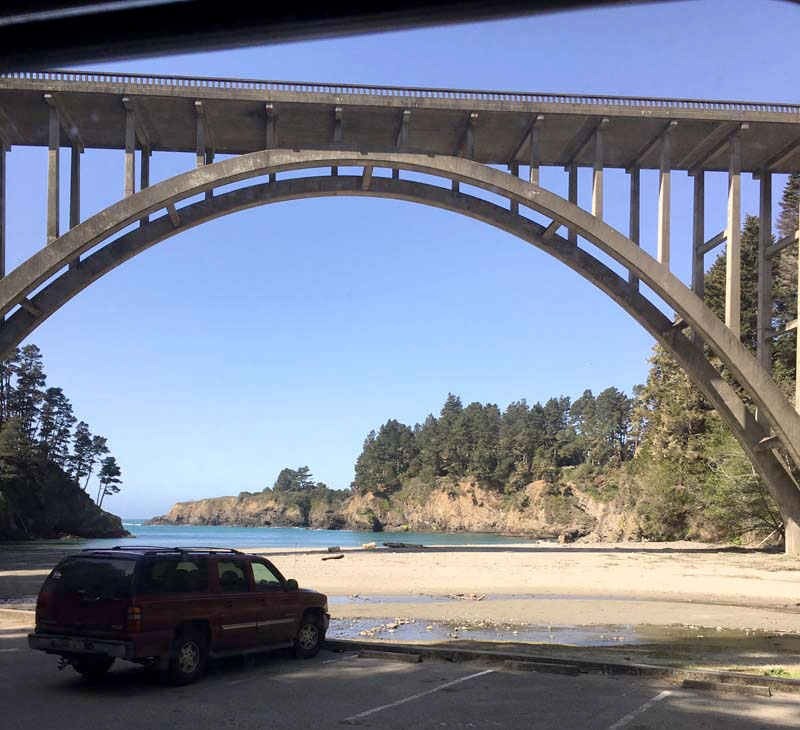 Our second recommendation on Highway 1 spot is Russian Gulch State Park. It is perfectly located two miles north of Mendocino and seven miles south of Fort Bragg. In the campground is a cove beach which is under the Russian Gulch Bridge, a beautiful high classic Highway 1 arched concrete bridge.
We were lucky to come upon it in April on the first day it opened. We were looking for a lighthouse near there and Suzie spotted the word, "Campground" with an arrow as we pulled off Highway 1. It is so beautiful that we actually just sat there and looked at the beach, the bridge, and the water all day last April.
Mendocino, Fort Ross and Fort Bragg
Mendocino is an old beach town that has not changed since before Jennifer O'Neill walked on Main Street in, "Summer of 42" (1971), or when James Dean walked on main Street in, "East of Eden" (1955). This is a true California Highway 1 destination town with two more must stops south of town.
Seventy-five miles south of Mendocino is the Russian settlement known as Fort Ross. When America was fighting the war of 1812 the Russians settled in California. Thirty-six miles south of Mendocino is the Point Arena Lighthouse which appeared in the film, "Forever Young" with Mel Gibson. That is a must-stop to see the lighthouse, but also to feel the wind on a windy day.
Fort Bragg has several places to see as well. There is MacKerricher State Park which has beaches, sand dunes, wetlands, and tide pools. We have not yet ridden the "Historic Skunk Train" but will on our 45-night trip up to Astoria, Oregon this coming September. The train runs through the redwoods to Willits, California. We have booked four nights at Russian Gulch State Park for that drive.
Crystal Cove Moro Campground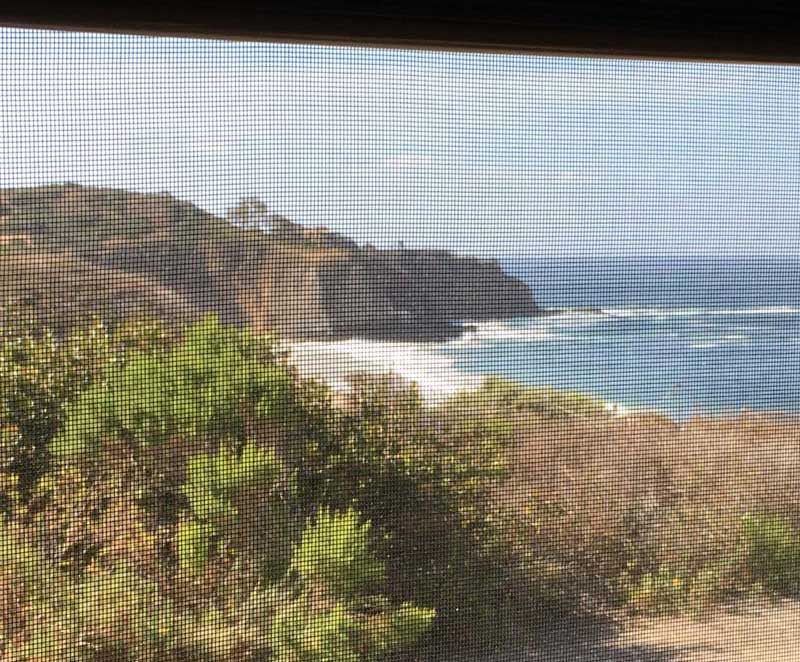 Crystal Cove Moro Campground is terraced on a hillside in Laguna Beach. It has many trails going deep into the state park.  Although each site does have at least some view of the Pacific, sites 57-60, 42-45, and 38-41 have the best view because they also overlook the cove.
During the migration of California Gray Whales, we have seen several in the cove. Once we watched a man on a paddle board following a whale around the cove. The hillside location is perfect for watching the flocks of Pelicans fly up and down the coast. The camp is located at the border of Laguna Beach and Newport Beach.
We often stay at Moro Campground in Crystal Cove State Park because we live only 50 miles away. We have booked 30-nights this year and have done so many times. It might be California's most popular campground but people often cancel. If you keep an eye on Reserve CA, you can pick up a few nights here and there.
South Carlsbad State Beach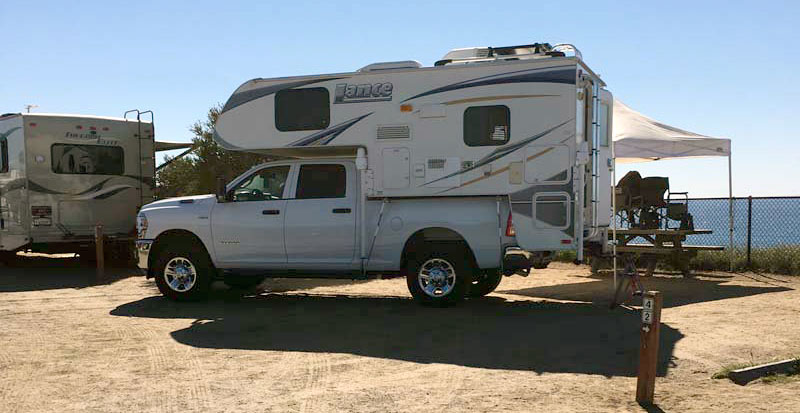 South Carlsbad State Beach is another campground we often stay at. A small number of the sites are a little too slanted so you really need to look closely at the photos on Reserve CA for a more level site.
The only sites with a view are on the Bluff Top side of the camp road. We look for a site that will allow us to park near the fence overlooking the beach below. We have watched pods of dolphins surfing in the waves many times from our camper.
These are the cream of the crop sites for a truck and camper at South Carlsbad State Beach. The best sites are 2,  6, 17,  36, 38, 39, 41, 43, 52, 62, 196 and good sites are 8, 13, 14, 15, 44, 50, 56, 61, 63, 64, 66, 67, 156, 176, 178, 183 Big,  198, 196 Big, 197, and 198.
McWay Falls
I would like to also mention McWay Falls, which is an 80-foot waterfall of fresh water that flows year-round into ocean waves. It is 37 miles south of Carmel.
Beware that the parking lot is very small with small spaces. Our short bed truck and camper measure 22-feet and I had to back into the parking space with my steps hanging over the valley. I did notice RVs parked on Highway 1 with people walking to see the waterfall above from Highway 1.
Vincent Kurpan
2012 Ford F-150
Panther Camper
We lived in Portland, Oregon, but bought our truck camper in San Diego. So our very first trip was up the California coast.
Morro Bay
Morro Bay was our favorite stop. We enjoyed the bay and beach and a great hike up Black Hill for a terrific view. The town also offers the Morro Skateboard Museum, golf, kayaking, otters, fishing boats, and seafood. It's just a nice small town, but it's best to go anywhere in California off-season. I'm sure it's not as nice in the high season.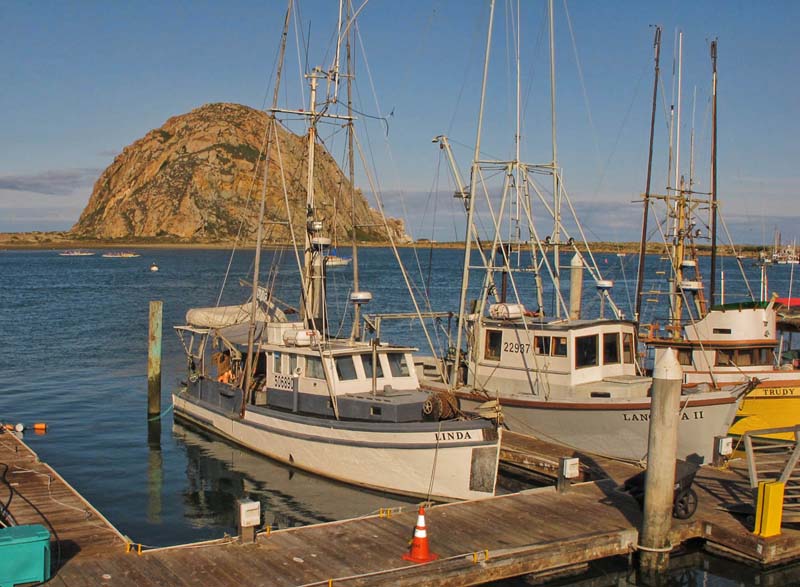 Above: Morro Bay fishing boats with "El Morro" rock in the background.  Lots of sea birds nest on the rock.  So good bird watching too.
Hearst Castle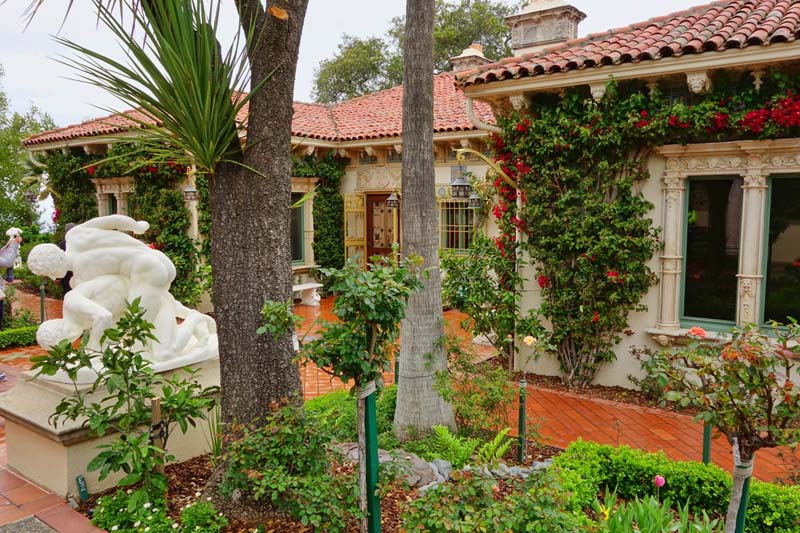 A half-hour drive north of Morro Bay is Hearst Castle in San Simeon. We have been to Hearst Castle twice and it's well worth the price of admission. How much does it cost to go to Europe for an afternoon?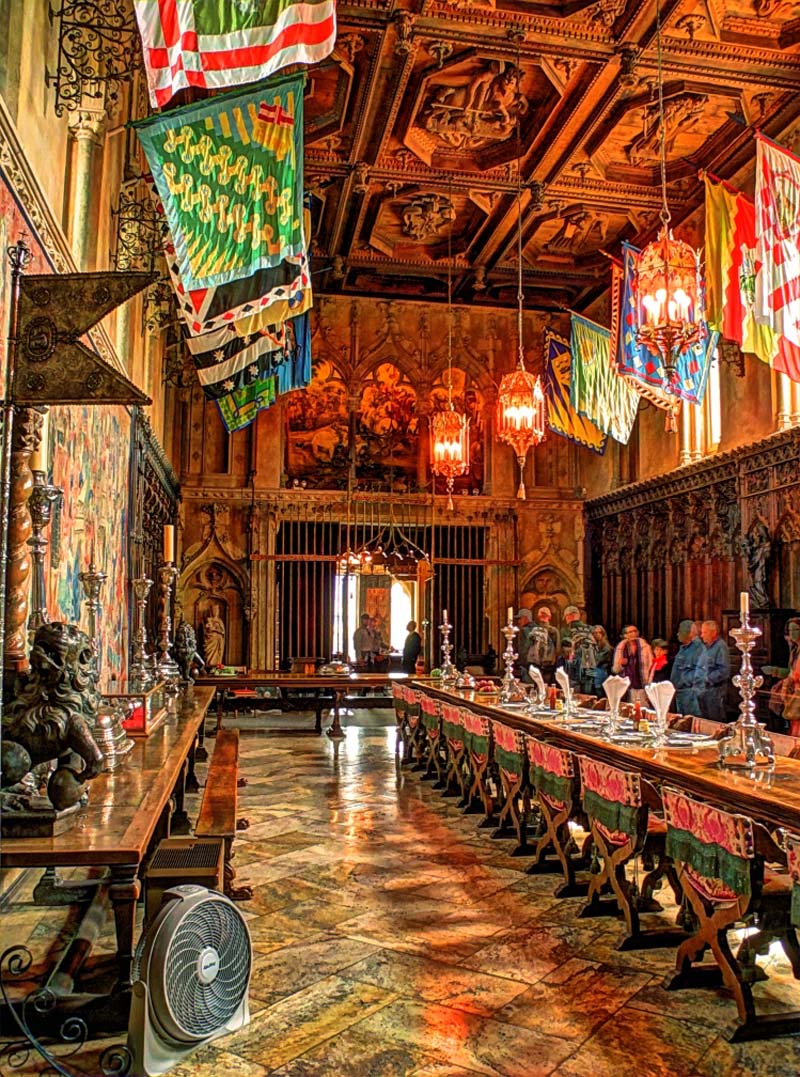 The castle is more amazing than the Newport mansions, both inside and out. The views and gardens are amazing.
Cliff Drive and Carmel
North of Hearst Castle Highway 1 is on a cliff and very twisty. You better have all your handling issues worked out before you try that one. It can be pretty scary. There are not a lot of pull-outs or other stops until you get to Big Sur or Carmel.
Carmel is one of our favorite places in California. It's a very interesting town with a European flavor. The beach walk is one of the most scenic walks anywhere. Just don't park your camper by the beach or you'll get fined for exceeding height restrictions. You have to park up in town and walk down to the beach. It's well worth it.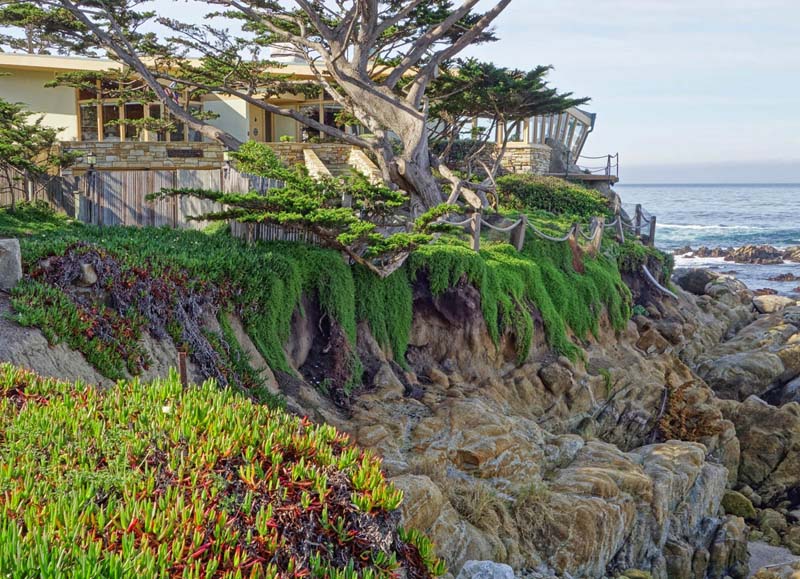 The homes along the beach walk in Carmel are incredible. Some are crooked stone and timber cottages which Carmel is famous for. The one pictured above is a Frank Lloyd Wright house.
Camping in this area can be expensive. Laguna Seca Recreation Area is reasonable and has a great view. It's only available when there are no racetrack events going on. Last time we were there we had to buy bottled water for drinking. The well water contains naturally high levels of arsenic. It's okay for washing but not drinking. It's a nice park.
Solvang and Santa Barbara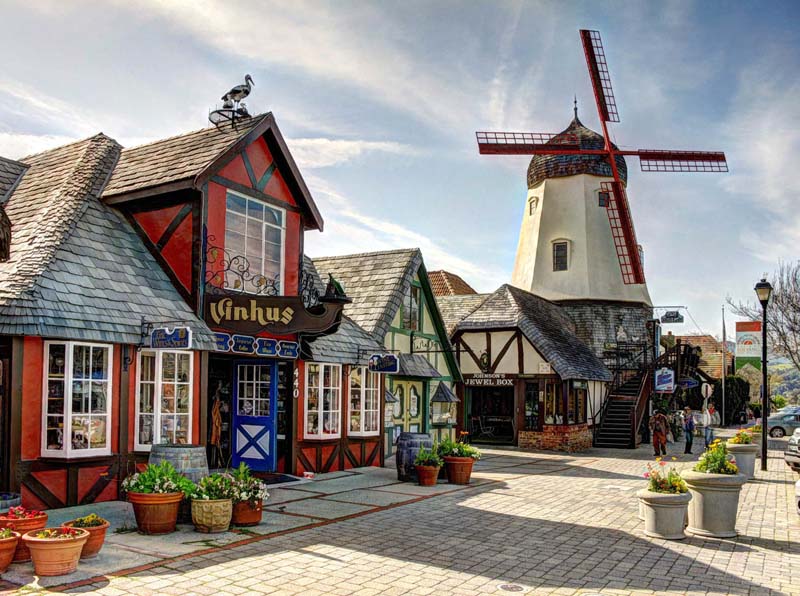 Above: Solvang with its European styling. All fake but nice.
Solvang is another European-styled town near the California coast. It's Dutch, or Scandinavian, or a little of both… who cares? It's fun. It's all fake, but it's very nicely done and worth the detour.
The Santa Barbara Harbor, Stearns Wharf and beach are nice, but the town is very crowded and camping is right next to the freeway.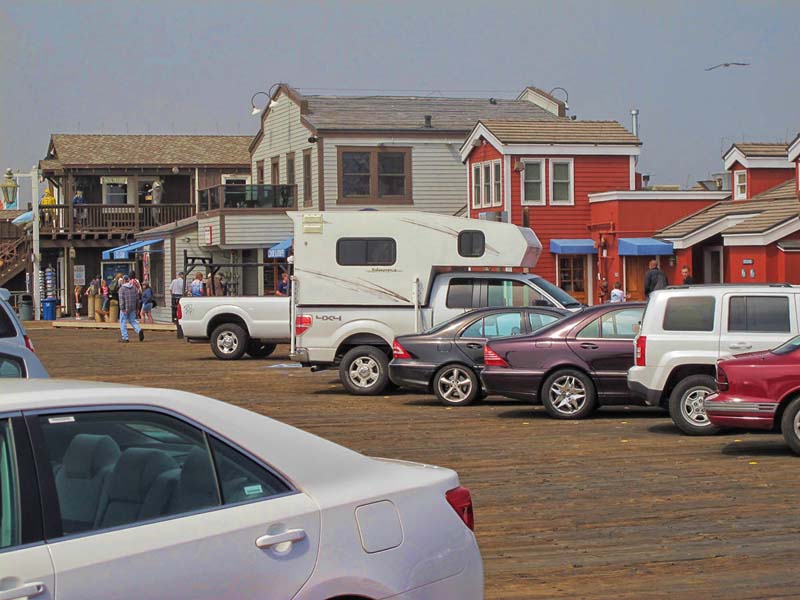 Above: Stearns Wharf in Santa Barbara. Our camper fit into a standard parking space right on the pier.  The RV park is right next to the highway, so it's pretty noisy.  Plan to camp at one of the state parks up the coast.
In parts of Santa Barbara, the coast actually faces east.  So the sun rises over the water.  It's very strange to experience this on the West Coast.
Sarah Knudsen
2012 Toyota Tundra
2004 Six-Pac
We live in the San Francisco Bay Area and love driving up and down our beautiful, rugged coast. One of our favorite camping spots on Highway 1 is a few hours north of San Francisco Bay; Ocean Cove Campground.
Ocean Cove Campground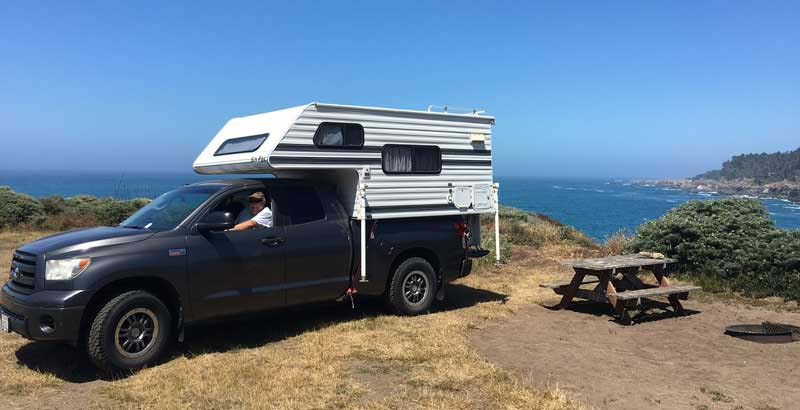 It's a first come, first served private campground right on the coast in Jenner, California. Our favorite campsite there is right on the cliffs. Ocean Cove Campground doesn't have WIFI, cell phone service or hookups. They do have showers, porta-potty toilets, and incredible views. It's $30 per vehicle, per day.
One of our all-time favorite restaurants, Phil's Fish Market, is a couple of hours south on US 1 in Moss Landing. They have fantastic fresh fish. Our favorites are their halibut fish tacos and fish and chips.
Joe Santos
2007 Chevy Silverado
2002 Phoenix popup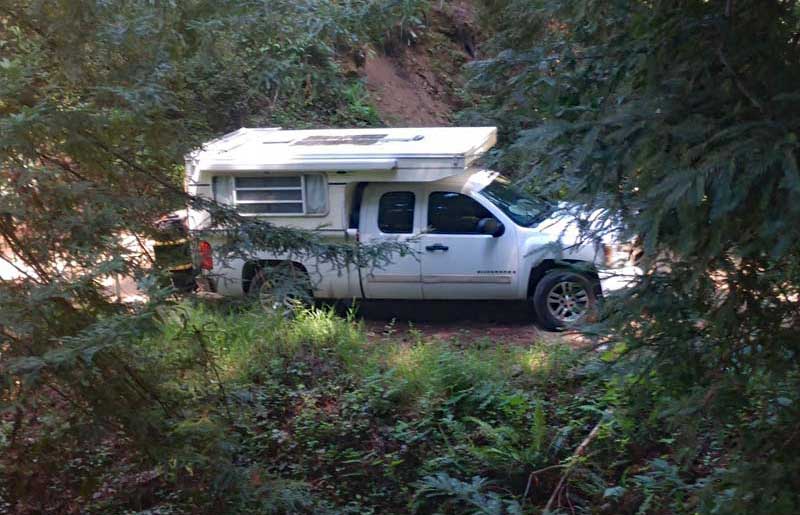 Above: Off-road Old Highway 1 near Bixby Bridge
We drove Highway 1 for our 40th wedding anniversary and it was one of the best trips we have ever been on. We started in Santa Cruz, and then visited Aptos, Monterey, Big Sur, Cambria, Pebble Beach, Morro Bay, Pismo Beach and Santa Barbara.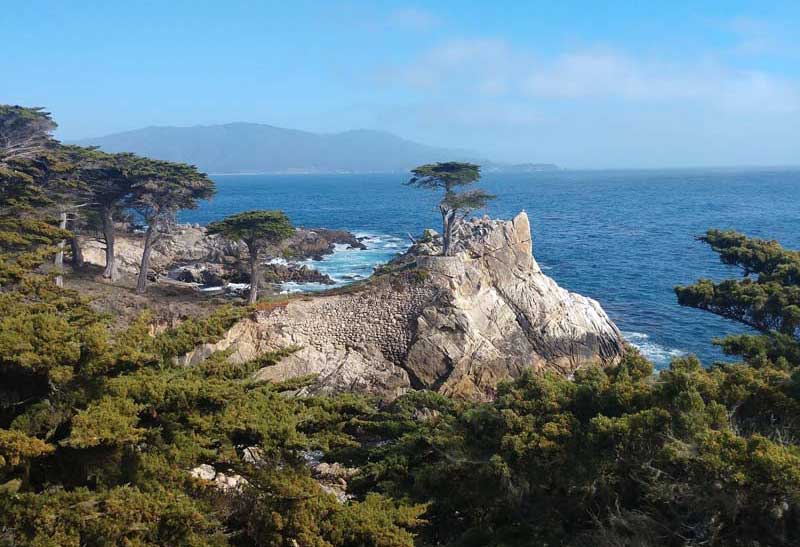 Above: 17-mile drive, Pebble Beach
We mostly stayed in state campgrounds for one to two nights. We also stayed in some private campgrounds. Pfeiffer State Beach, Pismo State Beach, Morro Bay, and Riverside Campground ranged from $35 to $60 per night. I expect those prices have gone up and recommend planning campgrounds ahead.
Big Sur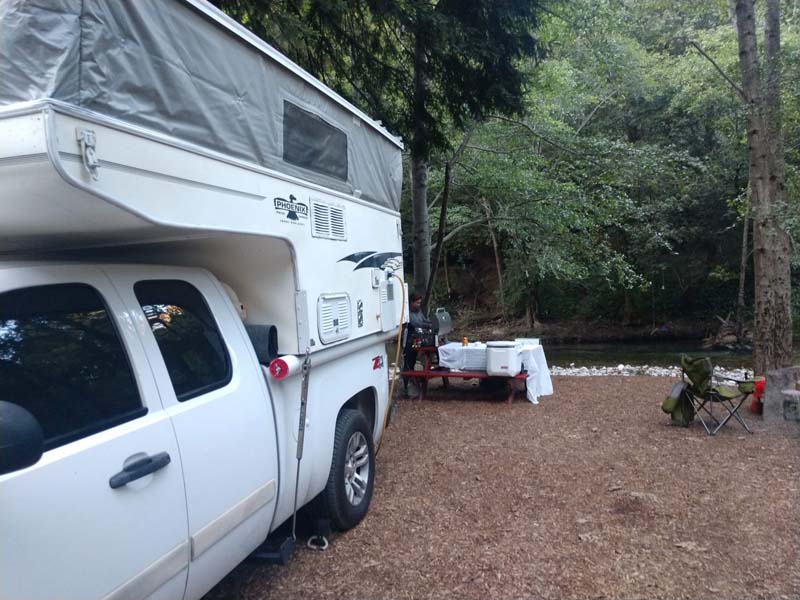 Above: Riverside Campground in Big Sur
I also recommend walking the sands of Pfeiffer State Beach and overlooking Bixby Creek Bridge in Big Sur. It's best to go during the week to enjoy it with fewer crowds.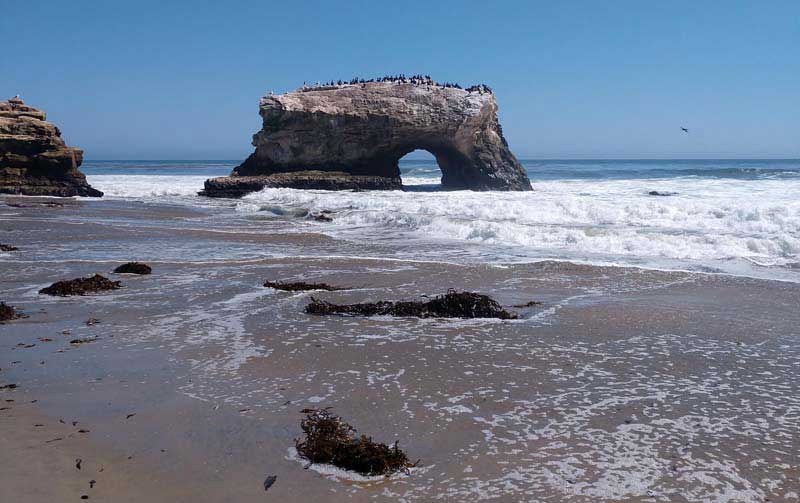 Above: Natural Bridges State Beach, Santa Cruz, California
Our best advice is to plan ahead and take your time. Go beyond Google Maps with your research or you'll miss things. We also enjoyed exploring the many downtown areas and beach walks. I highly recommend pre-planning and being flexible. We did the trip in twelve days.
Charles Coushaine
2001 Ford F-350
2012 Chalet DS116RB
We visited multiple locations traveling north along Route 1. I made several videos showcasing our experience along the way.
Big Sur is just south of Monterey. Its coastal beach is spectacular as are the huge Redwood trees. Also nearby is Pfeiffer Beach which has a unique square hole through a huge rock that waves crash through. Both beaches are highly recommended.
Jalama Beach is in coastal Santa Barbara County. This beach is a 14-mile windy drive through the countryside until you finally arrive at Jalama Beach and its terraced campground right on the coast. This campground is breathtaking and the scenery from the terraced sites is unlike any other I have ever seen. Highly recommended.
Pismo Beach is very long with lots of good sand for relaxing. It also has a beautiful boardwalk pier where you can go out and enjoy the prevailing breeze. If you like fishing from a pier and/or spectacular sunsets, Pismo Beach is the place for you.
All three locations offer spectacular coastal scenery and inviting beaches. No wonder Californians love their state so much!
Ed Keith
2020 Ford Ranger
2012 Four Wheel Camper Eagle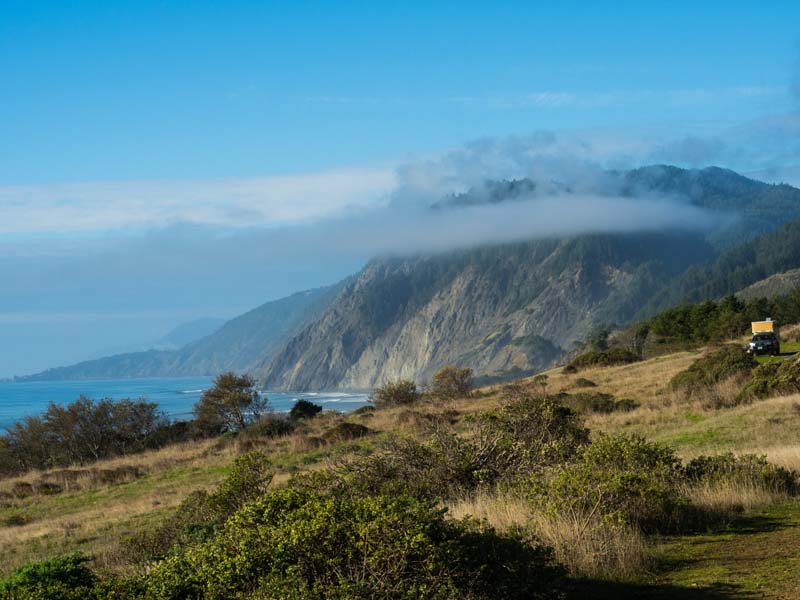 Sinkyone Wilderness State Park
As we were traveling north to south along Highway 1 and the associated backroads, we visited Needle Rock at Sinkyone Wilderness State Park. It's a bit off Highway 1, but well worth the effort.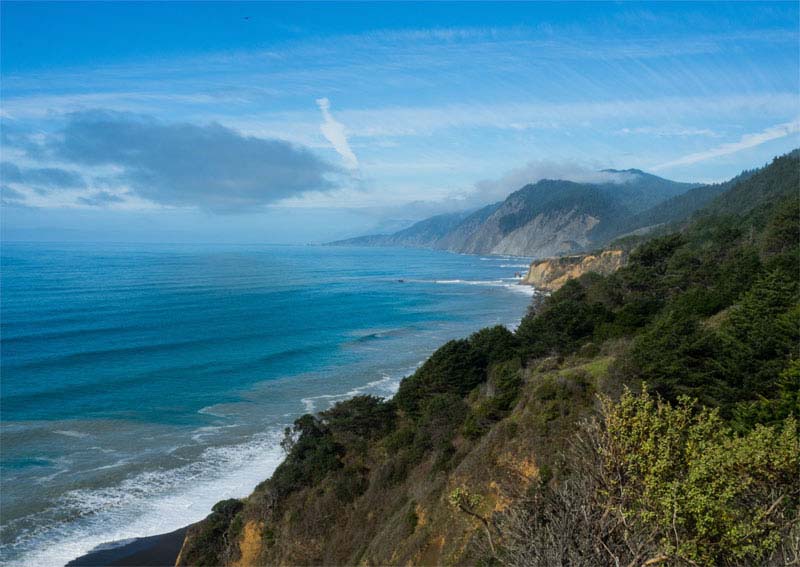 Above: View on the hike to Bear Harbor
We drove to Needle Rock not knowing what to expect and found an otherwise deserted camp and a long trail out to Bear Harbor. We ended up staying overnight and were met with a great sunset and wonderful stars.
This is not a place for big truck campers but, for a Four Wheel Camper rig or something similar, this is the spot. A write-up of that visit with linkage to the entire 2016 trip is on our website.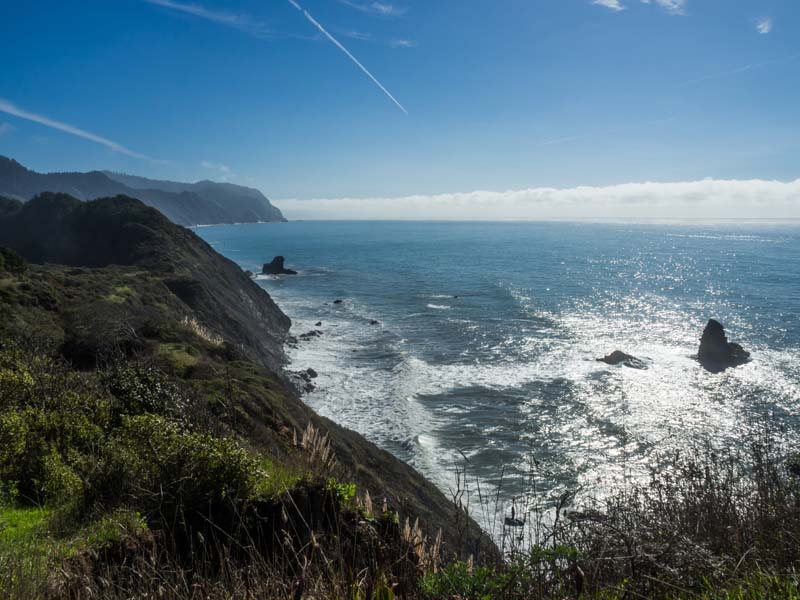 Above: On the trail to Bear Harbor, Sinkyone Park looking south
Usal Beach
Usal Beach would be our second favorite. It is another backcountry drive that is not for big rigs. If you can navigate the rutted steep windy forest road, it will be worth the effort as you find yourself at a primitive camp on the beach.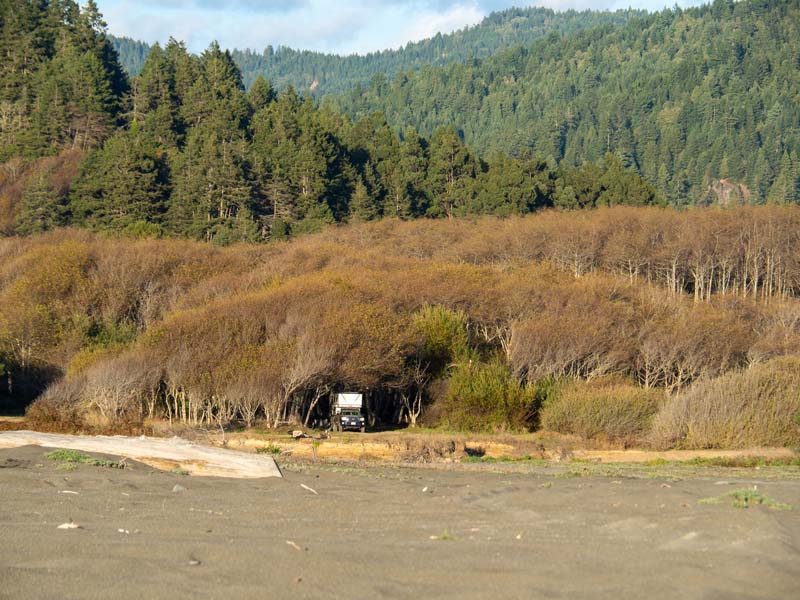 We have since been back to visit Usal again and I can't imagine traveling Highway 1 and not spending a night or two there. Our first and second visits to Usal are also detailed on our blog.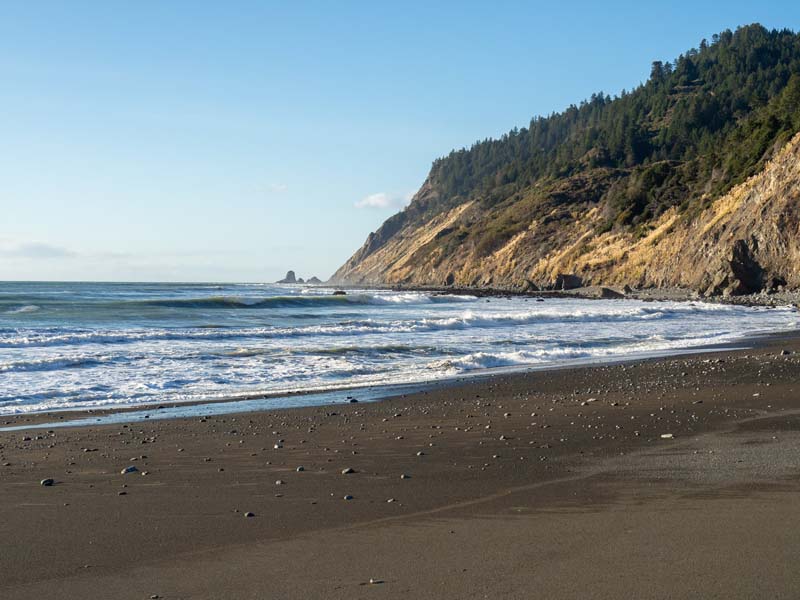 Five years ago, Mattole Beach a BLM dry camp was under $10 and Wailaki BLM dry camp was under $10. Usal Camp is free for boondocking. For all of these locations, you can find more info online. I'm sure things have changed as they have everywhere with the pandemic in regards to availability, costs, need for reservations, etc.
Mackerricher State Park north of Ft. Bragg is very expensive like all California state parks. Hendy Woods State Park is expensive. Gualala Point Regional Park is a moderate price and has aggressive raccoons that will fight for your garbage. We don't ever use hookups. We prefer a less developed campground or just a parking spot.
Paul Harmon
2013 Chevy 3500HD
2007 Adventurer
If you travel Highway 1, go from north to south. Most of the turnouts are on the ocean side. Highway 1 is a tight road with lots of zippy lane cutters and even semis on the curves. It is also very beautiful and worth seeing.
Tanner Wiberg
2005 Toyota Tundra
2022 All-Terrain Camper Ocelot
We came in from Canada to take delivery of our brand new All-Terrain Ocelot. We are bush campers who found ourselves a bit lost. We settled for state park camping after spending our first night in the camper in a seedy motel parking lot.
Florence Keller Park
To our surprise, the state and county campgrounds were excellent; secluded and beautiful. We stayed in Florence Keller by Crescent City for the second night in the camper. I wouldn't hesitate to recommend it to anybody, even if you are normally public land campers like us. The park campgrounds were an excellent choice along an excellent route.

Florence Keller (pictured above) was around $20 per night for dry camping. It's an excellent choice for anybody touring the Redwoods. I am not normally a campground guy, but this park was a relief to find after hours of trying to find public camping on a time crunch in an unfamiliar area.
For more destination articles with recommendations from fellow truck campers, click here for USA, and Canada, and the World.