Looking for some cool underground places?  Eight fellow truck campers recommend their favorite caves and the camping opportunities nearby.  It's time to put on your best spelunking shoes and get down.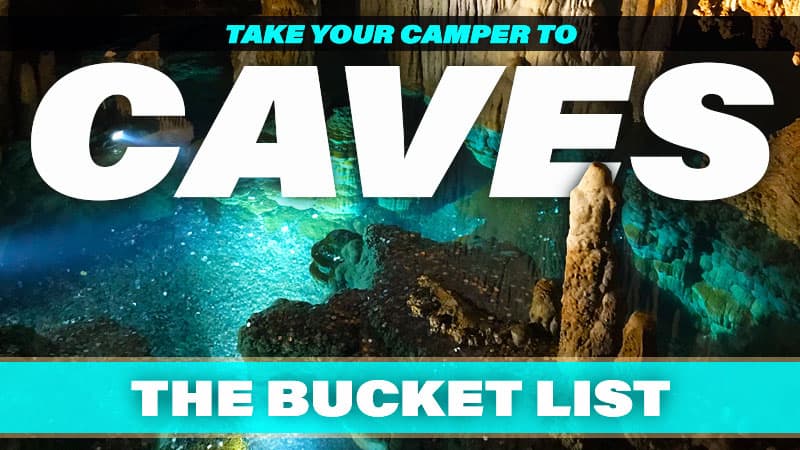 During peak summer, common truck camping wisdom is to travel north or climb in altitude to escape the heat.  If that's not possible, another option is below.
Like the basement of a house, caves stay cool even when outside temperatures soar.  Many of us have had the experience of wearing T-shirts and shorts into a cave only to find cold-induced goosebumps on our arms minutes later.  Caves can be chilly!
Beyond cooling off, caves also open up a spectacular range of unique worlds to survey.  And there are so many caves across the continent (approximately 17,000 in the United States alone) that one could actually make cave hopping the theme (or sub-theme) of an incredible truck camping trip.
Angela and I have explored a number of the more popular caves while truck camping including Carlsbad Caverns National Park in New Mexico, Craters of the Moon National Monument in Idaho, and Mammoth Cave National Park in Kentucky.  Of those three, Carlsbad Caverns is our hands-down favorite.  All three were well worth the visit and taught us not to ignore what's under our feet.
What follows are cave and camping recommendations from fellow truck campers.  Another caves and campers article worth checking is Michael Holland's "Teaching an Old Dog New Tricks".  Michael's article features a Four Wheel Camper adventure to Lassen Volcanic National Park and Lava Beds National Monument.  Both are now on our bucket list.
Caverns of Sonora, Sonora, Texas
Brian Hagen
2001 Ram 1500
2014 Palomino SS-1251 pop-up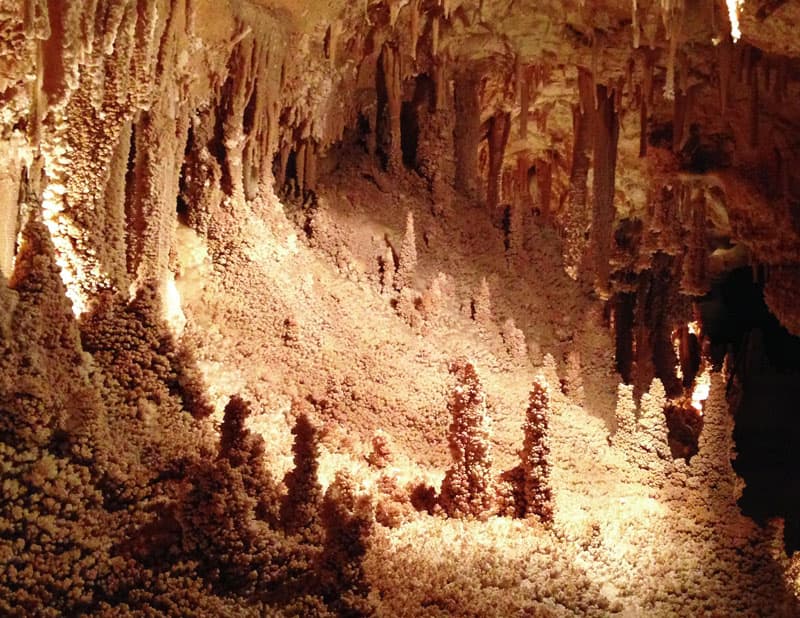 Above: Speleothems in the Caverns of Sonora
I have been a member of The National Speleological Society (NSS) for many years and I have explored hundreds of caves; both tourist caves and wild caves.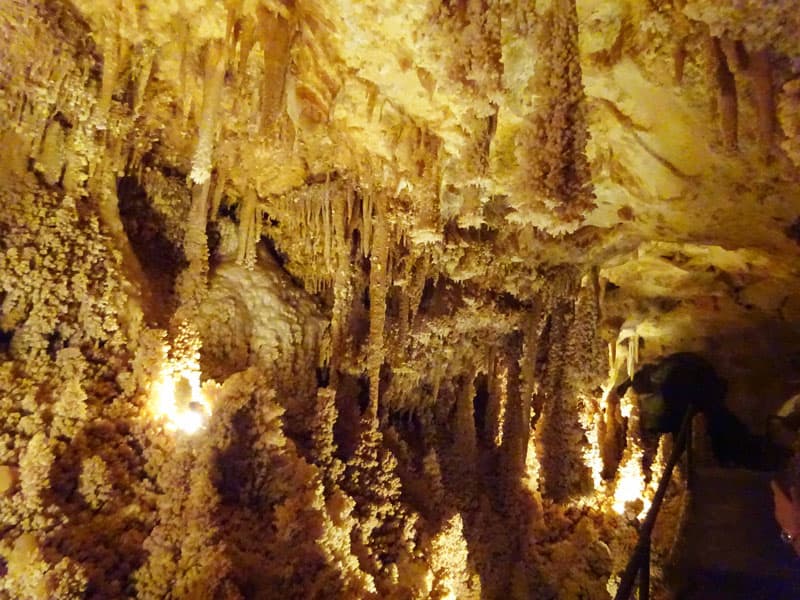 One of the most beautiful and most decorated tourist caves is the privately-owned Caverns of Sonora.  It's located west of Sonora, seven miles south of the interstate.  I visited the Caverns of Sonora and camped at their campground in February of 2016.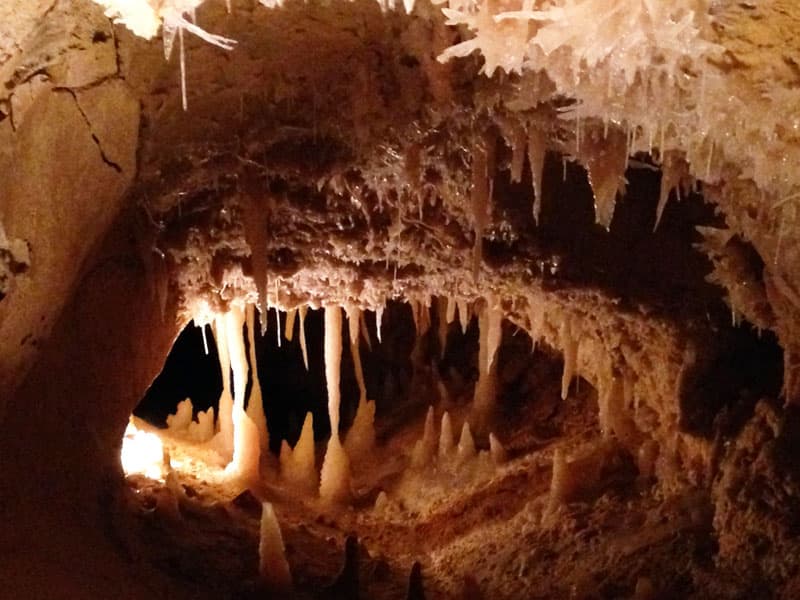 It's not a large cave-like Carlsbad Caverns, but the one-hour guided tour is amazing.  The continuous speleothems, stalactites, stalagmites, cave bacon, pearls, and crystal formations are jaw-dropping.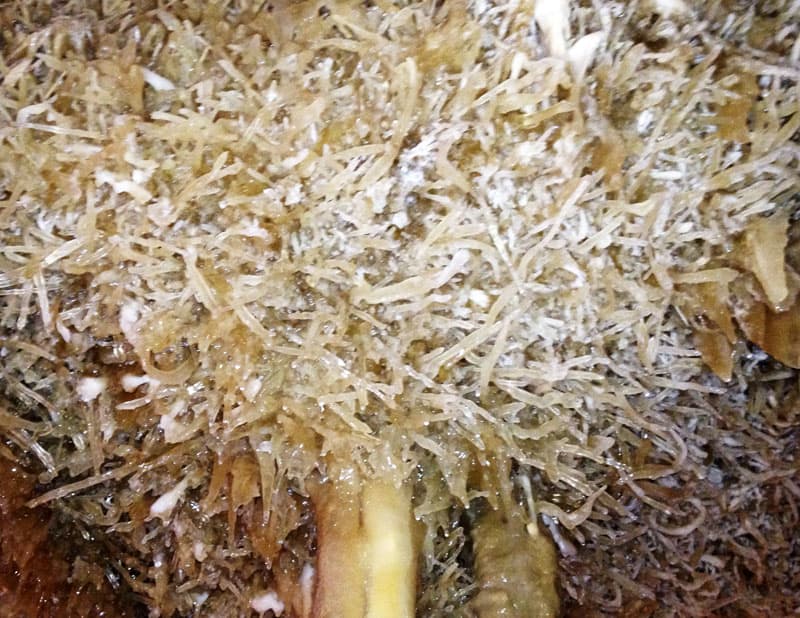 A bit of a warning: The cave can be warm and humid and has lots of stairs.
There is not much else around the area.  The gift shop is well stocked and the prices are reasonable.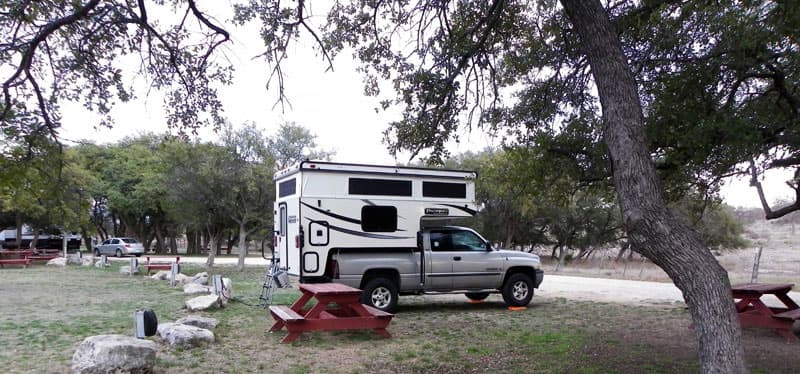 Caverns of Sonora has a great campground!  I stayed in the tent area with an electric hookup for $15. It was nice being away from the big rigs.  There were clean showers, too.
Onondaga Cave, Leasburg, Missouri
Grayden Obenour
2011 Ford F-350
2019 Lance 975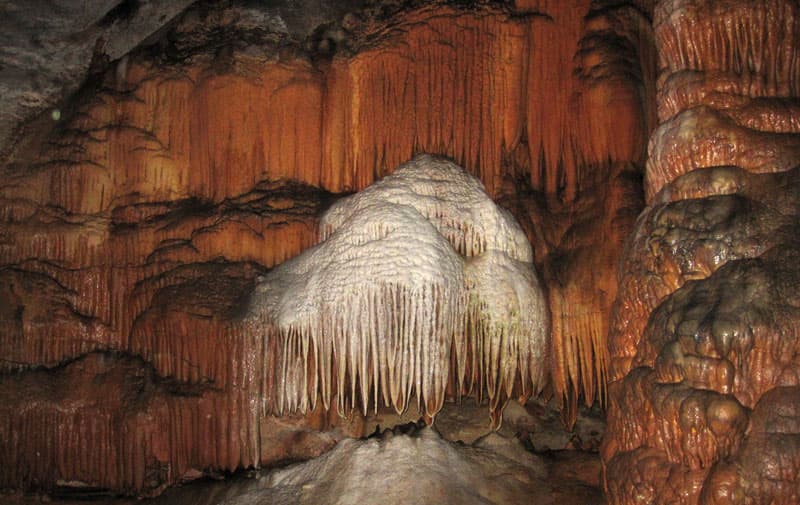 Above: Stalagmites in Onondaga Cave
We visited Onondaga Cave in April 2016 with our truck and camper.  We spent about three-hours touring the cave with a ranger as our guide.  I don't remember what the cost was, but I do remember that we left a donation.
The terrain inside the cave was relatively easy, so beginners would have no problem with the tour.  The cave is quite dark and not well lit, so bring a large flashlight.
Since we were the only ones on the tour, the ranger made a point to show us many nooks and crannies in the cave.  We had an immediate question-and-answer discussion.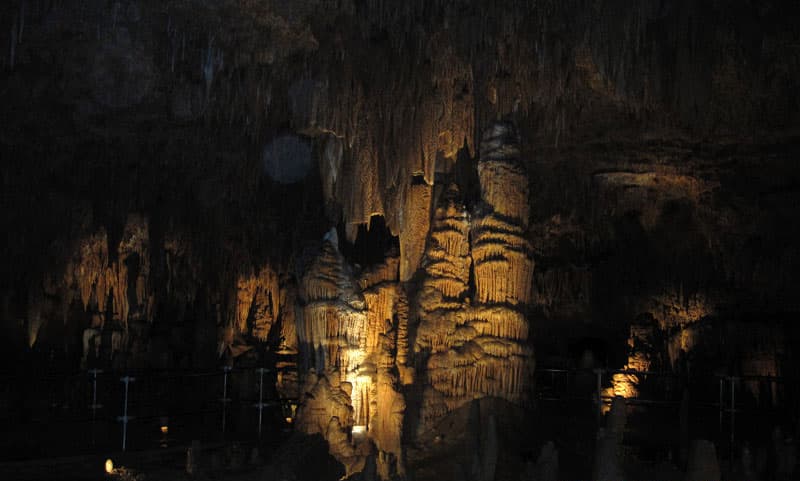 Before the tour, we asked the rangers if they knew what the purple flowers were blooming throughout The Midwest.  They didn't know, but one of the rangers had the answer for us after the tour.  The flowers were Henbit.
The parking lot was relatively large and could handle large trailer combinations.  The museum at the entrance of the cave is pretty typical with the prerequisite gift shop.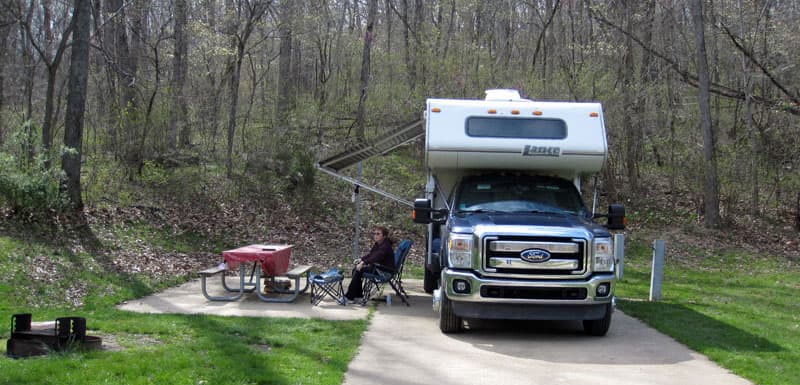 We camped in Onondaga Cave State Park which is adjacent to the cave.
Lehman Cave, Baker, Nevada
Frank Poole
2016 Ram 5500
2016 Arctic Fox 990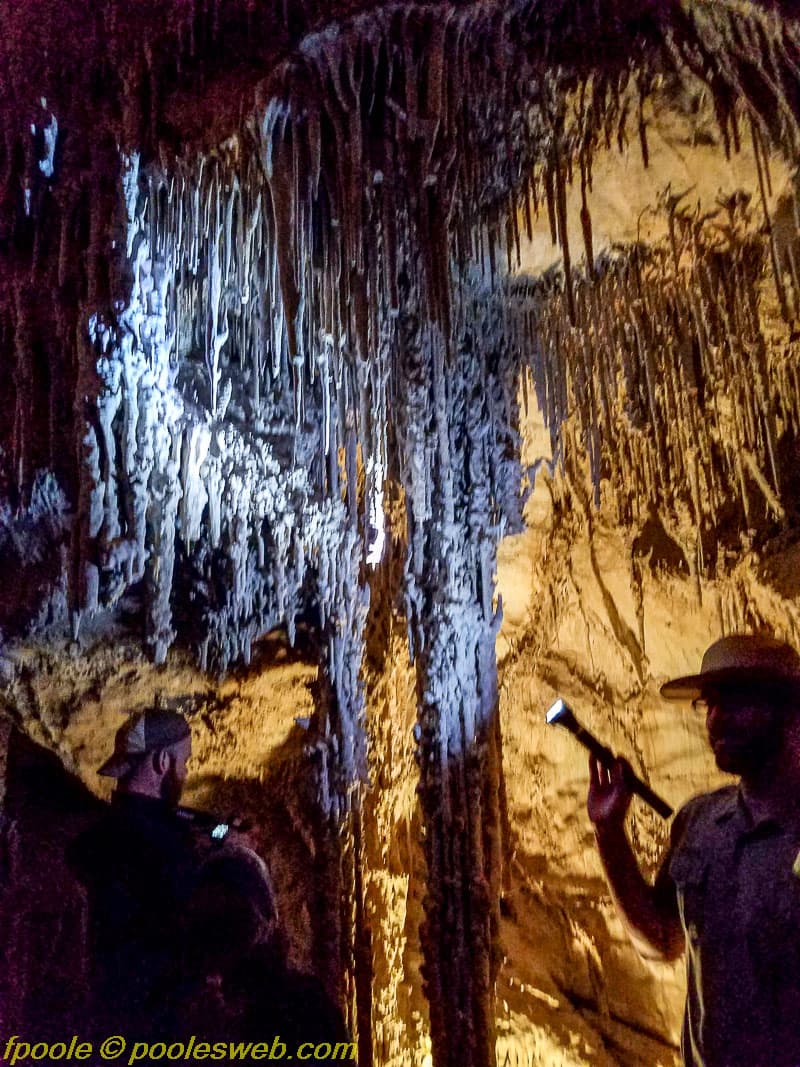 Above: Tour guide inside Lehman Cave
I have been to several caves while truck camping and Lehman Caves was really a surprise.  It's like a mini version of the Carlsbad Caves only shorter with lots to see.  It's paved the whole way, so beginners will have no problem.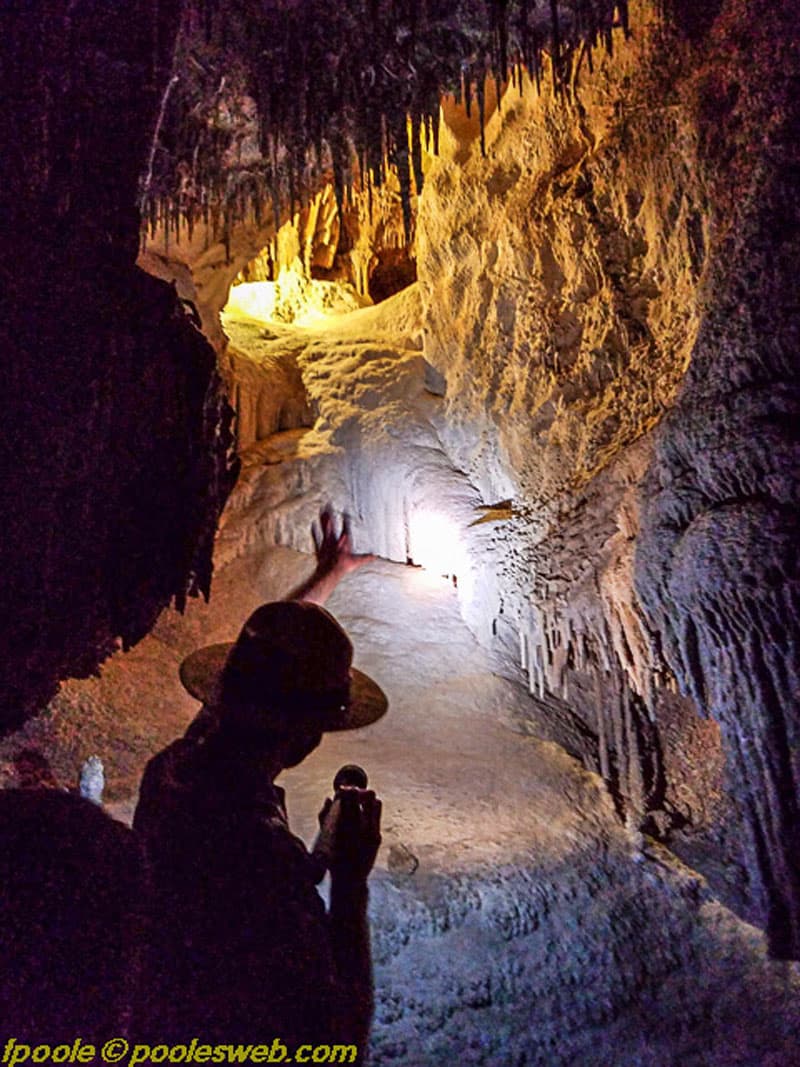 The National Park Service tours are guided and approximately 60 to 90-minutes depending on which tour you take.  The prices were $12-$15.  I recommend the Grand Palace tour.
With the 'Old Geezer Pass' I got the tour for half the price.  For $7.50, you can't go wrong.  The guides were knowledgeable.  The tours fill up quickly, but I was lucky.  I just happened to stumble in when they had an opening.
There is plenty of dry camping in the area.  The little town of Baker is nearby.  Parking is a little tight, but it's okay for a truck camper.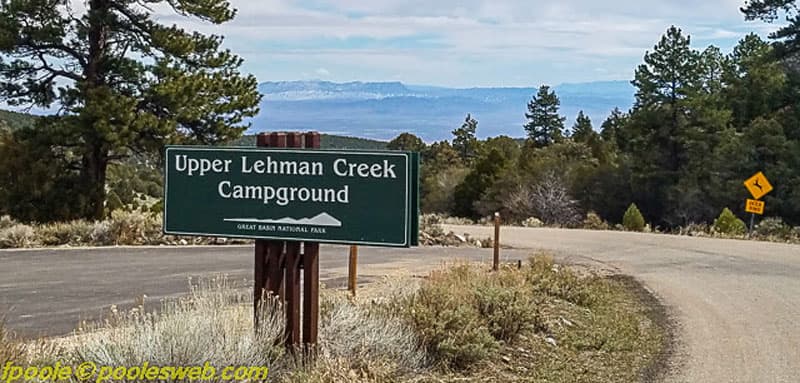 I camped at one of the many dry camping spots.  If dry camping isn't for you, then Baker has an RV Park with hookups.  It's not fancy.  The stars at night were overwhelming.
Check for seasonal campground openings because some could be closed.  The cave parking lot is geared towards cars and is limited.  I suggest you schedule your tour in advance and arrive a little early for parking.  Bring your camera for the cave and night star shots.
Luray Caverns, Luray, Virginia
Robert Bergen
2019 GMC Sierra 3500
2015 Cirrus 800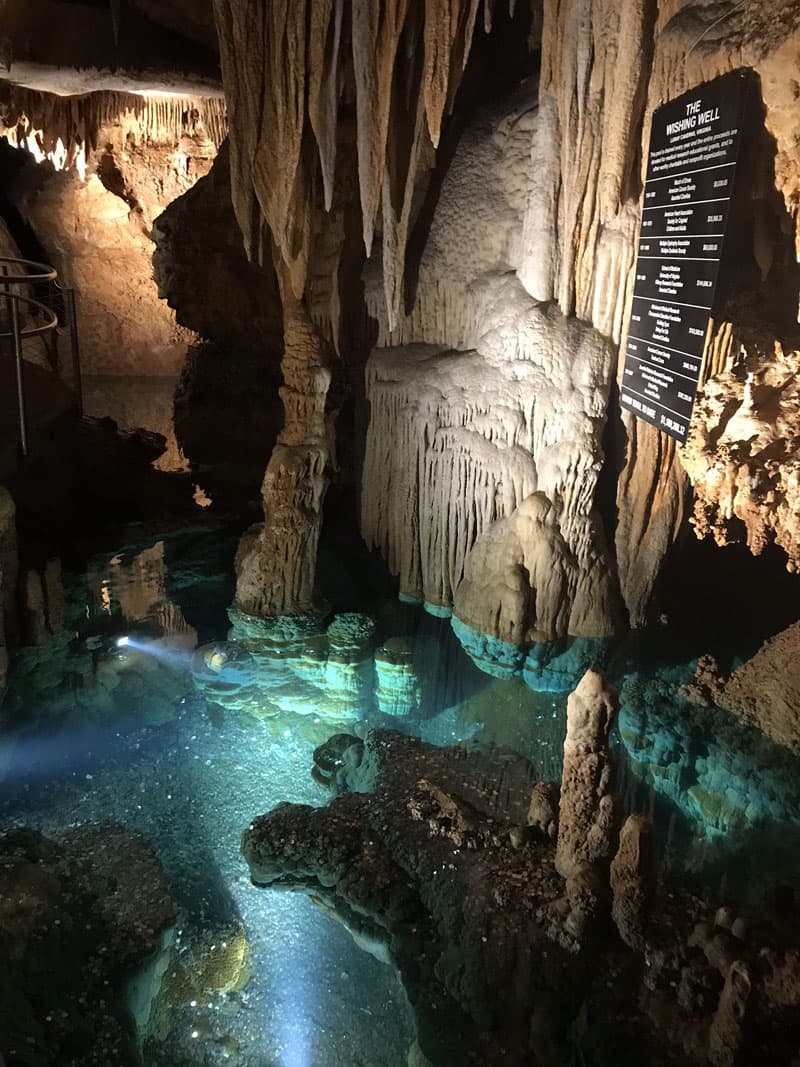 Luray Caverns looks a little bit touristy on the outside, but inside the lighting and settings were spectacular.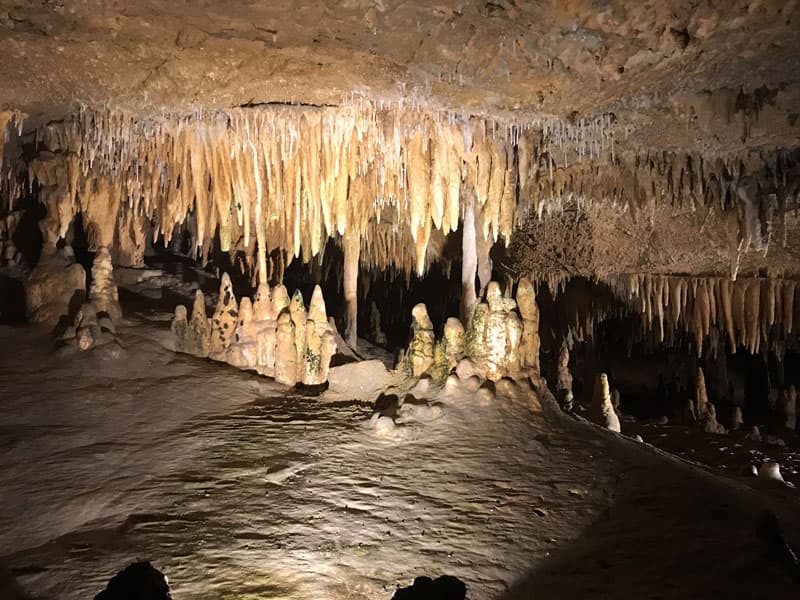 I forget the cost of the guided tour, but it is definitely worth it.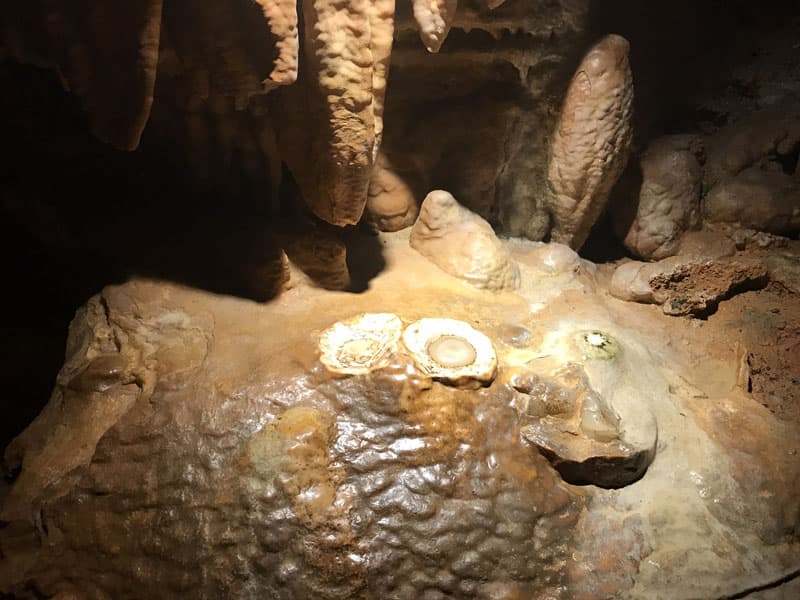 Luray Caverns has full walkways and is handicap accessible.  There's also lots of parking.  The museum and ciders are worth the extra time.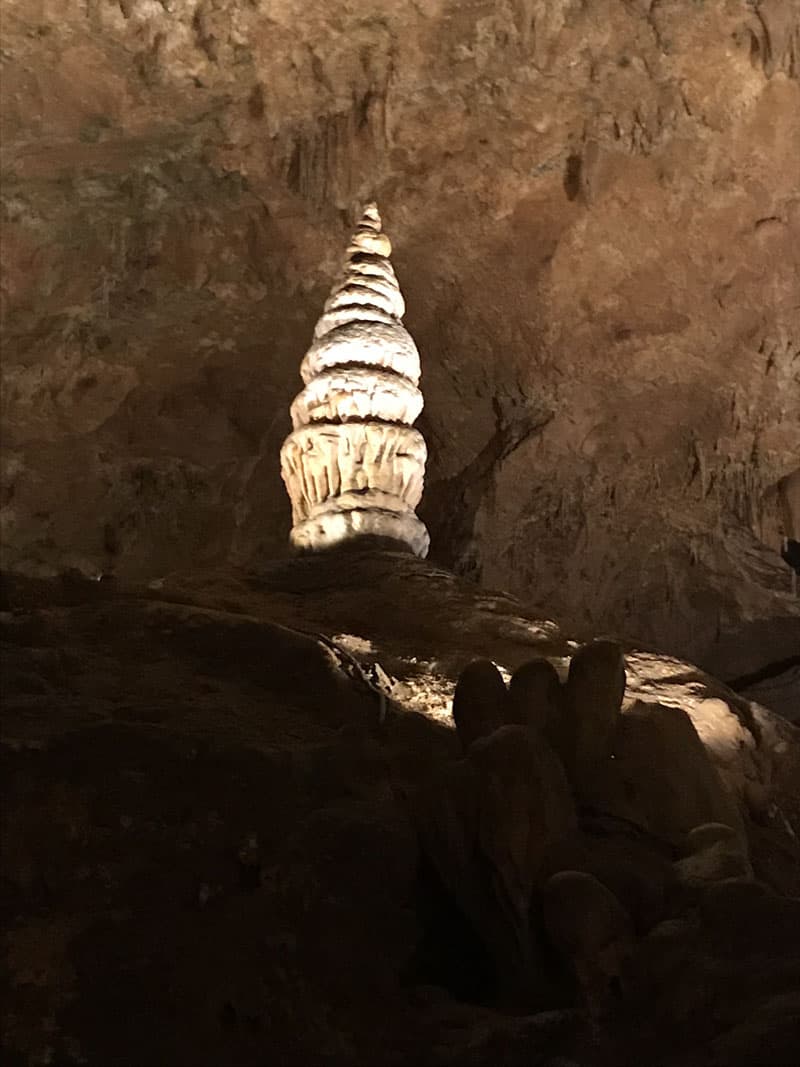 We stayed at the Stokesville Campground in Stokesville, Virginia.
In the Blue Ridge Parkway area, make sure you have your braking systems in good shape.  The parkway itself isn't so bad, but some of the roads leading to it are steep.
Carlsbad Caverns, White's City, New Mexico
Brian Hagen
2001 Ram 1500
2014 Palomino SS-1251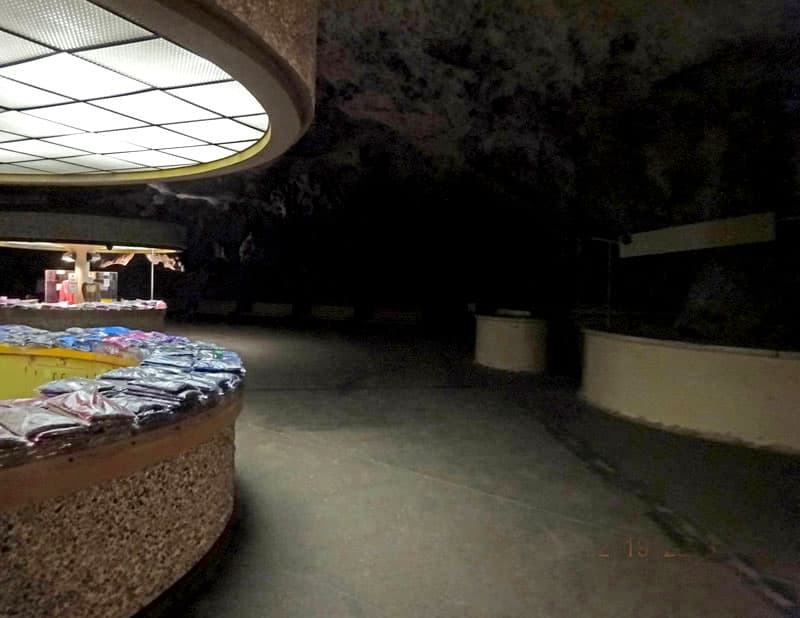 Above: The lunchroom was closed except for a souvenir stand
Four years ago Chris and I were in New Orleans in February to visit relatives and attend Mardi Gras. Chris flew home for work and I drove the camper alone to Idaho.  On the way north, I detoured to visit Carlsbad Caverns.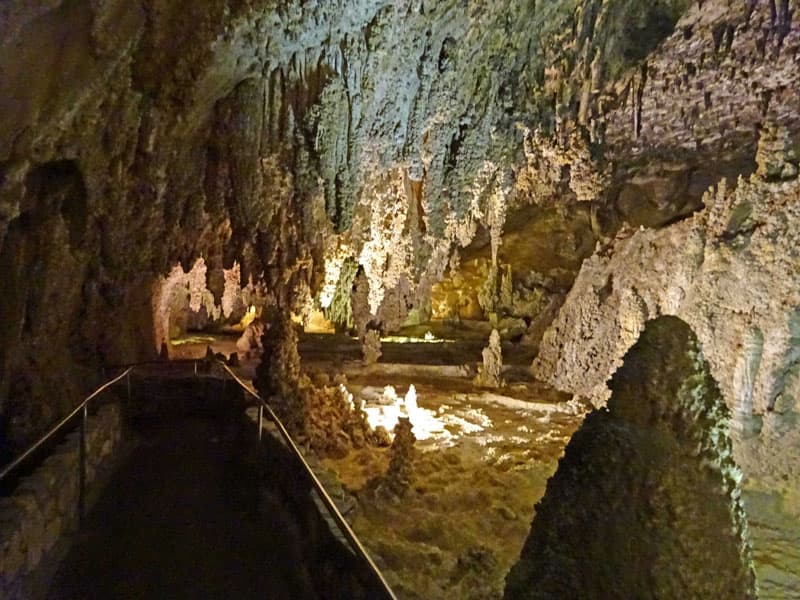 It was a weekday in February and I practically had the amazing family-friendly cave to myself.  The entrance elevator closes at 3:30pm and I was the last visitor that day.  When I stepped out of the elevator, the lunchroom was closed and dark.  Only a souvenir stand was open.  I wandered the tourist walkways for two hours, seeing less than a dozen other people, not even a ranger.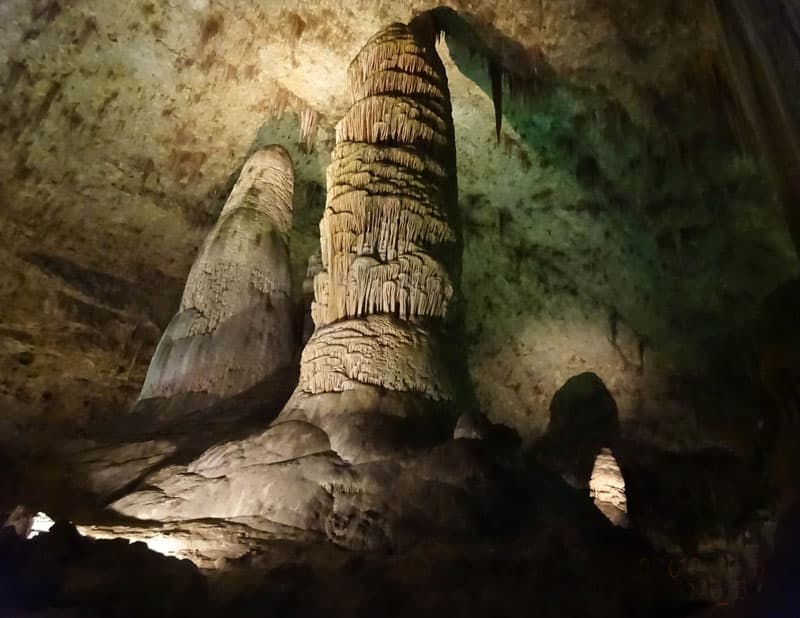 The Big Room is the largest underground chamber in the United States.  It's an eerie feeling walking through the Big Room alone in total silence.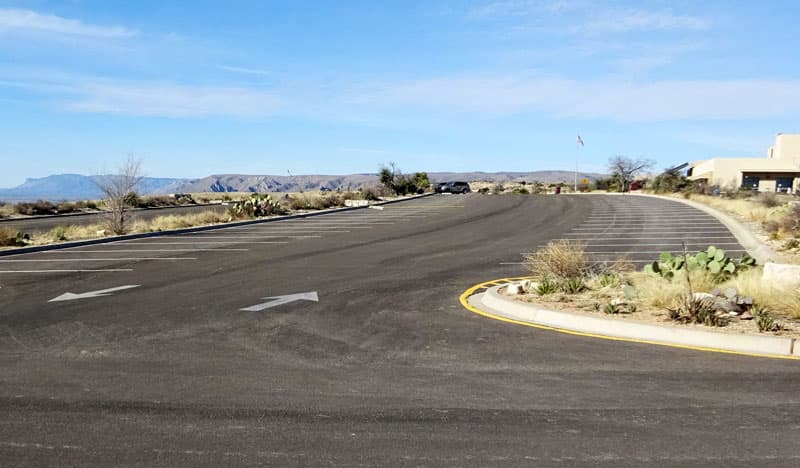 The parking lot was almost empty while I was there but there was plenty of parking, even for RVs.  I boondock when possible, but since it was late when I exited the cave I stayed at a private campground in the middle of White's City.  It was okay, but not great.
The next day I headed south five miles and I passed a free boondocking area called Chosa Campground.  If I had known about it, I would have stayed there.
Longhorn Cavern State Park, Burnet, Texas
John Dorrer
2013 Ford F-250
2014 Four Wheel Camper Grandby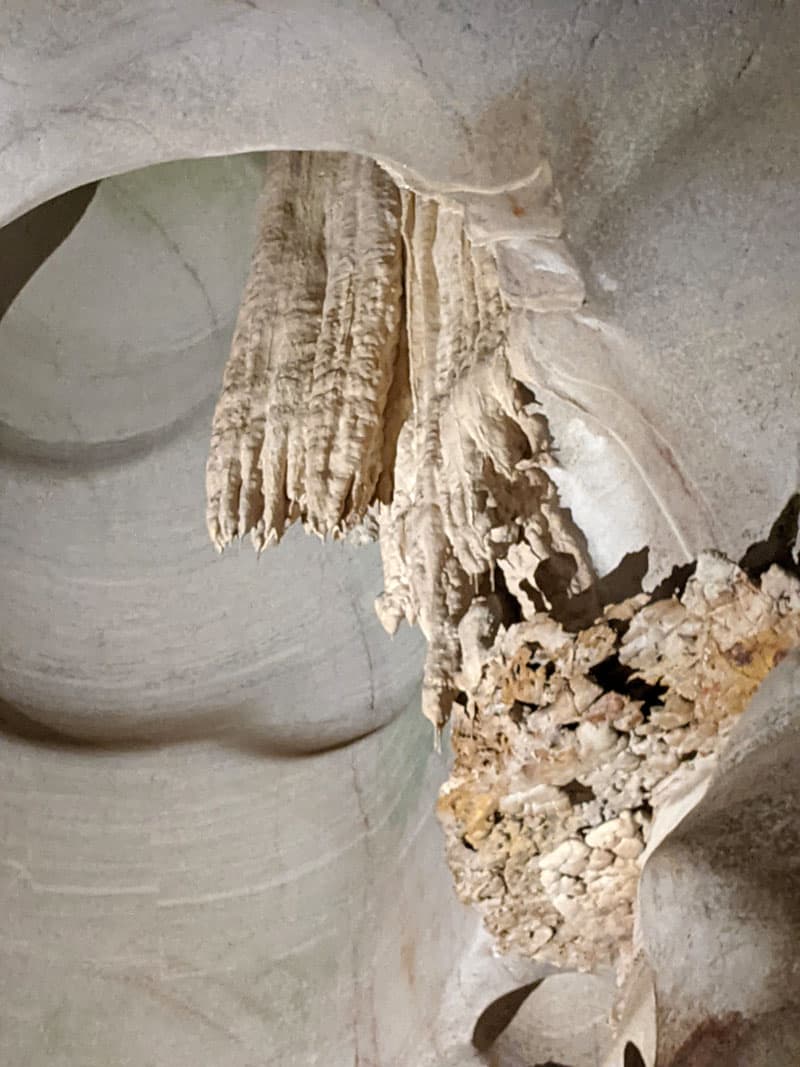 There are numerous caves dotting the Texas Hill Country from underground rivers running through the Texas limestone.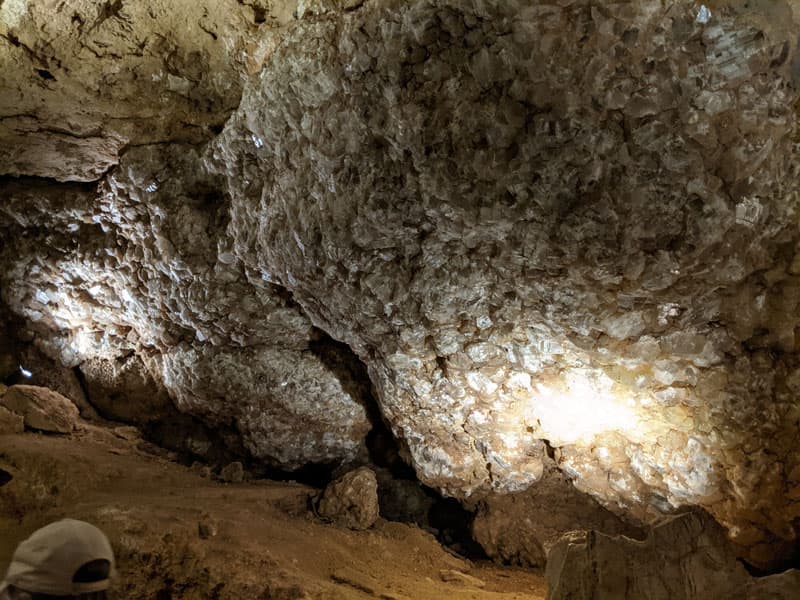 We had a fun morning at Longhorn Cavern State Park.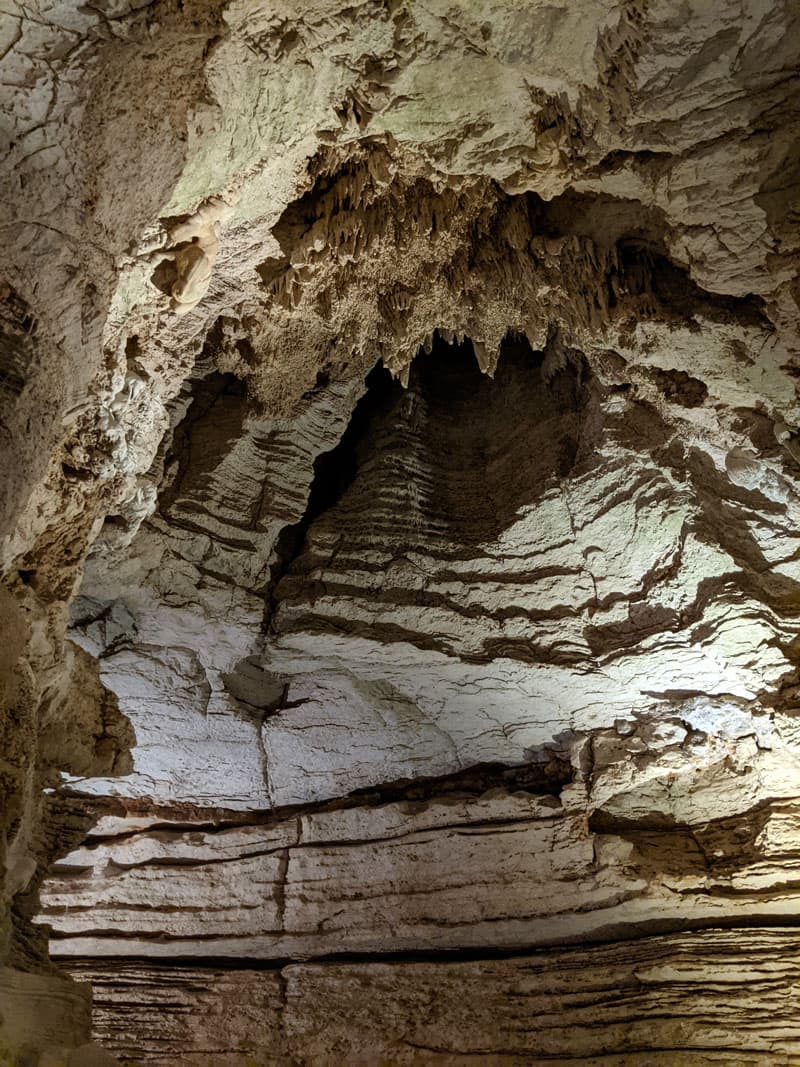 We went on a ranger-led tour that lasted between 60 and 90-minutes.  The cost was approximately $14 per person.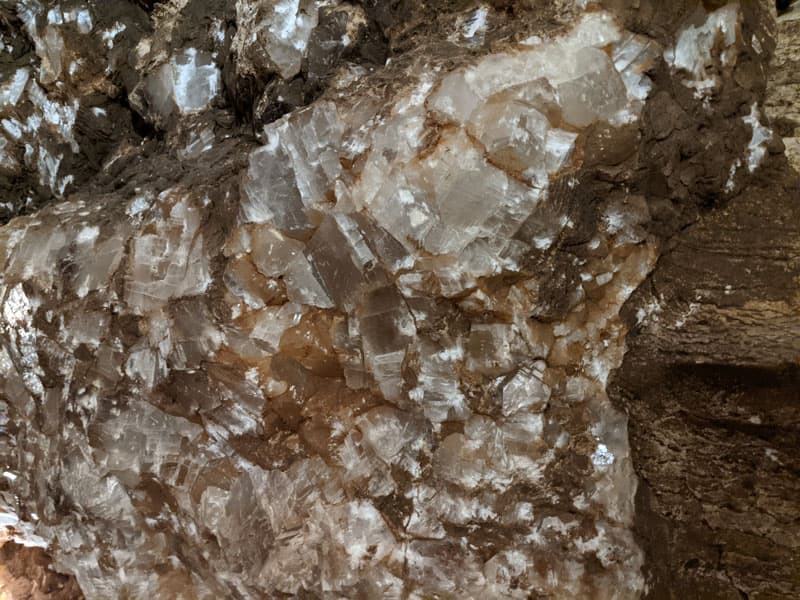 There is no camping in this state park.  The park building includes a museum, a theater to watch a history film, and a gift store.  There are large parking lots adjacent to the building.
The towns of Burnet and Marble Falls are close and well worth exploring.  The Blue Bonnet Cafe in Marble Falls is a must for a piece of delicious pie, which we took back to the camper.  Next door is the Bear King Brewery.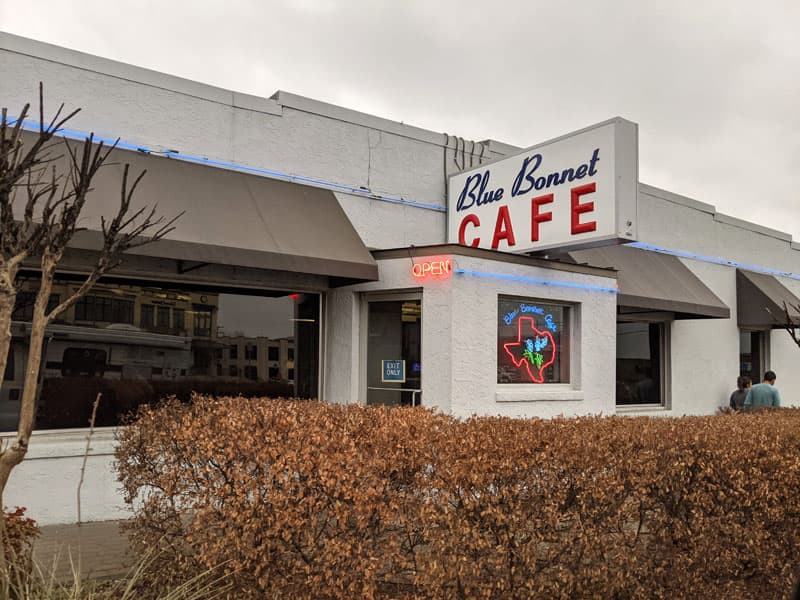 Longhorn Cavern State Park is about 15-minutes from Inks Lake State Park in Burnet, Texas, where we camped.  The lake is part of the Colorado River.  There are numerous dams along the Colorado River that have created beautiful Reservoirs.
If you go in March or April, drive through the Texas Hill country to view the Bluebonnets.  The bluebonnets are another must-see.  Remember many places with bluebonnets are on private land, so be respectful and take your photos from the road.
Our next cave trip with be to Lewis & Clark Caverns State Park in Montana.  We will be camping there and schedule a tour visit.
Bear Trap Cave, Craters of the Moon BLM, Idaho
Mark Zeisberg
1994 GMC K2500
1997 Shadow Cruiser
We purposefully avoided the popular Craters of the Moon Visitor's Center because it was closed for the pandemic and likely had busy scenic overlooks.  Instead, we turned onto a 60-mile, well graveled, three-lane road heading to Minidoka.
Feeling adventurous and hopeful, we comfortably traveled at 50 miles per hour.  We made a few brief stops to investigate additional signs of man.  We think we saw PVC piping and underground valves that appeared far from anything.
We took in the dry wind, sagebrush, and distant mountains as our imaginations opened with wonder about this extensive, semi-baron space. With every passing mile, the road quality degraded and required ever-decreasing speeds.
Ahead in the distance, we saw a cloud of dust. A dust devil?  We witnessed many earlier in the day including warning signs posted along the paved road.  I reduced our speed to 35 miles-per-hour on the lower quality, two-lane road.
Approaching head-on was a small pickup truck with something behind it; a large piece of metal chained to the truck, dancing side-to-side.  The metal hit the edge of the road and bounced to the center.  Fear set in as I pictured the damage potential of being on the zag cycle in his game of, "crack the whip"!
Elation was felt after we passed, damage-free.  We soon returned to our normal level of nervousness; old truck, old camper, no cell service, and other humans a day's walk away – discounting crazy chain truck guy.
Not far down the trail we stopped and removed shards of steel from the travel route.  This pause gave us the opportunity to imagine the story behind a crazy chain truck guy.  Salvaging for scrap?  Or was the dragged metal the remains of a fellow boondocker's travel trailer?  The trail conditions continued to dictate slower speeds and more punishment for every bolted part.
We crossed into, "Craters of the Moon BLM" and traveled at three to five miles-per-hour across the lava bed's outcroppings.  Lunging and heaving up and down across the terrain, the strong and relentless wind rocked our low-profile rig side-to-side.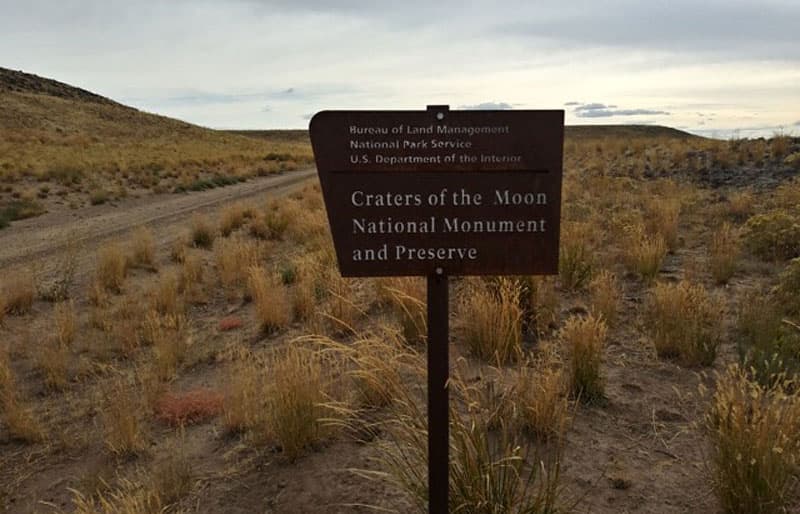 Leaving the lava field we stopped to guesstimate the required vehicle ground clearance needed to stay in the worn dry ruts and gauge it against the clearance we had available.  Deciding a flat tire was favorable to undercarriage damage we straddled one of the ruts for the next 10-miles, which took an hour.
Forty miles in, the consciousness of exhaustion set in from feeling virtually every emotion.  Digging deep to press on, the road quality finally began to improve and we saw a lifeless sedan parked and a sign; "Bear Trap Cave".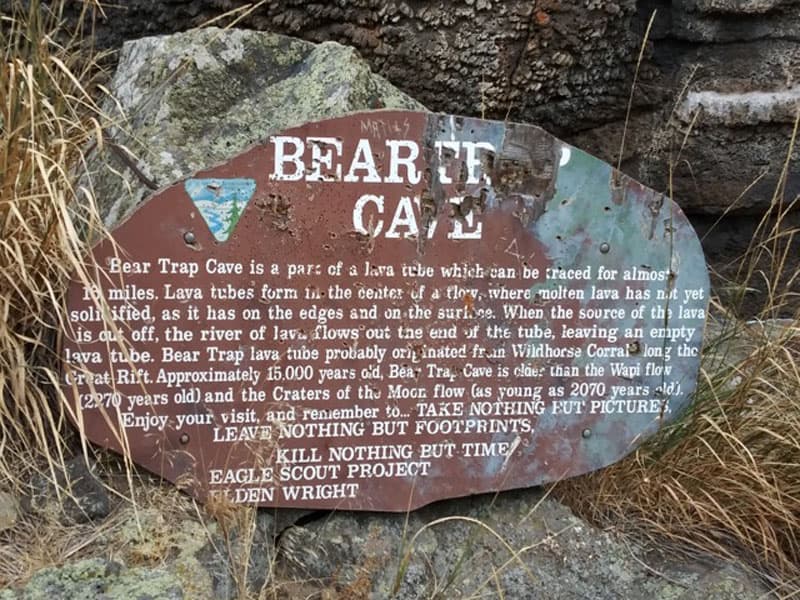 It seemed more like Traveler Trap Cave.  Exiting the cab and leaning into the extreme winds, the parked car was vacant and cold.
Feeling a strange relief by offering protection from the wind above, the hollow cave was not cold and defiantly not wet.  We climbed down into a large crater-style mouth where the interpretive signs, murdered by gun toters, were still legible.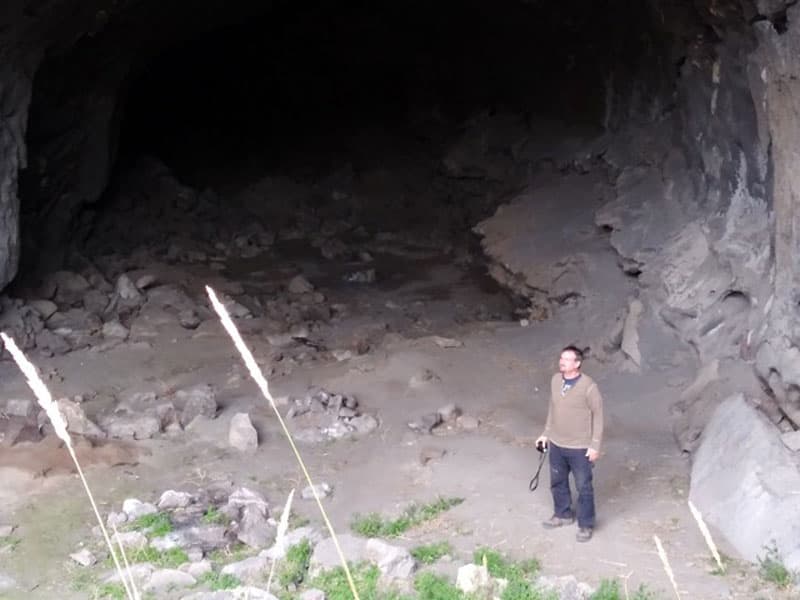 Resurfacing we spotted the approach of an open cockpit OHV (Off-Highway Vehicle).  There were two helmeted, goggled, leather-wearing occupants who turned around at the waypoint.  Thinking of the Mad Max movies, I considered the possibility that some of the scenes were filmed here.
Continuing on, the landscape changed to rolling hills.  We holed up behind a hill to block the winds.  Though still breezy in our spot, the valley offered safety to the soft-sided pop-top, allowing us to move in the camper and relax for the night.
I have not tried to pop-up our camper in gale-force winds and was glad to find topography where we could overland to the leeward side of a hill.  The top must be popped up to sleep unless a big storm forces our use of the dinette's single bed.  Top-down sleeping I envision as equal to bathtub sleeping in a southern tornado!
Hiking the area and climbing the hill at sunset, the beauty was overwhelming.  There are vast expanses, clearly explored by man, yet unoccupied. Happily noted, there was not a human within double-digit miles for the night.  The full moon rising on the horizon was a grounding reminder that we were still on Earth.
Carlsbad Caverns, Carlsbad, New Mexico
Mary Sue Miller
2002 Chevrolet 1500
1998 Shadow Cruiser 720
Carlsbad Caverns National Park is a great beginner cave to visit.  We went on a guided tour and walked down into the cave.  We also took the elevator.  My husband is not fond of enclosed spaces but found this cave and tour very easy to endure.
We camped at Brantley Lake State Park.  It is a nice state park in New Mexico.
We unloaded the camper from our truck for the sightseeing.  Nearby, we drove through the Lincoln National Forest, up to Cloudcroft, and down into the valley to Alamogordo where we saw the pistachio tree orchards.
Mammoth Cave, Mammoth Cave, Kentucky
Bruce and Pam Gordon
2004 GMC Canyon
Homebuilt camper
Mammoth Cave has a good walkway with appropriate lighting providing great visibility to look at rock formations and water.  We took a ranger-led tour which lasted over an hour.  It was fun and educational.  We stayed at the campground within the National Park and walked to the cave from our campsite.