Seventeen fellow truck campers share their favorite Idaho hot springs, trout-filled rivers, desert dunes, mountain vistas, and national forests. The Gem State offers a wealth of opportunities, and free camping galore.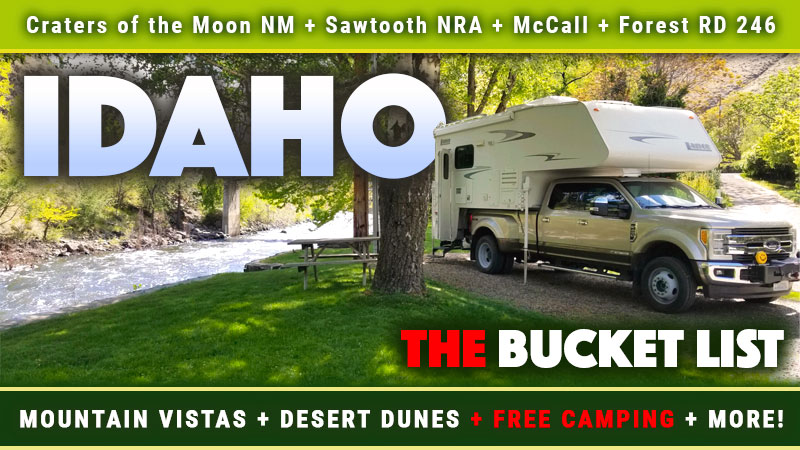 During our early truck camping travels, so many places in the United States and Canada exceeded every expectation. Utah always stands out. British Columbia always stands out. And Idaho definitely stands out.
Our first Idaho gem was an obvious one; Craters of the Moon National Monument. Located on US20 between Arco and Carey, the monument includes three enormous lava fields. I often describe places like Idaho's Craters of the Moon, New Mexico's Bisti Badlands, or Colorado's Great Sand Dunes National Park as visiting another planet. They really are, especially when you wander deep into the wilderness and lose sight of man's impact.
Angela and I had an absolute blast exploring the lava fields and walking into the caves. We were often completely alone in these locations, able to enjoy the new-to-us world in near silence. That's another benefit to being further down the trail.
In the weeks leading up to our car accident in 2018, we returned to Idaho for cooler mountain weather, and to visit some truck camping friends. This time we explored the Sawtooth Mountains and the plentiful camping opportunities they offered. The weather was indeed cooler, and the cellular internet service was surprisingly strong. That was a wonderful high moment, just before a terrific low one. That's life.
Of all the states we talk about returning to, Idaho is at the top of the list. Perhaps more than any other place we've discovered, it feels more relaxed, more friendly, and more accessible for truck camping. Idaho also offers more affordable (or free) things to see and do than we normally find. Idaho really is The Gem State; a star garnet in the glorious rough.
Frank Niehus
2007 Ford F-350
2021 Lance 1172
I recommend visiting Challis, Idaho for the hot springs, the Land of Yankee Fork State Park, and the Bison Jump historical marker at the corner of Highways 75 and 93. Going north on 75 is Bay Horse, a restored ghost town. There is fishing all along the Salmon River.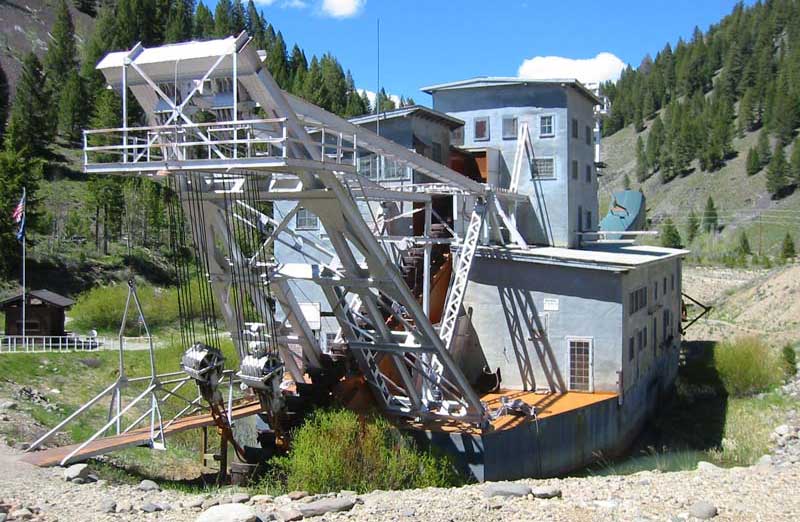 Above: Dredge up on Yankee Fork next to Custer
Just south of Challis is Sunbeam. Take the road along the Yankee Fork to the gold dredge. The gold dredge has tours in season. Also, visit the restored town of Custer. There is a backroad out of Challis to Custer that is worth taking and was a toll road in gold rush days.
Cove Creek Hot Springs is along the river on Highway 75.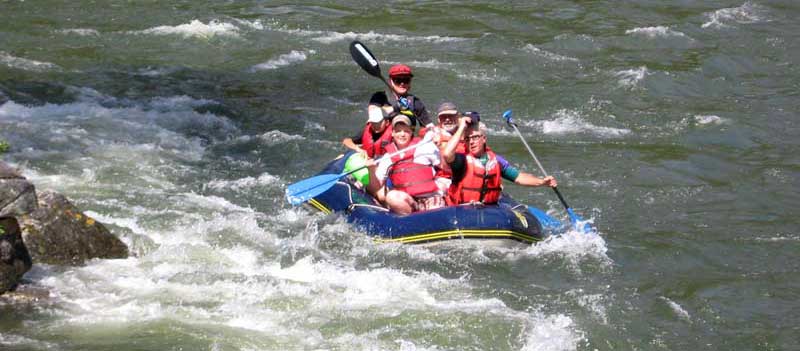 Above: Rafting the Salmon River
Stanley is a great place that has rafting tours and all kinds of outdoor activities. Stanley Lake, a few miles northwest of the town, is our favorite. In the morning, you can take great pictures of the mountain and its reflection.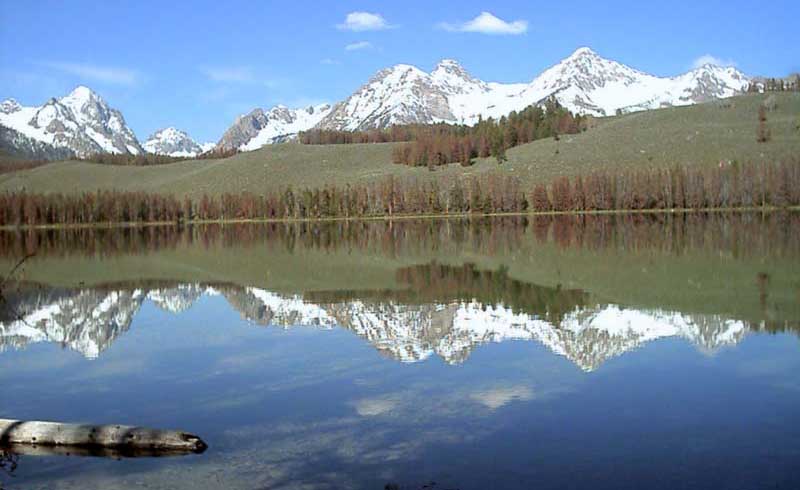 Above: Reflection of the Sawtooths in Red Fish Lake
Red Fish Lake and Lodge also has a beautiful view, hiking, and water sports. It's a few miles south of Stanley.
Going south from Stanley, Sun Valley is just over Galena Pass. There are campgrounds everywhere, but also free camping around every corner.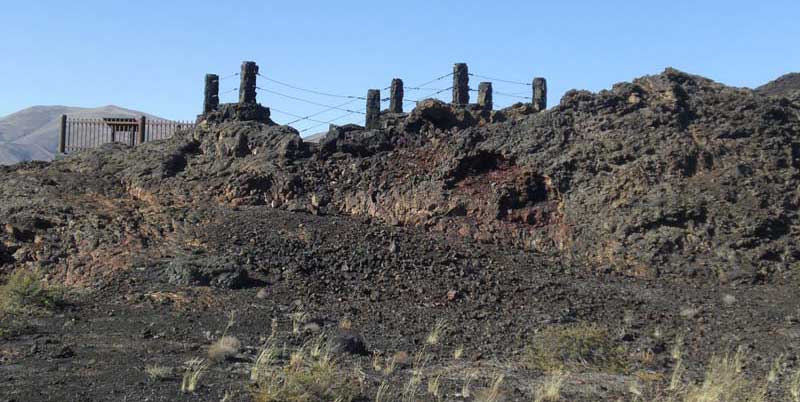 Craters of the Moon National Monument (pictured above) is south of Sun Valley. Close to it is the Experimental Breeder Reactor (EBR-1); the first nuclear power plant to generate electricity. You can take tours through the plant. It was the first built and it powered the whole town of Arco to prove it. In addition to the power plant, they were experimenting with building an atomic airplane and even built a five-mile-long runway for it.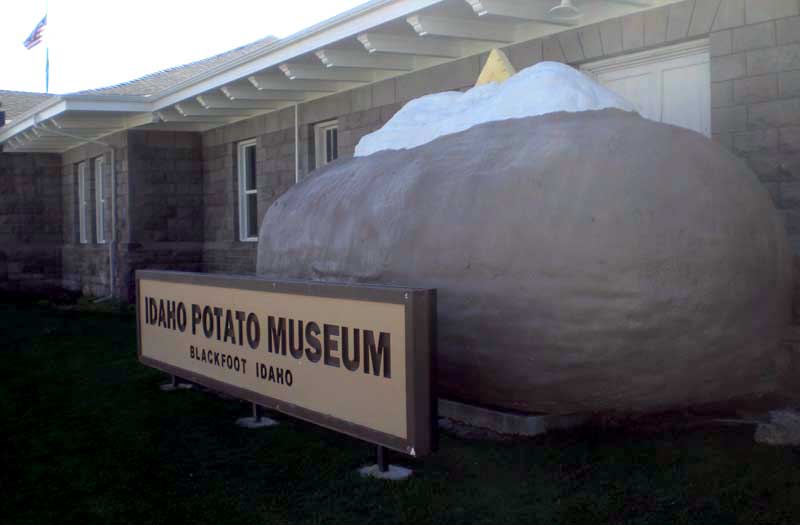 I also recommend the Idaho Potato Museum in Blackfoot, Idaho.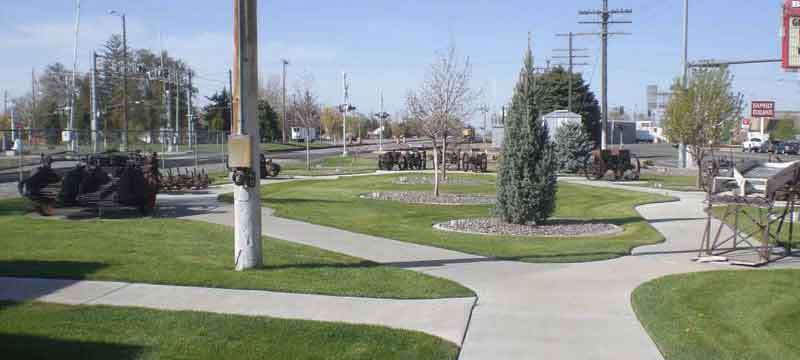 They have a large outdoor display (pictured above) of machinery they used to plant, cultivate and harvest the potatoes over the years.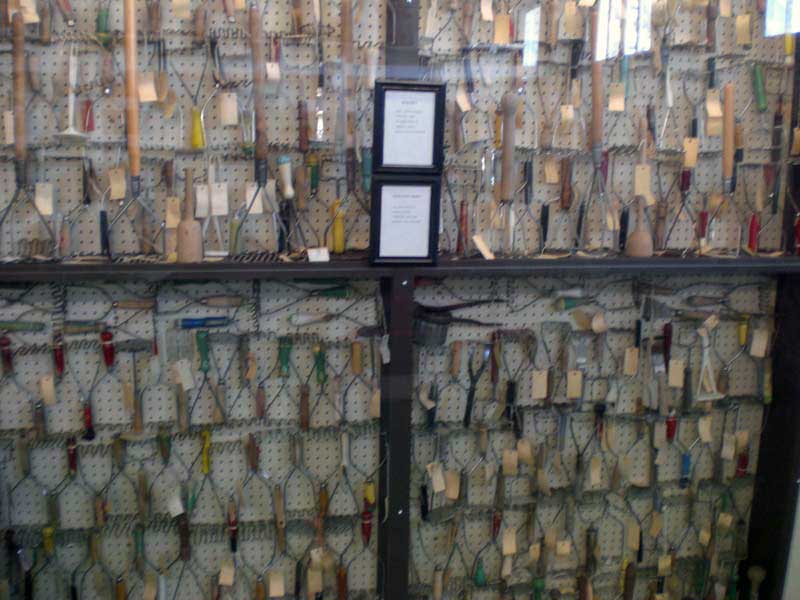 There is also a very nice indoor display of hundreds of potato peelers (pictured above). I bet you thought there was only one your mother had, right? I guess being from Iowa and raising our own potatoes, the Potato Museum was very interesting to me.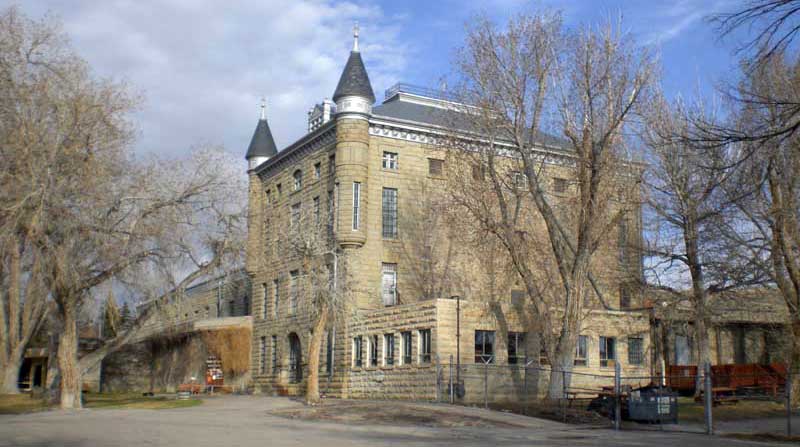 On the way there or back, if you are going through Rawlins, Wyoming, I recommend the Wyoming State Frontier Prison. I was late in getting there so I parked in the parking lot waiting for it to open the next morning. The prison museum was very interesting. There are a couple of tours per day.
Robert Bergen
2019 GMC Sierra 3500
2016 Cirrus 800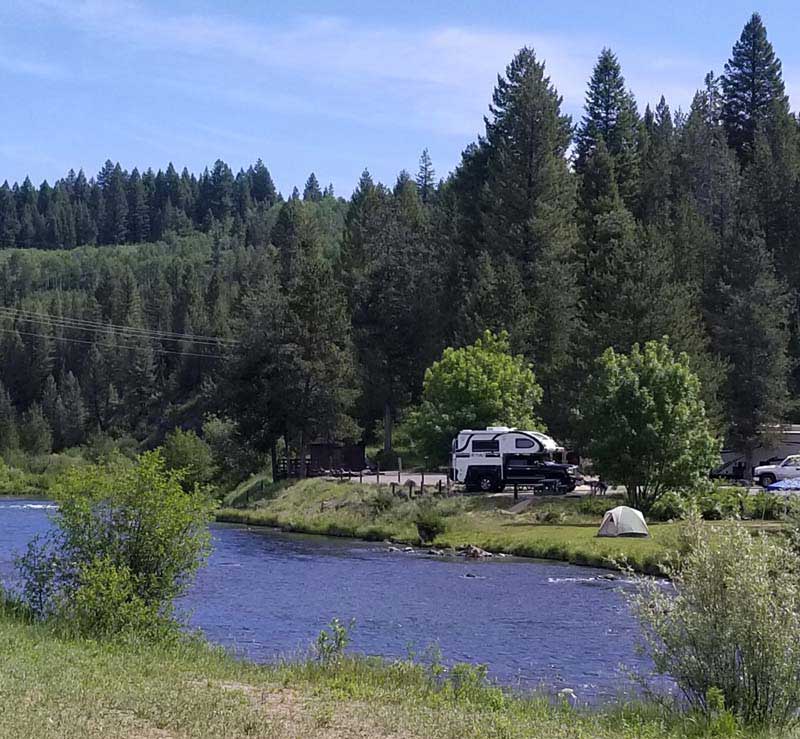 Above: Warm River Campground, Ashton, Idaho
We really love Warm River Campground, a National Forest Campground near Ashton. This campground is not far from the west side of the Tetons, so the views are amazing. The river winds through the campground.  It is an easy float trip and walk back to beat the heat. For us, with a senior pass, it was $20.
We also found the Ashton, Idaho area to be prime country for our big gravel tandem bike. There is an old railroad grade trail that runs from the campground almost all the way up to West Yellowstone.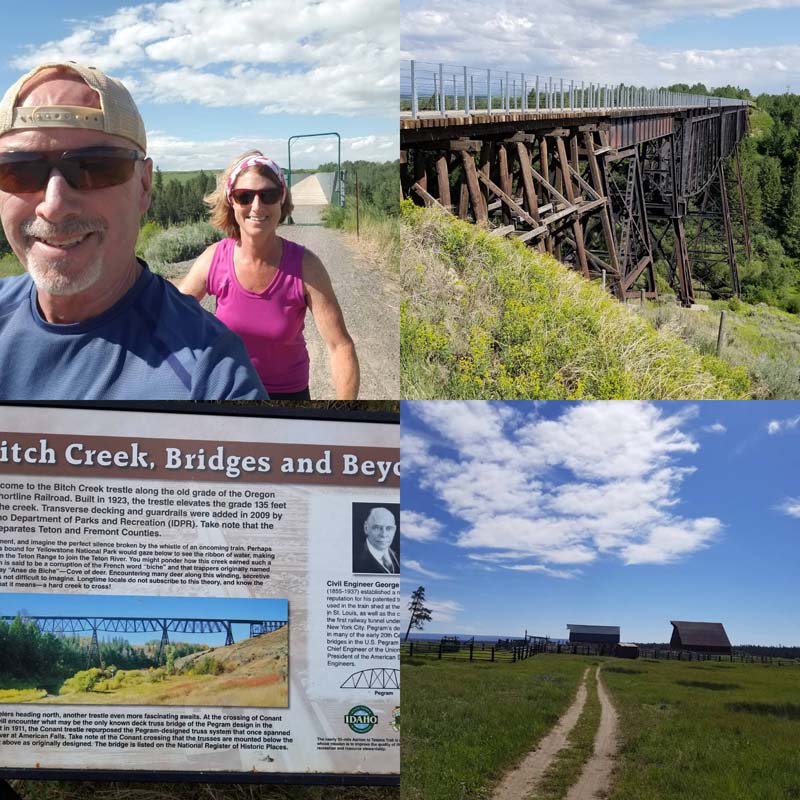 There is also a flatland rail trail (pictured above) that goes from Tetonia to Driggs and has many stunning views of the Tetons, and a couple of big old trestle bridges.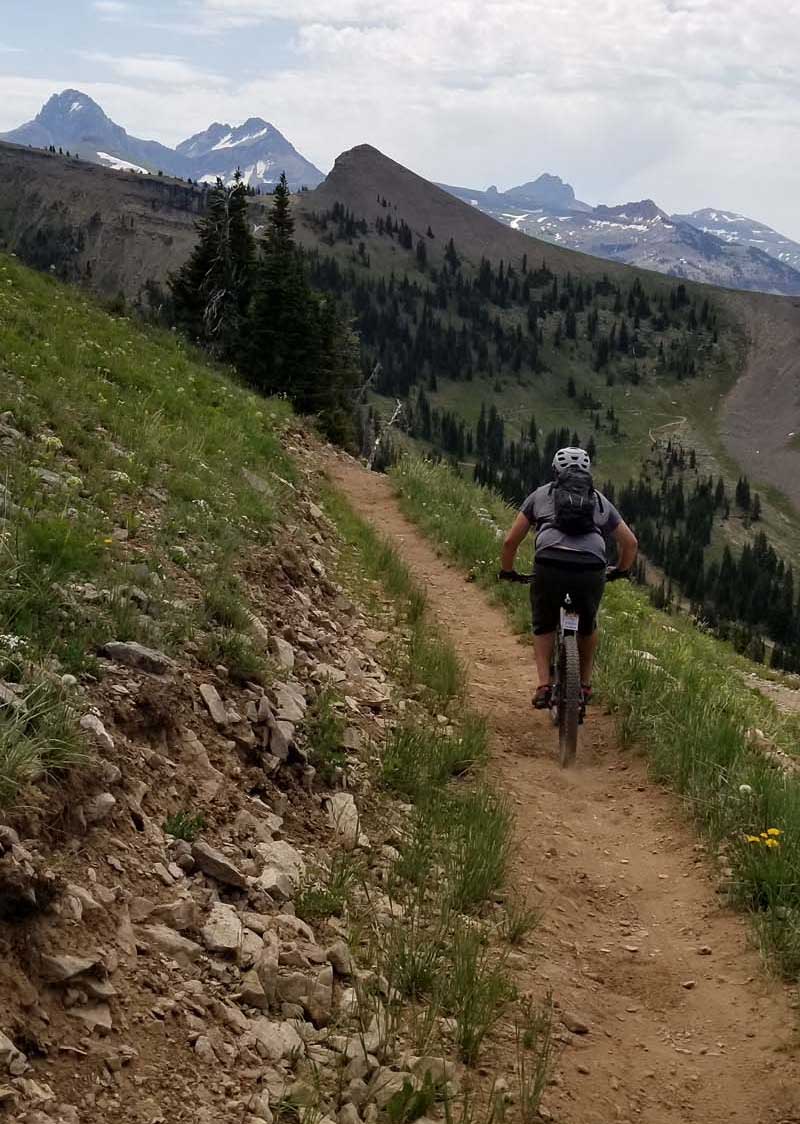 Above: Grand Targhee Ski and Bike Resort
We also like to mountain bike. We were close enough to Harriman State Park to have some fun over there, too. Next time that I go back I will get a temporary fishing license to do some fly fishing from the back door.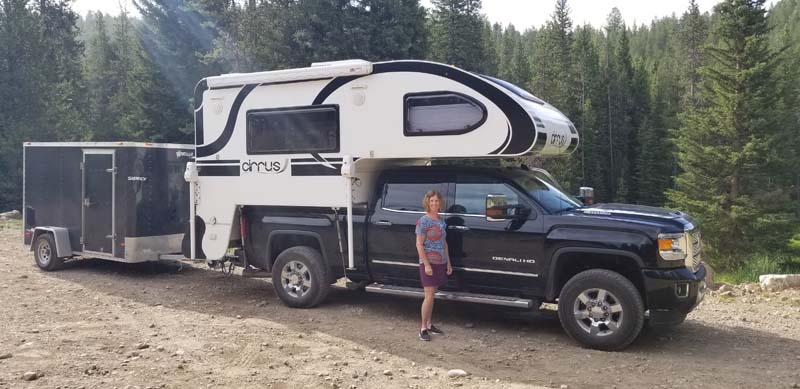 We also loved boondocking on the Wyoming-Idaho border, east of Tetonia off Leigh Canyon Road.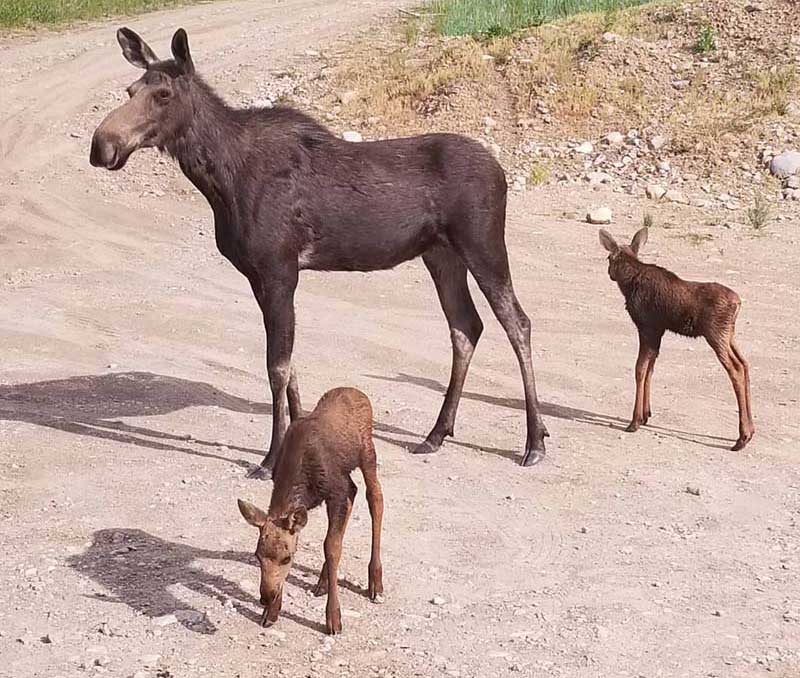 That's where we had breakfast with some moose. We also visited Beauty Creek Campground by Lake Couer d'Alene.
Marian DiPietro
2009 Dodge Ram 2500
2020 Northern Lite
In 2020, we took a six-week trip from our home in North Carolina to explore The West. We expected to spend the majority of our vacation in Wyoming and Montana. We had lived in Cody, Wyoming for four years as summer work campers and loved that area.
We had also planned to do a little exploring in Idaho. We had visited Sun Valley and the western slope of the Tetons, but not much else in the state. Little did we know that Idaho would become our favorite western state.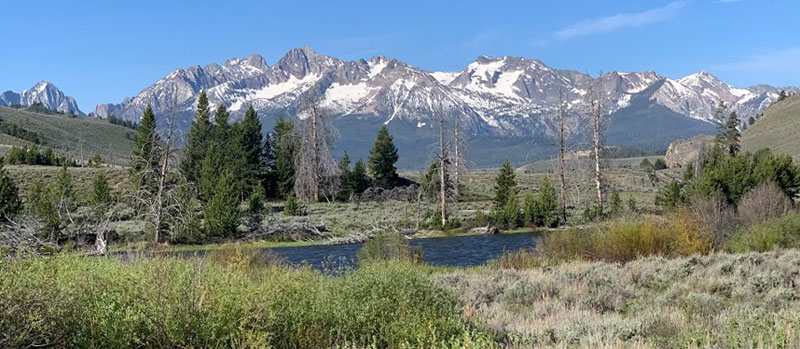 Above: Snake River in Idaho wilderness
The scenery is diverse and spectacular, but what made Idaho so appealing was the abundance of opportunities for boondocking in remote, uncrowded and breathtakingly beautiful spots. We had initially planned to spend every fourth or fifth night in campgrounds to dump our tanks and fill them with potable water. However, we found that to be unnecessary as Idaho publishes a directory of free dump stations with potable water. They're everywhere.
We began our exploration of Idaho by traveling south from West Yellowstone, Montana, to a beautiful dispersed camping spot along the Snake River overlooking the western slope of the Tetons. Throughout our travels, we used the Campendium and Allstays apps to locate spots.
Even when we planned to stop in reservable National Forest campgrounds with very limited first-come availability, there was never an area where we could not stay.
Here are some of the highlights of our Idaho sojourn.
1. Craters of the Moon National Monument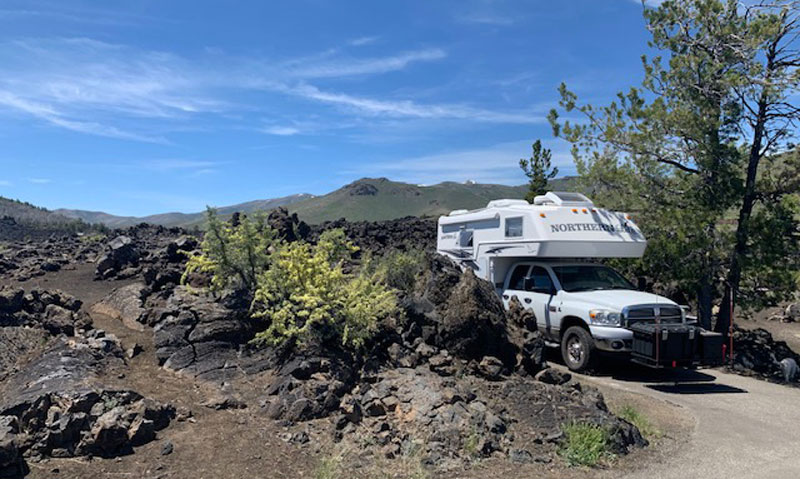 We stayed at the campground at Craters of the Moon National Monument in a lovely spot overlooking the weird and wonderful lava landscape. There are some great hikes where one can explore lava tubes and climb the cones. A free cave permit is required from the Visitor Center. This is to protect the sensitive bat populations. You will need a flashlight or headlamp, and sturdy shoes.
Craters of the Moon is especially beautiful at night. It's designated as an International Dark Sky Park, so there is minimal light pollution, and the Milky Way and constellations are more visible than in most places you may have visited. It's a real cosmic show.
Note: Be sure to use sunscreen and bring plenty of water and snacks. Even on cooler days, the black lava soaks up the sun.
2. Ketchum and Sun Valley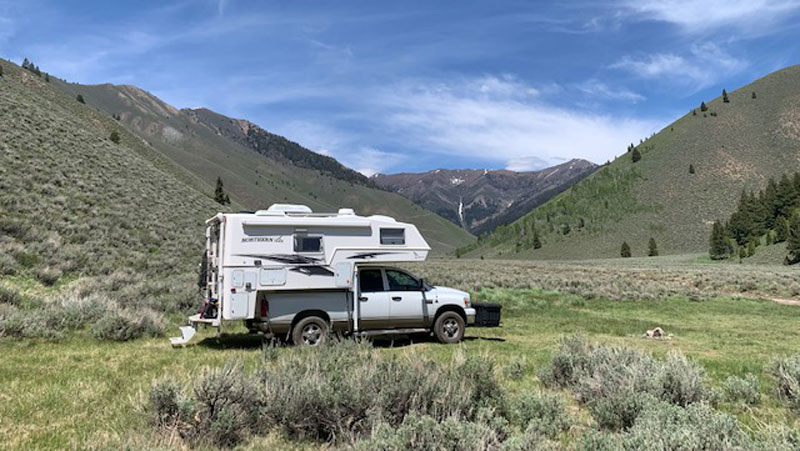 Home to the Hemingways and summer home to many other celebrities, Ketchum and Sun Valley offer strolling and quaint shops. You may even spot a movie star. We camped along a small river just north of Ketchum overlooking Sun Valley's ski mountain where there was great internet service. We needed the internet for a Zoom meeting with our employers.
3. The Sawtooth National Recreation Area
We discovered this gem just north of San Valley. There are majestic views everywhere you look and a Visitor's Center with information on the geology and history. They also offer free tape loads to enhance driving tours.
Idaho's great Salmon River originates in the Sawtooth National Recreation Area, and there are miles of forest roads along bold mountain streams for dispersed camping. The area also offers 37 developed campgrounds.
Opportunities for adventure include horseback riding, fishing, llama treks, hiking, mountain climbing and biking, and swimming. We hope to come back here and spend a week or two in this amazing location.
4. Stanley, Idaho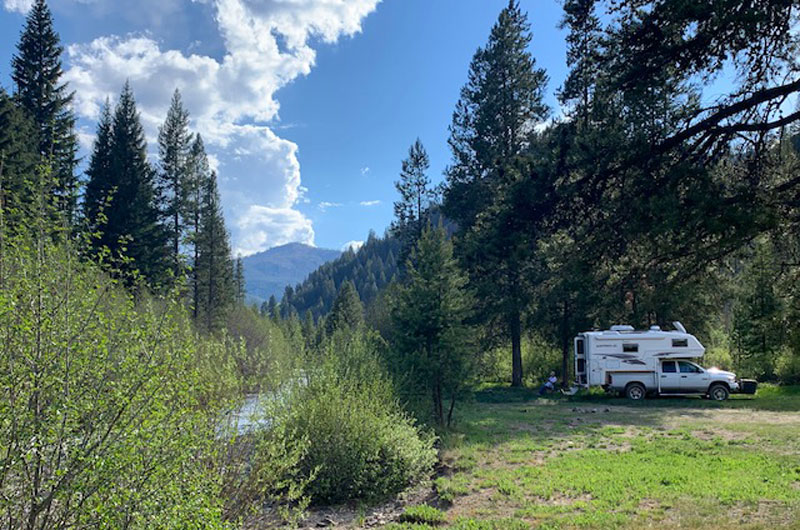 Nestled in the Sawtooth Valley, Stanley is a quaint Old West town at the confluence of the Salmon River and Valley Creek. There are hundreds of dry camping areas in the vicinity and many National Forest campgrounds.
We drove down a dirt road along Basin Creek (off Highway 75) just west of Lower Stanley. We passed the slag heaps from old gold mines and found an idyllic spot with a fire ring beside the river. We enjoyed the peace and quiet until we were buzzed by a fighter jet flying down the canyon.
We splashed in the river and really felt at home with nature here. I must mention that I enjoyed the best breakfast ever at the Mountain Village Restaurant, and the best dessert – a churro sundae – which was to die for!
5. McCall and Riggins (Hell's Canyon/Salmon River)
This is another area we want to return to. McCall is a lovely resort town on the edge of Payette Lake with activities galore. Known primarily as a winter ski destination, it offers so much in the warmer months.
There's swimming, rock climbing, wildlife and bird-watching, hiking, and zip lining, along with museums, the famous "McCall Ale Trail," farmers markets, and live music. We camped just north of the city in a National Forest Campground, alongside a stream with a beautiful waterfall.
Further north, Riggins was a wonderful surprise. It's a charming small town beside the amazing Salmon River. We happened to arrive there during their annual Big Water Blowout Festival. Scores of campers were camped along the river where whitewater rafting is fabulous.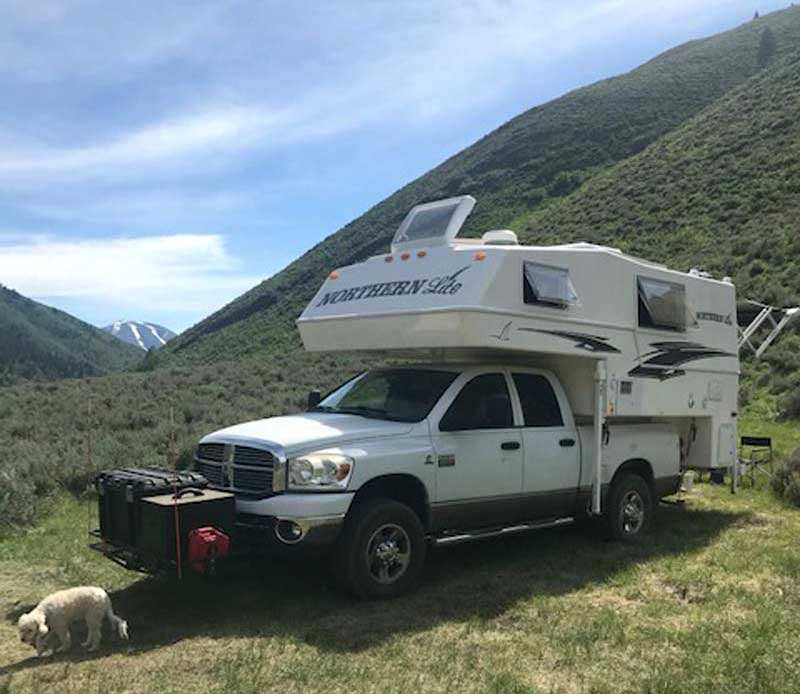 We drove up a long dirt mountain road to a beautiful spot overlooking Hell's Canyon National Wilderness Area. There were fire rings and only one other tent camper. We visited the Rapid River Salmon Hatchery where we learned about the rearing and spawning of the Chinook Salmon for which the river is so famous.
6. Lewis and Clark and Nez Perce History
We are both big history buffs, so it was fascinating for us to explore along the Lewis and Clark National Historic Trail. The trail follows the Idaho portion of the 4,900-mile amazing expedition. There are interpretive signs and visitor centers along the way, all with spectacular river and mountain backdrops as you travel along the Clearwater River through the Bitterroot Mountains and National Forests. At the same time, we learned much of the history of the Nez Perce and Salish nations who aided the explorers and were responsible for their survival during the winter months.
7. Clearwater, Bitterroot and Lolo National Forests
We ended our visit to Idaho with a spectacular drive through the Clearwater and Bitterroot National Forests to Lolo Pass before heading into Montana. There are literally hundreds of hiking trails here – more than 1,600 miles of them. Be on the lookout for wildlife. We saw this troupe of mountain goats on our drive.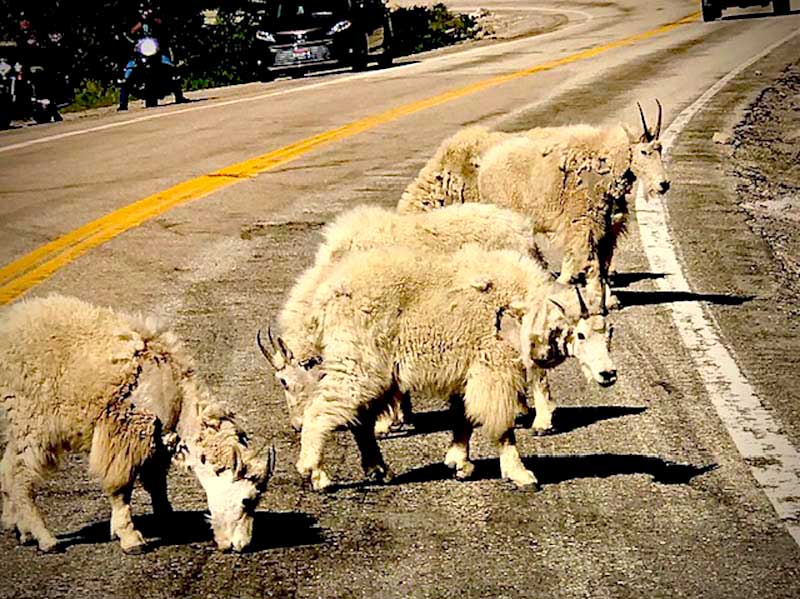 To summarize, Idaho is a dry camper's paradise and a place to which we will return for a much longer visit.
Eckhart Franz
2021 Chevrolet 3500
2021 Northern Lite 10-2 EXLE
Above: Craters of the Moon National Monument
Craters of the Moon National Monument in southern Idaho is a unique place to explore. It has caves to hike into and a landscape that is made up of lava flows.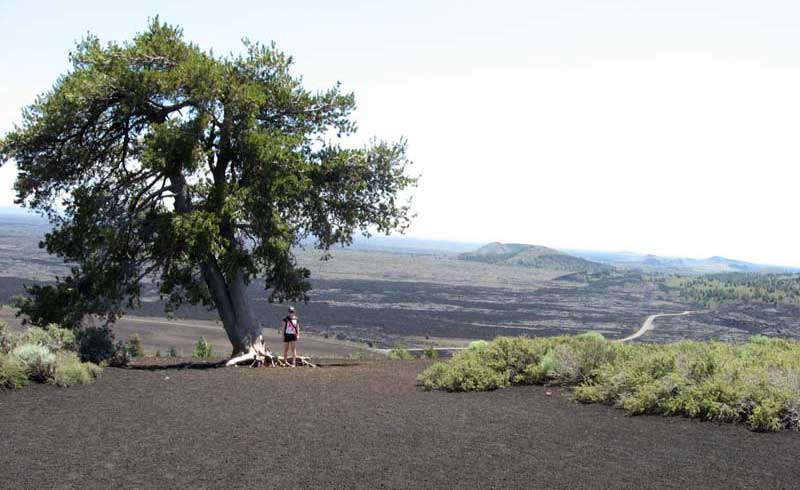 There is dry camping available in the park for $15 a night. They are paved campsites, but it can get quite hot in the summer.
All of Idaho is great to explore. I recommend getting off the main roads and exploring the roads less traveled. Be aware that the roads can be steep and curvy. Idaho tourism publishes a camping guide that has all of the campsites from resorts to backcountry recreation sites listed.
If you are into bicycling, then the Hiawatha Mountain Bike Trail is a must in the Coeur d'Alenes area.
I also recommend Mill Creek campground in Challis, Idaho. It's a $10 per night dry camping recreation site with pit toilets. There is access via forest service roads.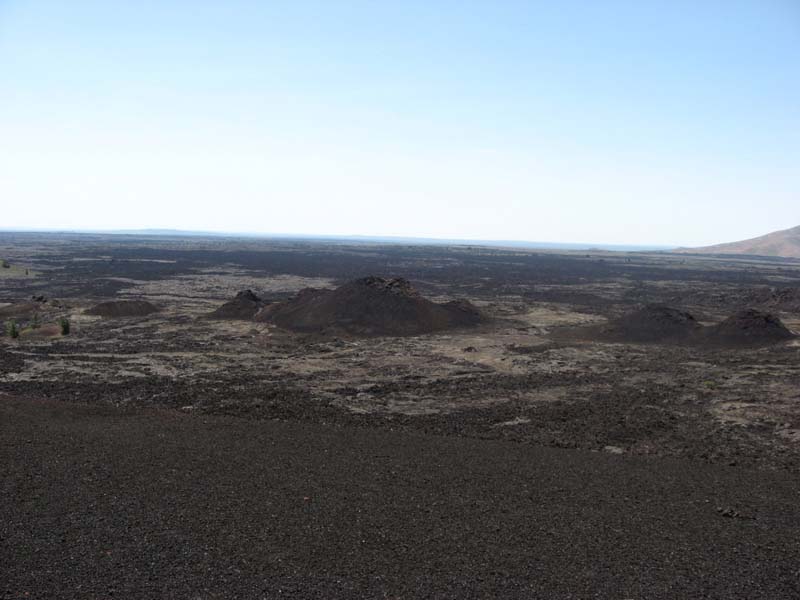 VisitIdaho.org is great resource for planning a trip to Idaho.
Dave Riddle
2015 Chevrolet 3500HD
2017 Host Mammoth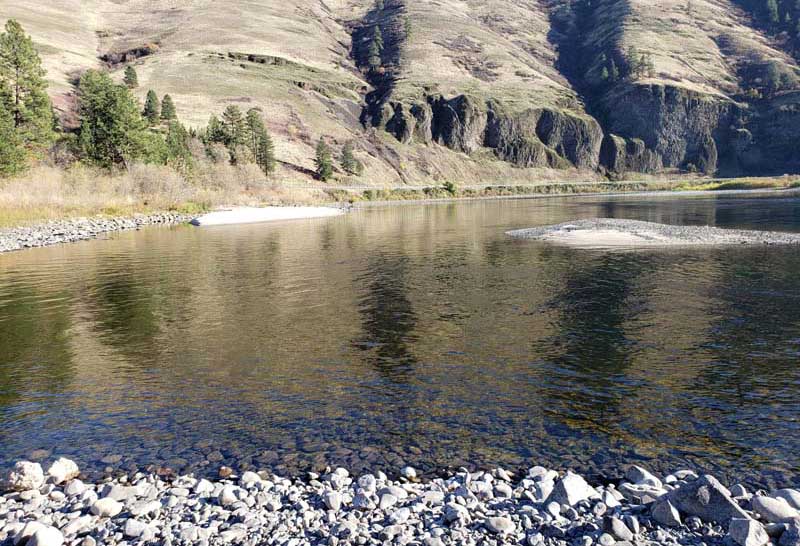 Above: Clearwater River at McKay Bend Campground
It's difficult with Idaho to pick a favorite place as each place is unique and beautiful. In October, we camped along the Clearwater River outside of Lewiston in a BLM campground that gave us fall colors, crisp evenings, and the beauty of the river.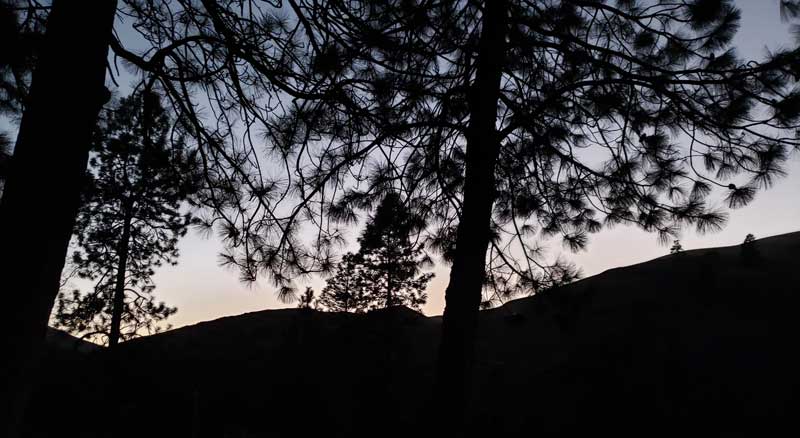 Above: Sunset above the Clearwater River at McKay Bend Campground
McKay Bend Campground on the Clearwater River is very inexpensive, especially if you have a senior pass.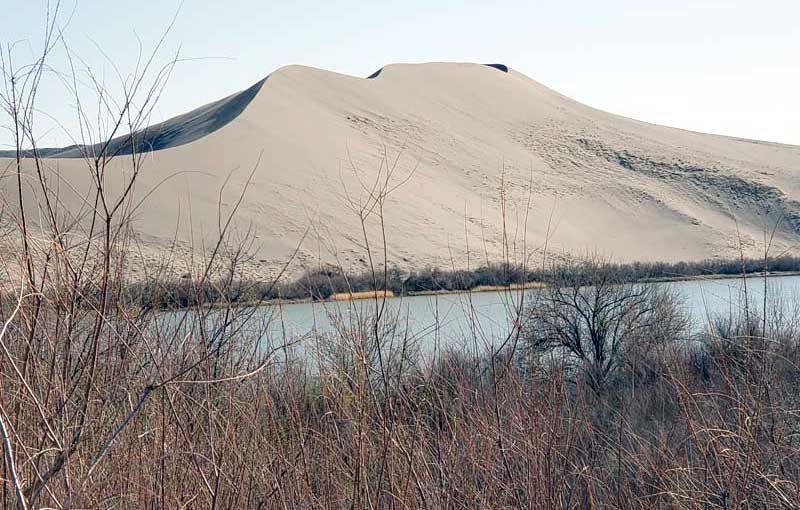 In April, we traveled south of Mountain Home to Bruneau Dunes State Park (pictured above). There were huge sand dunes and lakes.
It's definitely desert there. This location was also near the Morley Nelson Snake River Birds of Prey National Conservation Area.
The area along the Palisades Reservoir and the road to Teton Pass are beautiful to visit. Both have campgrounds and dispersed camping. Dry camping is available along the Lochsa River as you drive up towards Lolo Pass and near Palisades Reservoir. Each of these has its own typical limitations including rough roads and low trees.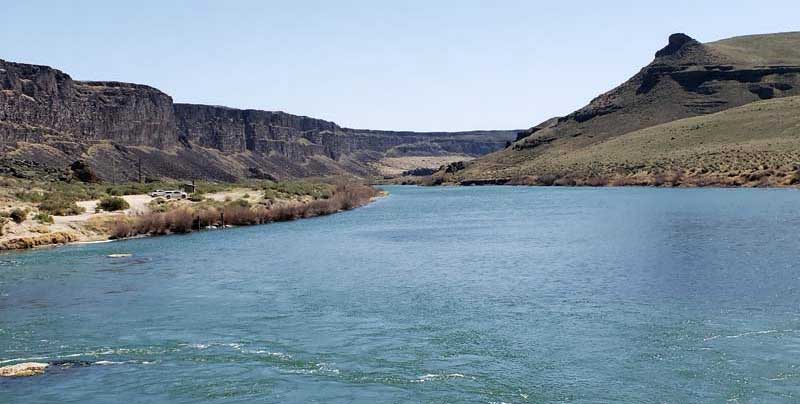 Above: Snake River, Morley Raptor Area
Near McCall on the western side of the state, there are more camping and beautiful places to visit. In our experience, any state park in Idaho is great and reasonably priced. We've stayed at Hells Gate, Bruneau Dunes, Massacre Rocks, and Farragut State Parks. There is great access to the state parks and good amenities.
In Idaho, there's no shortage of great places to visit or things to see. There are activities for the entire family.
Bruce Demko
2011 Ford F-350
2014 Hallmark Ute
In the fall of 2021, we did a loop tour through Idaho from our home in Sandpoint, Idaho south to Boise on Highway 95 and back through Stanley on Highway 21. Then, we went north to Salmon and from there through the western edge of Montana on Highway 93.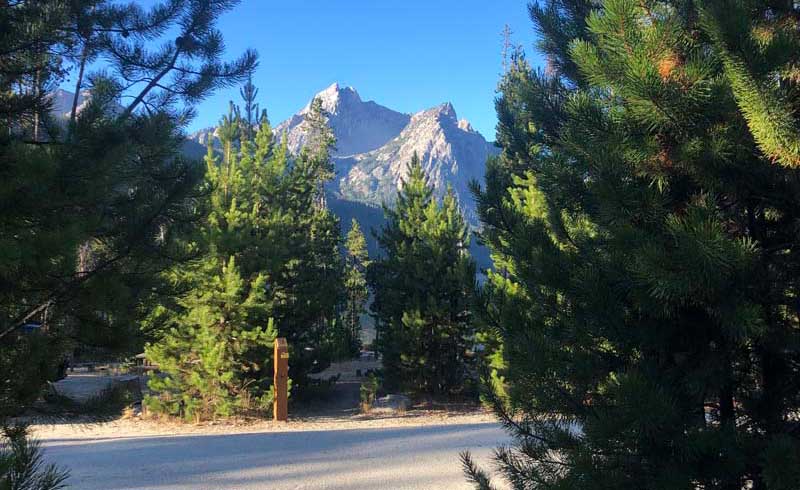 Above: Stanley Lake campsite view
Stanley Lake Campground in southern Idaho is one of the most beautiful lakes we have ever camped at. It is very busy during peak season and reservations are required. We found easy access to sites in late September. If you do go, and are cruising for sites, the best sites are on the lakeside of the loop. If you find one open, grab it quickly because they go fast. There will be views for days.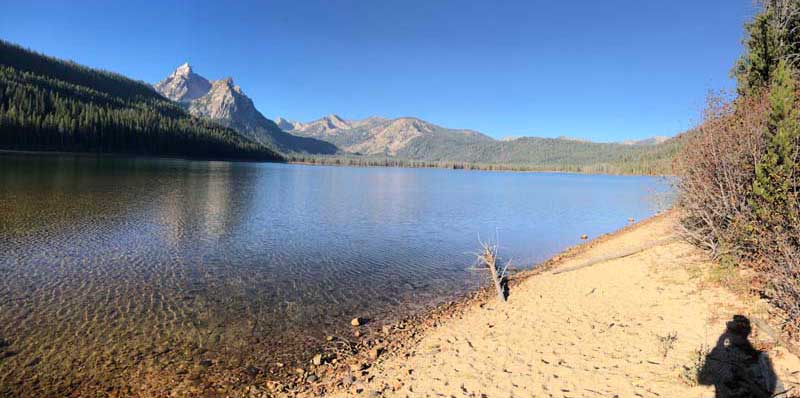 Depending on the temperatures, the lake is perfect for paddleboarding, kayaking, or just floating. There is an easy boardwalk trail along the lake which is one of the most spectacular walks we did on our trip. There are also more challenging hikes that start at the campground.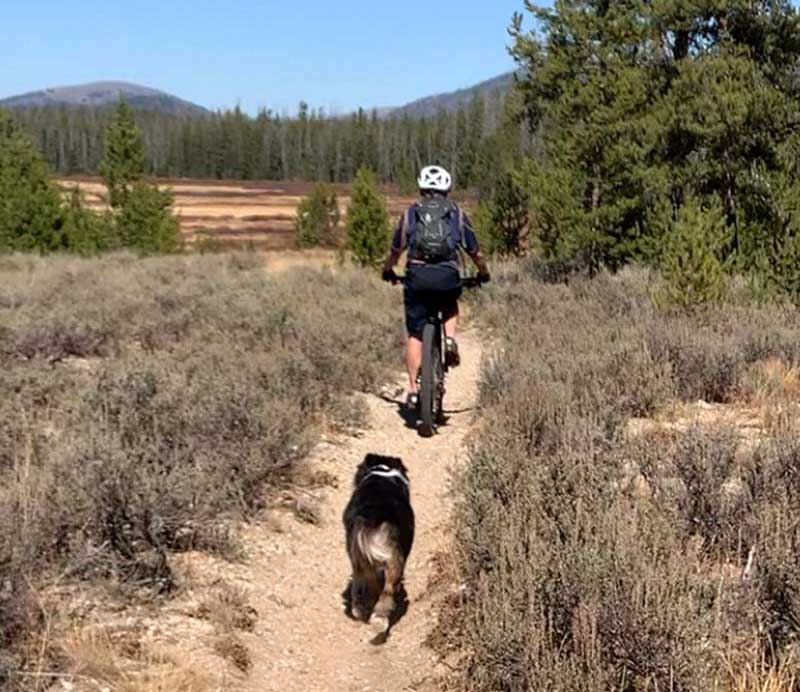 Above: Elk Meadow Bike Trails, Stanley Lake
We are avid mountain bikers and there are many trails easily found on any number of trail finding apps. Elk Meadows is a long single-track trail that is a beautiful challenging ride. If you decide to use a vehicle to access the trailhead, be advised that it is rough gravel and you will need a second vehicle at the end of the trail. We rode it all from the campground and back for a total of just over 12-miles. The ride is so worth it.
There are also dispersed campsites near Stanley Lake, but not on the lake. That area is busy during hunting season.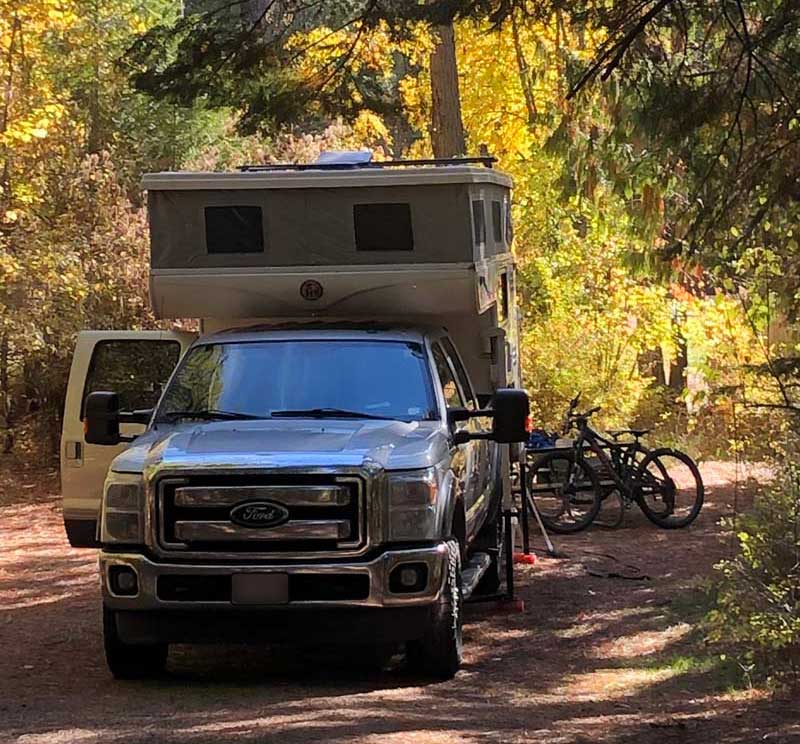 Above: Heyburn State Park
Other areas in Idaho to consider would include McCall and our home area of Sandpoint. Near Sandpoint is a small town called Hope. On the peninsula, there is a state campground on the north end of the lake called the Sam Owen Campground. If you do visit, we recommend that you go to the nearby restaurant at the Beyond Hope Resort. That is not to be missed either for sunset dinner or just beverages on the patio.
Sally Stomberg
2017 Ford F-450
2006 Lance 1191 and 2021 Rugged Mountain SE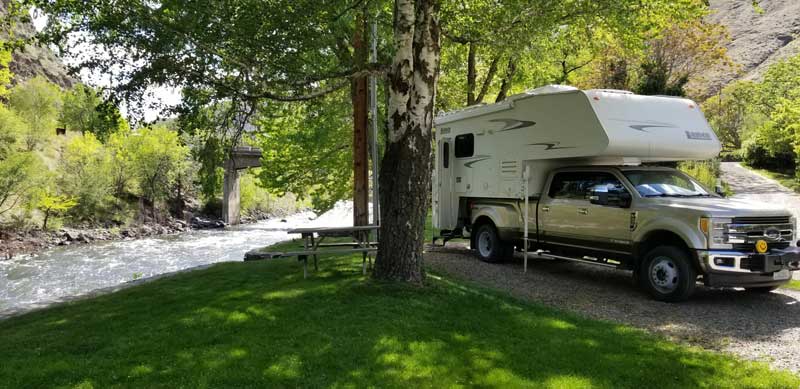 Above: Riggins, Idaho
One of my favorite areas is along the Salmon River in Idaho. There is a nice little RV park in Riggins where we backed up along the Little Salmon River. You can easily walk into town.
Riverside RV Park in Riggins, Idaho only has 15 sites, so it's very quiet there. It was $35 a night with hookups and they only accept cash or checks. Reservations are recommended.
There are also many places to dry camp along the Salmon River. It's a beautiful area of Idaho.
Another neat place is Wallace, Idaho. We've camped at Wallace RV Park which features a small brewery as part of the park. The current rate is $45 a night for creekside sites. Wallace is an interesting old mining town and worth some additional exploration.
We stayed overnight in Idaho Falls on our way back from a Montana trip. McCall was also nice with plenty to see and do there. I love camping in Idaho. It's one of my favorite places to visit.
The McCall RV Resort in McCall, Idaho is pricey at $69 a night, plus tax. But, we had a quad site which has four sites and a common center area. It is great when you're with friends. There is an indoor pool which is nice in the off-season.
Bill and Kira Jones
2017 Ford F350
2018 Northern Lite 9-6
Craters of the Moon National Monument and Preserve is a favorite. It has some of the most beautiful, unusual, and extremely rugged terrain we have ever seen or encountered. After traversing just a few miles of it on foot, in the cold and rain, one develops some serious respect for the folks that first explored it and lived out in it for a while. Stating that it is a unique place is a vast understatement.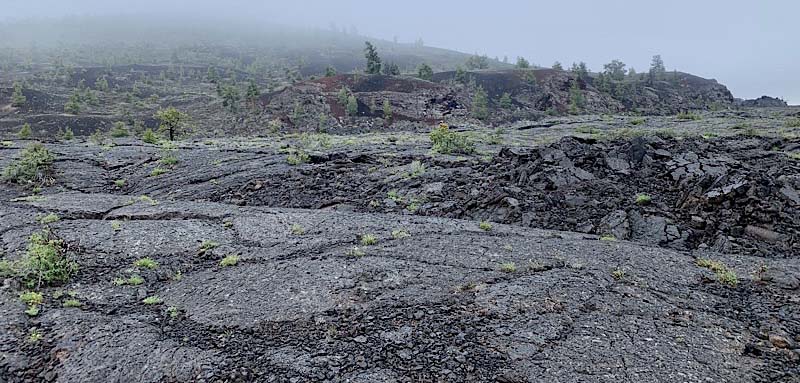 Above: Plant life makes an attempt at any opportunity
It was on our bucket list for many years. Long before we got a truck camper, we had seen the signs for the area when traveling to and from the northwest USA. We acquired a truck camper in 2017, and Craters of the Moon became a stop in mid-May 2019, while on the way to western Canada.
Above: Craters Of The Moon Campground, newer lava flow
Lava Flow Campground in the park is surrounded by a newer lava flow. Campsites are within pockets of, or alongside, various lava flow features. Most truck campers will have an advantage in maneuverability and fit compatibility to many of the sites, in comparison to other RV types.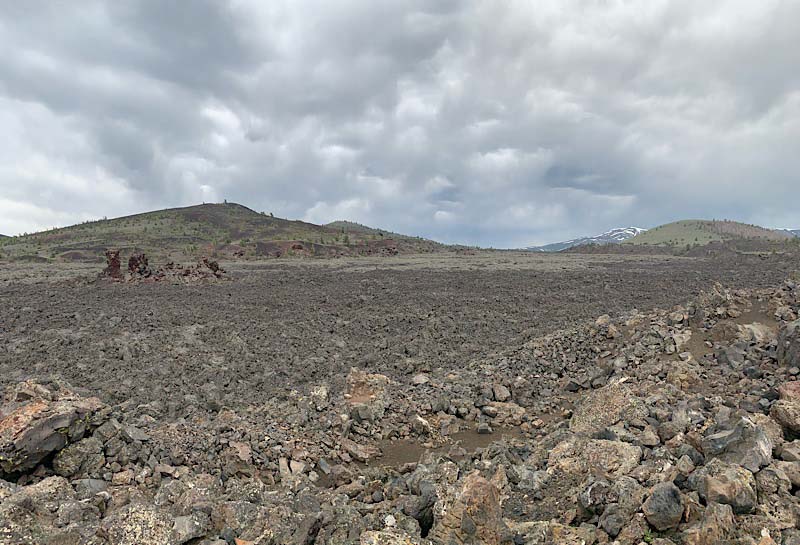 From the campground, there are several trails that are connected to other trails in the near area. Wear shoes; this ain't flip-flop country. The additional trails lie further into the preserve via the road to the interior and one may need some other conveyance than just walking to access those areas.

Above: Cinder cones and spatter cones
Access to see the geological features is very good via the many trails and also by driving on the paved roadways.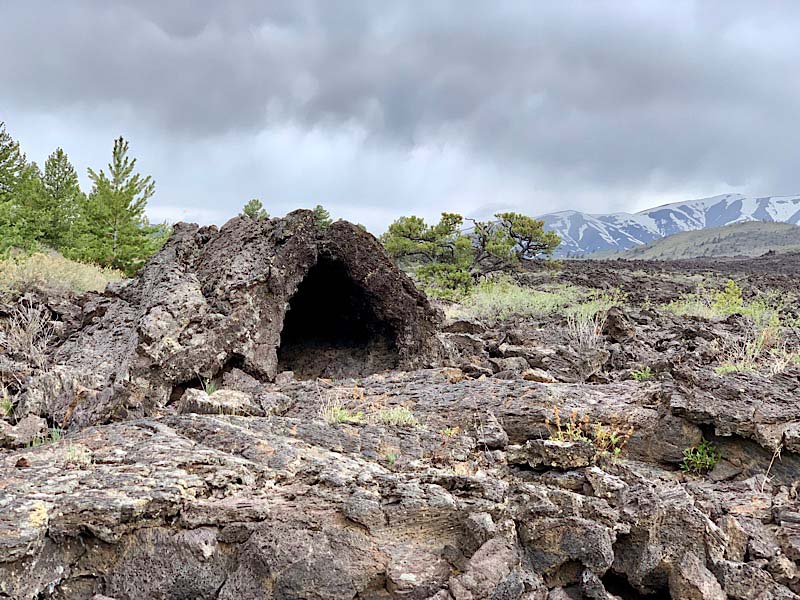 Above: Bent lava at Craters Of The Moon
The average elevation is 5,900 feet. When we arrived at the campground, it was still freezing at night, so there was no campsite water service. While there, water service was restored on our final day. Be advised that there is a campsite cost difference of a few dollars that is tied to water service availability. Campsites are non-reservable. There is no dump station in Craters of the Moon National Monument and Preserve, but there is one at the Conoco, 2437 US-20, Arco, ID 83213. Plan ahead.
Study the campsite map carefully. The furthest loop is very tight. Towing anything in there might be folly. The NPS website has valuable information pertaining to a visit. Please note the caution related to pets, primarily dogs, in regards to the sharp lava rocks and paws.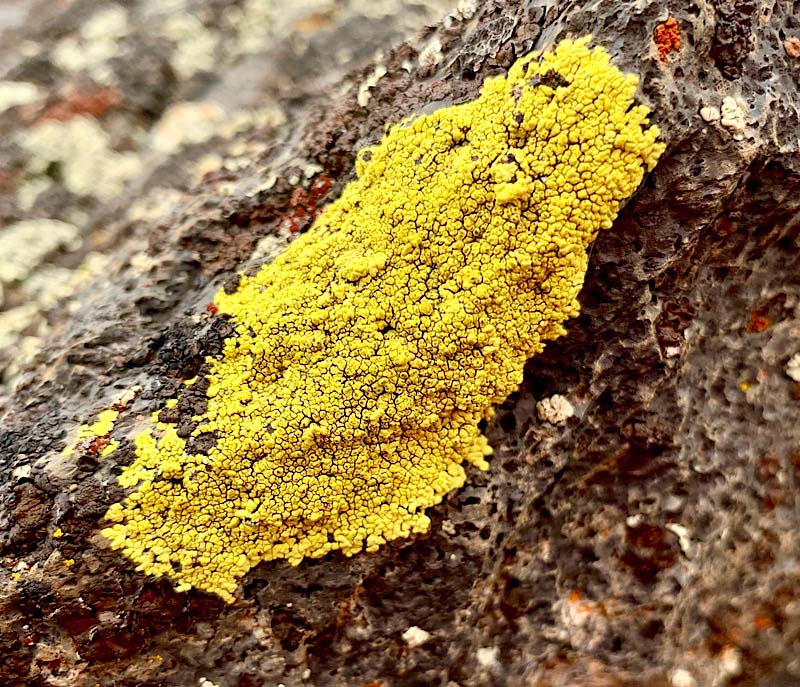 Above: Bright yellow lichen are on many rocks Craters of the Moon
The related Wiki article goes into detail about the geology, naming, and exploration of the area. It is highly recommended in order to have a better understanding of the area's terrain and its history.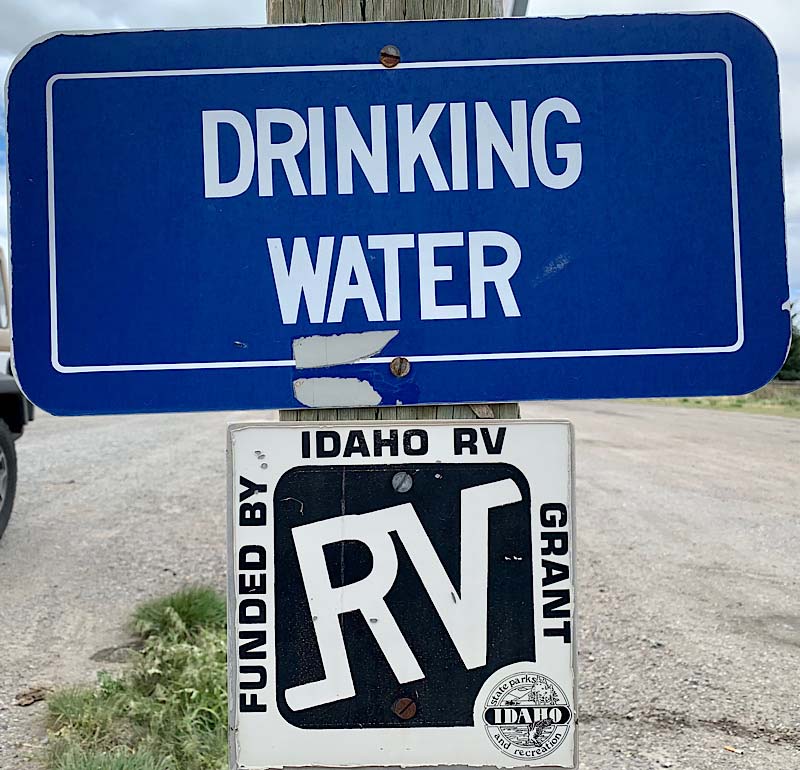 Idaho is RV friendly.  Look for these signs, typically at free dump stations.
Mark and Donna Zeisberg
1994 GMC K2500
1997 Shadow Cruiser pop-up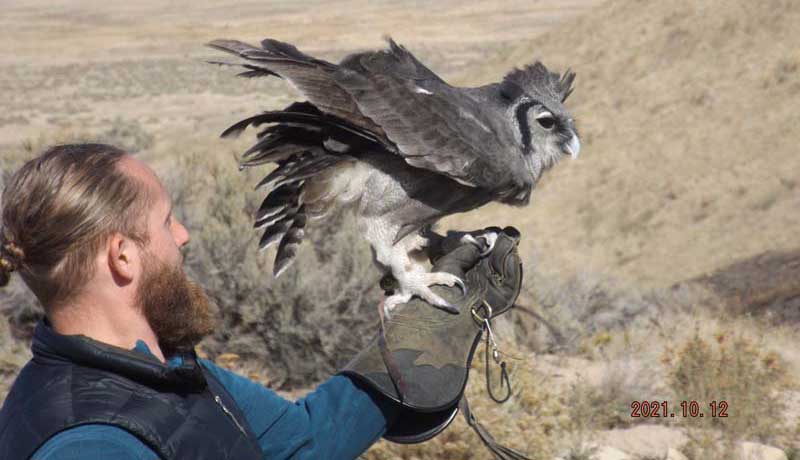 Above: World Center for Birds of Prey, Boise, Idaho
The World Center for Birds of Prey is south of Boise, Idaho. There are excellent displays, friendly staff and volunteers, and outdoor areas. I was able to photograph an African Owl in flight between two handlers!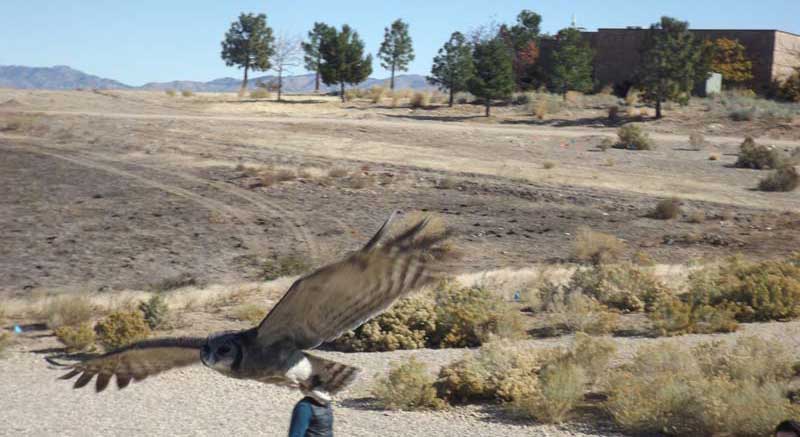 Idaho City, Idaho is a town all about hunting, fishing, and drinking. We went to The Gold Mine Saloon to eat dinner and to watch the Ravens (hometown team) narrowly beat the Colts. My cheering wife got the whole tavern involved by the end of the cliffhanger game, fielding questions like, "Who are we cheering for?"
We enjoyed a beautiful drive south on Route 51 through the Snake River Birds of Prey Natural Area. Near the Boise Shooting Range, there were hundreds of fence posts topped with one shoe each for several miles. Unfortunately, I didn't take any pictures.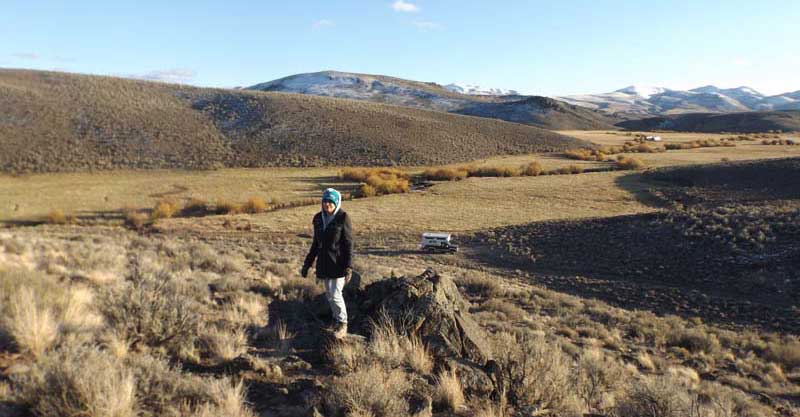 We camped nearby in Boise National Forest. It was 30-degrees Fahrenheit. There's also boondocking in Hell's Canyon. It's technically in Oregon where it's more accessible across the Snake River from Idaho.
Ralph Goff (aka Ramblin' Ralph)
2006 GMC 2500HD
2001 Lance 845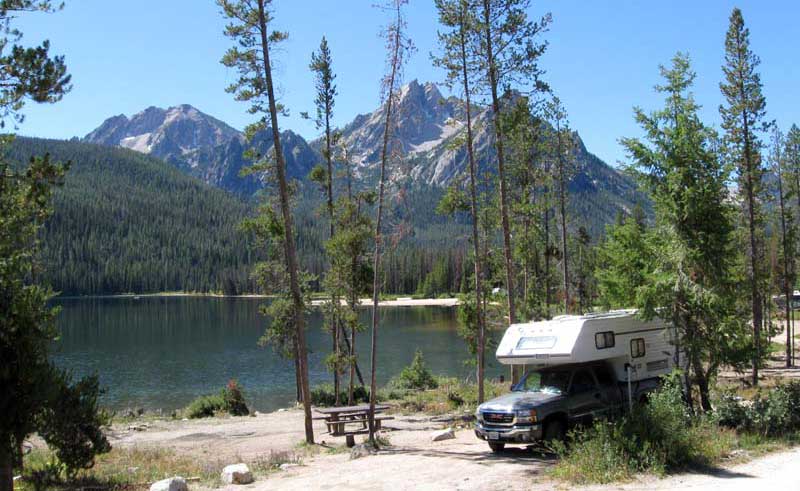 Above: Stanley Lake Campground
I really like Idaho in general, but my favorite area is the Sawtooth Mountains near Stanley. It's loaded with USFS campgrounds; my usual pick for a campground. There are lots of boondocking spots, too.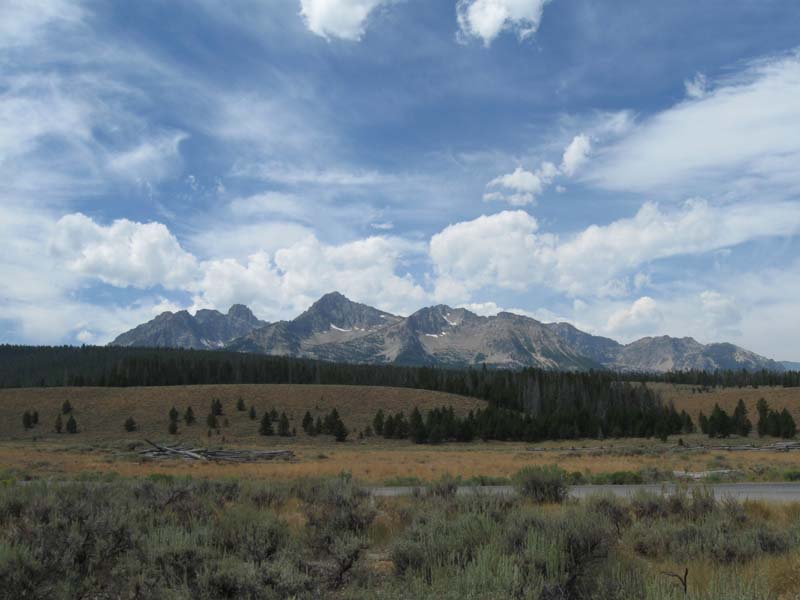 Above: Sawtooth Mountains
Stanley is a very small town of just a few hundred, but most things you need while camping can be found there. It's a very busy little town in the summer.
Tip: Free WiFi for the Internet is available at the library.
The headwaters of the Salmon River and the Sawtooth Fish Hatchery are nearby. Be sure to check out Stanley Lake and Redfish Lake, both with USFS campgrounds.
Another great part of Idaho is highway US12 which crosses Lolo Pass into Montana. For 70 miles it runs alongside the beautiful Locsha River. The river is very popular with whitewater boaters. Many USFS campgrounds are near the highway while going up to the pass. Near the pass, there is an interesting USFS Visitor Center.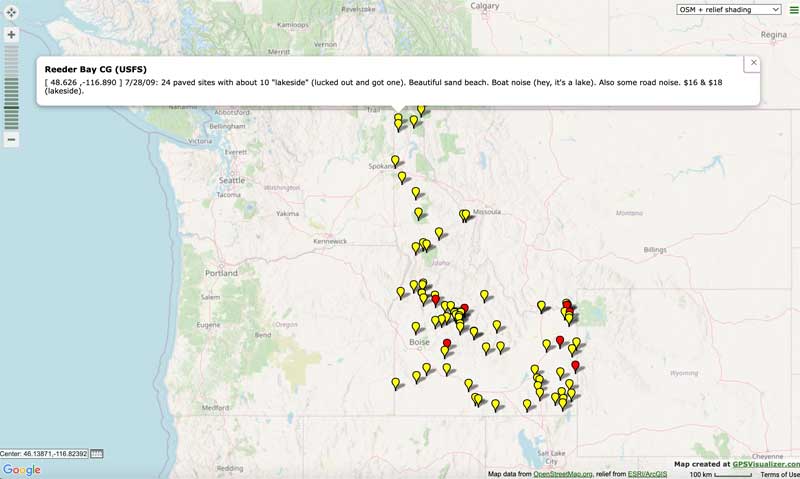 I keep an online map for all my campsites. I created a special Idaho-only map for this article with over 80 campsites. You can see it at https://hogtimemusic.com/nomad/RR-IdahoMap.html. Click on a pinhead and you can see detailed info on the campsite (name, date, GPS coordinates, number of sites, vegetation, terrain, cost, etc.) Yellow sites are developed campgrounds and red are boondocking sites. Note: It works best on a laptop.
Here are some of my favorite Idaho campsites (developed and boondocking). GPS coordinates listed first:
Palisades Creek CG (USFS)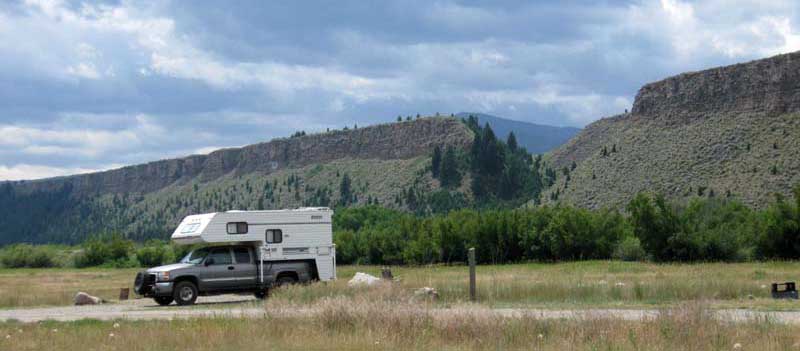 [43.396 ,-111.215 ] 8/2/19: This is a really nice, small campground. It is in a canyon and well away from the highway. There are eight gravel sites (including one for the host and two doubles) on level land with a small creek alongside it. They were well developed sites with sand tent pads, metal mesh picnic tables, a fire pit and a BBQ stand. It's at the end of the road, so it was very quiet at night. There was a large parking area for horse trailers near the campground. Several hiking trails were in the area. A few hundred yards from the campground was the trailhead for the very popular creek trail. The cost to stay in 2019 was $12.
Boondocking site (USFS) – Near Stanley Lake

[44.258 ,-115.048 ] 7/25/19: This boondocking site is a very popular boondocking spot on flat land, just off the road to Stanley Lake. I was able to get a nice spot without any close-by neighbors, although several were visible. There was some shade, but I needed to move my chair every now and then.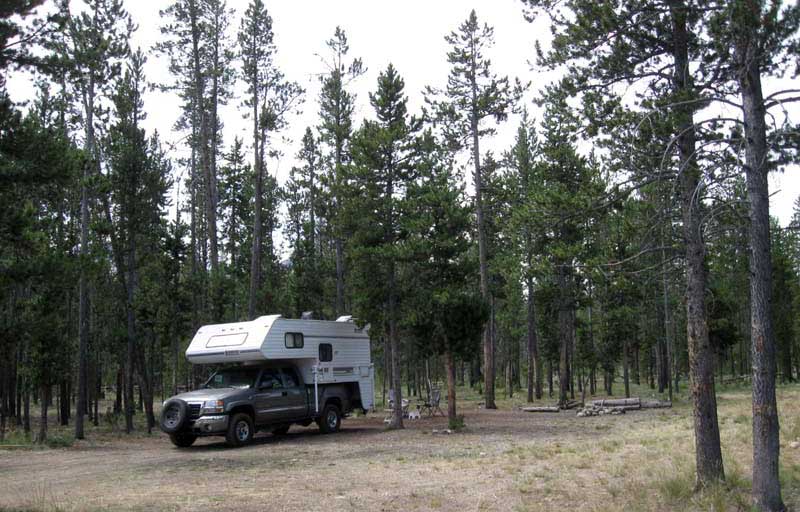 My solar panel was happy. It was not perfectly quiet due to ATVers going by now and then. However, most of them left by Sunday evening. There were several other smaller boondocking areas along the lake road. In late July, the daytime highs were in the low to mid-80s and a low one night of 33F. It was free to stay here.
Murdock CG (USFS)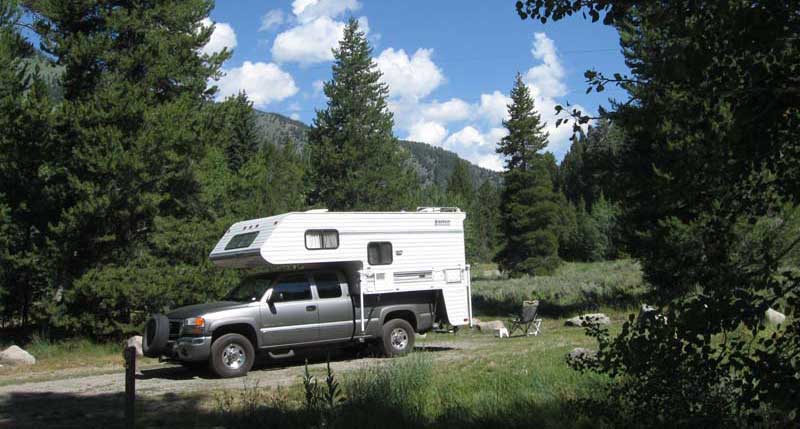 [43.805 ,-114.421 ] 7/29/19: This is a nice remote campground with eleven gravel sites on level land in a canyon. There was a mix of pines, firs/spruces and aspens. The hillsides on either side of the campground were loaded with trees and there was a pretty meadow at one end. There was a nice stream, a fork of the Wood River across the road. It was very quiet since it is well off the highway. There is a vault toilet. It was $16.
Little Wood River CG (BOR)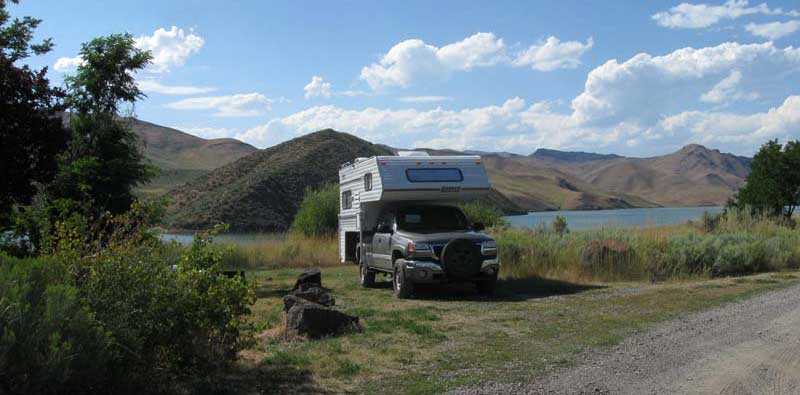 [43.436,-114.029 ] 7/31/19: This is a nice remote campground with about 14 gravel sites on level land in prairie grass and sagebrush setting. Most sites had grass in the picnic table area. It is alongside a 2.5-mile-long reservoir. About five sites overlook the water. There were some leafy trees, but no significant shade for sites, and some had none. However, there is a very nice, large picnic area with plenty of trees for shade and grass. It is very peaceful here. It's the lowest price you can find at $0.
Cottonwood CG (BLM)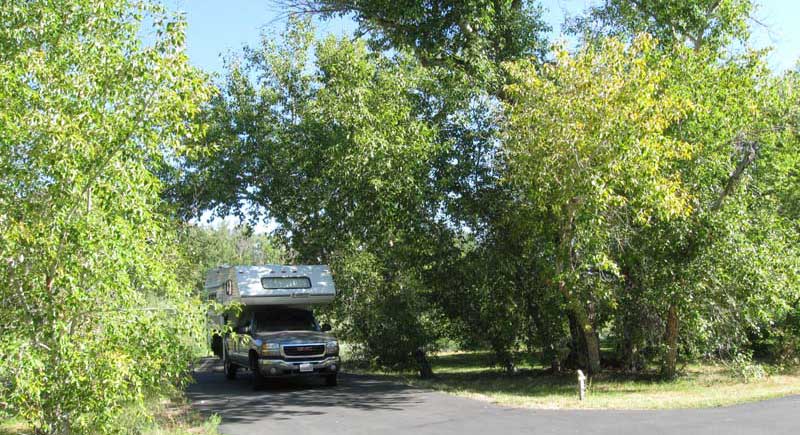 [44.669,-114.079 ] 8/21/11: This is probably the nicest BLM campground you'll find. There are 14 paved sites nestled in cottonwood trees on level land. It's at a beautiful location beside the Salmon River (many sites right by it). There was some highway noise, but the campground is below the level of the highway which reduces it. It was $10 a night.
Blackfoot Reservoir CG (BLM)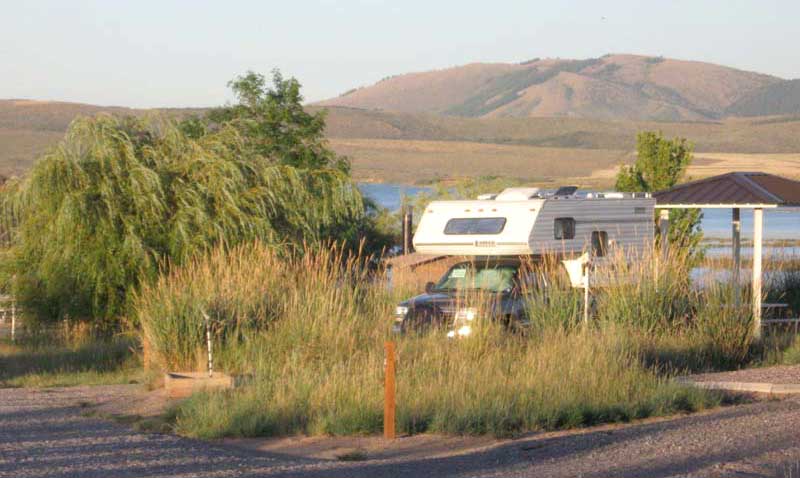 [42.843,-111.604 ] 8/17/17: A well above average BLM campground with 16 well-developed sites on sloping land. Each site had electricity. It was the usual BLM no tree shade environment. However, there were nice shade structures over picnic tables. It's on the finger of a very large reservoir. Lots of geese were flying around and honking. There is a launch ramp. It is free if you are camping to use the dump station. Vault toilets were available. In 2017 it was $10 a night. Add $5 for the use of electricity.
Boondocking site (USFS) – Near Mesa Falls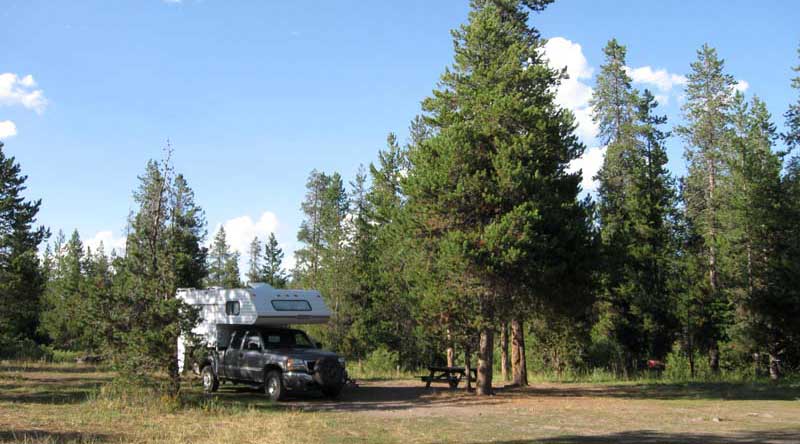 [44.262,-111.288 ] 8/10/19: This boondocking site was a mix of pine groves and open areas on level land. There was plenty of room. There were several other RVs there, but I could barely see any. I was by the pretty little creek and its music. There was some ATV activity and target shooting. It was the usual boondocking fee of $0.
Boondocking site (USFS) – Near Island Park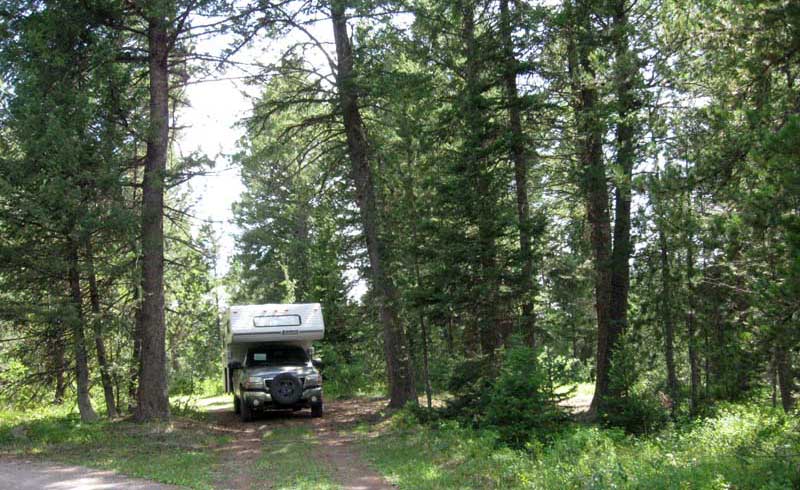 [44.416,-111.392 ] 8/11/19: This was a great boondocking site on a bluff about 50 feet above the Henry Fork River and not far from a paved road. The Buffalo River, which flows into the Henry Fork just downstream, is only about 100 yards away. It is an easy walk to the boat launch upstream to watch the activity. Sometimes, I noticed a slight hum from the dam equipment. It was free.
Russell Sherratt
2016 Ford F-250
2017 ATC Cougar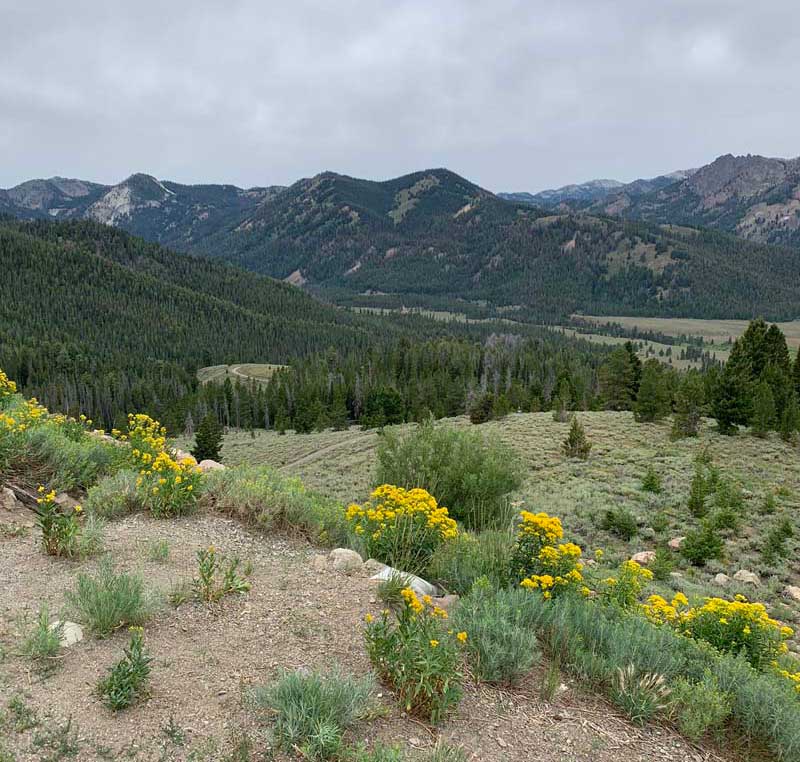 Above: Central Idaho
McCall is a beautiful place to visit in Idaho. It is about two hours north of Boise on Highway 55.
The Sawtooth Mountains are so beautiful in any direction you look. Travel Highway 21 east from Banks to Stanley and then go on Highway 75 south. I highly recommend spending time in the area and slowing down.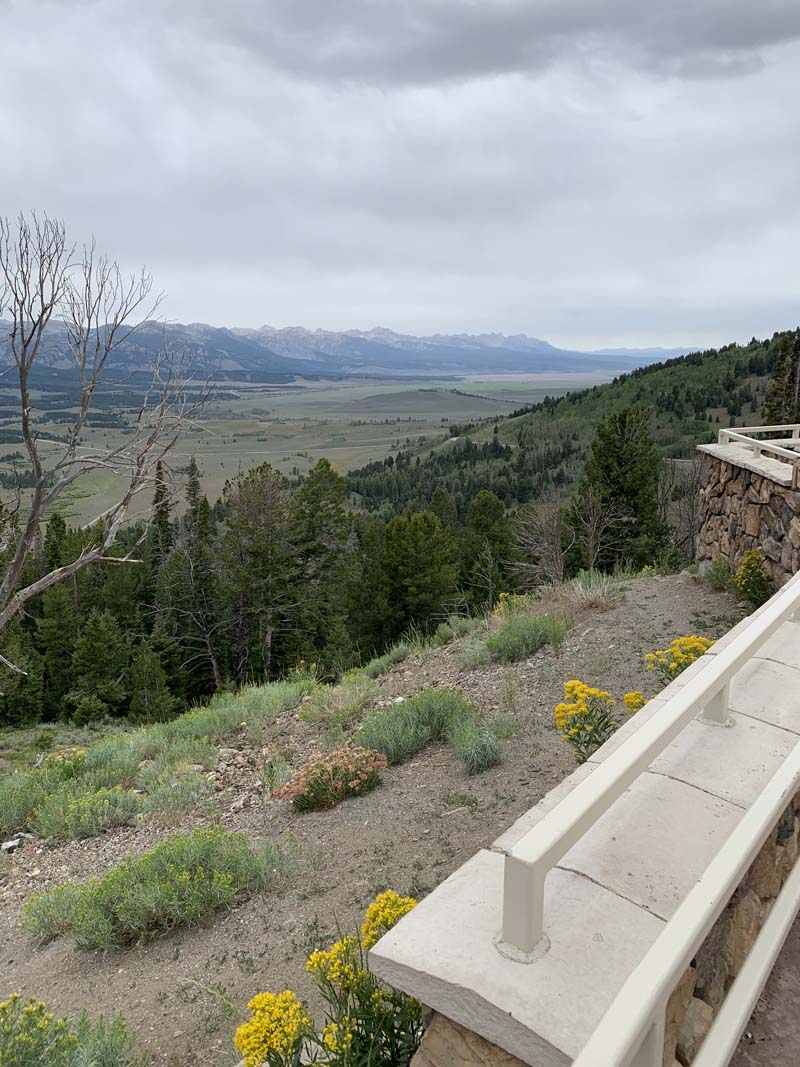 Above: View Of Sawtooths From Highway 75 Idaho
It's not hard to find places to dry camp. We stayed at a dry campground along Highway 21 we found near Lowman. It was a short hike to the river where natural hot springs mixed with the ice melt.
It's a beautiful soak with scenery to boot, and we had it to ourselves.
Rick Johnson
2019 Ford F-350
2007 Lance 1181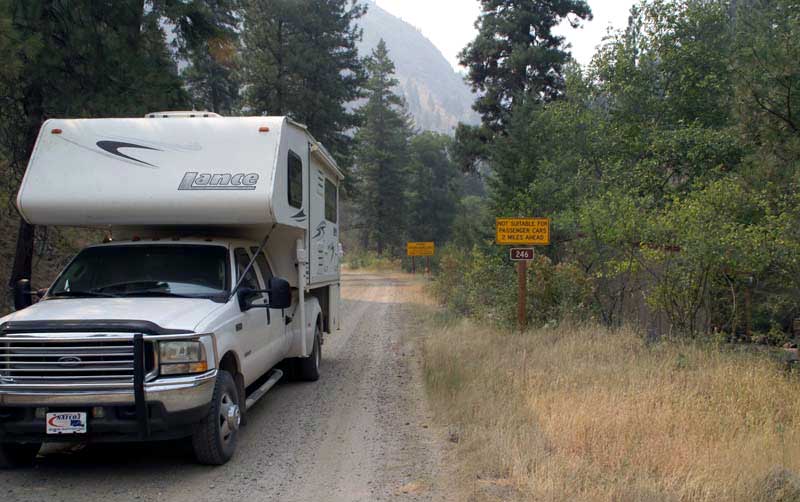 Above: Bottom of FR 246 at the Salmon River
Forest Road 246, aka The Fingers or Burgdorf Road, was on my bucket list as a driving challenge. It turned out to be very easy because it was improved dramatically in order to get a large crane down to the Salmon River for a major bridge replacement in 2017.
I recommend traveling down the road to the Salmon River. We stayed at the Burgdorf Forest Service Campground for one night before heading down the road. The truck in my photo is the 2004 Ford diesel that I wrote about trading in for my current gasser. Later on that trip, I limped into Boise with four bad fuel injectors.
I highly recommend Forest Road 246 for the scenery and the many switchbacks. We found that it was much more difficult in Idaho to drive to higher elevations. The Rocky Mountains in Idaho have many deep canyons and roads to the upper reaches are few and far between. FR 246 has an incredible elevation change of over 4,250-feet.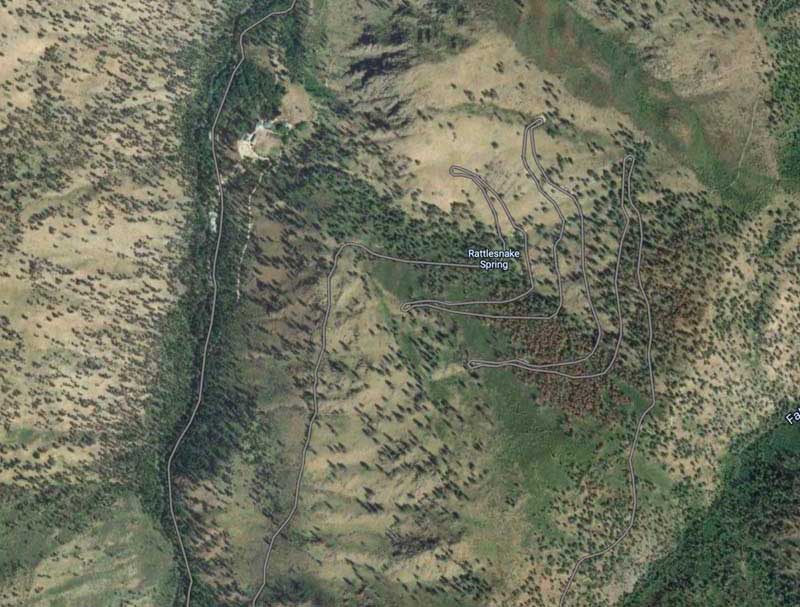 Above: This is a satellite view that shows some of the switchbacks
The best campground on the trip was Pine Creek Forest Service Campground west of Victor, Idaho. We watched the eclipse there. No reservations were needed and it was $10 per night in 2017. That was half price for seniors. The backside of the Tetons are nearby.
Steve Hammill
1963 International Harvester
Self-converted step van
Baumgartner Hot Springs was a gold mining claim returned to the government. It's 12-miles east of Featherville, Idaho in the Sawtooth National Forest.
There's a hot spring-fed concrete pool, RV camping spots, hiking, and a nice stream for fly fishing, salmon snagging during the run, or gold panning. I spent a week there snagging salmon for my meals and hanging out in the hot pool.
I was forty years younger when I was there, but I am planning on taking my wife there this summer. Reservations are only through NRRS (Reserve America) at 877-444-6777.
We stayed overnight at pull-outs in the Sawtooth Forest.
Laurie Brokaw
2006 Ford F-250
Lance Camper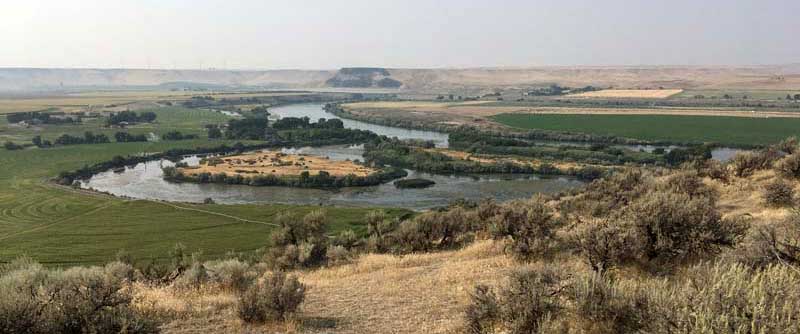 Above: Up on the bluff above the Snake River, exactly where those traveling west would have been.
We recommend Three Island Crossing State Park in Glenns Ferry, Idaho. It's a nice small town with a local playhouse. There is a winery within walking or biking distance and an excellent visitor's center highlighting the three island crossing of the Snake River as part of the Oregon Trail. You can drive out and see the trail and wagon ruts. There are wonderful staff and volunteers. It's a beautiful oasis; one that we will never forget.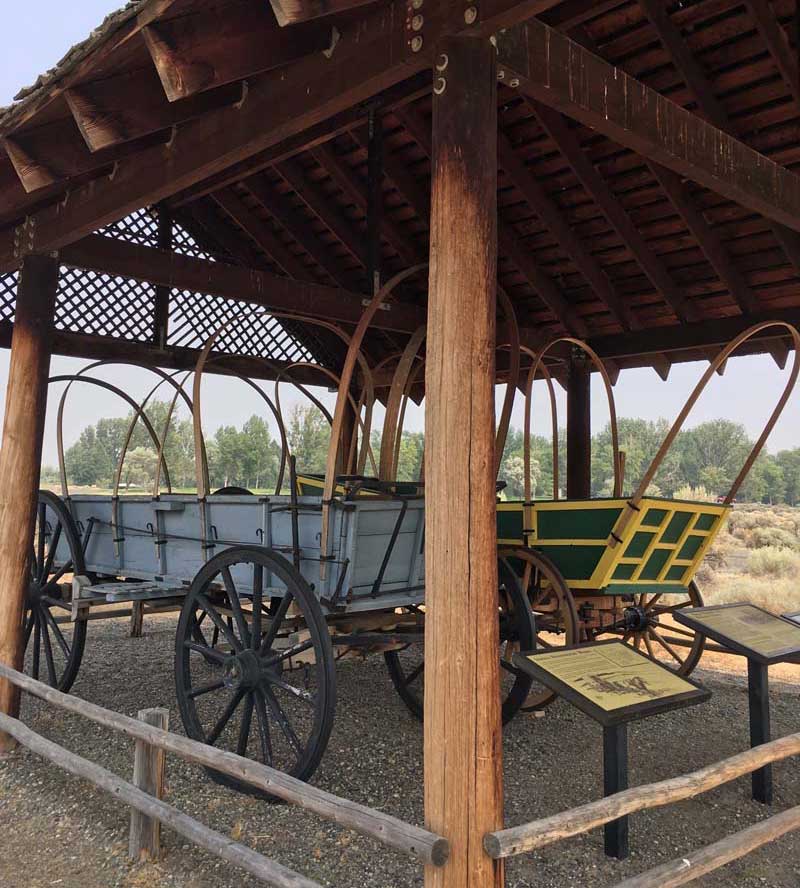 Above: Motorhomes Without Motors display
We stayed at Three Island Crossing State Park which is just a few miles off of Highway 84/26. It's not too far from Craters of the Moon National Monument. The camping fees are different if you are a resident, so it's best to check on the price. They have electric and full hookups, cabins, and a senior discount.
Craig Brueckman
2015 Ford F-350
2014 Lance 1191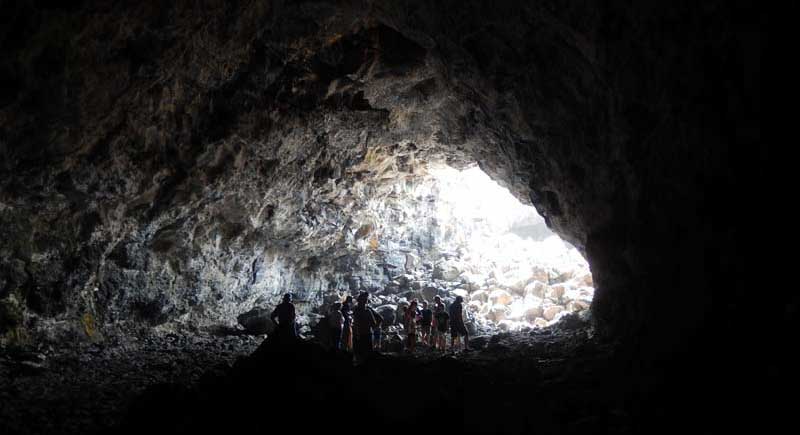 Above: Guided Tour Of Indian Caves
A place not to be missed is Craters of the Moon National Monument and Preserve. We spotted it as we drove from Picabo to Idaho Falls and decided to stop. It was a wonderful day of exploring the volcanic history of the area. The cones were interesting, as was the Blue Dragon. We really loved exploring the lava tubes. We also recommend taking a guided tour of the Indian Caves.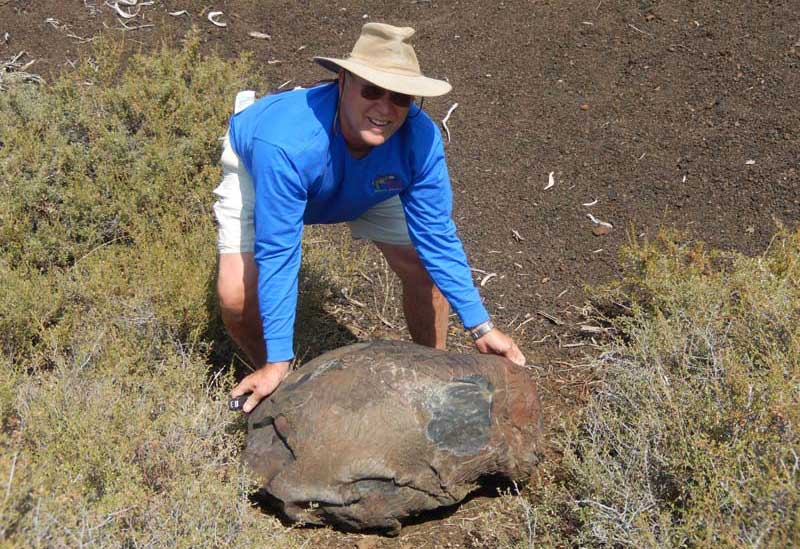 Above: Blue Dragon, Craters Of The Moon
On our way back from a summer in Alaska, we headed to Yellowstone National Park from Crater Lake National Monument. Crossing through Idaho, we found a very nice place to boondock at the NFS Silver Creek West (N43 19.535 W114 06.350), in Picabo, Idaho. We got in late afternoon and, after getting settled, we walked around the campground.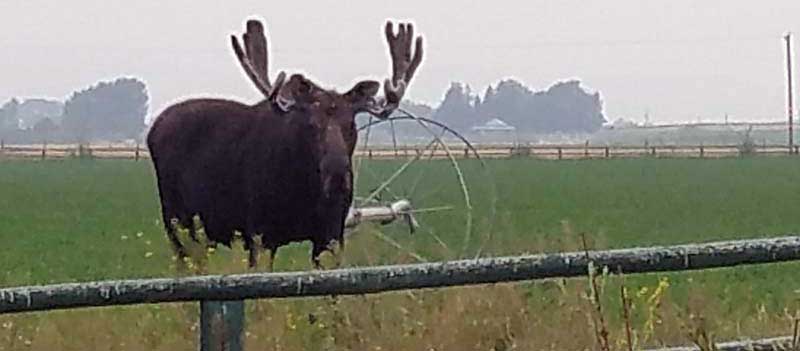 Above: Bull moose at NSF Silver Creek West
Following the campground road to the western end, we came across a bull moose grazing just on the other side of the fence. He just stood and watched as I cautiously inched closer. I had felt bold about approaching him with a rail fence between us.  As he crashed through the underbrush to my left, I discovered that the fencing ended in the brush just a few feet from the end of the road.
George Bennett
2006 Chevy Silverado 2500HD
2015 Wolf Creek 850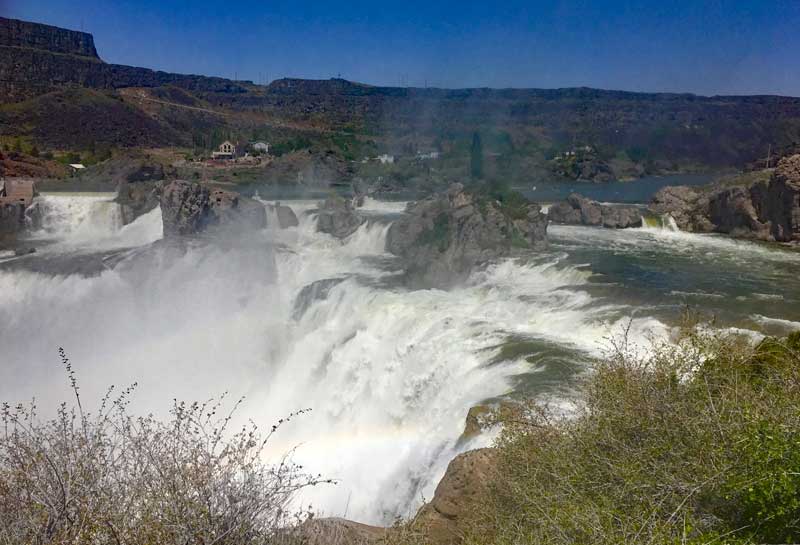 Above: Shoshone Falls
There are lots of national forests from Boise north with great campgrounds in Boise and Payette National Forests.
I recommend you visit Hagerman, Idaho, Valley of 1,000 Springs, Baumgardner Hot Springs, and Craters of the Moon near Arco.
Baumgardner Hot Springs has a national forest service campground on the Boise River near Featherville, Idaho.
Donald Kiehn
2021 Ram 1500
2012 Four Wheel Camper Hawk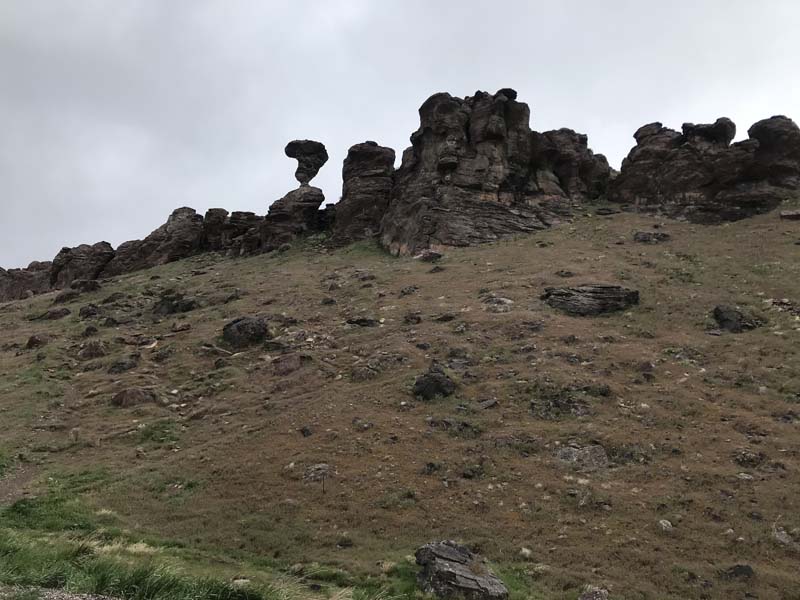 Above: Balanced Rock, Castleford, Idaho, 35 miles west of Twin Falls, Idaho
Balanced Rock is a geologically unique feature in the middle of flat farmlands and is only half an hour from I-84. We wondered if we were even on the correct route until we dropped into a short canyon that exposed the basalt rock. There are numerous short hiking trails in the area as well as a nearby creek for fishing or even kayaking.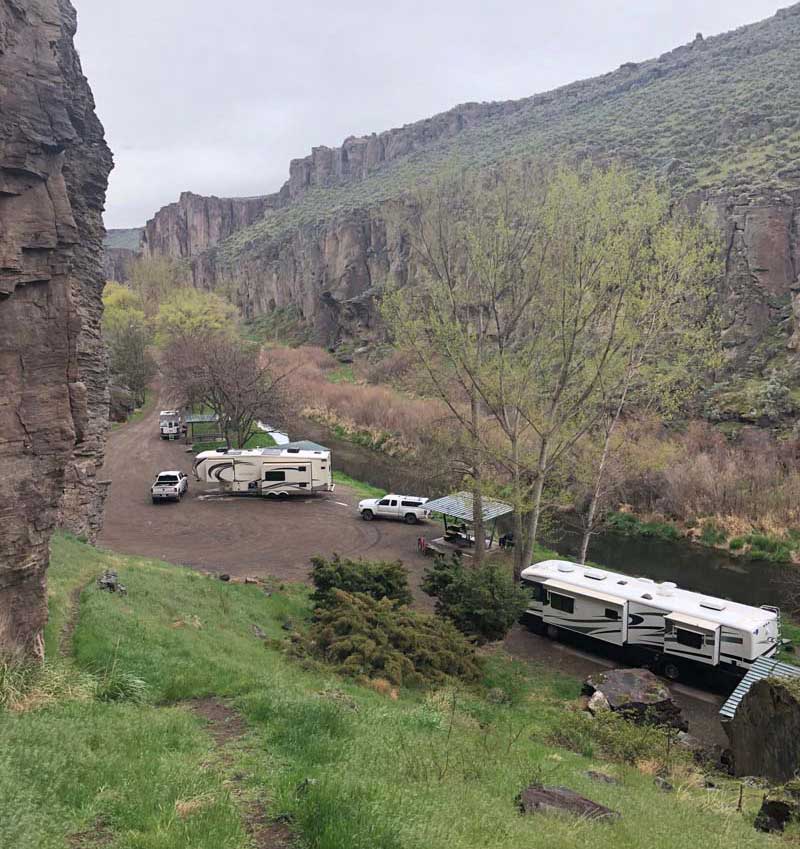 Hot Springs Campground is along the South Fork of the Payette River. It was especially nice after a six-day backpacking trip in the White Cloud Wilderness area. This is a US forest service fee campground with a trail across the highway leading to shallow soaking pools of various temperatures. There are also several pullouts along Highway 52 for access to other natural hot springs.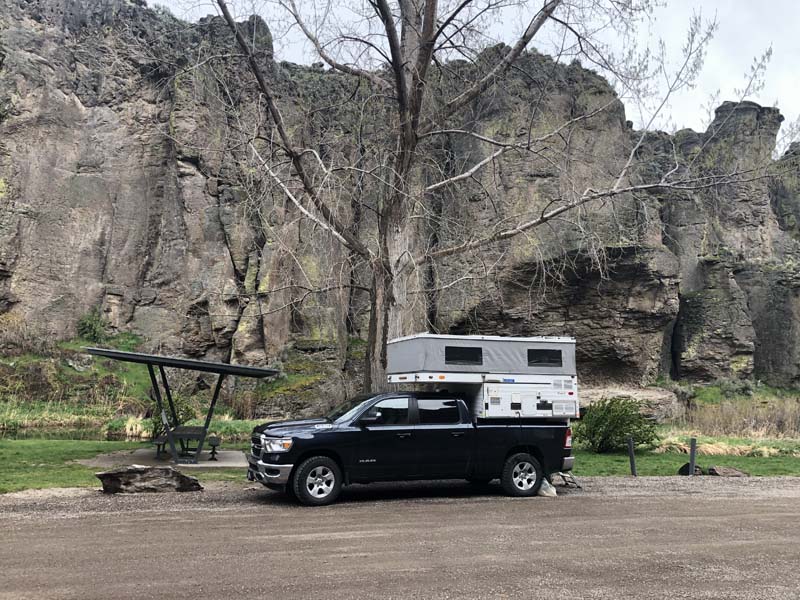 Balanced Rock Park Campground is a free county campground with picnic tables and two vault toilets situated along a creek. There are garbage cans and seasonal water. It was quiet and a pretty drive through the countryside.
To check out more reader travel suggestions go to our USA, Canada, and World sections.