It's time to cut Arkansas into your adventure plans with these fifteen must-see destinations.  Ten fellow truck campers reveal where to go and camp in The Natural State.  Diamond mining anyone?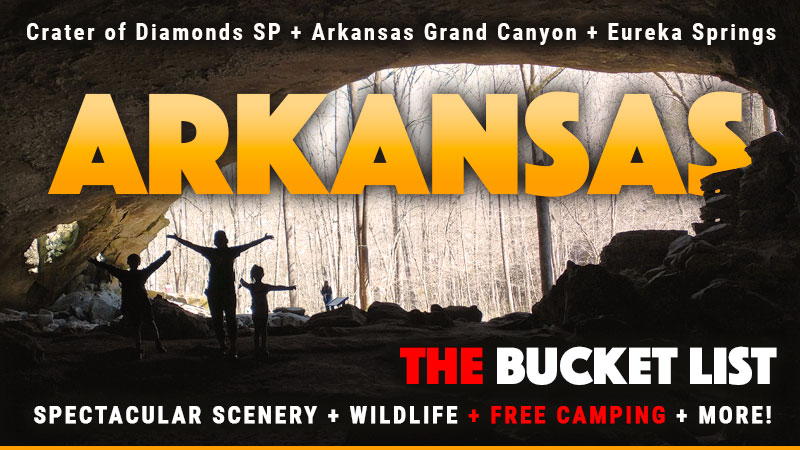 There is a certain irony in cross-referencing the state of Arkansas with the old adage of a diamond in the rough.  Far too many of us have probably overlooked the dense forest lands, Ozark and Ouachita mountains, and the Mississippi River and Arkansas Delta lowlands on our way to more well-known camping opportunities.
And yet, if you dig into this south-central state, you'll find some remarkable facets on tap, not to mention the only public diamond mine in the United States.  How's that for a rewarding carat?  We have added Crater of Diamond State Park, Parker Creek Public Use Area, and a number of other suggestions to our Google Map.  We bet you'll be adding a few yourself.
There's no better way to find out exactly what to go, what to see, and where to camp in Arkansas than to ask fellow truck campers who have been there.  Get your bucket list out now.  And a pen.
Brett Hanna
2017 Ram 1500
1997 Northstar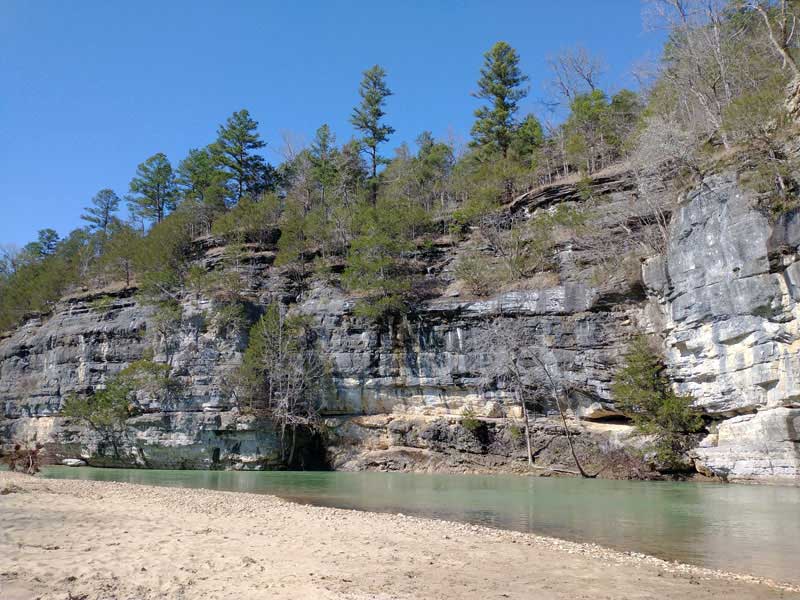 Above: Ozark Campground, Buffalo River, Arkansas
Buffalo National River Wilderness
The Buffalo National River Wilderness is a great place to put on your Arkansas destination list.  The river is a teal blue and is so pretty.  I think it is mostly rain-fed so there may not be a lot of flow for canoeing or kayaking in late summer.  Keep that in mind.
There are several campgrounds in the Buffalo National River Wilderness.  You can see them on their website.
We have enjoyed trying out some of the campgrounds along the river and discovering what they have to offer.  There are also trails to hike along the river and there are herds of elk roaming the area.
Buffalo Point Campground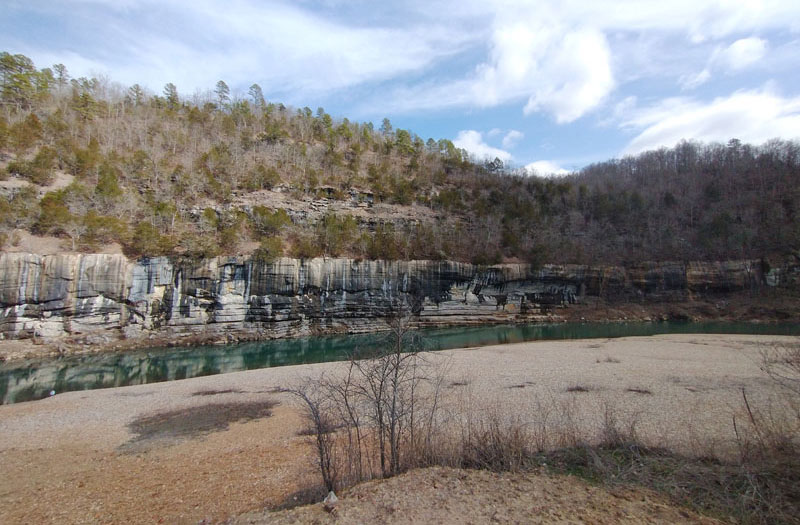 Buffalo Point Campground has electric and water hookups.  We stayed there one night, but we're just not into the crowded campgrounds with all the RVs and trailers.  It was $30 a night.  There were hot showers there as well.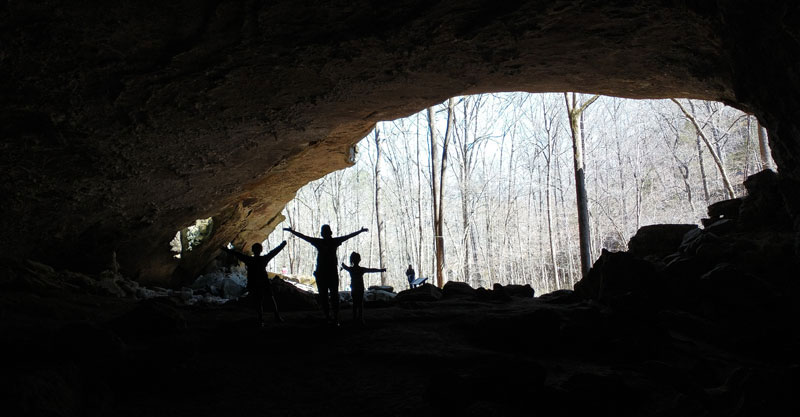 There is also an awesome hiking trail to Indian Rockhouse which is a cave (see above).
Kyle's Landing Recreation Area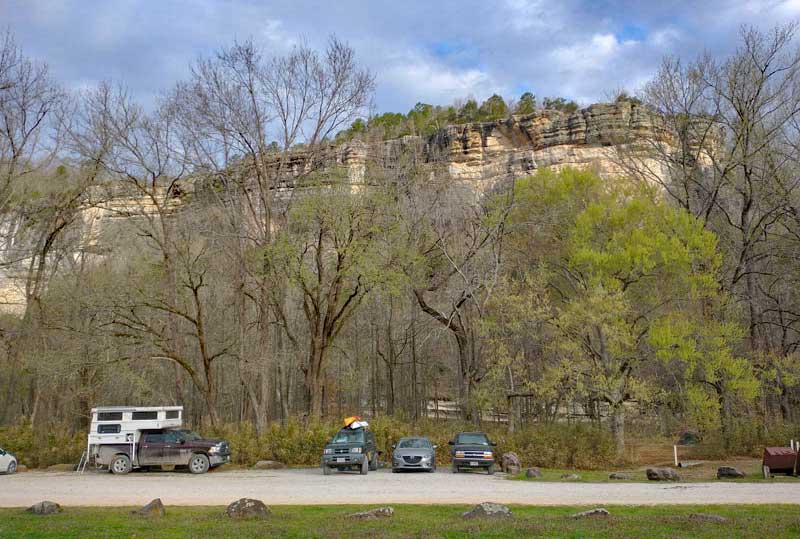 Kyle's Landing along the Buffalo River is not for RVs, but what is a camper/pickup truck?  We figured it was okay.  The rocky road was horrible.  I think this campground was free.
Erbie Campground
Erbie Campground along the river was really easy to drive up and set up camp.  Campers are welcome, and it's a good place to stay.  Both Kyle's Landing and Ernie Campground had bathrooms.  A site was about $10.
Tyler Bend Campsite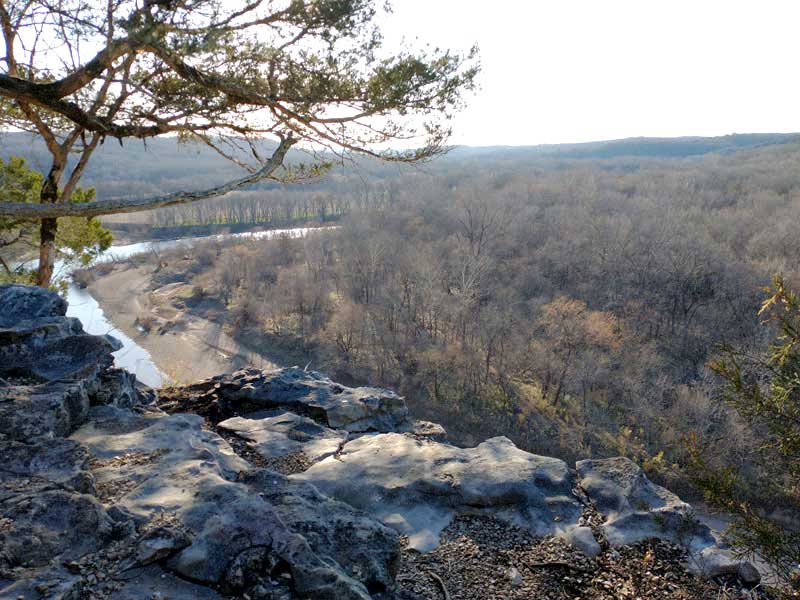 Tyler Bend Campsite accepts truck campers.  There is no water or power, but there are a bunch of sites there.  It is $20 a night.  There is great reception 4G, 4 out 5 bars.  There was no service at the other two sites we stayed at.  Also, it had nice hiking trails, hot showers and was a great place to ride around on bikes with our kids.
South Maumee Campsite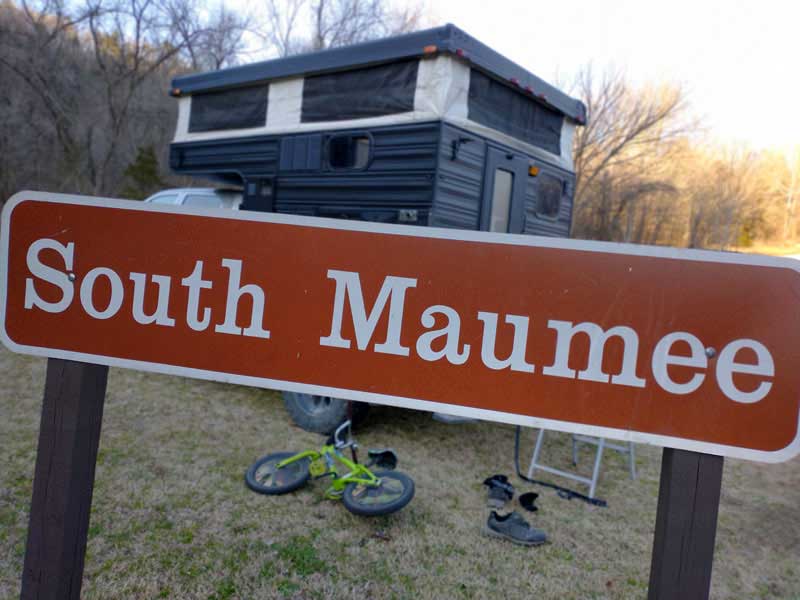 We also stayed at the South Maumee campsite.  There are five sites and it's free.  There is a vault toilet, fire pits, and tables.  That's it, but it was awesome to be secluded.
When we canoed Buffalo National River, we used Crocketts canoe rental.  He hooked us up with a ride and canoes.  They were great.  And when I asked the owner if he was related to Davey he said, "yes".
Arkansas Grand Canyon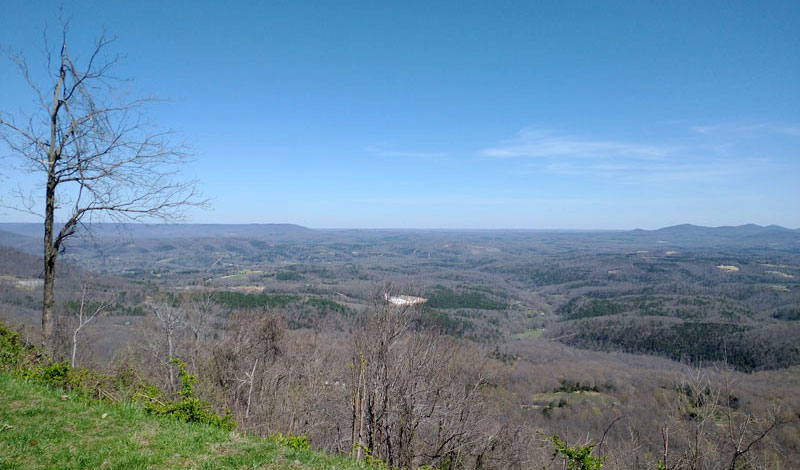 Also, check out the Arkansas Grand Canyon south of Jasper.  We had a bite to eat at the old Ozark Cafe, which was great, and then headed south a few miles out of town to a scenic overlook.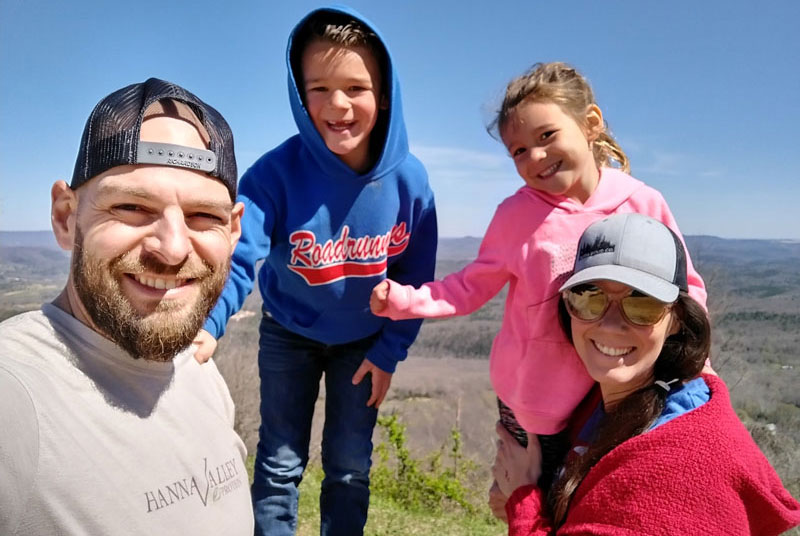 If you're in the area, it's totally worth seeing.  Dispersed camping is in the Ozark National Forest nearby (pictured below).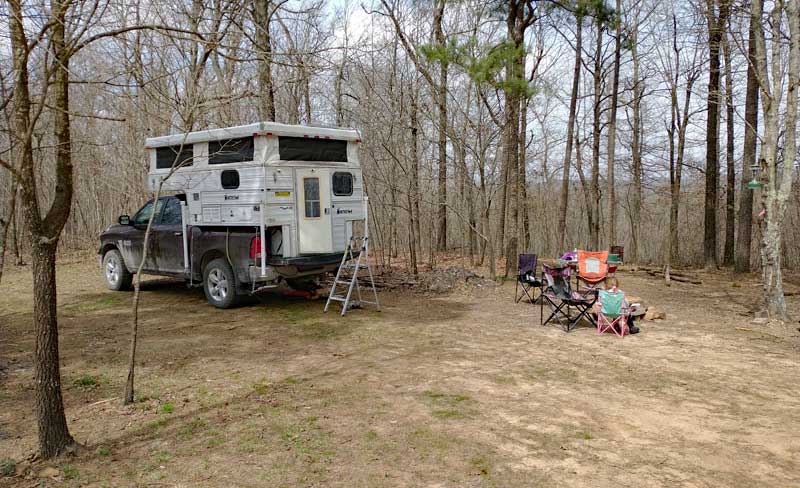 Garey Bittenbender
2019 Chevrolet 3500
2014 CampLite TC11
Crater of Diamonds State Park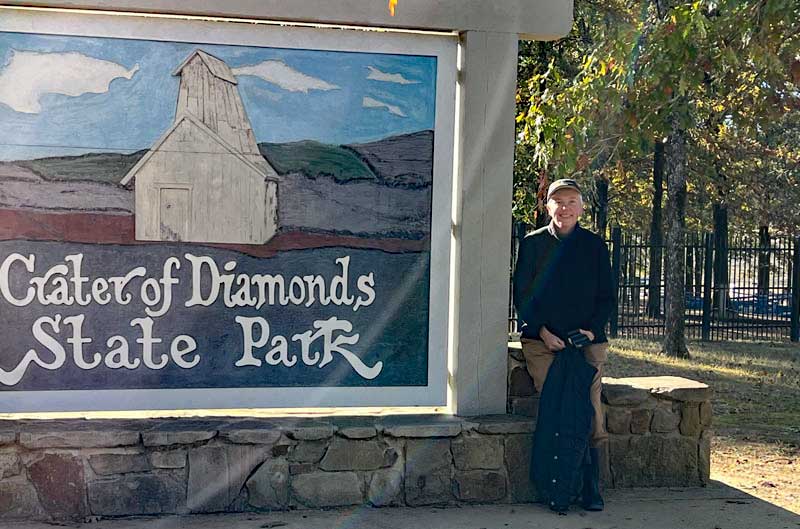 Above: Main Entrance to Crater of Diamonds State Park
Crater of Diamonds State Park
Crater of Diamonds State Park in Murfreesboro, Arkansas has a very nice campground.  Crater of Diamonds is the only place you can find and keep diamonds in the United States.  We had a very pleasant visit with a bit of rain, but beautiful sunny days to follow.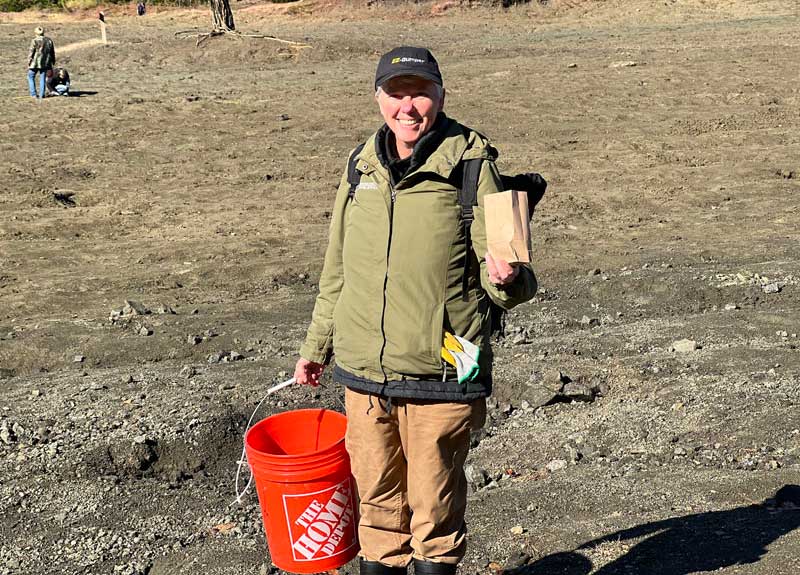 We did not find any diamonds, but it was fun looking.  It is a family-friendly location with very helpful state park employees.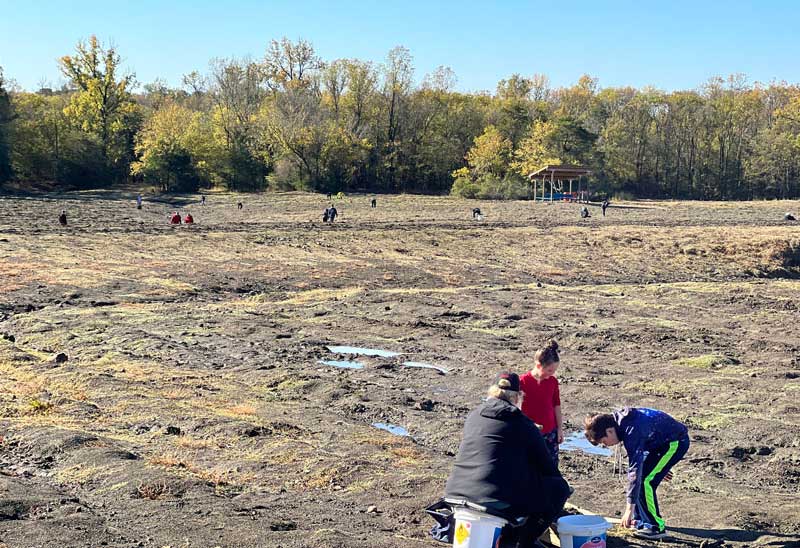 The campground has trees and full hookups.  They also have tent walk-in locations.  There are nice showers and complete restrooms.  There were reasonable rates for camping but make your reservations early.
Janet and Jim Manis
2014 Ram 2500HD
2015 Travel Lite 960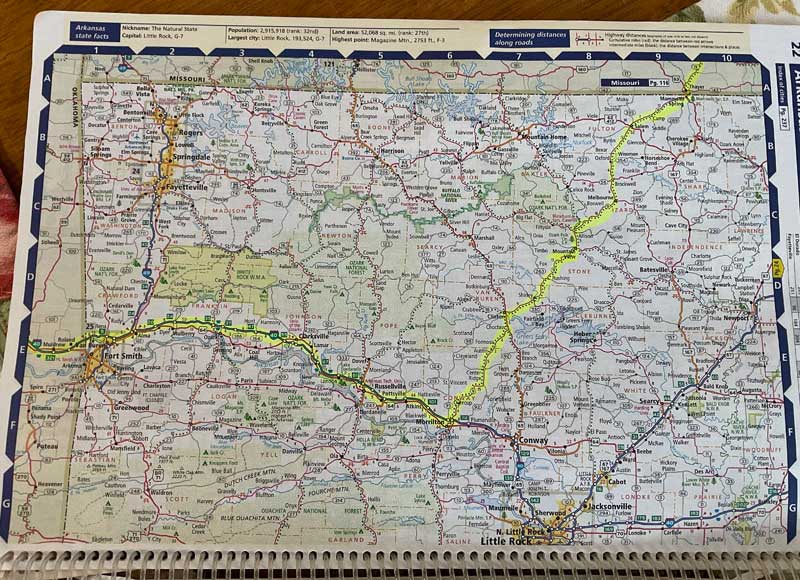 We loved the drive on State Road 9 from I-40 through Mountain View to Mammoth Spring.  It's a two-lane road with lots of trees, hills, switchbacks, and fantastic views.  It's marked as a scenic view on the map and boy, it sure is.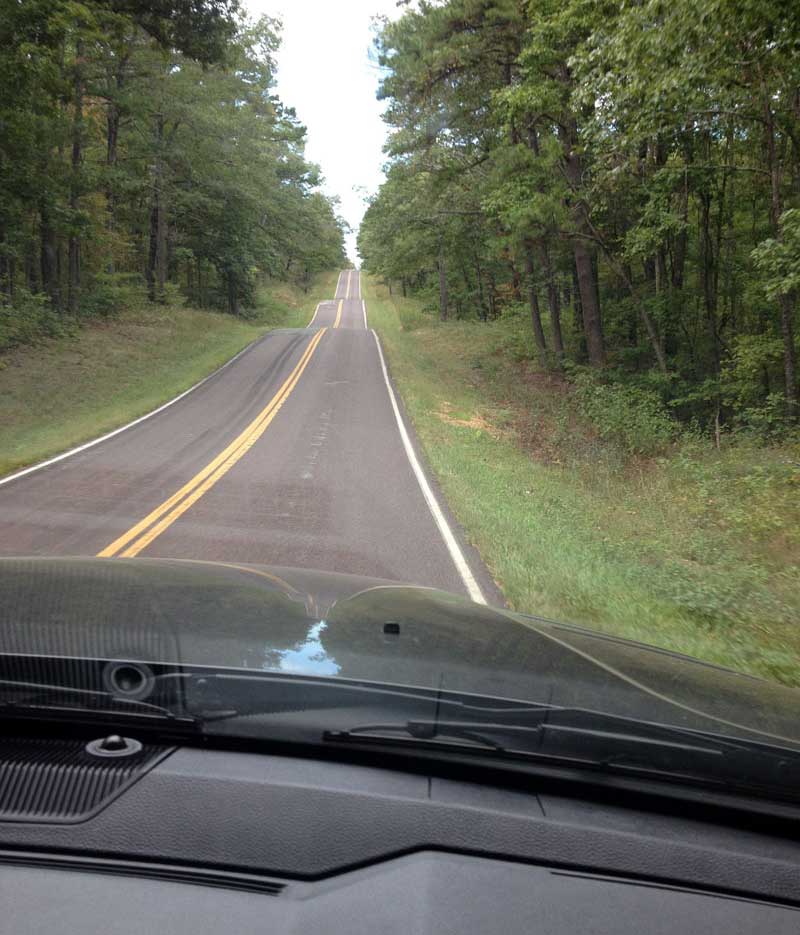 Above: Hilly roads through Mark Twain National Forest
Mountain View
We got off Interstate 40 heading north on 9.  Mountain View has a huge fiddle competition/festival in mid-September that we stumbled upon.  What an event!  And the town is amazing.  Folks were fiddling on the porches of shops and in the park.  As we were driving through they were waving at us like we had just come home.  What fun!
We stayed overnight at Blue Sky Campground; a very clean and friendly campground.  We had full hook-ups.  I don't remember what we paid to camp.  The sites were level and clean.  The campground owner offered us the use of her truck if we wanted to go back to the festival.  Everyone we met was so very friendly.  When we stopped for gas the folks at the other pumps all came over to check out our truck camper.
Mammoth Spring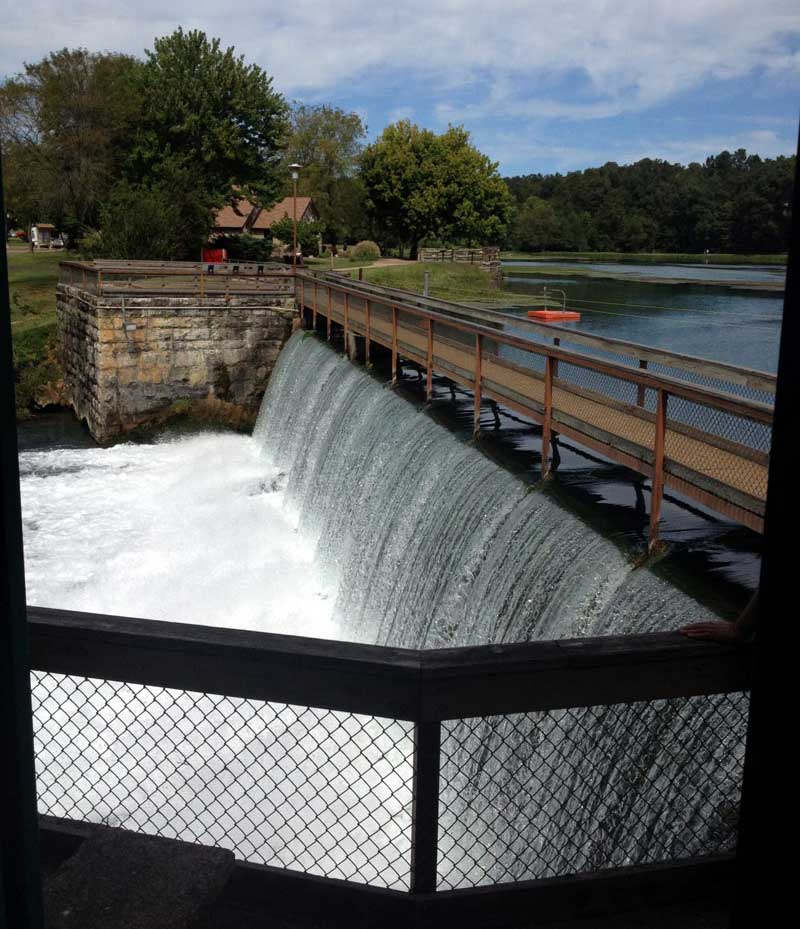 Mammoth Spring on State Road 9 is close to the Missouri border and is a great state park.  The history is fascinating and the Indian legend behind the spring is captivating.
The park is very clean, and the signs are informative and big enough to be easily read.  We spent about half a day walking around enjoying the spring before leaving Arkansas.  We definitely want to go back.
Judy Webber
2008 GMC 2500HD
2019 Lance 650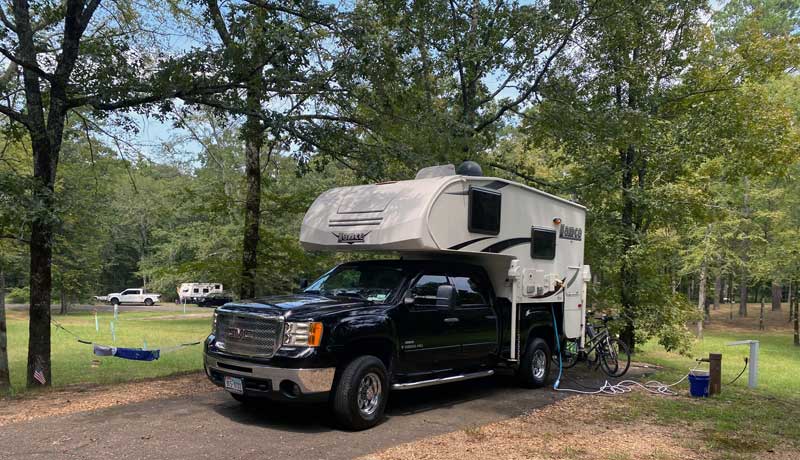 Above: Parker Creek Campground
There are many places to visit in Arkansas that qualify as, "do not miss" locations due to the abundance of quaint small towns, lakes, rolling hills, and trees.  And yes, I said trees; tall beautiful tree-lined lakes with affordable places to visit and camp.
Parker Creek Public Use Area
One of my favorites might seem a bit out of the way, but that's exactly what makes it so special.  If you are looking for quiet beauty, with a calm crystal clear lake that is great for kayaking, then Parker Creek Public Use Area on Lake Greeson is your spot.  This is my go-to place when I need to get away from the Dallas-Fort Worth area.  It is only a 3.5-hour drive from Dallas, close to Crater of Diamonds State Park, near the little town of Murfreesboro.
Parker Creek campground on Lake Greeson is a Corp of Engineers park with an easy-to-use reservation system that allows you to choose your site ahead of time.  And get this; it only costs $20 per night for water, electricity and a lake view.
Parker Creek has a crystal clear swimming area, boat ramp, and small but clean restroom/shower houses.  Due to its location in a protected cove on beautiful Lake Greeson, the water is calm and perfect for kayaking.  There are also some gravel roads that are great for mountain biking.  With widely spaced campsites and a natural slope to the park, most every site has a peaceful lake view.
Crater of Diamond State Park
If you want a day trip, just a little over an hour away from Hot Springs you can go to Crater of Diamond State Park.  Digging for diamonds is strangely fun because it's dirty and unique compared to entertainment choices that are available with city life.  Even without finding the next big diamond, it is more rewarding than a casino because it takes luck and a bit of hard labor.  All the while you are watching a lot of other people digging around the dirt and sifting their quarry through the available water troughs.
The action of Crater of Diamond State Park's diamond digging combined with the quiet peacefulness of the Parker Creek Recreation Area makes for a slam dunk to unwind from the stresses of today's world.
Eureka Springs
The Eureka Springs area of Arkansas is also splendid.  It is filled with natural beauty; camping, hiking, and biking.  There are romantic bed and breakfast places, great shopping and some restaurants.  Camping in this region of Arkansas provides something for everyone.
I have visited and camped at most every place in northern and eastern Texas.  The Lake Greeson area of Arkansas stands out as almost Colorado-like.  Give it a try because it's special, without the long drive to Colorado.
Barry Edwards
2014 Ford F-350
2014 Lance 1050S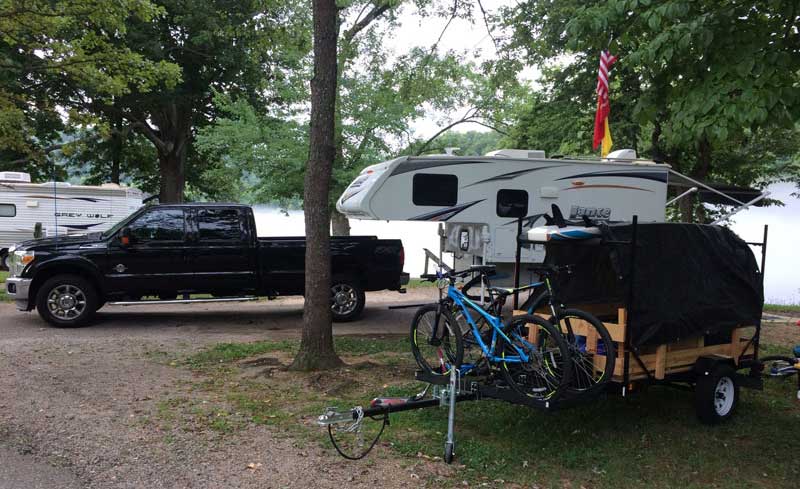 Above: Camping at Bull Shoals White River State Park, Arkansas
Bull Shoals White River State Park
We traveled to Bull Shoals White River State Park from Tucson, Arizona.  It is a great place with clean facilities.  The campsites were roomy and offered water and electricity for $23.  Sites with full hookups are $36.  There is also a dump on site.
The added bonus is that the campsites are right on the river.  My younger brother joined us from Danville, Virginia with his 2005 Ford F-350 and 2018 Lance 1062.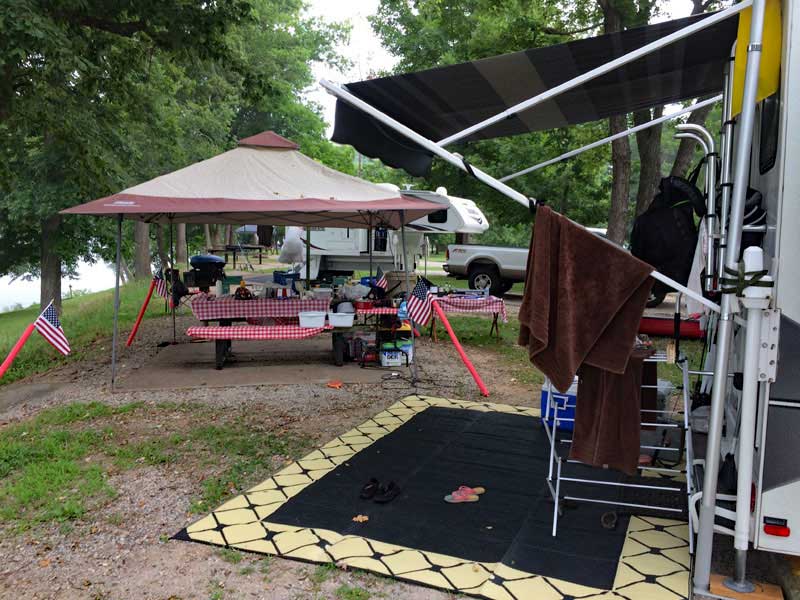 Due to Covid, we decided to meet in the middle.  This was the first time during the pandemic that we were able to see each other.  While we were there, we locked in reservations for this year.  We also visited Bull Shoals Caverns and made our way up to a water park in Branson.  Oh, and we fished, a lot!
Mark and Donna Zeisberg
1994 GMC K2500
1997 Shadow Cruiser
We have had several pass-through stays in Arkansas as we traveled from our home on the East Coast to visit our family in Phoenix, Arizona.  Sadly, we haven't seen much of the state as our attempts have been hampered by poor weather.
Buffalo National River Wilderness
Our first trip to Arkansas is one that we would like to repeat.  We went to Buffalo National River which has free boondocking.  On that trip, we took an early morning foggy drive through the Ozark mountains to Crystal Bridges American Art Museum, which is also free.
As we interacted with people we noticed it's a small world.  At the museum set up by Sam Walton's daughter, we waited with a crowd for the main gallery to open. As the large wood doors swung open, most of the crowd moved through and to the right.  We went left and laid our eyes on a large oil painting of three ladies sitting on a porch overlooking the Chesapeake Bay in Maryland, which is about 10-miles from our permanent home.
Bayou Des Arc Wildlife Management Area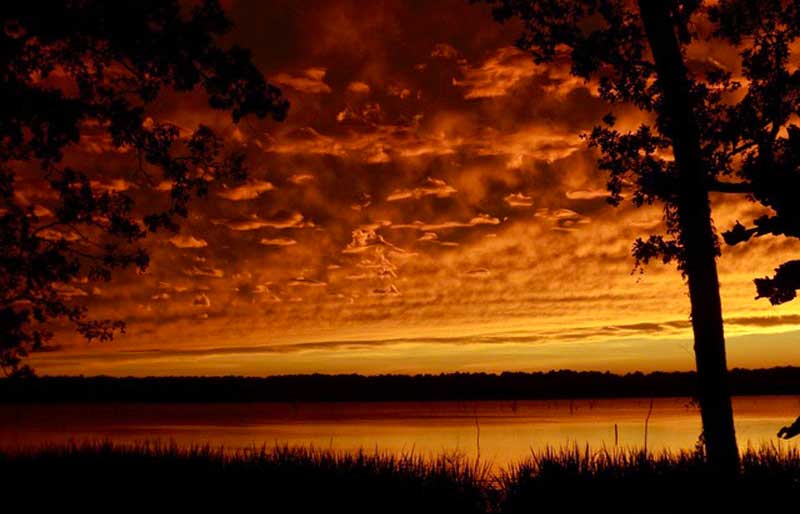 Bayou Des Arc Wildlife Management Area has several boondocking spots on a peninsula in a large lake.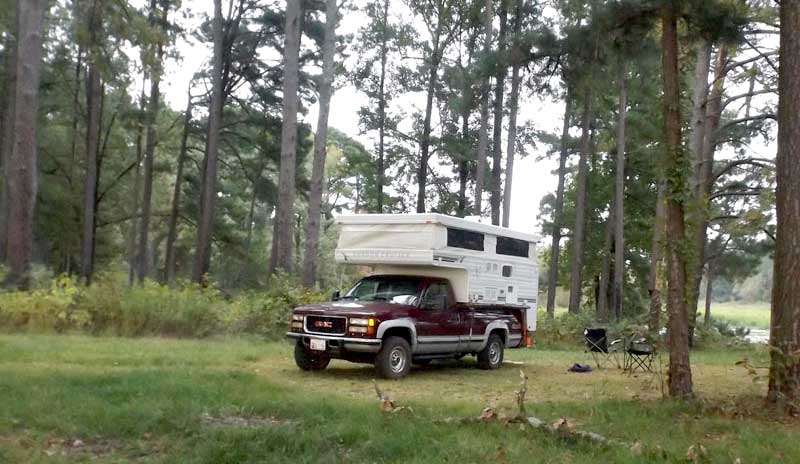 There were birds, Cypress and other trees, fish and the most unique and beautiful sunset we have ever photographed.
Talimena Scenic Drive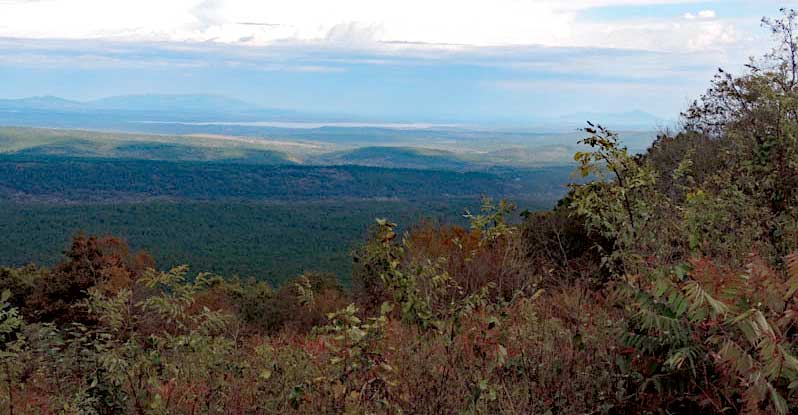 Our third trip through Arkansas included a tour and many stops on the Talimena Scenic Drive in Ouachita National Forest.  This is a highly recommended experience.  The drive is National Forest (Department of Agriculture) but mimics the National Park Drives (Department of Interior) with pull-outs, scenic views, interpretive signs, and organized (fee) camping areas.  We chose to boondock nearby.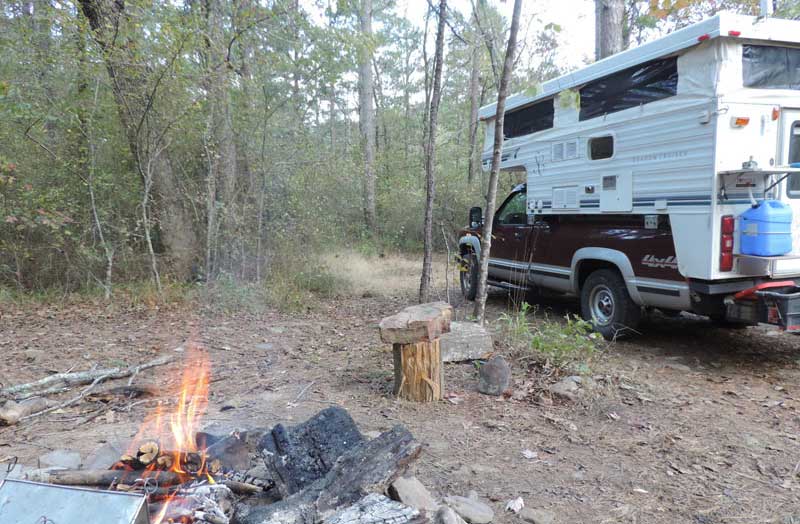 Fred Patterson
2013 Ford F-350
2002 Lance 1161
Dagmar State Wildlife Management Area
Dagmar State Wildlife Management Area in Arkansas is about 8,000-acres with one gravel road through it paralleling the Cache River.  It is located near Brinkley, Arkansas midway between Memphis and Little Rock.  It is easily accessible and about 10-minutes off I-40.
I have camped at Dagmar twice.  There are marked areas throughout where one can boondock.  The camping areas are just places to pull off the road beside the river and they have no picnic table or fire ring.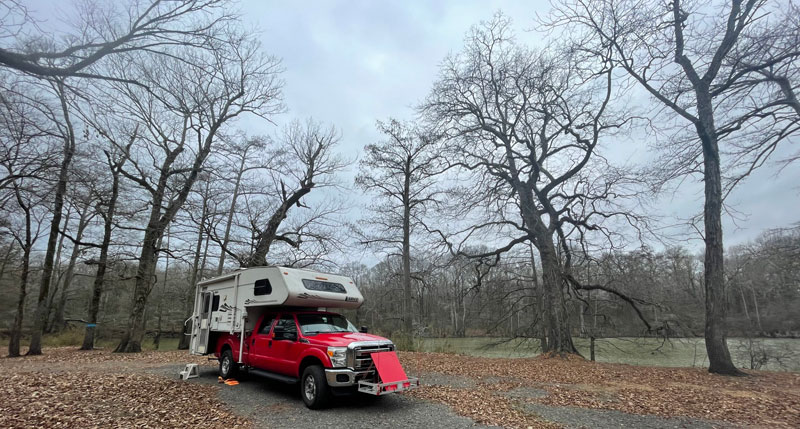 Above: Dagmar State Wildlife Management Area next to Cache River, Arkansas
During my first trip, I drove far down the gravel road, camped, drove back the next morning, and saw no other people.  I think I had the entire 8,000-acres to myself.  On the second trip, my wife and I had driven a long way the day before, so we were tired.  We stayed two days there and saw about four other campers and hunters.  There is nothing there except peace and quiet, wildlife, and twenty or so places to pull over and boondock.
I travel to Texas fairly often these days since I have two children who have moved there.  When possible, I plan in advance to boondock at Dagmar every trip.
Paul and Lauren Sinz
2008 Dodge Ram 3500
2008 Lance 1181
Hope, Arkansas Area
We recently purchased a mobile home park as an investment in the town of Nashville, Arkansas.  Not far from Nashville is Hope, Arkansas, which is the birthplace of President Bill Clinton.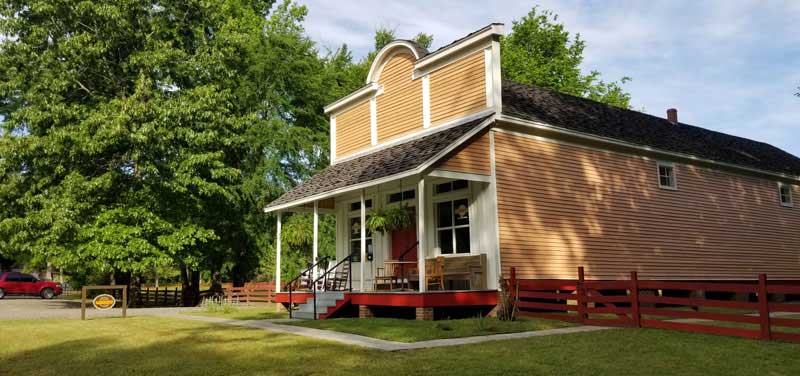 Nearby Hope is the Coulter Farmstead.  We were so pleasantly surprised by its beauty, history, and the owner.  There is a lovely Mercantile that had originally been established in 1871 and operated by the same family for over 100-years.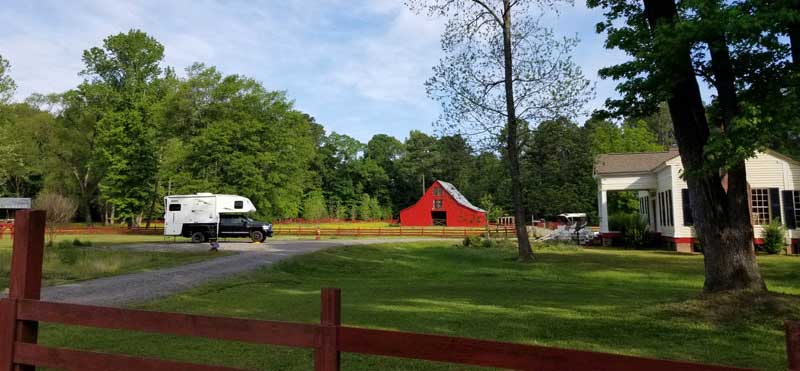 The owner of the Coulter Farmstead resurrected the decaying building and it is now a lovely store with wonderful local items.  The farmstead is also a bed and breakfast, event venue, and a lovely place to sit, relax, take photos, view their animals, or just revel in the area's history.
Crater of Diamonds State Park
Nearby Coulter Farmstead is the Murfreesboro RV Park.  This is right next to the only diamond mine in the contiguous United States, Crater of Diamonds State Park.  For a small fee, you can search their minefield for diamonds and other gems and whatever you find is yours to keep.  Someone from our hometown in California recently found a 4.38-carat diamond!
The town of Murfreesboro is small and can be walked in the afternoon.  It has lovely stores with gems, rocks, antiques, local art, and food.  We especially loved the candy shop.
Grayden Obenour
2011 Ford F-350
2019 Lance 975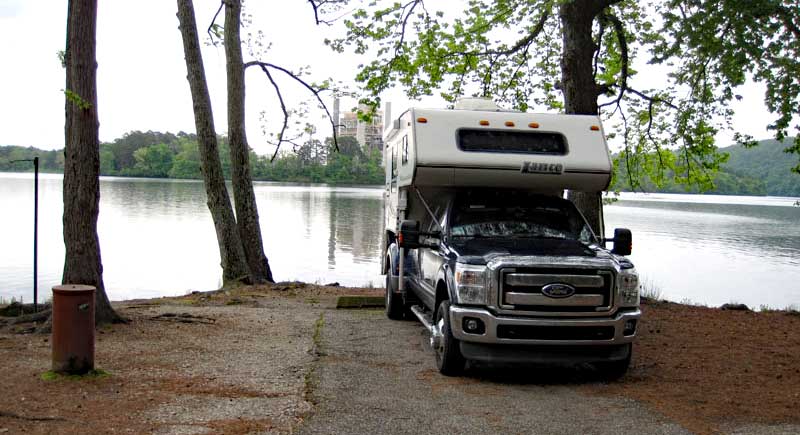 Above: Lake Catherine, Arkansas
Lake Catherine
We stayed in campsite 22 in Lake Catherine State Park Campground in Hot Springs, Arkansas in April of 2016. At the time, it was $22 a night. The park is located on AR-171 on the southwestern shore of Lake Catherine, about nine-miles northwest of Exit 97. The park staff was friendly and helpful.
Even though the weather did not cooperate, we enjoyed our stay. The rain actually made the lake look like a painting. The ground was mostly pine needle-covered hard-packed dirt. We had to continually shoe away some obnoxious geese. We suspect campers have been feeding them. Fortunately, they were not too aggressive.
The DNR website would not let us make a reservation for this campground for the dates we wanted, so we called the park office. The staff told us we could register and pay online and a site would be assigned to us. If we didn't like the site, it could be changed after we arrived at the park.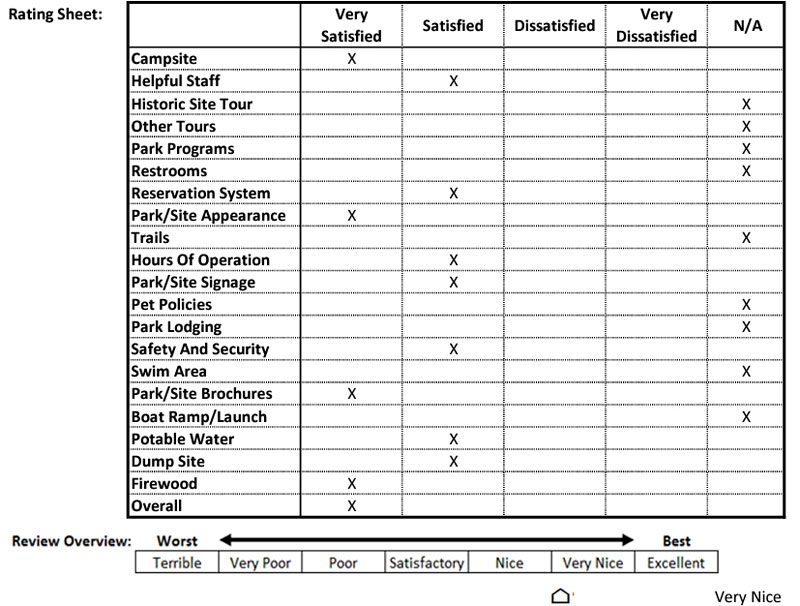 The chart above is the entry for our stay in Arkansas from our campground review document we maintain for all our camping trips.  I have been maintaining a hard copy document and an Excel spreadsheet with a separate tab/worksheet for each campground with reviews of each campsite we stay in.  The file is currently about 80 MB with over 100 campsites reviewed.  The reviews go back to the 1960s (yes, I'm old).
The reviews come in quite handy when planning a trip to or through an area we have visited in the past.  A new entry is made even when we return to the same campground or campsite and notations are made about changes we have seen, which are included in any survey request we might get from a campground owner.
I usually bring a tripod with us and make a 360-degree movie of each campsite, which is filed on my laptop for each trip.  This really helps when we want to try to remember the topography of a particular campsite.
Editor's Note: This is a fabulous idea!  Thanks for sharing, Grayden.  In addition to this, you could use the Essential Google Maps article to keep track of your campsites and bucket list destinations.
Frank and Polly Foley
2019 Ford F-350
2016 Northstar Arrow
Our favorite spots in Arkansas are Buffalo Point Campground in Buffalo Shoals, Robinson Point in Henderson and the city park in Bull Shoals.  Buffalo Point Campground and Robinson Point had fabulous scenery and we met some amazing people at the city park in Bull Shoals.
We detoured from Louisiana to Arkansas to go to Ideal RV Center, a Northstar dealer in Mountain Home, Arkansas.  They took us in, stayed way past closing time and did a thorough job fixing a problem with our camper.  We camped in three different locations in Arkansas, but Ideal RV was our best experience by far.
Larry Ford
2015 GMC 3500HD
2018 Lance 1172
DeGray Lake Resort State Park
We really enjoyed DeGray Lake Resort State Park, just outside of Bismarck, Arkansas.  For us, it was an overnight stay on a trip to Eureka Springs, but so nice that we stayed an extra day to enjoy more of it.
DeGray Lake Resort State Park is about 15-minutes off I-30 just outside of Arkadelphia.  It's a beautiful area of the state.  The park has a golf course, a 90-room resort/lodge, a great-looking disc golf course, lots of hiking, and guided horseback riding.
We had campsite #72 with water and 30-amp electric on one of the islands.  It was heavily shaded with a lake view and a short walk to the water.  The weather was toasty in August so the shade was nice.  The sites were well distanced, and the bathhouse was immaculate.
The website said the site had a slight slope.  For us, that meant stacking a couple of 2x10s under the Anderson blocks on the rears to get level.  You'll want to think twice about the steep slope sites for a truck camper.
We needed a little break from cooking in the camper and went to the Shoreline Restaurant at the lodge.  It was a 1.5-mile walk or a couple of minutes drive from our campsite.  The restaurant had a wonderful lake view, a mostly burger menu in the afternoons, and a nice breakfast in the morning.  After dinner, we walked the Island Trail which starts at and loops back to the lodge.  It's a relaxing 1.5-mile easy hike in the forest and along the lake. DeGray Lake Resort is a little jewel of a park.