Looking for a cool and non-commercial place to explore in the summer?  Check out Michigan's incredible Upper Peninsula.  Ten fellow truck campers tell you where to go, what to see, and where to camp.  First tip: Don't pass up a hot pastie!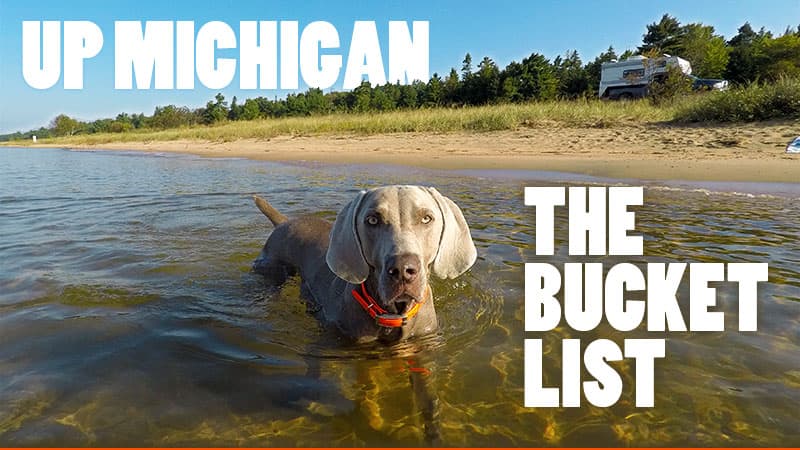 Above: Photo by Corey Humphrey
As truck campers, our preference is to camp off-grid in relatively comfortable weather.  We will endure heat or cold if there's something we want to do that requires it, but we prefer more moderate temperatures and camping outside of campgrounds.  This helps to explain why we drive south for the winter, and constantly search for boondocking opportunities.
With its potential for extreme heat and humidity, peak summer presents a unique challenge to our stated preferences.  Often the best answers are to drive far north, and/or climb significantly in altitude.  In conjunction with careful planning and watching the weather, this summer strategy works well and explains why you'll often find us in select areas of Canada, the mountains of Idaho, or the subject of this article – Michigan's Upper Peninsula – during the hottest parts of summer.
We successfully kept our truck camping cool in Michigan's UP back in 2015 and have talked about going back ever since.  Beyond a few delicious pasties and some gorgeous water sights (and sites), we haven't scratched the surface.
UP Michigan: The Bucket List
There's no better way to find out exactly what to go, what to see, and where to camp in Michigan's Upper Peninsula than to ask fellow truck campers who have been there.  Get your bucket list out now.  And a pen.
Debra Hurlbut
2017 Ford F-250
2018 Northern Lite 9-6 SE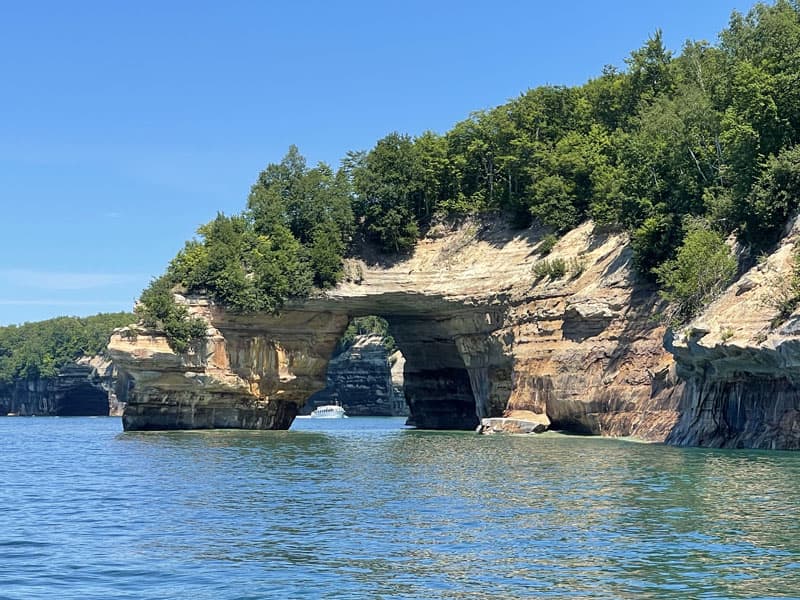 Pictured Rocks National Lakeshore cannot be missed.   All of the commercial boating opportunities for Pictured Rocks National Lakeshore leave from the marina in Munising.  Multiple vendors in the town offer this opportunity by kayak or a large cruiser.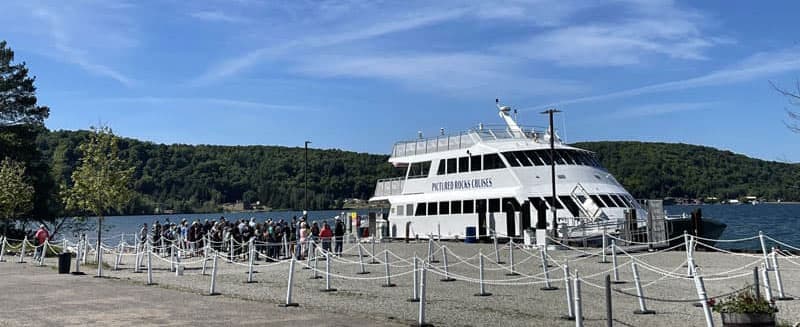 Most of the boating and kayaking options require reservations well in advance, so one must plan ahead.  The very best way to see Pictured Rocks is definitely from the water.
If you are taking a tour boat arrive early to wait in line, so that the best seating can be chosen when boarding.  Due to the route taken, the best seats will be on the right side of the boat so all of the rock formations can be seen on the way out when the best descriptions are provided by the tour guides.  Even better, as long as the weather is good, the top-level, open seating would be preferable for the best views.
Munising Falls is a short, mostly easy hike (pictured below) from the visitor's center in the town of Munising.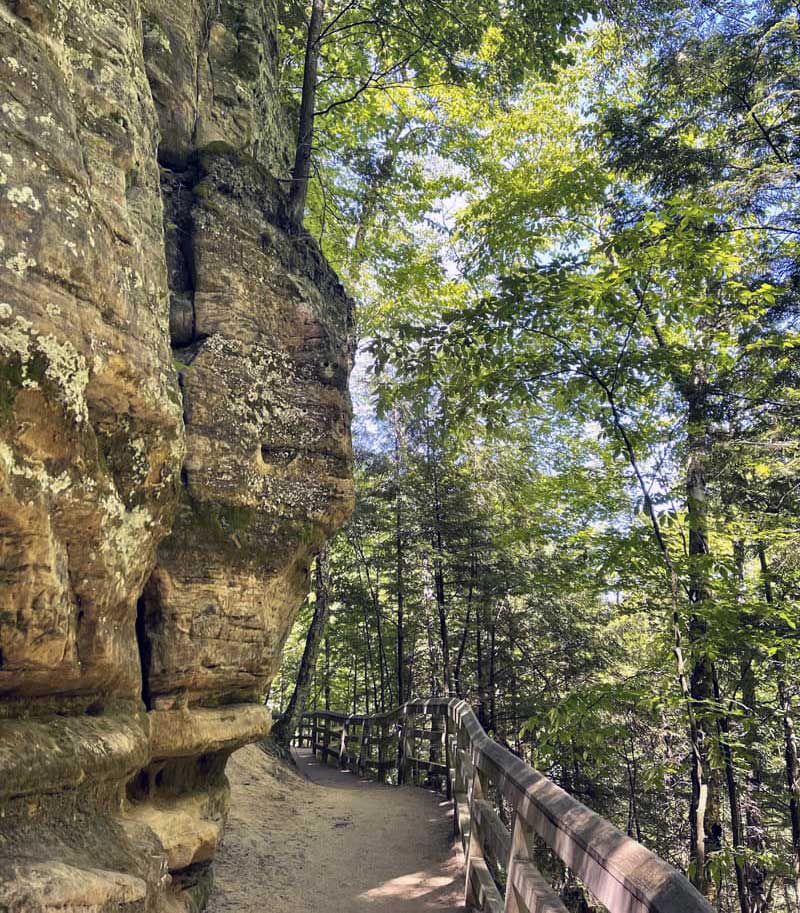 There's also hiking along the lakeshore via the North County Trail (pictured below).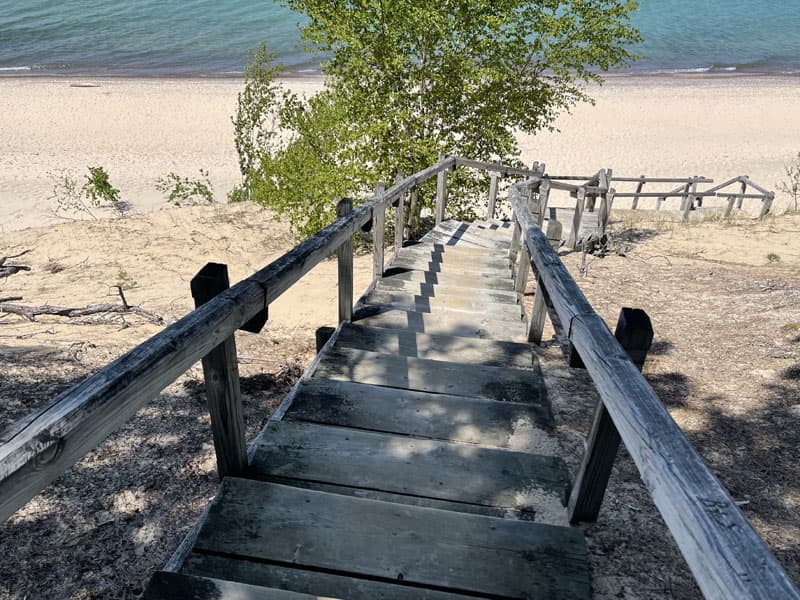 There are several primitive campsites along the way with individual and group camping options.
Through recreation.gov, there are three campgrounds for RVs in the area. Twelve Mile Campground is by far the best public camping option with large sites, and beach access available to all sites.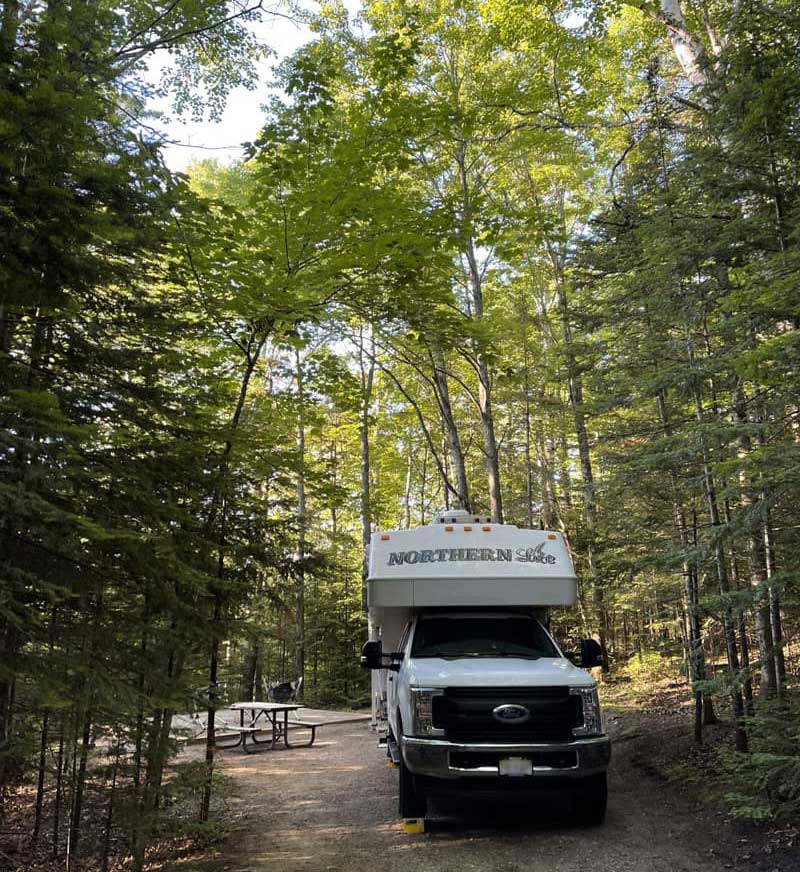 Above: Hurricane River Upper Campground
Hurricane River, to the east of Twelve Mile Campground, has both upper and lower areas. There are no hookups, but there are a couple of shared water sources. Be aware that these connections are not for a hose.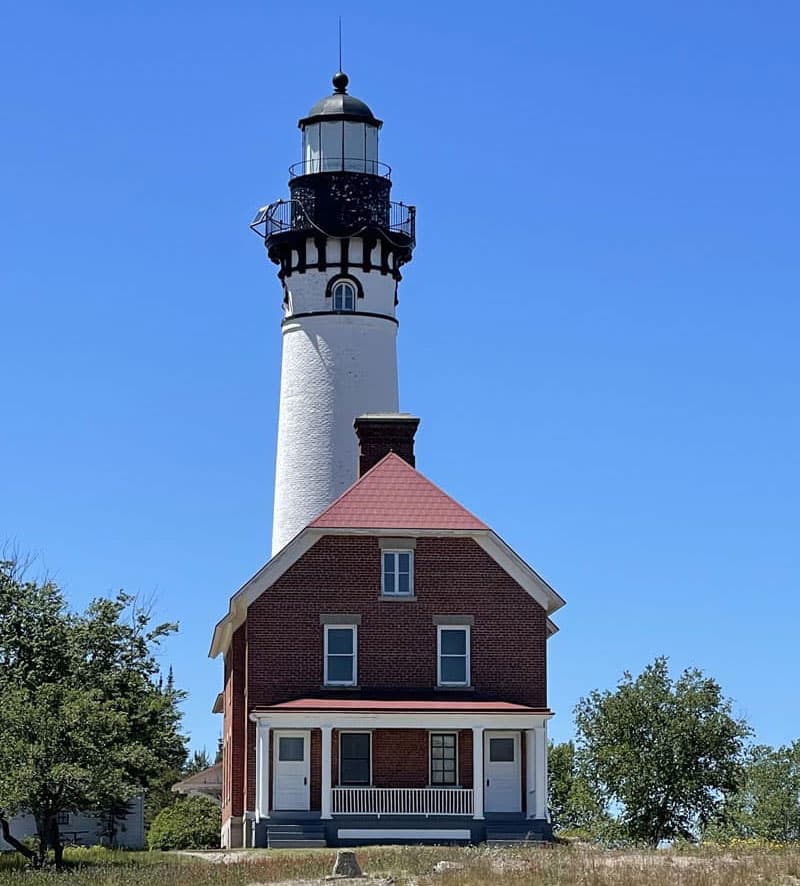 Au Sable Lighthouse is along the North Country Trail and is an easy, flat hike from the Hurricane River Lower Campground.  It is accessed only a short distance from the parking area, but there are 168 wooden and fairly steep steps to get there.
There are numerous beach access points both before and after the lighthouse.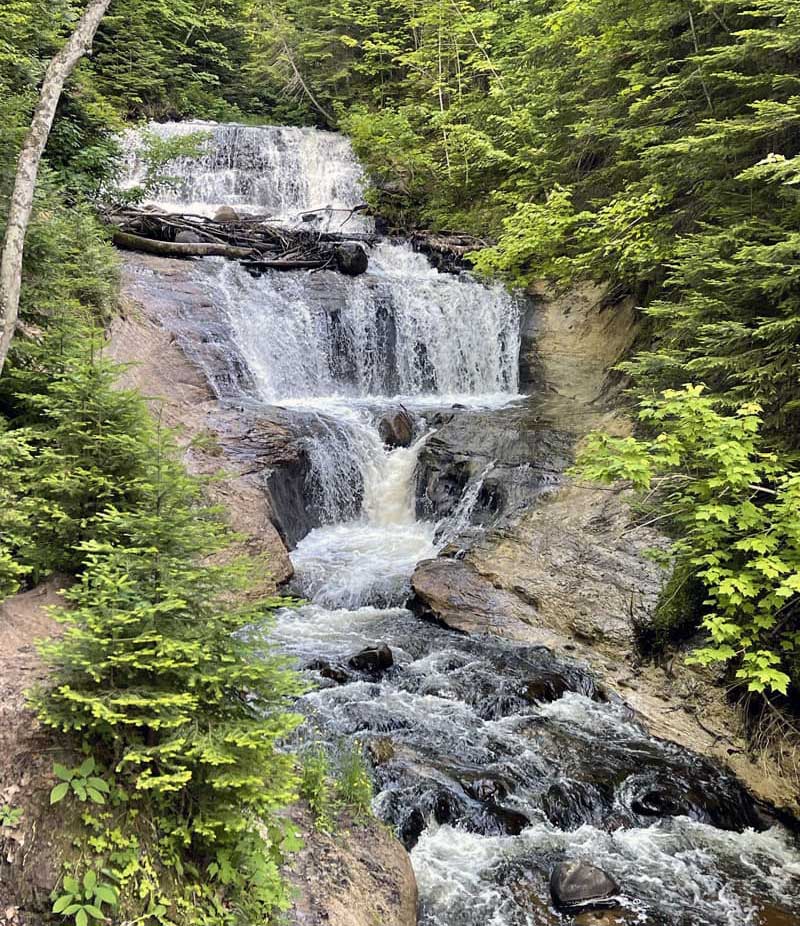 Further east are the Log Slide overlook, Sable Falls (above), and the Grand Sable Dunes (below), all with easy hikes from the road; H-58.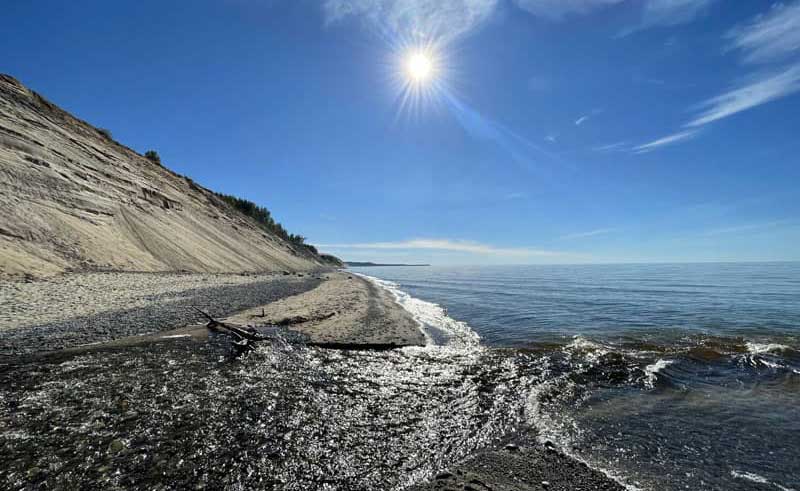 Hurricane River Upper Campground was extremely well maintained and clean. We had no hookups, with access to pit toilets and a common water source. Sites are $20/night with discounts for seniors available through recreation.gov.
Most sites are very shady, as the forest is pretty dense, so don't depend on solar for charging the batteries.
Jeff Smith
2017 Chevy 3500
2008 Lance 861
Anne Clare campground in Soo Saint Marie, Michigan sits on the Saint Mary's River banks. It is the entrance to the Soo Locks that are two miles upriver.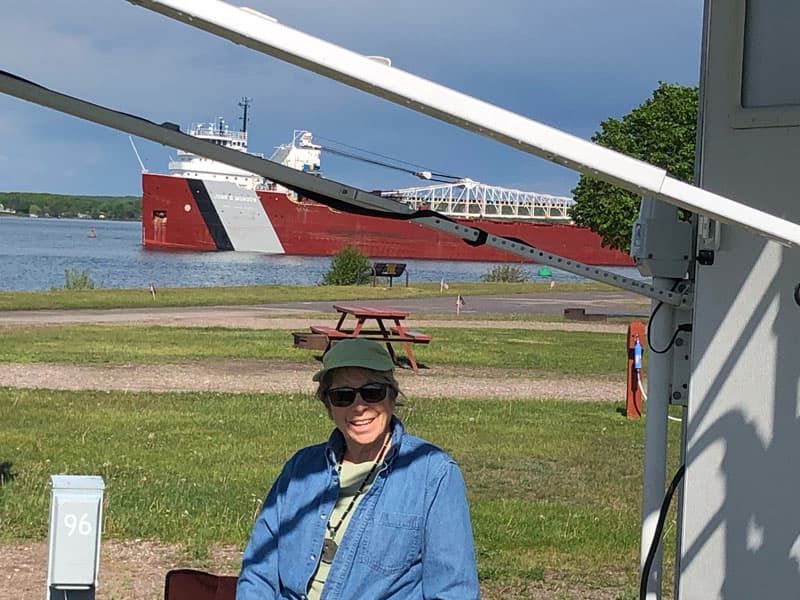 Sitting at your campsite (pictured above), you can watch 1000-foot Great Lake Ore boats passing by.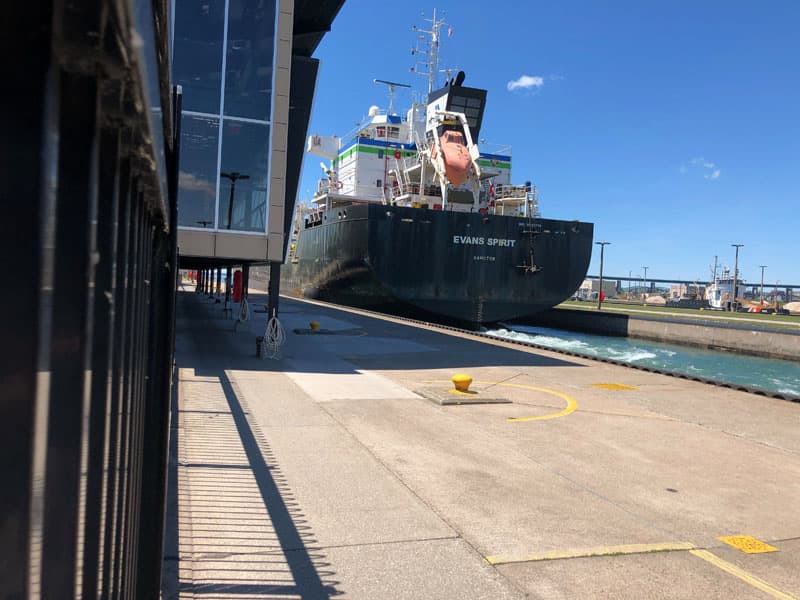 We rode our bikes into town and walked the locks operated by Army Corp of Engineers. It's a beautiful park and you can get upfront and close watching the ships pass through.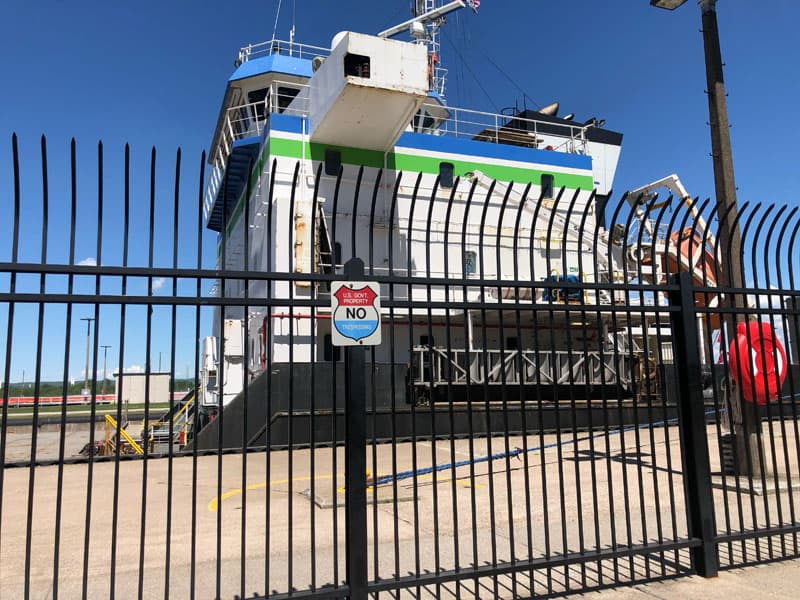 At Anne Clare campground, there's a good view from any site, and they are clean and roomy sites. We saw about 20 ships pass through in three days. There is another campground one mile closer to locks. It is privately owned with tight sites, but fifteen of the sites back up onto the water.
Rob Forstenzer
2003 Ram 2500
2018 Palomino SS-1200
I passed through the UP on my circumnavigation of Lake Superior in 2019. It was the end of a long trip, which included eight days of canoeing in the Boundary Waters.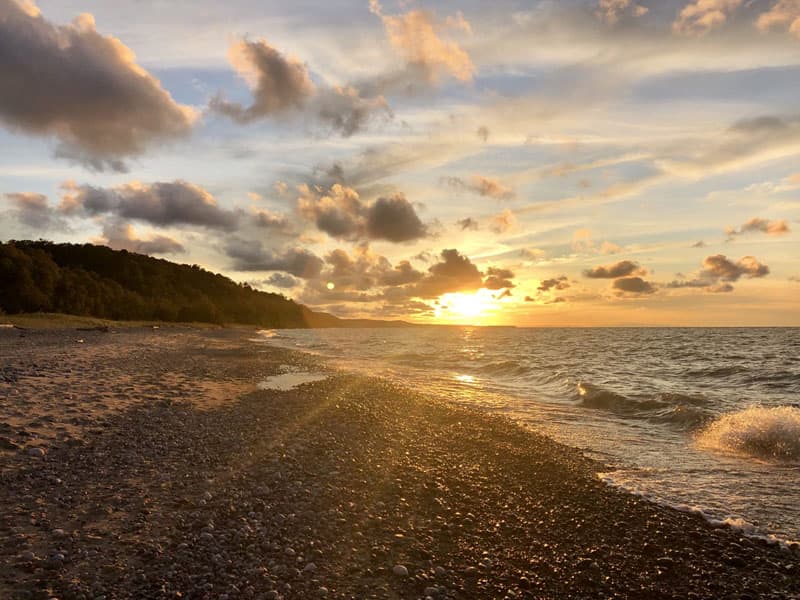 I did spend a night in small, charming Grand Marais (there's another town of the same name in Minnesota) where there's a very nice city campground that I camped at right on the water (pictured above). I believe the cost was $30/night for a non-electric site.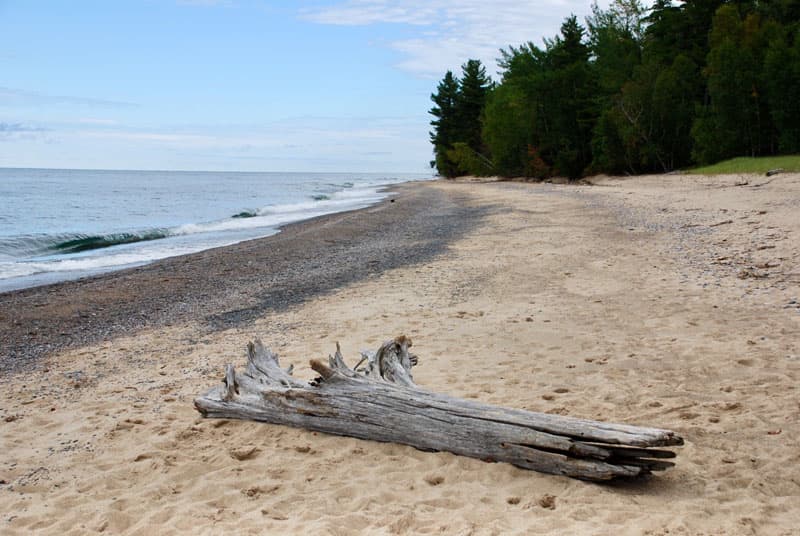 The next day I drove through the lovely Pictured Rocks National Park (pictured above) and took several scenic short hikes. The Fall foliage was beginning to wane, but there was still a lot of color.
Cathie Leslie
2004 Chevy 3500
2019 Hallmark Cuchara
It seems everyone and their brother heads to the UP for vacations.  We couldn't get into the Porcupine Mountains, Pictured Rocks, or other popular camping sites.  I suggest to plan ahead – way ahead!
The Recreation Passport (which replaced the former state parks sticker) is required for vehicle entry into state parks and recreation areas, state boat launches, state forest campgrounds and state trail parking lots. Local, county, municipal and metropolitan park passes will need to be purchased separately. A non-Michigan registered vehicle is $34 for the annual pass.
The Great Lakes Shipwreck Museum is $14. Museum patrons learn about the perils of maritime transport on the Great Lakes at the Whitefish Point Light Station, a Historic Site on the National Register of Historic Places. You could easily spend more than two hours here learning about the hazards of maritime travel on the Great Lakes.  The bell from Edmund Fitzgerald is here.  It would be hard to pinpoint a top exhibit because all of them are fascinating.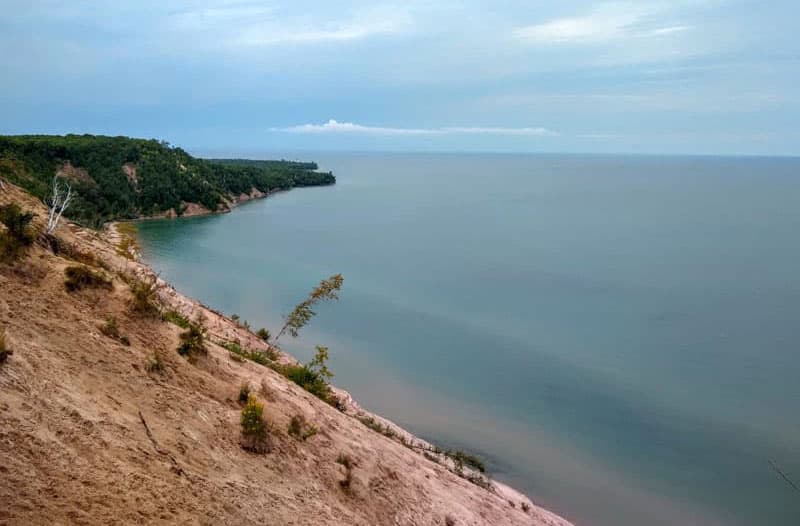 Log Slide Overlook is located at the end of Log Slide Road, which is about seven-miles west of Grand Marais on Alger County Road H-58. A short walk from the parking lot past historic logging equipment leads to the Log Slide area on top of the dunes. Pets were allowed when we were there, but now the website says no pets.
We stayed at North Gemini Lake State Forest Campground which was $15/night and Tahquamenon Falls State Park Campground which was $32/night.  North Gemini Lake State Forest Campground (pictured above) was quiet and beautiful.  It was out of the way enough to have a few campsites to chose from.
Robert Bergen
2019 GMC Denali
2016 Cirrus 800
Do not miss a side trip to Mackinac Island. We crossed the Mackinaw Bridge and took the ferry from St. Ignace. Don't ask about the different spellings (Mackinac versus Mackinaw), but both are pronounced, "Mack-in-aw".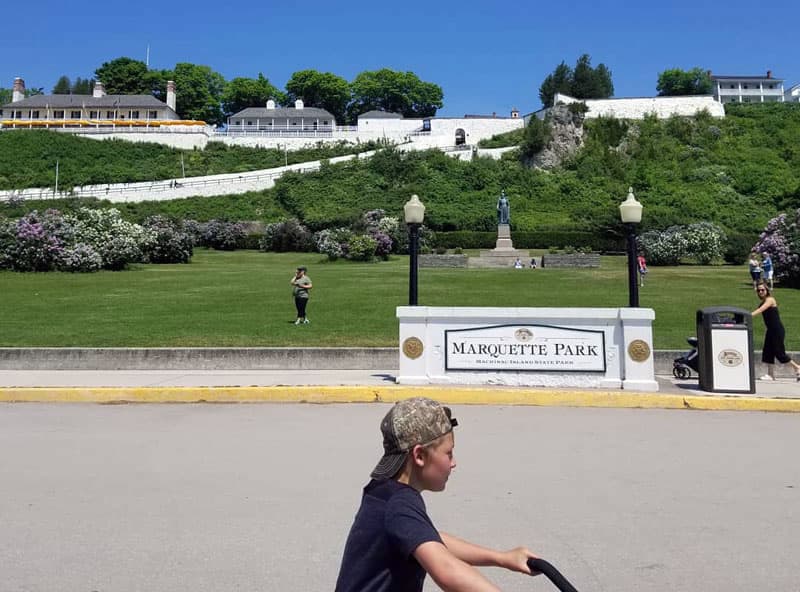 There is an easy bike loop around the island, and a little town which reminds me of Bar Harbor. You can rent bikes there or bring your own. No cars are allowed on the island, so it is a very pleasant and beautiful ride.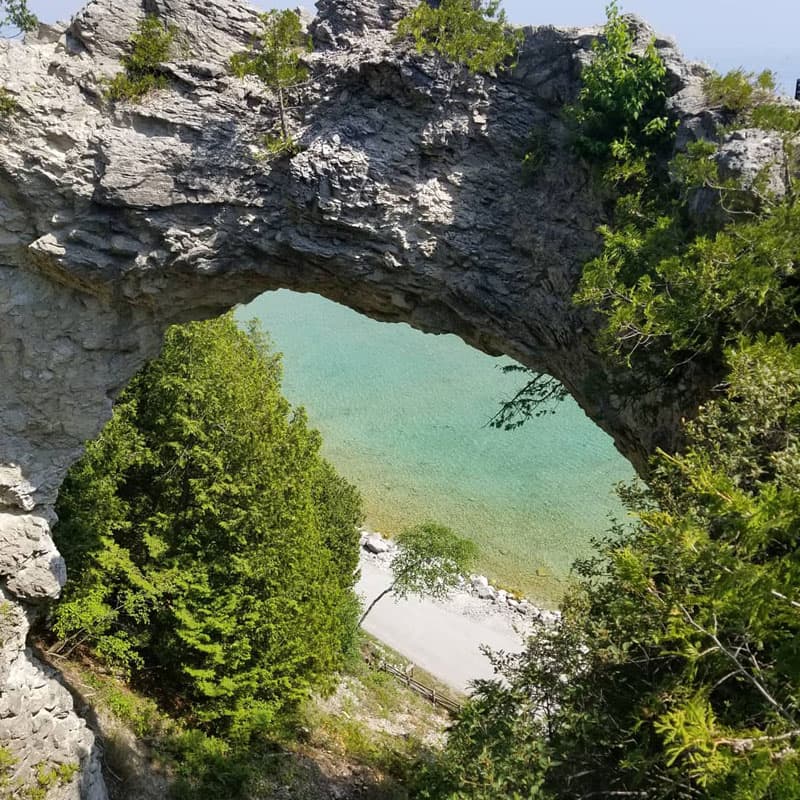 Unfortunately, we were headed west and had to get going. Next time we would like to stay longer.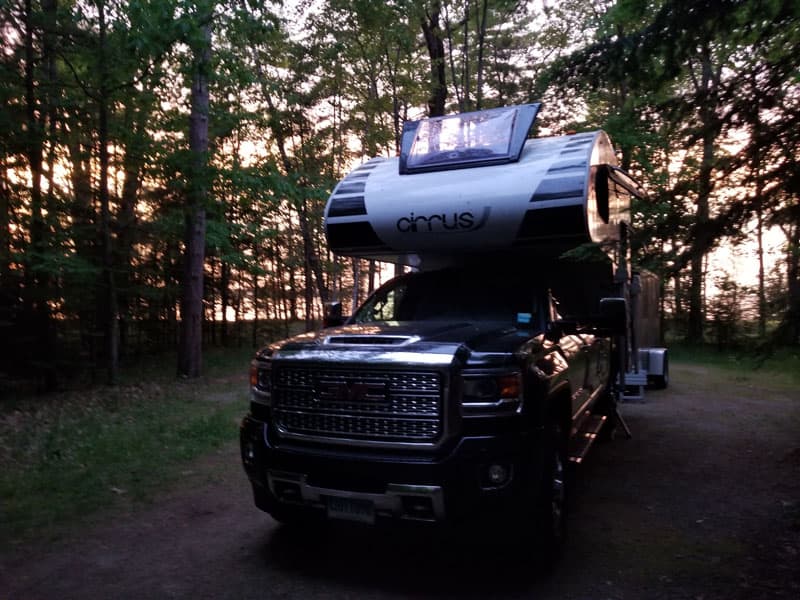 We camped at a National Park campground called Bay de Noc on the Rapid River. Our site was right on the river.
Brian Hockensmith
2020 Ford F-350
2016 Wolf Creek 850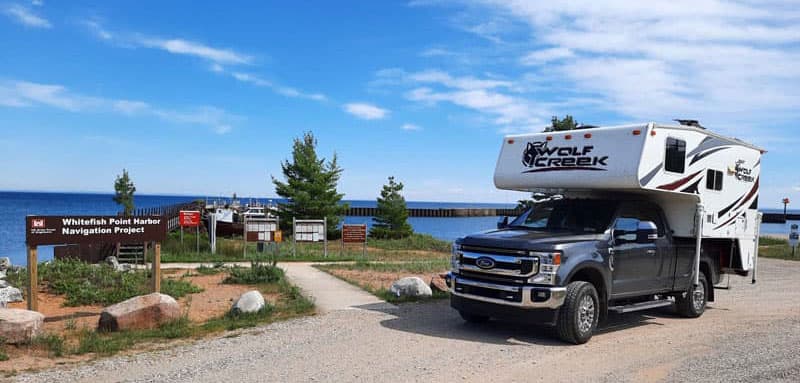 Above: Whitefish Point and Shipwreck Museum on Lake Superior
My wife and I were on our way home to Pennsylvania from our trip to the Badlands of South Dakota. We decided to take the long way home and visit northern Michigan and extend our vacation.
The UP is naturally wooded and void of distracting commercialism. We didn't have a specific plan other than to explore the area. Luck was on our side when we found that it was a weekend of free admission to state parks.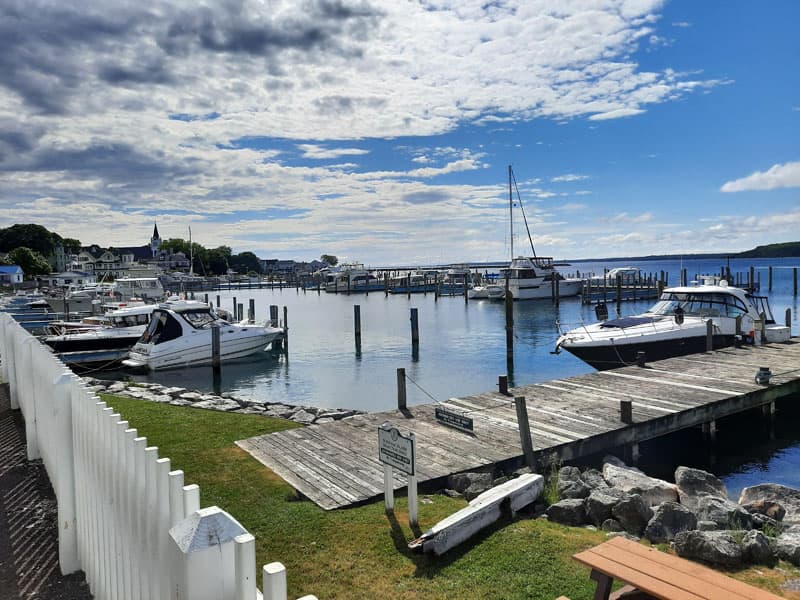 We visited many parks on our trip (plus Mackinac Island), however, our favorite was Tahquamenon Falls.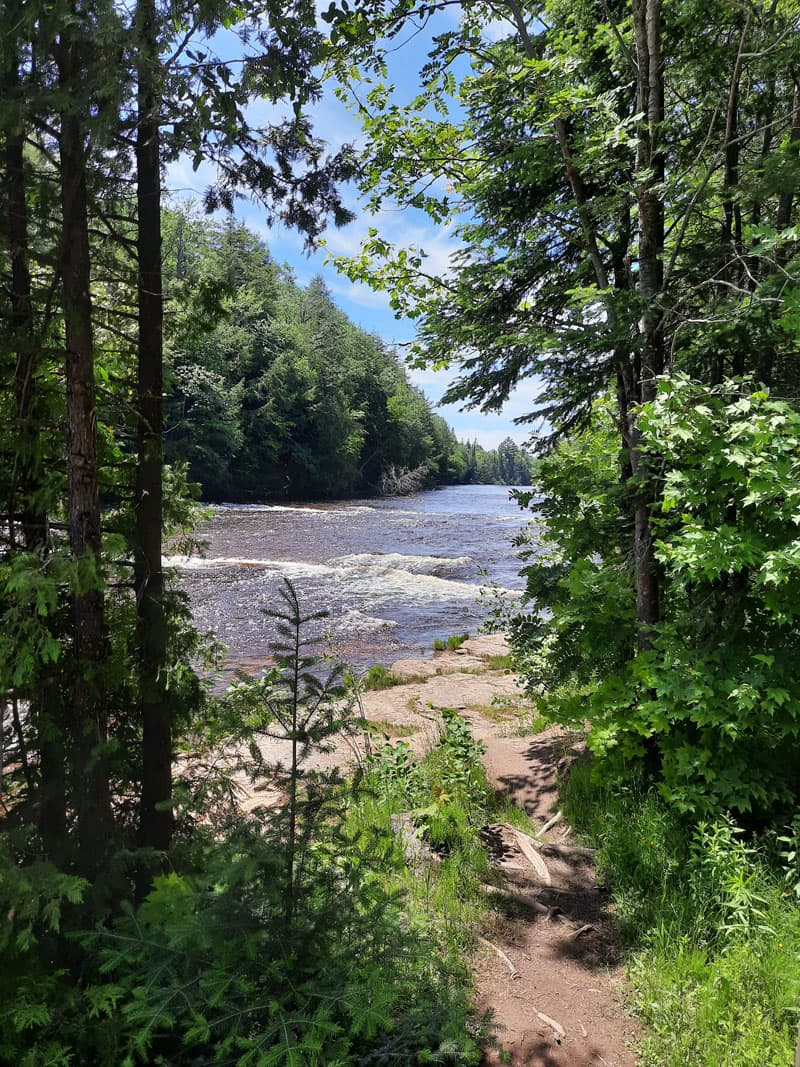 The park visit included a hike to both the upper and lower falls. The water in that area is root beer brown due to the high tannic acid content from local evergreen trees. Be prepared to take the long sets of stairs to get the best views.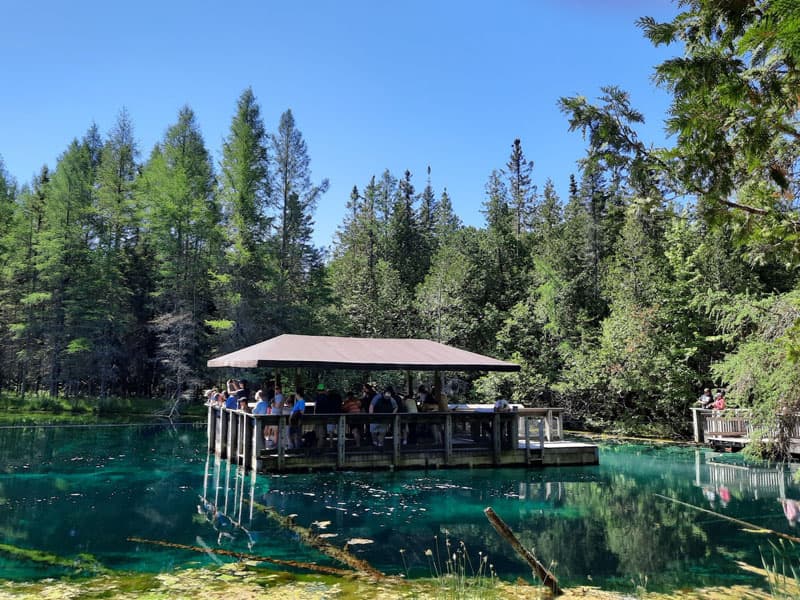 We also visited Palms Book State Park which included Kitch-iti-kipi Springs (pictured above). Upon arrival, we took a path to a wooden raft that ran on cables out onto a small body of water. The raft was unique in that the passengers controlled the rate and distance of travel through use of a hand wheel.
From the raft passengers can look 40-feet into the crystal clear water and view large trout along with disturbed and churning sand beds at the bottom. Thousands of gallons of incoming spring water enter the small lake.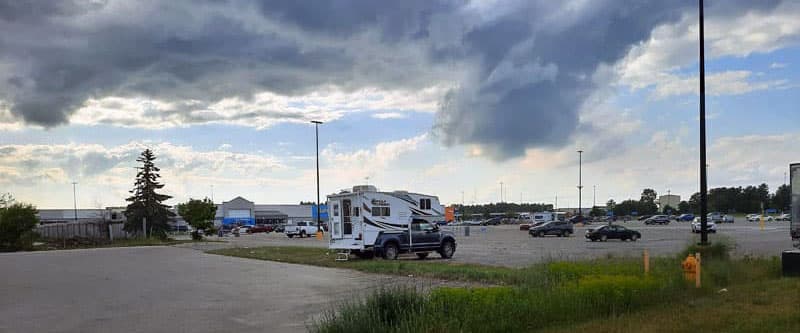 We boondocked at Walmart in Escanaba (pictured above) without any moonlight (check out the Jeff Daniel's movie). My wife and I also used Michigan's rest stops for free accommodations.
Russ Megargle
1987 Ford F-250
1999 Sunlite 1055
We started off by spending the night at the Soo Locks Campground in Sault Ste Marie. Soo Locks Campground is located just east of the locks and you can watch the freighters transit from Lake Huron to Lake Superior. Our campsite was right on the water. The people were very nice. There are showers and a small store on site. Soo Locks Campground was $35 a night for full hook-ups.
Visiting the Locks and museum is free. Soo is a nice town with lots of places to visit and eat. We highly recommend Bird's Eye Outfitters. They have a regular menu as well as a plant-based menu. It's all homemade, right down to the salad dressings. The owners are great people.
We spent the next few days in Tahquamenon Falls State Park. We were at Portage Campground with electricity and showers. Portage Campground in Tahquamenon Falls State Park was $15 a night for electricity only.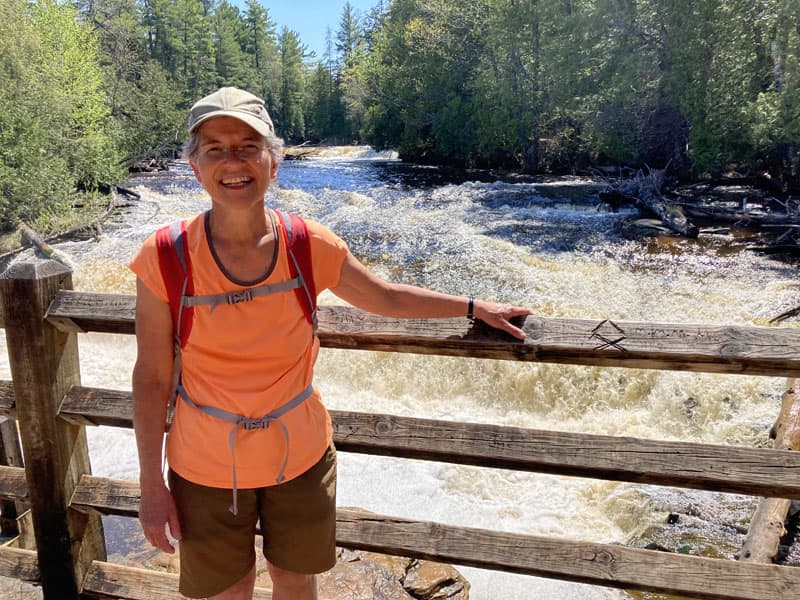 It is an easy walk to the lower falls (pictured above) and about a seven-mile hike to the upper falls (pictured below). We hiked about four miles before turning around due to darkness. There are a lot of ups and downs on the trail so take a lot of water. Although we did not get bothered by bugs, I can see where bug repellant would be needed later in the season. We opted to ride our bikes to the upper falls the next day. Both falls are beautiful.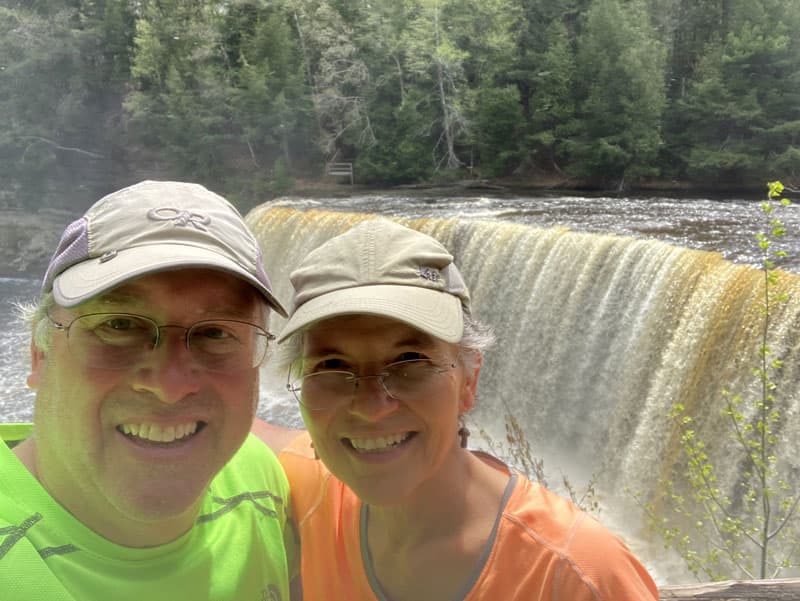 We ate at the Camp 33 Brewery that is located near the upper falls within the park. They have great fresh fish. The North Country Trail runs through the park and through the Portage Campground. We hiked the trail in a few places. Internet coverage was okay at that campground. I was able to telework and do video conferences without difficulty. This was with both AT&T and Verizon cellular phone and data access.
You can rent canoes and row boats at the lower falls for a closer look but, since we were early in the season, the boat rental was not open during the week. There is a kayak launch if you brought you own. Sadly, we left ours at home this trip.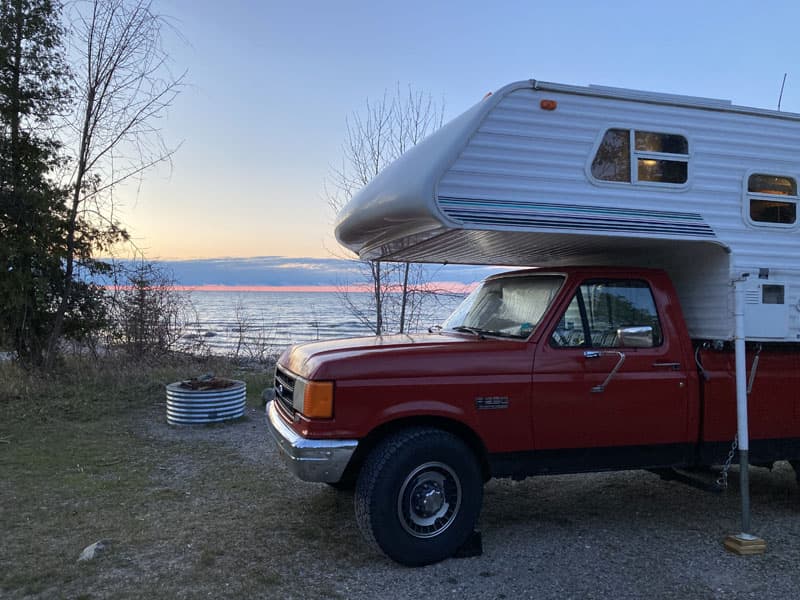 Another great place to visit in Northern Michigan is Leelanau State Park (pictured above). It is located at the tip of the Leelanau Peninsula right on Lake Michigan. Leelanau State Park is a rustic campground with a majority of the sites right on the lake. The pit toilets are some of the nicest and cleanest I've seen. The area is good for kayaking, biking, and hiking. There are beautiful views of Lake Michigan on your own "private" beach.
Janet and Jim Manis
2014 Ram 2500 HD
2015 Travel Lite 960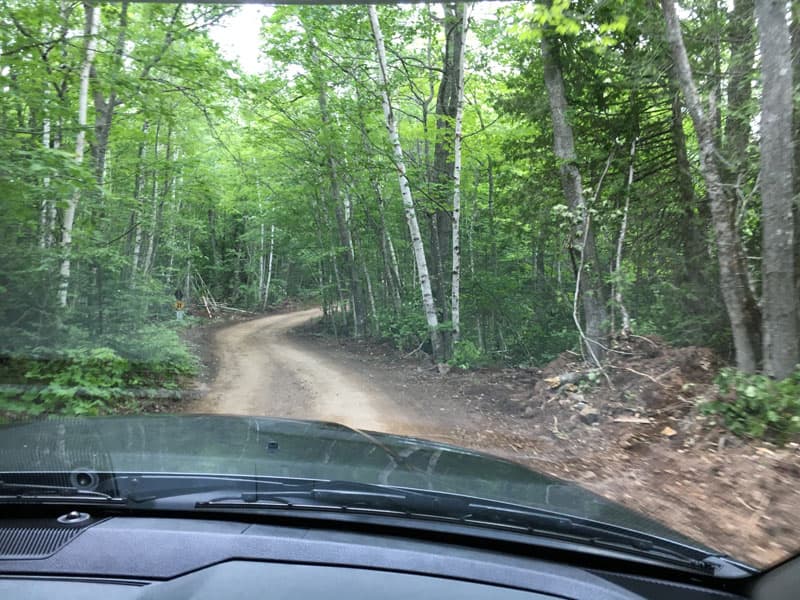 Just about every road in the UP is a scenic drive. In the Keweenaw Peninsula, we saw Estivant Pines Nature Sanctuary (pictured above). The white pines are 300 to 500 year old trees. The road is narrow with sandy dirt. The trees are awesome.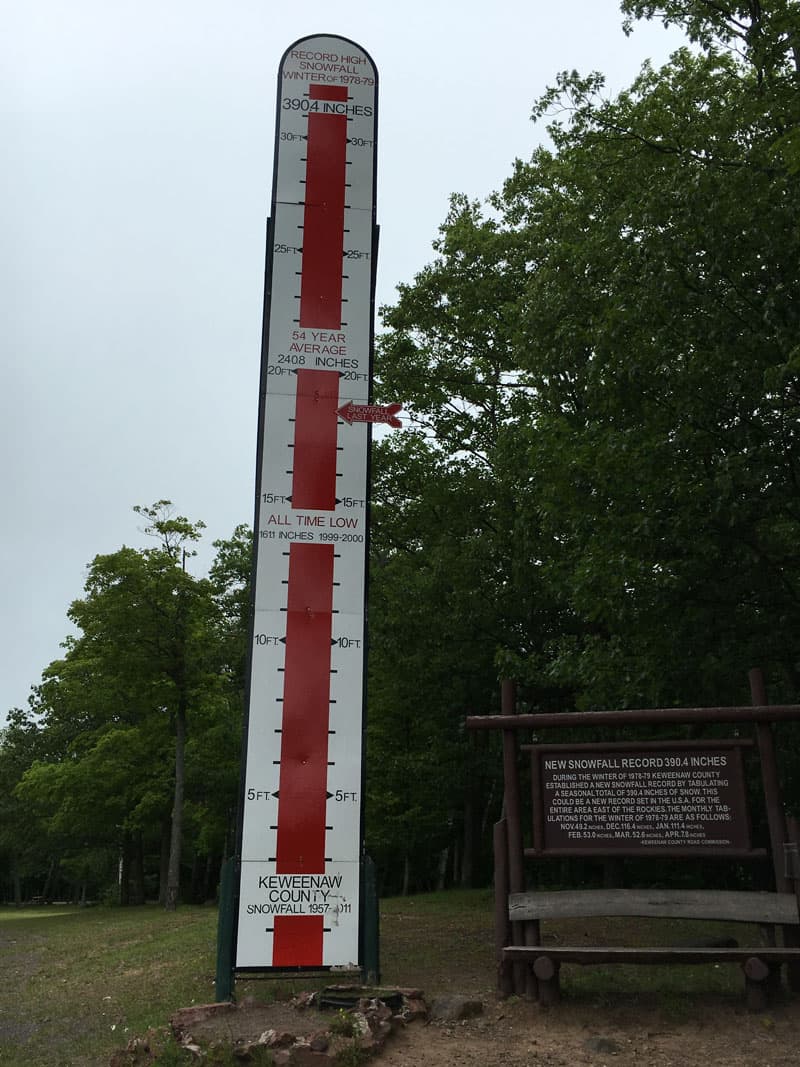 In the Keweenaw we liked the snow measuring thermometer (pictured above).
We also enjoyed the coastal town of Copper Harbor and mine, the beautiful rocky shore, and the marker for the start of US Highway 41 (pictured below). The pasties, a miner's lunch, are good.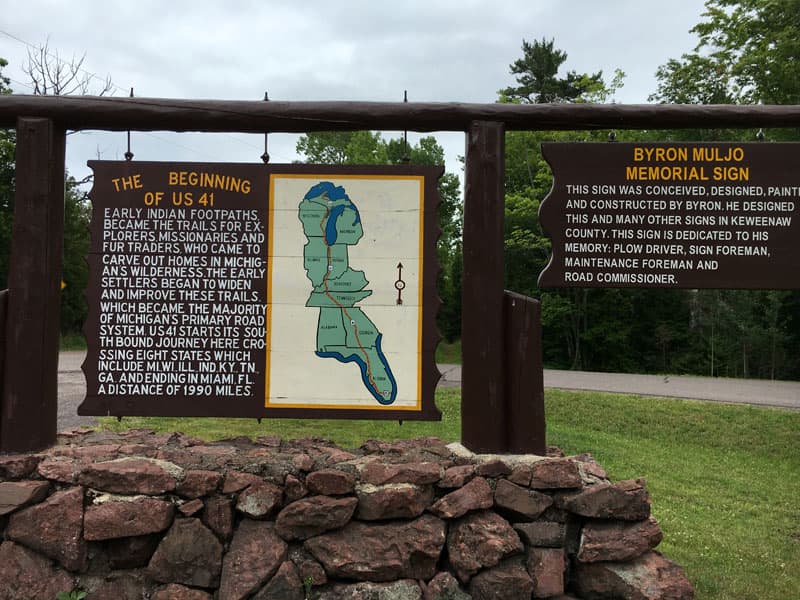 We enjoyed the glass bottom shipwreck tour in Munising on Lake Superior, Pictured Rocks National Park and Whitefish Point Light Station. The Great Lakes Shipwreck Museum is an excellent maritime museum. The bell from the Edmund Fitzgerald shipwreck is in the museum.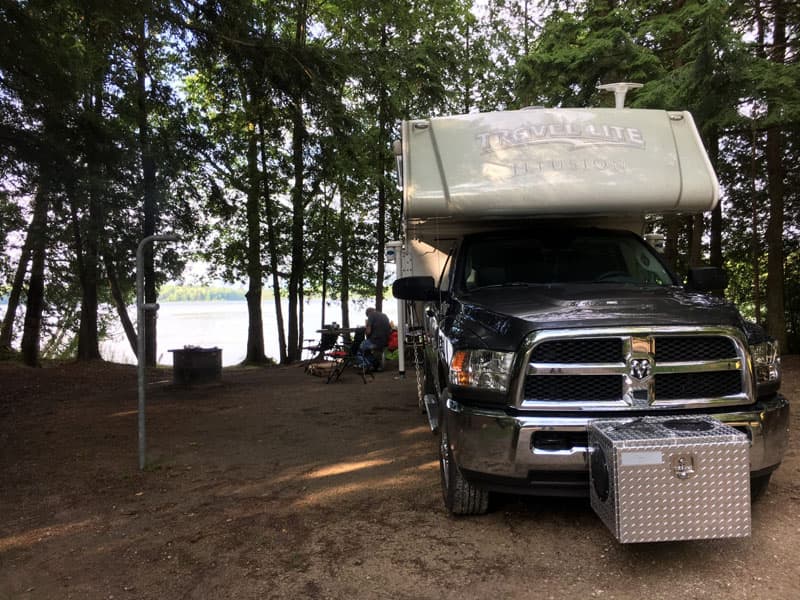 We camped in Hiawatha National Forest on Brevoort Lake west of St. Ignace (pictured above) and north of Route 2. It's a beautiful campground. The north shore of Lake Michigan has good day use and primitive camping. Tahquamenon Falls State Park (pictured below) is good. All of Michigan State Parks are nice.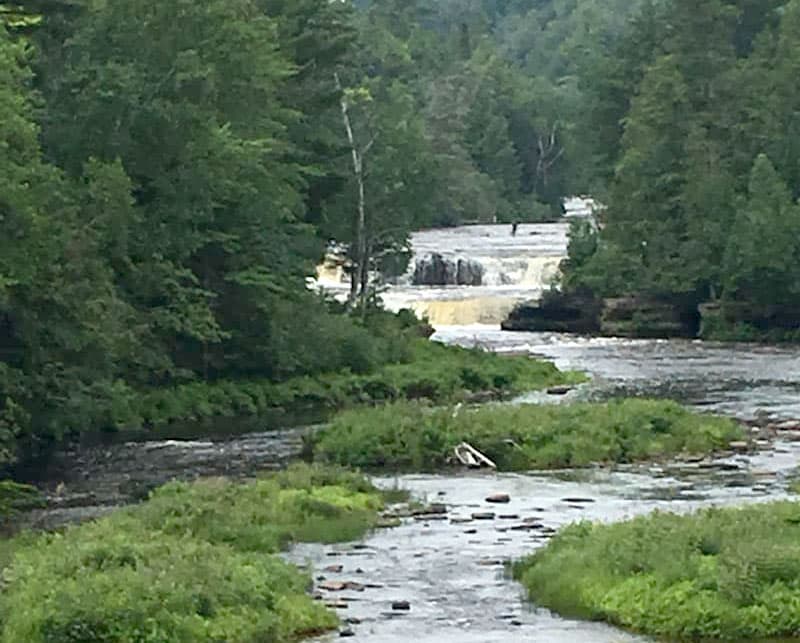 We also casino camped at The Ojibwa Casino in Baraga on US 41. It was $13 night with full hookups. They gave us free slot tokens and two free drinks each. We learned how to play roulette! It was a fun time. Jim won the men's night drawing and we ended up $150 ahead!
Susan Visconti
2015 GMC 3500HD
2016 Arctic Fox 990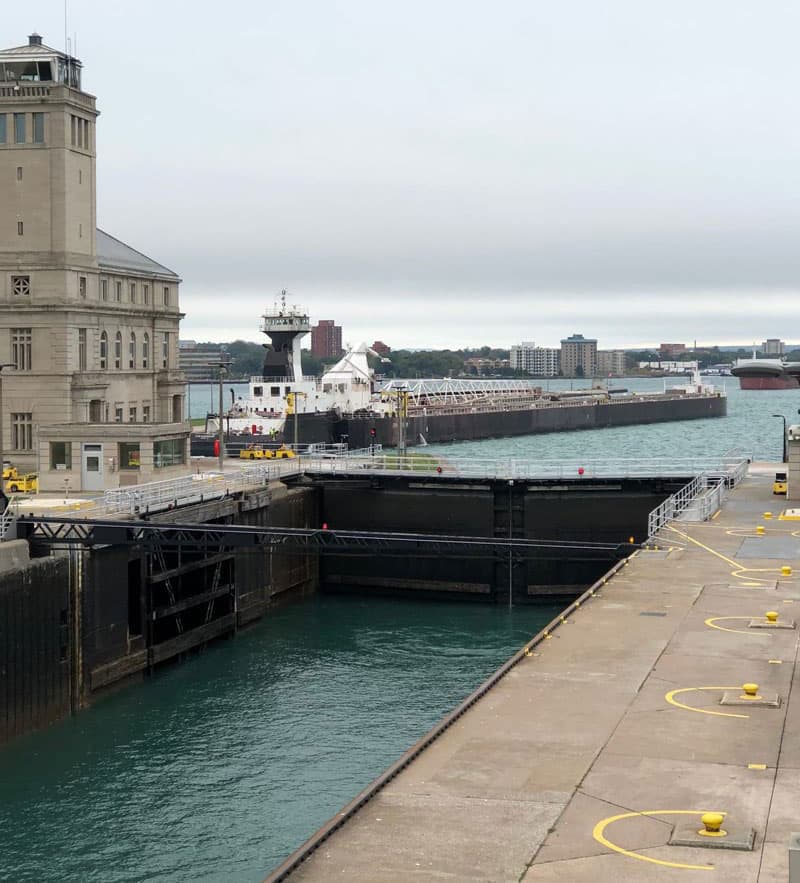 Our trip to Michigan included the Henry Ford Museum, town of Frankenmuth and Mackinaw Island. A sight not to miss is the Sauté St. Marie locks (pictured above) and Great Lakes Museum (pictured below). There are easy places to park the camper.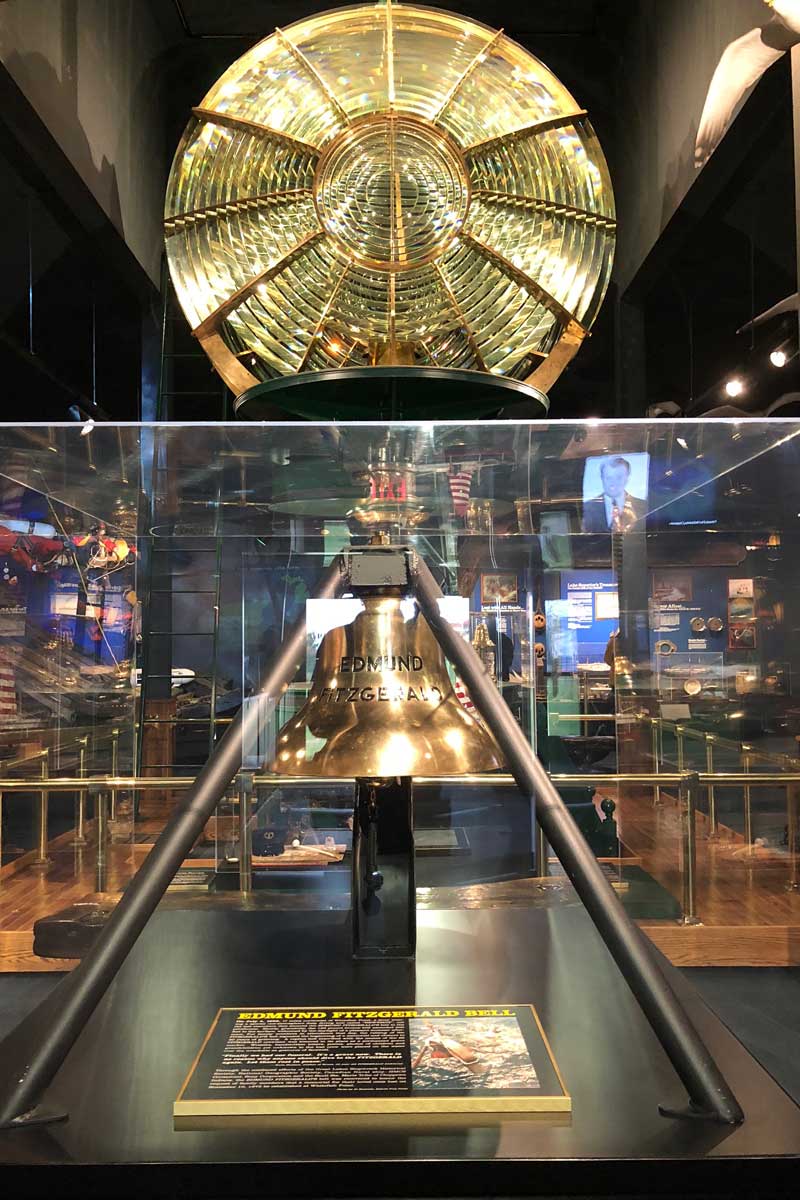 There is a great campground at Tahquamenon Falls State Park, which is only a half hour from the museum. A short walk to the falls is beautiful from the main parking lot. We stayed at the Rivermouth Modern sites in camp spot #49. They have electric, nice showers and flush toilets. There is copper in the area which is why the water is copper-colored.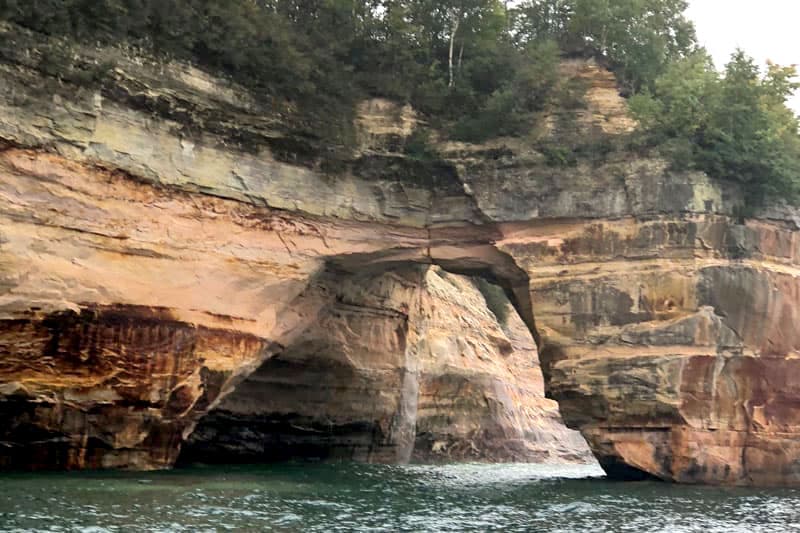 From there we got up early and took the Pictured Rock Cruise in Munising (pictured above). The cruise was interesting, but the weather was cloudy and drizzly.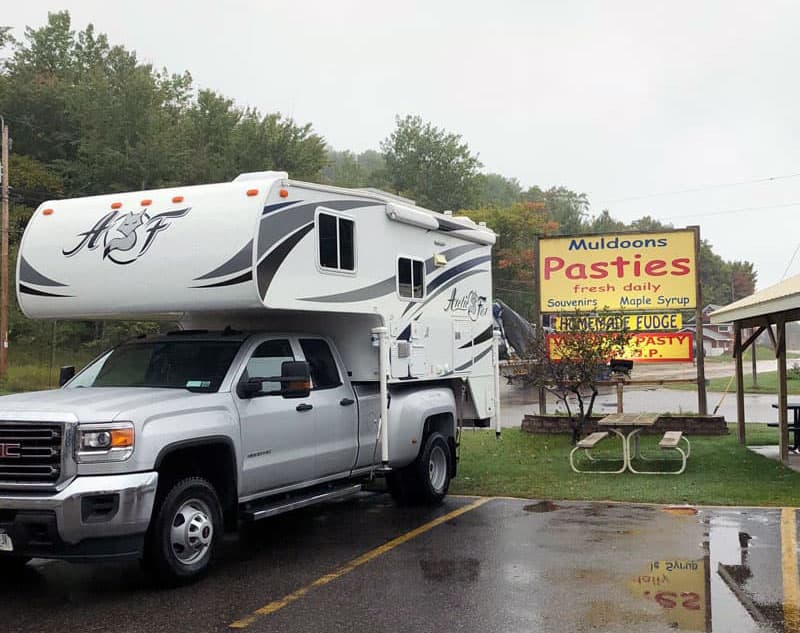 A lunch place not to miss in the same town is Muldoon's Pasties. There is no place to sit inside, but our camper has a dinette and heat. I had a ground beef pastie with rutabaga, carrots, and potato.  It is a great warm meal.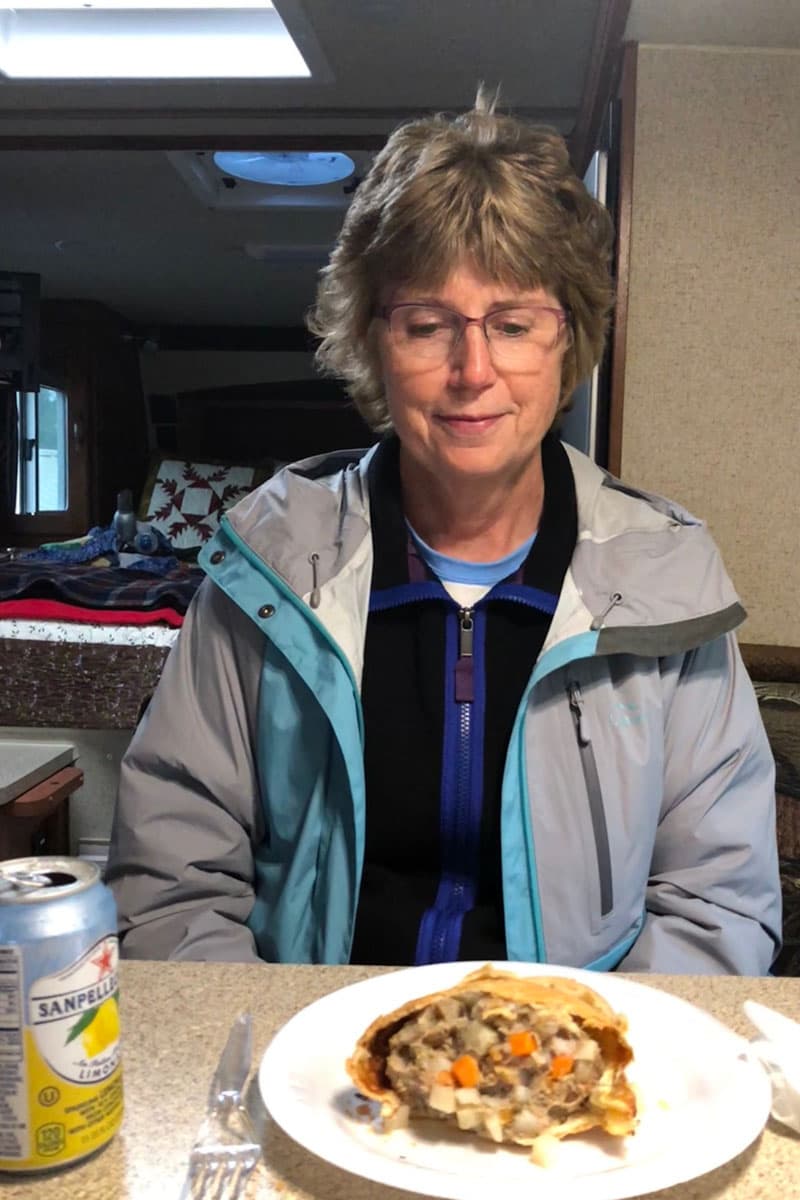 A nice campground called Country Village RV Park in Ishpeming is about 60-miles away and close to Da Yoopers Tourist Trap.
The next morning we decided to stop at McDonalds for breakfast. There we met a guy named Sonny who frequently comes here to meet up with his buddies. They welcomed us in their group and told us all about the area which included mining and the northern lights. We all shared our travel stories and what started as a quick breakfast turned into an hour impromptu group discussion. After this, we were on our way to Wisconsin to visit a John Deere factory in Horicon.
Wayne Petrie
2012 Ford F-250
2012 Northstar 850SC

Above: Great Conglomerate Falls, Keweenaw Peninsula, UP of Michigan
In 2018, we took a trip to the Keweenaw Peninsula in the UP of Michigan. We followed the Black River to the Copper Peak Ski Jumping Facility and then hiked to several falls along the Black River.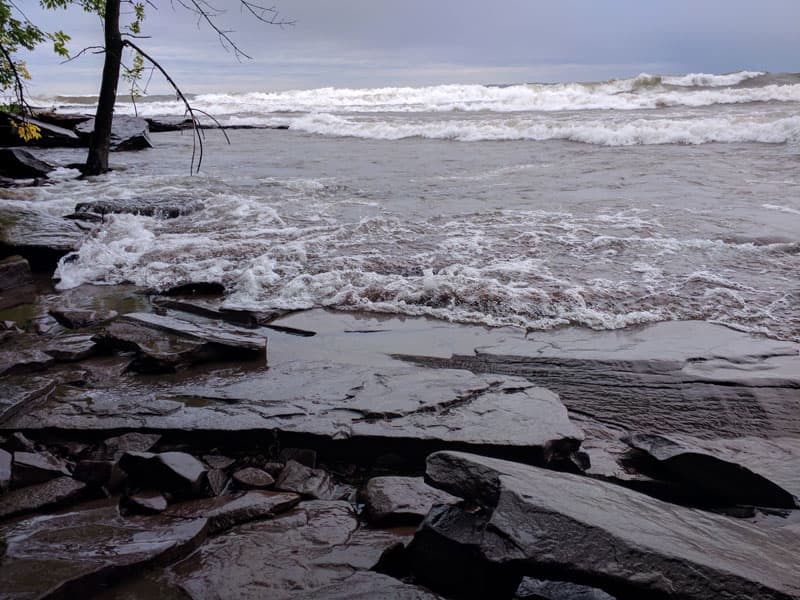 We camped that night at Union Bay Campground on the west side of the peninsula and then hiked to Lake in the Clouds the next morning.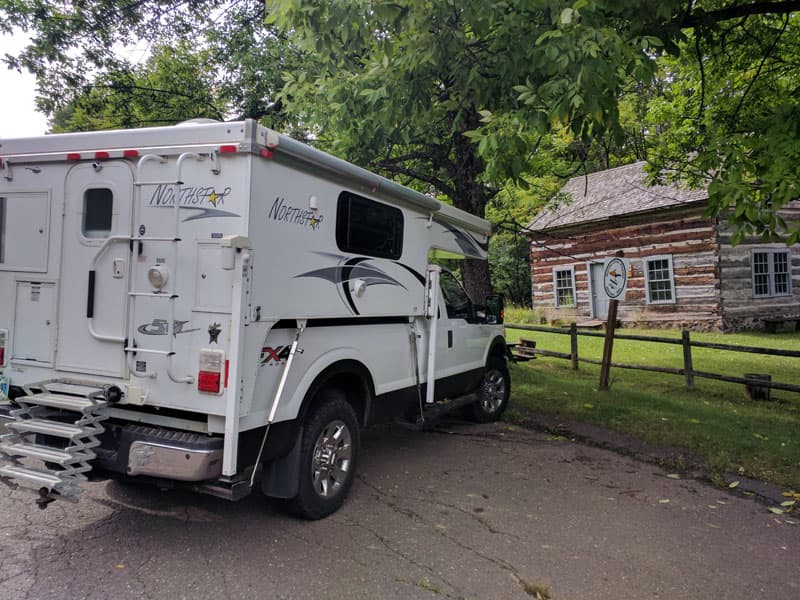 Then, we drove to the old village of Victoria (pictured above) and the Victoria Dam (pictured below) and had a couple of apples from a tree by the dam. From there we continued to Lookout Mountain just outside of Copper Harbor to take in the view from West Bluff.

We then continued on through Copper Harbor to the starting point of Highway 41. It starts at the tip of the Keweenaw and goes all the way to Miami, Florida.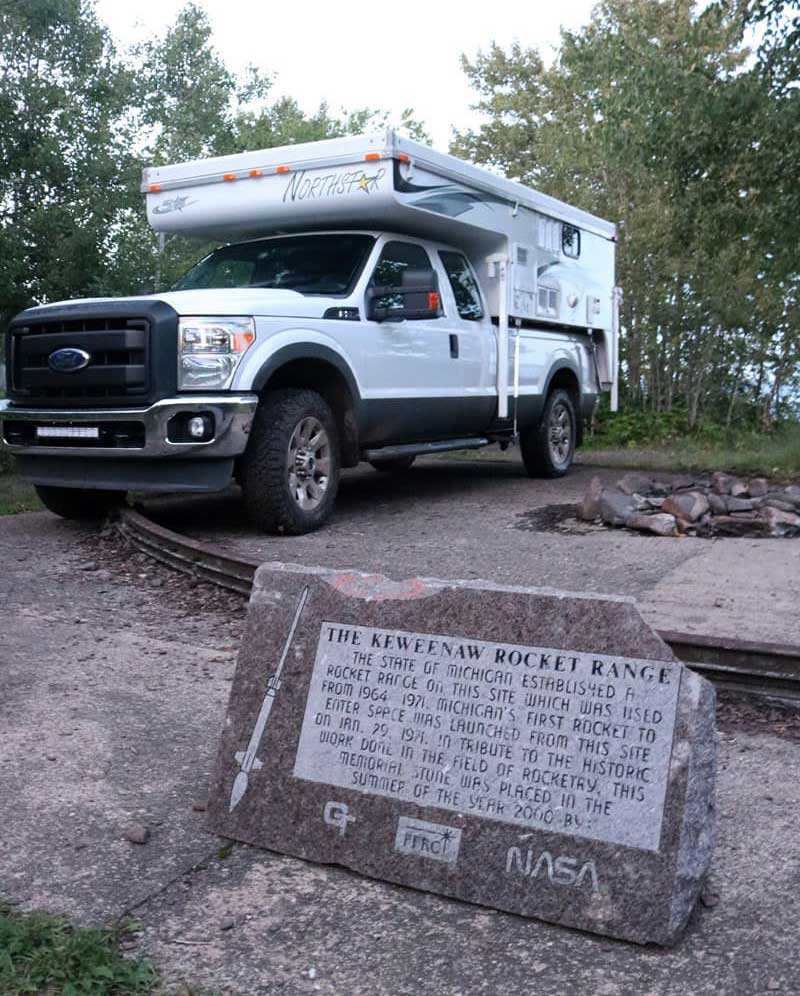 From there it is forest roads, logging roads, and ATV trails to get to the Keweenaw NASA Rocket Range (decommissioned in 1971).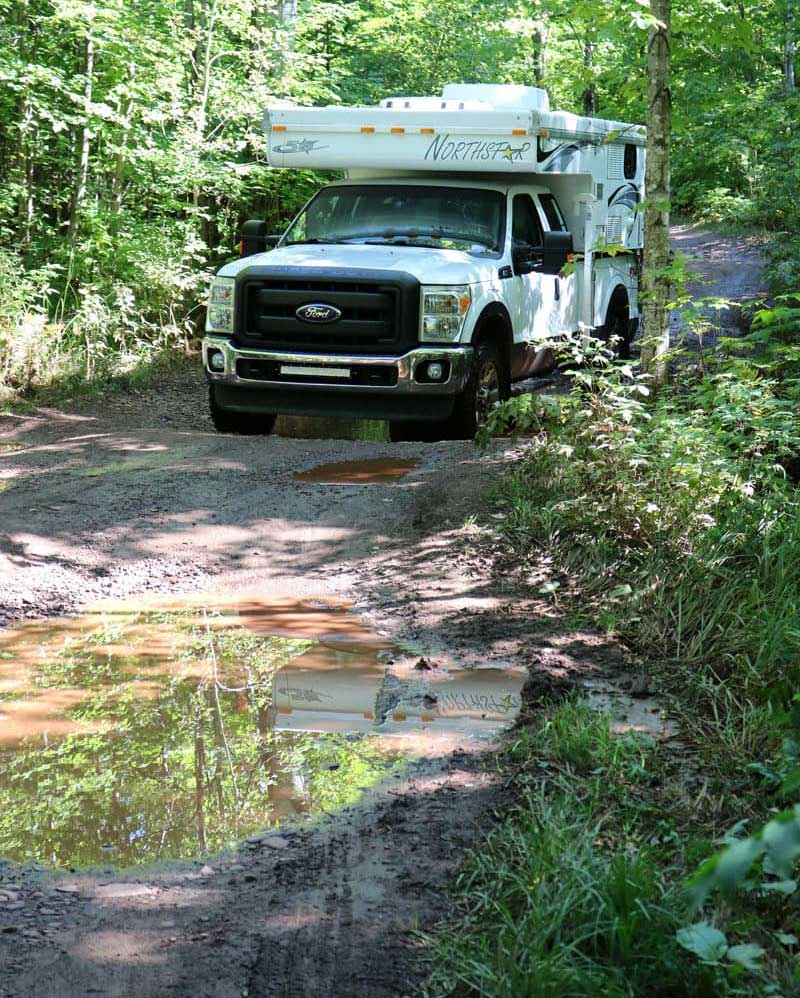 The last section is really just an ATV trail, but we were able to just squeeze through with our pop-up camper.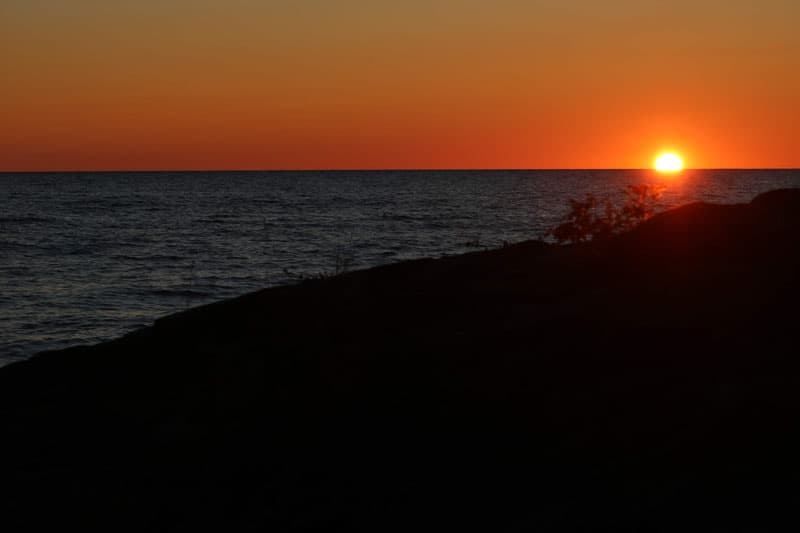 The effort to get there is totally worth it; a spectacular off-grid campsite right on the shores of Lake Superior where you can catch an amazing sunrise in the morning (pictured above and below).  The coordinates are 47.430175835036444, -87.71493943407415.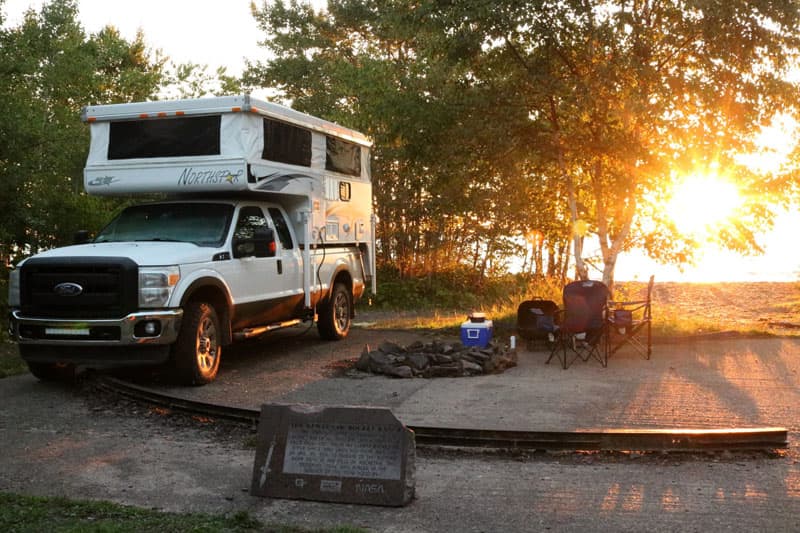 You would not make it with a hard side. If you have a hard-side camper you could potentially continue along High Rock Bay Trail to the remote High Rock Bay campsite. I have not been there, but I have seen a satellite image of a truck camper out on that site.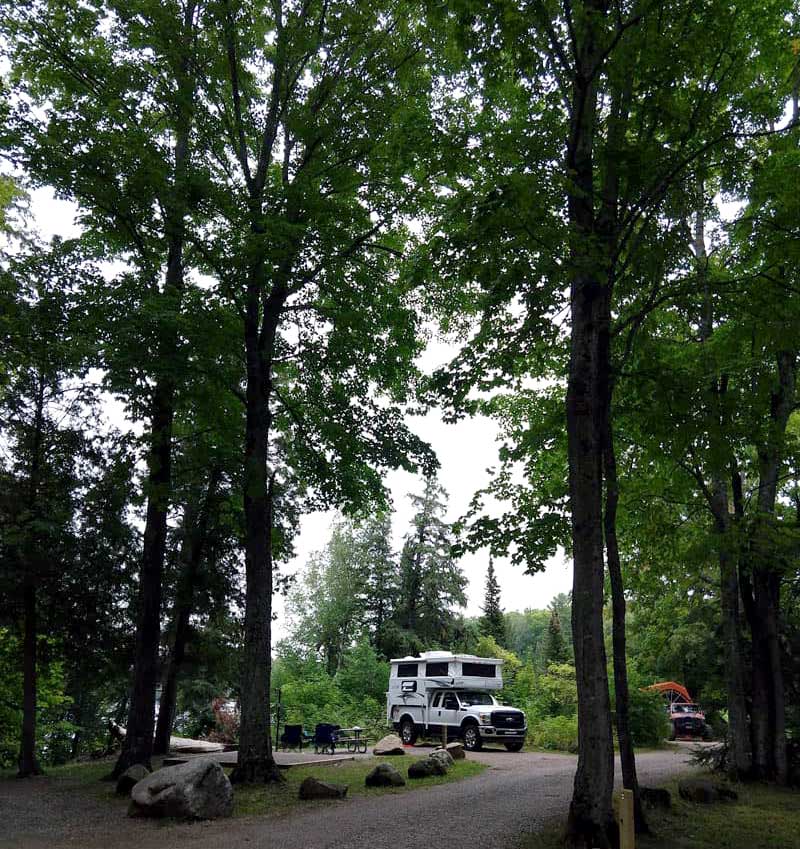 The above photos is from Little Beaver Campground in the Hiawatha National Forest just east of Pictured Rocks on Lake Superior. It is about a three-mile hike to the Lake Superior shoreline, and well worth the effort.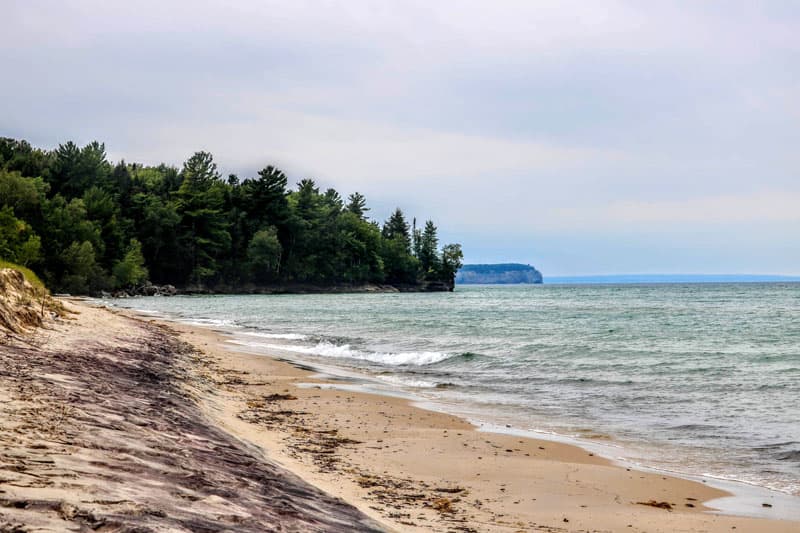 Pack your lunch and have a remote picnic on the sand dunes. We did see a couple black bears on the way in, so be aware of that! There is a three-mile dirt road to get to the campground. There are pit toilets, but no showers. I think there were a total of seven campsites.
Union Bay campground requires a Michigan state park sticker. I think that was $28 at the time. Little Beaver Campground was a National Forest campground and needs to be reserved online in advance. There are no on-site passes. The rocket range is totally off-grid and no charge.
Corey Humphrey
2004 Dodge Ram 2500
2000 KZ Sportsman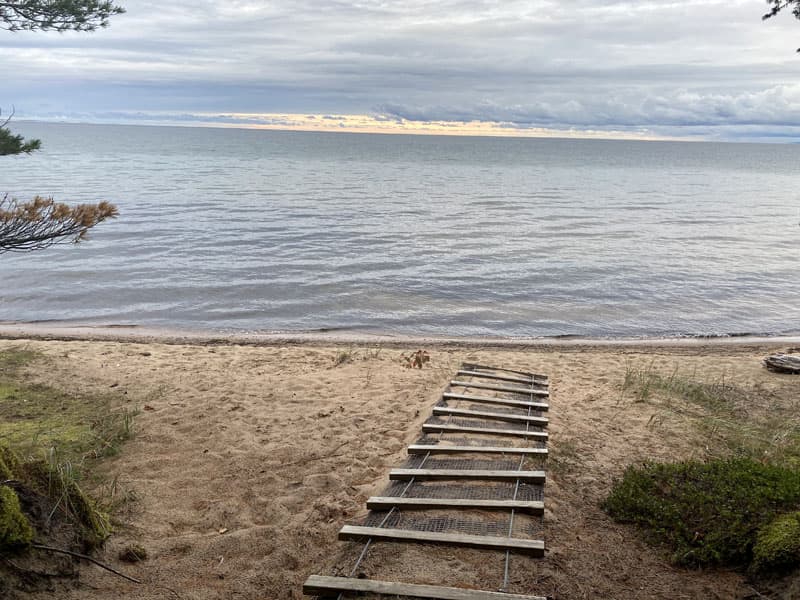 It's no secret, but US 2 on the south shore of the UP is an amazing place to stop and swim.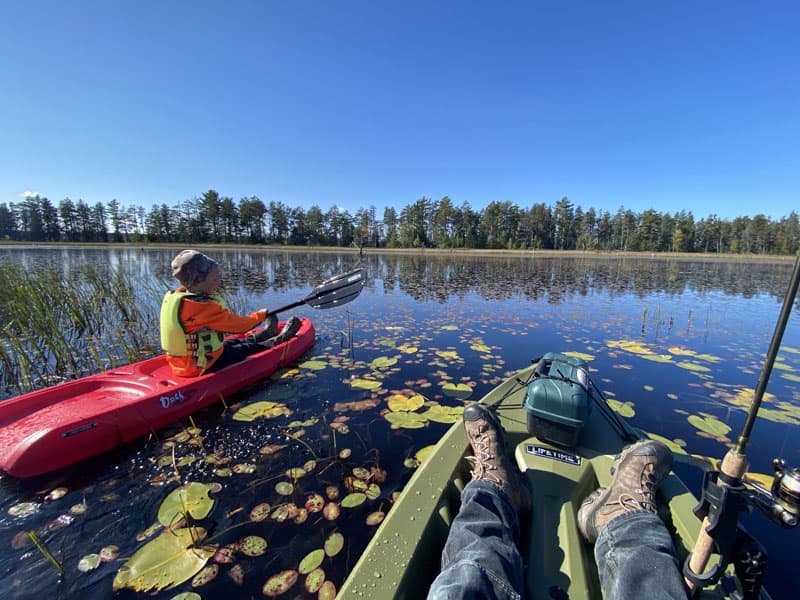 September has low crowds and amazing swimming conditions. We camped in Hiawatha National Forest from Mackinaw to Munising.
Hannah Kemp
2006 Ram 2500
1997 Scorpion by Sako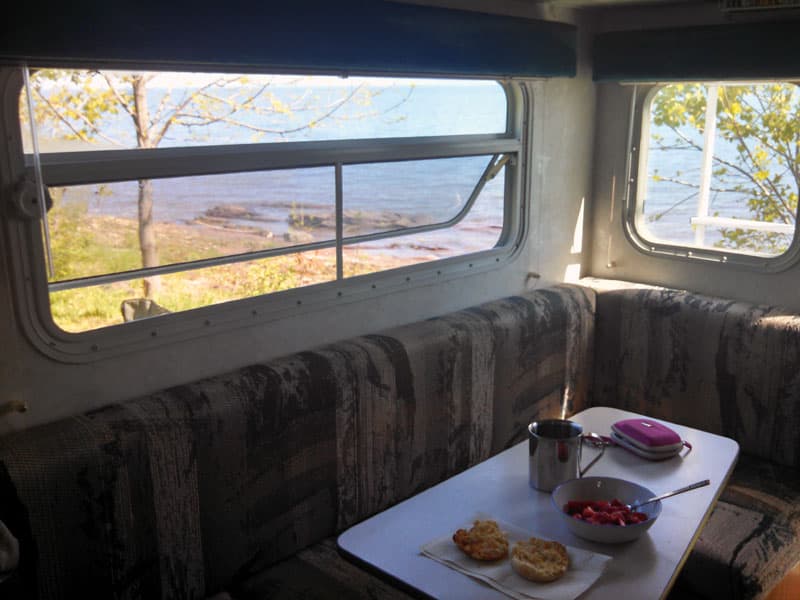 Above: View of Lake Superior from inside camper
Lake of the Clouds is the most photographed feature in the Porcupine Mountains Wilderness State Park, and one of the most photographed in the entire Upper Peninsula. We have also been here in the winter when it is only accessible by snowmobile. It's amazing to be this high up in the clouds and so close to the shore of Lake Superior. The closest large town is Ontonagon.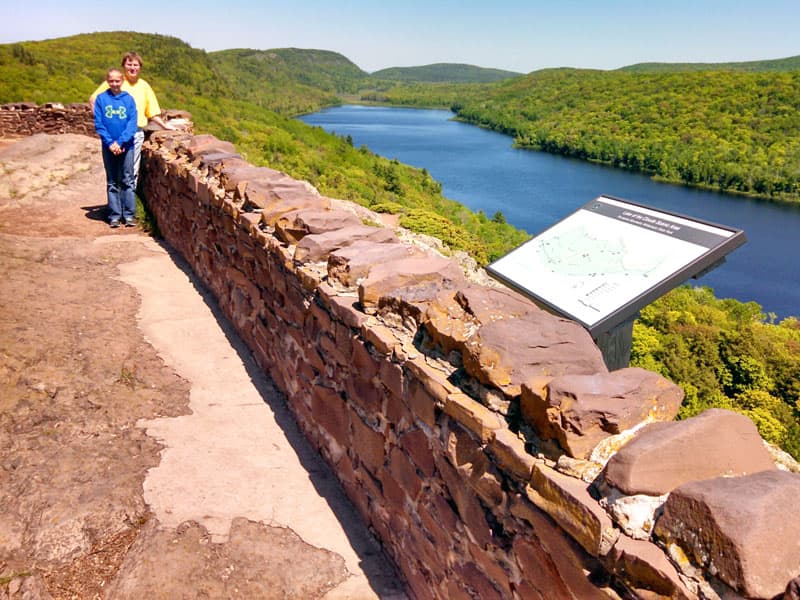 Above: Lake in the Clouds, Porcupine Mountains Wilderness State Park
Bond Falls in Ontonagon County has waterfalls that are created as the Ontonagon river tumbles over fractured rock dividing it into numerous small cascades. The total drop of the falls is about 45 feet. We hiked to the bottom to watch and hear the waterfall sounds. Nature at its best!

I took my Dad to the Upper Peninsula of Michigan and camped at the Porcupine Mountains Union Bay Campground site #28 (pictured above) along Lake Superior near Silver City, Michigan. The cost was $28 a night. We played in the cold 42-degree water, cooked over the fire pit, and enjoyed the sunsets over Lake Superior.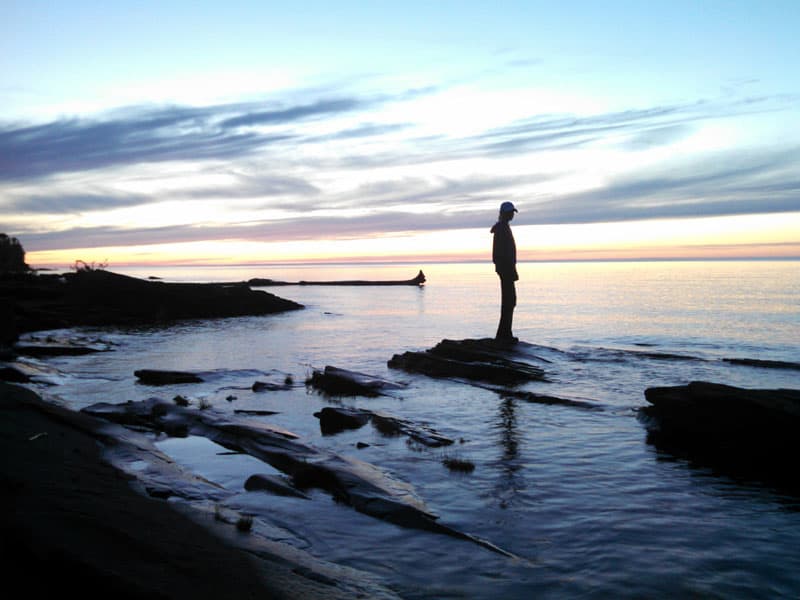 Above: Sunset standing on a rock in Lake Superior
For more destination articles, please visit our USA, Canada, and World sections.