TCM Calendar Winners, Scott Zeitler and Lora Sholes, manage two successful careers and went truck camping 97 days last year.  How do they do it?  It's a cliff hanger.
In college, students are often given the option to stack their classes on certain days to create more days off.  For example, they can take all of their classes Tuesday, Wednesday, and Thursday, and have four day weekends every week.  This means having three very full days of classes and sometimes taking back-to-back exams, but the obvious time-off benefit is hard to refuse.
In the working world, such a schedule is practically impossible to find.  Most professions require no less than 8 hours a day and five days a week.  In reality, many jobs demand more than 8 hours a day, plus the daily to and from commute to the required work site.  If you want a work-life balance resembling what's possible in college, you either have to create it, or purposefully target a profession with this extraordinary perk.
Which brings us to Scott Zeitler and Lora Sholes.  This amazing couple managed to carve out work schedules that allowed them to go truck camping 97 days last year while maintaining two successful careers.  As a corporate pilot, Scott alternates work weeks and can get three weeks off in a row by only taking one week off.  Lora has a career with seven weeks of vacation a year and a weekly schedule that gives her Fridays off, and Mondays until noon.
This isn't luck folks, it's careful planning and hard work.  It's also Scott and Lora prioritizing adventure, fun, and relaxation as an important part of their lives.  When the work-life balance doesn't satisfy most people until after retirement, Scott and Lora's story is both a lesson, and an inspiration.  Not to mention that their Ram Power Wagon and Hallmark pop-up is one of the coolest-looking truck camper rigs ever to leave pavement.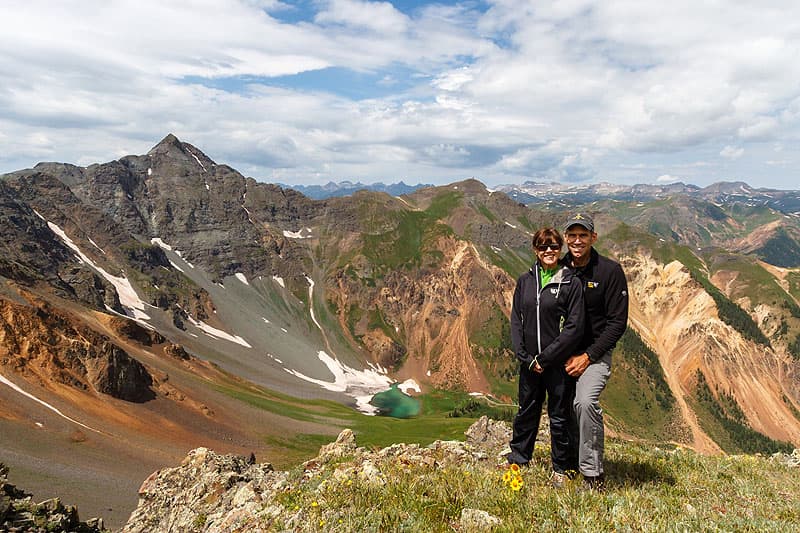 Above: Scott and Lora in Velocity Basin, Colorado
How did you and Lora get into RVing?
Scott: When I was growing up in Pennsylvania, my family had an Airstream travel trailer.  We spent our family vacations using the Airstream to explore the East Coast from Florida to the Carolinas.
My wife, Lora, also from Pennsylvania, never camped.  Instead, she and her family spent the summers at their cabin on a lake in the mountains of Pennsylvania.  This gave each of us a chance to experience the beauty of the outdoors and planted the seed for exploration.
After college, the mountains were calling Lora.  She packed up her worldlies into her Mazda 323 and moved west to live in the beautiful Rocky Mountains.  Lora quickly took on the lifestyle of a Colorado girl with interests in climbing, camping, hiking the fourteeners, biking, and backpacking.  She has never looked back.
My career after college took me to North Carolina and that's when I started tent camping.  For about ten years, tent camping was a great way to enjoy the beauty of the Blue Ridge Mountains and the great mountain biking, kayaking, and hiking offered there.
Then I realized that I really wanted to see and explore the Southwest.  I sold my house and most of my belongings and bought a 38-foot toy hauler.  This RV was not that much smaller than my home, which was ideal for my needs at the time.
From North Carolina I drove west and lived for two years in several states before finally settling on Durango, Colorado.  RVing was great and provided me the opportunity to experience many wonderful places, but I fell in love with Durango and felt it time to sell my home on wheels for one on a permanent foundation.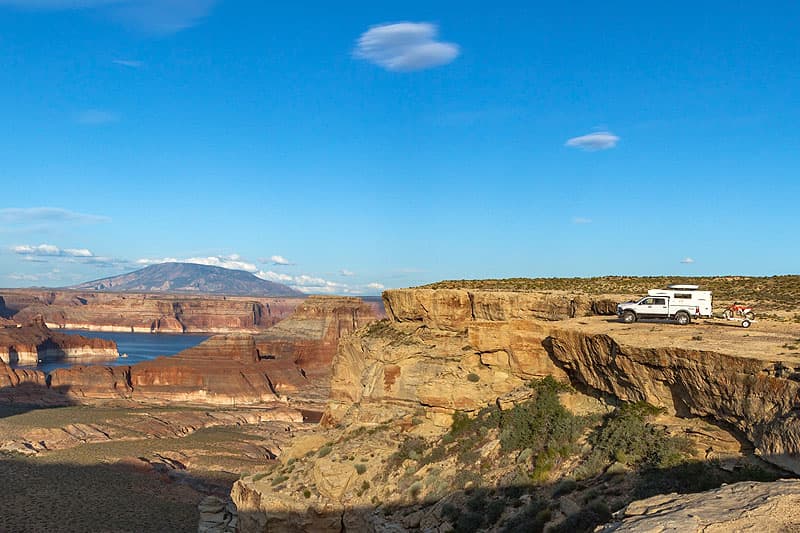 How did you then get into truck camping?
Scott: Over many years living in Durango, Lora and I packed our SUV, loaded the bikes, backpacks, and gear and went tent camping.  We loved the remoteness and solitude tent camping gave us and enjoyed sleeping under the stars.  Then we went on a vacation to Oregon.
This was the turning point when we realized there may be a better way.  Our SUV was too small to fit all the gear, toys and stuff, so we towed a utility trailer for added space.  While camping in Oregon we met a very nice older couple en route to Alaska.  They had a Toyota Tacoma with a Four Wheel Camper.
It was spacious inside and got us thinking about a truck camper.  I was originally leaning towards a hard side truck camper.  For about the same money, I could get either type.  Then I was thinking about the slide-outs and size.  Lora wanted to take our rig off-road, and not stay at campgrounds.  That brought us to pop-up campers.