Lance Campers announces changes to its truck camper line for 2015, and introduces standard dual pane windows, new exterior graphics, and a list of upgrades and new options.

Toward the end of every year, we take a good look at the Truck Camper Magazine website and look for opportunities to improve the organization, presentation, and overall aesthetic of the magazine.  The trouble is that we worked very hard when we built the site to maximize each of these facets and sometimes struggle to find opportunities for change that don't feel like change for change's sake.  That doesn't mean we rest on our laurels.  In business and life, complacency can be very dangerous leaving opportunity for competition, or stagnation, to take hold.
Lance Campers is another organization that front loads their new camper design to such an extent that they often struggle to find areas to change once a new camper hits production.  Before a new Lance Camper reaches the public, Lance has done the consumer research, computer modeled the camper with multiple revisions, built at least one physical prototype, and had numerous internal meetings with design, engineering, purchasing, sales, and marketing.  When a new camper is finally signed-off for production by senior management, it's been through the gauntlet with every conceivable perspective analyzed, refined, and addressed.
That doesn't mean Lance has sat on its hands for 2015.  After introducing front nose caps and the Lance 1172 double-slide in 2013, and introducing the Ultra Deck Plus bumper system and the Lance 1052 double-slide earlier this year, they are ready to announce some important changes to their product line, and some evolutionary changes for next year.
We talked to Gary Conley, National Sales Manager, Randy Hunter, Engineering Product Development Manager, and Bob Rogers, Director of Marketing at Lance Camper.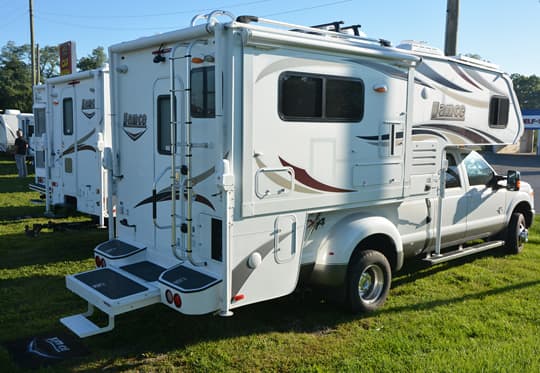 Above: The 2015 Lance 1052 with the new graphics and the Ultra Deck Plus bumper
TCM: Are there any Lance models that are being dropped for 2015?
Gary: We are discontinuing four truck camper models for 2015; the 950S, 992, 1181, and 1191.
TCM: Are these models being replaced with new models?
Gary: We will be announcing innovative new floor plans to replace the outgoing models late this year and into early next Spring.  We will have at least one of the new models on display at Louisville this coming December.
TCM: Can you give us a hint at what we can expect?
Gary: The 950S and 992 will be replaced with new nine foot models.  The 1181 and 1191 will be replaced with an eleven foot model.  We're also working on a new eight foot camper.

Above: The new graphics were designed to work with the most popular truck colors – click to enlarge
TCM: That sounds like we might see up to four new Lance truck campers between now and next Spring.  Tell us about the new 2015 exterior graphics that were displayed at the Elkhart Open House mid-September.
Gary: We looked at the top selling colors for the new trucks and brought those colors into our new exterior graphics.  With the new graphic colors, the campers will better match the new trucks.  That's the main reason why we updated our graphics for 2015.  We want Lance campers to be the best looking rigs going down the road.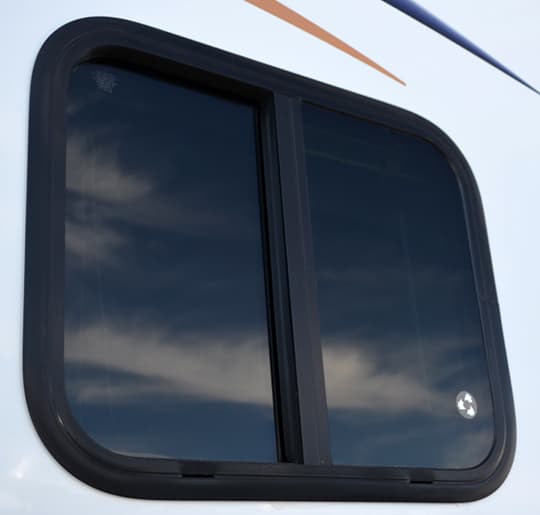 Above: Dual pane windows are standard in 2015 Lance Campers
TCM: Why is Lance making dual pane windows standard for 2015?