Lance Campers announces changes to its truck camper line for 2015, and introduces standard dual pane windows, new exterior graphics, and a list of upgrades and new options.

Toward the end of every year, we take a good look at the Truck Camper Magazine website and look for opportunities to improve the organization, presentation, and overall aesthetic of the magazine.  The trouble is that we worked very hard when we built the site to maximize each of these facets and sometimes struggle to find opportunities for change that don't feel like change for change's sake.  That doesn't mean we rest on our laurels.  In business and life, complacency can be very dangerous leaving opportunity for competition, or stagnation, to take hold.
Lance Campers is another organization that front loads their new camper design to such an extent that they often struggle to find areas to change once a new camper hits production.  Before a new Lance Camper reaches the public, Lance has done the consumer research, computer modeled the camper with multiple revisions, built at least one physical prototype, and had numerous internal meetings with design, engineering, purchasing, sales, and marketing.  When a new camper is finally signed-off for production by senior management, it's been through the gauntlet with every conceivable perspective analyzed, refined, and addressed.
That doesn't mean Lance has sat on its hands for 2015.  After introducing front nose caps and the Lance 1172 double-slide in 2013, and introducing the Ultra Deck Plus bumper system and the Lance 1052 double-slide earlier this year, they are ready to announce some important changes to their product line, and some evolutionary changes for next year.
We talked to Gary Conley, National Sales Manager, Randy Hunter, Engineering Product Development Manager, and Bob Rogers, Director of Marketing at Lance Camper.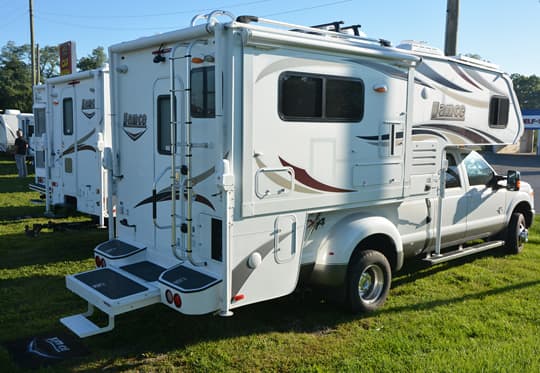 Above: The 2015 Lance 1052 with the new graphics and the Ultra Deck Plus bumper
TCM: Are there any Lance models that are being dropped for 2015?
Gary: We are discontinuing four truck camper models for 2015; the 950S, 992, 1181, and 1191.
TCM: Are these models being replaced with new models?
Gary: We will be announcing innovative new floor plans to replace the outgoing models late this year and into early next Spring.  We will have at least one of the new models on display at Louisville this coming December.
TCM: Can you give us a hint at what we can expect?
Gary: The 950S and 992 will be replaced with new nine foot models.  The 1181 and 1191 will be replaced with an eleven foot model.  We're also working on a new eight foot camper.

Above: The new graphics were designed to work with the most popular truck colors – click to enlarge
TCM: That sounds like we might see up to four new Lance truck campers between now and next Spring.  Tell us about the new 2015 exterior graphics that were displayed at the Elkhart Open House mid-September.
Gary: We looked at the top selling colors for the new trucks and brought those colors into our new exterior graphics.  With the new graphic colors, the campers will better match the new trucks.  That's the main reason why we updated our graphics for 2015.  We want Lance campers to be the best looking rigs going down the road.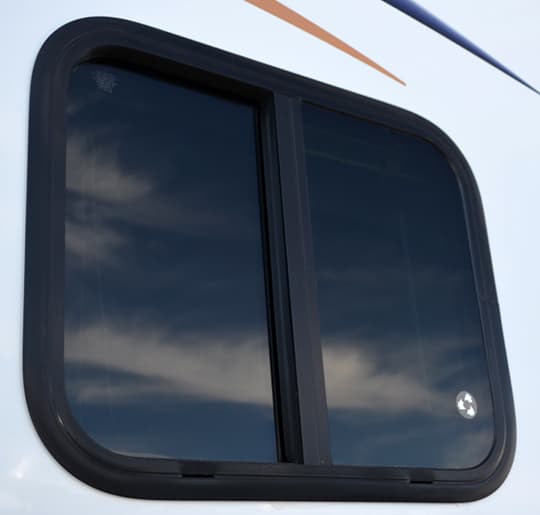 Above: Dual pane windows are standard in 2015 Lance Campers
TCM: Why is Lance making dual pane windows standard for 2015?
Randy: 99% of the campers we built last year were ordered with dual pane windows, so we made dual pane windows part of our standard build.
TCM: Do dual pane windows add much to the weight over single pane windows?
Randy: The weight increase over single-pane windows varies between 29 and 32 pounds, depending on the model.  Since we were already building almost every camper with dual pane windows, there really is no increase in weight.
Gary: By making dual pane windows standard, we can provide a truer dry weight to the consumer.  If you add 25 pounds to the dry weight for the windows, it gives people a truer base weight.
TCM: If Lance puts a scale at the end of the production line, weighs every camper, and posts that specific camper's dry weight on or in the camper, we'll make it a front cover story.  A bonus would be to mark the center of gravity for each camper.
Gary: We're working on that.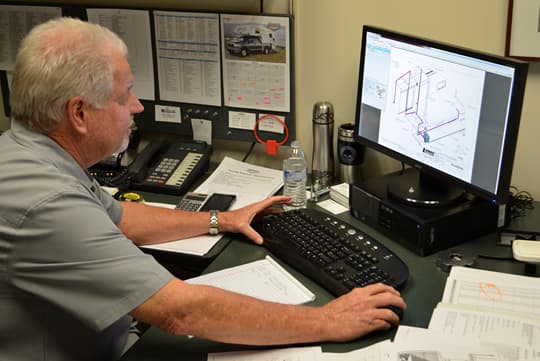 Above: Randy Hunter, Engineering Product Development Manager for Lance Campers, working in SolidWorks
Randy: Through our extensive use of SolidWorks, CNC, and modern materials, we are able to pull a considerable amount of weight out of our units.  For example, we routinely remove weight by removing non-structural material from panels that are never seen.  It's all done with laser-like precision using multiple CNC machines here at Lance Campers.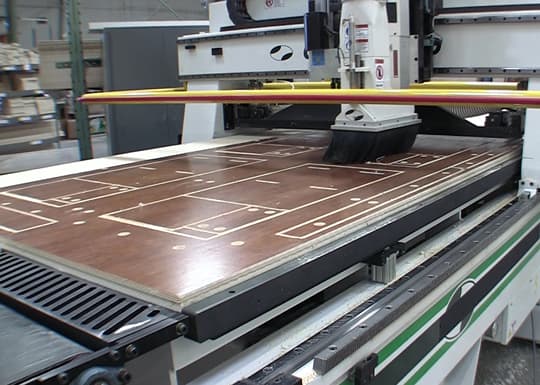 Above: CNC machines are used at Lance Campers to cut with precision
TCM: How do you know that when you remove materials that you're not compromising the structural integrity of the camper?
Randy: We'll do stress analysis with SolidWorks.  We also take each model and do a cabinet by cabinet review, looking for opportunities to reduce material without sacrificing structural integrity.  These are small off-sets that add-up to lower weight units across the board.  As we develop new models, these techniques offer even more possibilities.
Above: The fourteen foot Carefree of Colorado electric side awning on the Lance 1172
TCM: Talk to us about the optional electric slide awning with LED lighting.
Randy: We started working with Carefree of Colorado on one of their new products at Louisville last year.  We were one of the first manufacturers to pick up on their new awning, and release it.
The electric side awning has an all-horizontal structure.  The vertical arm structure is not there allowing for a longer awning length.  For example, we were using an eleven foot awning on our eleven foot truck campers.  Previously, the size of the awning was restricted by the arms.  Now, on the 1172, we can have a fourteen foot awning.  It's a significant difference.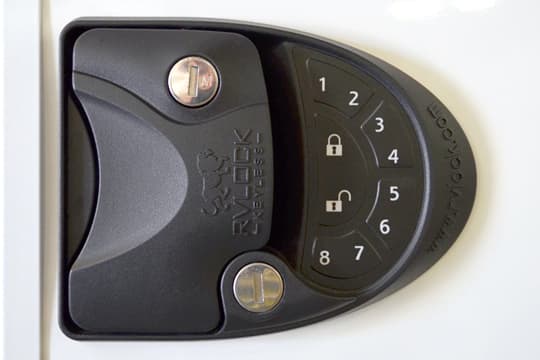 Above: The new keyless door lock option
TCM: Having a fourteen foot awning on the 1172 would be great for truck camper rallies.  Tell us about the new keyless entry door lock option.
Gary: Our new keyless entry system is a touch and open, just like a keyless entry for a house or vehicle.  The owner presses 1-2-2-4 (or whatever code they choose) and the door opens, or locks instantly.  Who wants to carry keys when they go camping?  With the keyless entry system, you can get in and out of your camper without worrying about keys.
TCM: What happens if, for some reason, the batteries go dead with the keyless entry system?  Since the lock uses power, can you get into the camper – without keys – if the batteries are dead?
Gary: There is a low battery sound to alert you when batteries need replacing on the unit before they go completely dead.  The lock also maintains a traditional keyed lock, so you can still use your key as you normally would.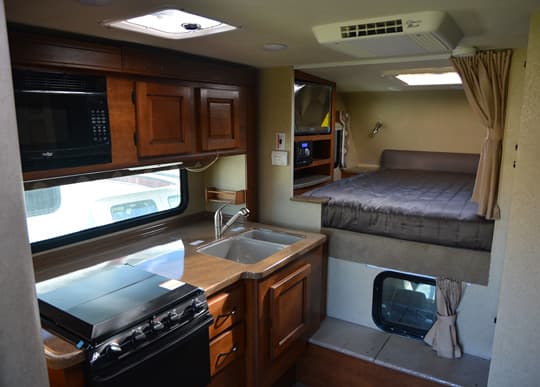 Above: The interior of the 2015 Lance 1052
TCM: Atwood has discontinued the 15/22 BTU heater that Lance has been using for some time.  What has that heater been replaced with for 2015?
Gary: Unfortunately, Atwood stopped producing the 15/22 BTU furnace, a change we're not excited about.  The good news is that they have improved the 20 BTU furnace, making it more efficient and quieter than it was before.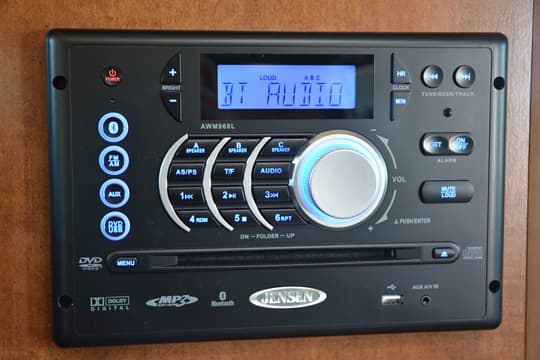 Above: The new Jensen stereo system with Bluetooth
TCM: When we were at the Lance Camper display at the Elkhart Open House, William Hill, Lance's East Coast Representative, was syncing up his smart phone via Bluetooth to the stereo systems in every truck camper, travel trailer, and toy hauler on display.  Tell us about the new Jensen stereo system with Bluetooth.
Gary: The new Jensen stereo system offers Bluetooth streaming directly from your iOS or Android smart phone.  It also offers AM/FM radio, CD and DVD player, USB, and a front panel auxiliary port.  As William demonstrated, the Bluetooth works from a fair distance and ties the Lance audio system directly into your smartphone music source.
TCM: It's neat to see it work.  On a slightly less technologically note, Lance has added key hooks in every 2015 Lance Camper.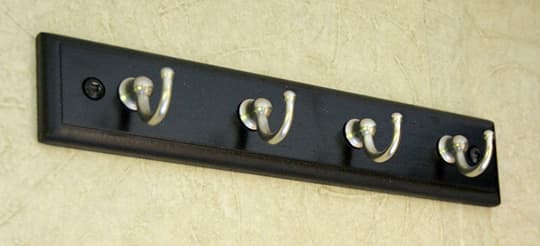 Above: Key hooks are standard in 2015 Lance Campers
Randy: With our introduction of keyless entry, you need somewhere to hang your keys.
Gary: We added the key hooks to places that were previously blank walls.  It's a good utilization of space.


Above: Three different decors were added in 2015; Arrowhead, Mohave Dunes, and Palm Springs
TCM: What are the interior decors for 2015?
Gary: All the decors on the inside have been changed and upgraded.  There are no carry overs of interior fabric from 2014.  Three different decors were added; Palm Springs (green), Mohave Dunes (beige), and Arrowhead (grey).  So far, the dealers and consumers who have seen them have given us rave reviews on the new fabric choices.
TCM: How were these new fabrics selected?
Randy: RV design consultant, Cyndy Schultz, works on our interior decor changes and revisions.  She'll select ten to twelve choices and bring them to us for review.
Gary: We understand our buyer and what they use our units for.  They want something durable and not crazy looking.  These fabrics have a pretty conservative look and feel.
TCM: We were very impressed with the new reversible seat cushions at the Elkhart Open House.  Those are going to be a hit.
Bob: Reversible cushions are a trend in RV industry.  Previously, the backside of an RV seat cushion was not always the same quality as the front side.  It didn't need to be because people weren't sitting on it.  With the reversible seating, Randy has upgraded the backside vinyl to the same quality as front side.  It's more dollars, but the quality is there with a totally different look.
Gary: Flip the cushions over and you have a new look.  The vinyl is on the back of the cushion, along with the feature fabric.  It's a nice aesthetic.  With the reversible cushions, you really have six choices with the three main fabrics.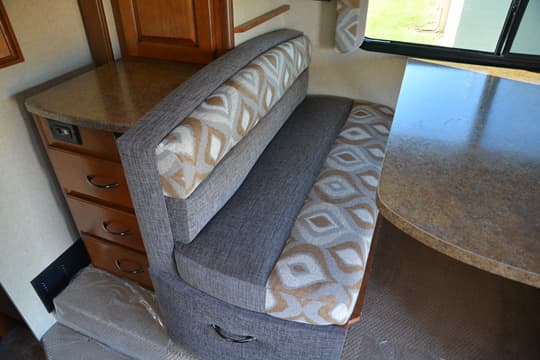 Above: The reversible cushions in the Mohave Dunes decor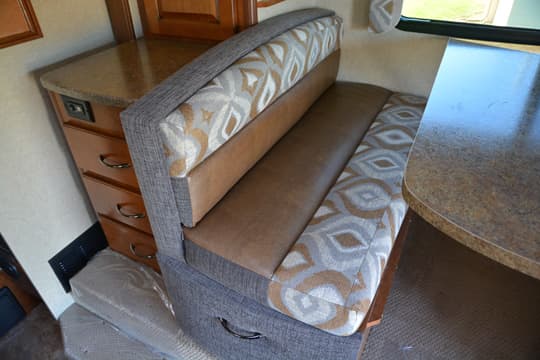 Above: The reversible cushions in the Mohave Dunes decor
TCM: Would these cushions fit previous years of Lance truck campers, and are these cushions available?
Gary: Gordon, I'm very happy you asked that question.  With our system, you can provide us the serial number off your camper.  Tell us the material you want, and we can get you the exact fitting cushion with whatever fabric is currently available.  An update is definitely possible.  We've used the same cushion vendor for almost forty years.
TCM: Can you update valance fabrics as well?
Gary: Yes, we can also do valances.  If you call in and say, "I have a 2004 Lance 1030 and I want to get cushions and valances", we can get those for you.  We can do it all.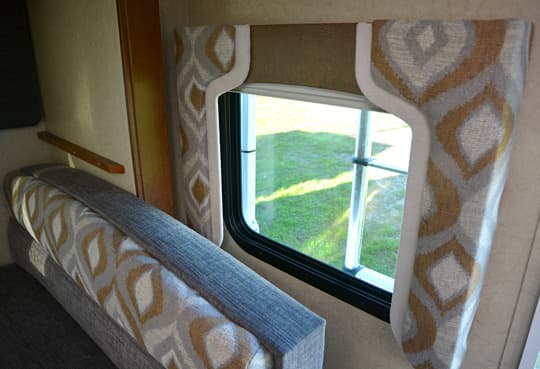 Above: The valances in Mohave Dunes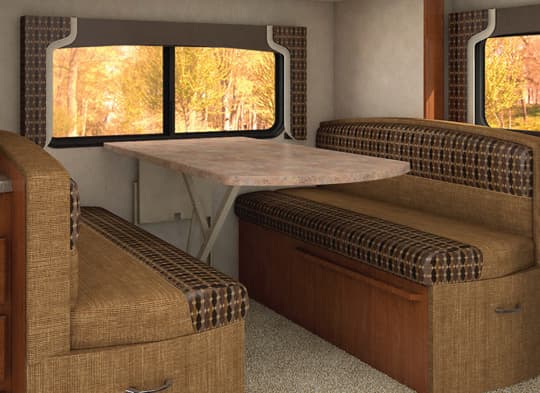 Above: The dinette and valance in Arrowhead
TCM: Speaking of valances, the valence design has also changed for 2015.  What brought that change?
Randy: Really it's just an upgrade.  We wanted to go with a more residential style.  We worked with Cyndy on the sizing and the aesthetic.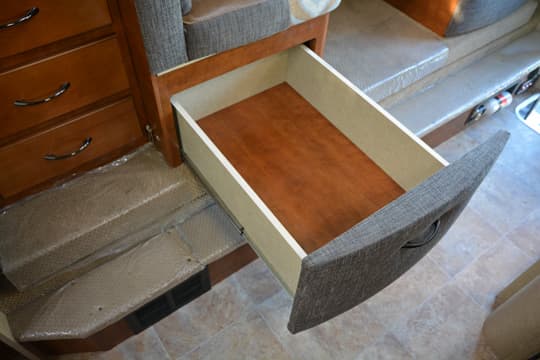 Above: The new residential-style dinette drawers have a positive latch
Gary: The new valance look and our new residential-style dinette drawers give our 2015 Lance Campers a softer look.  Plus, with the new dinette drawers, you get a positive latch on the cabinet door.  With the big pull out doors, you have a better locking mechanism.  The covered drawer gives the dinette a more sofa-like look and feel.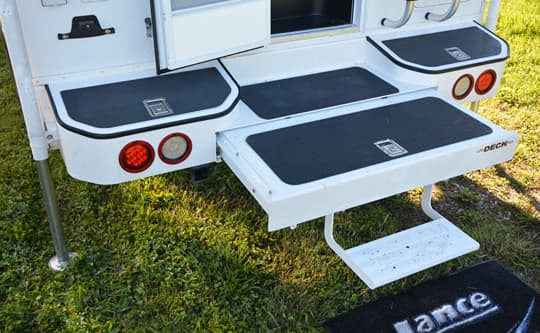 Above: The Ultra Deck Plus bumper on a Lance 1052
TCM: Tell us about the response you've had to the Torklift International Ultra Deck Plus bumper system since its introduction last year.
Gary: It's going well.  People love it, especially the storage it offers.  They also love the additional platform and the look of the bumper.  Right now we have two models that the Ultra Deck Plus Bumper goes on, the Lance 1050S and 1052.  The Ultra Deck Plus bumper will be available as an option on some of the new models we will debut later this year and next Spring.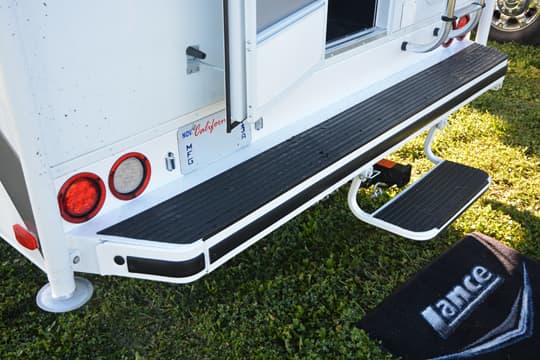 Above: The new standard Lance bumper with a deeper footprint
TCM: The standard Lance bumper is now deeper offering more of a platform step.  When was this new bumper introduced?
Gary: It's brand new for 2015.  The new bumper gives the user a bigger and deeper footprint for more comfort.
TCM: Does it weigh more than the previous standard bumper?
Randy: The new standard bumper is four pounds more.  It features all-aluminum construction.  It may weigh slightly more, but it offers more support and strength compared to our old bumper.
TCM: Can a customer with an older Lance bumper get the new standard bumper?
Randy: Yes.  It would be a direct replacement for most older Lance bumpers.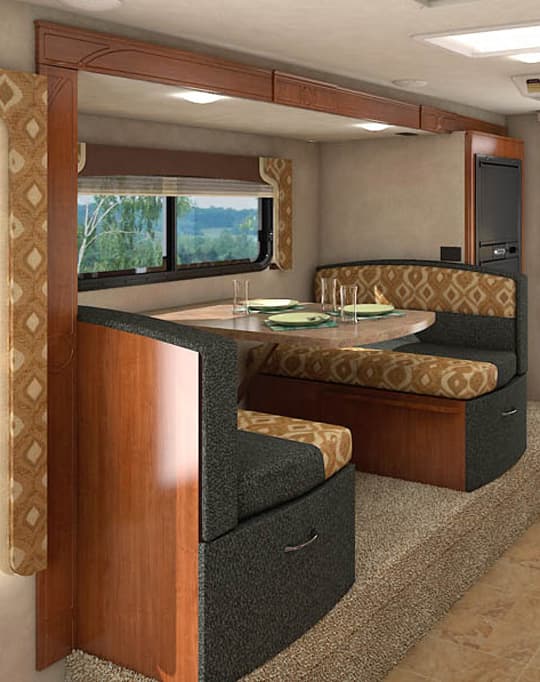 Above: The new radius decorative slide-out facia design
TCM: Are there any other updates or changes for 2015?
Randy: We have incorporated a new radius decorative slide-out facia design.  It takes the flat look off the slide-out.  On a couple models, like the 855S and 1050S, we have upgraded the cabover design to match that of the 1052.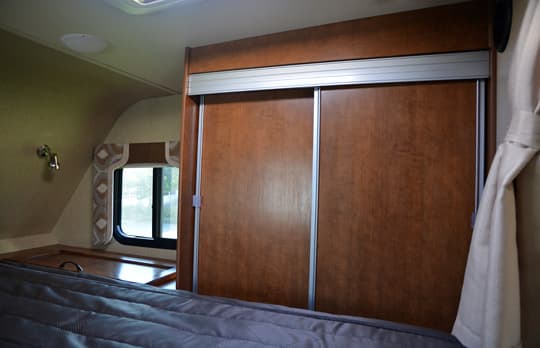 Above: Wood inserts are a new option for the cabover wardrobes
Gary: We also now have a wood insert option on the wardrobes of the cabovers.  The 1172 is now the only model that you get a mirrored wardrobe.
TCM: Lance introduced the wrap-around front nose cap in 2013.  Two years later, how has the front nose cap performed?  Have you experienced any leaks or warranty issues?
Gary: The nose cap has been flawless.  We haven't replaced one yet and have no warranty claims or issues.  It has eliminated any type of maintenance.  There have been no reports of defects or road hazard damage.  We did it right.
In fact, our experience has been so positive with the thermoplastic polyofin (TPO) front nose that we're looking at other applications for the material in future Lance Campers.  We're already using on the bottom of our travel trailers as rock guards.
TCM: Forgive the question, but we are frequently asked when Lance Campers is going to finally debut a triple-slide truck camper.  So, when is Lance going to debut a triple-slide?
Gary: It's under review.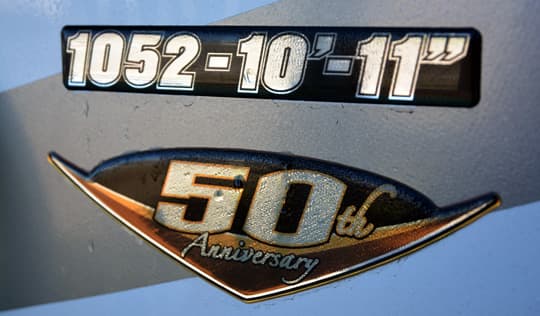 TCM: I guess we'll have to wait to find out.  2015 campers are getting a "50th Anniversary" seal celebrating Lance's 50th anniversary (1965-2015).  Other than the seal, how is Lance celebrating the half-century mark?
Gary: We just hosted the Lance Owners of America (LOA) event with about 130 people in attendance at the factory.  That's double the size of the LOA events in the past.  We're also updating our website and brochures with the 50th anniversary seal.
Bob: You will see our 50 year anniversary logo everywhere this year.  And we're very excited about our new retail app for Android smart phones.  It's designed to help folks choose the right Lance Camper.  It will be out for Apple iOS very soon.
TCM: Is there anything else about 2015 Lance Campers that we didn't ask about?
Gary: We're expanding our dealer body by adding more dealers.  Everything is going well.  Sales are going well.  Our business outlook is positive.  Our brand acceptance and awareness are continuing to grow.  2014 was a great year for Lance and 2015 is looking even better.
Check out the Lance Camper Buyers Guide to see all models.  For more information on Lance Campers, visit the Lance website at lancecamper.com.  Click here to request a free Lance brochure.