Torklift International's all-new Ultra Deck Plus bumper system for Lance Campers has been kept classified, confidential, restricted, secured, top secret, hush-hush, pinkie-sworn, and out of sight, until now.

In a truck camper galaxy far, far way… Bumper Wars!  Here it is folks, the latest entry into what Truck Camper Magazine has so cleverly coined the Truck Camper Bumper Wars; Torklift International's all-new Ultra Deck Plus for Lance Campers.
Once again Torklift International has worked with a major truck camper manufacturer to push the boundaries of truck camper bumper possibility.  Who knew truck camper bumpers could be this cool?
Oh, and there's also a brand new double-slide Lance Camper attached to that shiny new bumper system.  The all-new 2014 Lance 1052 has a wealth of design features that are sure to make it a best seller for Lance Campers.  Check out the 2014 Lance 1052 announcement.
For more information about the Torklift International Ultra Deck Plus bumper system for Lance Campers, we talked to Jay Taylor, General Manager, and Jack Kay, Principle at Torklift International.

Above: Torklift International's video announcing the Ultra Deck Plus
TCM: How did the Ultra Deck Plus bumper system come to be?
Jay: The project started two years ago at a Lance Owners of America (LOA) Rally.  Several of the LOA members approached us asking when we were going to develop an aluminum storage bumper for Lance truck campers.  The very next day we met with Randy Hunter, Engineering Product Development Manager for Lance Campers.  From that meeting, we came up with some beginning concepts.
The following February we presented some conceptual renderings of the bumper to Lance Campers.  They liked the direction we were headed so we started development of an initial prototype.  That June, the Torklift team including, Casey Cotter, Randy Fisher, and myself flew from our headquarters in Sumner, Washington to Lance Campers in Lancaster, California to present the first prototype bumper.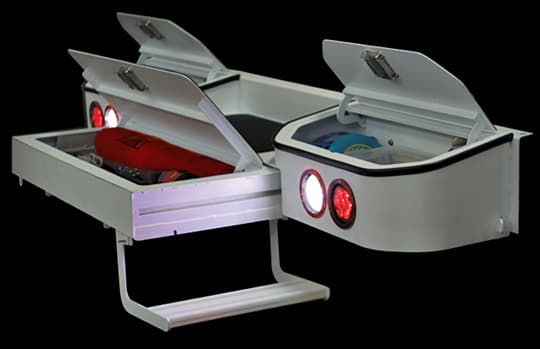 Above: The new Torklift International bumper for Lance Campers; the Ultra Deck Plus

We were there when the bumper arrived and met with the leadership team at Lance Campers; Jeff Souleles, Vice President, Gary Conley, National Sales Manager, Randy Hunter, Product Development and Engineering Manager, and Paul Harris, General Manager of Customer Service.  They were immediately impressed with the ease of installation.  Jack Cole, President of Lance Campers, reviewed the bumper as well.
Once the bumper was installed, the Lance team looked at it from every angle and gave us a lot of really good ideas to improve the product.  Everyone had input and suggestions on how we could make the quality and aesthetics even better.
With that feedback, we flew down in August to present the second prototype and have another round of meetings.  At that point the consensus was that we had a real winner and the Lance team wanted us to move forward.  We had hoped to debut the bumper at the annual Louisville trade show in December, but we decided it was more important to have it ready for a launch during the first quarter of 2014.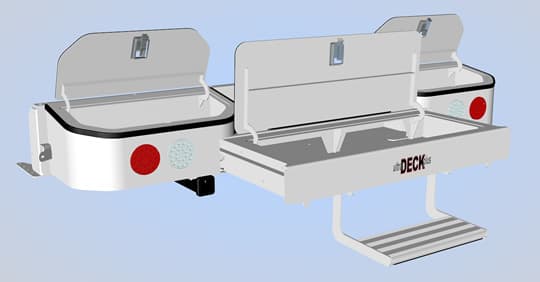 Above: The Ultra Deck Plus features 7.5 cubic feet of storage
TCM: And here we are.  Tell us about the specific features of the Ultra Deck Plus.
Jay: First of all, the Ultra Deck Plus features 7.5 cubic feet of exterior storage.  Exterior storage is always at a premium on truck campers and the Ultra Deck Plus bumper not only gives you lots of additional storage, but also makes that storage easy to access, and fully lockable.
The latches that hold open the storage lids are a special design by Jack Kay.  The latches work with a mechanical auto latch.  When you open the lid, it sits into a 1/8" groove.  When you want to close the lid, you simply lift the lid and lower it into position.  This design will not wear out or fail over time.  That's the reliability we want at Torklift International.