Lance Campers announces the brand new 2014 Lance 1052 double slide dry bath truck camper featuring the optional Ultra Deck Plus rear bumper system.

It's been over a year since Lance Campers debuted an all-new truck camper floor plan.  Lucky for Lance, the model in question was the 1172, an eleven foot double-slide sofa camper that has already become a monster success for the Lancaster, California manufacturer.
Still, it was curious to go for an entire year without a single new truck camper announcement from Lance Campers.  Were they busy with travel trailers?  Did that new toy hauler tie them up?  Perhaps they were practicing their golf skills for this year's TCM putting tournament or preparing a giant pair of dancing Lance Pants for Burning Man.
With the largest engineering and design staff in the truck camper industry, not to mention the considerable CNC technology and fifty years of production experience, all of those theories seemed unlikely.
Which leads us to a certain top secret conversation we had with the leadership team at Lance Campers at Louisville this past December.  "We are going to keep Truck Camper Magazine quite busy this year."  There was a sly smile behind the voice, the kind that says, "We're up to something big, but we can't wait to tell you about it yet."  Oh the suspense!
With the announcement of the 2014 Lance 1052, at least one of the big things is now public record.  To tell us more about the new 2014 Lance 1052, and the Ultra Deck Plus bumper system, we talked to Randy Hunter, Product Development and Engineering Manager, and Gary Conley, National Sales Manager for Lance Campers.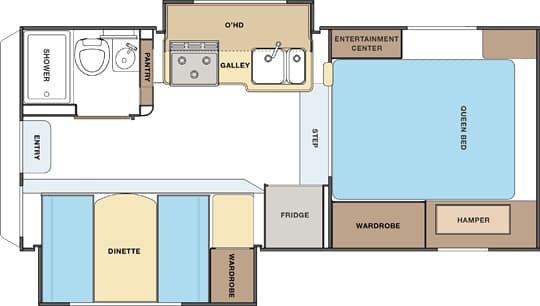 2014 Lance 1052 Specifications:
The 2014 Lance 1052 is a hard-side, dry bath, double-slide truck camper for long bed trucks.  The interior floor length of the Lance 1052 is 10'11" and the interior height is 6'9″.  Lance is reporting the dry weight of the Lance 1052 at 3,420 pounds without options and 3,987 pounds with standard build features; Ultra Deck Plus bumper, air conditioner, generator, convenience package, awning package, four season package, and roof rack.
The tanks in the 2014 Lance 1052 are 45 gallons fresh, 27 gallons grey, and 22 gallons black.  The camper accommodates two batteries and two twenty-pound propane tanks.  The MSRP for a standard build Lance 1052 is $39,800.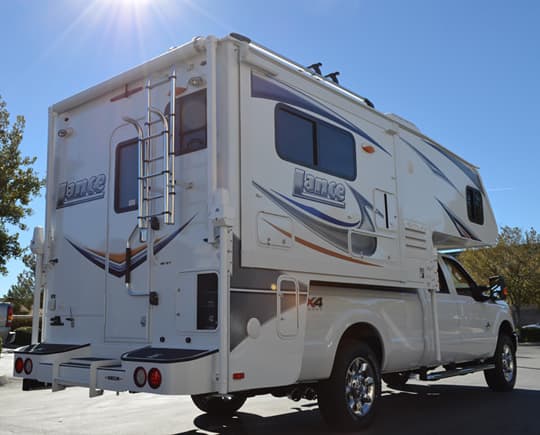 Above: The 2014 Lance 1052 with the Ultra Deck Plus bumper.  The 2014 Lance 1052 is shown on a single rear wheel truck for demonstration purposes only.  For proper truck and camper matching, read "Matching a Truck and Camper".
TCM: Randy, this is the first time you've been featured in Truck Camper Magazine.  Tell our readers about your background and what do you do for Lance Campers.
Randy: In a nutshell, I started at Fleetwood developing products in August of 1976 and have been working in the RV industry for thirty-seven years.  Prior to joining Lance, my background was in RV engineering and design.
I came on board with Lance in June of 2012, overseeing the engineering, design and development of all our products.  I am the Engineering Product Development Manager.  We also have a Lead Engineering Manager, five CAD drafters, and three prototype developers in our department.
Above: Refinements for the 1172 in 2014 include a new battery location, flip down couch with media table, and a large rear exterior storage compartment (click to enlarge)
TCM: Before we talk about the 1052, tell us about any updates Lance has made to their truck campers for the 2014 model year.
Randy: We spent 2013 refining our current truck camper line for 2014 and making big plans for new camper announcements in 2014, including the 1052.  Most of the 2014 refinements were minor upgrades and adjustments based on customer and dealer feedback, but those refinements added up to a better product.
Gary: Customers wanted more sleeping accommodations in our 1172 double-slide.  For 2014, we upgraded the couch in the 1172 to a version that flips down into a bed.  There's also more storage under the sofa and a new exterior storage compartment because we moved the batteries.