For reasons that cannot be explained, Angela White, Editor of Truck Camper Magazine, took on the Warrior Dash.  To keep things clean, we borrowed a Lance 1050S.

When Angela sets her mind to something, there's no changing it.  So when she told me that she and her friends were going to run the Warrior Dash, the mold was cast, the stone was carved, and the deal was done.  She was going to run the Warrior Dash.
For those of you who don't know what the Warrior Dash is (I certainly didn't), here's a brief description from the Warrior Dash website, "Warrior Dash is a mud-crawling, fire-leaping, extreme run from Hell.  …Warriors conquer extreme obstacles, push their limits, and celebrate with kick-ass music, beer, and warrior helmets".  Sounds like a good weekend, right?  Evidently, we were going to find out.  What did Angela get herself into this time?
The Warrior Dash was held about two and a half hours from our house in Lancaster, Pennsylvania.  Gary Conley, National Sales Manager for Lance Campers, had offered to let us borrow a 2011 Lance 1050S and this was the perfect opportunity to take him up on it.  On Friday morning before the event, William Hill, Lance Camper's East Coast Representative, delivered a 2011 Ford F350 diesel and the 1050S to our door.  Now that's service.  Thank you William!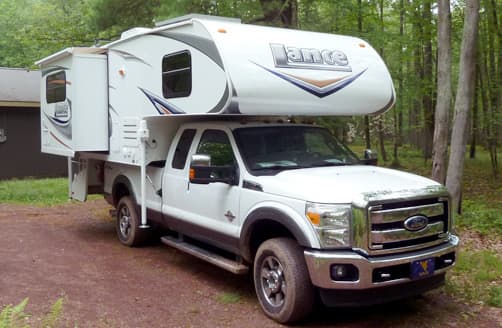 ABOVE: The 2011 Lance 1050S and 2011 Ford F350 Lariat diesel
The rest of this story will be divided into two parts.  Since I didn't participate in the Warrior Dash, Angela has written up her experience complete with some photographs you just have to see to believe.  I will follow with our experience with the truck and camper and attempt to put all of this mud and fire into the context of truck camping.
Get ready for what the Warrior Dash calls, "The Craziest Frickin' Day of Your Life!".  From what Angela's about to tell you, they may be right.
Angela's Warrior Dash Experience:
I'm writing this at 2:54 AM after completing the coolest race of my life!  I should be exhausted after running a three and a half mile obstacle race, but I'm not.  My brain is still thinking of all the fun we had, and my aching and bruised leg is reminding me of the thrill of accomplishing those obstacles.  What an adventure!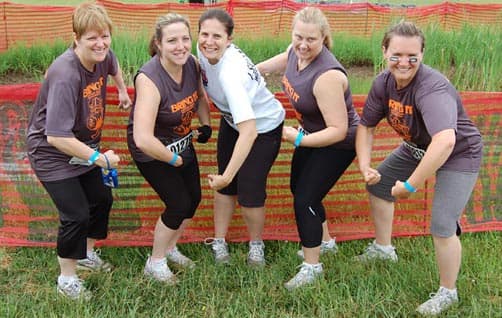 ABOVE: Warrior Dash team (left to right) Debbie, Heidi, Angela, Karen, and Jess
For the months leading up to the race, my friends and I got together and practiced.  We went to our local community park and ran, climbed ropes, crawled through tunnels, and sprinted over hills of mulch.  Now the preparations and training were complete, and we were ready for the race.
On the morning of the dash, it was about sixty degrees and pouring rain.  What had been a dirt road leading to a grassy parking field for the event had become a Warrior Dash all to itself with deep mud, tire ruts, and standing water.  So much for the clean truck and camper!
Just before we were to drive onto the grassy field and park, the mud got worse and the truck wheels starting spinning in the mud.  We were stuck.  That's when the parking attendants asked us to turn uphill and get out of the way.  One shouted, "You're holding up traffic.  Just go!"  Were they out of their noodle?
Then I remembered that we were in a four wheel drive truck.  I put the truck into neutral, switched into four wheel drive low, then switched to second gear, and drove right out of the mud and onto the grass.  Boy were we glad that Lance gave us a four wheel drive truck.  When we finally parked, we got out and saw that the truck was covered in mud, hay, and grass, but looked good.  Now it was time to get to the race.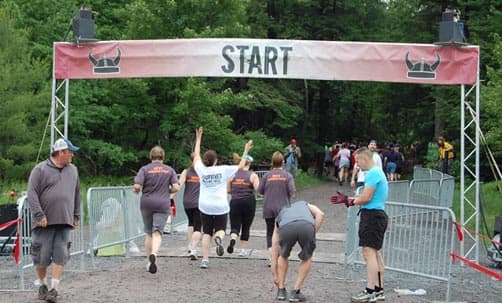 ABOVE: The starting line – I'm in the white shirt
After registering and putting on our number tags, we were very excited to get started.  We ran the 10:30 wave.  Each wave had 500 participants, and there were thirty-eight waves for a total of 19,000 racers.  It was a very well attended event.