Above: Quartz Lake
From there, you can hike down to Quartz Lake, then to Lower Quartz Lake in open meadows alternating with forest, and then hike back to Bowman with an elevation gain of 1,000 feet.  We had not intended to do the whole loop, but were compelled to continue after experiencing to the first vista.  As a result, we ended up hiking the last forty-five minutes in the dark, which is not advisable in bear country in the fall.  But if you start early enough, there is no problem to complete the loop in daylight.
Another Glacier National Park hike not to be missed is from the Logan Pass Visitor Center – at the top of Going to the Sun Road – to Hidden Lake.
Above: Hidden Lake
My favorite Glacier National Park camping spots are Two Medicine Lake and Kintla Lake, both of which offer sites with mountain lake views.  Kintla campground also has a stream running through it.   Kintla and Bowman are at their most colorful in the third week of October when the larches have turned yellow/orange.  Get to the park soon, before the glaciers have all melted.
Duncan Crawford
2008 Ford F450
2006 Arctic Fox 1150
3. Kintla Lakes Is Great For Canoes and Kayaks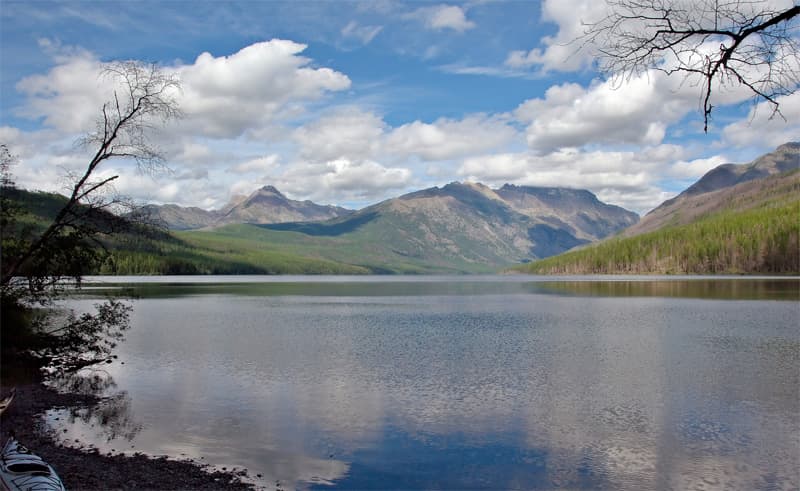 Try and get into the Kintla Lakes area, a small campground (no day use) in the northwest corner of the park.  If you have a canoe or kayak, this is the place to be.  You can also hike around both lakes, all the way up into Canada, some thirty or so miles.  We took our canoe and paddled/portaged it to the upper lake and back.  It's a long day trip, but definitely a unique experience.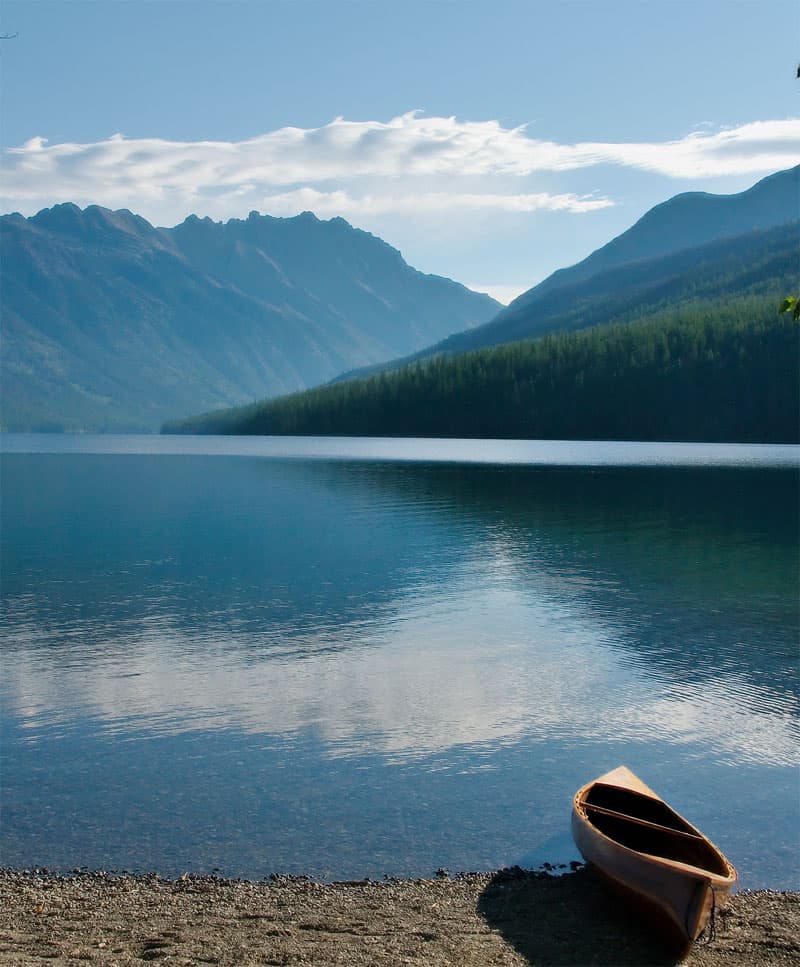 Check out the Avalanche Lake camping area and hike into the lake.  Then catch the shuttle up to the top of the Going To The Sun road and hike into Hidden Lake all the way in, down to the water.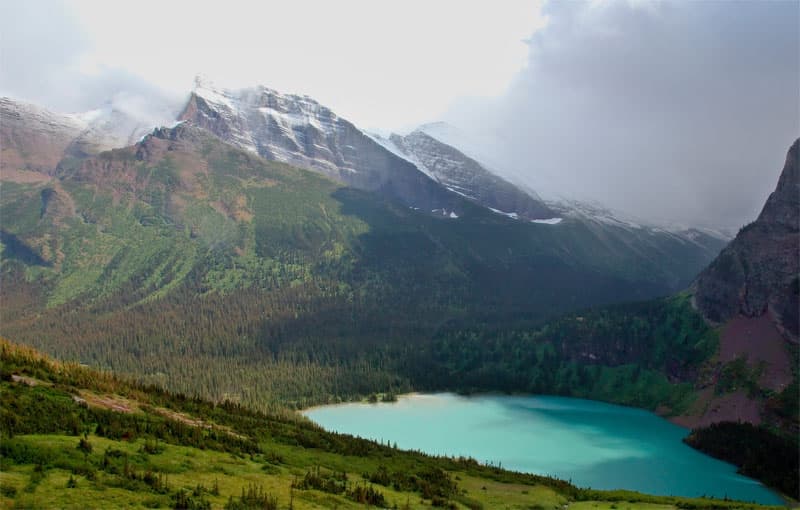 Above: Grinnell Lake, Glacier National Park
Grinnell Glacier is another must, before it's all gone.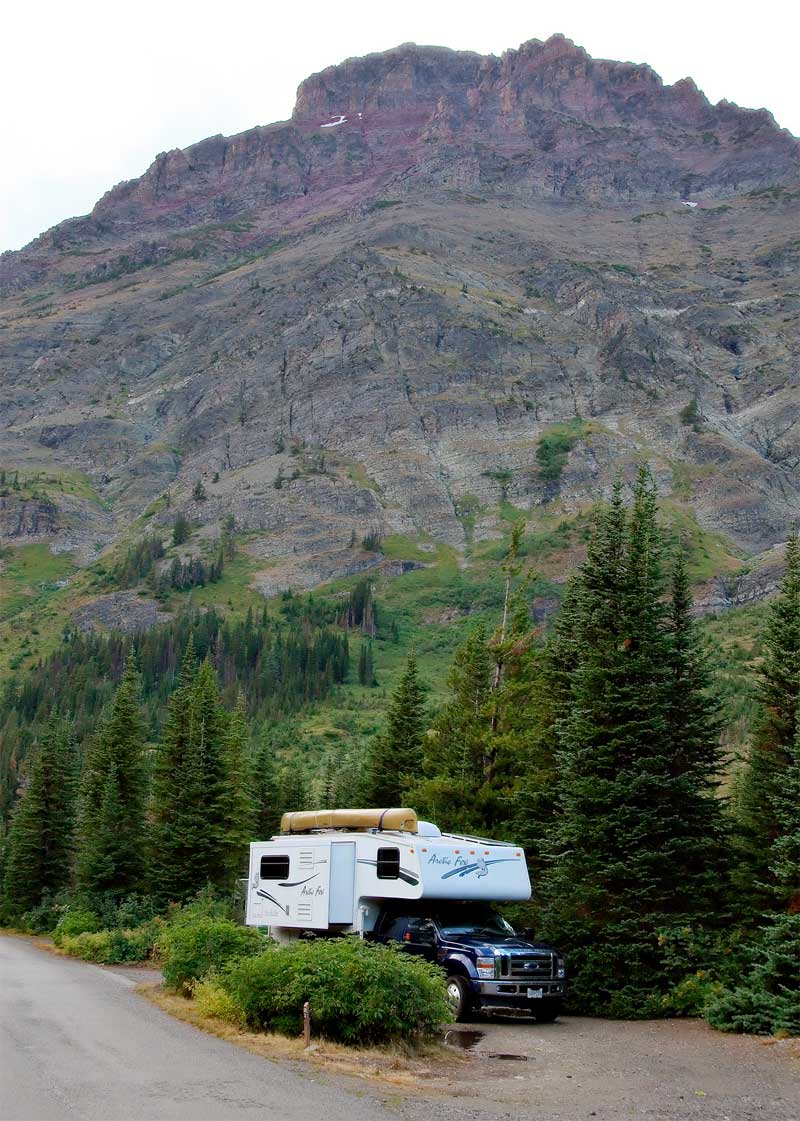 Above: Camping at Two Medicine Campground
We stayed at Kintla Lake, Avalanche Lake, and Medicine Lake park campgrounds.  Click here for my photo story.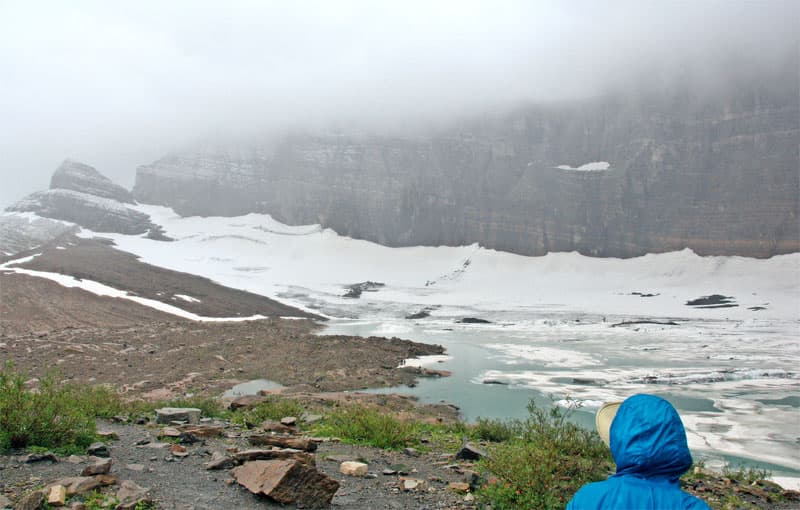 We suggest that you have hiking boots, a camera with a long zoom, and binoculars.