Truck Camper Magazine reviews a 2022 Wolf Creek 850, a hard side, non-slide truck camper for long bed trucks. Is this 11-year-old floor plan still competitive today?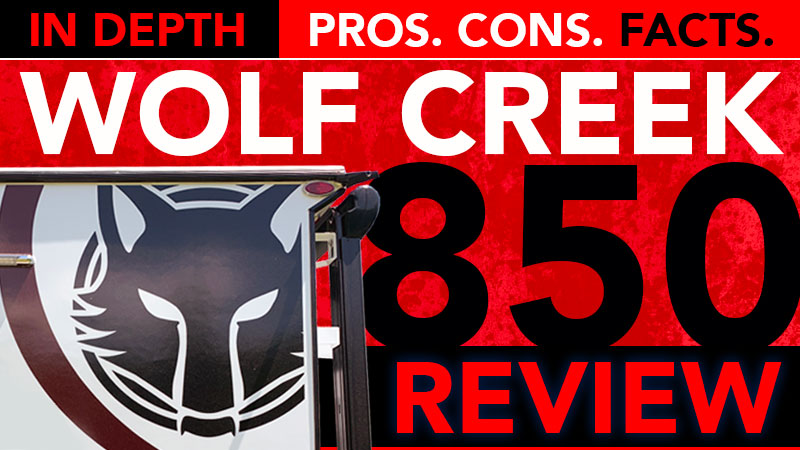 There's a common bias towards believing the latest must be the greatest. The new models have to be better than the old ones, right? That's certainly the message marketing endeavors to project; always new and approved.
That's not exactly the message broadcast by La Grande, Oregon truck camper manufacturer, Northwood Manufacturing. In fact, Northwood hasn't had a new truck camper model since the Wolf Creek 890 in late 2020, and that was their first new truck camper model in years.
Rather than continuously debuting new models, Northwood makes refinements to their proven floor plans year, after year, after year. As long as a given floor plan continues to sell, it remains in production. With this approach, every facet of planning, purchasing, manufacturing, marketing, and sales can be improved over time.
Our first experience with the Wolf Creek 850 dates back to 2011, the same year the Wolf Creek brand was announced. Since then the camper has quietly undergone numerous improvements and model year updates. The 850's floor plan remains unchanged, but nearly every other element has been advanced over the past 11 years. If only I could stay the same.
The question I always ask when approaching a model that's been in production anywhere near a decade is, "Is this camper still competitive?" Given the current marketplace success of the Wolf Creek 850, that may not be the right focus. Perhaps the right question is, "How is an 11-year-old design still competitive?"
It's time to take a fresh look at the Wolf Creek 850, and put it through a formal evaluation and review. But before we get started, we need it moved out a bit. "Hey Bill, could we move the 850 out a bit?"
Floor Plan Evaluation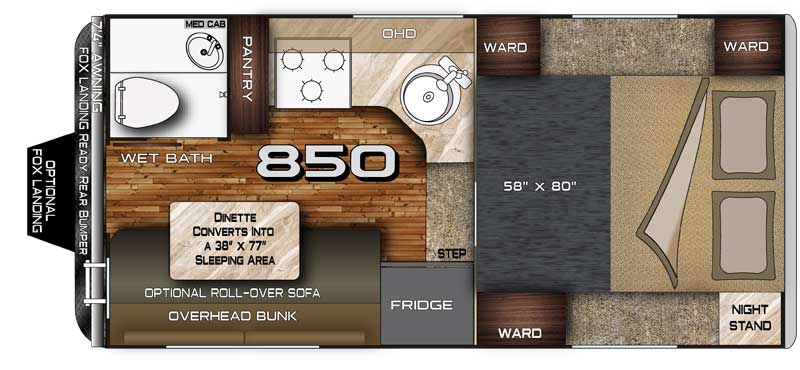 Above: The floor plan for the 2022 Wolf Creek 850
We stopped by Truck Camper Warehouse in West Chesterfield, New Hampshire for this review. Truck Camper Warehouse Owner and Founder, Bill Penney, was brimming with his usual enthusiasm and immediately fork-lifted the Wolf Creek 850 to a more photography-friendly spot in the grass.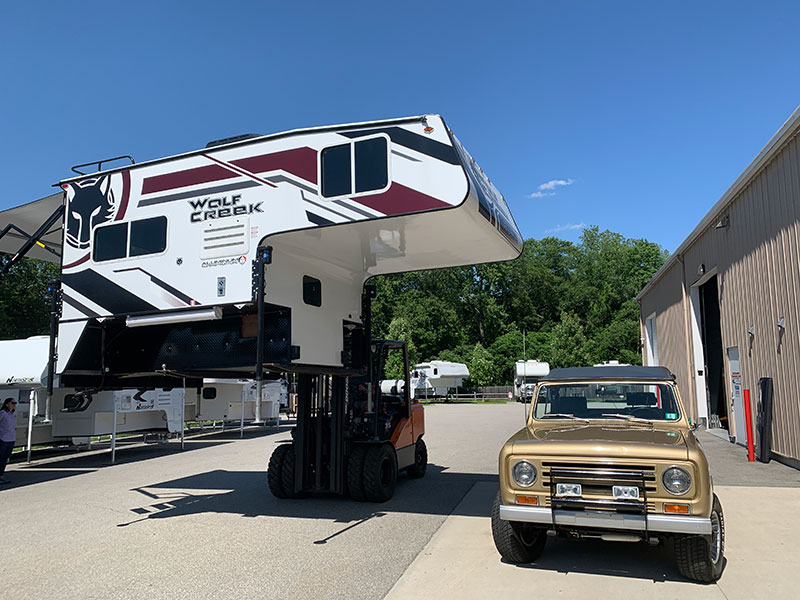 Above: All photos taken at Truck Camper Warehouse in West Chesterfield, New Hampshire
What impressed me the most was how Bill lifted the unit up and over his prized International Harvester Scout. That's some serious confidence.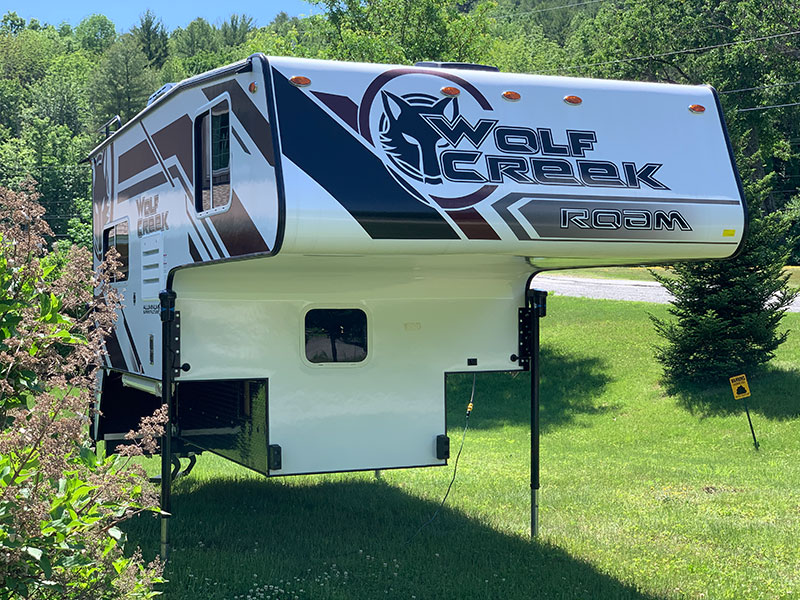 Bill gently deposited the camper on the side of the building, plugged it into 110-volt power, leveled it up, opened the rear door, and said, "Watch where you walk." Look closely at the photo above and you'll notice a small yellow sign on the right side warning of what Bill's poodles may also have deposited in this location. Thankfully, no landmines were discovered or detonated during the course of this review.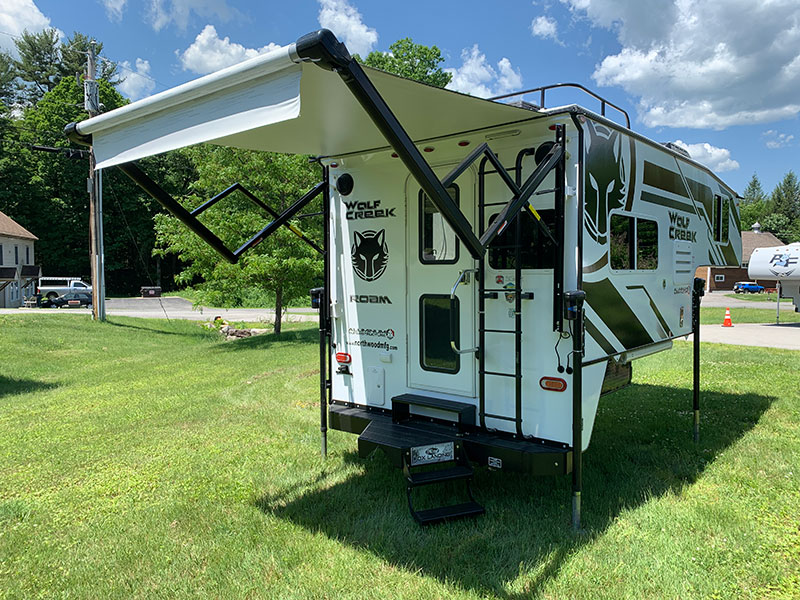 Before making his own careful exit, Bill extended the rear power awning. This is a fantastic feature for any camper, much less one intended as a more budget-oriented offering.
As something of a confession, in our almost 18-years of truck camping, we have never once used an awning on a camper we've borrowed or owned. We've had them, but due to our nomadic truck camping lifestyle, and the general hassle of set-up and take-down, we always left awnings closed. Our own personal camper doesn't even have an awning. All that stated, a power awning would likely change all that. They're fast and easy to deploy and provide valuable shade and rain protection. We might actually want one of these.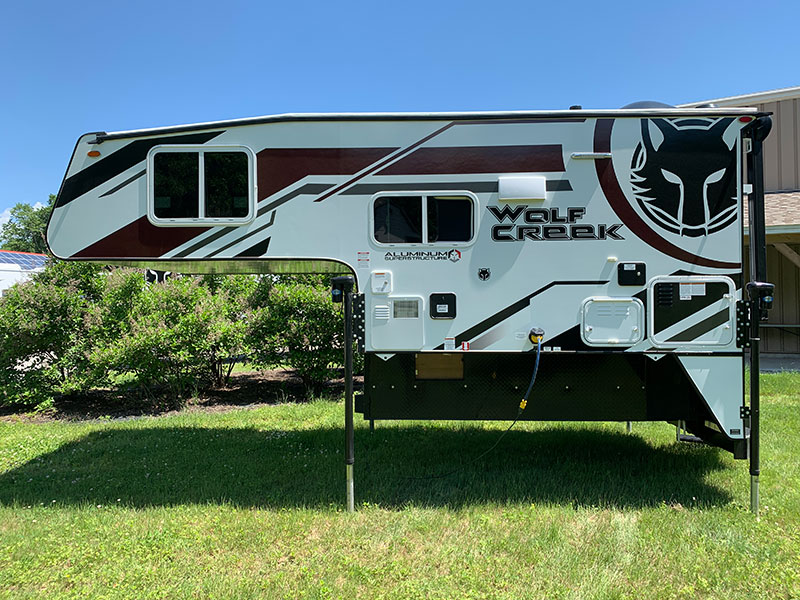 The Wolf Creek graphics package has always been an absolute favorite of mine. The wolf logo and strong lines give the unit a sharp and distinctive aesthetic. This camper looks the business.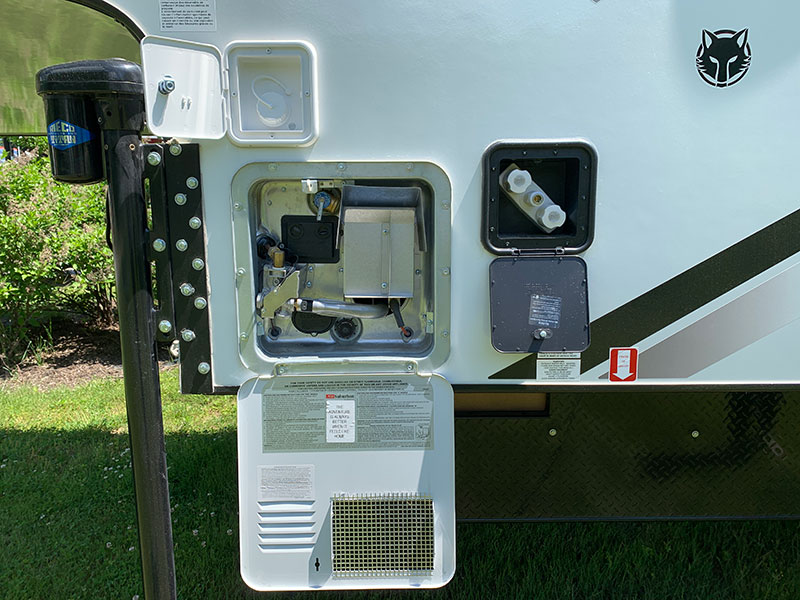 The passenger's side features the fresh water fill, water heater, outside shower, and a center of gravity sticker. Where this sticker points should be forward of the rear truck axle. I want to commend Northwood Manufacturing for properly marking the center of gravity. Based on this location, it should be well forward on any truck this camper would be matched with.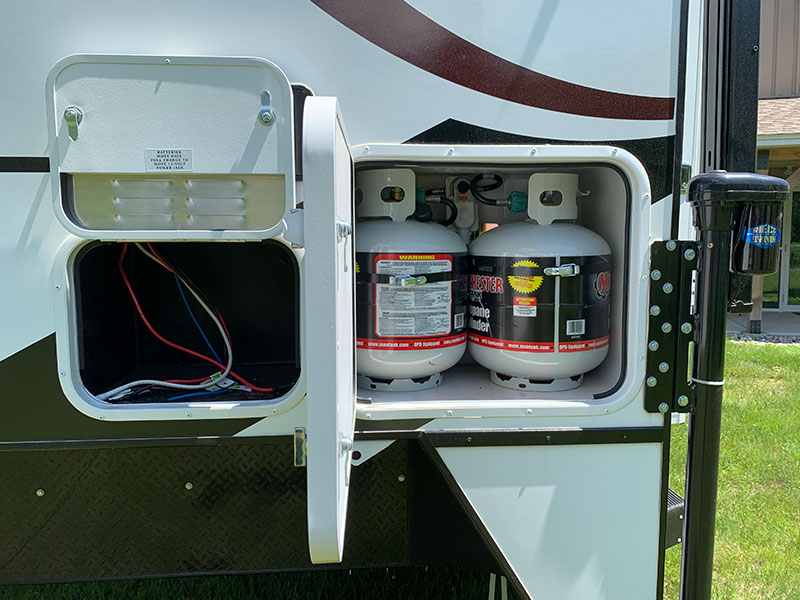 Above: The dual battery compartment was empty, but fits two Group 27 batteries
Toward the rear, the passenger's side also features dual battery and propane compartments. Northwood's Arctic Fox truck camper line offers two 30-pound propane tanks across the board, but the Wolf Creek non-slide models stick to two 20-pound tanks to save space and weight.
While you lose some capacity going from 30-pound to 20-pound tanks, 20-pound vertical tanks have the important advantage of being exchangeable, not to mention how much easier they are to lift and maneuver. We actually switched from 30-pound to 20-pound propane tanks in our camper to save weight. Angela also wanted to be able to lift the tanks if she needed to.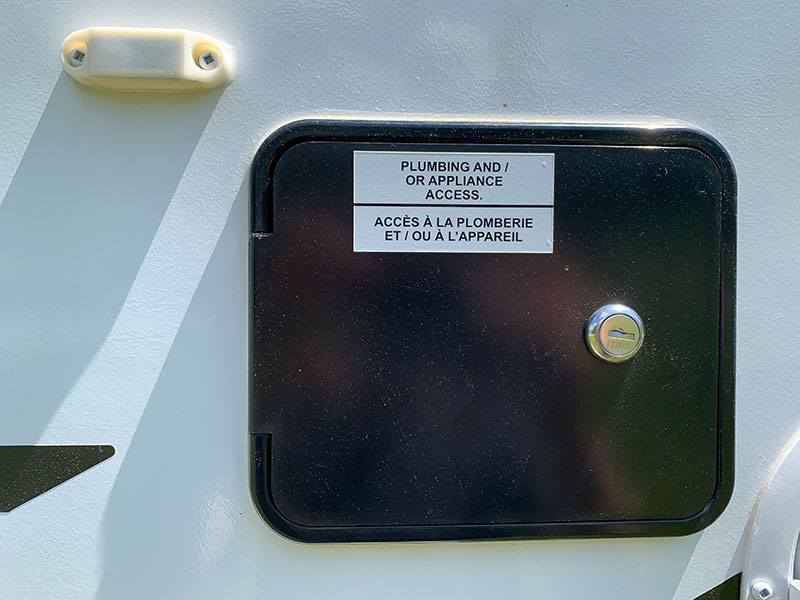 Above the battery compartment is a, "Plumbing and/or Appliance Access" panel. This panel, and others located strategically throughout the Wolf Creek and Arctic Fox truck camper line, provide convenient access points for routine maintenance and service. By design, these access doors pay huge dividends in saved service time and expense. Thank you, Northwood.
The back of the Wolf Creek 850 under review had the fantastic Fox Landing. First debuted in 2011, the Fox Landing was developed with Torklift International to better accommodate towing applications while also providing a safer and more comfortable landing and entry step system. We've had multiple positive experiences using this step system and fully understand why it's been a huge success for Northwood Manufacturing.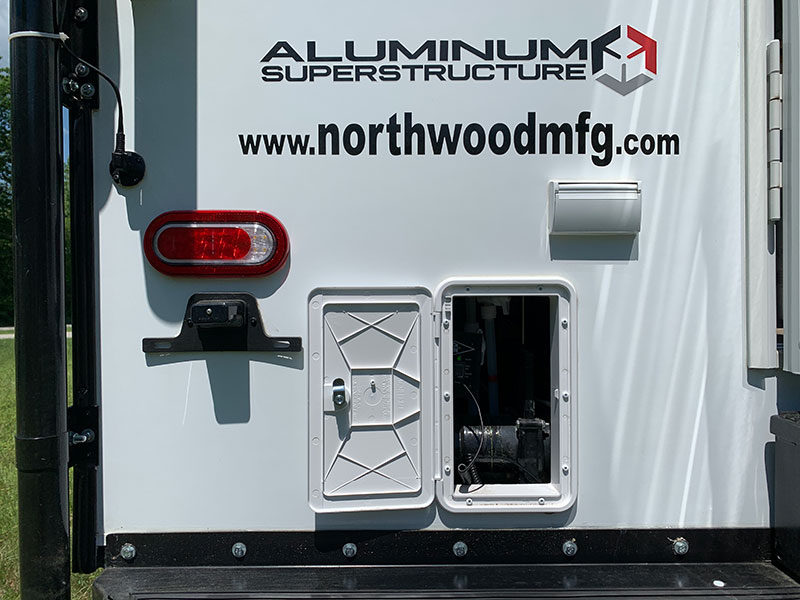 To the right of the entry door is a compartment containing the dump valves, water drains, and Rieco-Titan jack remote activation switch. This is the right functionality in the right place; always appreciated.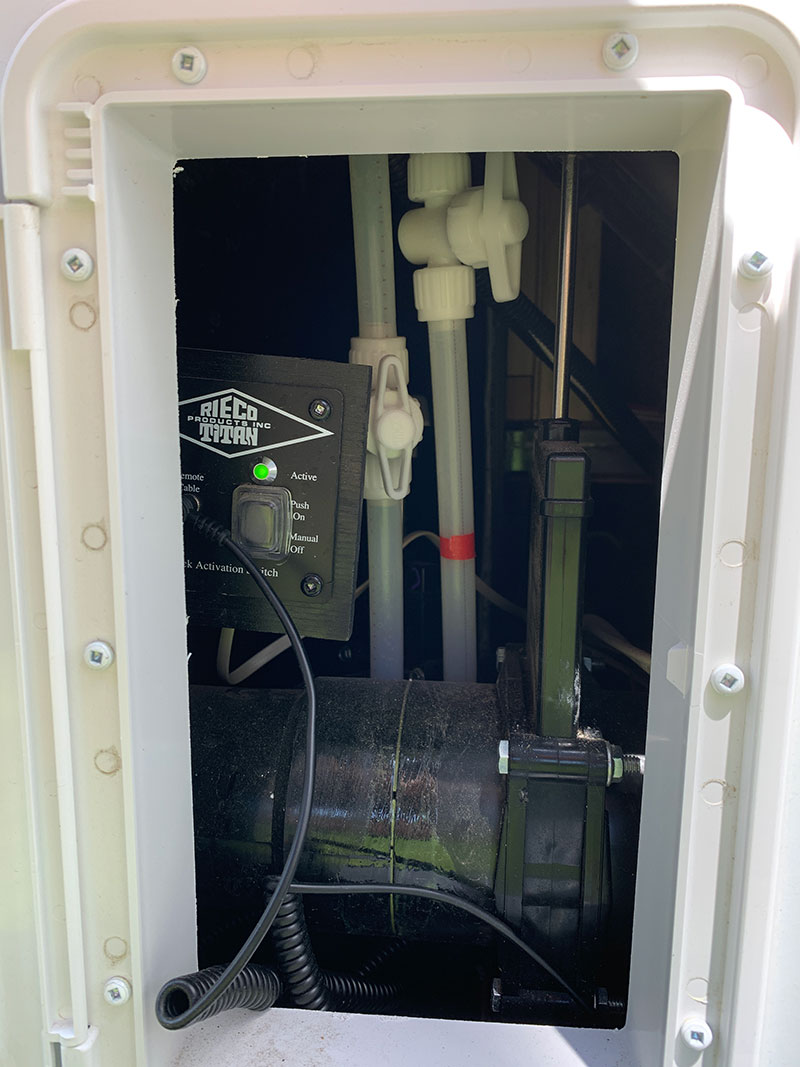 Note that the grey water valve is open. Campers sometimes leave the factory with their valves open as part of their quality control process. I won't tell you what happened when we picked up a demo camper for a test and didn't notice this until it was time to dump. Note to self: Always check the dump valves before using a camper's grey and black tanks.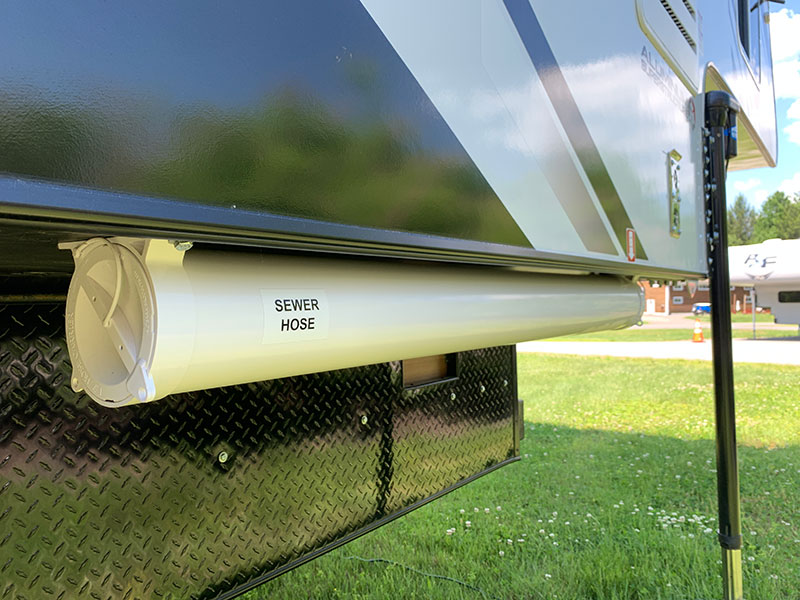 Since we're on the topic, the sewer hose is located in a labeled, "sewer hose" container under the passenger's side wing. From experience, these containers work well and fit the longer sewer hoses we prefer.
However, depending on the size, these containers may not fit some of the 90-degree clear attachments that have become more popular. Some owners may prefer to move this container to under the rear overhang to (a) put the sewer hose closer to where it's needed and (b) prevent potential dripping on their truck. We made exactly that modification on a borrowed camper in 2018.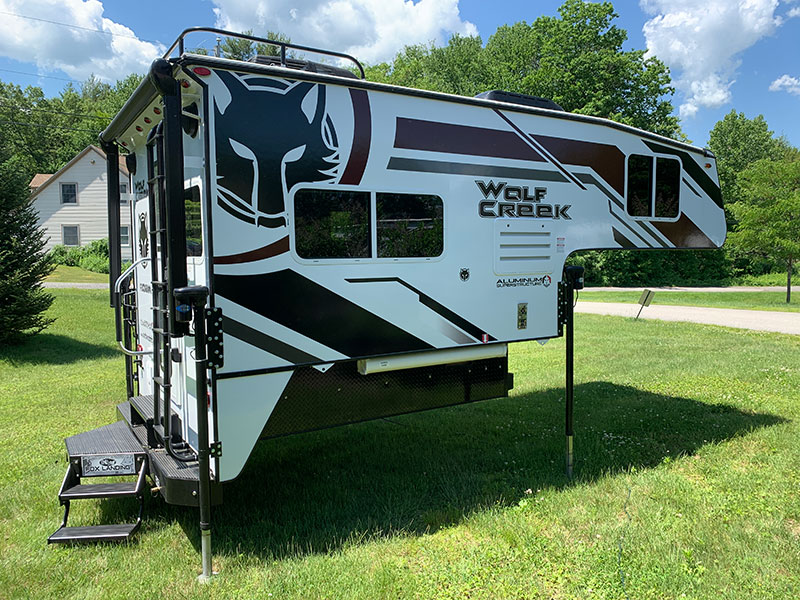 The rest of the passenger's side has the exterior refrigerator access, furnace vent – and more of that bold Wolf Creek look. Honestly, the other campers are probably a bit worried when this beast shows up.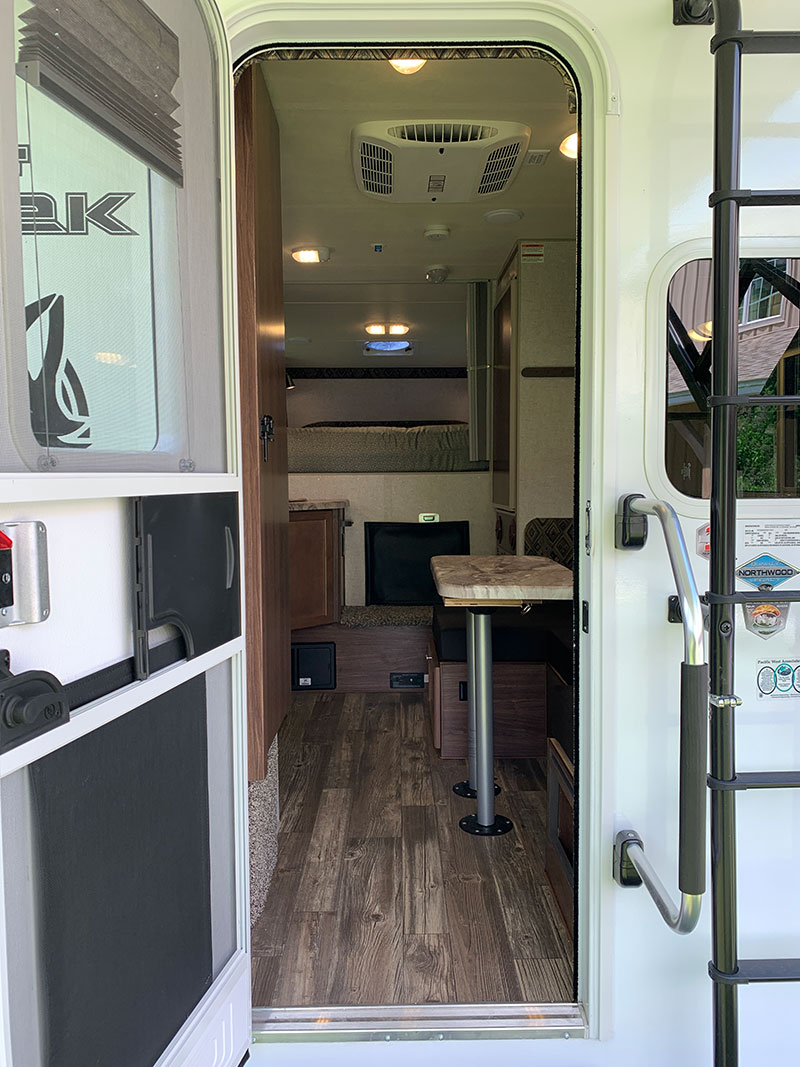 Opening the rear entry door, one is greeted with a warm and inviting interior.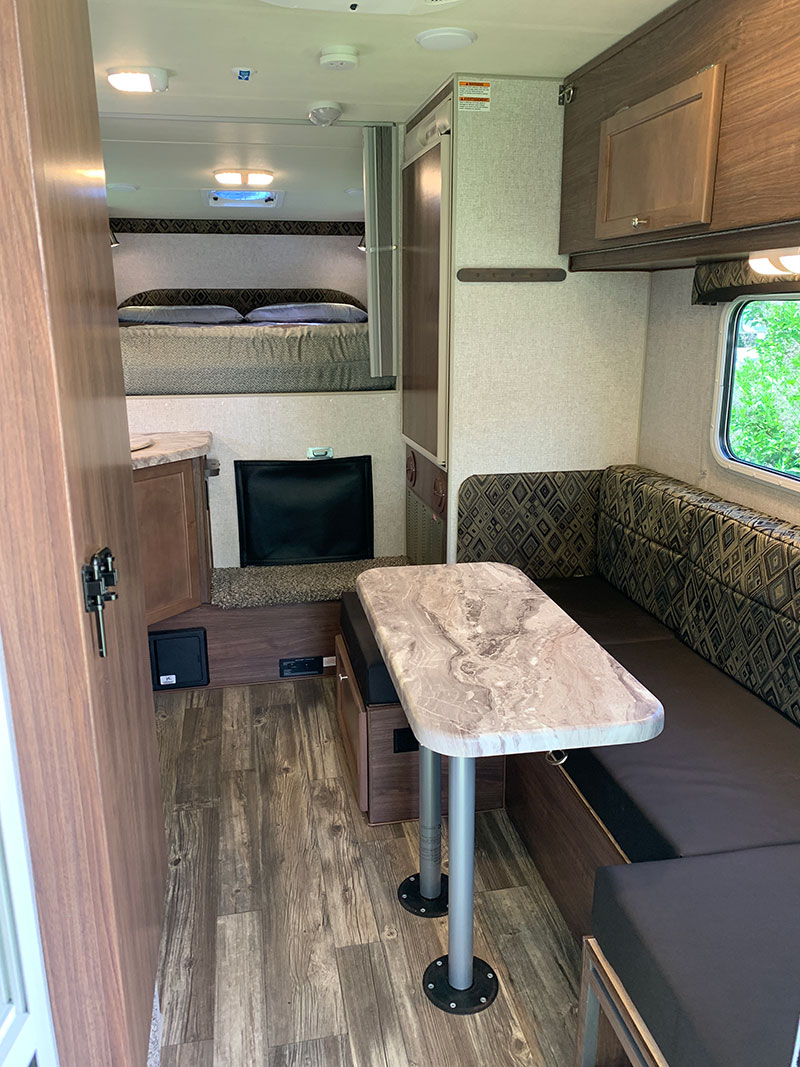 This is a modern take on a traditional camper interior; a mix of brown and warm-gray cabinetry, warm-gray faux-wood flooring, pattern and solid fabrics in the dinette, beige carpeting for the transition areas, thermoformed tabletop and counters, and textured walls.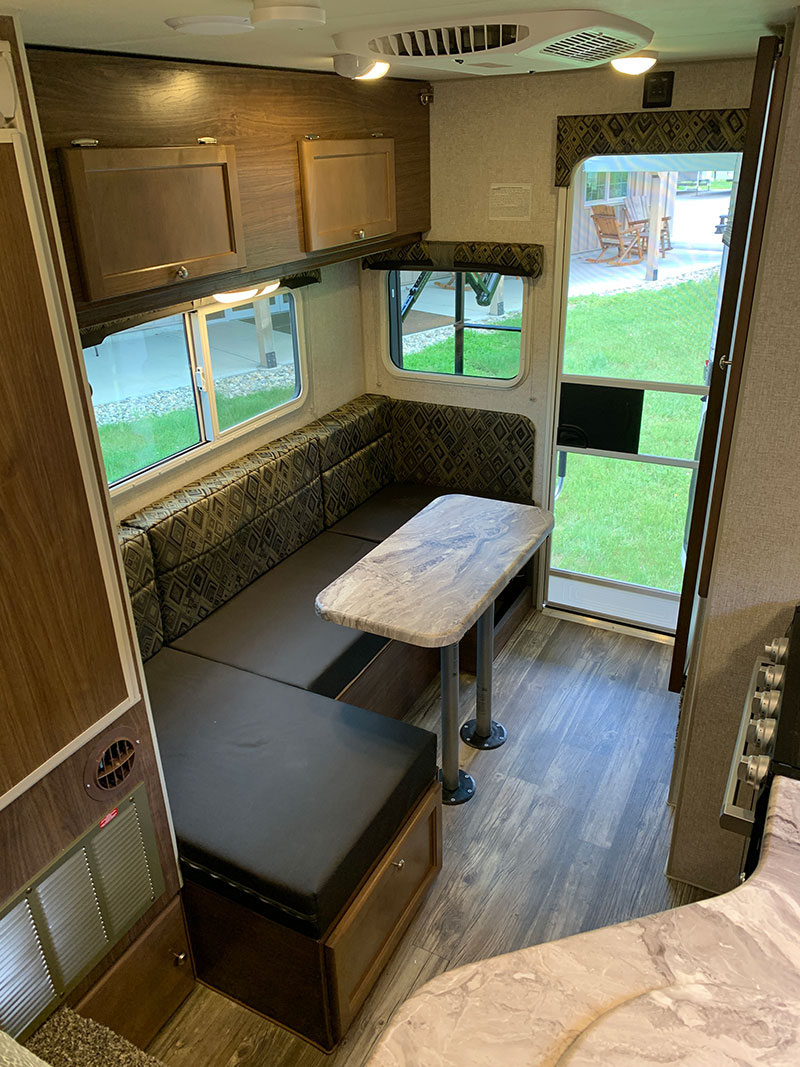 The bright LED lighting brings up the modern look, while the warm-gray tones keep the vibe familiar and comfortable. It's a good balance and will likely satisfy the great majority of Wolf Creek owners.
Owners who want to take this presentation in a more modern direction can always paint the cabinetry and/or walls white, reupholster the dinette and valances, and add their own personal details. That's often part of the fun of owning your own camper. Make it yours.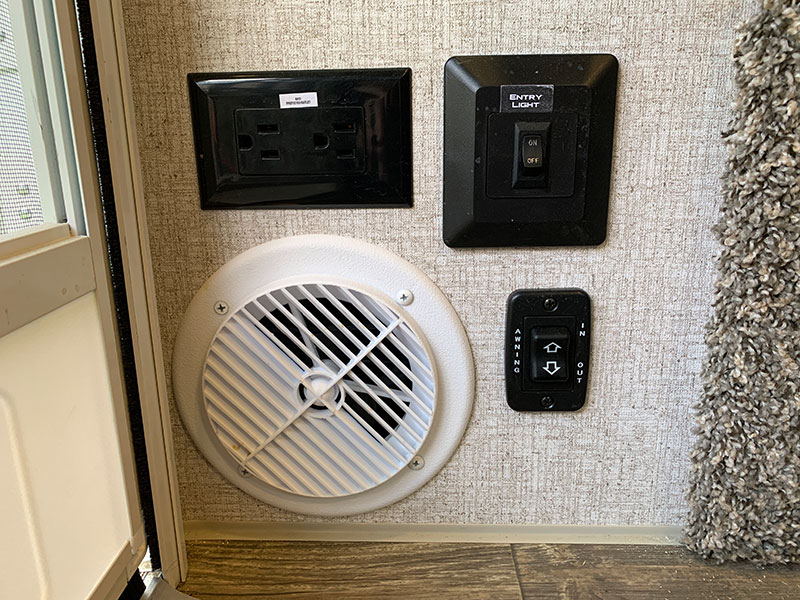 Going back to the inside door area, there's a 110-volt outlet, entry light switch, heat vent, and the electric awning control. Having the light switch here means avoiding entering a camper in the dark and stepping on the cat's tail – not that I've ever done that. The awning in-out switch/rocker is also in exactly the right place.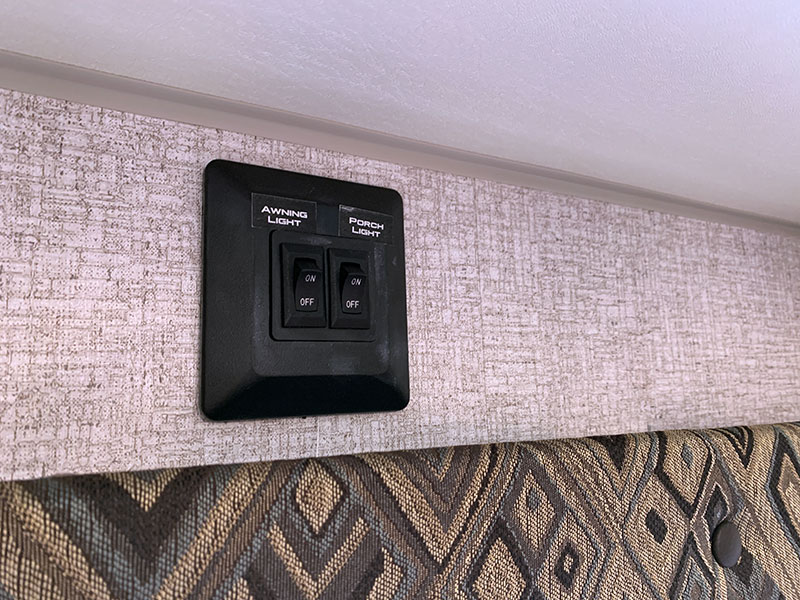 Above the entry door are two more switches for the awning and porch lights. Again, this is a good location for these controls. It wouldn't take long for folks to reach in from the outside to hit the entry light, awning light, and/or porch light from location memory.
As a side note, we rarely use our outside porch lights and often forget to turn them off overnight when we do. I'd like to replace our outside porch light switch with a lighted switch that I would see before hitting the pillow. I bet I'm not the only one who accidentally leaves their porch lights on.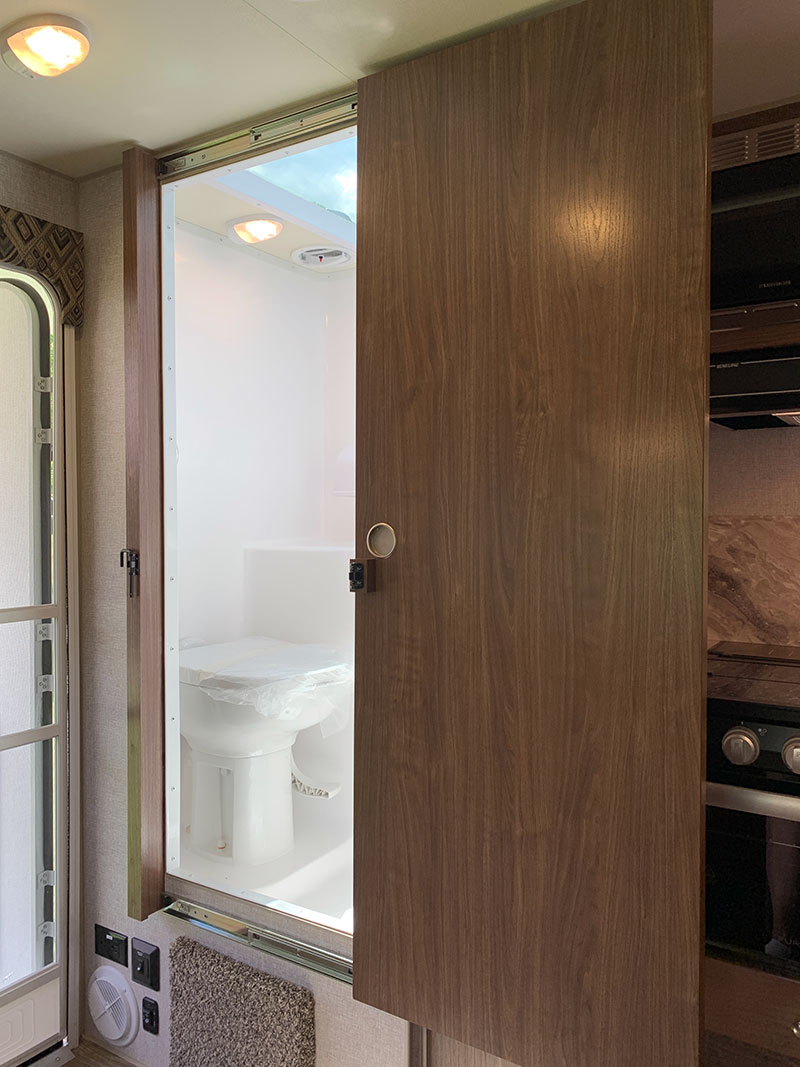 Above the entry light switch on the driver's side is a large wet bath. The wet bath door runs on two stainless steel ball-bearing door slides; top and bottom. It's quite smooth and solid in operation.
The advantage of a sliding door here is that it doesn't come into the relatively narrow non-slide hallway area. The disadvantage is it does come into the cooktop and oven area. There's also something of a catch to keep this door from flying during travel.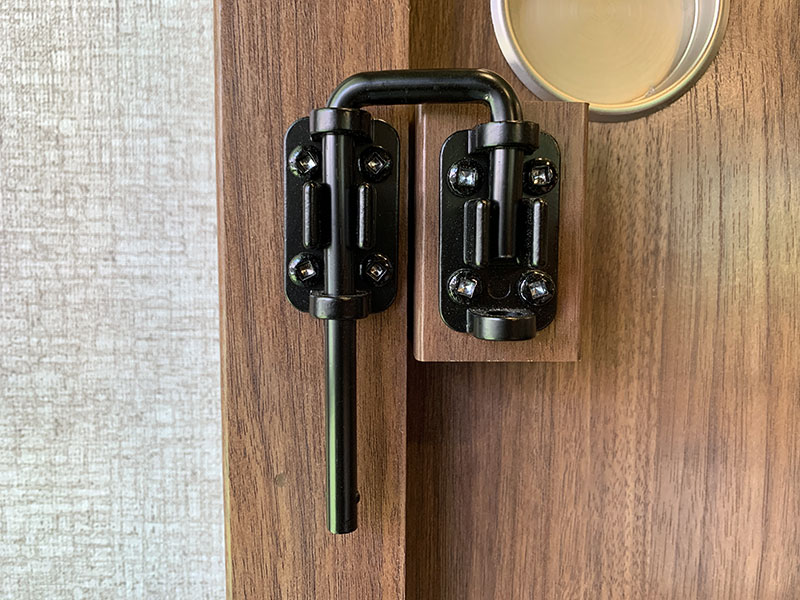 That catch – or latch – must be engaged or this door will travel when you do. I know this from personal experience after nearly dislocating a similar door on a Wolf Creek eleven-years ago. That camper had only the top stainless steel door slide and a much less robust latch system. The current latch is a world better and a cinch to use, but don't forget to use it.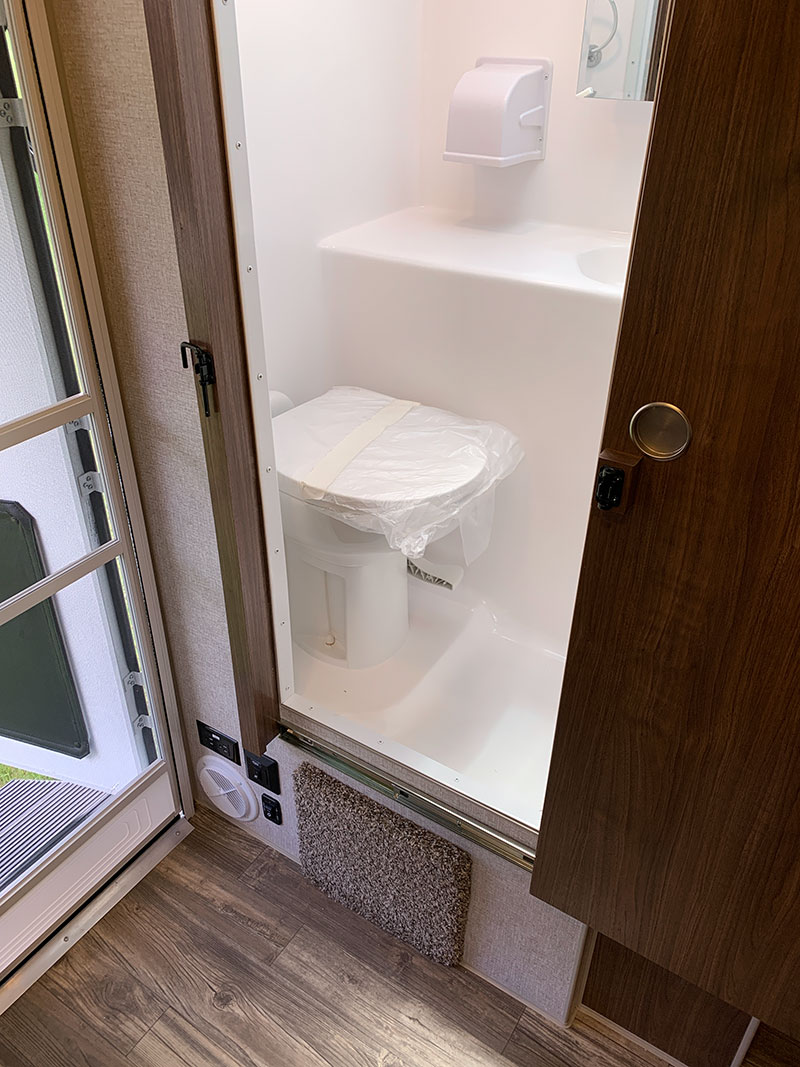 The fiberglass stall wet bath features a foot-flush toilet utilizing the Wolf Creek's 20-gallon black tank. Molded fiberglass has long been the premium choice for wet baths for a reliable water seal and a bright and attractive finish.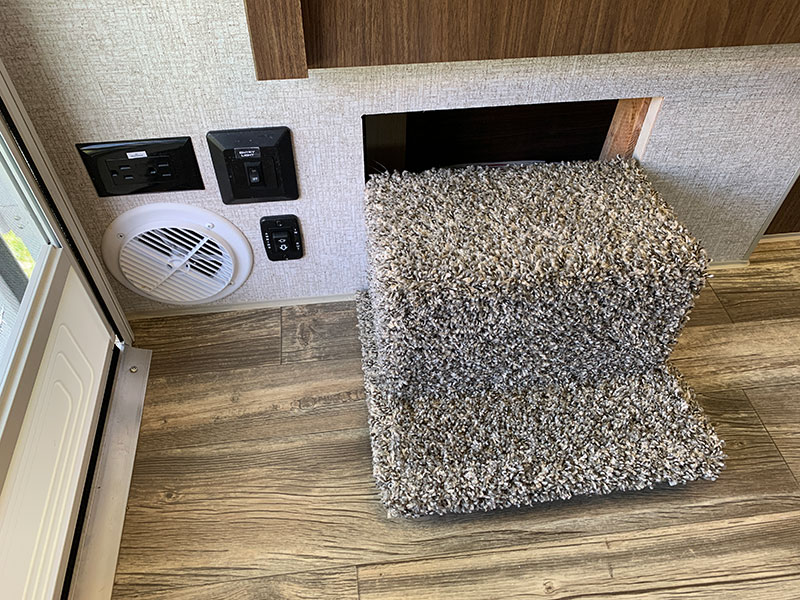 Underneath the wet bath door, you will notice a section of square carpeting. Give that a light pull from the top and it drops down.  The resulting step is designed to aid entry and exit from the wet bath. This is a clever detail that could presumably – if you remove the step – give more access to the plumbing underneath the wet bath.
As the owner of an all-too-curious cat, we would either need to keep this step closed up or find a way to seal the gap created by the step. I already say, "Get outta there, Cosmo!" ten times a day. If this were in my camper, I would become an auctioneer.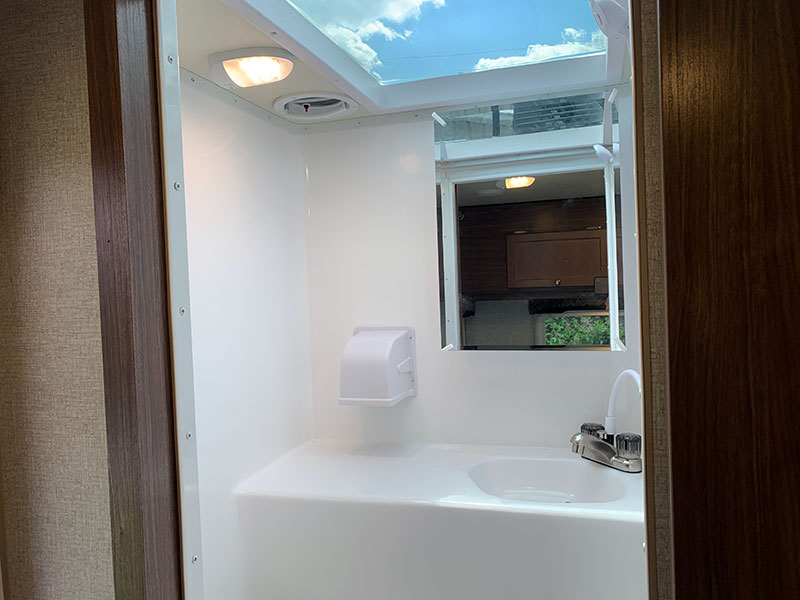 The clean bright and white presentation gets even better with a large dome skylight. Tall folks like yours truly need this extra headroom to stand. Even if you're height challenged, you'll enjoy the open feel created by the fiberglass and skylight.
On the back wall of the bathroom is a light and the all-important fan. The handle on the fan allows you to open the fan and a small push button turns the fan on and off. These smaller fans are not as effective as a full-size Fantastic Vent, but they get the job done. In my stinking opinion, no camper bathroom should be without a fan.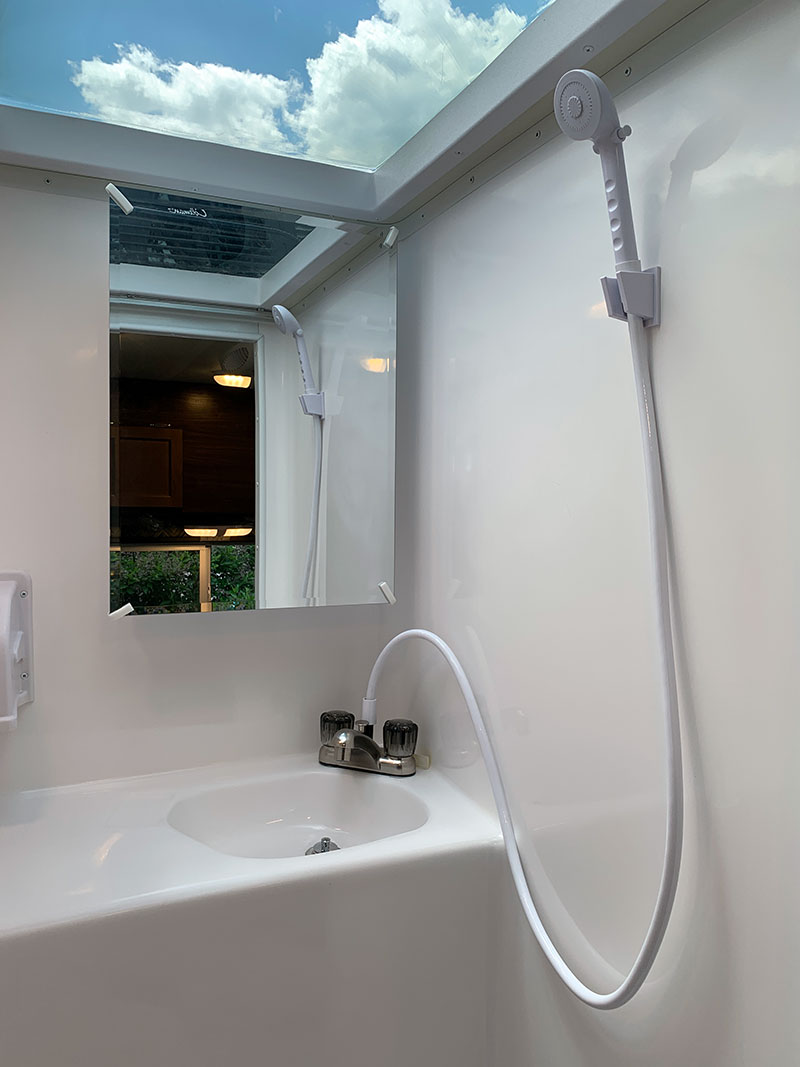 Or a shower. The features of this wet bath are nothing extraordinary, but they are all well designed, thought out and proportioned. The sink and counter space are just large enough to be useful. The sink controls are handy when showering. And the location of the shower head is right on the money. It's easy to overlook these choices when they're right, but we know better. Nicely done, Northwood.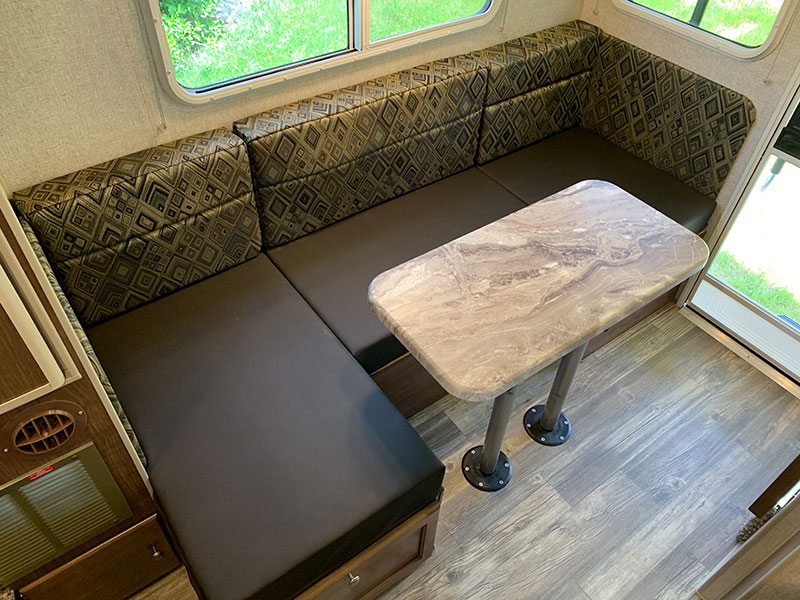 Directly across from the wet bath is a quasi-U-shape dinette. I say "quasi" as one end of the U is too short to really sit at. It's more of an L-shape dinette. Either way, it's a nice-sized dinette with plenty of seating for two or three adults.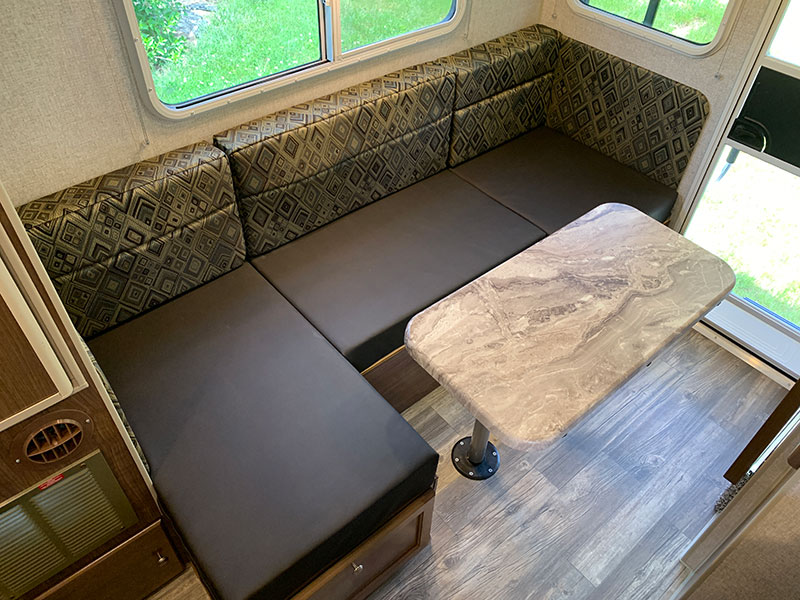 Look back and forth between the two photos above and notice how much the table moves out into the main hallway. The table itself uses two posts to keep it firmly in place, but then has the ability to slide in or out from the dinette. In the out position, a full-grown human can get into the dinette middle area.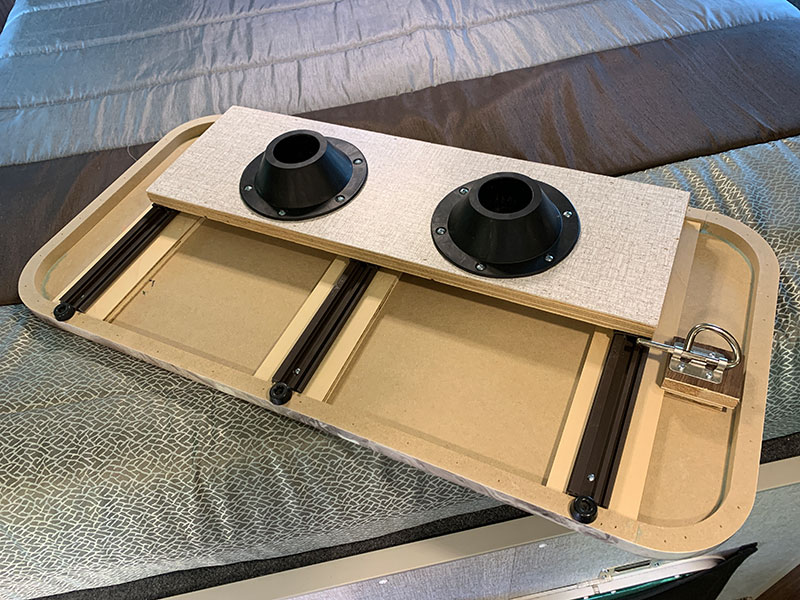 This picture shows the table top removed from the two posts and placed on the cabover bed for photography purposes. Note how the post attachment points are on three slides. Also, note the latch center-right that keeps the table from moving during travel.
That's right, there's another latch to remember before heading out. Maybe an annoying rhyme will help; "Latch, latch, then close the door hatch." If that sticks, I'm sorry, and you're welcome.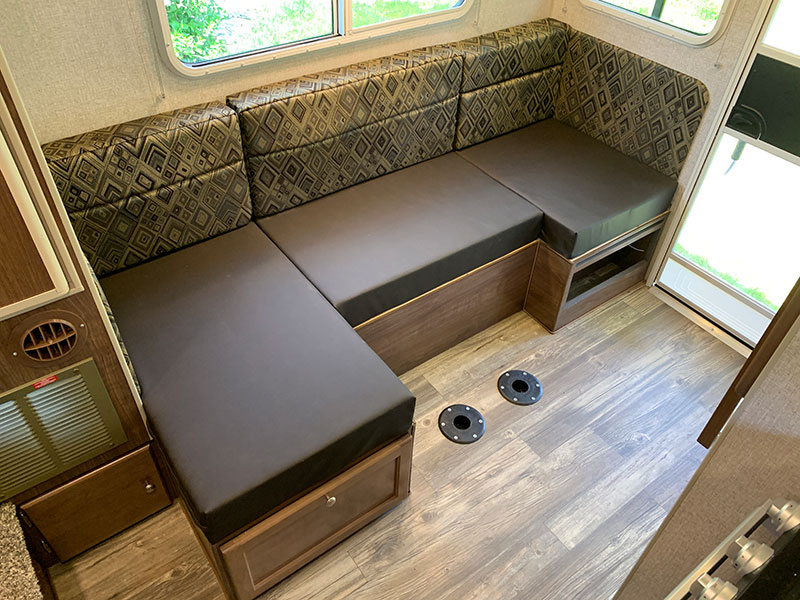 With the table removed, the dinette has plenty of space to sleep one adult. To create more sleeping area the rear cushions would be removed.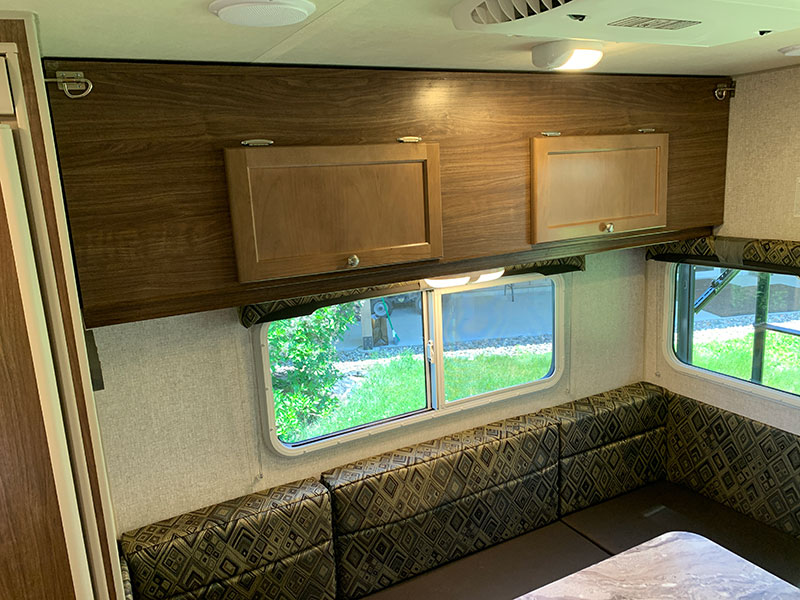 Above the dinette is a large overhead storage cabinet and bunk. We use this storage area everyday in our camper and would not want to camp without it. It's also another reason why we personally prefer non-slides; upper dinette storage cabinets.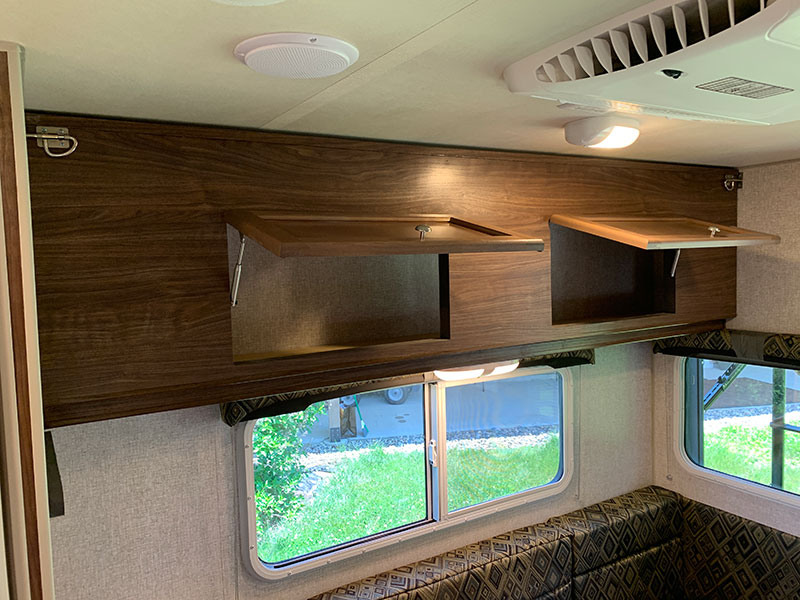 The overhead cabinet doors open upwards and are held in place with the aid of gas struts. Again, the storage here is invaluable, but I'd like to see larger cabinet doors to make accessing items within easier to see and reach.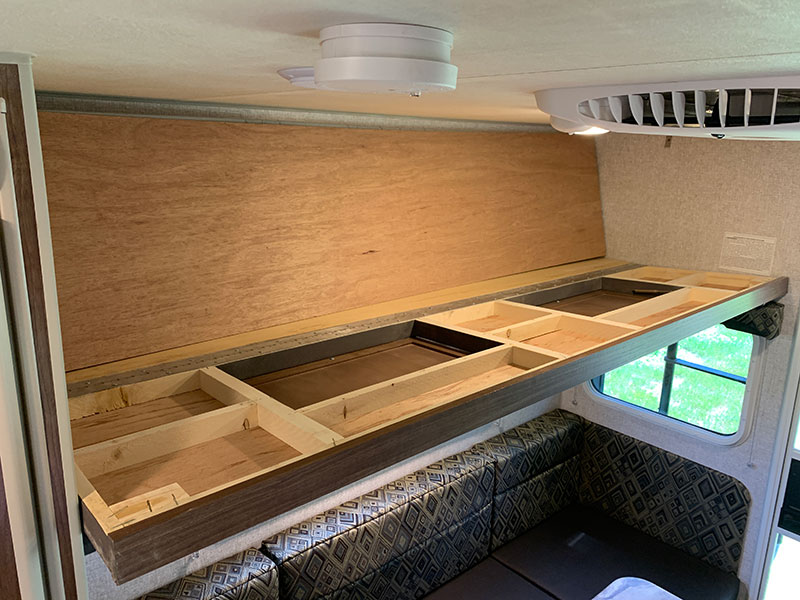 To transform the overhead dinette cabinet into a bunk, the owner pulls a latch on either side of the cabinet and drops down the hinged cabinet face.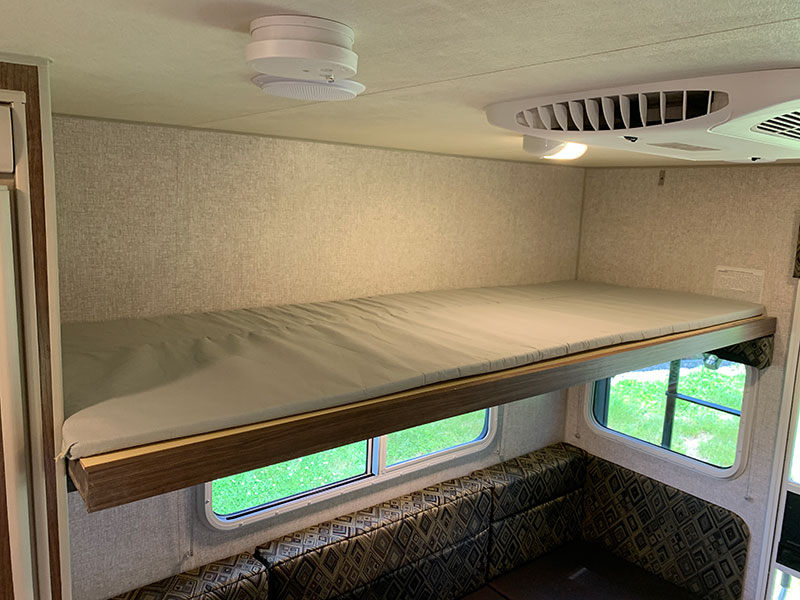 Once the cabinet face is horizontal, Northwood has supplied a wood platform and foam cushion to create the bunk bed. Add a sleeping bag and young Johnny has a spot to sleep. The supplied cushion is quite thin so consider adding another soft layer or two for comfort.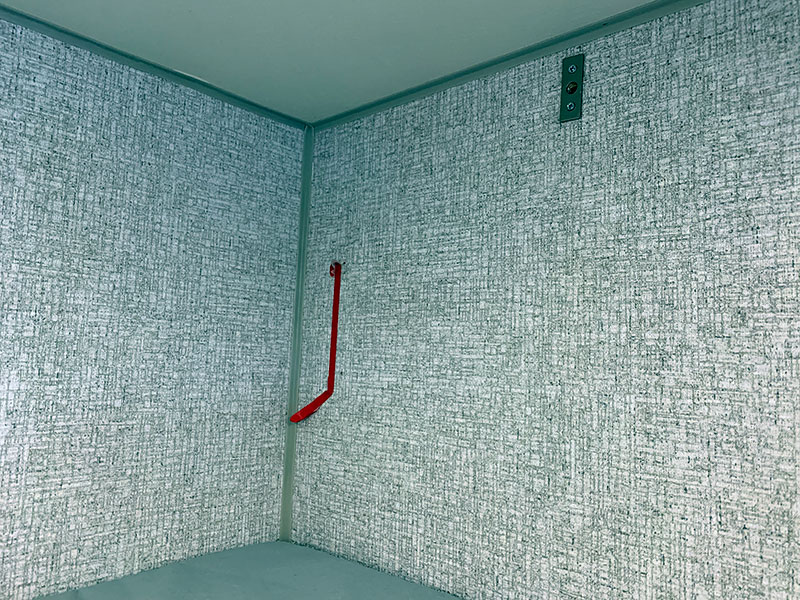 After assembling the overhead dinette bunk I spotted a strip of Northwood squawking tape. At the end of the Northwood truck camper production line, the quality control team goes through every unit. If they see anything they don't like, they put a piece of this tape on it. That tells another team member to check in that location and make any needed improvements. Given the outstanding quality control Northwood is known for, it's a highly effective system.
I could not see what this squawking tape was placed for. My guess is that it was left behind after the fix was made. If not, I'm sure Bill Penney and the Truck Camper Warehouse team will make the needed change. At any rate, I can vouch for Northwood's quality having been to their factory multiple times and watched their quality control teams at work. They've got it down.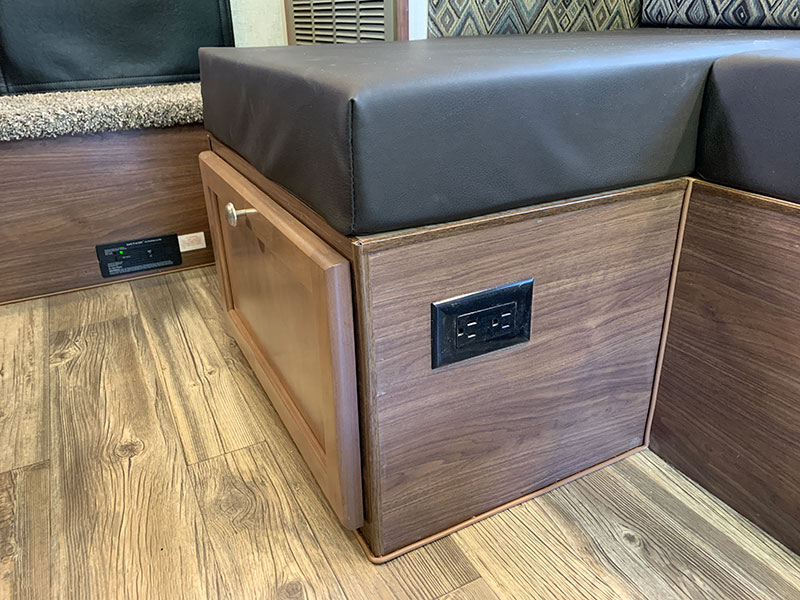 Under the dinette is a 110-volt outlet. As this review unfolds, you'll notice that Northwood has done a good job at putting various outlets throughout this camper.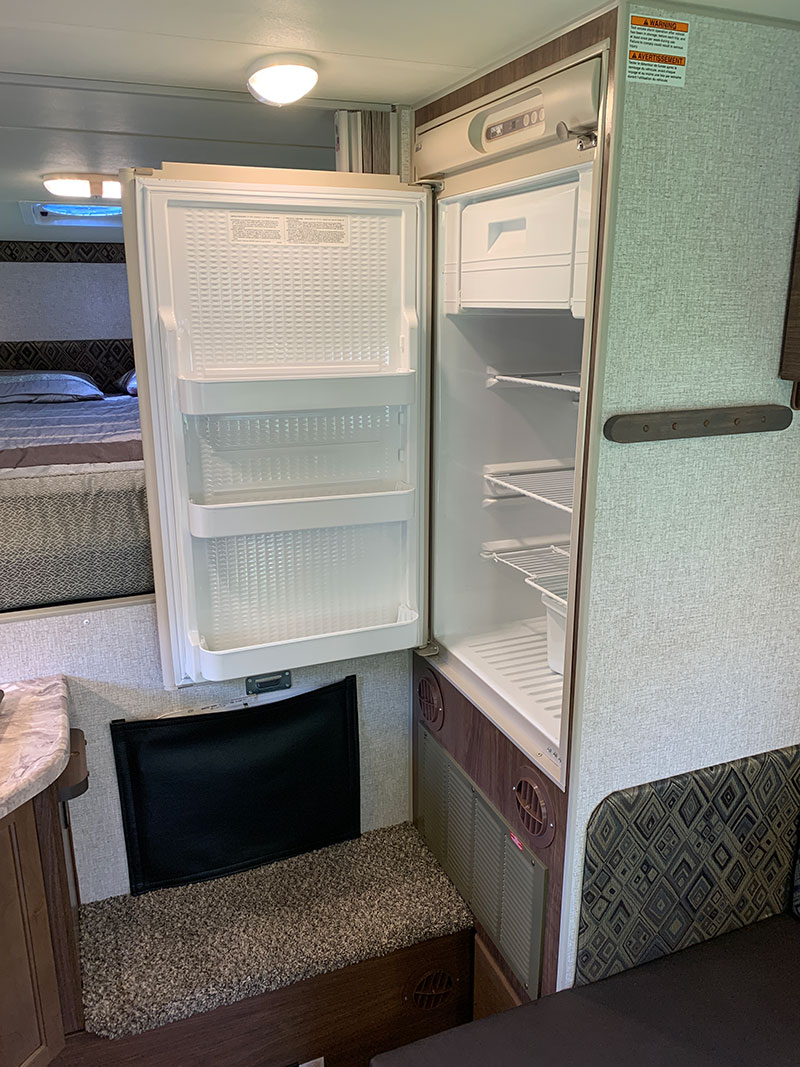 Adjacent to the cabover is the 5-cubic-foot Norcold N500-series three-way refrigerator and freezer. We have borrowed many campers with this size refrigerator and found they had little to no impact on our food storage. Yes, we are accustomed to six-cubic-foot refrigerators (and larger), but five-cubic-feet fits the food we need for about a week. If you've played Tetris, you know what to do.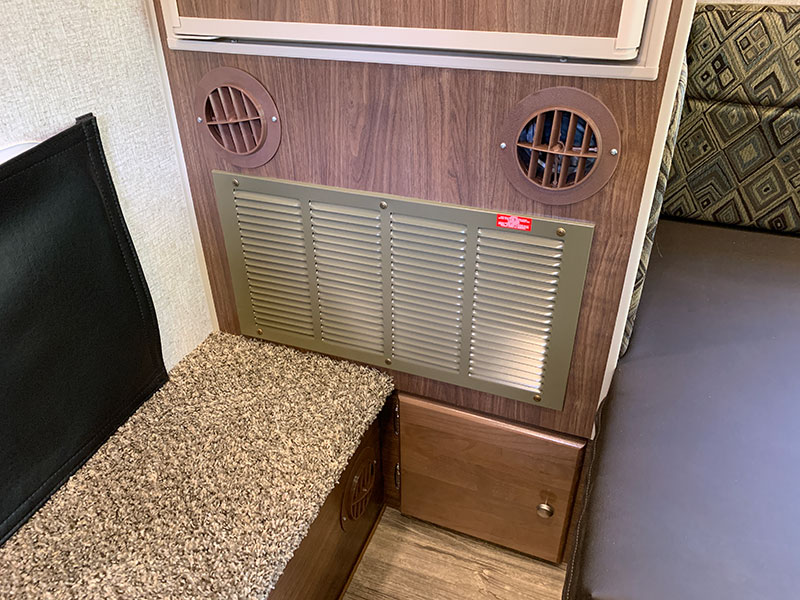 Underneath the refrigerator are two heat vents, an air intake, and an access door to the truck bed.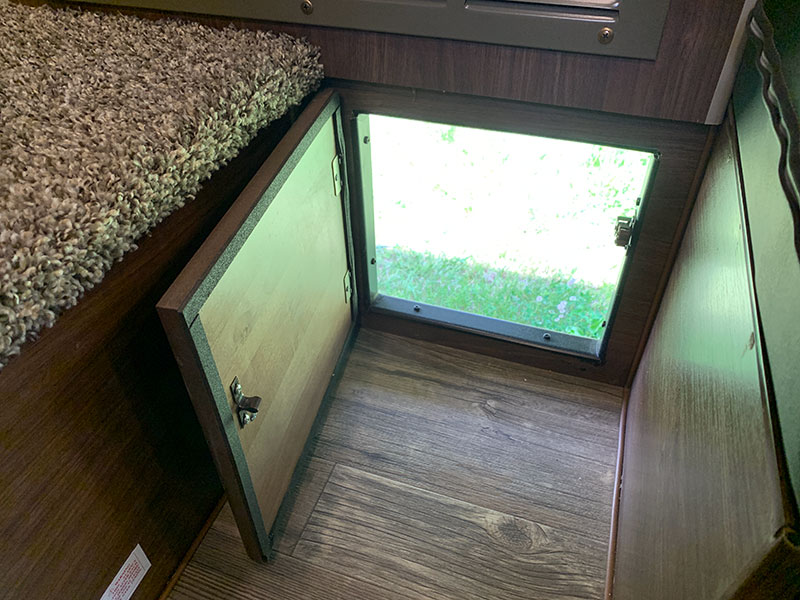 Open the access door and you're reminded that this is a short-basement (4-inch) camper. You get access to the truck via two forward doors. This is old school, and awesome as you can store anything from jugs of water to shoes to a laundry bag between the camper and truck bed. Just be sure to remove these items before demounting the camper; especially if you're storing laundry. Perhaps another rhyme would help; "Always look underneath or you'll see underwear." Yep. That'll do it.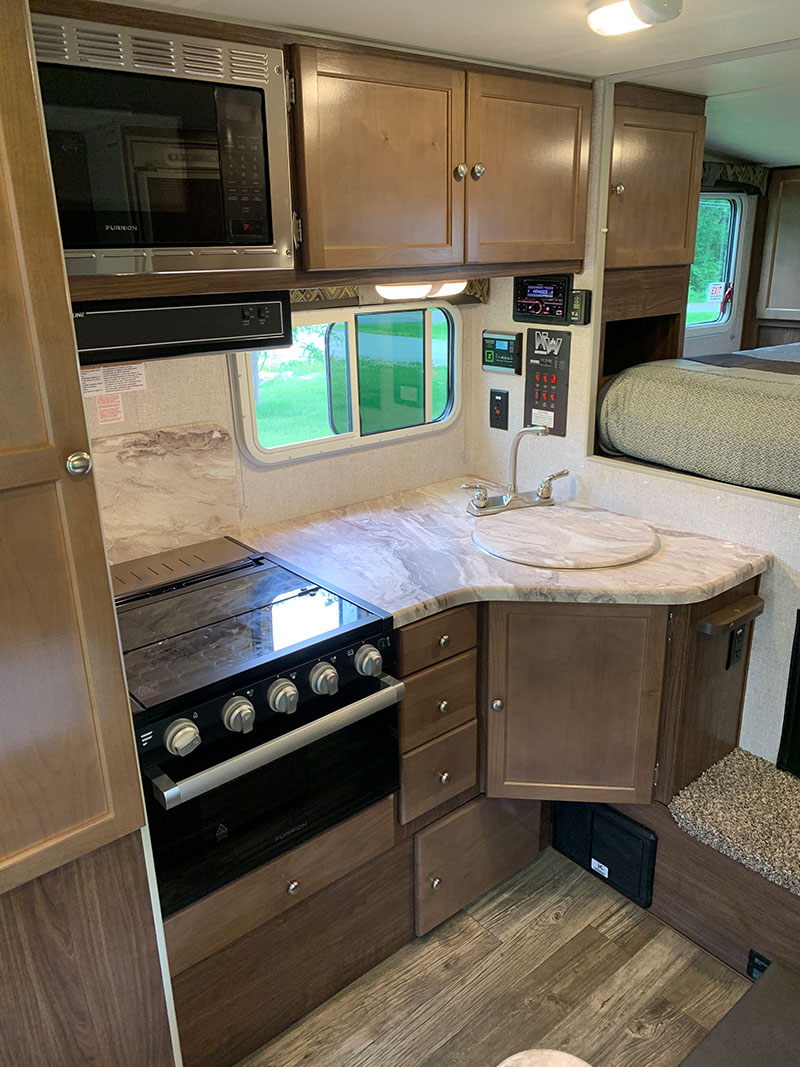 Turning back to the driver's side, the kitchen in the Wolf Creek 850 looks fantastic. All my usual boxes are checked; fully featured with appliances, a good amount of counter space, plenty of storage above and below the countertop, a large sink with a tall faucet, and drawers in all the right places.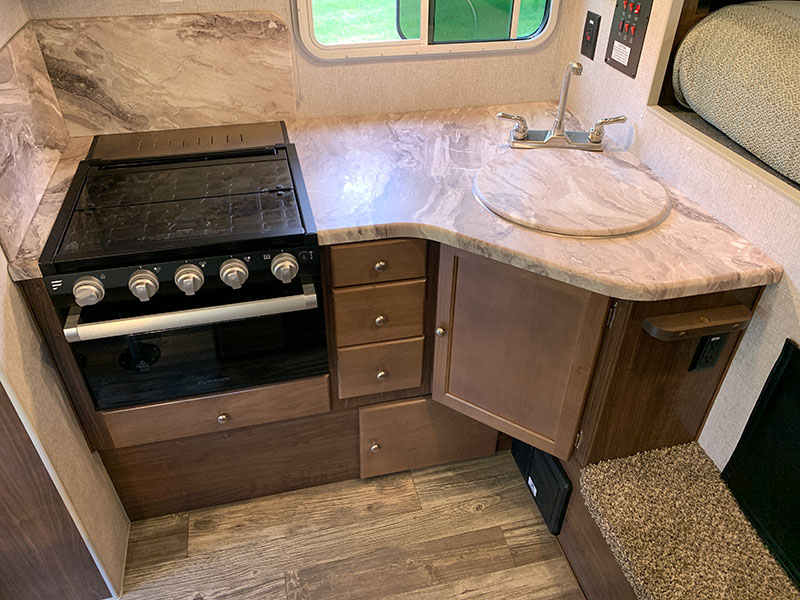 The thermoformed countertop is a faux-solid surface. The matching backsplash behind the cooktop and oven helps protect the walls from splatter and turn up the presentation of this refined kitchen.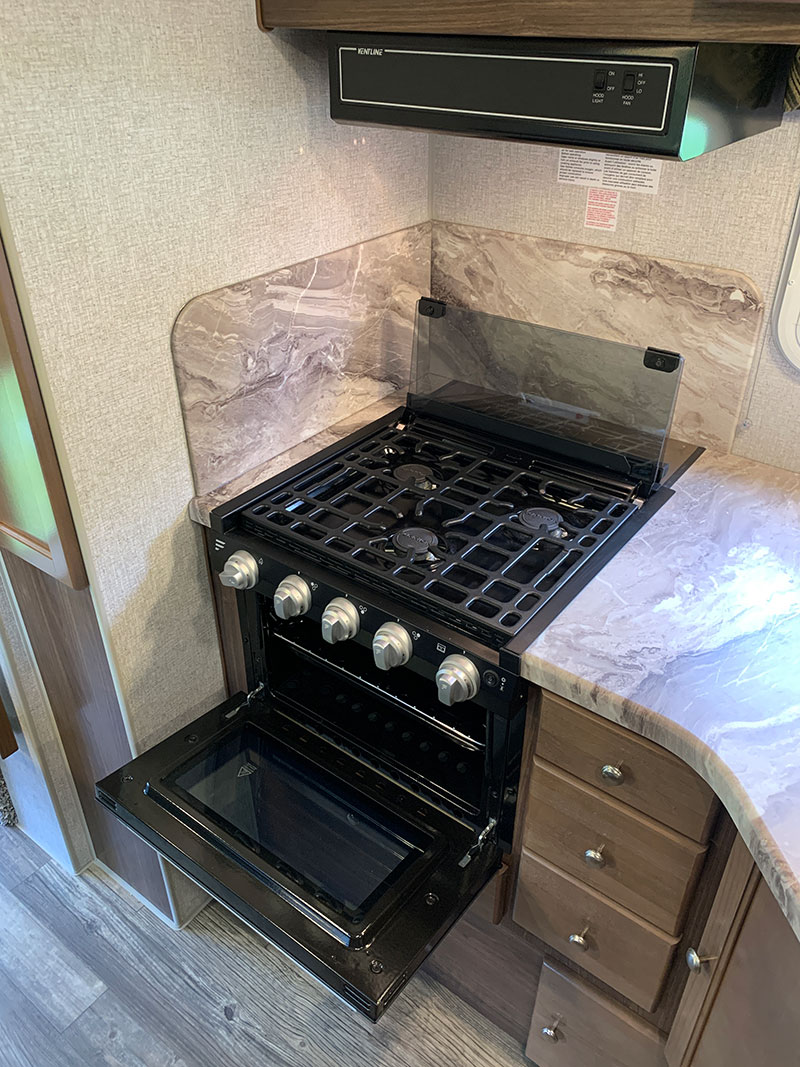 The Furrion three-burner propane cooktop and oven feature a flush mount glass top for an additional food prep area. Many truck campers enjoy cooking on the road and will appreciate this appliance.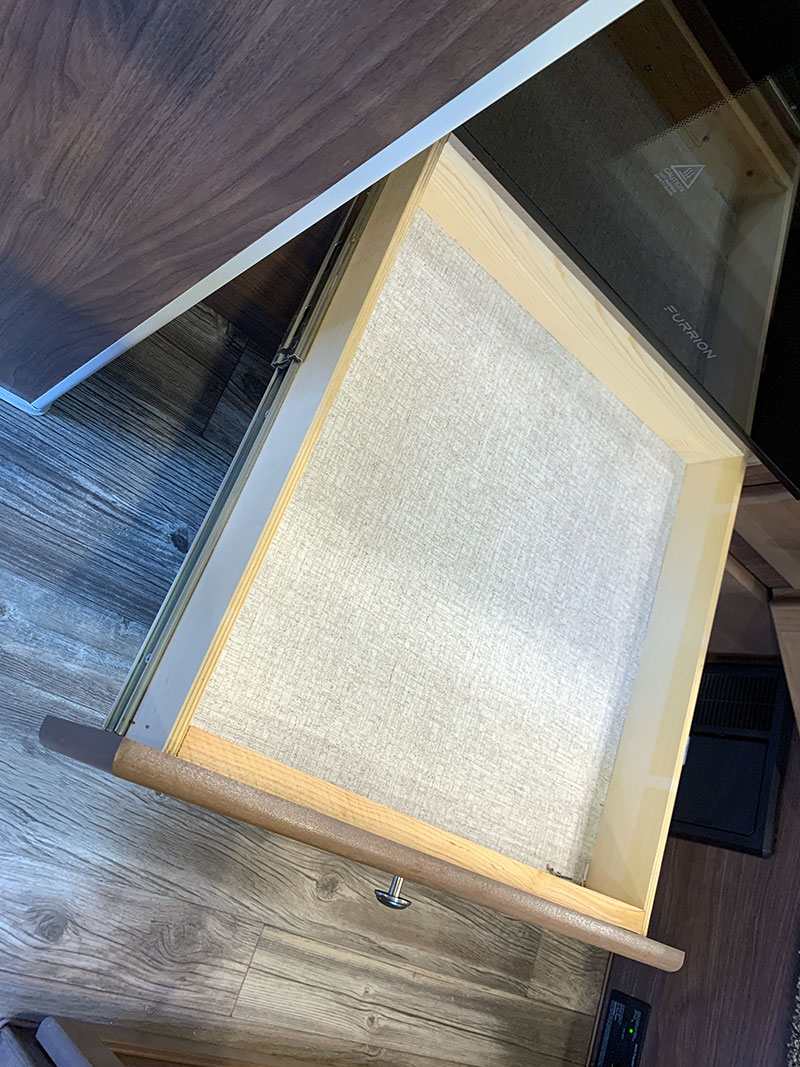 Under the oven is a large pull-out drawer. This isn't deep enough for pots and pans, but would make for an excellent place for cutting boards, plates, and other flat kitchen items. We have a collapsable silicone colander that we put in a similar drawer, along with all of the above.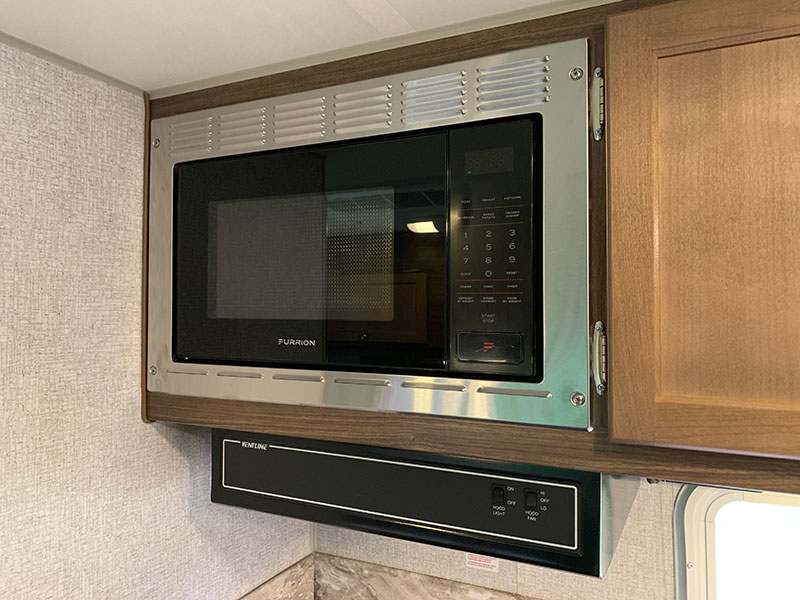 The 0.9 cubic foot Furrion microwave visually matches the Furrion oven beneath it and has, "Vibrationsmart" technology to withstand the shocks and vibrations of travel.
The microwave is standard on the Wolf Creek 850, but I'm not sure it should be. From our polls and informal surveys over the years, truck camper owners either love their microwave or use it for storage. We don't have a microwave (or built-in generator for that matter) and prefer it that way. We would prefer the storage, but your opinion may differ.
The Ventline range hood has the all-important fan and light. The range hood light in our camper is the most used light at night. You can't beat it for discrete ambient light.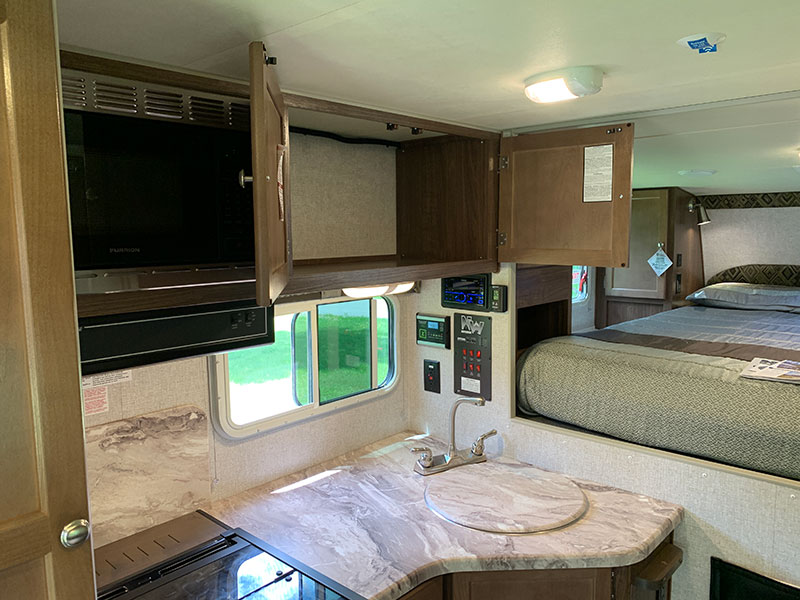 Even with the standard microwave, the upper cabinetry presents a large storage space for dry food, cups, mugs, and dishes. There's no shelving or dividers in this space but that's what truck camper modifications are for.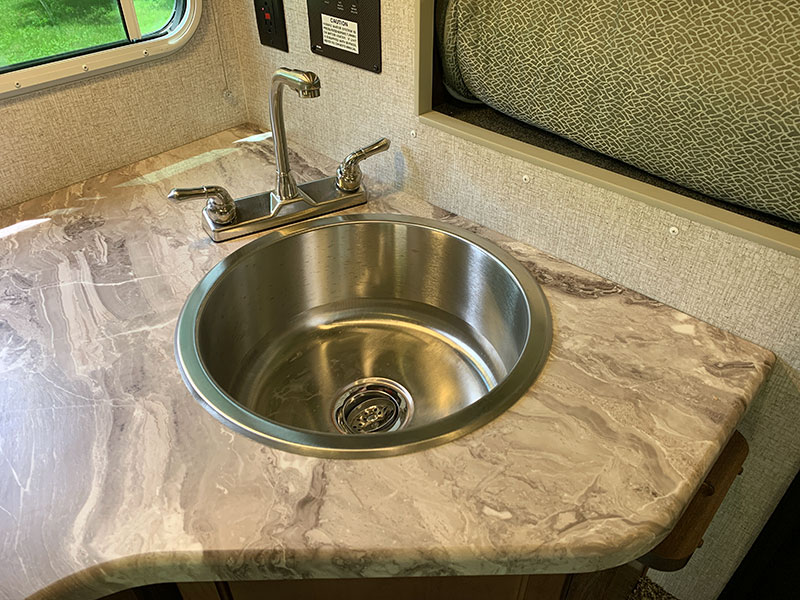 Perhaps more than any other item, sinks have changed dramatically over the past decade and a half. Single and dual-basin steel and porcelain sinks were all the range, then stainless steel two-basin sinks became the standard, then a short flirtation with farm sinks before returning to large single basin stainless steel units. What's old is new again, and it makes sense.
Single basin sinks can actually fit larger pots and take up less counter space. Combined with a tall faucet, you have an efficient area to wash dishes and prepare food.
I struggled with the Wolf Creek 850's placement of the faucet and basin, but I'm not sure another location (closer to the inside edge of the counter and/or further back from the cabover) would have been any better. Where it is located seems like a good compromise between access and counter space use.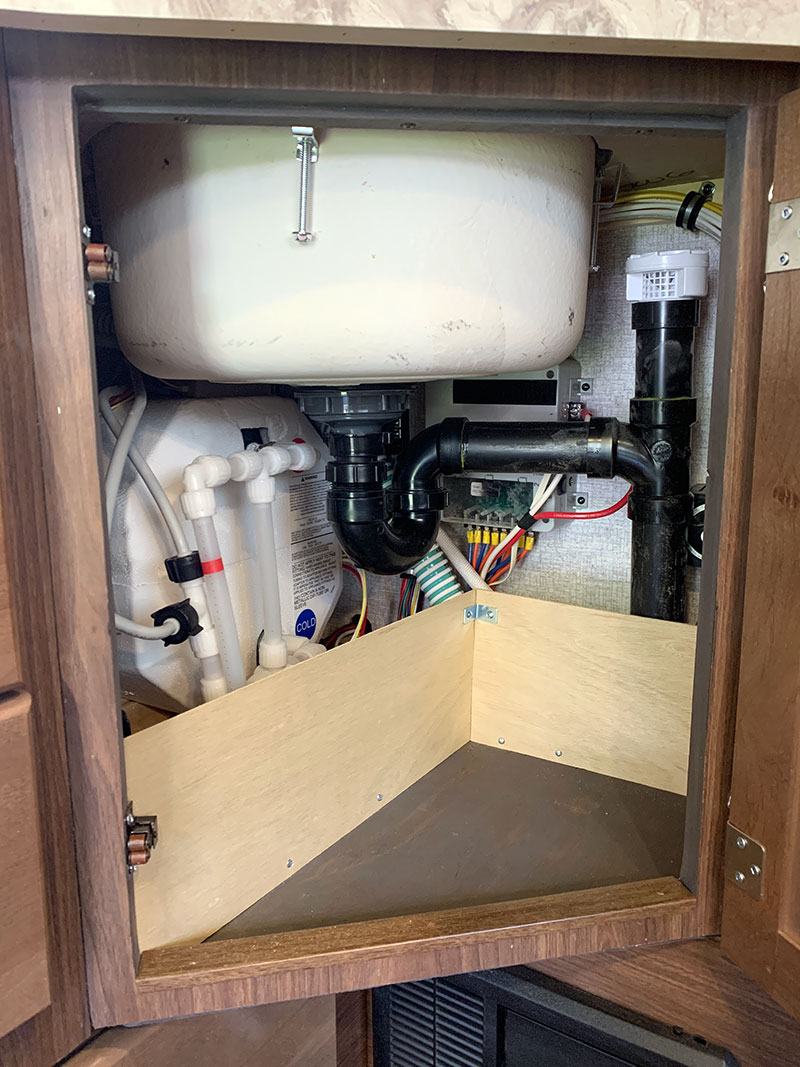 It's always interesting to open up the cabinet under the sink. The Wolf Creek 850 has a small storage space ready to accept a small trash can, and/or typical under-kitchen items; soaps, cleaners, etc.  Behind this space is access to the water heater (left), Rieco-Titan jack controller (center), and battery disconnect (on the right).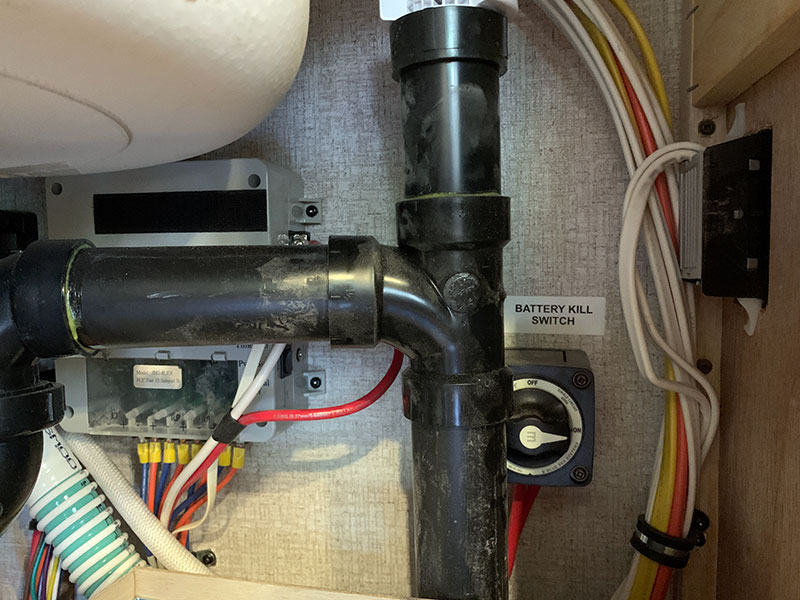 A battery disconnect is vital to keep your house batteries healthy when the camper is not in use. Every camper has a parasitic draw that can drain down batteries over time, even when you're not using the camper. With a flip of the battery disconnect (or kill switch), you "disconnect" the batteries from the camper systems that can drain power.
The Rieco-Titan controller has a series of fuses that should be checked if you experience any problems with your jacks. The installed location is certainly accessible for this task, but might not be the easiest with automotive fuses and the required needle nose pliers (ever play Operation?). Even so, it sure beats where our camper's Rieco-Titan controller is located. I'd take this in a heartbeat.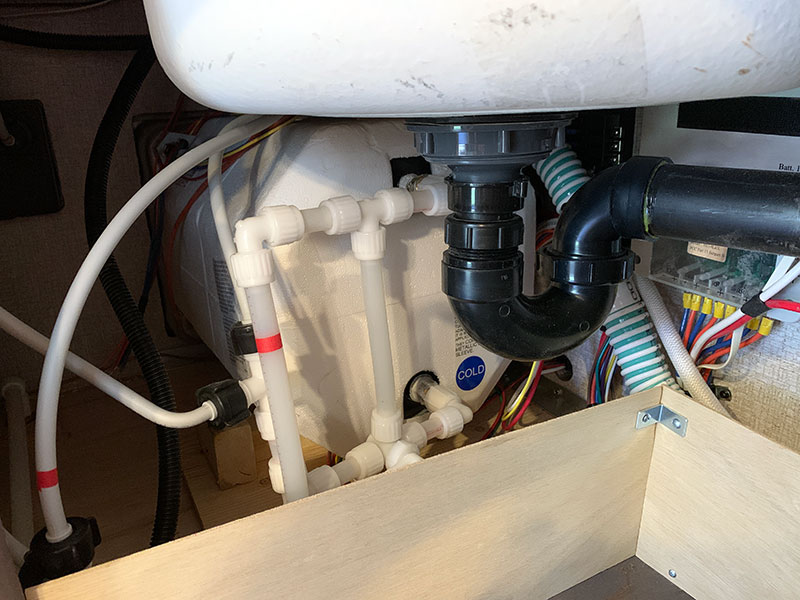 I also want to point out the quality of the installation and how well-dressed everything is here. The PEX plumbing, sink drain, electrical wiring, and components are all well laid out and installed with precision. Look at the three photos above and you'll see the results of a team that cares about the results and checks their work. Huge points, Northwood. Huge points.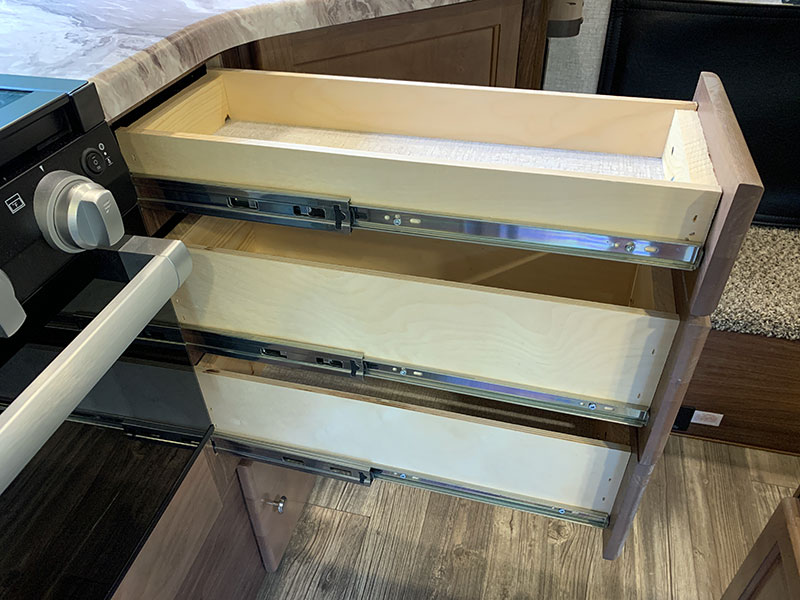 Three kitchen drawers in any camper are a home run. With stainless steel roller bearing slides and solid wood construction, these drawers are built to last. They also offer exactly the right storage in the right place. Who won't put their silverware in the top drawer? That's where silverware goes, right? Love it.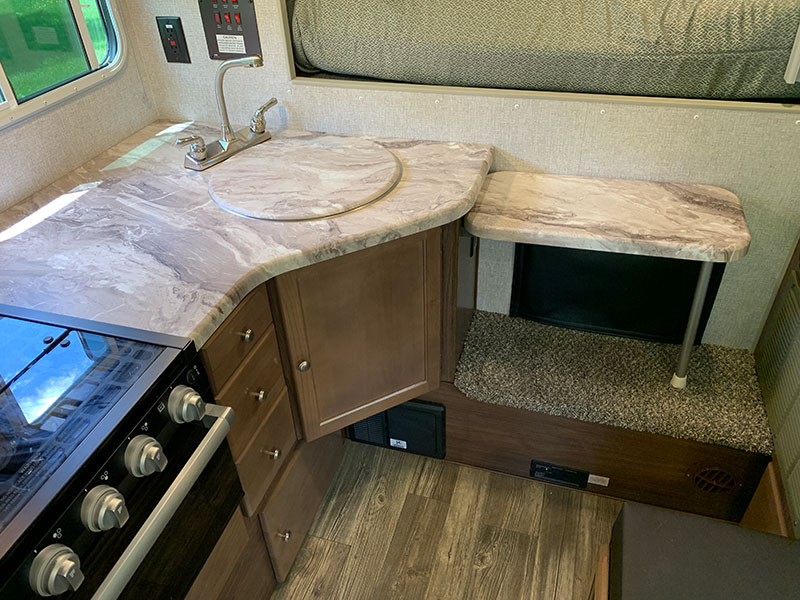 If you do need more counter space, Northwood supplies a countertop extension. This is stored in the cabover closet and takes about a minute to retrieve and deploy. Some folks will use this all the time. Others will probably never use it and might leave it at home to save weight and space. Northwood gives you the option.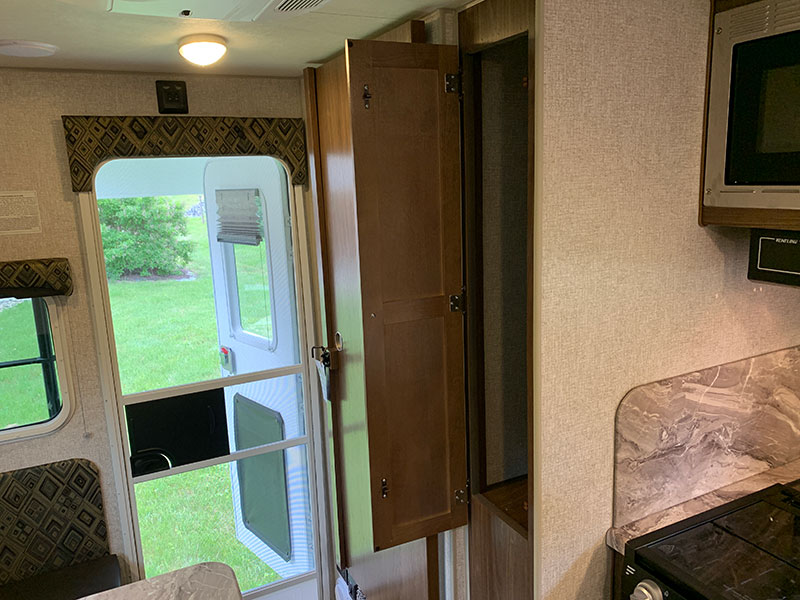 Above: In between the bathroom and kitchen is a tall kitchen pantry.
If anyone has issues with the storage in the Wolf Creek 850, they need a reality check. For this size camper, the Wolf Creek 850 offers a ton of storage volume in well-thought-out locations throughout the unit. You might need to figure out how to best utilize the space provided, but you've got a lot of storage opportunities.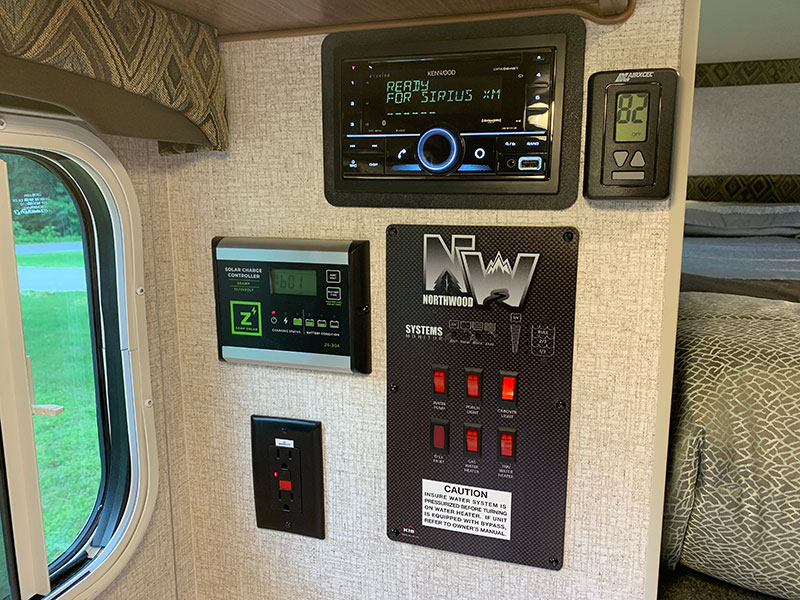 On the wall between the kitchen and cabover are four control panels and a 110-volt outlet.  The Zamp ZS-30A is a 30-amp solar controller. We've had the same controller in our camper for seven years and can recommend it as a quality unit, at least until it approaches its 500-watt limit. Our 490-watt system has challenged it at times.
The Kenwood Excelon DPX594BT is a dual din CD receiver that's (take a deep mental breath) Amazon Alexa Ready, features Bluetooth direct, has a front USB for charging, works with a dedicated phone app, is SiriusXM ready, and launches an omnipotent super-intelligence (please don't) with the right button sequence. Seriously, this thing is loaded with features. It doesn't play DVDs or Bluray movies, but everything else is on the table.
Next up is the Airxcel digital thermostat. Unlike the complex device to its right, it does only two things; sets the desired temperature and activates the furnace. Oh, how I love simple things that work.
Finally, we have Northwood's branded systems monitor and switch panel. Here you can check the battery level and tank levels. The lighted switches below the systems monitor turn on the water pump, porch light, cabover light, propane water heater, and 110-volt water heater.
Remember when I commented that the porch light needed a lighted switch? Well, it's right here. I wonder if it lights when the other switch is turned on. I wasn't clever enough to put that possibility together during my time with the unit, so maybe someone out there with a Wolf Creek can chime in.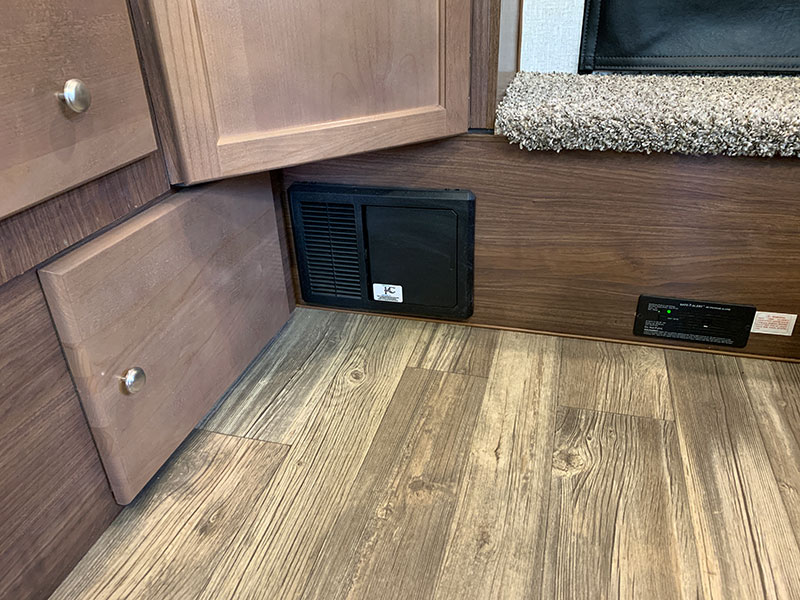 Directly underneath the sink just above the floor are the 12-volt fuse panel and 110-volt breakers. To the left of the fuse panel is another door that opens to the truck bed for storage.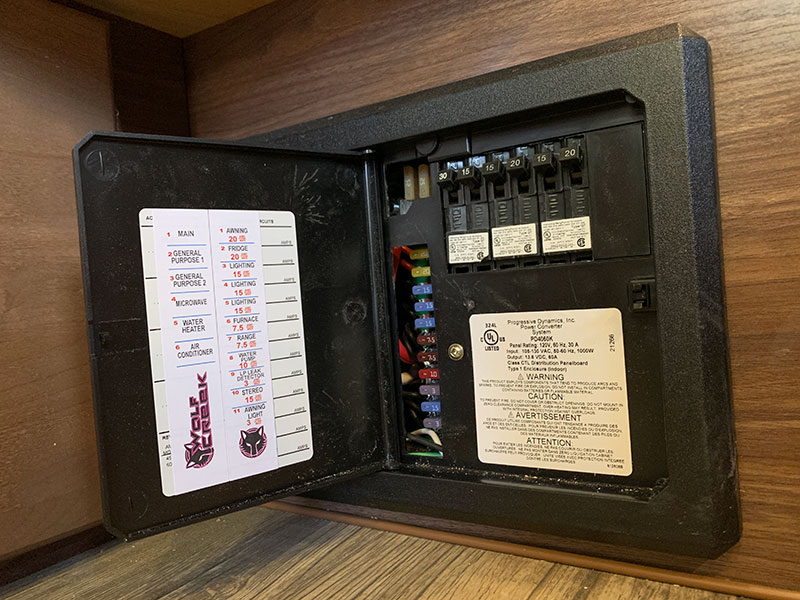 Opening the fuse panel reveals a clear description of what fuse and breaker go to what in the camper. The writing is printed and clear, exactly what you need it to be when you're literally on your knees trying to fix an electrical problem.
Important Tip: When in doubt about an electrical problem, always check your fuses first. While we're at it, make sure you have a full compliment of 7.5, 10, 15, and 20-amp fuses with you at all times. This camper also has 3 amp fuses, so add those to your shopping list.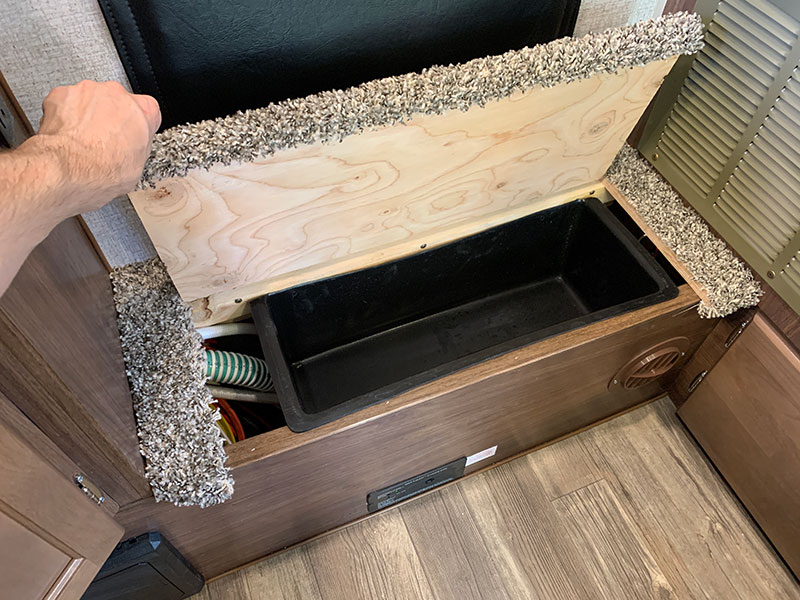 The shag carpeted step up to the cabover offers a small removable storage bin, and more valuable access to the plumbing and electrical systems. It would be fun to poll Northwood owners on what they use this space for; what's under your shag? It would be also interesting to see if any Arctic Fox or Wolf Creek owners don't know this space exists. The carpeting hides it well.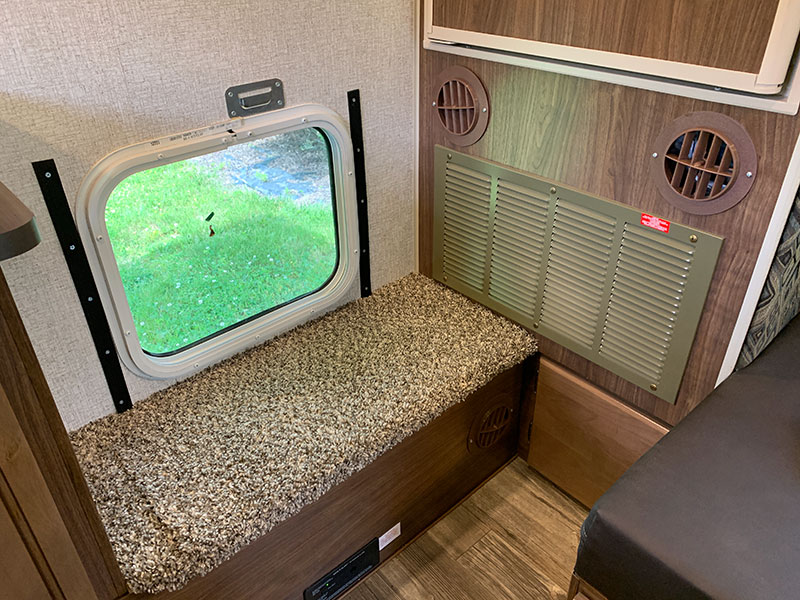 See what I mean? Walk on that carpet a few times and the seam disappears. Poof!
Unlike far too many manufacturers, Northwood has retained the front wall window in the Wolf Creek 850.  While you can't open or remove this window, it's the only way to see out the front of the camper. And yes, you can see through this window, through the rear truck window, and through the truck's windshield. We do it all the time. More importantly, we've been in many situations where knowing what's going on outside is important. Perhaps you can relate. What was that noise?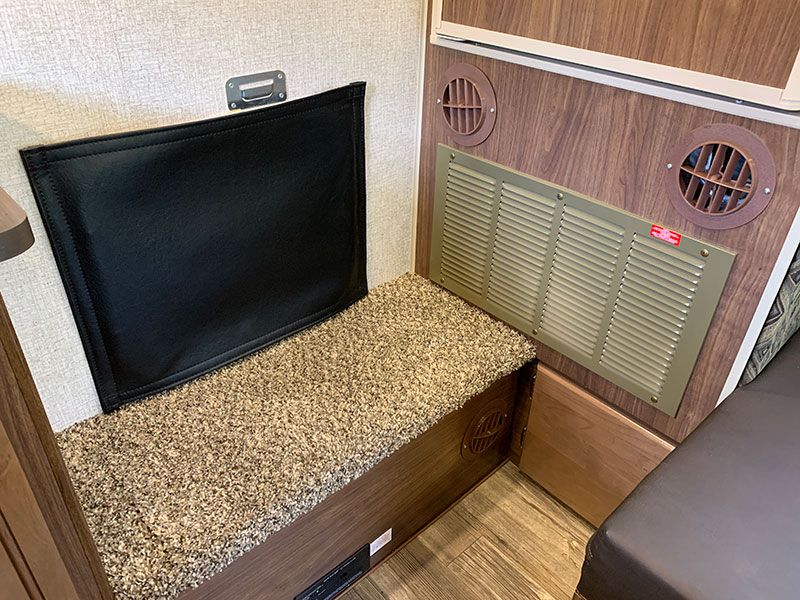 Of course, privacy is also important, which is why Northwood supplied a black-out shade for the front window. Perfect.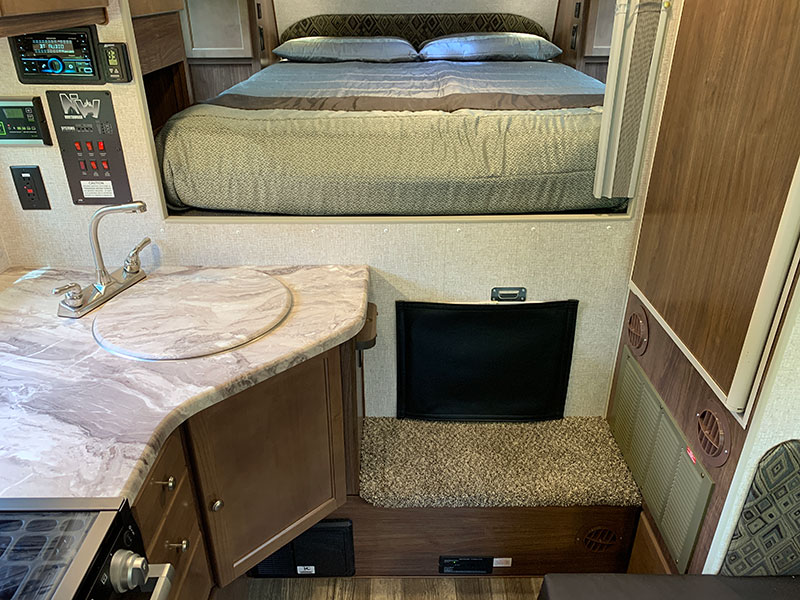 As a short-basement camper, the step-up in the Wolf Creek 850 is more than you would find in the Arctic Fox line, but it's manageable. You can also use the first step and kitchen counter for leverage and support. Another option is adding a step. Regardless of what camper you buy, the step-up to the cabover is something everyone should try before signing a sales slip.
On balance, I was able to get into the cabover quickly and easily. Yes, I'm 6'3" tall and built like Gumby, but that's beside the point. For most folks, you'll have no trouble.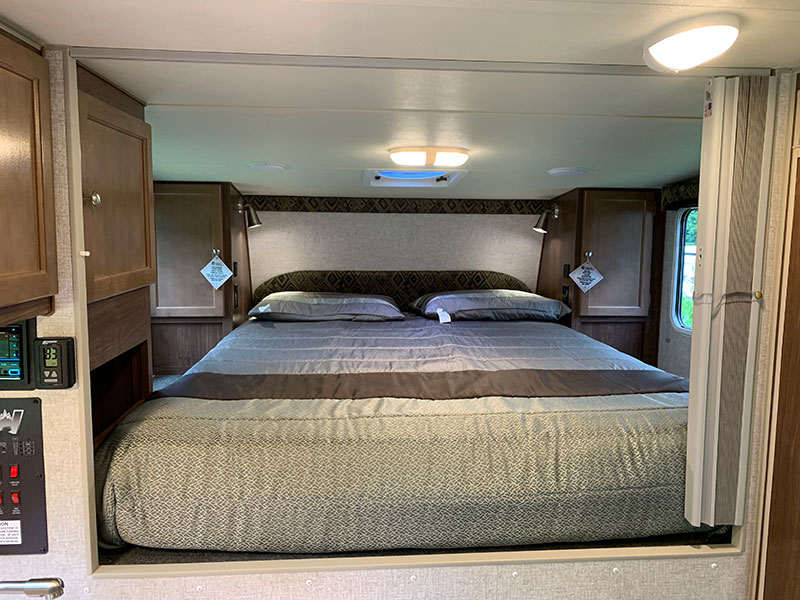 The cabover in the Wolf Creek – like the kitchen area – checks nearly all my boxes; front "penguin" storage areas on both sides, large forward cabinets on both sides, well-placed reading lights, well-placed 110-volt, 12-volt, and USB outlets, and a Fantastic Vent above.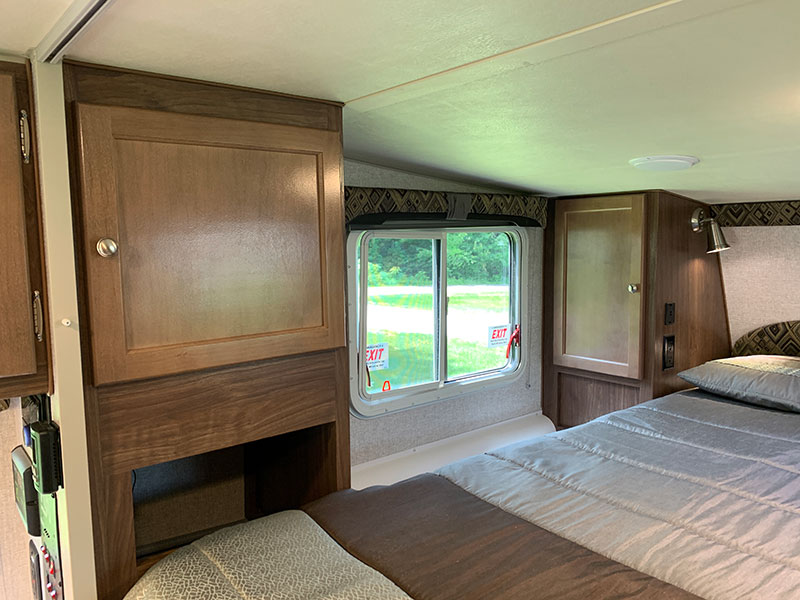 With a storage closet, empty "hamper" space, forward cabinet, 110-volt and USB outlets, reading lights, and windows, both sides of the cabover are nearly identical. This avoids any marital (or cohabitating) disharmony that can arise from unfair storage opportunities.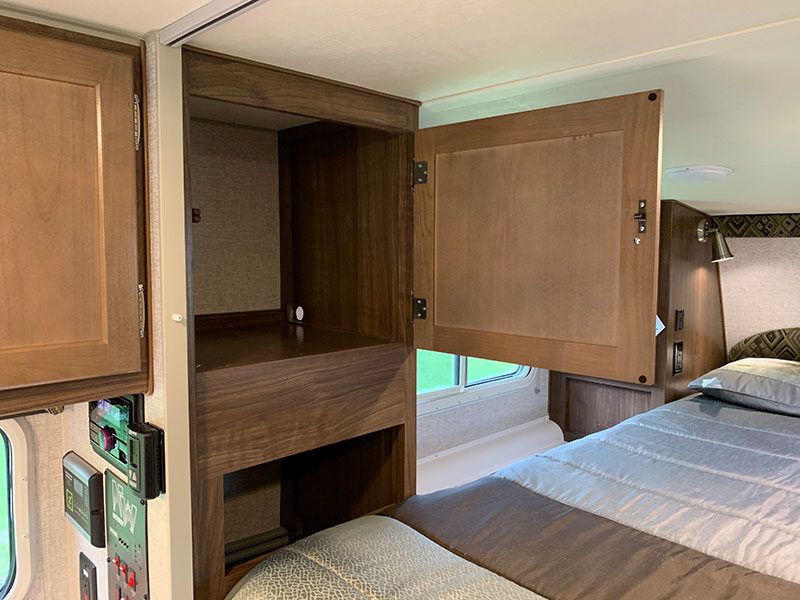 The driver's side gets a top cabinet and a lower cubby. This area is also pre-wired for a television installation (on the cabinet wall facing the headboard). That probably explains the small hole on the front-facing cabinet wall.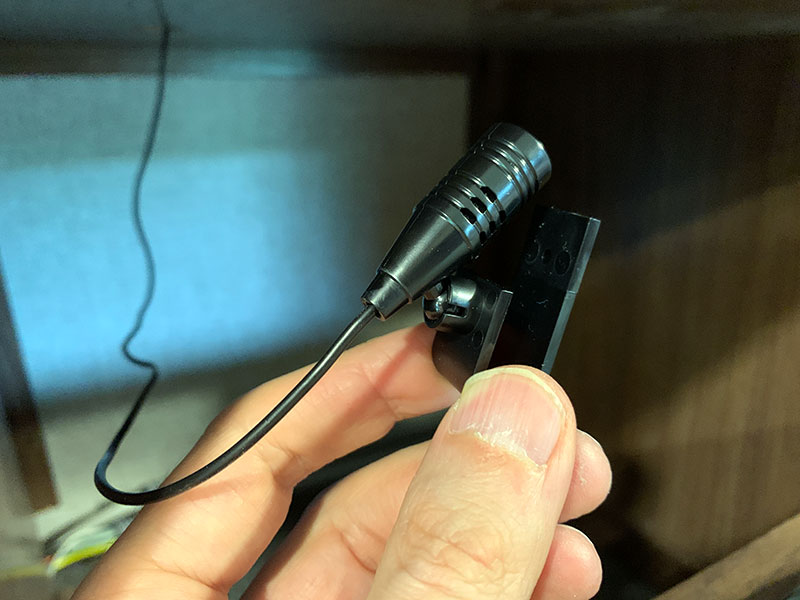 Inside this cabinet we discovered a lavalier-style microphone. This confused me to no end until I learned that the previously mentioned Kenwood stereo system is Alexa virtual assistant ready. Thankfully, you do not have to activate the Alexa system, but the included microphone gave me pause. "Alexa, please stop listening to my conversations, and take me back to 1985 while you're at it. Pre-internet. Make it so."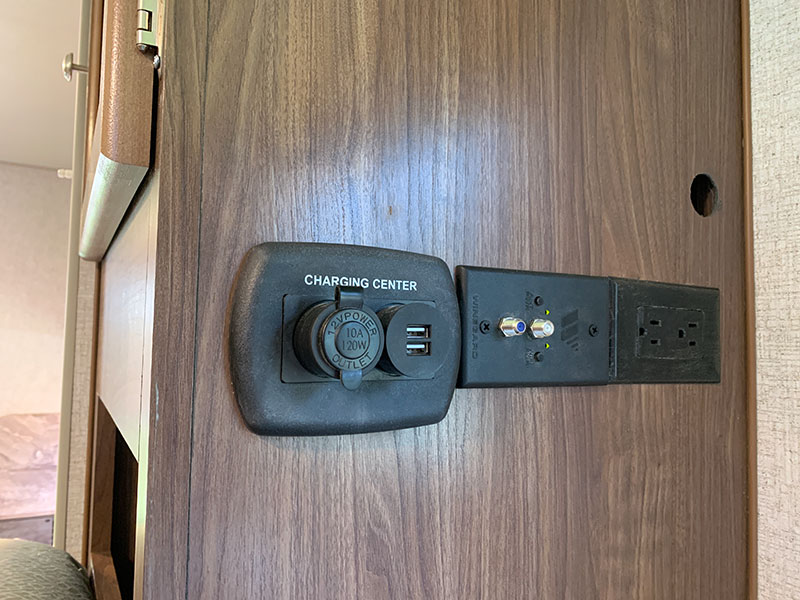 On the outside forward-facing wall of this cabinet (note the corresponding hole) are the connections needed for a flat panel television installation; antenna and power. With or without a television, the 12-volt, USB and 110-volt outlets would also be handy for charging devices of every description.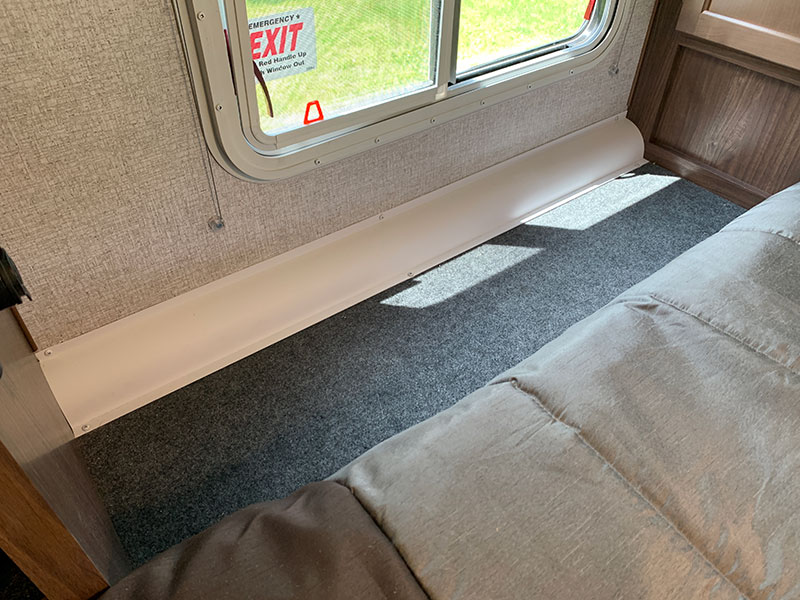 Both sides of the cabover get an open well area instead of a hamper. This is still very useful for storing clothing, books, and other cabover items, but could potentially leave this area less organized. Owners could use various containers, or choose to keep everything in cabinets.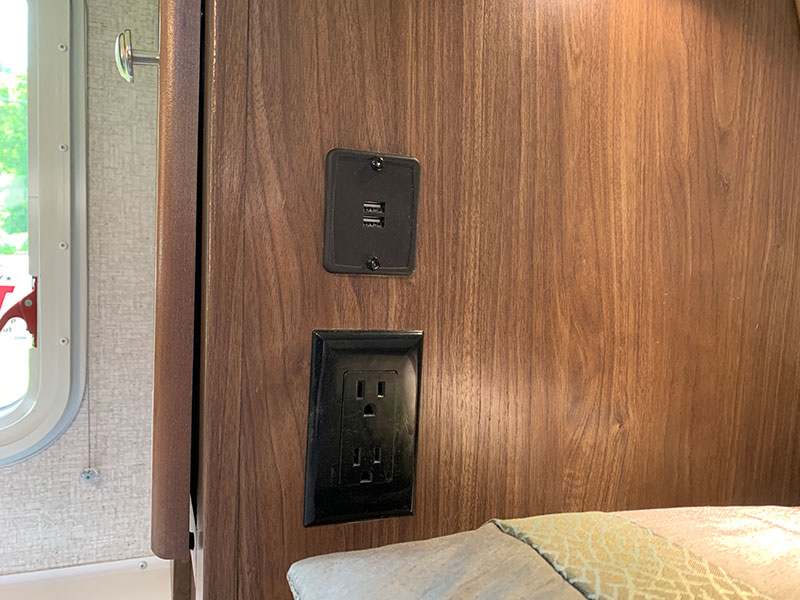 The cabover is filled with 110-volt and USB outlets for everything from CPAP machines to charging your smartphone overlord.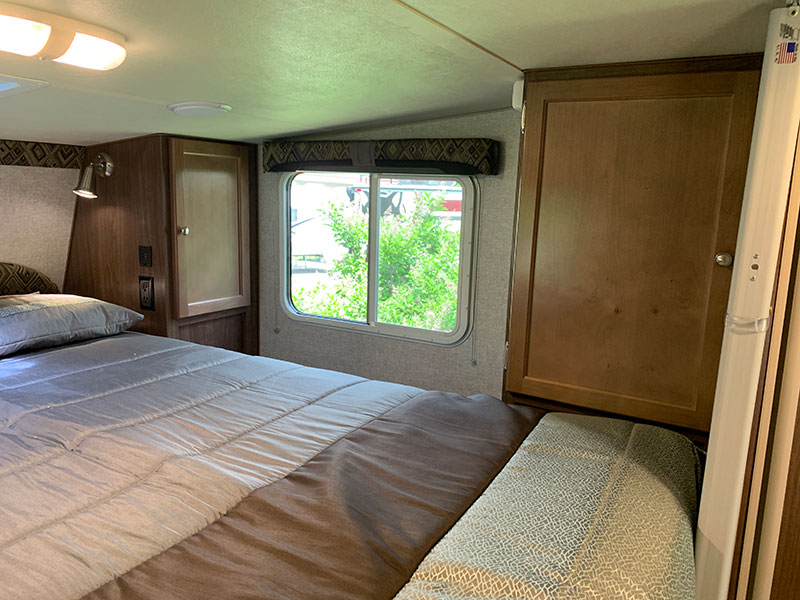 The passenger's side gets a closet, hamper space, penguin cabinet, 110-volt and USB outlets, reading lights, and windows. I'll simply repeat my favorite, "right storage in the right places" line, and move on.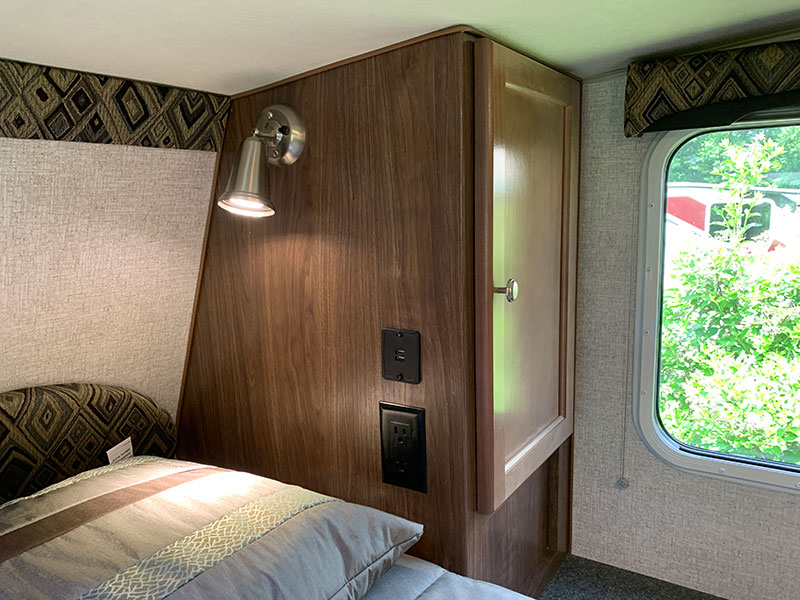 This is the very picture of what readers asked the industry for year after year in our truck camper survey; 110-volt and USB outlets in the cabover for CPAP machines and charging devices.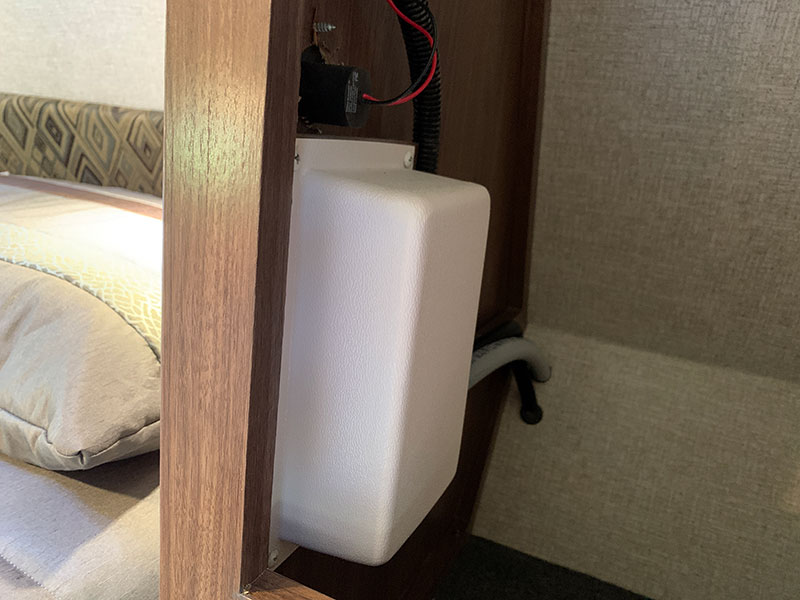 The penalty for the outlets are these plastic boxes inside the penguin cabinets. The boxes protect the wiring – and the humans – from damage and electrical shock. They also impede a little on the storage space, and look a bit wonky.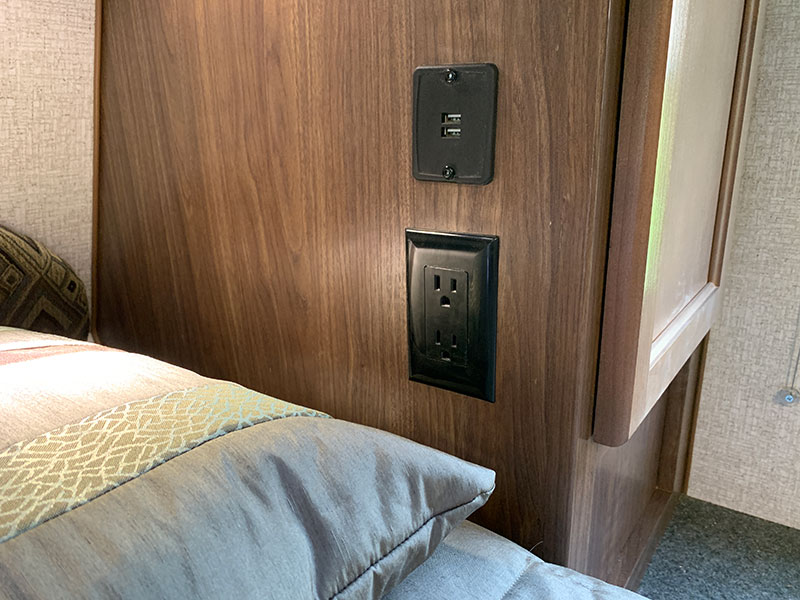 Of course, these boxes are our collective fault and, arguably, well worth the convenience of the outlets. Never wake up with a dead smartphone again.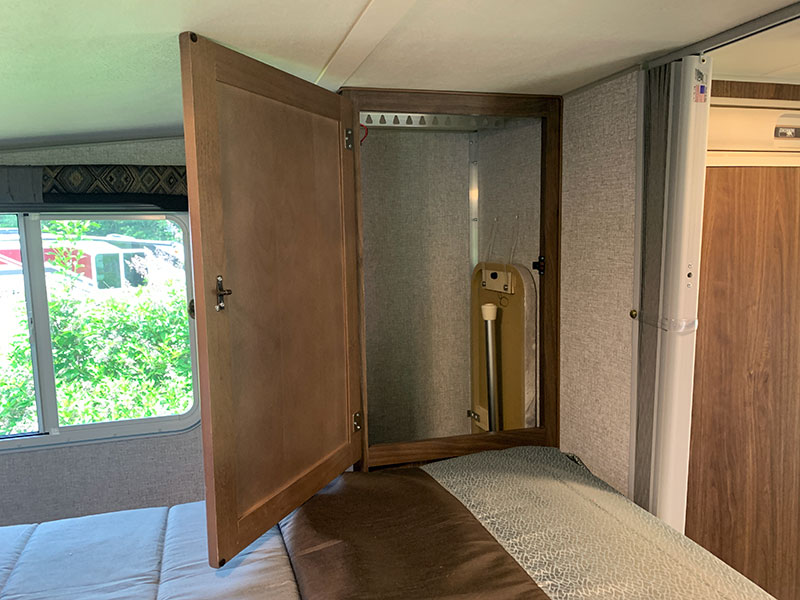 The countertop extension is stored in the passenger's side cabover closet. This would be valuable clothing and LP record storage space in my camper (yes, you read that right) so the extension would need to go. If you need a lot of hanging clothing space, you might make the same decision. Others will prize the ability to have more counter space when needed.
Some might prefer a Heki skylight to the fan, but that's a preference. If you've camped with a fan within reach above your bed, it's tough not to want that functionality.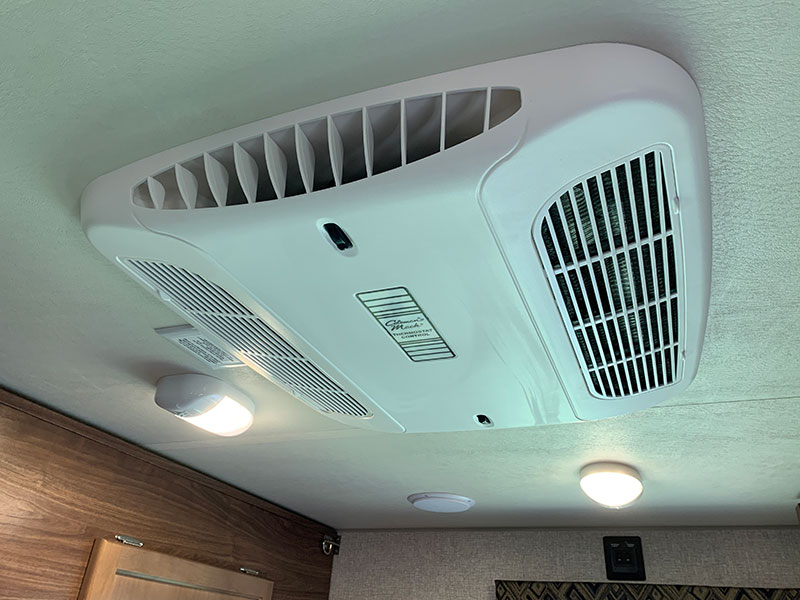 The other roof-mounted item that needs to be mentioned is the Coleman Mach air conditioner (shown above). We have a similar Coleman Mach air conditioner in our camper and it has worked flawlessly since installing it about seven years ago.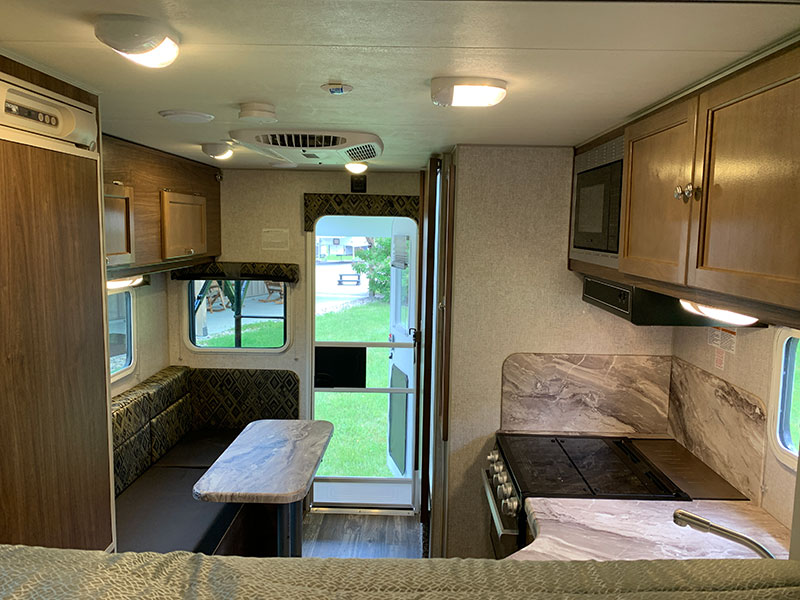 Looking back towards the main living area, this camper continues to check boxes. Keep in mind that I happen to prefer old-school proven non-slide floor plans. If you've read this far, chances are that you do too. Now let's look at the 2022 Wolf Creek 850's specifications, capacities and weight.
Wolf Creek 850 Specifications
| | |
| --- | --- |
| Specifications | |
| Dry Weight | 2,008 pounds |
| Wet Weight* | 3,008 pounds |
| Floor Length | 8'8″ |
| Overall Length | 16'2″ |
| Width | 8'0″ |
| Interior Height | 6'6″ |
| Exterior Height | 7'7″ |
| Center of Gravity Short Bed | 35.75″ w/ AC and generator |
| 32″ w/ no AC or generator | 36.5″ w/ generator and no AC |
| Center of Gravity Long Bed | 30.5″ w/ AC |
| | 30.5″ no AC |
| Truck Type | Long or Short Bed |
Northwood's mandatory Wolf Pack Value Package needs to be accounted for when assessing the Base Dry Weight, Wet Weight, and retail Base MSRP of the Wolf Creek 850.
Northwood reports the Wolf Pack Value Package weight at 310-pounds and the value at $4,913 USD. This brings the actual Base Dry Weight of the Wolf Creek 850 to 2,318-pounds and the retail MSRP to $31,259.
According to the manufacturer, the mandatory Wolf Pack Value Package includes the double din Kenwood stereo unit, rear electric awning, 5 cubic foot refrigerator, dual 20-pound propane tanks, electric jacks, exterior shower, heated holding tanks, roof rack, Phatt ladder, Fox Landing ready bumper, sewer hose storage, utility light roadside, Fantastic Vent, Combo Bunk Cab with dinette light, range cover, and sink lid.
After accounting for the weight and cost of the mandatory Wolf Pack Value Package, the Wolf Creek 850 remains a solid choice in the non-slide truck camper category for both weight and price. I wish Northwood would do away with their mandatory packages as their camper doesn't benefit from the confusion it can create.
Interior height is an excellent 6-feet, 6-inches. Unless you start for a NBA team, you should find plenty of headroom in the main living area and sit-up space in the cabover.
We already commended Northwood for marking the center of gravity on the Wolf Creek 850. What a prospective owner needs to keep in mind is that the Wolf Creek 850 is designed to fit long bed and short bed trucks.  In the short bed configuration, the 850 is available with optional side boxes that fit a generator that in turn pushes the center of gravity back to 36.5-inches. That moves another quarter-inch forward to 35.75-inches if you add an air conditioner.
In contrast, the long bed configuration of the Wolf Creek 850 is not available with a generator (there's not enough space for the side boxes) and has a 30.5-inch center of gravity. The important message here is to take sure you keep the center of gravity in mind when calculating your truck match.
Wolf Creek 850 Capacities
| | |
| --- | --- |
| Capacities | |
| Fresh | 33 gallons |
| Grey | 19 gallons |
| Black | 20 gallons |
| Water Heater | 6 gallons |
| Propane Tanks | 2x 20 pounds |
| Batteries | Two Batteries |
The 33-gallon fresh, 19-gallon grey and 20-gallon black tank capacities are respectable for a non-slide camper of this size. Our first camper had similar tank sizes and we adapted to make the capacities last for up to a week of off-grid camping before we needed a dump station. The limitation here will likely be the grey tank.
The six-gallon water heater is an old-school tried and true design. We have essentially the same model in our camper and use it regularly.
The two 20-pound vertical propane tanks in the Wolf Creek 850 are perfect for a camper this size. With a 5 cubic foot refrigerator operating on propane, daily propane cooktop use, and the occasional morning furnace run (summer conditions) these tanks should last about four weeks. In winter conditions, when you're running the propane furnace a lot, they should still last about two weeks. Even better, you can exchange 20-pound vertical tanks darn near anywhere.
As with the two 20-pound propane tanks, the two battery capacity is right on target. The Wolf Creek 850 should be able to fit two Group 27 batteries. I would opt for AGMs, or lithium batteries if your budget allows. This is a solid set of capacities for a well-thought-out unit.
Wet Weight Calculation
I already touched on the impact of the mandatory Wolf Pack Value Package on weight in the Specifications section. To calculate a Base Wet Weight, I'll start with the Base Dry Weight adjusted to include the 310-pounds of the mandatory Wolf Pack Value Package.
Base Dry Weight (factory order only)
Wolf Creek 850: dry weight, 2,318 pounds + 33 gallons fresh, 275.2 pounds + 6 gallon full hot water heater, 50 pounds + 2x 20-pound full propane tanks, 40 pounds + 2 batteries, 130 pounds + stuff, 500 pounds = 3,313.2 pounds
Optioned Review Unit
The Wolf Creek 850 we reviewed at Truck Camper Warehouse was optioned with the Fox Landing bumper step system, 170-watt solar panel and solar controller, 17-inch oven, Coleman Mach 10 11,000-BTU air conditioner, and the Wineguard Gateway router. We conservatively estimate the weight of these options to be about 175-pounds. Let's add that option weight to the Base Dry Weight above and run the numbers.
Wolf Creek 850: dry weight, 2,493 pounds + 33 gallons fresh, 275.2 pounds + 6 gallon full hot water heater, 50 pounds + 2x 20-pound full propane tanks, 40 pounds + 2 batteries, 130 pounds + stuff, 500 pounds = 3,488.2 pounds
Truck Recommendations
Since the question will be asked, the Wolf Creek 850 – even at its Base Wet Weight of 3,313.2-pounds – is not a good candidate for a half-ton truck. First, most half-ton trucks found on dealer lots struggle to offer more than 1,500-pounds of payload. Second, even the most stout half-ton builds peter out around 2,600-pounds. That's the bad news.
The good news is that the Wolf Creek 850 could be a good match for a late model three-quarter ton configured with payload as the goal. That might mean a gas engine or two-wheel drive, but it's more than possible to get even the optioned wet weight of 3,488.2-pounds in a three-quarter ton.
That said, I would step up to a one-ton truck for the Wolf Creek 850, especially for the short bed version. The extra payload capacity, not to mention more stout components that create that capacity, will provide a better ride, handling, and overall driving and camping experience. I can see a lot of happy Wolf Creek 850 owners with single rear-wheel one-ton trucks.
If you plan to tow, a one-ton dually would be preferable. After getting T-boned in our rig a few years ago, I honestly have a hard time not recommending dually trucks for most hard side set-ups. The added stability and capacity of a dually is worth its weight in gold when it matters. And if you decide to upgrade to an Arctic Fox 865 (a personal favorite), you will already have the right truck. When you can, always over truck.
No matter which truck and camper you decide to purchase, please follow the truck and camper matching recommendations outlined in our article, How To Match A Truck and Camper. Safety first.
The Verdict
What's not to like? The old-school floor plan of the Wolf Creek 850 is proven. The Wolf Creek build is proven with Northwood's experienced production team and dedicated truck camper facility. And most importantly, Northwood's quality control – which we have personally witnessed at the factory on multiple occasions – is top-notch. Put simply, if you're shopping for a hard side, non-slide, wet bath truck camper, the Wolf Creek 850 belongs on your must-see list.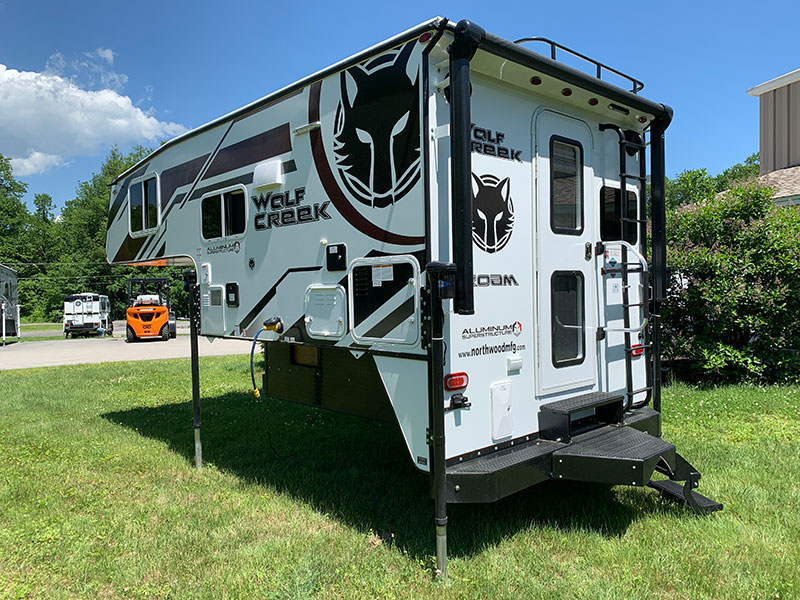 That doesn't mean the Wolf Creek 850 is perfect. Some will find the interior decor to be a bit too traditional. I would personally like to see Northwood push their Wolf Creek interiors to be as bold and modern as the Wolf Creek exteriors. Others will prefer the cozy and neutral presentation the Wolf Creek offers.
The upper dinette bunk area would benefit from larger cabinet doors to make seeing and accessing items easier. I believe most owners will only use this space as storage and would prefer a third door, or at least two larger doors. For those who will use the upper dinette bunk as a bunk, a thicker mattress would be a great option.
I would also like to challenge the Northwood design team to try and mount the sewer hose underneath the rear overhang. That would put the stinky slinky closer to the dump attachment point and away from the truck. It might not be possible with the current 850 design, but it's worth putting on the wish list.
All of this is seriously nit-picking. The Wolf Creek 850 has been in production at Northwood Manufacturing since the introduction of the brand in 2011. That means the 850 has had 11-years of refinement, and it shows. The Wolf Creek 850 might not be the latest and greatest model, but it remains a powerful contender in the non-slide truck camper marketplace. Highly recommended.
Pros
Time tested and proven floor plan refined over 11-years
Full-size width and height offer spacious interior for a non-slide
Good match for many three-quarter tons (see Truck Recommendations above)
Excellent storage opportunities throughout the camper
Exceptional fit and finish including cabinetry, plumbing and electrical
Exterior graphics look modern and fresh
Cons
To prevent damage, wet bath door must be latched before travel
Bathroom door blocks cooktop area when open
Upper dinette cabinet needs larger doors for storage visibility and access
Side-mounted sewer hose container is inconvenient and could drip
Long bed configuration is not available with a generator
Wolf Pack Value Package could confuse customers on weight and price
Model Information
2022 Wolf Creek 850
MSRP: $31,259 USD (with mandatory Wolf Pack Value package)
Warranty: One-year limited warranty.  Individual appliances have their own warranties.
Northwood Manufacturing
Phone: 1-800-766-6274
Request a Wolf Creek Brochure
Web: northwoodmfg.com
Quality, Customer Service, and Long-Term Reliability
Truck Camper Magazine inspects all reviewed truck campers for design, material, and quality issues and reports what we find. However, since Truck Camper Magazine reviews only brand-new truck campers, our reviews do not address long-term quality, customer service, or reliability.
To learn about a brand's long-term quality, customer service, and reliability, Truck Camper Magazine recommends talking directly with truck camper owners at truck camper rallies and online via truck camper forums and truck camper owners groups.
Please be sure to balance your gathered feedback across multiple sources including direct correspondence with the truck camper manufacturers and your closest truck camper dealers.
If you are new to truck campers, visit our Newbie Corner.