Northwood Manufacturing announces the all-new 2021 Wolf Creek 890, a hard-side, non-slide, wet bath truck camper with a full-booth dinette and an expansive 180-degree rear window view.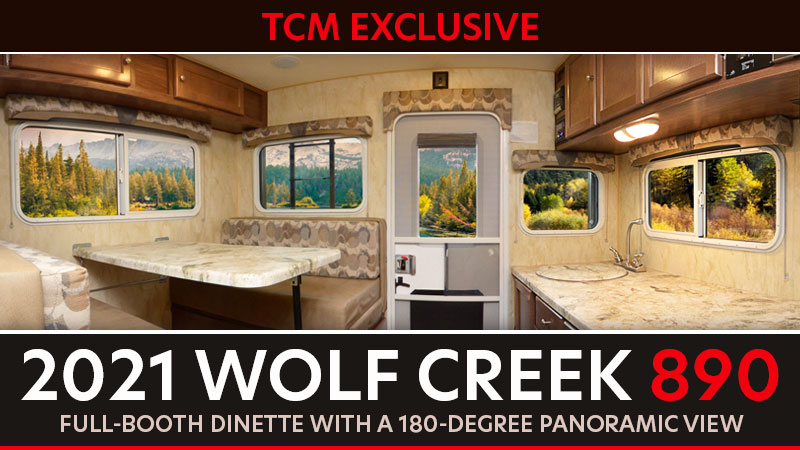 The all-new 890 becomes the third model in Wolf Creek's hard-side, non-slide, wet bath truck camper line-up.  All three share nearly identical height, width, and relatively similar weights.  In theory, this allows customers with a sufficient truck to focus on the floor plan they prefer.  From years of experience, it's likely one or another will stand out as your immediate choice – especially when you experience them in person.
A word to the wise: Don't try to pick a truck camper on the internet.  You can get ideas, but you really need to experience a camper in person before pulling the trigger.  Many times we have gone to see a camper with preconceived notions that went right out the proverbial window when we saw it.
Some will be quick to see the similarities between the Arctic Fox 865 floor plan and the new Wolf Creek. Once again they are both hard-side, non-slide, mid-bath models with a full-booth dinette and a 180-degree window view out the back.  Both are built by Northwood Manufacturing by the same production team on the same production line.  But that's where most of the similarities end.
In a nutshell, the Arctic Fox is significantly heavier and more expensive with thicker walls, thicker aluminum framing, and thicker insulation – not to mention larger tanks and a much longer list of standard features and options.
As a heavier camper, the Arctic Fox needs a lot more truck and will consume more of that truck's payload and towing capacity.  Some folks may not want a bigger truck, or might want to use that payload capacity for towing a boat, ATVs, or a Jeep (or whatever).  That's why Northwood offers the Wolf Creek line.
It also suggests an interesting scenario.  A customer walks into a dealership (tell me if you've heard this one) and falls in love with the Arctic Fox 865.  The dealer runs the payload matching numbers on the customer's current truck and has some tough news.  To safely payload match the Arctic Fox, the customer will need a bigger truck.  Or, how about the all-new 2021 Wolf Creek 890?  This one's a much better match for the truck you have, and it's nearly the same floor plan.
Some customers will say, "No, I want the Arctic Fox and I don't mind buying a bigger truck to properly match it."  Other customers will say, "I'm not buying another truck. Show me the Wolf Creek 890".  Either way, there are now two Northwood options with this floor plan.
We interviewed Northwood's Director of Materials and Marketing, Lance Rinker, and Product Development team member and camper specialist, Tony Carman, to discuss the new Wolf Creek 890 and their latest Wolf Creek offerings.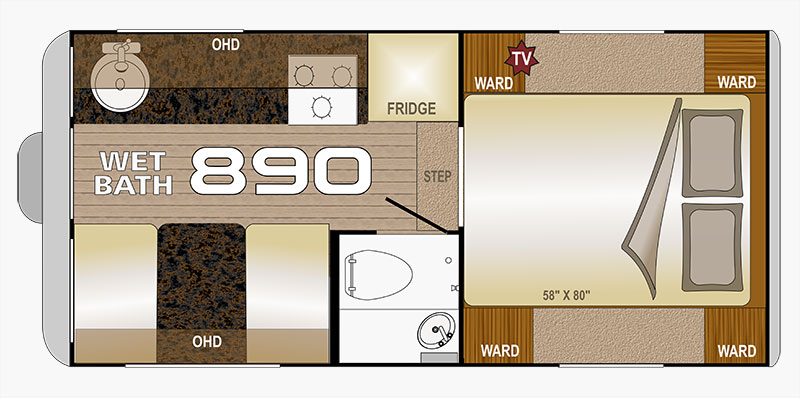 2021 Wolf Creek 890 Specifications:
The 2021 Wolf Creek 890 is a hard side, non-slide, wet bath truck camper made for short or long bed trucks.  The interior floor length of the Wolf Creek 890 is 9'1" and the interior height is 6'6".  The Wolf Creek 890 has a 31 gallon fresh tank, 6 gallon water heater, 32 gallon grey tank, and 30 gallon black tank.  It can accommodate two batteries and has two twenty-pound propane tanks.
The base weight of the Wolf Creek 890 is 2,284 pounds without the Wolf Pack package.  The base MSRP for the Wolf Creek 890 is $25,034.  Click here to request a free Wolf Creek brochure.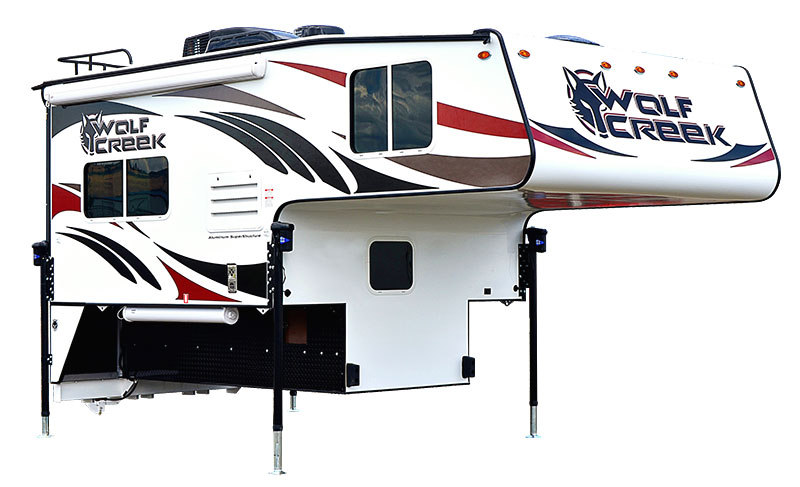 Above: All photography in this article was provided by Northwood Manufacturing.
When Northwood launched the Wolf Creek line in 2011, the mission was to offer lighter and more affordable non-slide truck campers.  Has the Wolf Creek mission focus changed or expanded in nine years?
Lance: While we have made incredible improvements to the products, the core mission for Wolf Creek has not changed. As you stated, it remains our lighter-weight, more affordable, non-slide truck camper line. That focus has been a huge success for us.
What has changed is the marketplace. Since the introduction of Wolf Creek, more people have become interested in overland travel and off-grid camping. That market existed when we launched Wolf Creek in 2011, but it has strengthened and grown significantly over recent years.
As lighter-weight, non-slide campers, Wolf Creek is especially well suited to off-road and off-grid travel. From the ground up, Wolf Creek truck campers are built to be exceptionally rugged, versatile, and fully-functional – all while offering a high degree of comfort. That's what the overland and off-grid market is looking for.
In contrast, Arctic Fox continues to be our leading product line for customers looking not only for exacting durable construction but also for the ultimate slide-out floor plans, features, and luxury. If that's what you're looking for, Arctic Fox is unbeatable.
People have different goals for what they want to do with their truck campers. They have different travel and camping lifestyles in mind. For some, Wolf Creek is the right answer. For others, it's Arctic Fox. Both brands are strong sellers for Northwood Manufacturing.
The last all-new Wolf Creek model announcement was the Wolf Creek 840 in 2014.  With the proven success of the Wolf Creek brand, why haven't we seen a new Wolf Creek model in six years?
Lance: Demand for all of Northwood Manufacturing's products has maxed our production capabilities for years now. That means our production space and time is always at a premium.
When you're sold out months into the future, it can be difficult to find the required resources to develop a new floor plan and prototype. When the models you're already building are so successful it is sometimes difficult to justify delaying the production of current, pre-sold products by engaging in the prototype process.
That stated, we love designing new campers and building prototypes. The process is also an opportunity to improve our existing models as we challenge assumptions and try new ideas. Even during the development of the new Wolf Creek 890, we found fresh ideas to improve our Wolf Creek and Arctic Fox lines. That's exciting.
To get back to your question, it's really about capacity. Our Product Development group has one facility and serves all of our brands and product categories; travel trailers, fifth wheels, toy haulers, and truck campers. We're always working on something, but it's not always a truck camper.
We also need to make sure that what we bring to market is truly a grand slam floor plan that people will love. New models need to be well-researched and address a true need in the marketplace within that specific brand. It can be a tall order.
It's important to point out that Wolf Creek campers have come a very long way since 2011. If you put a 2011 Wolf Creek 850 next to a 2021 Wolf Creek 850, they are vastly different.
There certainly have been a lot of model year updates to improve the Wolf Creek line. Before this announcement, the two Wolf Creek models have been the 840 and the 850.  Are these two floor plans continuing into 2021, or is the new 890 replacing one of these two models?
Lance: The new Wolf Creek 890 is being added to the product line. It's not replacing the existing 840 or 850. Those two models have been and will continue to be solid performers. The new 890 gives Wolf Creek customers a third floor plan to choose from.
How did the Wolf Creek 890 get started at Northwood?
Tony: Donald Cochran, our Chief Sales Officer, after doing hours of research, talking with dealers and customers alike, sent out an email detailing what he wanted in the next Wolf Creek. From there we drafted an initial floor plan and sent it to our product development group. That's where the prototype was designed and many decisions were made.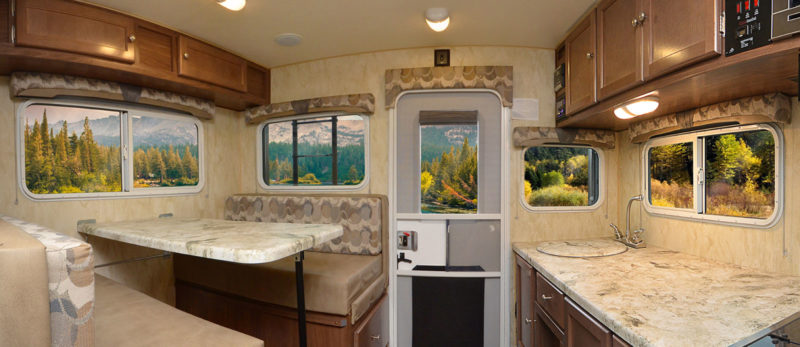 Above: The full booth dinette and rear panoramic view.  Click on the photo above to enlarge it.
The 890 appears to have a similar floor plan to the existing 840.  What are the key differences between these two Wolf Creek models?
Lance: There are several key differences between those two floor plans.  The 890 features a full 180-degree panoramic view in the rear, a tremendous amount of continuous kitchen counter space, a traditional full-booth dinette with a Dream Dinette table system, and a passenger's side wet bath.
Of all those features, what I believe people will notice first and foremost is the huge amount of kitchen counter space, and the full-booth, face-to-face dinette. These two features are unlike anything in the other Wolf Creek models and are key to the 890's success. When you see the 890 in person, the difference will be clear.
The Wolf Creek 890 also appears to be a cousin of the Arctic Fox 865.  Was the 865 part of the design process for the 890, or does the 890 have a different origin?
Lance: The Wolf Creek 890 and Arctic Fox 865 do share a similar floor plan concept, but the Wolf Creek 890 is through-and-through a Wolf Creek. This new model was carefully researched and uniquely designed to address a need in the Wolf Creek product line-up.

Above: The cabover in the Wolf Creek 890.  Click on the photo above to enlarge it.
After the first prototype was completed, did Northwood make adjustments to the 890?
Lance: There always are changes during development. One of the more impactful changes was the addition of the Dream Dinette table system. When converted into a bed, the Dream Dinette is perfect for a couple or a small family. Mom and dad in the cabover, and kid or kids in the dinette.
A huge advantage of Northwood's approach to new models is our independence. We don't have to pass our designs, ideas, and decisions through a nebulous corporate structure. The leadership team is on-site and engaged in the process. If we approve an idea while sitting in a prototype – like the Dream Dinette in the 890 – it happens. That's an important way our campers get continuously better.
It's been a while since we have talked about how Wolf Creek models are built.  Tell us how Wolf Creek is framed and laminated, and how it differs from Arctic Fox.
Lance: The two lines are built in similar ways. Wolf Creek and Arctic Fox feature one-piece laminated walls, aluminum superstructure framing, solid core anchor blocking and aluminum floor trusses.
Tony: That's correct. A Wolf Creek's side and rear walls are framed and laminated with 3/4-inch welded aluminum. That compares with 1.5-inch welded aluminum in our Arctic Fox line. The resulting Wolf Creek wall is 3/4-inch thinner than an Arctic Fox wall.
The difference in thickness is one way we reduce weight from the Wolf Creek line while maintaining outstanding structural integrity.
The Wolf Creek's roof is another beast entirely. Wolf Creek campers get a 1.5-inch flat roof. Like the side walls, the roof is aluminum-framed and laminated. The result is a strong, full walk-on roof.
Arctic Fox campers get Cathedral Arch ceiling construction which is almost entirely made from up to 5-inch thick closed-cell foam with wood framing and vacuum lamination. The result is an incredibly strong full-walk-on roof with tremendous insulation qualities.
Wolf Creek models are shorter with smaller basements than the Arctic Fox line. That's one reason why the holding tanks in a Wolf Creek have a little less capacity. Weight is a critical consideration with every build facet of Wolf Creek.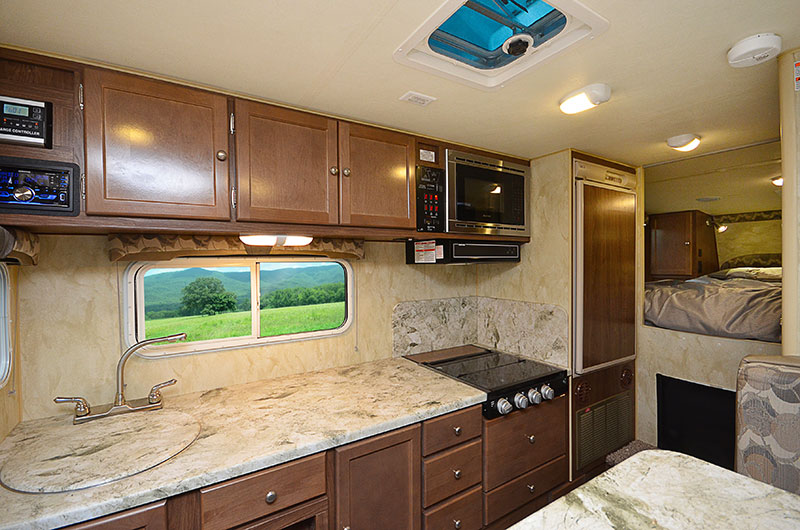 Tell us about the cabinetry and countertops in the Wolf Creek 890.  Any changes to Wolf Creek's interior for 2021?
Lance: The Wolf Creek, like all Northwood products, feature hardwood cabinet doors and drawer fronts with steel roller bearing drawer glides along with face frame constructed cabinets.  New for 2021, all Wolf Creek models utilize custom, one-piece formed countertops and dinette tables.
Tony: It should be pointed out that Wolf Creek and Arctic Fox cabinetry is very similar. The cabinetry for both brands is built by the same shop with the same techniques and materials. We do make some changes to save weight in the Wolf Creek cabinetry, but nothing that sacrifices quality or strength. It's all top-notch.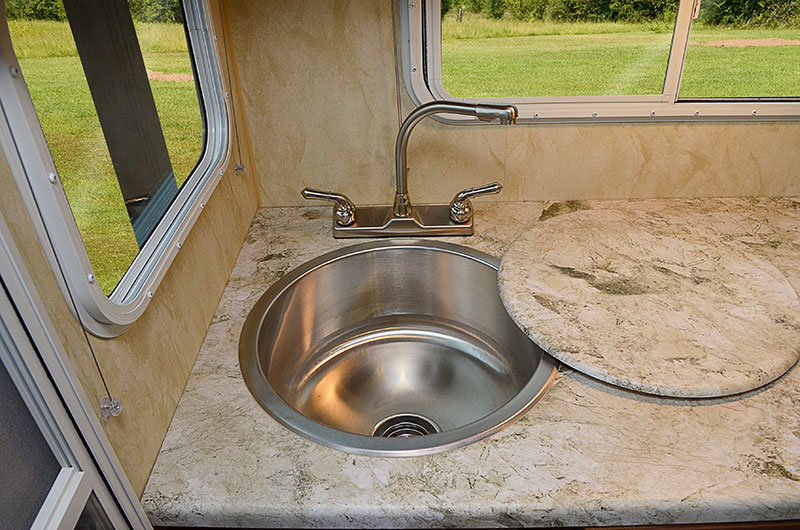 What type of windows are standard on the Wolf Creek 890?
Lance: All Wolf Creek truck campers come standard with tinted, single-pane safety glass windows. Thermal pane windows are an option as well.
For weight savings, was there any thought to using acrylic windows?
Lance: When surveyed, our dealer and customer base have again and again stated they prefer glass windows to lighter acrylic, both for their configurations and venting styles.
Is the Wolf Creek 890 a basement model?
Lance: Yes it is. Like all Northwood pickup campers, the Wolf Creek 890 is a basement model.  The basement height is 9-1/4" tall.
Tony: The basement on all Wolf Creek models have the same height. In fact, all Wolf Creek campers are the same overall height. Keeping to dimension standards within the model line helps with production efficiency, cost control, and overall quality.
At 32-gallons grey and 30-gallons black, the holding tanks are significantly bigger than the Wolf Creek 840 or 850.  How did you balance the demand for more holding tank capacity against concerns for model weight and truck compatibility?
Lance: We always try to employ the largest holding tanks each model will allow.  The 890 has a bit more floor space and so we were able to utilize slightly larger tanks.
Tony: Determining the size of the holding tanks is like solving a puzzle. You have so much space – length, width, and height. The tanks need to drain here and vent there. What can I achieve to make that happen? How much space is there to work with?
Tank size also impacts the overall functionality of the camper. During the design phase, space considerations and functionality are more of a guiding focus than the resulting weight. We really focus on quality, function, and versatility.
For the Wolf Creek 890 prototype, we had to adjust the black and grey tank sizes for production requirements. Specifically, our design did not give the production team enough space around the tank for installation. We made a few changes to make the tanks more production-friendly – problem solved.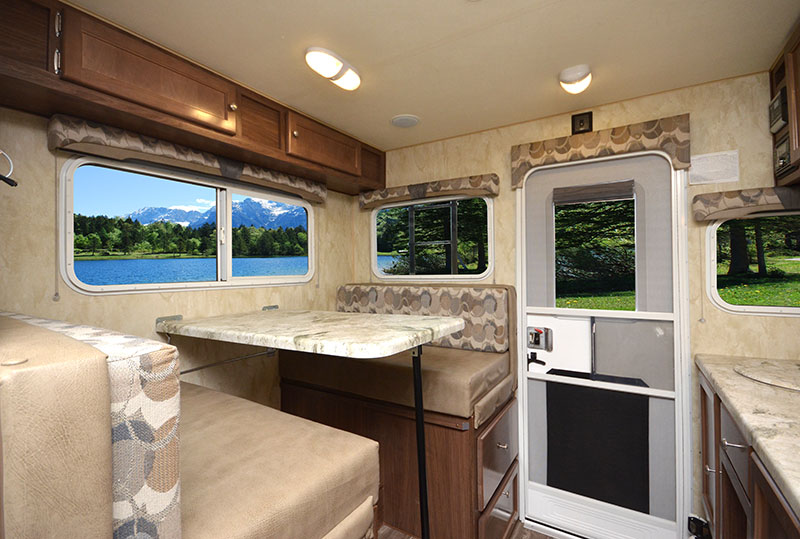 What do you want customers to know about the 890?
Tony: I am really excited about the full-booth dinette in the 890. I am more of a more traditional dinette fan. The 890 has that traditional face-to-face dinette and it's a real stand-out to me.
Another positive for the 890 is the amount of storage on tap. The designers were very successful in providing both more comfortable seating and better storage. And if that doesn't tip the scales, the incredible amount of kitchen counter space most certainly will. I think a lot of customers will choose the 890 for these benefits.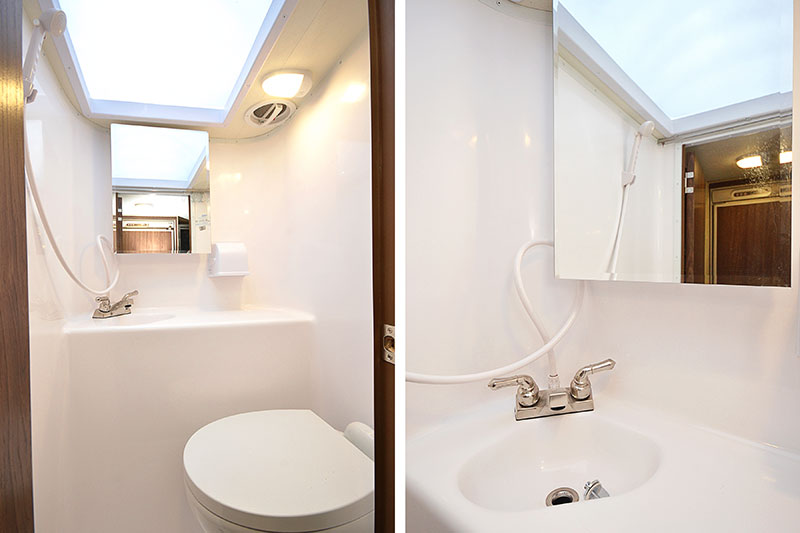 Did you design a new wet bath for the 890, or is it one from another model?
Tony: The 890 features the same wet bath as the 840, but it's on the opposite side of the floor plan. It's interesting how moving the wet bath from one side to the other makes a difference in how the camper feels.
Initial 890 information lists the fresh tank at 37-gallons.  Does this include the capacity of the water heater, or is the fresh tank itself 37-gallons?
Lance: That includes the 6-gallon gas/electric DSI water heater capacity. By itself, the fresh tank capacity is 31-gallons.
How many batteries does the Wolf Creek 890 have, and where are they located?
Lance: The Wolf Creek 890 has the same battery compartment as the 840 and 850.  The compartment will hold two Group-27 RV batteries on the driver's side sidewall.
Is there a factory option for lithium batteries?
Lance: Not at this time, but we are listening to our dealer and customer base for interest in lithium batteries. As of now, we haven't heard enough interest in lithium to make it an option, but we are always listening.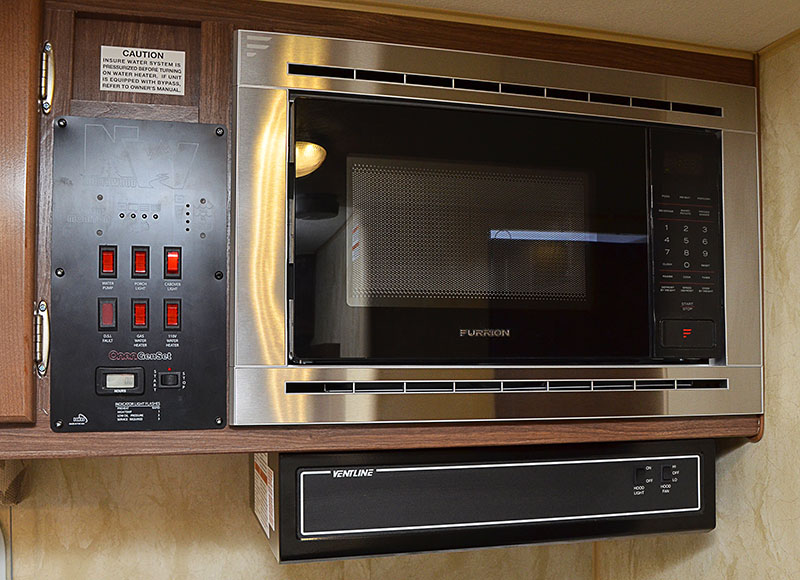 What size propane tanks does the Wolf Creek 890 have?
Lance: The 890 shares the same propane tank sizes as used on the 840 and 850. There are two 20-pound, 5-gallon vertical propane tanks that come with the mandatory Wolf Pack option.
Can the optional air conditioner run on a portable 2,000-watt generator?
Lance: A customer should always investigate the amp output versus the amp draw to ensure they are pairing up their generator properly with their coach.  That being said, the 890 has been designed so that most, if not all, portable 2,000-watt generators will power a Wolf Creek with an air conditioner.
Tell us about the standard bumper and entry step system for the 2021 Wolf Creek 890.
Lance: All Wolf Creek campers come with the Wolf Pack as a mandatory option. Within the Wolf Pack is the Fox Landing Ready Rear Bumper.  This bumper was specifically designed by Northwood and is proprietary to our products.
The Fox Landing Ready Rear Bumper is found on all Arctic Fox campers as well.  The bumper has a storage tray suitable for holding a sewer hose or other long items with locking doors on either end.
Additionally, it is set up to accept the Fox Landing Ultimate Back Porch option which has been very popular ever since its introduction.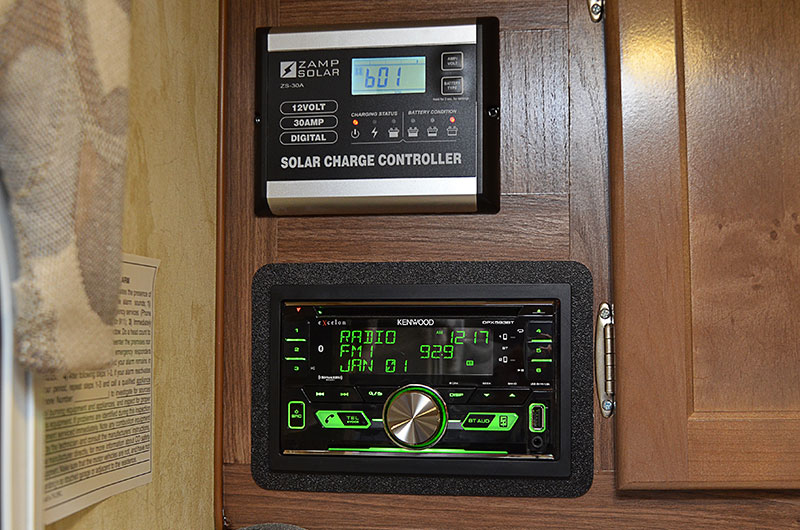 Are there any new options available for the 2021 Wolf Creek 890?
Lance: Within the Wolf Pack mandatory option, we added a Cold Weather Kit to all the refrigerators. This allows for operation down to ambient temps of 0-degrees Fahrenheit.
We also upgraded the exterior ladder to the Phatt version utilizing a larger diameter, heavier gauge, and powder-coated aluminum.  We also added a rearview camera option.  These added options are available on all Wolf Creek for 2021.
Additionally, all 2021 Wolf Creek models are receiving upgrades including a 45-watt Zamp Obsidian solar panel, LPG quick disconnect, and custom one-piece formed countertops and dinette tables.
What truck bed length(s) are you targeting for the Wolf Creek 890?
Lance: The 890 is available in both long and short bed versions.
What does the 2021 Wolf Creek 890 weigh with standard build features?
Lance: The dry weight of the Wolf Creek 890 is 2,594-pounds. That includes the mandatory Wolf Pack option package.
Is the center of gravity marked on the side of the camper?
Lance: Yes, it is. All Northwood campers have their center of gravity marked. The center of gravity for the Wolf Creek 890 is 42-inches from the front bulkhead.
What is the MSRP for the 2021 Wolf Creek 890 with standard build features?
Lance: The MSRP for the standard build for the Wolf Creek 890 is $25,034.
What is the warranty for the 2021 Wolf Creek 890?
Lance: All Northwood products including the Wolf Creek, come standard with a one-year warranty from the date of purchase.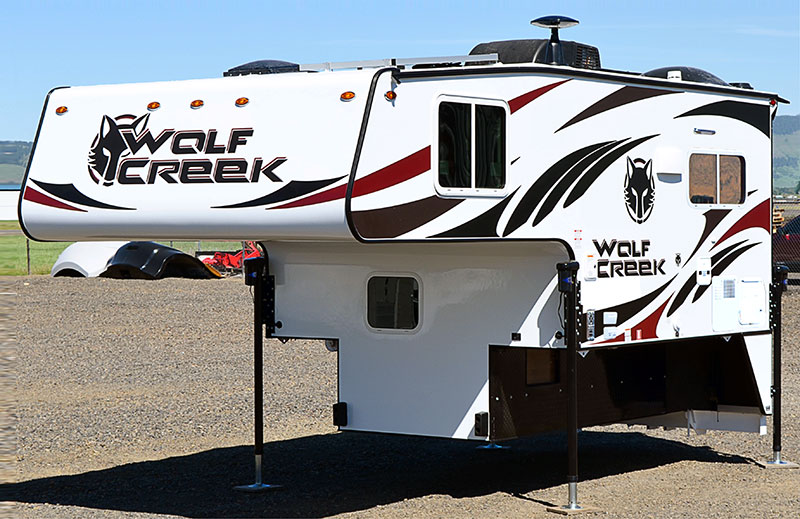 When will the 2021 Wolf Creek 890 be available from Northwood dealers?
Lance: Looking at our current production schedule, the first runs of 2021 Wolf Creek 890 campers will be arriving on dealer lots around February 2021.
Is there anything about the 2021 Wolf Creek 890 that you would like to add?
Lance: The Wolf Creek 890 is a great floor plan that we are excited to bring to the marketplace.  It is a great complement to the other two popular Wolf Creek models, and we expect it to do well.
Should we be expecting any other new Wolf Creek models in 2021?
Lance: There is nothing currently on the drawing board for Wolf Creek beyond the 890, but we are always researching.
For more information on Wolf Creek Campers, please visit their website at northwoodmfg.com/truck-campers/wolf-creek. Click here to request a free Wolf Creek brochure.