Northwood Manufacturing debuts an all-new bumper step called the Fox Landing that turns rear entry Arctic Fox and Wolf Creek truck campers into side entry, tow ready campers.

When we visited Northwood Manufacturing last summer, they were very excited to show us their new Fox Landing.  With one look at this innovative new step system, we could see why they were so enthusiastic.  Put simply, the Fox Landing allows for a rear entry Arctic Fox truck camper to become a side entry camper.  Even better, the Fox Landing allows the owner to keep their tow trailer connected while using the Fox Landing for side entry.
The Fox Landing is also really cool in design and use.  I enjoyed just putting the Fox Landing system up and down to admire its design and build quality.  It's quite clever.
What's even more clever is how Northwood Manufacturing turned to Torklift International to tap into Torklift's SolidWorks computer modeling, in-house fabrication, and truck camper product expertise.  With Northwood's design, Torklift developed the Fox Landing prototypes and worked with Northwood to perfect the product.  For insights on their collaboration, we talked to both Northwood Manufacturing and Torklift International.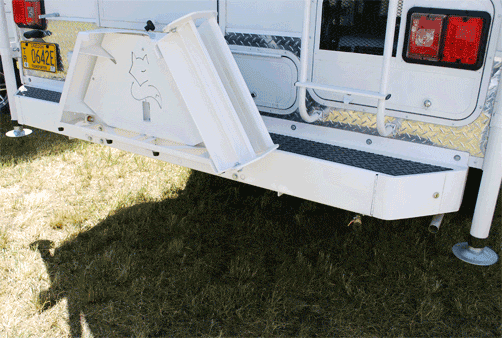 Above: An animation of the Fox Landing in action
Northwood Manufacturing
The following is an interview with Mick Pickler, Truck Camper Production Manager for Northwood Manufacturing, about the Northwood Manufacturing Fox Landing.
TCM: How did the Fox Landing project at Northwood come to be?
Mick: Ward King, Chief Operations Officer for Northwood, called me into his office after seeing a porch on competitor's product.  After our conversation, I went to the Portland RV show and saw the porch for myself.  It was a solid porch, but I started thinking about people who tow.  If you want to take your toys with you, how do you hook up when a porch is there?  It looked cumbersome.

When I started designing the Fox Landing, I had a long list of things I wanted.  I wanted our porch to fold up.  I wanted it to hold me steady even if I was standing at the very end.  Actually, I wanted it to be able to hold two of me.  I also wanted a notch off of it, like a half moon for a hitch to pass through.  I also wanted a step that comes off the side.
Allowing side entry was one of the more important criteria for the Fox Landing.  With the step on the side, you have a side entry on a rear entry camper, and you can get in and out of the camper without disconnecting your trailer.
With these considerations in mind, I drew up what I wanted on paper.  That's when we got Torklift International involved.  Torklift is headquartered relatively close to Northwood and they were very interested to help us develop the Fox Landing.
Torklift took my drawings and ideas and came up with an initial design.  After seeing the first design, I realized we needed to make sure the system locked and unlocked easily.  I also wanted to make sure that someone in the camper could unlock the Fox Landing and get out if someone locked it from the outside.  A lot of issues like that had to be worked out as we developed and prototyped the product.
TCM: When we talk to truck camper owners, we hear a lot about how they need their truck campers to be easier to enter and exit.  Was this part of your criteria for the Fox Landing?
Mick: Personally, I have had two back surgeries, a hip surgery, and arthroscopic surgery on my knee.  As you know from being at the factory, I'm in and out campers every day all day long.  I can tell you that the Fox Landing is a huge improvement in comfort getting in and out of the campers.  Ease of entry and exit was a very important part of our design criteria.
With the Fox Landing installed, there are four steps to get into an Arctic Fox truck camper.  Without the Fox Landing, there are only two steps.
Speaking of making our campers more comfortable to use, we also have our step under the slide-out that makes it easier to get into the dinette.  And for entering and exiting the overcab bedroom, we have a carpeted step.
TCM: Tell us about your impressions of the Fox Landing when Torklift sent you the first prototype.