Northwood Manufacturing debuts an all-new bumper step called the Fox Landing that turns rear entry Arctic Fox and Wolf Creek truck campers into side entry, tow ready campers.

When we visited Northwood Manufacturing last summer, they were very excited to show us their new Fox Landing.  With one look at this innovative new step system, we could see why they were so enthusiastic.  Put simply, the Fox Landing allows for a rear entry Arctic Fox truck camper to become a side entry camper.  Even better, the Fox Landing allows the owner to keep their tow trailer connected while using the Fox Landing for side entry.
The Fox Landing is also really cool in design and use.  I enjoyed just putting the Fox Landing system up and down to admire its design and build quality.  It's quite clever.
What's even more clever is how Northwood Manufacturing turned to Torklift International to tap into Torklift's SolidWorks computer modeling, in-house fabrication, and truck camper product expertise.  With Northwood's design, Torklift developed the Fox Landing prototypes and worked with Northwood to perfect the product.  For insights on their collaboration, we talked to both Northwood Manufacturing and Torklift International.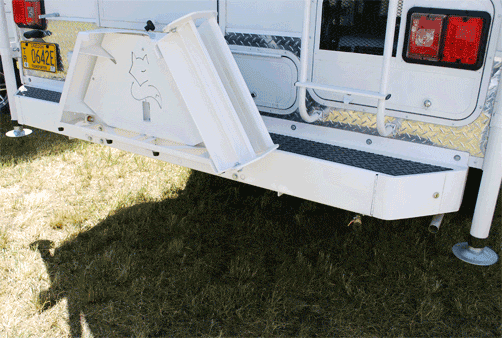 Above: An animation of the Fox Landing in action
Northwood Manufacturing
The following is an interview with Mick Pickler, Truck Camper Production Manager for Northwood Manufacturing, about the Northwood Manufacturing Fox Landing.
TCM: How did the Fox Landing project at Northwood come to be?
Mick: Ward King, Chief Operations Officer for Northwood, called me into his office after seeing a porch on competitor's product.  After our conversation, I went to the Portland RV show and saw the porch for myself.  It was a solid porch, but I started thinking about people who tow.  If you want to take your toys with you, how do you hook up when a porch is there?  It looked cumbersome.

When I started designing the Fox Landing, I had a long list of things I wanted.  I wanted our porch to fold up.  I wanted it to hold me steady even if I was standing at the very end.  Actually, I wanted it to be able to hold two of me.  I also wanted a notch off of it, like a half moon for a hitch to pass through.  I also wanted a step that comes off the side.
Allowing side entry was one of the more important criteria for the Fox Landing.  With the step on the side, you have a side entry on a rear entry camper, and you can get in and out of the camper without disconnecting your trailer.
With these considerations in mind, I drew up what I wanted on paper.  That's when we got Torklift International involved.  Torklift is headquartered relatively close to Northwood and they were very interested to help us develop the Fox Landing.
Torklift took my drawings and ideas and came up with an initial design.  After seeing the first design, I realized we needed to make sure the system locked and unlocked easily.  I also wanted to make sure that someone in the camper could unlock the Fox Landing and get out if someone locked it from the outside.  A lot of issues like that had to be worked out as we developed and prototyped the product.
TCM: When we talk to truck camper owners, we hear a lot about how they need their truck campers to be easier to enter and exit.  Was this part of your criteria for the Fox Landing?
Mick: Personally, I have had two back surgeries, a hip surgery, and arthroscopic surgery on my knee.  As you know from being at the factory, I'm in and out campers every day all day long.  I can tell you that the Fox Landing is a huge improvement in comfort getting in and out of the campers.  Ease of entry and exit was a very important part of our design criteria.
With the Fox Landing installed, there are four steps to get into an Arctic Fox truck camper.  Without the Fox Landing, there are only two steps.
Speaking of making our campers more comfortable to use, we also have our step under the slide-out that makes it easier to get into the dinette.  And for entering and exiting the overcab bedroom, we have a carpeted step.
TCM: Tell us about your impressions of the Fox Landing when Torklift sent you the first prototype.
Mick: We stepped on it and walked on it.  Then we asked Torklift to make some improvements.  The first prototypes didn't hold the weight I wanted them to, so Torklift added strength to the design.  Specifically, the hinges had to be heavier duty.
After two or three design changes, Jack Kay, Vice President of Torklift International, Jay Taylor, General Manager for Torklift International, and Casey Cotter, Engineer for Torklift International, visited Northwood.  They brought a revised prototype which we installed on an Arctic Fox truck camper for evaluation.  Ward King, Chief Operating Officer of Northwood, and the whole Northwood design team looked at it.  Once again we made some changes but we were getting close by that point in time.  Torklift worked well with us to make it right.
TCM: Do you think there will be more co-development projects with Torklift in the future?
Mick: That is certainly a good possibility.  I will work with whomever I need to make our product the best for our consumers out there.
TCM: Northwood had an open house for dealers to come see and review new and existing product.  How was the dealer response to the Fox Landing?
Mick: Everyone has absolutely loved it. Most of our dealers had not seen it before our dealer open house.  A lot of them at the open house were not truck camper dealers and said it made a world of difference.  Some didn't understand why the landing came out so far.  Then they'd look at it more and say, "This is amazing, and cool".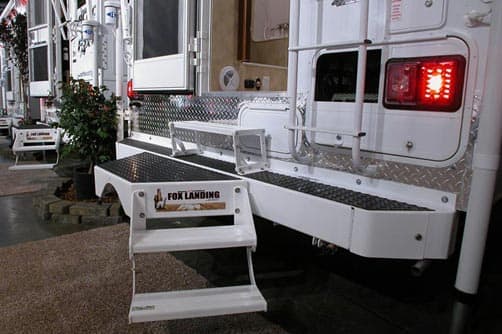 The following is an interview with Lance Rinker, Director of Materials and Marketing for Northwood Manufacturing.
TCM: Where did the name, "Fox Landing" come from?
Lance: Rich Zinzer, in Northwood's marketing department, and I were kicking around names looking for something catchy.  It's a back porch, but there's so much more to it.  After much back and forth, we "landed" on the name Fox Landing.  The name is a tip of the hat to our Arctic Fox line for which the product will be an industry-wide exclusive.
TCM: Is the Fox Landing an option or standard for Arctic Fox truck campers?
Lance: It's an option.  As of October, 2011 we have been manufacturing Arctic Fox truck campers with a Fox Landing ready bumper.  The holes where the Fox Landing mount are ready to go in the new bumpers.
TCM: How does an Arctic Fox owner know if they have a Fox Landing ready bumper?
Lance: Look for mounting holes facing outwards on the center back of the bumper.  These mounting holes will have plastic inserts.
TCM: Can someone with an older Arctic Fox upgrade to the Fox Landing or do they need the Fox Landing ready bumper?
Lance: You can add the Fox Landing to most older Arctic Fox campers, but you will also need to purchase and install the Fox Landing ready bumper.  The existing Arctic Fox bumper is removed and replaced with the new Fox Landing ready bumper.  The new bumper uses the existing bumper mount.  No additional holes need to be drilled to upgrade to the Fox Landing.
TCM: How does a customer who is going to purchase an Arctic Fox get the Fox Landing option?
Lance: Customers can either special order a new Arctic Fox from the factory with the Fox Landing, or upgrade at their dealership.
TCM: What does the Fox Landing cost?
Lance: The MSRP for the Fox Landing is $862.50.  If a customer with an older, non-Fox Landing Ready bumper would like to upgrade to a new bumper and Fox Landing, some slight modifications will be necessary.  Arctic Fox owners should talk to their local dealers and negotiate a price.
The Fox Landing innovation came right out of our facility.  Mick Pickler is in charge of the production line for our Arctic Fox pickup campers.  The Fox Landing is his vision and I believe the product says something about us as a company and how we work to innovate and make our product better.
Torklift International
The following is an interview with Jack Kay, Vice President of Torklift International, Jay Taylor, General Manager for Torklift International, and Casey Cotter, Engineer for Torklift International, about the Northwood Fox Landing.

EDITOR'S NOTE: The Fox Landing is manufactured by two different manufacturers, Torklift International and Northwood Manufacturing's principal bumper supplier.  The following information on the inclusion of Torklift GlowSteps, GlowStep aircraft grade glow elements, SureGrip extrusion, compatibility with the Torklift GlowGuide, and the Torklift International lifetime warranty applies to the version of the Fox Landing that is manufactured by Torklift International.  To identify a Torklift International version of the Fox Landing, look for the "by Torklift" decal (see above) and the GlowGuide logo on the steps.
TCM: Tell us how Torklift International got involved with the Fox Landing project with Northwood Manufacturing.
Jay: Northwood came to us proposing a joint effort to develop a new bumper system for their campers.  Together with Mick Pickler, Truck Camper Production Manager for Northwood Manufacturing, and Doug Karr, Northwood's truck camper expert, the Torklift design team started brainstorming.  Conceptually, this was about a year and a half ago.
Last November or December, we were submitting prototype samples to Mick Pickler and the Northwood team.  Then this past January and February we narrowed down the design concept to a final prototype.  It's been really good working with Northwood and we're very excited about the Fox Landing.
TCM: What was Northwood's primary initial design criteria for the Fox Landing?
Jay: Northwood was clear that the Fox Landing needed to be as user friendly as possible.  It also needed to drop down to the side to allow for side entry and easy towing.  With the Fox Landing, you can install the steps on either side and you don't have to step on the trailer tongue.
Jack: We hand delivered a Fox Landing prototype to Northwood for review by the decision makers.  We had Northwood team members coming from many different departments to review the prototype which was quickly installed on an Arctic Fox camper.  Northwood gave it an effective test of having three big guys hop on the landing jumping up and down.  They were giving the Fox Landing the old, "Let's see what this thing can really do" test.  That was one of the more memorable events.
Mick Pickler was the primary idea guy behind the overall design and very instrumental on the design of the unit.  Mick worked hand in hand during the design process with Casey, both in person and on the phone.  Mick's concept of taking a rear entry camper and developing a bumper that would enable it to be a side entry camper is a unique idea.  I think the Fox Landing is going to be very successful for Northwood.
Jay: Doug Karr was also instrumental in helping us to develop the Fox Landing and gave us feedback from Northwood dealers on the product.  Casey listened to that feedback and took the Fox Landing to the next level with a fourth prototype.  By that point, we had the design and concept down to the point where we were ready to proceed with manufacturing.
TCM: The Fox Landing is a very clever and very intricate design.  Did you design the Fox Landing with SoildWorks?
Casey: Yes we did.  One of the first things I saw for the Fox Landing was a design on paper from Mick Pickler.  From his design, I understood what he wanted to accomplish.  I then designed and rendered the Fox Landing in SolidWorks, a three-dimensional computer aided design and modeling program we use at Torklift International.
Once the Fox Landing was modeled in SolidWorks, we ran the Fox Landing model through finite element analysis and tested it for material and design strength.  SolidWorks is amazing because it does the hard math for you.  It will literally tell you whether there's a weak point here or you need to extend there.  It gives you the whole picture.
TCM: Tell us about the materials and manufacturing process for the Fox Landing.
Casey: The Fox Landing is manufactured using aircraft grade T6061 aluminum, which is a standard aluminum alloy for strength and lightweight applications.
Going from SolidWorks to production is easy once a product is modeled.  Our CNC plasma table cuts out the shapes in the aluminum.  Then we design jigs to bend the materials before welding the product together.
TCM: Does the Fox Landing need to be secured for travel?
Jay: The locking arm lifts up from the deployed position.  It's vertical from the camper.  The locking mechanism holds it into place automatically.  Pull a retraction cord from the back of landing and it goes back into place.  The locking mechanism itself holds it secure.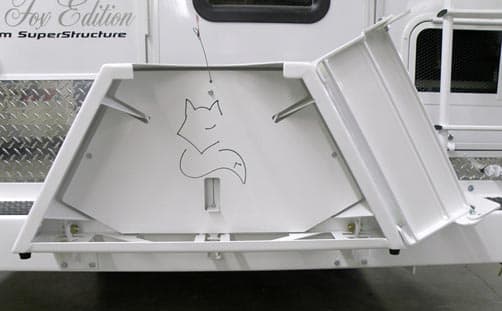 Jack: The Fox Landing porch can be transported down the road in the vertical or horizontal position.  The Fox Landing steps need to be up and secure.
Doug Karr has driven around the country and shown off the Fox Landing to dealers and customers.  He said it's funny that you have a cool bumper with a platform and all of that gets forgotten when you move the Fox Landing into the vertical position.  Then all of the attention goes to the Arctic Fox logo.  Everybody wants to make comments about how cool that is.
TCM: Mick Pickler explained that he wanted the Fox Landing to hold two of him.  How did you design the Fox Landing to be able to accommodate the weight of two people?
Casey: We designed the Fox Landing for a safety factor of two to one.  In other words, whatever ratings the design called for, we doubled that.  Our ratings are very forgiving.
Jack: Besides SolidWorks testing, we do physical testing with physical loads with all of our products.  As Casey pointed out earlier, going with the SolidWorks enables us to get the lightest material we want with the maximum safety and longevity of the product.
TCM: The Fox Landing has GlowStep glow elements.  Does it feature same SureGrip extrusion as the GlowStep?
Jay: Yes it does.
TCM: Can additional steps be added if necessary?
Jay: If you have a three step drop down, you could add another step to get closer to the ground and make access easier.  In the future, we also want to incorporate the GlowGuide for a rail system with the Fox Landing.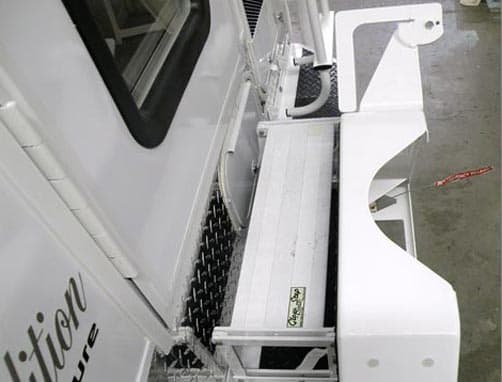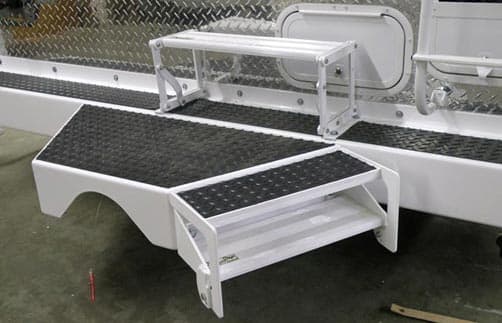 TCM: Tell us about how the Fox Landing works in conjunction with the Torklift SuperHitch and SuperHitch Magnum towing systems.
Jack: The Fox Landing was designed around the SuperTruss Extension.  Truck Camper Magazine readers who tow trailers with their truck camper rigs understand how challenging and potentially unsafe entering and exiting a rear entry camper can be while towing.  For one, you usually need to step on the tongue of the trailer.  It's a big safety problem.  The alternative is to disconnect the trailer from the truck everywhere you go to have safe and easy access.  The Fox Landing solves this problem by allowing the trailer to remain connected while allowing for a safe and easy side entry into the camper.
Jay: The Fox Landing adds more capability, more comfort, and gives you better access.  Plus, it gives you the capability of having your trailer safely connected to your camper.
TCM: Where the steps are mounted is an area that's vulnerable to road debris and moisture.  Does the Fox Landing require maintenance?
Jay: The Fox Landing is made from powder coated T6061 aluminum which is easy to wash off and clean.  Other than keeping it clean, the Fox Landing should require no maintenance.
TCM: Should system be removed for winterizing?
Jay: A cover would be good, but you won't need it because of the powder coated aluminum.
TCM: Does the Fox Landing and bumper come with Torklift's lifetime warranty?
Jay: Yes, it does.  That's part of what we do at Torklift.  It's a primary target on what we design.  That lifetime warranty has gotten us to where we are today.  As long as you file the warranty card with us, you're good.
Jack: We respected and appreciated Northwood's very stringent high quality standard.  Torklift has been known for quality, strength, and our lifetime warranty.  Partnering with Northwood has a lot to do with their quality standards.
Jay: Every step of the design, prototype, and development process, Mick Pickler made sure the quality standards were not cut.  Working with Mick, it becomes evident that quality goes into every Northwood truck camper that goes down his production line.