TCM encounters an advanced Battle Born lithium battery kit installed in a Northern Lite 8-11 EX LE wet bath at D&H RV.  After reviewing the capabilities and eye-bulging cost we had one question; do lithium batteries and kits like this make sense for truck campers?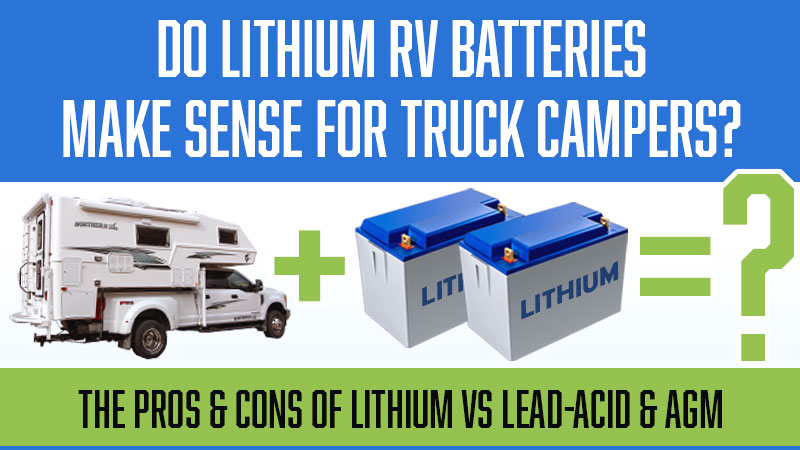 Addendum: We received a large volume of constructive feedback after publishing this article. In response, we have added an addendum to the bottom of this article with points that were either missed or required additional detail. The lithium ballgame has changed.
This past spring and summer we embarked on a four-month truck camping adventure that took us from southern Florida to visit family and friends in Maryland, Pennsylvania, New York, and Vermont.  We were excited to stretch our truck camping legs, put some miles under our serpentine belt and see everyone.  Along the way, we went to two North-East Truck Camping Jamborees, camped at many Harvest Hosts, and I may have found some LP records.
On our return south, Angela noticed that D&H RV and Marine in Apex, North Carolina had managed to gather a respectable number of new truck campers; a rare feat in 2021.  "There are a couple of models we haven't seen yet," she said.  "Hopefully they don't sell before we get there."  I contacted Dave Hofert, President of D&H, and proposed a drive-by and photo shoot.  "Yeah, come on by," he said.  "While you're here, I want you to see the Battle Born lithium battery kits we've been installing.  They're a hit."
Fast forward a few days and we arrived in Apex, North Carolina.  After confirming the coordinates of the campers, we got to work.  Later that morning, Dave said, "Let me know when you want to see the Battle Born lithium kit.  One of my guys is finishing one up now in a Northern Lite 8-11 EX. Anytime."  I was starting to think that Dave wanted me to see the Battle Born lithium battery kit they now offer.  Just a hunch.
Northern Lite 8-11 EX LE Wet Bath: A Quick Overview
It had been some time since I had seen a brand new Northern Lite in person and I was instantly reminded of why the British Columbia manufacturer remains a leader in the competitive high-end camper market.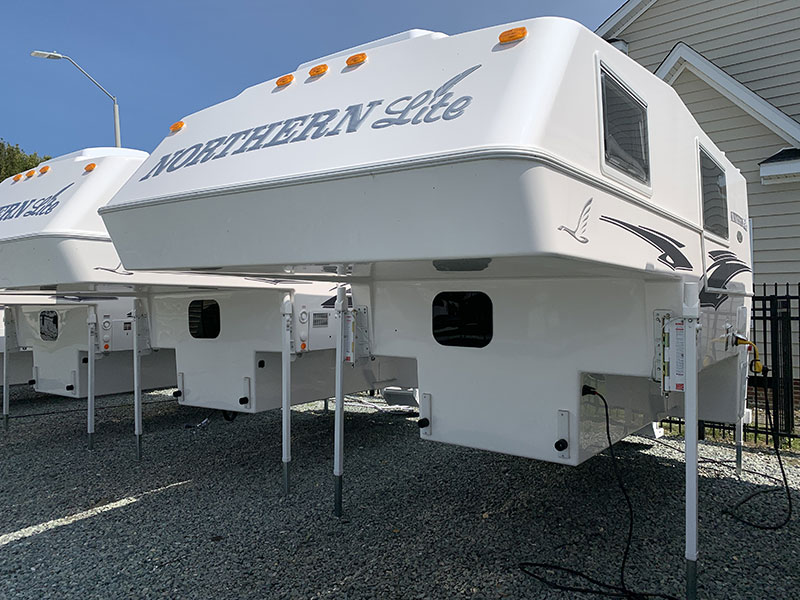 Walking around the exterior, the fiberglass clamshell presents a pinnacle of non-slide truck camper construction.  The considerable cost and inherent design limitations of clamshell fiberglass means this approach isn't for everyone but, for many, the search often ends here.  She was gorgeous.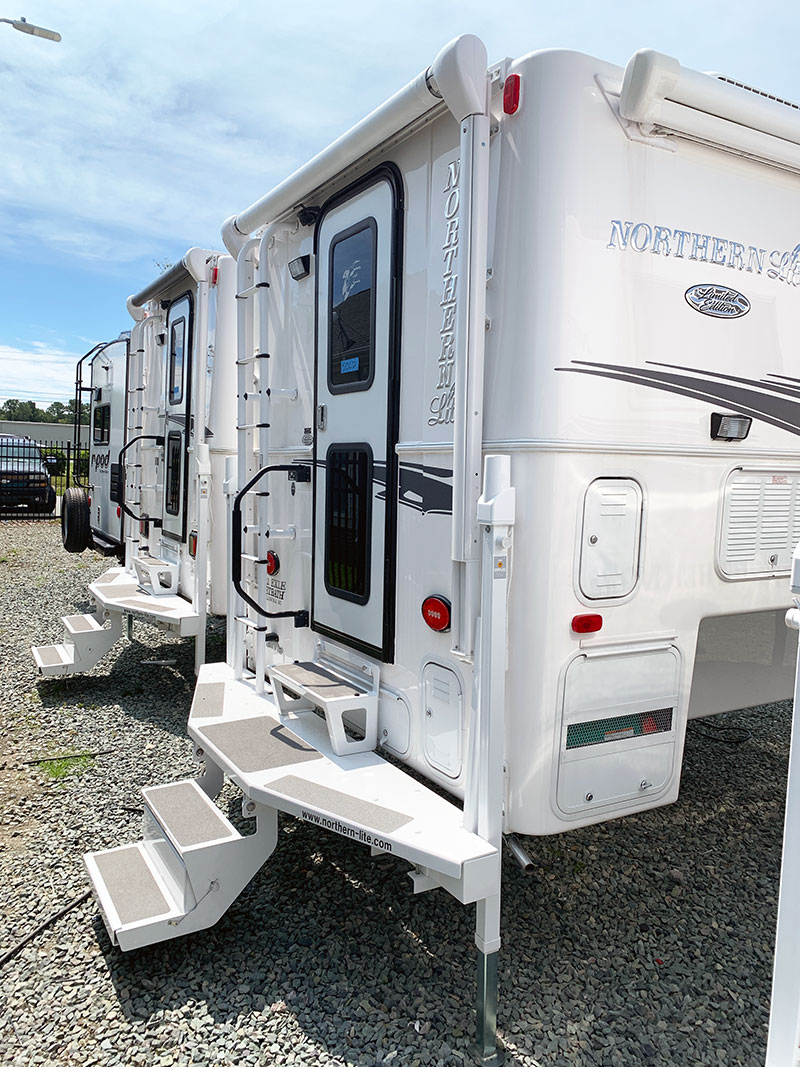 This statement is made after visiting the Northern Lite factory five times over the past fifteen-years and spending multiple days observing every facet of their production.  If you've ever caulked and sealed a traditionally manufactured truck camper, the experience of watching the two seamless fiberglass shells emerge from their molds is revelatory.
If you are on the bubble about this approach, make an appointment and go see it for yourself.  If that's not possible, check out our Northern Lite factory tour.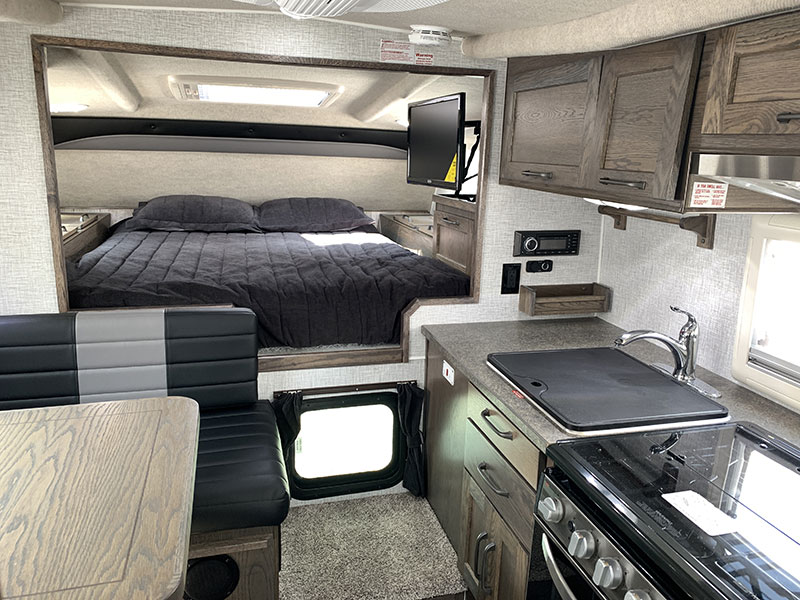 Above: The interior of the Northern Lite 8-11EX with the Greystokes cabinetry
In many ways, a Northern Lite's interior is as impressive as the exterior.  In the early 2010s, we worked RV shows that often featured Northern Lite truck campers.  Mind you the average RV shopper had no understanding or appreciation of Northern Lite's clamshell fiberglass construction.  In fact, most saw the truck camper shape and the jacks and walked right by.  Those that stuck around often asked, "Where are the wheels?" and, "Does this one have a slide?"
The trick, we learned, was to patiently address these questions and invite them into the unit.  For those open to discovery, the interior spoke for itself.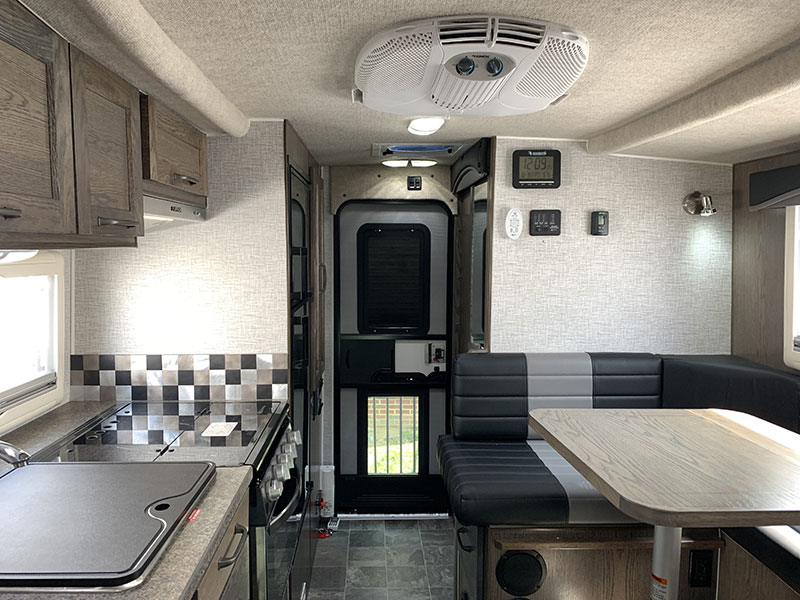 Back at D&H, there it was; the clean, open, and bright design that had wowed so many show-goers of years past. The on-trend monotone Steel Grey dinette cushions and Greystokes cabinetry, wall finish, and table made for a subdued modern aesthetic.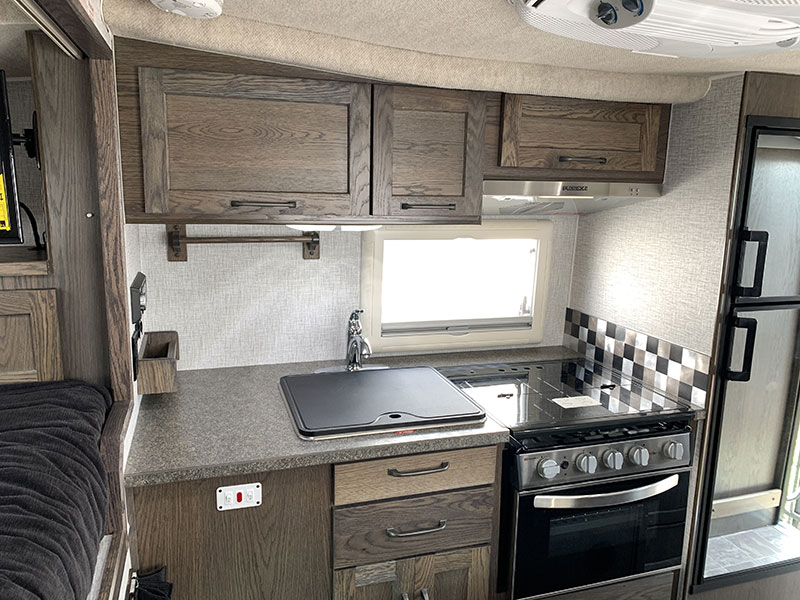 Not everyone will prefer this look, but that's why Northern Lite still offers their Special Editions, Sapele wood, and alternate interior decors.  Whatever model, trim level, and interior you select, the fit, finish, and overall quality are consistently first-rate.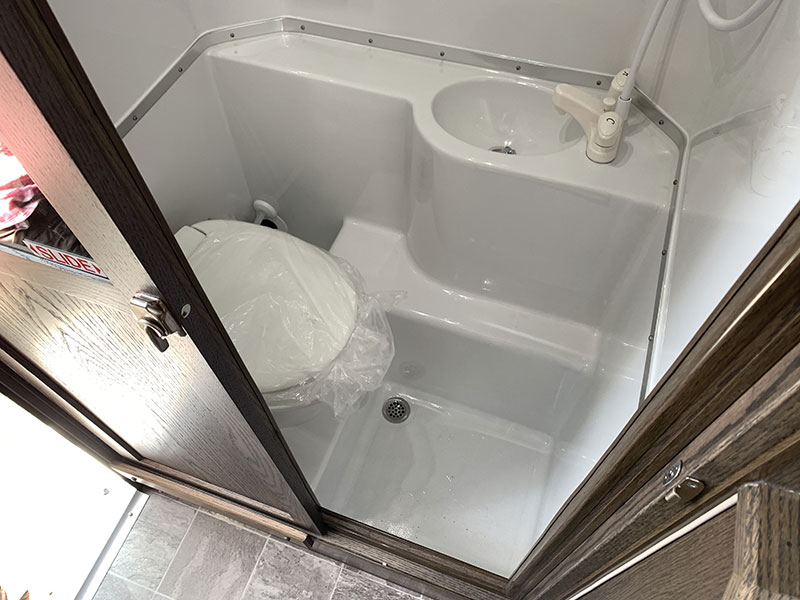 Above: The wet bath in the 8-11EX LE
That doesn't mean Northern Lite truck campers are perfect, or the perfect camper for you. No make or model is the best for everyone. However, if you find yourself intrigued by Northern Lite's clamshell fiberglass build and refined interior, we recommend a deeper dive with our Northern Lite reviews and content.
The Lithium Kit Installation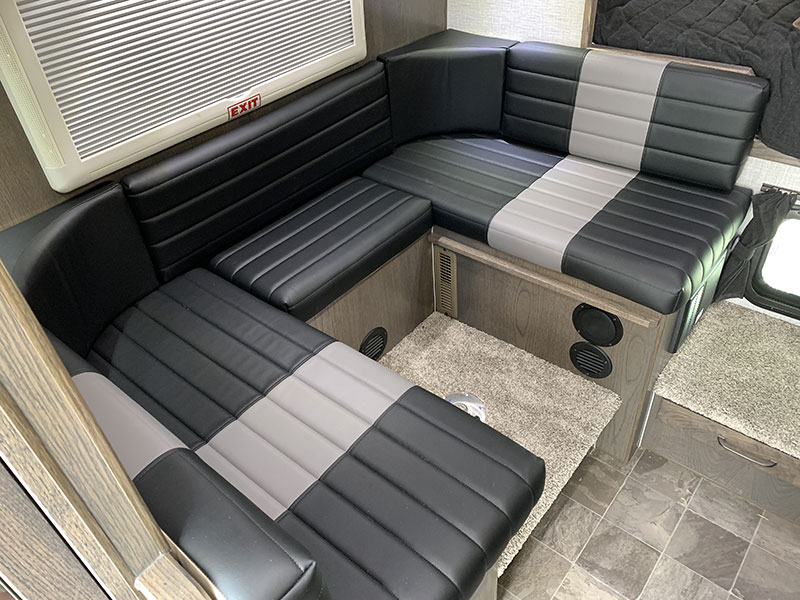 Above: Four 100 Ah batteries and the Victron MultiPlus Inverter/Charger are under the dinette
The heart of the lithium kit was located under the dinette.  Upon removing the table, post, cushions, and seat boards, I couldn't help but be impressed.  Say what you will about lithium batteries, this system looks the business.  This was the exact moment I said, "Wow, maybe I need to take another pass at lithium battery systems and truck campers."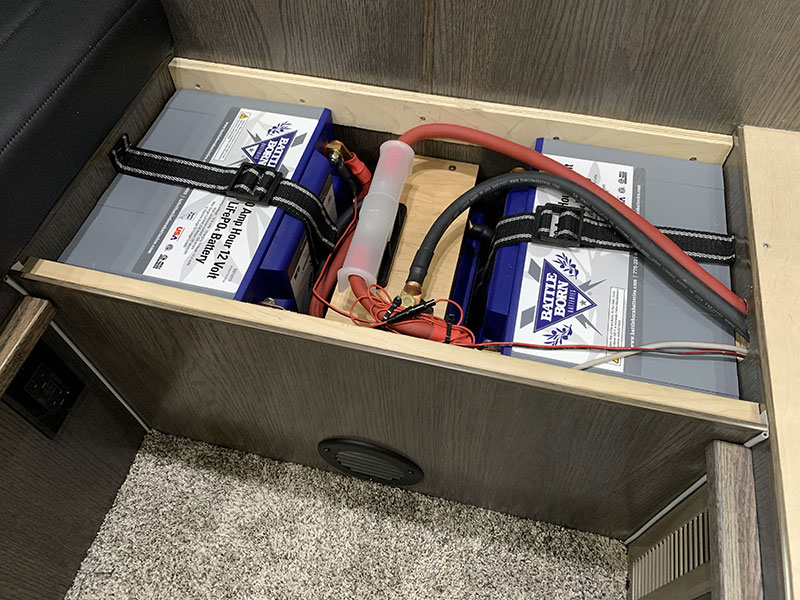 Above: Four 100-Ah Battle Born batteries are installed in this installation under the dinette; two under the forward-facing dinette seat (not shown) and two in the middle seat (shown above)
The often repeated benefits of built-in lithium batteries over lead-acid or AGM batters are significantly lighter weight for the same amp-hours, often smaller size for the same amp-hours, faster charging times, the ability to discharge deeper for more effective capacity, potentially significantly longer-lasting, and no required maintenance.
The often-cited negatives are significantly higher cost and the inability to charge in freezing temperatures (unless heated). To the negatives, I would add the need to evaluate and update your electrical system for lithium battery compatibility.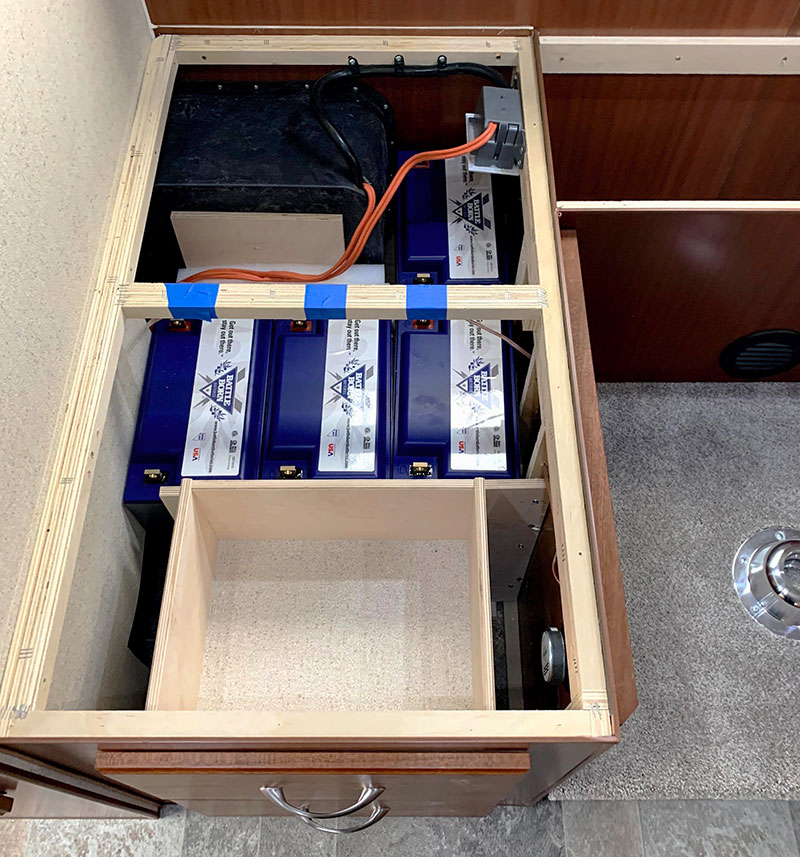 Above: An example of a four battery Lithium system in another Northern Lite truck camper
By providing a complete lithium battery kit, Battle Born avoids this last caveat entirely.  The system completely replaces a traditional battery bank and electrical system with lithium batteries and a lithium-ready inverter/charger, battery monitor, and communication center.  D&H RV selects the appropriate Battle Born lithium kit for each customer and camper, designs the fit, and performs the installation.
In this example, the lithium kit consists of four Battle Born 100 Ah 12-volt LiFePO4 deep cycle batteries, a Victron MultiPlus 3000VA combined inverter and charger, a Victron BMW-712 Smart battery monitor with Bluetooth, and a Victron Color Control communication center.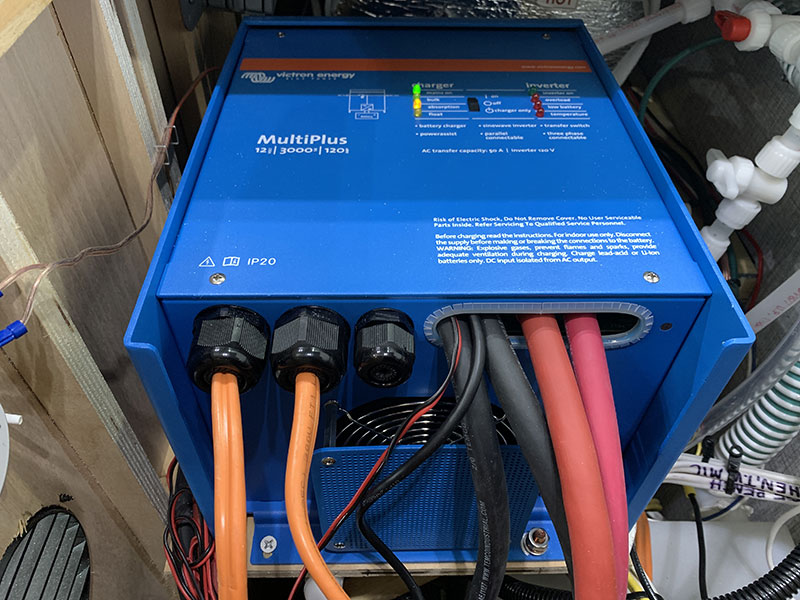 Above: Victron MultiPlus 3000VA inverter
If all of that sounds relatively complex, it is.  For example, while researching the Victron MultiPlus we discovered that it needs to be connected to a computer and set up prior to installation.  This isn't in itself complicated but shows the level of sophistication of these products compared to a traditional RV electrical system.  Then again, you can't monitor and control a traditional RV electrical system from your smartphone.  You can do that with this system.
The Pitch: A Built-In Generator Replacement
For background on this system, we talked to Dave Hofert, President of D&H RV in Apex, North Carolina, and two of the techs who routinely install the lithium kits.  Dave explained how the lithium kit is presented as a built-in generator replacement and starts with four 100-amp hour lithium batteries.  With a 400-amp hour battery bank and a 3,000-watt inverter, the lithium kit can power a 120-volt air conditioner and microwave.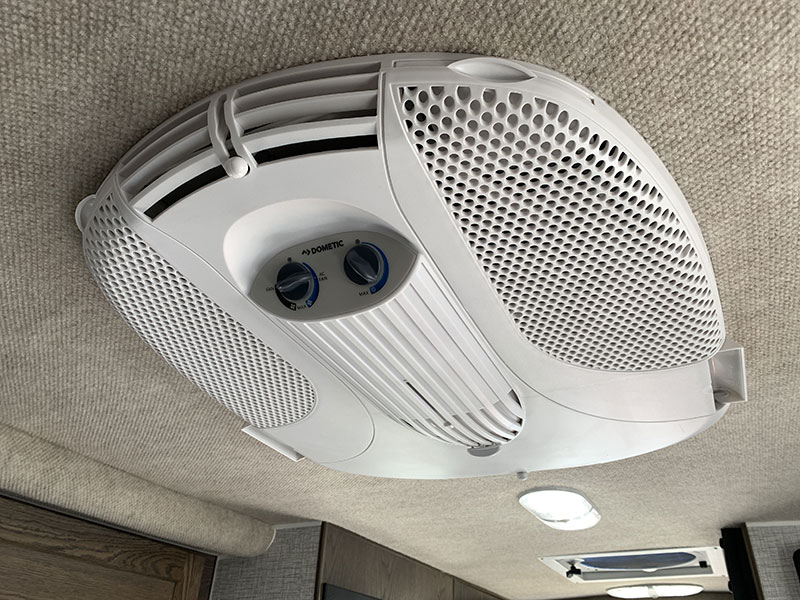 Above: The Dometic air conditioner in the Northern Lite 8-11 EX Wet Bath
Who wouldn't like to replace a noisy, propane-eating built-in generator with silent lithium batteries that recharge from your solar panels and/or your truck's alternator?  And the lithium kit can run your 120-volt air conditioner for a considerable amount of time.  That's the pitch.  That's the allure.  Yes, please – right?
The Cost: Brace Thy Self
In nearly every conversation about lithium, the elephant in the room is cost.  This lithium kit isn't going to help that sentiment.  The starting cost with the aforementioned four 100-Ah lithium batteries, a 3,000-watt inverter and charger, a battery monitor with Bluetooth, and a communication center starts at $13,000 installed and can be as much as $16,000 in some campers.  Naturally, a good portion of that cost is the installation hours.  Dave cautioned that every camper is different and that the purchase process and final price start with a consultation.
In an attempt to put that number in perspective, Dave suggested that forgoing a built-in generator can save $5,000 to $6,000 on a truck camper purchase.  That amount can go towards the lithium kit bringing that total a tad closer to Earth.
Just The Lithium, Please
After we hyperventilated, we asked what it would cost to swap out our two Group 31 AGMs for two 100-amp hour lithium batteries and have our camper's 17-year old converter replaced with one that is lithium compatible.  This would give us the benefits of lithium batteries, minus the 3,000-watt inverter capabilities and a significantly larger battery bank of the featured lithium kit.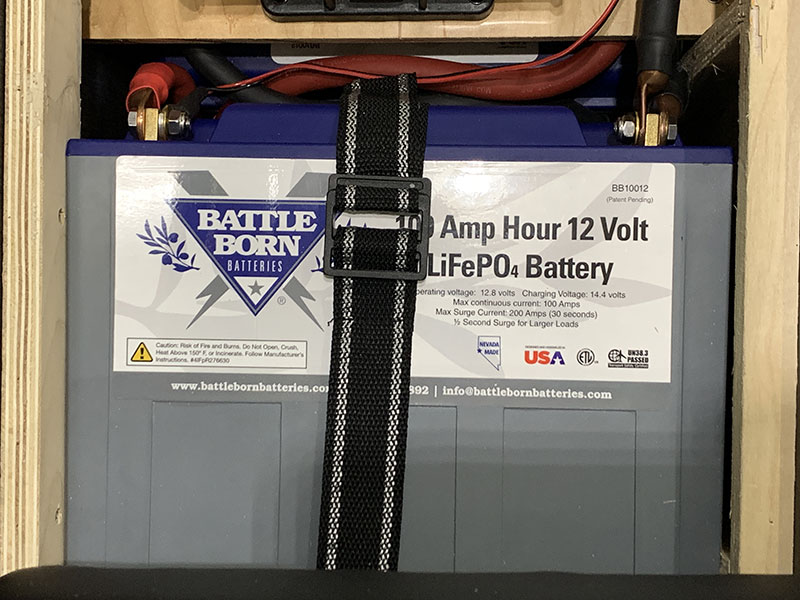 "That would be in the neighborhood of $2,500 to $2,800 installed", explained Dave.  He added that about half of late-model truck campers already feature lithium compatible converters cutting that cost considerably.  That's still a huge premium over quality AGMs, but it's not like adding the cost of a used pop-up camper to the bill.
Warning: Not For Newbies
Dave cautioned that the lithium system requires its owner to understand the concept, capabilities, and limitations of lithium batteries, inverters, chargers, and power distribution.  "The lithium kit is awesome, but you have to know what you're doing.  You need to understand the system and monitor it."
I would add that lithium batteries are extremely capable, but they're not magic.  Run your air conditioner a little too long and you will find yourself with a dead electrical system and batteries.  If you need to run your air conditioner off-grid for extended periods of time or expect it to cool you off completely all day in the hot and humid summer, you should probably stick with a built-in or bring along a portable generator as a back up.
"People often ask us how long they can run their air conditioner with the lithium kit", said Dave.  "It's like asking how long is a rope.  Depending on the temperature and humidity outside, what temperature you want in your camper, and how long you run the air conditioner, it varies considerably.  That's why you need to understand the system and monitor it carefully."
Above: The installed Victron monitors (on the left) in the featured Northern Lite 8-11 EX Wet Bath
Thankfully, the Victron system includes a screen and a phone app allowing the owner to keep close tabs on nearly every aspect of the system; including battery levels.  If you're looking for one more reason to check your phone, here's that opportunity.
Do Lithium RV Batteries Make Sense?
Putting the impressive Battle Born kits aside, there are still big questions about the advantages and disadvantages of lithium batteries for the majority of truck campers.  After reviewing the pros and cons of lithium multiple times over the past few years – including again in early 2022 – I am still not 100-percent sold on lithium battery systems for most truck camper owners.
For the great majority, I believe lithium batteries remain too expensive for the benefits they offer over a quality lead-acid or AGM battery equivalent.  Unless you intend to live full-time on the road or want to dry camp for extended periods of time without a generator, lead-acid or AGM batteries are a much more cost-effective solution.
If you're a weekend or even a multi-week truck camper, the lighter weight, smaller size, faster charging and additional capacity of a lithium battery system probably won't make much of a difference to your camping experience.  This is especially true if you properly payload match your rig, have a dedicated battery compartment, and aren't regularly bumping into battery bank capacity issues while camping.
Even if we just look at a battery swap, the value is a difficult sell.  The 100-Ah Battle Born batteries in the featured installation start around $800 each (on sale) while the 100-Ah Interstate Group 31 AGMs we run are about $300.  As impressive as lithium batteries may be, it's tough to make up for a 166.6-percent cost difference.
On balance, if you're that guy or gal who enjoys having the latest and greatest, is lucky enough that the cost isn't an issue, and can live with the potential downsides, by all means, go lithium.
Full-time on the road and need the capacity?  Go lithium.  Need to run your air conditioner off-grid?  Go lithium. For the rest of us, I recommend sticking with lead-acid and AGMs, at least until the price comes way down.
Why We Haven't Gone Lithium, Yet
What primarily stops us from going lithium are the issues with cold and the fact that our camper is older and would require a new converter.  Even if our camper was magically upgraded for compatibility, the issues with cold weather are concerning.  Yes, there are lithium batteries with built-in heating systems, but they are even more expensive and require their own power to heat themselves.
We are not cold weather campers, but there have been numerous times when we either got caught in cold weather or needed to be in cold weather.  Besides, one of the reasons we own a truck camper is to have a Family Emergency Vehicle.  In an emergency situation, I don't want to second guess getting out of dodge or going to help a family member because it's too cold for my batteries.
If I were to go full-time again or needed/wanted the ultimate off-grid run time for my camper's battery system, I might invest in lithium batteries and the converter it would require.  I'm sure I would come to appreciate the faster charging, additional capacity, and (if nobody crashed into us) the advertised longevity of lithium.  For now, we are keeping tabs on lithium technology, and sticking with AGMs.
But Wait! We Already Use Lithium
We've been using a GoalZero Yeti 400 lithium portable power station in our camper since 2017 and absolutely love it.  With 39.6 Ah the GoalZero Yeti was never going to replace our main battery or electrical system, but we use it to spare and extend our house batteries by using it to charge our phones, computers, and cameras, watch television at night, or to put a 12-volt, USB or 110-volt outlet where we need it.  I have even plugged entire campers into it for photoshoots.  It's indispensable.
The more we use the GoalZero, the more we understand why some truck camper manufacturers have used larger versions (like the GoalZero Yeti 1500X) for their entire battery and electrical system.  One of these days I'll have a lot more to say about that concept. A lot more.
For more information, check out the Northern Lite 8-11EX Review and the Northern Lite Limited Edition Review.
Click here for a free Northern Lite brochure and/or ask D&H RV questions about the Battle Born lithium kits.
Addendum:

Reader Feedback on Lithium RV Batteries

We received a lot of feedback on this article.  Most of the comments were related to the value, lifespan, discharge capacity of lithium RV batteries.  Others pointed to more affordable lithium batteries that, quite frankly, appear to change the ballgame.
Lithium Value: Discharge Capacity
Right off the bat, about a half-dozen readers criticized us for not taking the discharge capabilities of lithium batteries into the value equation.  When the discharge capability of lithium is considered, these readers suggested, lithium batteries are a more reasonable, if not superior, value proposition.
Lithium iron phosphate (LiFePO4) RV battery manufacturers promote that their batteries can be discharged up to 100-percent without long-term impact.  AGM battery manufacturers contend that their batteries can discharge up to 80-percent, and lead acids are commonly understood to discharge to 50-percent.
If these discharge percentages hold true, one 100-Ah lithium battery offers the discharge capacity of 1.2 100-Ah AGM batteries and 2 100-Ah lead acid batteries.
Note: For the following value calculation, we used the lithium battery prices on Amazon at the time of writing.  Battle Born 100Ah LiFePO4 batteries were listed at $875.
As stated in the original article, our 100-Ah AGM batteries (Interstate brand) are $300 each.  A quick search online reveals that 100-Ah lead-acid batteries go for about $175 each.
That means that two $875 Battle Born 100Ah LiFePO4 batteries ($1,750 total) offer the capacity of 2.4 100Ah AGM batteries ($600 for two $300 AGMs) and 4 lead acid 100 Ah batteries ($700 for four $175 lead acid).  Hold that charge.
Lithium Value: Lifetime
Take into account the potential lifespan of lithium batteries versus AGM and lead acid batteries and the value judgment shifts again.  Lithium battery manufacturers state that their batteries are more resilient to discharge than AGMs or lead acid and will last twice as long or more, depending on use.  They also claim that lithium batteries should last longer and provide a deeper state of charge while doing so.
Lithium RV battery manufacturers suggest that you will need to replace your AGM or lead acid batteries every 3 to 5 years.  They also state that lithium batteries will last 10 to 15 years, if not longer.  This would obviously clear upend the value equation toward lithium if you need to replace AGM or lead acid batteries 2 to 3 times compared to lithium batteries.
My only issue with these manufacturers' statements is that we know AGM batteries can last longer than claimed.  We had one set of AGMs last 7 years.  Of course, we probably lost a significant percentage of discharge capacity in that time, but our camper's electrical systems and components operated as normal, until the very end.
Lithium Value: Cheaper Battle Born Alternatives
Next readers suggested that Battle Born is a premium-priced product and that there are many 100 Ah lithium deep cycle batteries that are significantly less expensive.  We followed some of their leads and found a number of 100 Ah LiFePO4 lithium RV batteries that were indeed hundreds of dollars less.
At the time of this writing (on Amazon) the Battle Born LiFePO4 100 Ah batteries were $875, the Renogy LiFePO4 100 Ah batteries were $679, the ExpertPower LiFePO4 100 Ah batteries were $599, and the Zooms LiFePO4 100 Ah batteries were $319.
The Zooms Power LiFePO4 100 Ah battery was specifically mentioned by one reader who purchased two of these exact batteries.  What's amazing is that the Zooms Power battery is $556 less than the comparable Battle Born.  If Zoom Power batteries prove to be of quality, they represent a whole new ballgame for lithium RV batteries.
With the $319 Zoom Power LiFePO4 battery price, let's run that value equation again.
Two $319 Zoom Power LiFePO4 batteries ($638 total) offer the capacity of 2.4 100Ah AGM batteries ($600 total) and 4 lead acid 100 Ah batteries ($700 total).
The Zoom Power battery could represent a whole new ballgame for lithium.  That is, if Zoom Power batteries are the quality they need to be.
Thank You, Readers!
We truly appreciate all the reader feedback we received on lithium batteries.  Many of the points you made changed our perception of lithium, especially the cost of lithium batteries offered by brands like Zoom Power.
For the record, I am extremely hesitant to recommend a brand that I have no experience with, but the idea that more affordable lithium batteries are coming is proven beyond doubt by their very existence.
I remain on the fence about lithium due to my lingering concerns about cold-weather performance and the need to upgrade our 17-year old camper's electrical system for compatibility.  However, if significantly more affordable lithium batteries prove to be of quality (and reliable, and safe), I would be much more willing to make the electrical system upgrade and find a heated compartment for their storage.
One thing is for sure.  Lithium RV batteries are the future.  In a blink, they'll be cheaper, better, more affordable – and everywhere.