Truck Camper Magazine experiments with a Goal Zero Yeti 400 Lithium portable power station and weighs the impact of lithium battery technology and integrated portable power systems on the future of truck campers.  Wouldn't it be cool if…

Many of my more ridiculous ideas start with the phrase, "Wouldn't it be cool if…"  For example, "Wouldn't it be cool if there was this device where you put your cat in the middle and then cranked these washing brushes to clean your cat?"
I even drew this idea on paper for Angela to fully grasp my brilliance.  Naturally, she wasn't impressed, a fact that our cat has celebrated ever since.  The thing is, Harley really needs this fast and convenient cat washing device.  He can get pretty ripe on the road.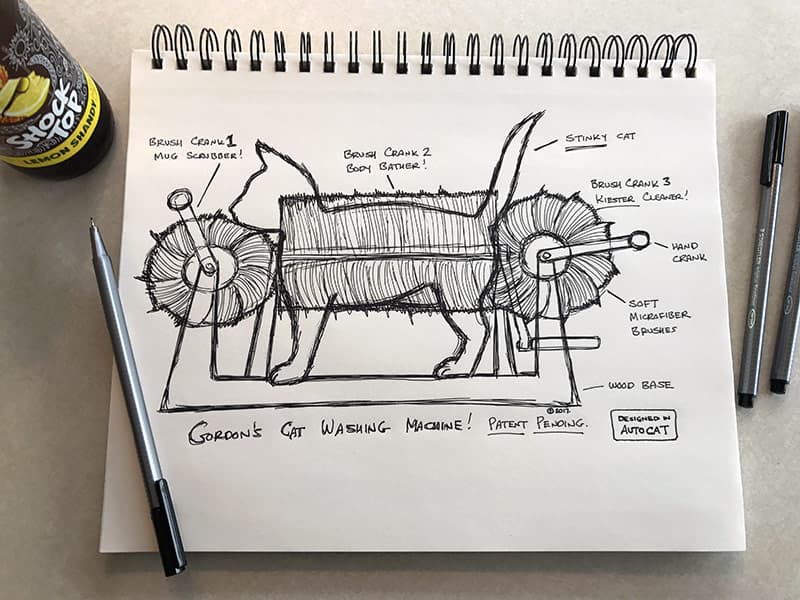 Above: My design for a hand crank portable cat washing machine.  Man do we need this!
Another one of my, "Wouldn't it be cool if…" moments occurred shortly after we embarked on our second cross-country truck camping adventure.  This time we were working from the camper and found keeping our laptop batteries charged to be quite challenging.  Back in 2007, we didn't have LED lights, solar panels, or two Group 31 AGM batteries on board.  We were practically Flintstone camping.  It's a wonder we didn't power our truck with our feet.
Anyway, we were parked at Panera Bread, a favorite of ours for lunch and charging our laptops.  We walked in, scoped out a table with an electrical outlet, plugged in our laptops, ate a meal, and worked.  Many a Truck Camper Magazine article has been written and published from Panera Bread.
Half way through a You Pick Two, I said to Angela, "Wouldn't it be cool if we could bring our camper batteries into Panera Bread, plug them into a 110-volt outlet, and charge our batteries while we eat?"  Angela actually agreed with this idea.  "That would be cool," she answered.  Sometimes she gets me.
Ten Years Later
A decade after my portable power station epiphany, I happened upon a remarkable product from Goal Zero.  The Goal Zero Yeti 400 Lithium looked like an old-school lunchbox designed by the art department for Tron.  Called a, "portable power station", the Goal Zero charges via 110-volt outlet or solar panel and then powers 12-volt, USB, and 110-volt devices off-grid.  Wait, that sounds familiar…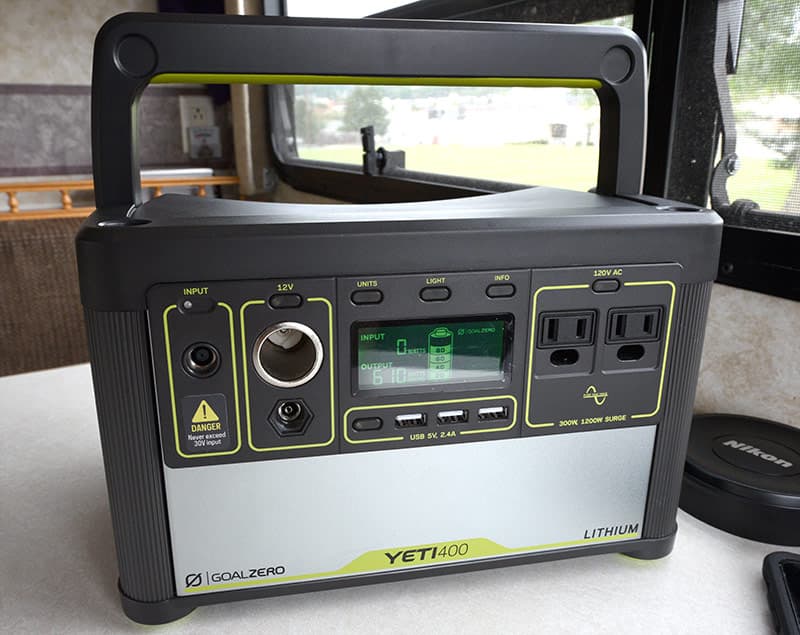 At just 17-pounds with a sturdy handle, I can totally see myself walking into Panera, ordering a half Bacon Turkey Bravo and Greek salad, and then nonchalantly plugging in my little Yeti under the table.  It took ten years for this vision to become a possibility, but man this really is going to be cool.
A few weeks later, a Goal Zero Yeti 400 Lithium arrived at my dad's house.  We were parked in his driveway on our way to the North-East Truck Camping Jamboree in Lake George, New York.  After unpacking the Goal Zero, I followed the instructions and plugged the unit into 110-volt shore power to fully charge.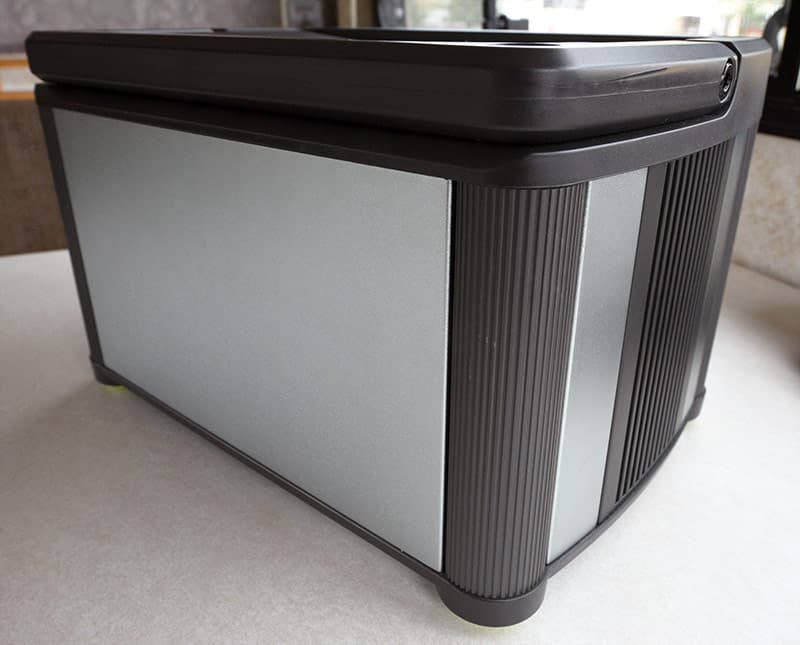 The Goal Zero is exceptionally well made with a clean design, intuitive presentation, tight seams, and a rugged build.  When I showed the Yeti 400 to my family they commented on how neat looking it was, and talked about how it could be helpful when the power goes out in their house.
I was very pleased that the Goal Zero appeared ready for off-road travel, not to mention the relentless ga-dunk-ga-dunk of America's neglected roadways.  My only wish is that the front panel and outlets had a cover seal for impact protection and dirt.  That nitpick aside, I was more than impressed.
Goal Zero Yeti 400: Lithium vs Lead Acid

Lithium batteries have a long list of advantages compared to the lead acid batteries commonly used in RVs.  First, lithium batteries have significantly more usable capacity pound for pound.  Second, where lead acid batteries should only be drained 50-percent before recharge, lithium can be drained 80-percent before charge – or more.