Continuing the "Never Seen That" tour, TCM visits Northern Lite's new factory in Kelowna, British Columbia and discovers something completely different, and somehow quite familiar.

After the devastating fire that destroyed the Northern Lite factory in February of 2014, the courageous announcement to rebuild the following April, and the almost unbelievable news in January that they were back in production, we had to go see the new Northern Lite campers being built for ourselves.
Welcome to the next installment of our 2015 "Never Seen That" tour.  This time we reach the furthest most point on our tour and, by far, our most anticipated stop, Northern Lite in Kelowna, British Columbia.

Even though we knew about the devastating fire and rebuilding process, it was still incredible to see a brand new building where the old Northern Lite factory had stood.  It was also a moment of tremendous pride to see this gleaming structure with its defiant Northern Lite logo and geese, modern windows, and bay doors.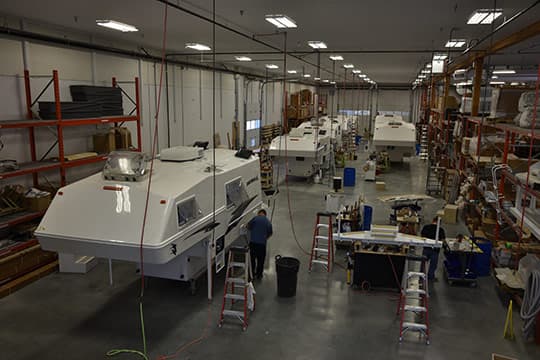 Walking into the plant we were instantly struck with the wide open spaces, brighter lighting, and immaculate organization.  Yet, somehow, everything was also familiar.  The production line is exactly where it was before.  The wood and cabinet shops are exactly where they were before.  Even the fiberglass shop is essentially where it was before.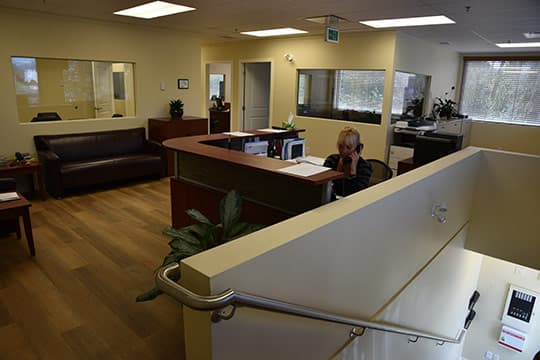 Even the upstairs offices were exactly where they were before.  In short, everything was new, and yet – with some important differences – right where it had been.
During the design, construction, and move-in, the production team was consulted for ideas to improve efficiency, productivity, and workplace comfort.  In essence, what you're seeing is a direct result of the Northern Lite management and production team coming together to make the ultimate Northern Lite factory.  They had to start from scratch, so they had the unique opportunity to approach everything fresh.

The new break room is bright with daylight and features two HD televisions, two refrigerators, seven microwaves, thirty-four lockers, and plenty of tables and chairs.  While work is never going to be a vacation, it's clear that the Northern Lite management team did what they could to improve the working conditions at Northern Lite.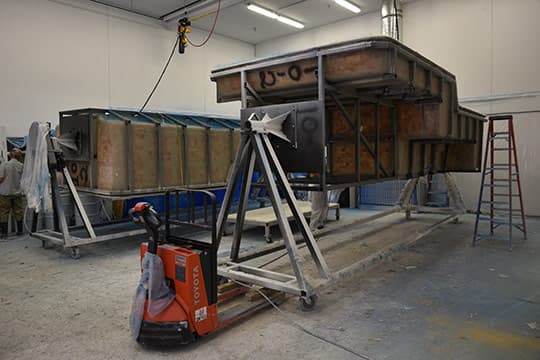 If you were to step inside the new Northern Lite factory, walk all the way to the back of the building, and turn right, you would walk into Northern Lite's new fiberglass booth.
The new fiberglass booth is significantly bigger allowing Northern Lite to have two top and bottom mold sets inside the building at any given time.  Want to know how Northern Lite is dramatically increasing its production capacity while maintaining its legendary quality?  Start here.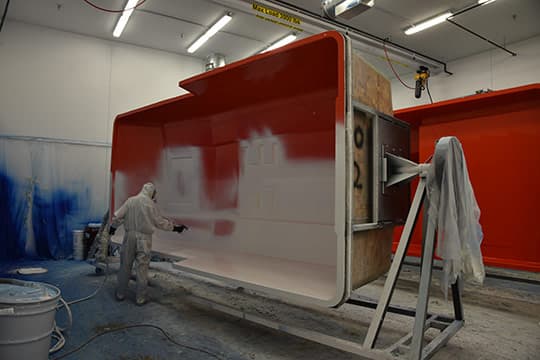 We can't report that Northern Lite upgraded its fiberglass and gel coat application equipment because they already had the best fiberglass and gel coat application equipment equipment before the fire.  Now they have new versions of what they had before; essentially the lowest emission, highest quality fiberglass chop guns and gel coat applicators on the market.
Keith also explained to us the lengths Northern Lite goes to get the highest quality gel coat.  While the details of that process are proprietary, suffice it to say that Northern Lite doesn't go down to the local industrial supply store and pick up some gel coat.  To get exactly the right gel coat color, and exactly the right durability, Northern Lite has a very carefully selected gel coat quality, gel coat vendor, and gel coat purchasing process.  For such a critical element of the Northern Lite product, nothing is left to chance.
Lest we forget, not only is this the new fiberglass shop, but those are also the new 3D AutoCAD designed molds.  Via Keith's YouTube video, we watched the mold plugs being carved by a five axis CNC machine in the United States last July.  And here they are, in regular production, producing Northern Lite fiberglass shells like clockwork.  Seeing this in person was beautiful from so many perspectives.