Truck Camper Magazine reviews a 2020 Northern Lite 10-2 EX CD Limited Edition.  Is the Limited Edition feature list and Limited-only upgrades worth the premium over Northern Lite's Special Editions?  It's Northern Lite vs Northern Lite!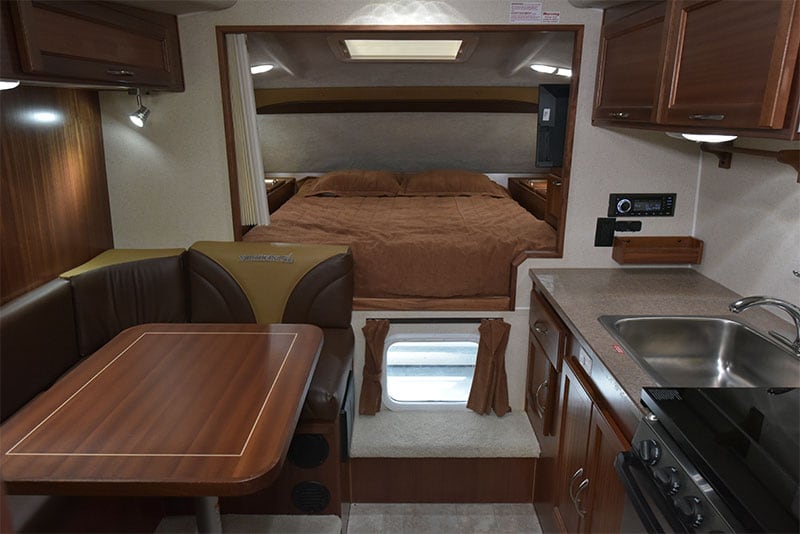 Northern Lite announced the Limited Editions in Truck Camper Magazine on November 6th, 2019.  Designed to celebrate their 30th anniversary as a truck camper manufacturer, the Limited Editions would be available in three models; 10-2 EX CD Special Edition (wet or dry bath), 9-6 QC Special Edition (wet bath), and 8-11 EX Special Edition (wet or dry bath).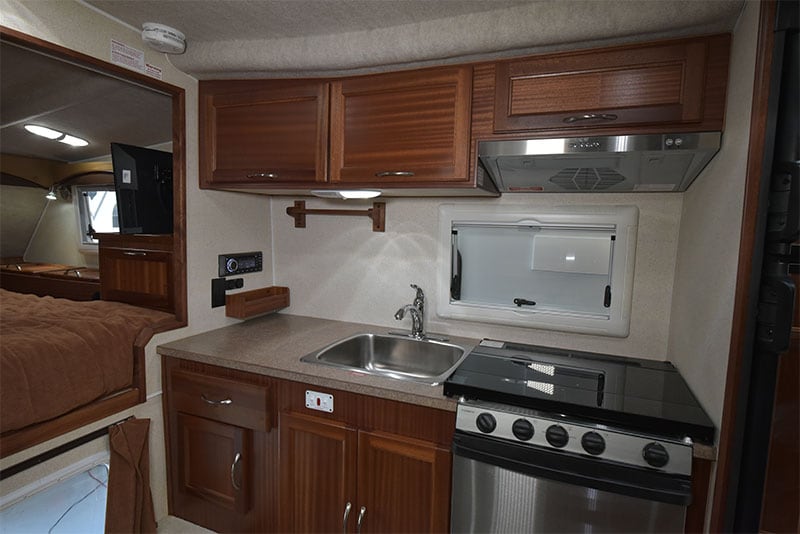 For the announcement, Keith Donkin, General Manager for Northern Lite, stated, "The Limited Editions have all of the standard features of our Special Editions.  We also made most of the Special Edition options standard on the Limited Editions.  On top of that we added a deep list of Limited Edition only luxury features and upgrades."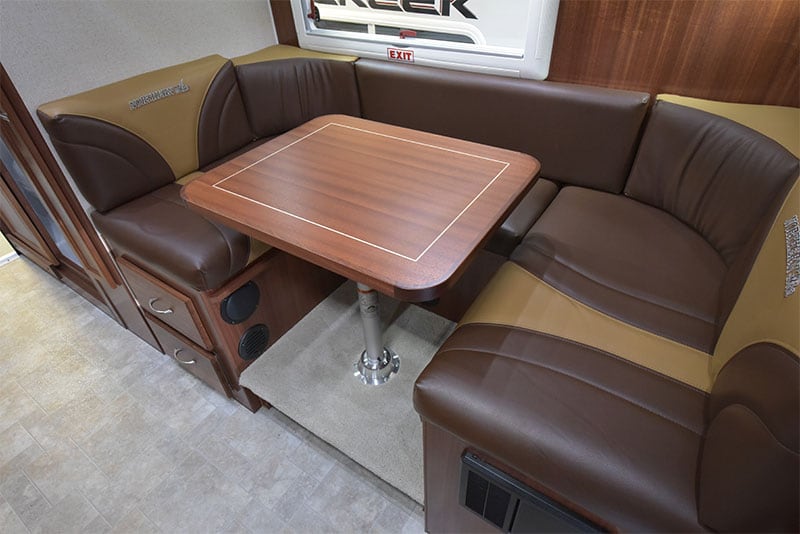 Like Northern Lite's Special Edition series, full booth or U-shape dinettes are available creating a total of 10 possible floor length, bath types and dinette configurations.  For example, the Limited Editions under review were 2019 Northern Lite 10-2 EX wet baths with U-shape dinettes.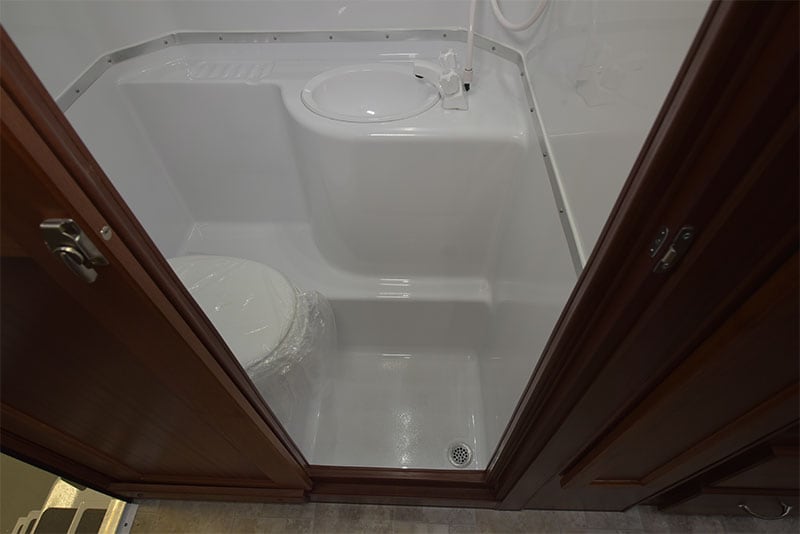 Above: The Limited Editions are available in a wet bath or dry bath.  Wet bath pictured above.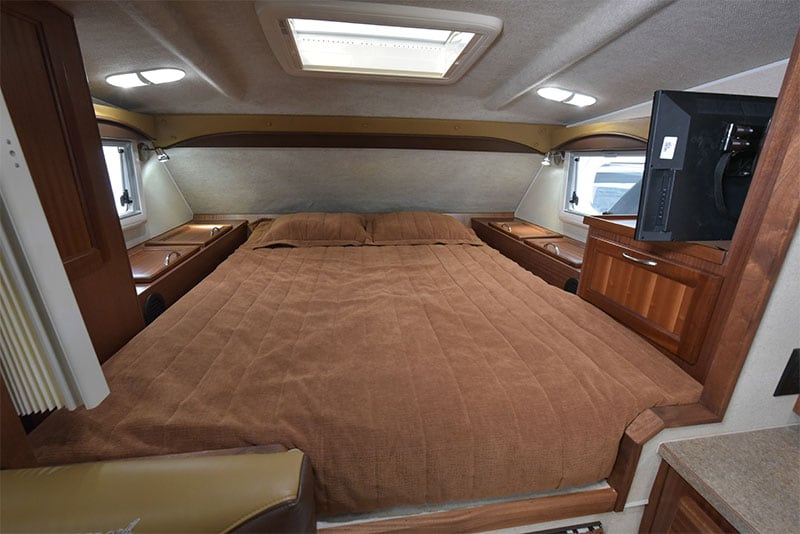 We photographed two Northern Lite 10-2 EX CD Limited Edition truck campers for this review at Truck Camper Warehouse in West Chesterfield, New Hampshire.  The interior photographs were taken in a unit inside their showroom.  The exterior photographs were taken of a unit on their outside lot.
Limited Edition vs Special Edition
If someone asked me, "Should I buy the Limited or the Special Edition Northern Lite?", I'd first make sure they had an appropriate truck match for either model and then say, "Whichever one looks better to you. Both are awesome."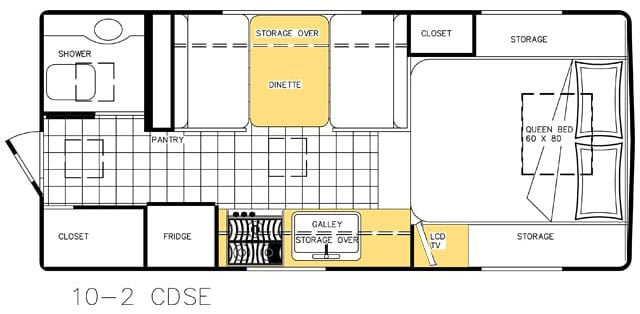 As long as we are comparing the same Northern Lite floor plan and configuration, the only real differences between the Limited and Special Editions are the interior look and standard features.  The camper materials, structure, capacities, specifications and overall build quality are identical.
Imagine if someone asked you which Ford F-350 to buy; a Lariat or the King Ranch?  In the context of a truck camper rig, you would ask about payload capacity for the intended wet and loaded camper (of course), and then recommend they get whichever one they liked better.
All things being equal, both trucks are fantastic choices because they're built on the same truck frame, body and engine.  Both Northern Lites are fantastic because they're built on the same clamshell molded fiberglass foundation that I have raved about in this electron magazine for over a decade.  Pick one and go have fun.
Review over.  Next!
"But what about the $3,000 premium for the Limited Edition?  Is a Limited Edition worth it over the Special Edition?"
Evidently somebody isn't going to be happy until we go through every Limited feature and upgrade and present an up or down thumb.  Enter the truck camper colosseum Northern Lite Limited Edition.  And prepare the lions.
Limited Edition Feature 1: Raised Chrome Graphics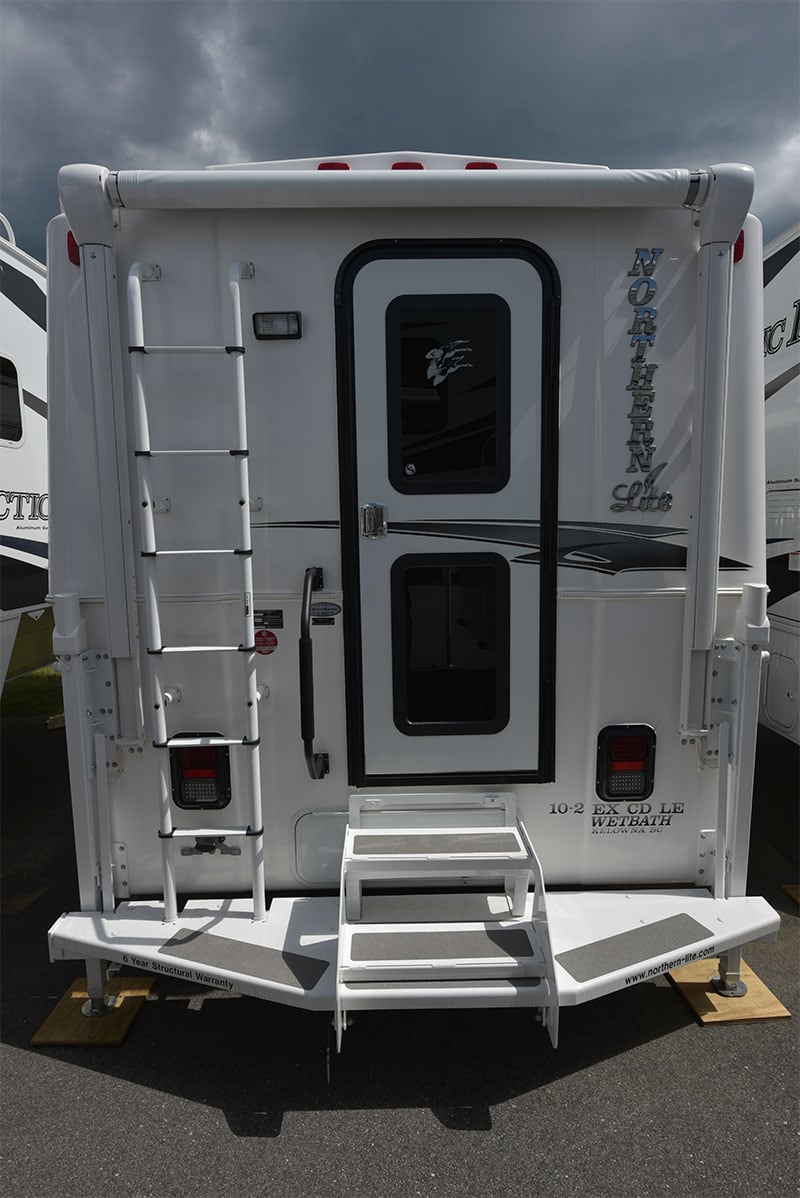 Starting from the outside, the Limited Edition exterior chrome graphics truly stand out.  In fact, they stand out about a quarter inch from the fiberglass gel coat.  Look too closely and you might poke your eye out on the feather.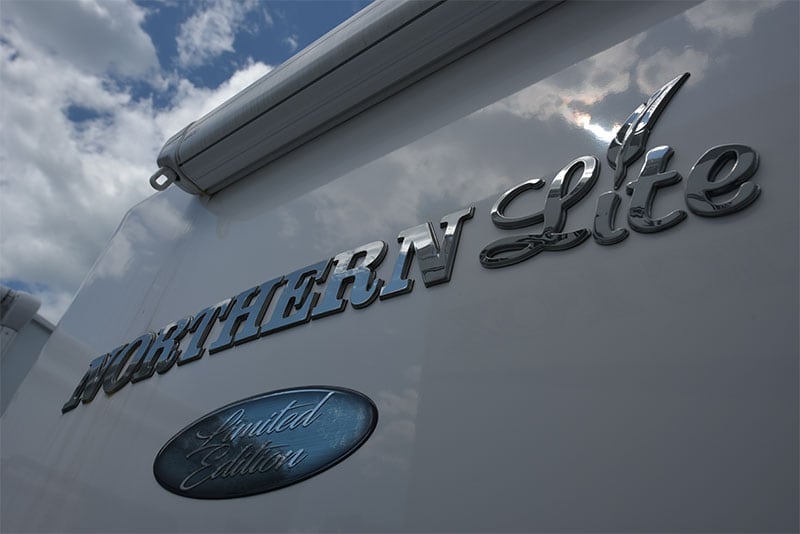 Like the two-tone brown leatherette interior, people will likely have very different reactions to the chrome graphics.  They are visually captivating in person as they literally reflect the sky above.  No other truck camper has a graphics package anything like this.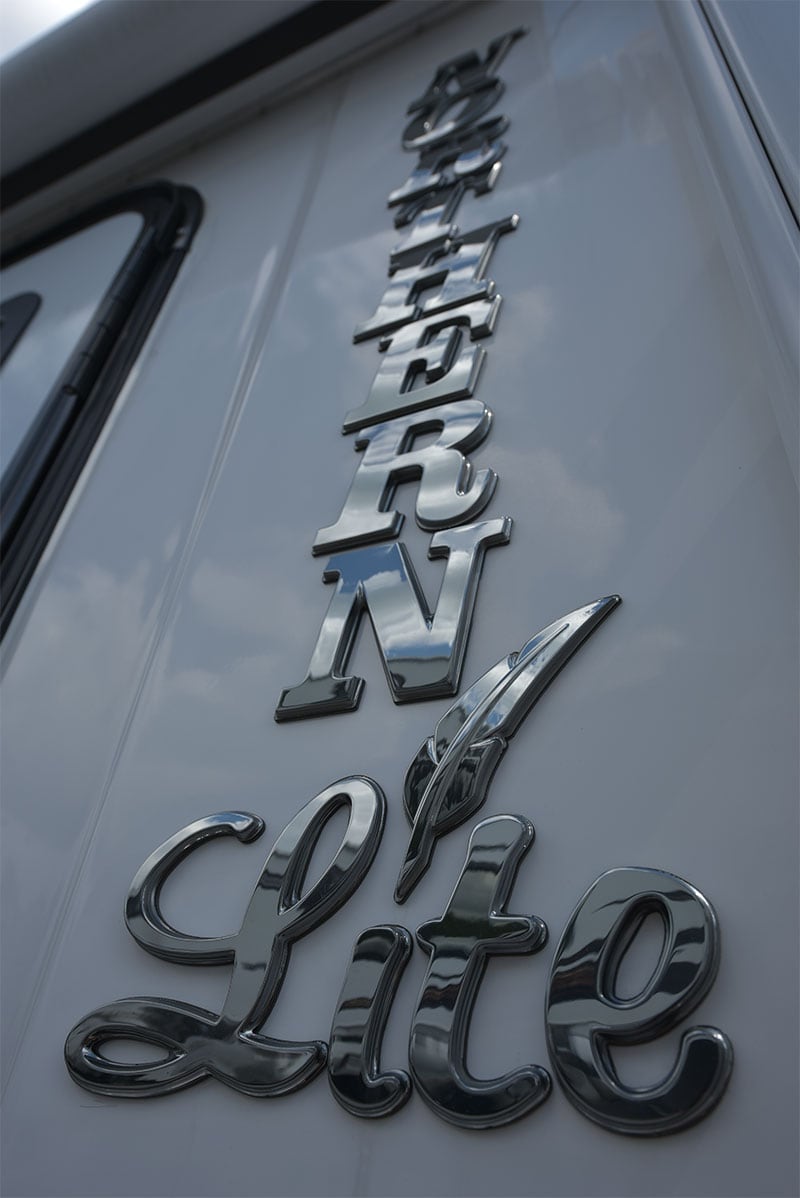 One concern is what happens if a letter (or two) comes off?  You could be stuck with an, "ORTHERN LITE".  Get some stoner walking by your unit and you might own a, "NORTH Lit".  Now what?  Hopefully Northern Lite will keep replacement letters on hand for a decade or so.
Worst case scenario, you could always remove the letters.  The robust fiberglass shell underneath should not be affected.  The lettering might leave some ghosting, but that would likely polish out.
Limited Edition Feature 2: Second 100-Watt Solar Panel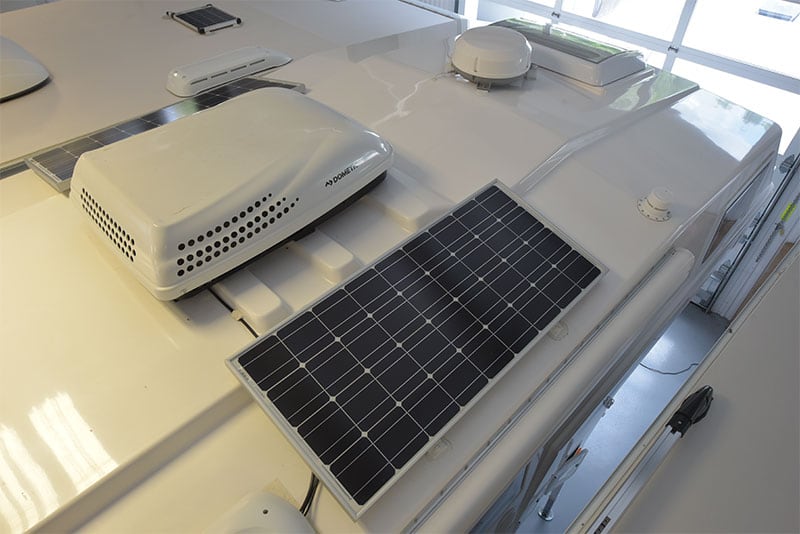 In September of 2013, Northern Lite announced that one 95-watt solar panel would be standard on all 2014 Northern Lite truck campers.  That announcement made Northern Lite the first company to make a solar panel standard equipment.  To this day, no other company offers a standard solar panel anywhere near this wattage category.
For the Limited Editions, Northern Lite increased the standard panel wattage from 95-watts to 100-watts, and added a second 100-watt panel as standard.  A second solar panel is optional on the Special Edition models.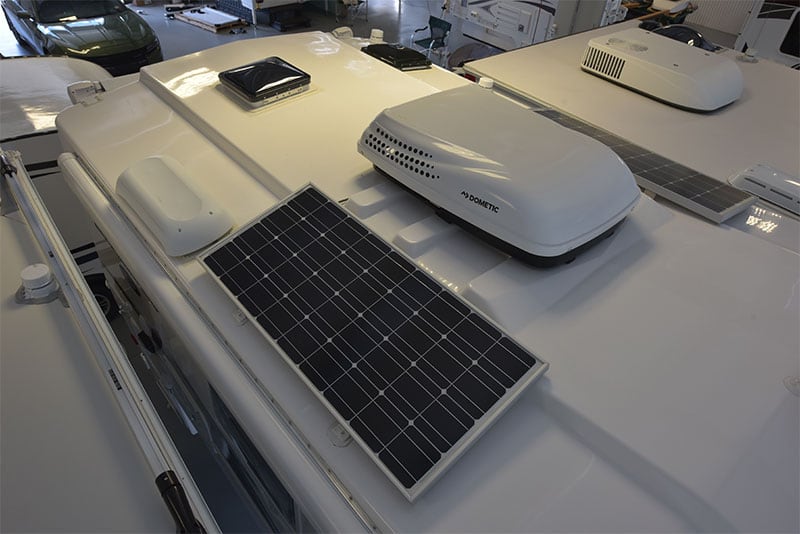 We have a single 150-watt solar panel installed on our project camper and it makes a huge difference for our ability to boondock.  With all LED lighting, two Group 27 batteries and a total of 200-watts of solar power, Northern Lite Limited Editions are well prepared to camp off-grid.
Of course we always recommend making an energy audit before assuming a solar or battery system is sufficient for your power needs.  Bryan Appleby penned an excellent article on this topic titled, "RV Solar Systems Charged and Challenged".  Highly recommended.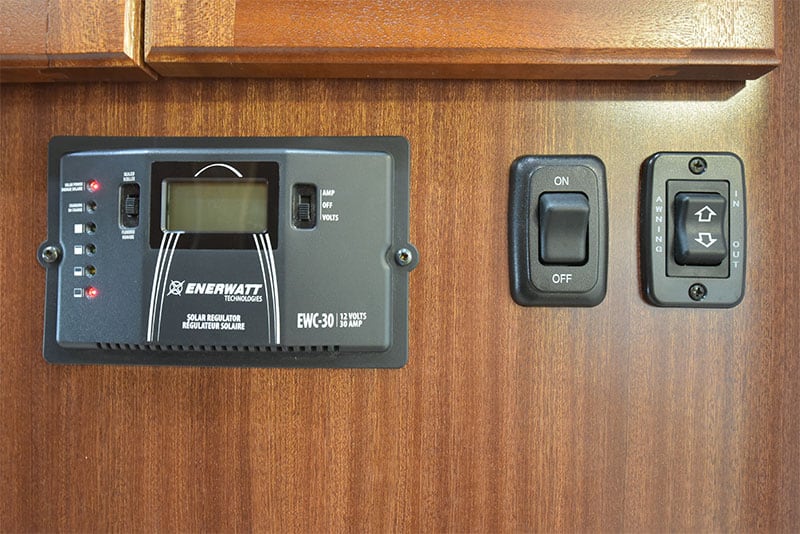 Breaking News!  It appears that Northern Lite will be making a second 100-watt solar panel standard for all 2020 Northern Lite Special Editions and Limited Editions.  While this has not been announced, it is shown on the Northern Lite website in their feature grids.  We'll have to wait for the official announcement, but don't be surprised.
Limited Edition Feature 3: Exterior Speakers
One standard feature added to the Limited Editions that is not available on Special Editions are outside speakers.  According to Northern Lite, they received a lot or requests for outside speakers and decided it was a good upgrade for the Limited Editions.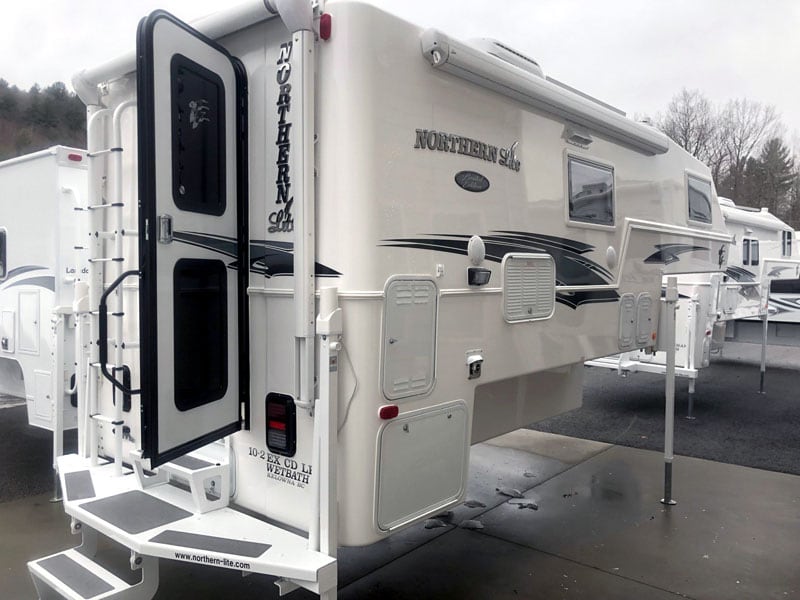 Above: The exterior speakers on the passenger's side, photo courtesy of Truck Camper Warehouse
While we don't doubt Northern Lite's consumer feedback, this particular decision seems out of step with the current majority opinion on outside speakers.  Unless you love having music and movies play outside, the outside speakers are a feature most truck camper owners would skip.  If you special order your Northern Lite Limited Edition, you can ask to omit the standard outside speakers.  We would.
For anyone concerned about these outside speakers creating a possible leak point, Northern Lite employs marine-grade speakers and SealTech tests every unit prior to shipping.  This test all but ensures that the brand new Northern Lite you purchase is properly sealed.  That doesn't mean you don't have to check and maintain those seals at least twice a year.  You do.
Limited Edition Feature 4: Solid Sapele Hardwood Tables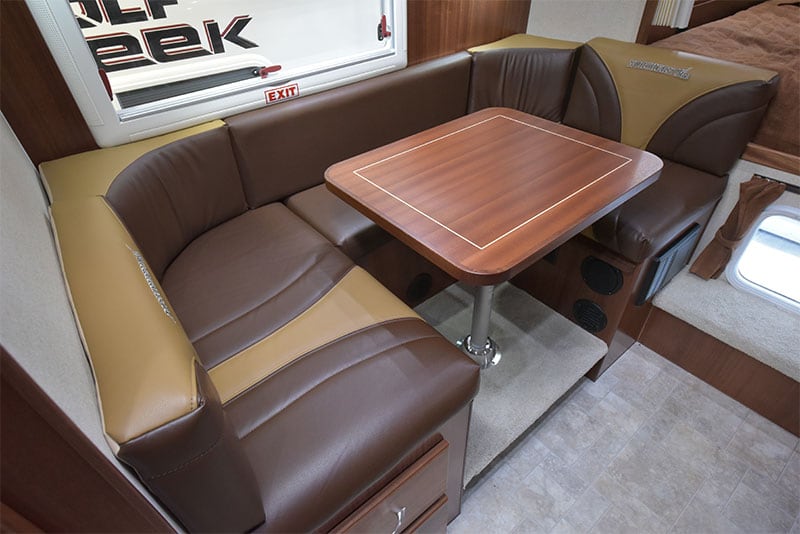 If you polled 100 truck camper owners about their favorite feature of the Northern Lite Limited Editions, my bet is that most of them would say the solid wood Sapele dinette table.
I'll go out on a limb and state that the Limited Edition solid wood Sapele dinette tables are easily the most beautiful dinette tables in the entire truck camper marketplace.  They may even be the most beautiful dinette tables in the truck camper history.  If you think the table looks good in the photographs, it looks even better in person.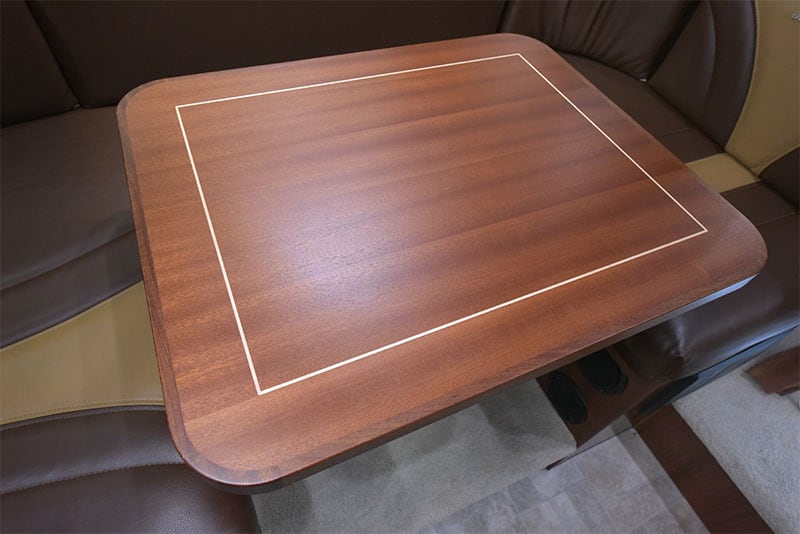 In a way, it's almost too good.  While the table is made from the same Sapele wood as Northern Lite's exquisite cabinetry, it has an even richer and more luxurious presentation – like it belongs in a multi-million dollar yacht.  It almost glows.
Northern Lite outsourced production of the Sapele table to a local high-end cabinet builder in Kelowna, British Columbia.  Northern Lite is looking to bring the Sapele table production in-house after another planned plant expansion and the addition of a CNC machine and automated saw in their cabinetry shop.
Limited Edition Feature 5: Leatherette Seating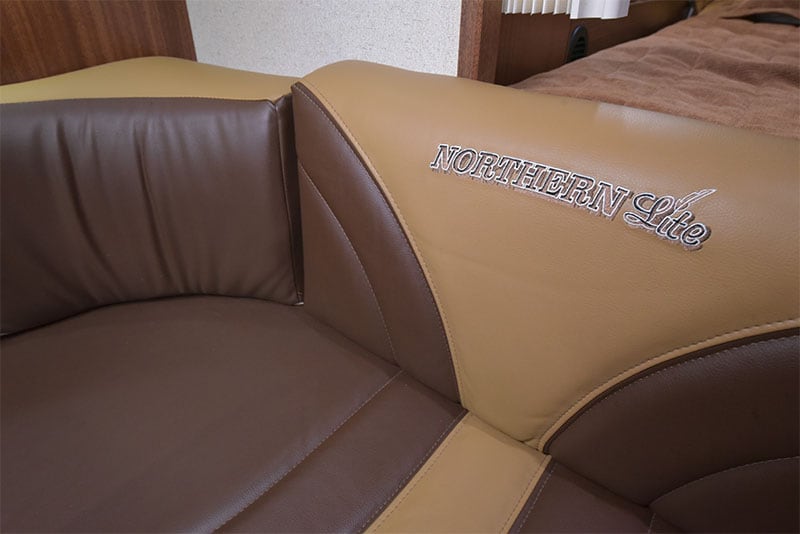 When we researched our current 2018 Ram 3500 Laramie, we looked very seriously at the next trim level up – a Ram 3500 Laramie Bighorn.  The Bighorn featured a Southwestern style, "real" barn wood accents, brown leather seating and an optional two-tone exterior paint.  Essentially, it was the same as a Laramie, but with a very different color scheme and more premium materials.
In the end, we preferred the more subtle grey-tone interior of the non-Bighorn Laramie.  The brown and grey Southwestern style just wasn't us.  We had much the same reaction to the brown two-tone leatherette seating of Northern Lite Limited Edition.  For our personal tastes, we would prefer the grey-tone Special Edition interior.
Naturally, this preference is highly subjective.  You might see the Limited Edition and have exactly the opposite opinion.  Every year thousands of people buy the Bighorn Laramie, Ford King Ranch or a GMC Denali with brown leather interiors.  If you like the brown-tone leather look, you will probably prefer the Northern Lite Limited Edition.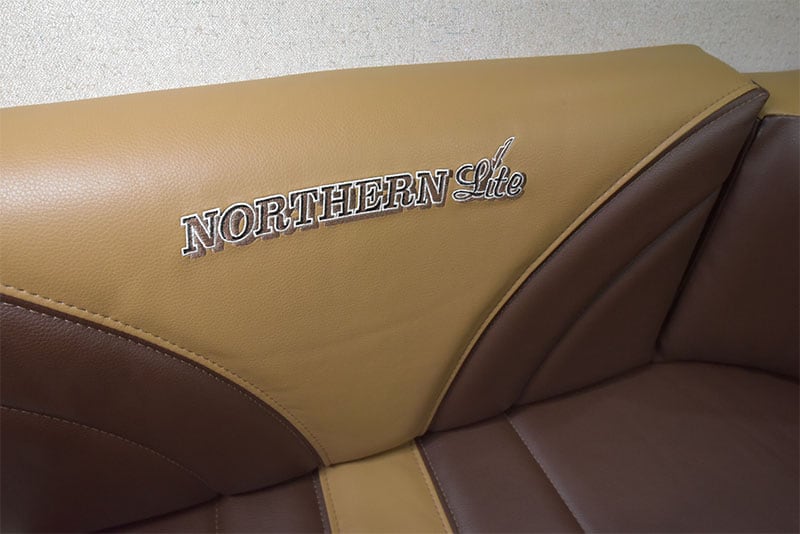 The stitching further enhances the high-end leather aesthetic.  The logo embroidery is well done.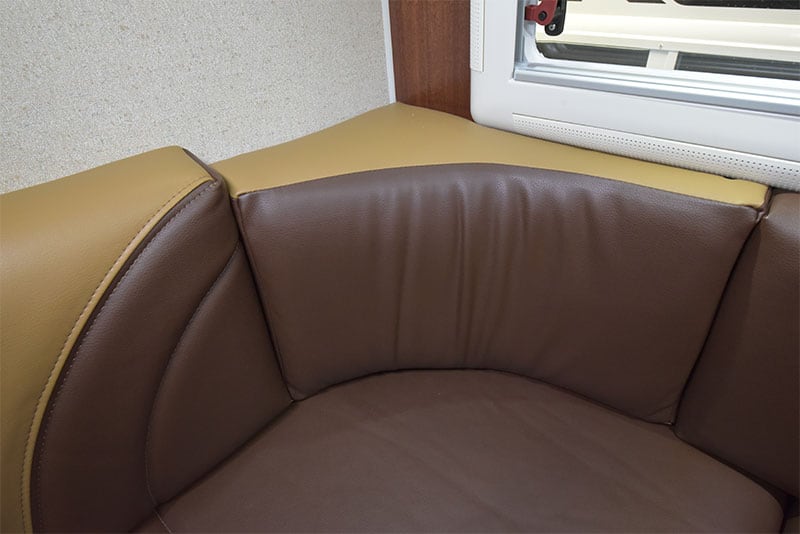 One thing I can genuinely nit-pick is the overall fitment of the dinette cushions.  While the cushions were robust and comfortable, they didn't seem to perfectly fit together.  Most of this is due to the required design of the dinette, and the leatherette material itself.  The leatherette is much stiffer than fabric creating harder corners that don't always line up with the adjacent cushion.
For perspective, a few things should be pointed out here.  First, I did not finesse the cushions to make them line up perfectly.  It's possible they would, with a little encouragement.  Second, these cushions were brand new having only seen a few backsides at the Northern Lite and the dealer showroom.  Maybe they would soften as they wear in, and possibly improve the fitment.
Limited Edition Feature 6: Dometic S5 Windows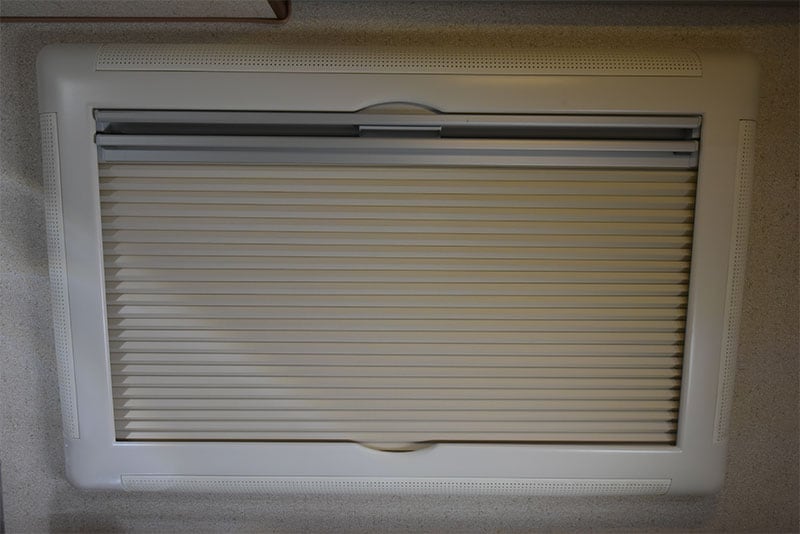 Every Limited Edition gets Dometic S5 top-hung, sliding hinged, thermal pane acrylic windows.  This is an important step up from the Dometic S4 windows that come standard in the Northern Lite 8-11, 9-6 Special Editions.  The 10-2 CD Special Editions come standard with the upgraded S5 windows.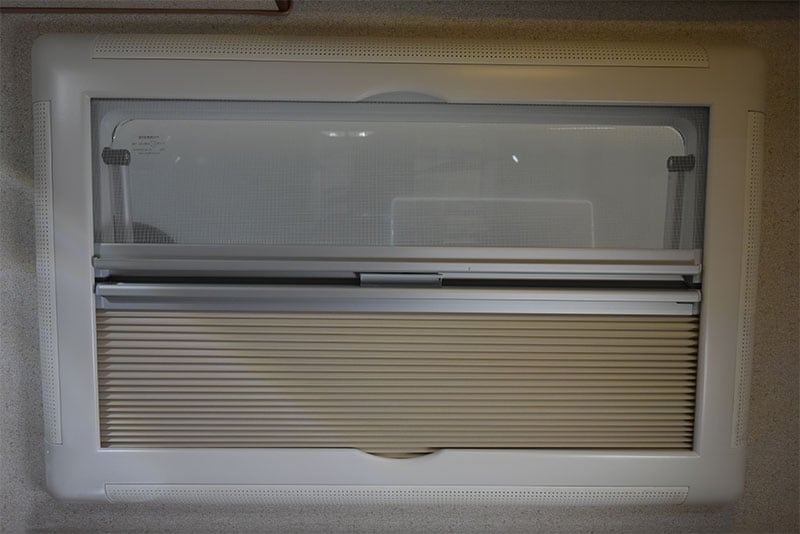 Dometic S5 windows are the same size and utilize the same "lens" as the Dometic S4, but adds an improved blind and insulation.  Unlike the predetermined blind positions offered by the S4, double-pleated honeycomb blinds can be placed in infinite positions.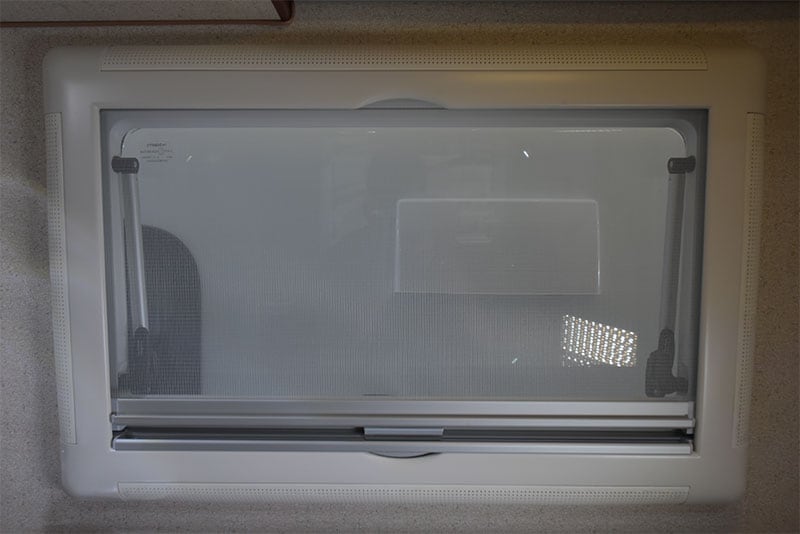 In the hand, the S5 offers a remarkably smooth operation.  Having used a number of acrylic-style window makes and models over the years, the S5 has the easiest and most confident operation.
If you are between a 9-6 or 8-11 Special Edition or Limited Edition, be sure to try out the windows in both models.  The S5 windows could be the deciding factor.
Limited Edition Feature 7: 2.1-amp USB Reading Lights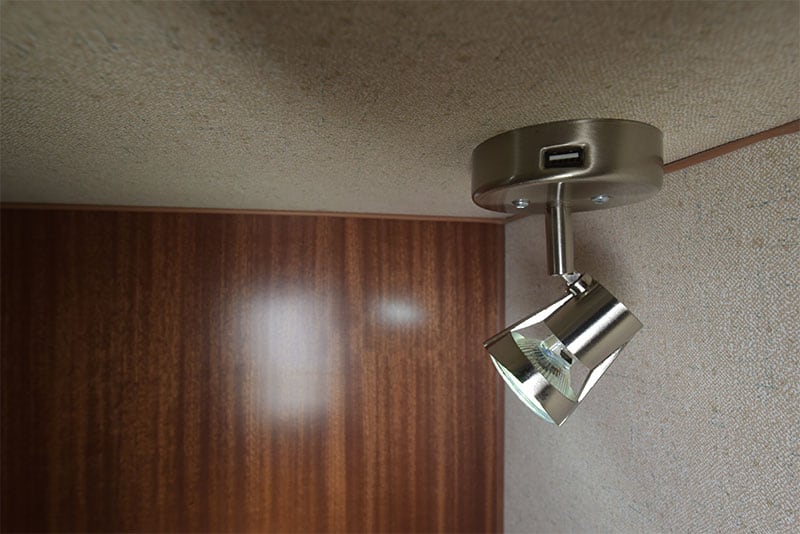 A friend of ours recently modified a 12-volt interior lighting fixture in his camper to be a multi-functional USB charging and multiple lighting station.  Looking at his mod, it occurred that most if not all interior RV lighting fixtures could be multi-functional.
There is no reason why RV lighting fixtures would not include USB outlets, bluetooth speakers, and dimmable ambient LED lighting modes.  All of this is more than possible with today's technology.  Imagine the industry savings in production time, not to mention the promotional benefits to the consumer.
Heading in this direction, Northern Lite introduced LED reading lights with built-in 2.1-amp USB outlets for the Limited Edition.  2.1-amps is the recommended charging level for fast charging iPhones, iPads and most other phones and USB charged devices.  The reading lights are otherwise identical to the LED reading lights in the Special Editions with two in the dinette and two in the cabover.
This winter we borrowed a camper with USB outlets in the front nose of the cabover and we used them every night to charge our phones and tablet.  This convenience meant our devices were charged up and ready to go each morning.  Based on our experience, we suspect Northern Lite Limited owners will use these reading light USB outlets extensively.
Limited Edition Feature 8: Furrion Range Hood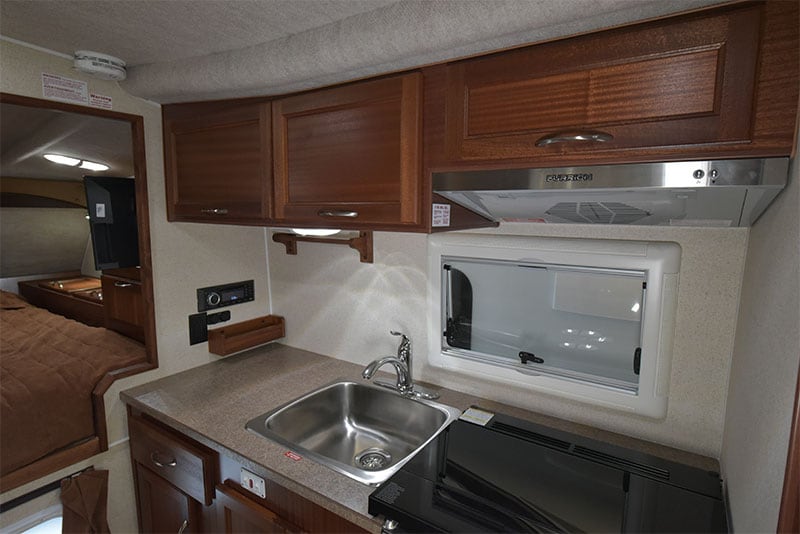 The sleek and stainless steel Furrion range hood, fan and light is another exclusive Limited Edition feature.  And what a knock out!  With built-in LED lighting, higher-quality 12-volt fan and a built-in air filter, it's a definite step up from the black metal range hoods in the Special Editions.
As a side note, one has to speculate that some of the Limited Edition features will eventually make it to the Special Editions.  We fully expect to see Furrion range hood make it to the Special Editions. I'd also put money on the 2.1-amp USB reading lights.  Any takers?
Limited Edition Feature 9: 7300-Series Fantastic Vent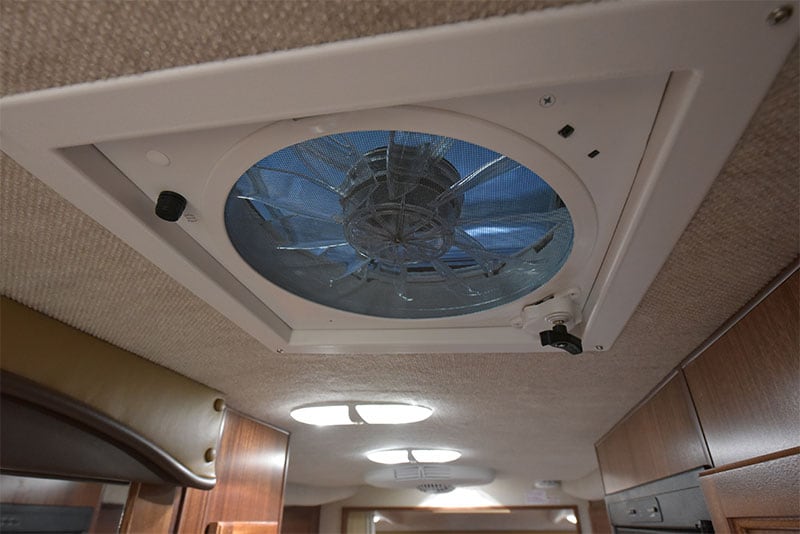 A few years ago we replaced a Fantastic Vent with a top-of-the-line Maxx Air Fan in our project truck camper.  We almost immediately regretted this choice for two important reasons.
First, we miss the simple, easy to find and operate analog dial of the Fantastic Vent.  In the dark, it's hard to find the right button on the Maxx Air Fan (so annoying).
Second, the Maxx Air doesn't move anywhere near the same amount of air.  When we're camping off-grid in hot weather, air flow is vital.  We are going back to a Fantastic Vent in the near future.
Fortunately, the Limited Edition comes standard with a 7300-series Fantastic Vent.  The 7300-series features a 10-blade fan, self-sealing vent cover, multiple fan speeds, automated temperature control, automatic rain sensor, motorized vent cover and remote control.  So far, so good.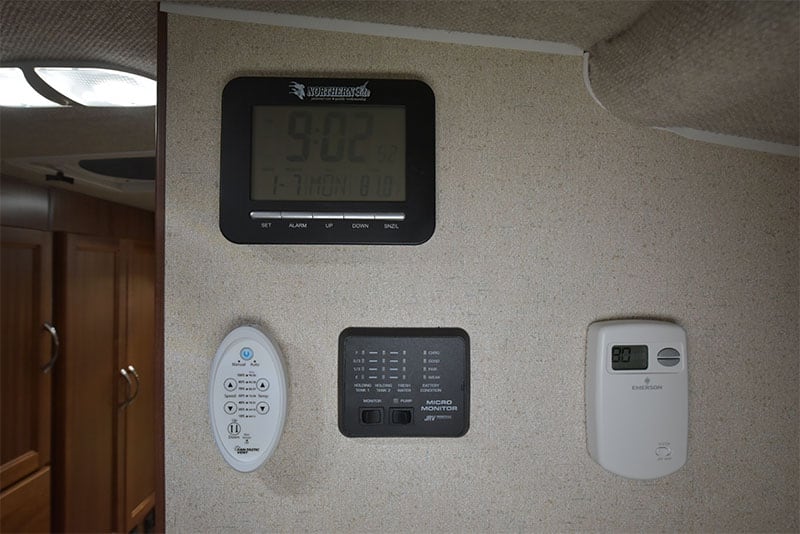 The 7300-series Fantastic Vent does not appear to have the analog controls that we miss.  The Fantastic Vent's remote (see above) has some fairly clear button controls, but I would much prefer a simple analog on-off and level knob on the unit itself.
Am I the only one left on Earth who still prefers simple analog switches and knobs on basic appliances?  I'm literally getting screened out.
Limited Edition Feature 10: Dometic 10,000 BTU Air Conditioner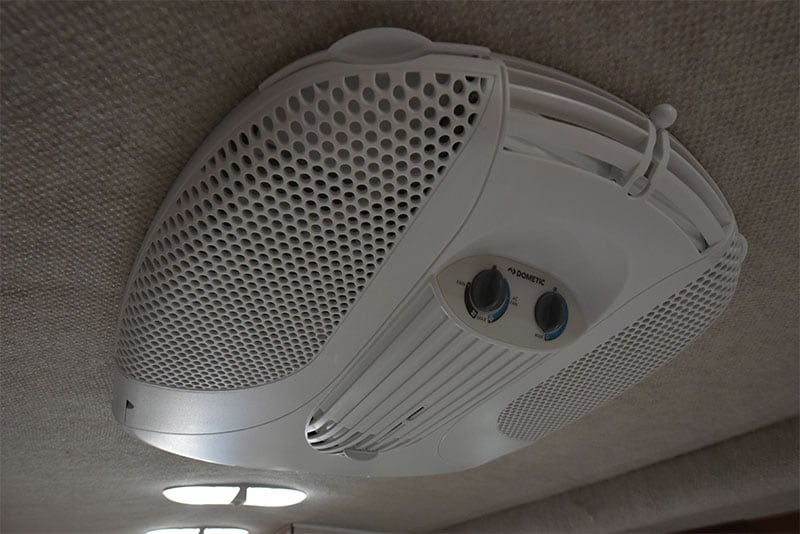 The Northern Lite Limited Editions come with a Dometic 10,000 BTU air conditioner standard.  According to Northern Lite, this model was originally designed for the Class B motorhome market (blasphemy!) and runs well on a 2,000-watt generator.
We have not experienced this particular Dometic model, but have not heard a single negative report from industry or consumer about their air conditioners.  So far, the Dometic air conditioners have proven as reliable as the Coleman Mach series.
Limited Edition Feature 11: Contour 0.7 Cubic Foot Microwave Oven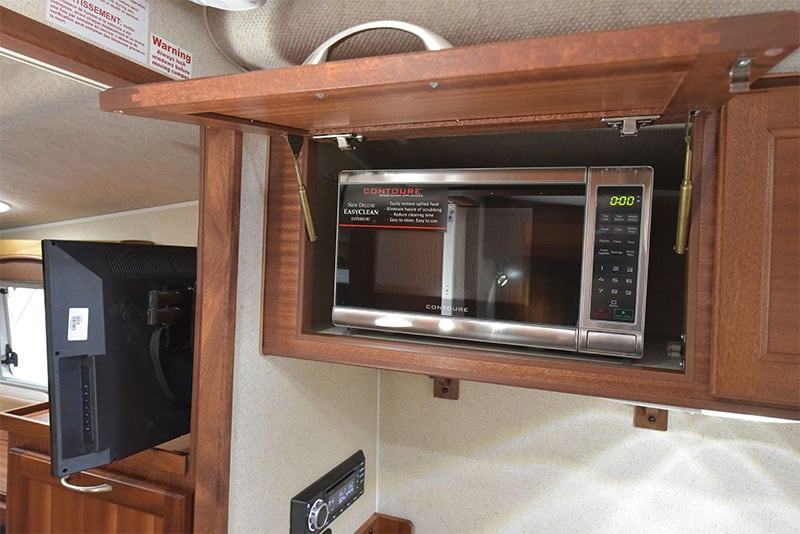 The Contour stainless steel microwave seems purpose built for Northern Lite's Limited and Special Edition models.  It's perfectly sized, has exactly the right look and fits neatly inside an upper kitchen cabinet.  One never likes to see precious storage cabinetry consumed for an appliance, but it's hard to argue when it looks so perfect.
Ironically, I think we would remove it.  We have lived without a microwave in our project camper for almost five years.  If we did decide to have a microwave, Angela would insist on a convection microwave for all that muffin cooking goodness.
This is the downside to buying fully-loaded camper – or truck for that matter.  You might get something you don't really want (or need) because it's part of the package.
The Limited Edition Value Proposition
To truly understand the standard and option differences between the Limited Editions and Special Editions, you first need to determine which Northern Lite model you want; 10-2 EX, 9-6 or 8-11EX.
This is important because the 10-2 EX Special Edition comes standard with Dometic S5 windows, a 10,000 BTU air conditioner and a microwave.  These three features are not standard on the 9-6 or 8-11 EX Special Editions, but are standard on the 9-6 and 8-11 EX Limited Editions.
Since the Limited Editions are a $3,000 premium over the Special Edition no matter which model you get, the Limited's S5 windows, air conditioner and microwave arguably makes the 9-6 and 8-11EX Limited Editions a better deal than the 10-2 EX CD Limited Edition.
Confused yet?  Me too!  I had to make a quick standard and options list for the models and trims to cross reference which came with what.
I'm hoping Northern Lite makes the distinction between the Special Editions and the Limited Editions more clear in the future.  In the mean time, let's dig deeper.
Beyond the standard air conditioner and microwave, the Limited Edition upgrades are (1) Furrion range hood, (2) 2.1-amp USB reading lights, (3) external speakers, (4) 7300-series Fantastic Fan with remote, (5) two-tone brown leatherette seating and window valances, (6) solid Sapele hardwood table, and (7) raised chrome external graphics/lettering.
From this list, the second 100-watt solar panel, air conditioner, microwave, and 7300-series Fantastic Fan with remote are available options on the Special Edition list.  If one or all of these features are all you want from a Limited Editions, add them to a Special Edition and proceed to checkout.
However, if you want the Furrion range hood, 2.1-amp USB reading lights, external speakers, leatherette seating, solid Sapele hardwood table, and/or the raised chrome graphics, you want a Limited Edition.  As of this writing, none of these features are available on the Special Edition.
Both the Limited Edition and Special Editions then offer five additional options; (a) boat rack, (b) Happijac dually brackets, (c) factory pickup, (d) Onan Microlite generator and (e) U-shape dinette.  If any of these are on your must-have list, you can add them to either the Special Edition or Limited Edition.
The Verdict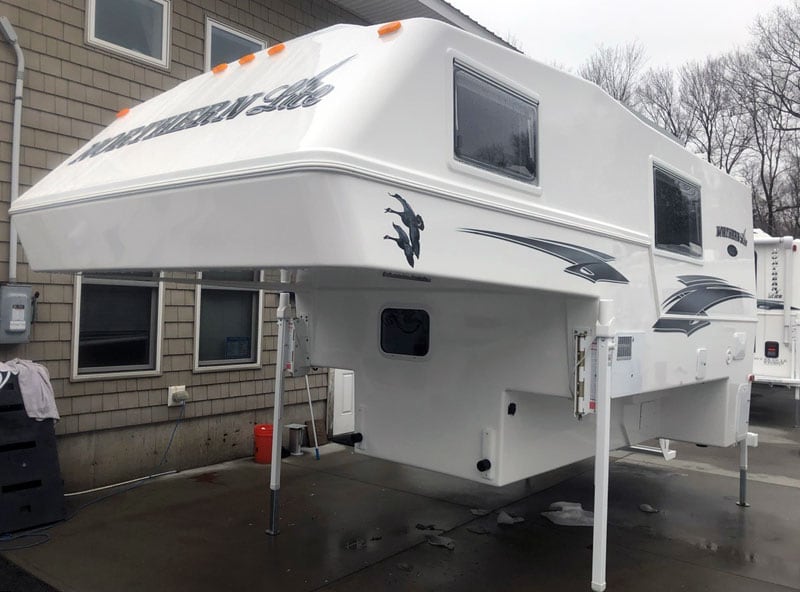 Above: Northern Lite 10-2 EX Limited Edition, photo courtesy of Truck Camper Warehouse
This review assumes you already understand the benefits of Northern Lite's two-piece clamshell fiberglass construction.  For those who prefer Cliffs Notes, clamshell fiberglass is the most robust, leak-resistant and low-maintenance truck camper manufacturing approach on the planet.  To understand exactly why, check out the Northern Lite factory tour and model reviews.
If you like the Limited Edition's interior, included options and exclusive features and want a non-slide clamshell fiberglass truck camper, a Northern Lite Limited Edition is a no brainer.  Buy a Northern Lite Limited Edition, properly match it to a truck and go enjoy every living moment possible.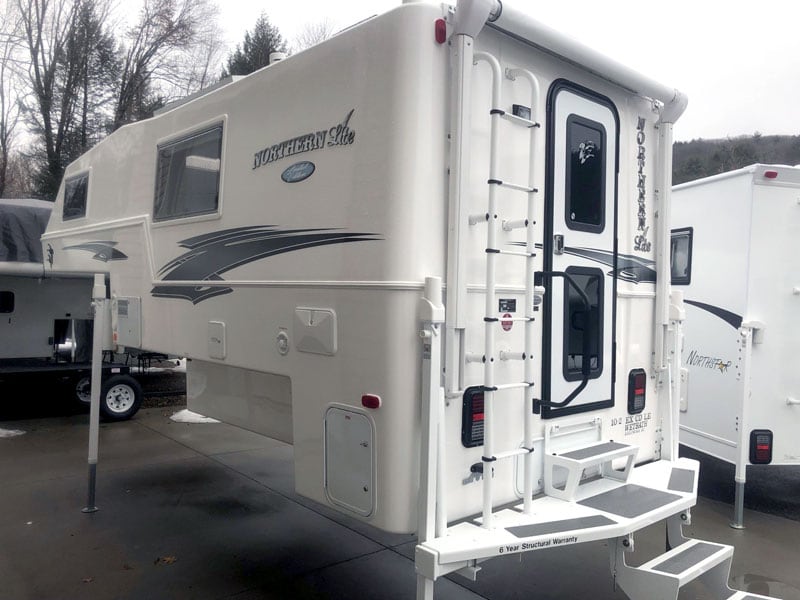 Above: Northern Lite 10-2 EX Limited Edition, photo courtesy of Truck Camper Warehouse
For those choosing between a Northern Lite Limited Edition and Special Edition, the biggest "if" will likely be whether or not you prefer the Limited Edition's interior to the Special Edition's interior.
The other "if" will be whether or not the Limited Edition standard and Limited-only features are important.  We already parsed out the differences and value propositions above, but I suspect buyers of these high-end campers will simply choose which one they like better in person.  Five minutes walking in and out of a Limited Edition and Special Edition is probably all that's needed.
And that brings us to the most important advice here.  You really need to see a Limited Edition and Special Edition in person before making this decision.  With the two interior looks being so different, this is not a decision you want to make on paper (or screen).
Pros
Northern Lite's superior clamshell fiberglass construction is built to last
Outstanding build quality and a 6-year structural warranty
Industry leading 200-watts of solar panels are standard
Limited Edition solid Sapele hardwood tables are absolutely gorgeous
The Dometic S5 windows are the best acrylic windows we have experienced
2.1-amp USB reading lights are a smart and highly useful addition
Cons
Limited Editions make an already premium-priced truck camper even more so
Standard feature overlaps make the Limited 8-11 and 9-6 a better value than the 10-2
The Limited Edition brown-tone leatherette interior look won't be for everyone
Leatherette seating is comfortable, but the fitment isn't perfect
Individually-adhered exterior letters may fall off over time
Standard exterior speakers seem out of step with consumer demand
Model Information
2019 Northern Lite 10-2 EX Limited Edition (model reviewed)
MSRP: $50,150 US
Warranty: 6-year structural warranty
Northern Lite Manufacturing, Ltd.
322 Totom Court, Kelowna, BC, Canada V1X 5W6
Phone: 1-800-887-5342

Request a Northern Lite Brochure
Web: northern-lite.com
Quality, Customer Service, and Long-Term Reliability
Truck Camper Magazine inspects all reviewed truck campers for design, material, and quality issues and reports what we find.  However, since Truck Camper Magazine reviews only brand new truck campers, our reviews do not address long-term quality, customer service, or reliability.
To learn about a brand's long-term quality, customer service, and reliability, Truck Camper Magazine recommends talking directly with truck camper owners at truck camper rallies and online via truck camper forums and truck camper owners groups.
Please be sure to balance your gathered feedback across multiple sources including direct correspondence with the truck camper manufacturers and your closest truck camper dealers.
Click here if you are new to truck campers.